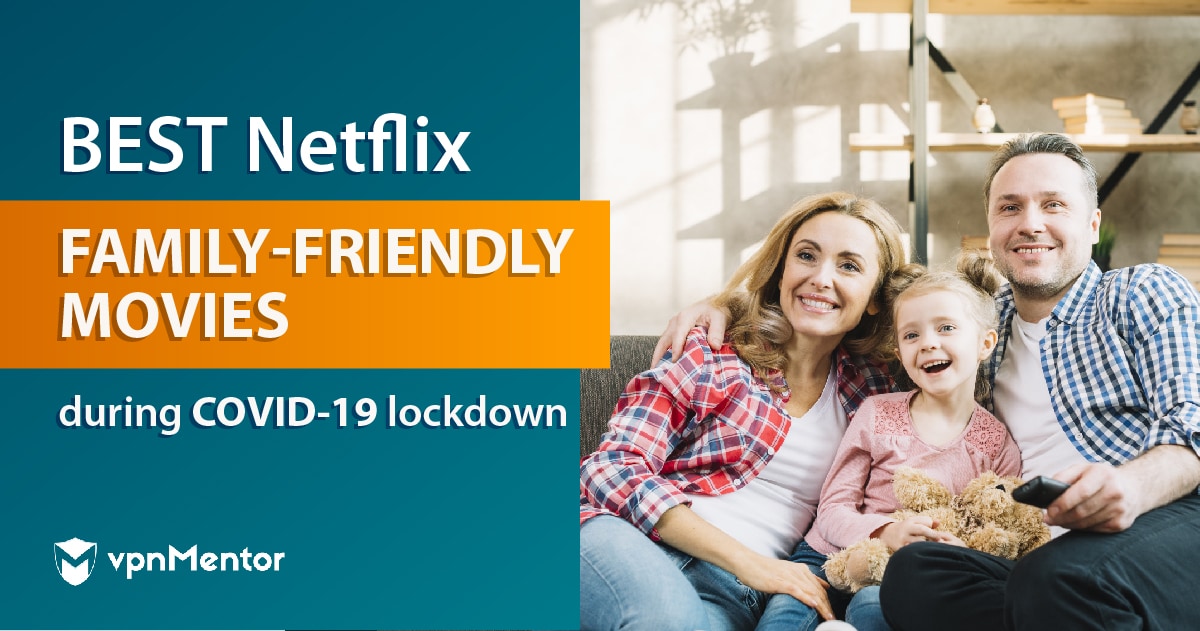 The Best Family-Friendly Movies on Netflix in 2023
You're doing your part during this crisis by staying home. But when the kids start getting antsy and bored, you need to find something to keep them engaged. What's better than a great movie the whole family can enjoy together? To save you some time, I've rounded up 12 family-friendly movies you can stream on Netflix US right now. From age-old classics to hot new releases, there's something on this list for everyone.
If you're not in the US and think you can't watch all these movies, don't worry—I have the solution. When you use a VPN, you can unblock Netflix US in seconds so you can watch these films from wherever you are. Keep reading, and I'll show you how to get started before jumping into my list of family-friendly movies.
Quick Guide – How To Watch Netflix US Anywhere
Choose and download a VPN – my top choice is NordVPN because it's super speedy, easy to use, and the most reliable for Netflix.
Connect to a US server. This is very important, as you can only access Netflix US through a US server.
Head over to Netflix, sign/up log in, and then press play on any of these 13 movies and more!
Start Watching Netflix With a VPN!
1. Mary Poppins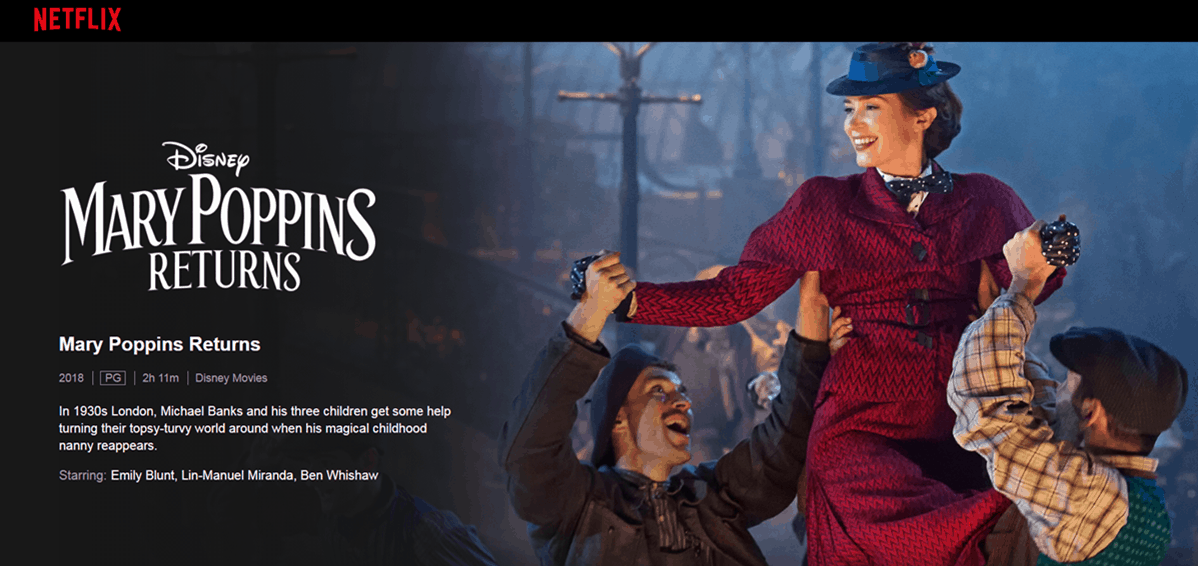 Who hasn't seen Mary Poppins? In this modern-day sequel, Michael Banks is now a grown man himself with three children. Facing the possible repossession of his house, Micheal searches high and low to gather funds to repay an old loan. Just when Michael and his sister Jane have nearly given up hope, they receive a visit from their magical childhood nanny, Mary Poppins.
Will she save the day? It's Mary Poppins, of course, and she's here to take the whole family, including yours, on a magical, fun-filled adventure.
2. The Boy Who Harnessed The Wind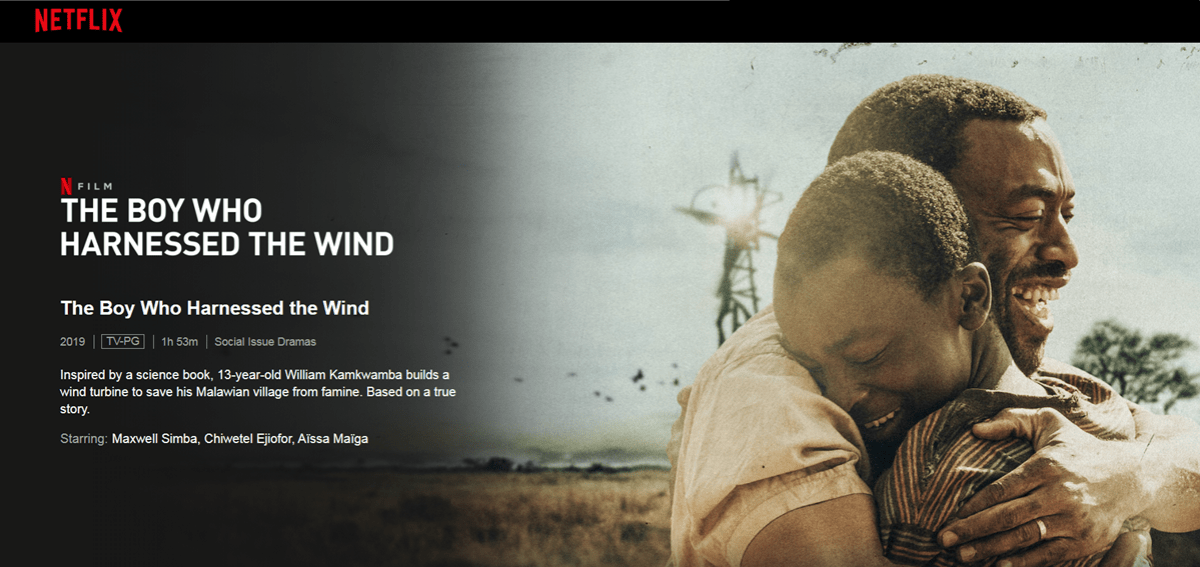 The Boy Who Harnessed The Wind is a new movie to the Netflix party. Released in 2019, it tells the heart-wrenching true story of a thirteen-year-old boy in Malawi looking for new ways to solve his village's famine after being thrown out of school because his family can't afford the fees. But a book he stumbles across in a library sets William off with a new idea that might just change his village's future for good.
Moving, educational, and remarkably insightful, this movie tugs on your heartstrings from start to finish. It's not as lighthearted as some of the other movies on this list, but it's certainly worth a watch—save this one for a rainy day with your teenagers.
3. The Secret Life Of Pets 2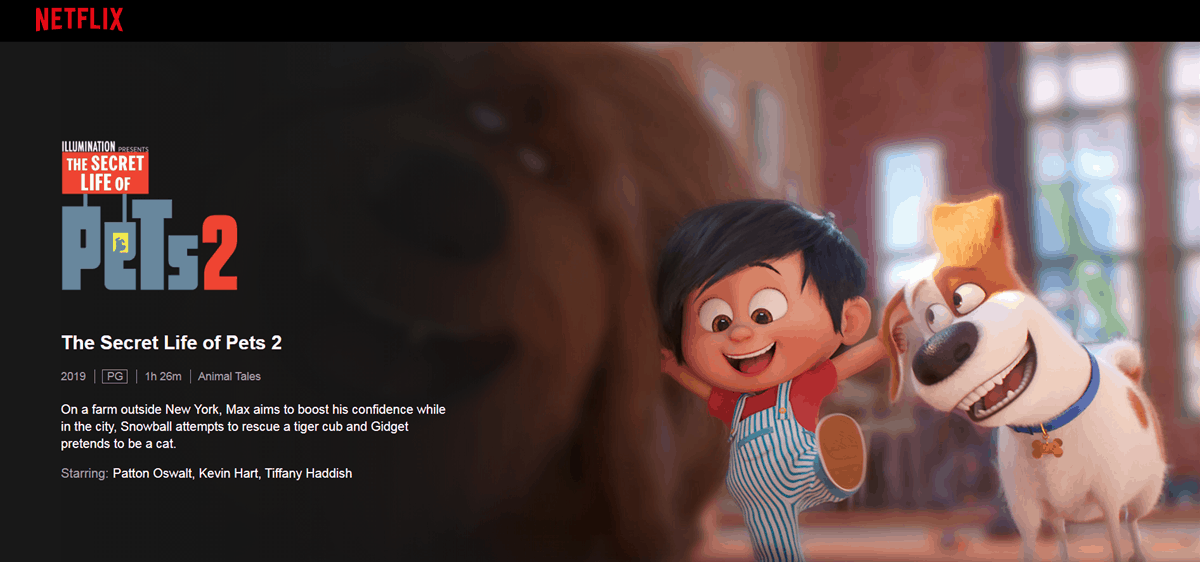 Imagine a world where your pets can talk. Except, you don't have to imagine as that's exactly what you get with this movie. The Secret Life Of Pets 2 continues the story of Max the terrier and his best pals through their daily adventures when their owners leave them for work. But being alone isn't the only thing Max has to worry about now, since his owner decided to get married and have a baby. And let's not forget about the not-so-cute fluffy bunny (voiced by Kevin Hart), who takes it upon himself to rescue a white circus tiger. You've got multiple funny, relatable, and action-packed storylines at once.
You only have the luxury of this movie if you're on Netflix US, though. Or you can use my solution by using a VPN and connecting to a US server. That way you can unblock Netflix US and watch as many movies as you like as well as this one.
4. Wreck-It Ralph 2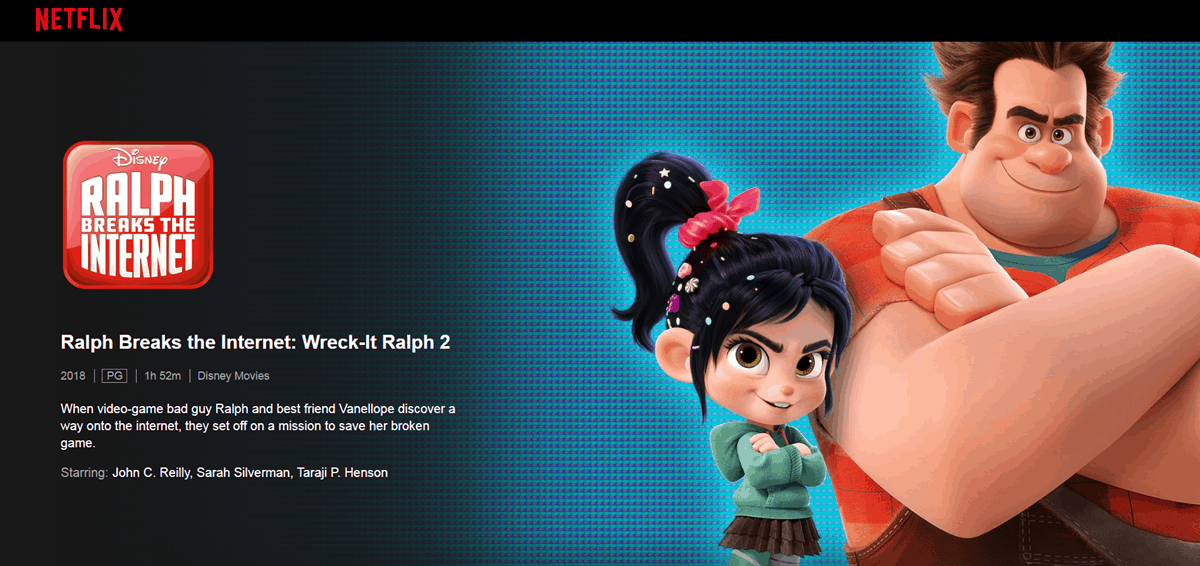 If you've seen the first, you'll love the second movie in the Wreck-It Ralph series. Little and large, Ralph and best friend Vanellope Von Schweetz, are back together for another adventure as a WiFi router is connected to their arcade game.
Now bored of her beloved Sugar Rush races, Vanellope is in the search of something new. But in her quest, she ends up losing the very game she loves the most. Now the WiFi router offers her and Ralph a solution; but upon getting there, there's a whole new world full of challenges they've never seen before. This movie is fun, witty, and full of HD animation that promises to be a delight for the entire family.
You'll need a VPN for this one – make sure you connect to a US server as it's only on Netflix US at the moment. But you can easily unblock it with a VPN, like NordVPN.
5. The Incredibles 2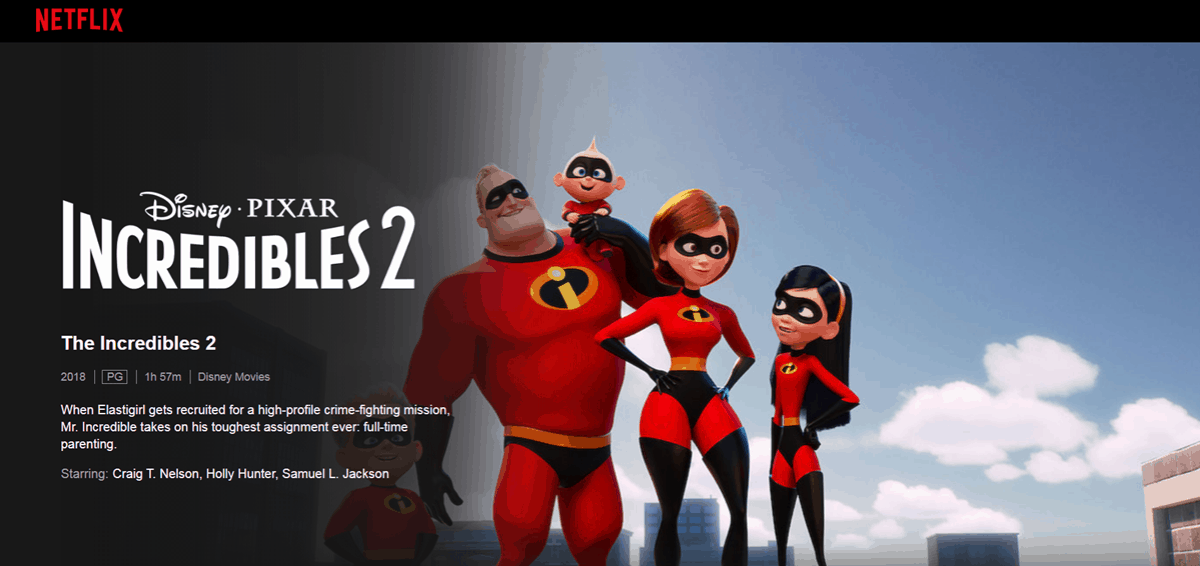 Another series favorite, The Incredibles 2 follows the family of heroes as they take on another mission—this time, it's one that requires Elastigirl rather than Mr. Incredible. While the mom goes out to save the world, Mr. Incredible is tasked with running the house and looking after their three kids. Helen also soon meets her nemesis in supervillain Screenslaver, who attempts to destroy her very important mission with mind-controlling abilities.
With a dangerous villain on the block, the family must come together once again to save the world. If your family likes action and funny, fast-paced animations, you're in for a treat.
6. Hook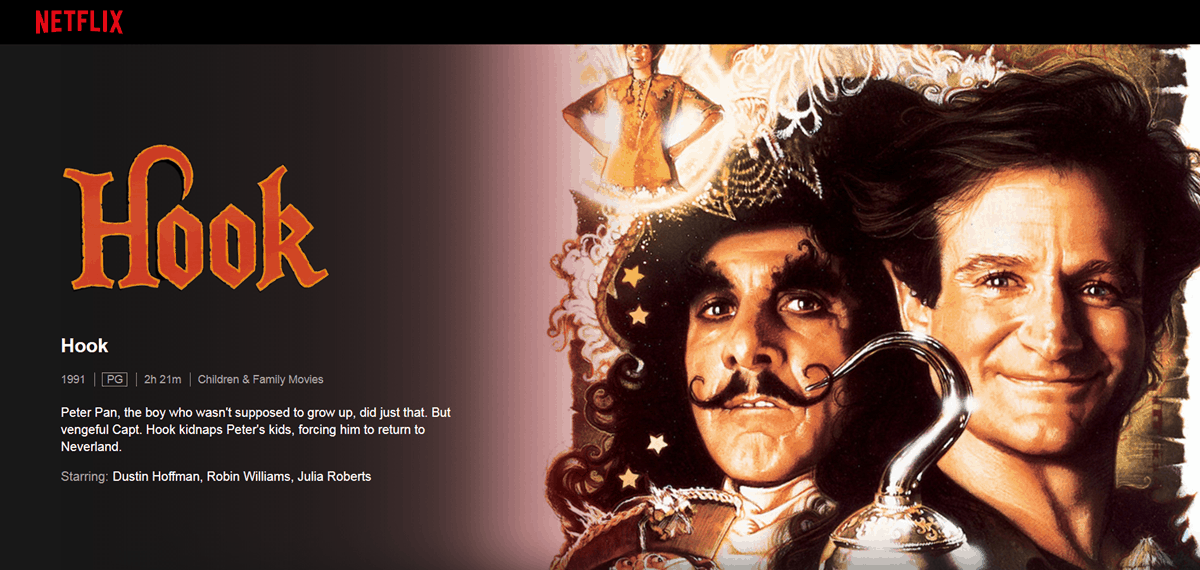 Sometimes, the older movies are still the best. In this 1991 Disney sequel, history repeats itself as Captain Hook kidnaps an adult Peter Pan's children. He must return to Neverland to rescue his kids and face his childhood enemy once again. Starring Robin Williams, Julia Roberts, and Dustin Hoffman, this movie is a must-see, whether you're an adult or a child. Expect comedy, action, and plenty of nostalgia.
7. A Series Of Unfortunate Events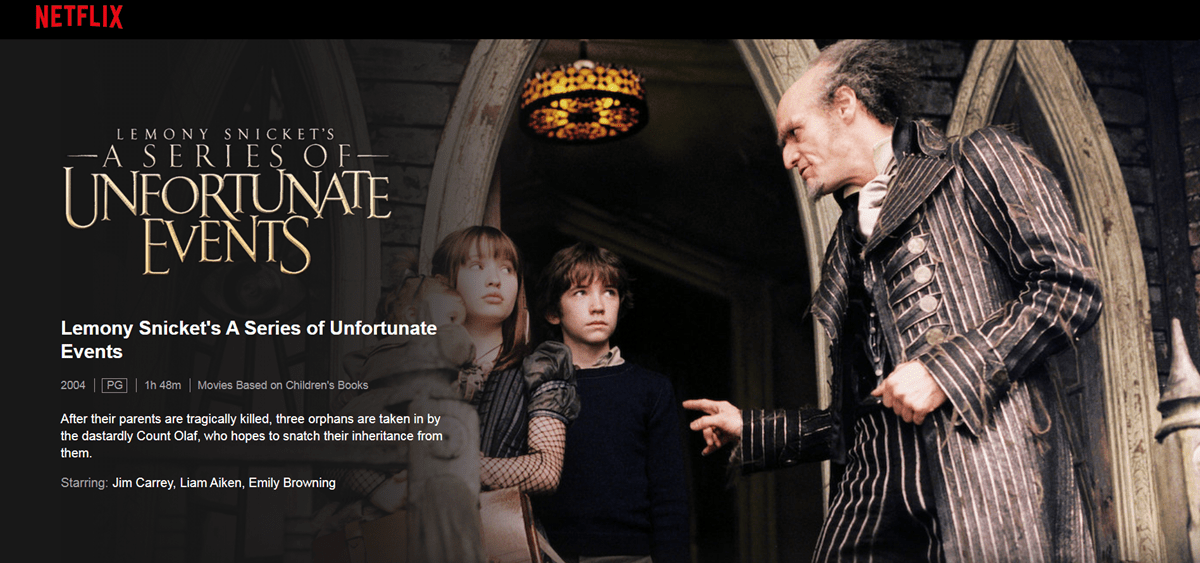 You never forget a Lemony Snicket movie once you've seen one. Whether you've read the books or not, you know to expect a wonderfully weird movie from beginning to end—something that leading actor Jim Carrey delivers exceptionally well.
Three children are sent to live with their mad uncle, an aspiring actor, after their parents die in a fire. His house is like no other, full of weird mysteries, but that's the least of the children's worries, as their uncle is also after their large fortune. This movie delivers on all things you'd never expect, and it's filled with dark comedy your whole family will enjoy.
8. Richie Rich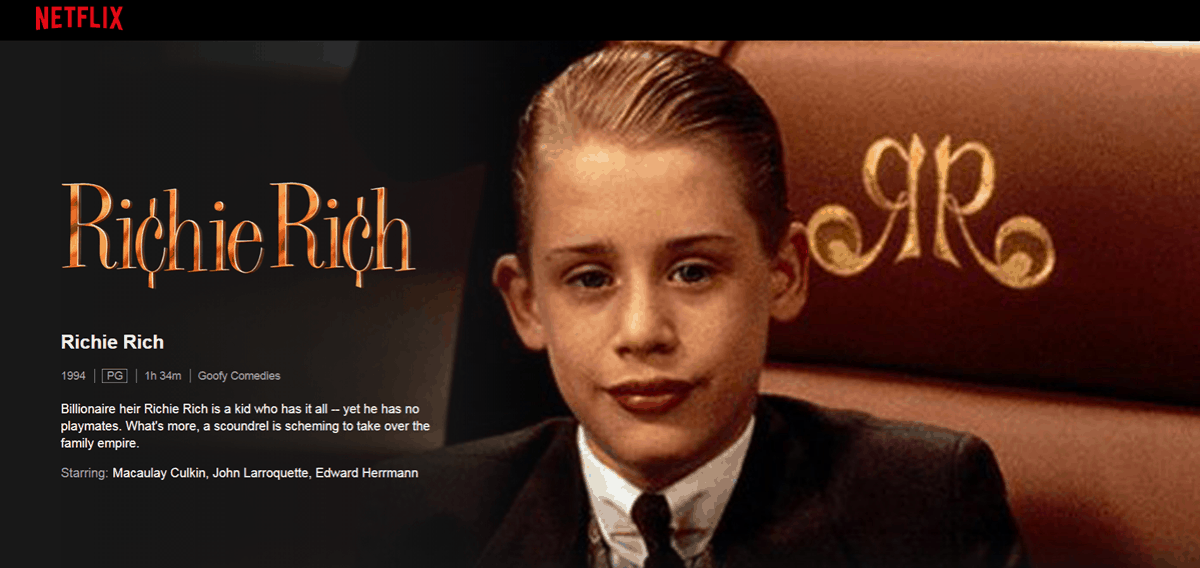 Richie Rich is another classic you may have seen before, but it's definitely worth a rewatch. Richie is the son of a billionaire who seems to have everything he could possibly want, whether it's all the best toys, the most lavish house, or even the most expensive clothes. But one thing he doesn't have is any friends. When his parents vanish suddenly, Richie Rich must save his fortune from falling into the wrong hands. With the help of a group of children on his side, has he finally found everything he's looking for?
9. Hairspray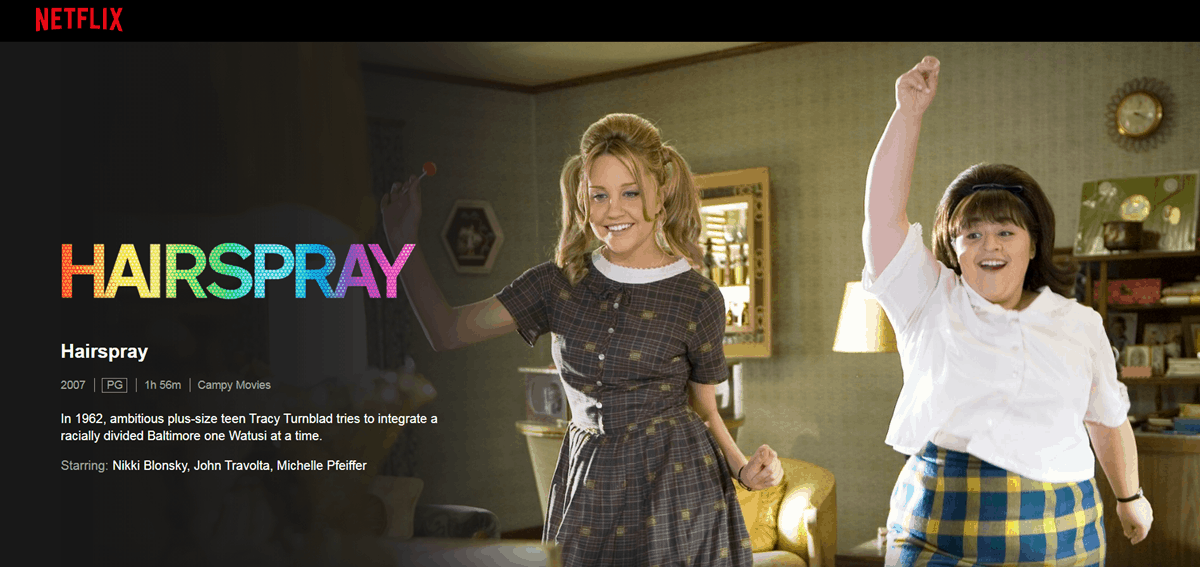 If you feel like a sing-along, you'll love the Hairspray musical. It's set in Baltimore in the 1960s, and you can sing and dance with Tracy Turnblad as she lands herself a role on a local TV dance show.
She soon finds herself the center of fame and in the eyes of the hottest guy in Baltimore—Link Larkin. But not everyone is happy about Tracy's new role, including her mother and the TV show producer who wants to do just about anything to throw her off the show. Will she succeed?
10. Hugo
If you're less about animation and more about hook-me-in mysteries, Hugo could be the movie for your family. It's set in Paris in the 1930s, where a young orphan boy, Hugo, has just suffered the loss of his beloved father. The only thing that connects him to his dad is his favorite possession—an automaton. Hugo lives in the walls of a train station and loves to fix anything mechanical, so his father's automation is the perfect task. But he must find the secret key to make it work. You'll unlock a world of mystery with this movie.
11. Christopher Robin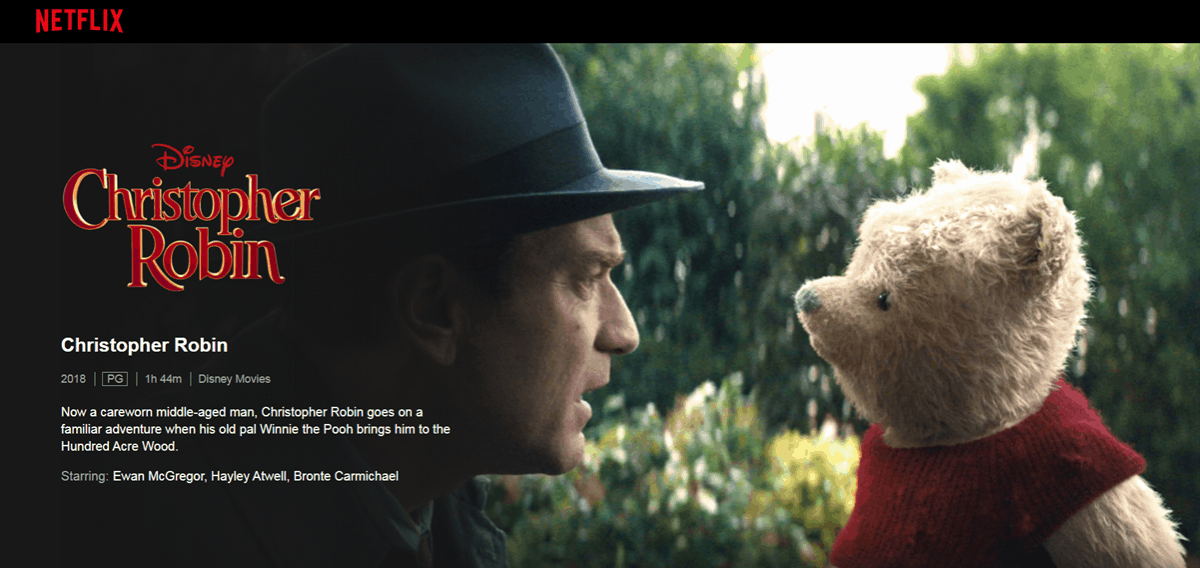 Christopher Robin delivers a delightful mix of animation and real-life characters, through the story of a busy man living in London who's lost all sense of joy and doesn't get to spend any time with his family anymore.
When his favorite childhood friend, Winnie-the-Pooh, pays him a visit, he helps Christopher Robin rediscover his youth and love of life. But in doing so, he must also help Winnie-the-Pooh find his friends. And yes, that includes famous favorites Piglet, Eeyore, and Tigger.
12. Stuart Little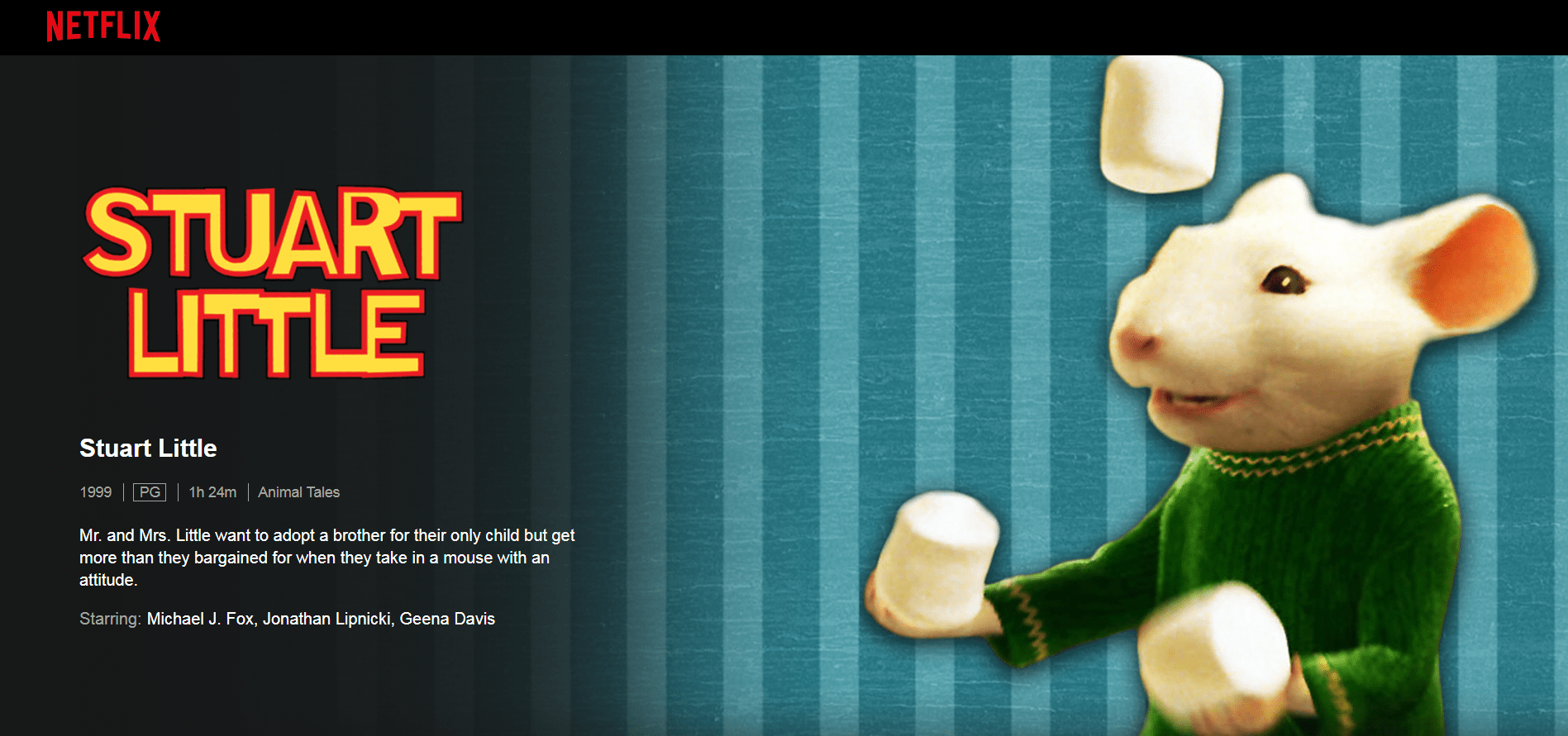 The Little family decides they want to adopt a new family member, and they choose a small white mouse named Stuart. He's loved by his adopted parents and brother, but the household cat has other ideas and plots to get rid of Stuart with the help of local alley cats. Can Stuart avoid being evicted? He believes showering the cat with love and affection will do the trick.
Privacy Alert!
Your data is exposed to the websites you visit!
The information above can be used to track you, target you for ads, and monitor what you do online.
VPNs can help you hide this information from websites so that you are protected at all times. We recommend ExpressVPN — the #1 VPN out of over 350 providers we've tested. It has military-grade encryption and privacy features that will ensure your digital security, plus — it's currently offering 49% off.