Top 8 REALLY FREE VPNs for PS4
Updated on 11th May 2020
Free VPNs for the PS4 can cause gaming lags and cybersecurity flaws. However, I have found the best free VPNs for your PS4. Check out my guide to find a free VPN that is good enough for your PS4 gaming needs. Share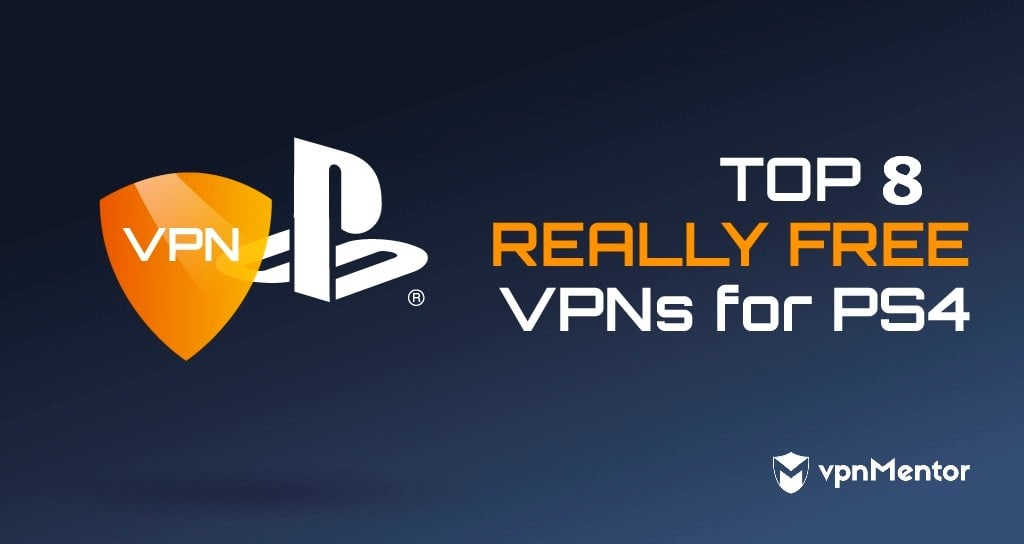 Yes, dedicated gamers, there are free VPNs for your PS4. Is it the best option for your Destiny 2 online gaming? For the most part, no. But, after testing 51 free VPNs, I came up with the eight best free PS4 VPNs in terms of speed and security.
A VPN at no cost should raise alarms in your head. Many times, your security is at risk. For example, many free VPNs make money with ads. It opens the doors to having your information sold for corporate interests, or you can suffer from malware attacks. 
Of equal concern are connection speeds. A free VPN provider can slow down your speeds to a crawl or allow bandwidth throttling. Game lags and buffering are aplenty. You can certainly forget about an uninterrupted Fortnite mission.
Before despair sets in, I recommend NordVPN as a free solution for a limited time. It offers speedy connections and the best cybersecurity around.
You can try it out risk-free with its 30-day money-back guarantee. If you're in a country for less than a month, you can cancel before the trial period ends. You get all the premium services of NordVPN, free of charge. It's hard to beat if you want to play Red Dead Online for almost a month!
If you want to explore other options for free, I have this guide to help you decide if any of these VPNs for free on PS4 are worth the hassle.
Note: You have to set up the VPN through a router, Windows, or Mac to work on a PS4. You can set up any of these by following our detailed instructions.
Best Free VPNs for PS4 – Quick Guide
NordVPN: The top VPN on this list has 5,200 servers and blazing-fast speeds. Cybersecurity features include DDoS protection. It comes with a 30-day money-back guarantee.
Windscribe: Easy, one-click interface with 10GB of free data a month. Has a kill switch, adware and malware blockers, and DDoS protection.
PrivateVPN: Unlimited bandwidth and data are ideal for hours of gaming. It has some of the strongest cybersecurity features of any VPN. It comes with a 7-day free trial and a 30-day money-back guarantee.
Hotspot Shield:  500MB of free data per day, along with great cybersecurity features. It's enough data for about four to five hours of Fortnite gaming, but not enough for streaming a full movie. Premium comes with a 45-day money-back guarantee. Not a router-supported VPN.
ProtonVPN: Unlimited data, although the free version doesn't allow streaming or torrenting. Excellent security features and a router-compatible VPN.
What's the Catch With Free VPNs?
A free "price tag" always comes with a catch. Most free VPNs advertise great services without a financial commitment, aka "freemiums." But they usually come with tons of negatives that they don't tell you upfront, like slow streams and holes in security. Here are some of the drawbacks of choosing a free VPN.
Gaming/Streaming
If a game has restrictions in your region, it's always better to go with a premium VPN since it gives you access to a vast amount of global servers to find an optimal connection.
The same goes for streaming. You want the choice of servers around the world that can bypass any geo-restrictions a streaming site has in place. A free VPN is typically geoblocked from sites like Netflix and Amazon Prime Video. Or it's too slow to stream unless you move up to a paid plan.
Security
Your data is at a much higher risk if you choose a free VPN. Most of the free services have to make money by using ads. If you use a VPN with ads, your information could be visible to third-party advertisers, or malware can infect your devices.
Another pitfall is that your data may be visible since many free VPNs don't implement strict no-logs policies. Imagine all of your internet history being available for hackers, trackers, or the government to see.
Scary, right?
That's why it's always better to go with a robust VPN that offers privacy and security features like a zero-logs policy, military-grade encryption, an automatic kill switch, DNS leak protection, and adware and malware blockers.
Limitations
If you're trying to find a server on a free VPN for gaming or streaming, you usually have a limited number of servers to choose from.
A small number of servers means there's a better chance many users are on one server. This can result in lags and bandwidth throttling. 
Data usage on free VPNs is usually scant until you upgrade to a paid service. Unless you pay, you can forget about streaming, torrenting, or gaming.
Most modern online games use 40 to 300MB per hour. A small data cap means your gaming is quite limited.
The Best Free VPNs for PS4 (Updated 2020)
If you still want to check out which free VPNs are safe to use on a PS4, my comprehensive guide shows you why these VPNs made the list. My research of all these VPNs offers, at the very least, data security and free data.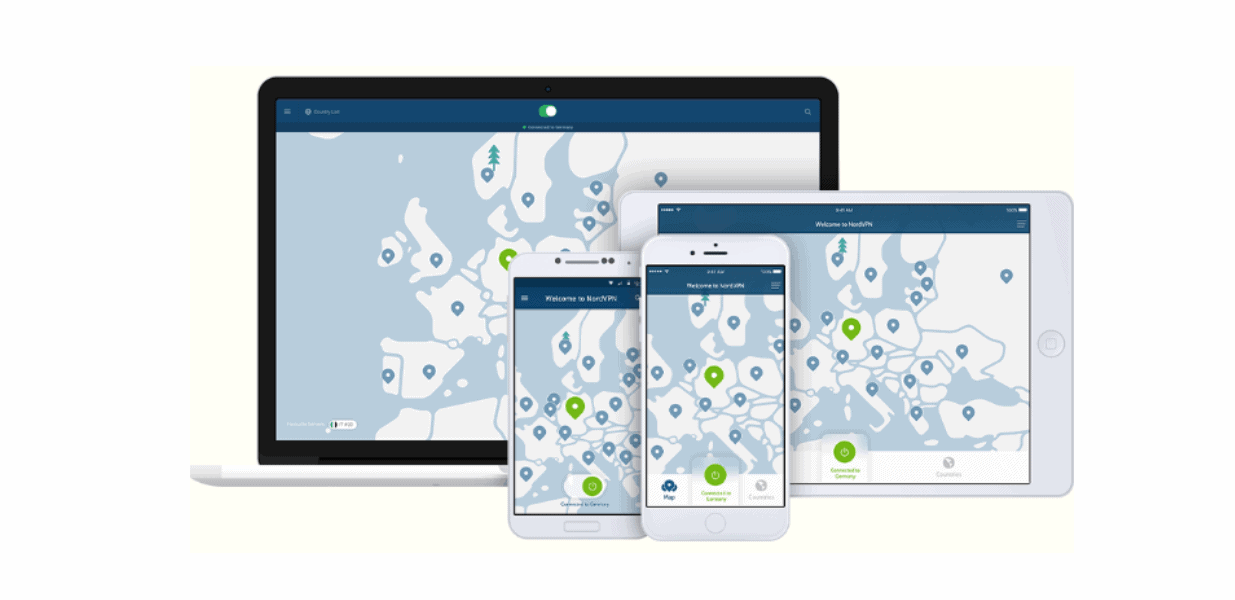 30-day money-back guarantee
Unlimited bandwidth with no game lags or latency
5,200 global servers
DDoS protection, military-grade encryption, a no-logs policy, SmartPlay feature
Works with: Amazon Prime Video, Netflix, Hulu, Showtime, BBC iPlayer, Sling TV, HBO, ESPN
Compatible with: Android, Android TV, Amazon Fire TV Stick, macOS, iOS, Windows, Linux, Chrome, Firefox, routers
For the best gaming experience with a free VPN on PS4, you can't go wrong with NordVPN. Its unlimited bandwidth means you'll never drop a mission in Apex Legends.
The gaming world is known for sketchy gamers who love to direct DDoS attacks on other competitors. NordVPN provides you with protection against DDoS by hiding your IP address and encrypting all your traffic, no matter what server you're on.
It also hides your data with military-grade encryption in case hackers try to crash in on your game or stream. DNS leak protection and an automatic kill switch ensure that your online history is never visible, even for a split second.
A strict no-logs policy adds an extra layer of protection by never providing your data to anyone, even the government.
Gaming is great, but what if you want to take a break and stream Netflix on your PS4? No problem. NordVPN has 5,200+ servers and superb speeds for an optimal experience on over 400 streaming sites. 
A standout feature is the SmartPlay option. It finds you the fastest server in the world for your online gaming. Say so long to lagging!
I also like the Double VPN, which encrypts all your internet traffic twice by sending it through two servers.
Adware and malware are constant problems with both gaming and streaming. Not with NordVPN. The CyberSec feature blocks all adware, malware, and DDoS attacks.
You can even get your game on in China. With its massive amount of servers, NordVPN finds you the best server to get past the Great Firewall.
If you have questions, like how to connect your router, get them resolved quickly with NordVPN's 24/7 live chat. You have access to an extensive knowledge base on the website, too. A 30-day money-back guarantee means you can try my #1 recommended VPN for free.
If you have a house full of gamers, you get six simultaneous connections to use with one subscription.
Want to learn about every feature NordVPN offers? Read our full review to see why I have it at the top of this PS4 VPN list.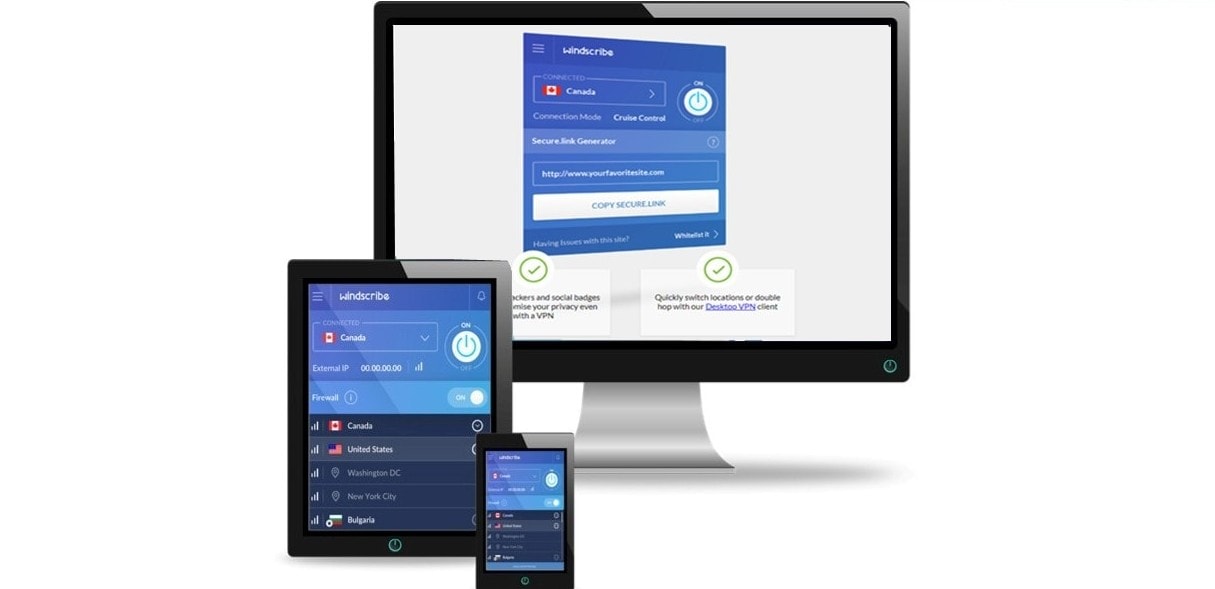 10GB of free data per month
AES 256-bit encryption, Firewall mode kill switch
R.O.B.E.R.T. adware and malware blocker feature
Ten server locations with the free version
Unlimited device connections
Works with: YouTube and Kodi on the free version and Netflix with the premium version
Compatible with: macOS, iOS, Windows, Linux, Windows, Android, Chrome, Firefox, routers
Windscribe is an excellent choice for the PS4, even with the free VPN version. It's a router-compatible VPN, and the site offers plenty of tutorials for router setups.
With 10GB of free data per month (and an extra 5GB if you tweet the company), you can enjoy over 200 hours of Call of Duty: Black Ops.
Your online gaming remains safe behind Windscribe's AES 256-bit encryption. Plus, its split tunneling feature allows you to game and stream a favorite movie at the same time without the worry of ever being visible to cyber snoops.
The free version of Windscribe only offers servers in ten countries. This limited amount of servers may keep you from finding a game with restrictions in your region. However, if you upgrade, you get servers in 60+ countries.
Another limitation of the free version is slow connections that can result in the dreaded game lagging. Also, you can't stream Netflix. The paid plan gives you unlimited bandwidth and access to US Netflix.
One of Windscribe's best features is R.O.B.E.R.T., an advanced adware and malware blocker. The free version gives you protection against malware, plus a toggle custom access rule, which allows you to block up to three malicious websites.
If you upgrade, you can block ads, trackers, and even fake news. Plus, you can block an unlimited number of questionable sites.
If you run into any problems, such as router compatibility issues, you can use Windscribe's live chat service that responds quickly to your questions.
Unlimited device connections is another winner.
Our in-depth review of Windscribe provides you with all the pluses and minuses of this free VPN.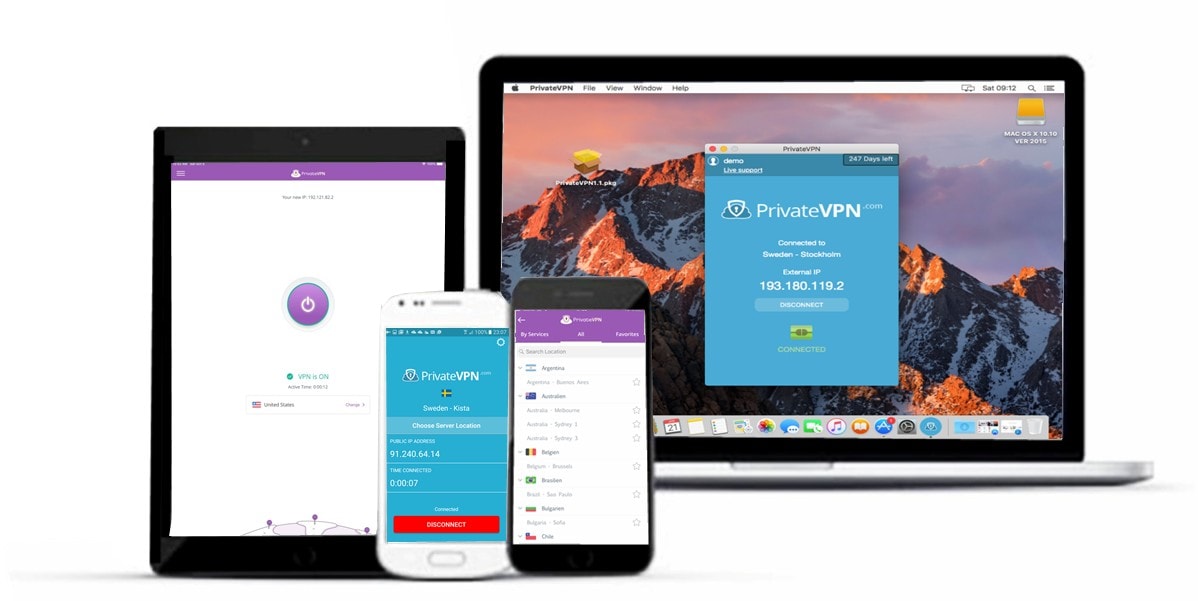 Fast speeds and unlimited bandwidth
150+ servers in 60 countries
User-friendly VPN
Router-friendly VPN
High-grade cybersecurity features
7-day free trial
30-day money-back guarantee
Works with: Kodi, Netflix, BBC iPlayer, Hulu, Amazon Prime Video, HBO, Showtime
Compatible with: macOS, iOS, Linux, Android, Chrome, Firefox, Windows, routers
PrivateVPN is the ideal environment for free PS4 gaming on a VPN. Although its 150+ servers aren't as high as some other VPNs, you still have plenty of options for finding games you can't access in your region.
If you fear DDoS attacks, PrivateVPN has you covered. It not only prevents these kinds of attacks from unscrupulous gamers, but it also hides you from would-be hackers with its AES 256-bit encryption and DNS leak protection.
If your connection drops while you're in the middle of a game, PrivateVPN's kill switch kicks in automatically to protect all your important data. A strict no-logs policy keeps your online info away from prying eyes.
Its speeds are excellent across all servers, and it offers unlimited bandwidth. Lags and latency never stall your gaming or compromise a team mission in Rocket League. Plus, you get access to a world of streaming sites, including BBC iPlayer.
The interface is super accessible, and its Simple mode allows you to connect to a server with one click.
If you happen to be in China, but still need your gaming binge, PrivateVPN has the exclusive Stealth VPN mode. It hides that you're using a VPN, allowing you to break through the Great Firewall of China barrier. 
While it doesn't offer 24/7 customer support, you still get friendly and informative live chat. Also, the thorough installation guides help you set up your router easily.
You can get a 7-day free trial or opt for the 30-day money-back guarantee. Either way, you can take advantage of all of PrivateVPN's premium features risk-free.
See why PrivateVPN is near the top of my list for both streaming and gaming in our extensive expert review. Also, take a look at our guide on the top free VPNs for gaming.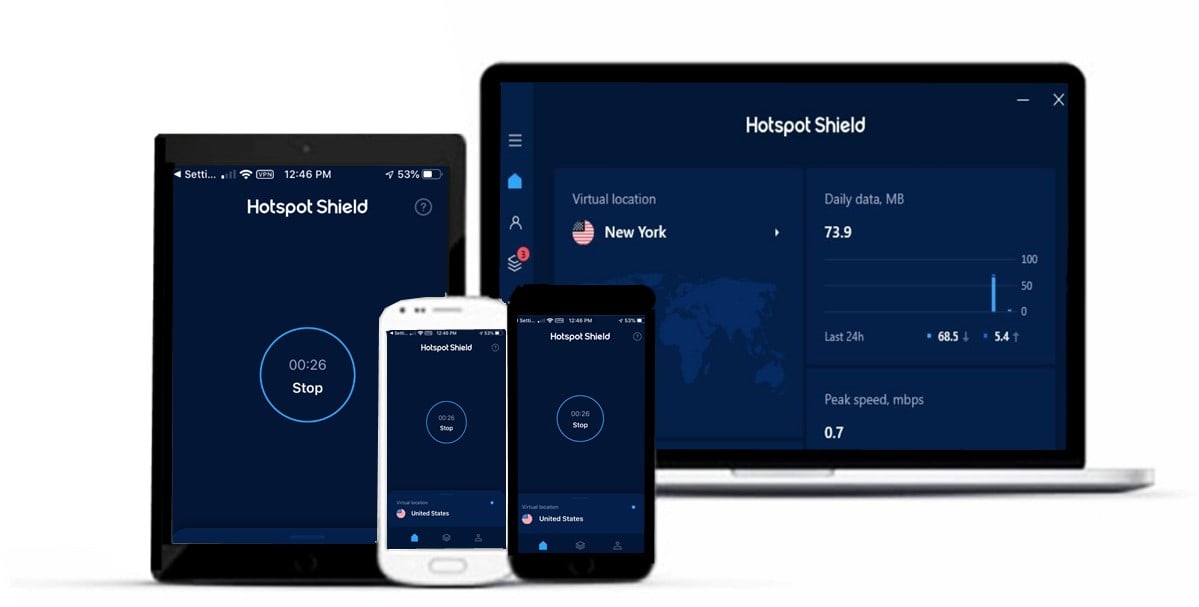 500MB of free data per day
One of the fastest free VPNs
45-day money-back guarantee with a paid plan
AES 256-bit encryption and Catapult Hydra protocol
Allows P2P
Works with: YouTube, Kodi, Spotify
Compatible with: macOS, iOS, Windows, Android, Chrome, Firefox
Hotspot Shield has fast connections, even with its free version. 500MB of free data a day isn't enough to stream a full movie, but it allows for about five hours of Fortnite missions.
Although it's not a router-compatible option, you can still connect your PS4 through your PC or Mac.
This VPN provides you with top-end privacy and security features that are usually only on paid VPN plans. All your traffic remains invisible with AES 256-bit encryption, and you never have to worry about infections in your games with Hotspot Shield's built-in malware protection.
Hotspot Shield doesn't have a privacy page, and it shares your location with Google Ads. Still, Google has no way to see your actual IP address, and the company keeps zero-logs of your online data.
Since the free version has ads and access to only one US server, you won't be able to connect to any international games. If you upgrade, your gaming world expands to over 3,200 servers in 70+ countries. You also bypass geo-restrictions on sites like Netflix, Hulu, and BBC iPlayer. 
One of my favorite free features of this VPN is the Catapult Hydra protocol, which finds the fastest server, even over long distances. Thanks to this feature, your games never lag.
Customer service is available on the free version, but you get 24/7 live chat with a premium plan. If you do decide to go with Hotspot Shield's paid version, you can try it risk-free with a 45-day money-back guarantee.
If one device connection with the free plan isn't enough, you can move up to five simultaneous connections with the basic plan. 
Is Hotspot Shield the best free VPN for PS4? Find out in our comprehensive review.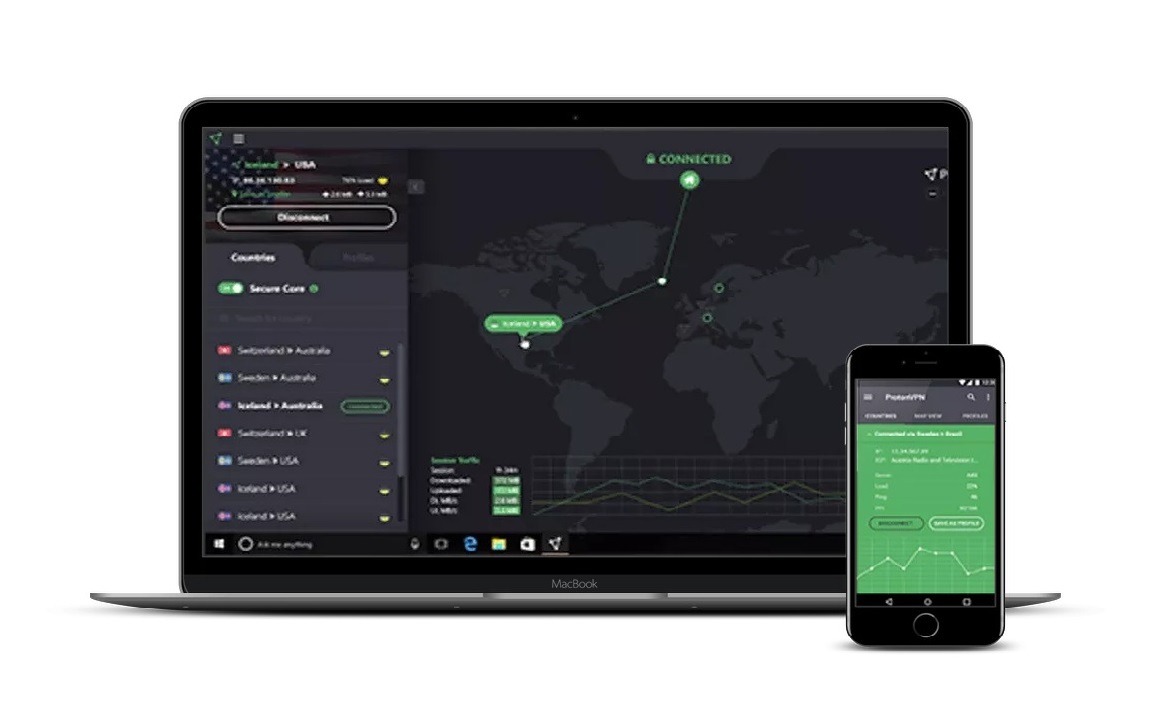 Unlimited bandwidth and unlimited data
Robust cybersecurity including military-grade encryption and ad blocker
User-friendly interface
Router-compatible VPN
Works with: Kodi, YouTube
Compatible with: macOS, iOS, Windows, Android, Linux, routers
It's hard to go wrong with a free VPN on the PS4 that has not only unlimited bandwidth but also unlimited data usage. Plus, it's a router-friendly VPN.
How is the free version with cybersecurity? It's solid. ProtonVPN's Switzerland locale puts it outside the Fourteen Eyes Alliance. You can game with the confidence that this VPN records zero logs, and government snoops can't see your activity.
Military-grade encryption keeps all prying eyes out, and you never have to worry about data leaks with its DNS leak protection.
Still, there are limitations to the free plan. For starters, it doesn't allow streaming, torrenting, or P2P sharing unless you upgrade. Your gaming can run into lags since my tests of ProtonVPN show it to be slow across the three servers in the US, Japan, and the Netherlands.
Speeds and servers considerably jump up if you move to the Plus plan. You get high speeds and servers in 43 countries. It's ideal if you want to find games restricted in your region.
With the Plus plan, you can stream Netflix with ease, but you have to upgrade to the pricey Visionary plan if you want to stream Hulu.
Ads never intrude if you use ProtonVPN. The free version comes with a built-in ad blocker.
ProtonVPN lacks live chat support, but customer service, through email or a help ticket, is knowledgeable and affable. You can also try out any of the three tier plans (Basic, Plus, Visionary) with a pro-rated 30-day money-back guarantee.
One device connection with the free version increases to five connections on the Plus plan and ten connections on the Visionary plan. 
Is the free version of ProtonVPN worth it for your PS4 gaming? Read our review and test of this VPN now.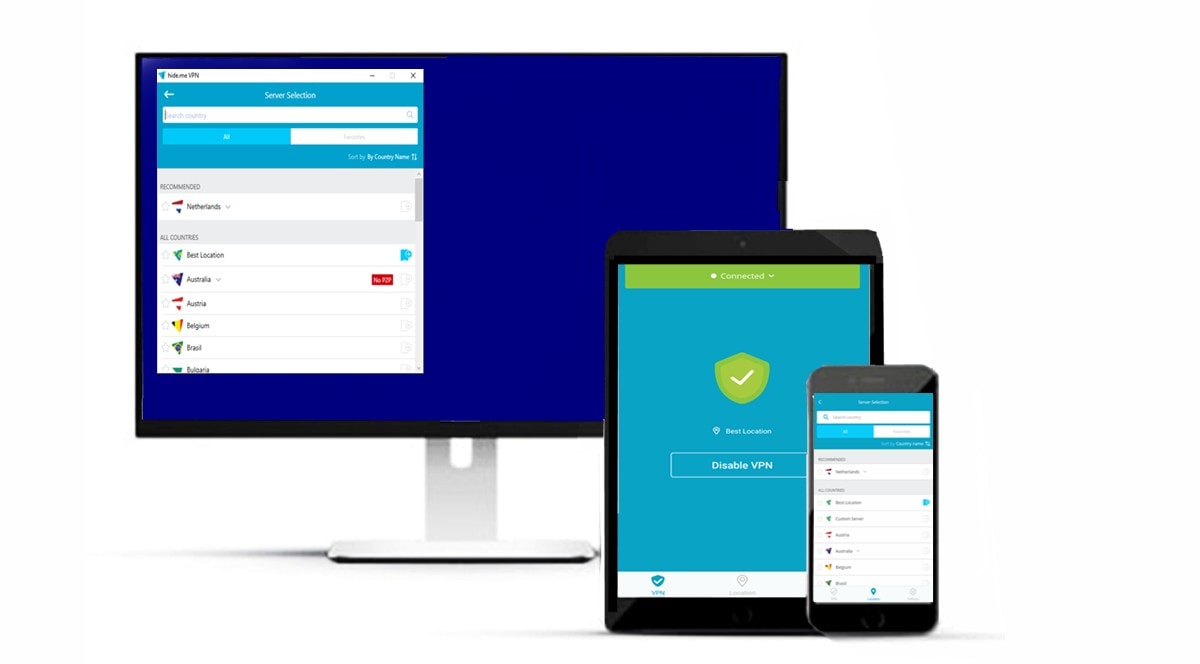 2GB of free data a month
Ad-free
Router-compatible option
Superb cybersecurity
No limits on speeds
Works with: YouTube, Kodi, HBO GO, Spotify
Compatible with: Windows, macOS, iOS, Linux, Chrome, Firefox, routers
hide.me's free service gives you 2GB of data per month. That equates to about 40 hours of PUBG with voice chat. Not too shabby if you want a VPN with the PS4 for free!
Is it as safe as its name suggests? Yes, even if you choose hide.me's free version. You never have to worry about someone hacking into your game with its AES 256-bit encryption and IP leak protection. You even get an optional kill switch that you turn on manually.
Since hide.me resides in Malaysia, it uses a zero-logs policy.
My tests of hide.me's speeds were consistent and reliable with its limited five servers. If you do decide to upgrade, you're in for a gaming paradise with over 1,400 servers in 57 locations.
If you're streaming on the PS4, the premium plan can unblock Amazon Prime Video and BBC iPlayer. For now, Netflix is still geoblocked.
One of my favorite free perks is the Stealth Guard feature that allows you to limit your internet connections to hide.me's servers. Or you can choose to limit your app functionality only to hide.me.
Plus, there are no ads. Ever.
Prompt and friendly live chat is available, and it offers tutorials on connecting your router to the PS4. You get a 30-day money-back guarantee with a paid subscription.
While you only get one device connection with the free plan, you get ten device connections if you choose the paid route.
hide.me is a great choice of a VPN for either free or premium. Look at the comparisons in our hide.me review.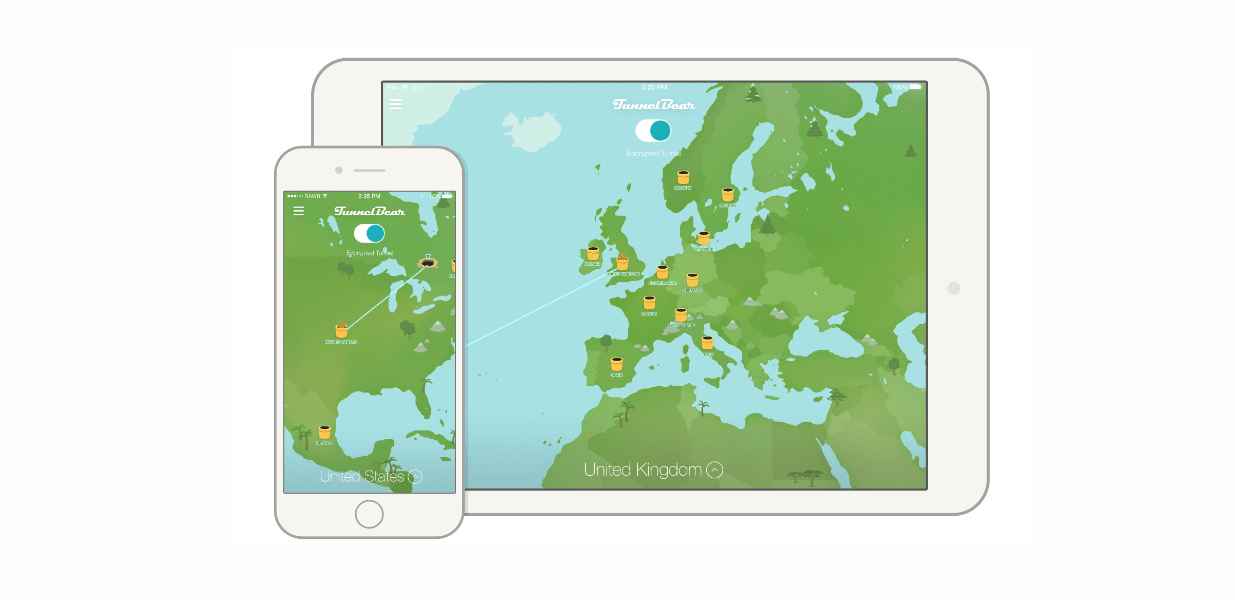 500MB of free data per month
Simple interface
Excellent encryption, no logs, and a kill switch
No ads
GhostBear feature allows access in China
Works with: HBO GO, YouTube, Kodi
Compatible with: macOS, iOS, Linux, Android, Chrome, Firefox
TunnelBear's free version offers up a small 500MB of free data a month. If you're a part-time gamer, you can enjoy Monster Hunter: World for about ten hours.
Unfortunately, it's not a router-compatible VPN, but you can hook up TunnelBear to the PS4 through your PC or Mac.
TunnelBear makes up for these limitations when it comes to its cybersecurity. Your data is log-free, and its AES 256-bit encryption keeps you safe from hackers posing as gamers.
If your connection drops, TunnelBear uses a version of the automatic kill switch called VigilantBear. Your data remains behind an encrypted wall as it searches for a new internet connection.
As far as server locations, TunnelBear offers up 23+ servers with the free version. While it can't bypass geoblocks on streaming sites like Netflix, it can unblock HBO GO.
Your TunnelBear experience gets a boost with the paid version. While there's no money-back guarantee, you get unlimited data, preferred customer service, and five simultaneous device connections. 
If you're a serious PS4 gamer on the lookout for an optimal free VPN, TunnelBear might not be the best fit. But check out our thorough review to see all the benefits of using this VPN.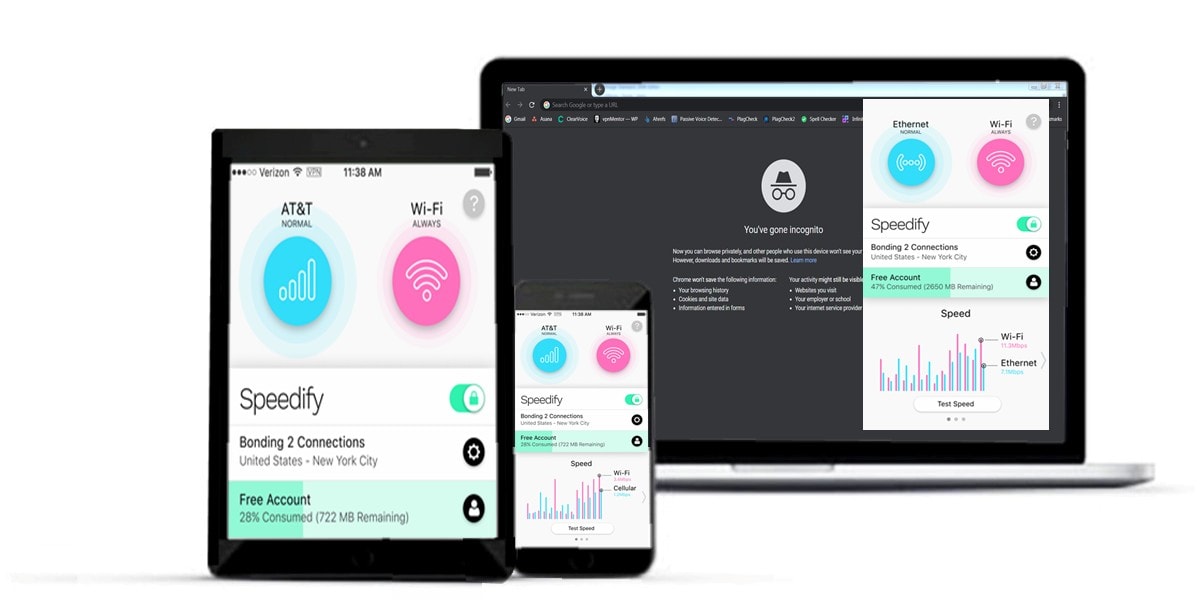 2GB of free data monthly
Intuitive interface
Channel bonding helps gaming speeds
ChaCha or AES-based encryption
Works with: YouTube, Kodi
Compatible with: macOS, iOS, Windows, Android, Linux
Although Speedify is not a router-compatible VPN, it does offer up to 2GB of free data a month, which amounts to about 25 hours of Overwatch. Its speedy connections also ensure lags won't interfere with your Fortnite battlefield excursions.
Your gaming is never open to cyber villains like trackers and phishers with its ChaCha or AES-based encryption. Plus, you get a kill switch that hides your IP address if your connection fails. For now, this feature is only accessible if you're a Windows user.
The channel bonding feature is perfect for gaming since it speeds up your connection by combining cellular and wi-fi data. However, it doubles up the data usage, which is problematic if you're only doing the 2GB a month with the free version.
If you upgrade to a premium plan, you get unlimited data and five simultaneous connections. Still, it can't bypass the geo-restrictions with sites like Netflix and Hulu.
Customer support is available through email, and it does offer tutorials on connecting the VPN to gaming consoles. Plus, you get a no-questions-asked, 30-day money-back guarantee with any paid subscription.
If you have questions about Speedify, read our detailed review to find the answers.
FAQs
Do these free VPN providers keep log files?
The eight VPNs on my list, for the most part, keep zero logs of your internet activity. However, some of the VPN's privacy policies come with caveats.
For example, Betternet's free service has funding from Google Ads. The policy claims that it doesn't provide Google with your data, except for your geographic location to show more relevant ads.
If zero logs is your primary concern, I recommend going with a premium VPN service that adheres to the strictest of logging policies, such as NordVPN.
Does a VPN impact my speed while gaming?
A free VPN service can bog down your gaming speed. Most free VPNs offer you limited servers, which leads to overcrowding of other users. High traffic on a server can result in lagging and ISP throttling.
A service like NordVPN has tons of global servers to choose from and fast connection speeds. Why not pay a small sum for a premium service that guarantees unlimited gaming?
Are VPNs legal?
For the most part, yes. You can use a VPN legally in 95% of the world, as long as you're not using it for illegal purposes.
Read our guide that details the legality of VPNs to get a full understanding and find out where they're restricted, too.
Summary
If you're a gamer at heart, it's better to go with a premium VPN for the PS4 rather than a free one. VPNs that don't cost anything usually mean you encounter slow speeds, a small number of servers, low data caps, and cybersecurity flaws.
Still, the free VPNs I mention here are a step up from some of the more questionable free VPNs out there. If you can handle some of the limitations–or if you're the occasional gamer–you can find a suitable free VPN for the PS4 on this top 9 list.
That said, why not go with a low-cost premium service like NordVPN that actually has gaming-optimized servers for your PS4? You get unrestricted data, unlimited bandwidth, and rock-solid cybersecurity.
Pay a little, so you don't pay big in the long run.
Do you regularly torrent games? Read our list of the 10 best VPNs–out of 300–for torrenting.
If you do decide to go with a premium VPN, we have coupons and deals for our most recommended VPNs.