5 Best Remote Access VPNs for Businesses — Updated in 2023
Updated on 12th December 2022
A remote access VPN enables WFH employees to securely access company resources from anywhere. But finding one that can keep your business safe from external threats can be a challenge. Some aren't secure enough, while others lack features that are crucial for business.
My team and I tested 50+ remote access VPNs to find the best ones for businesses. I looked for services with strong security and privacy features that can keep your data safe. Each of my recommendations also performed well on speed and latency tests, allowing for rapid encrypted file sharing and smooth video conferencing.
My top choice is Perimeter 81. It has strong security measures to keep sensitive information private. Plus, it supports the speedy WireGuard protocol for lag-free Zoom meetings and quick file transfers. Trying Perimeter 81 is risk-free since it's backed by a 30-day money-back guarantee. If it's not for you, it's easy to get a full refund.
Try Perimeter 81 for Your Business >>
Short on Time? Here Are the Best Remote Access VPNs in 2023
Best Remote Access VPNs — Full Analysis (2023 Update)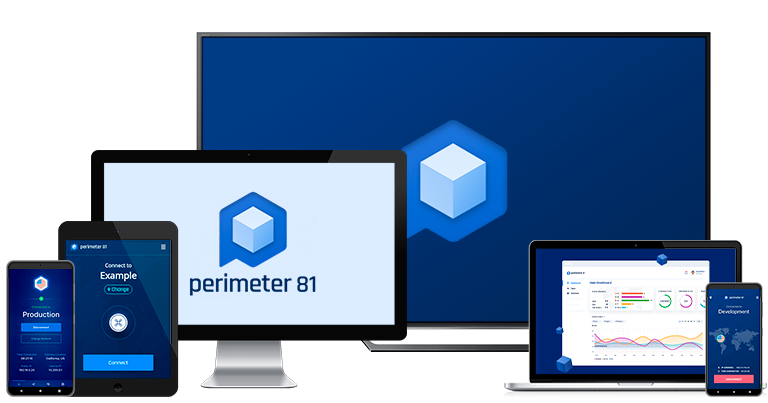 Editor's Choice
Editor's Choice

Tested February 2023
Try Risk-Free for 30 Days
www.perimeter81.com
Top security features like 2FA and IP whitelisting for enhanced data privacy
700+ servers in 17 countries to deploy private gateways in multiple locations
Central console to easily manage user access
Secure Web Gateway add-on to block unwanted apps and sites
Compatible with: Windows, Android, iOS, macOS, Linux, routers, and more
Perimeter 81 offers two-factor authentication (2FA), which makes it harder for attackers to gain access to company data. That means, even if a user's password is compromised, the hacker must pass an additional authentication check (SMS or Google Authenticator) to infiltrate your systems. Plus, the service allows IP whitelisting to manage users' access to sensitive information. This further reduces the risk of unauthorized access.
The service also has a secure web gateway (SWG) add-on, which prevents employees from visiting malicious sites. This not only reduces the risks of malware but also increases productivity. It allows you to limit or block access to social media sites or other non-business-oriented content. During my Perimeter 81 tests, I could control which traffic went in and out of my company's network.
All your company communications are protected by 256-AES bit encryption — the highest level available. The Cloud Network Security solution integrates zero-trust SASE technologies to protect your cloud-based data and applications against cyber threats. These solutions include software that analyzes your company traffic for malware and phishing attacks. Plus, automatic WiFi protection launches the VPN whenever it detects an unknown network.
The service supports the fast WireGuard protocol for speedy file sharing too. I downloaded a 4GB file in just under 8 minutes and didn't experience any lag during a meeting on Zoom. All plans come with unlimited bandwidth as well, which means you can upload and download as much as you like.
Employee accounts (10 on lower plans) are centrally managed to enhance security and make it easy to scale as your team grows. In addition to creating user accounts, you can get dedicated servers and manage data access by assigning different permissions to the user groups. It's also possible to monitor both users and devices. Plus, the admins can ensure that all the employees are using the latest versions of the VPN software.
My one complaint about the provider is that the advanced features are only available with expensive plans. For example, the cheapest plan doesn't include a Firewall as a Service (FaaS) or a device posture check (DPC) — which ensures that only devices that comply with predefined security policies can connect to the network. However, the basic plan is enough to keep your company's data secure.
Speaking of which, the price for the cheapest subscription is $8/month when you sign up for the yearly term. There's a top-tiered plan as well if you have a large company and want customized features. Regardless of which plan you choose, I recommend sticking to the annual subscription terms as they offer the best value.
You can try Perimeter 81 risk-free as it's backed by a 30-day money-back guarantee. If you aren't satisfied, you can get a full refund — I found the customer support prompt and responsive when I tested this. It only took a few days for the money to reach my card.
Single Sign-On (SSO) for greater security and easier authentication for employees
35+ servers in 23 countries for speedy connections wherever you're based
Access Control feature to manage which employees see which company resources
Only uses IPv4 connection to avoid IPv6 leaks
Compatible with: Windows, Android, iOS, macOS, and Linux
GoodAccess offers Single Sign-On (SSO) compatibility to make the authentication process effortless. By logging in just once, you can access multiple corporate apps and websites. The feature is secure and works based on a trust relationship between the apps and the identity provider (IDP). That means your employees don't have to remember complex passwords for different services. Plus, it's compatible with Azure, Google Workspace, and more.
Thanks to strong security and privacy features, your company data is well-protected from external threats. The VPN comes with 256-bit AES encryption and only uses IPv4. This means there's no chance of IPv6 leaks. I tested GoodAcess servers for IP/DNS leaks and found none whatsoever. Similar to Perimeter 81, the service also has IP whitelisting and 2FA for added security.
You can create access cards to manage access to systems or resources. This helps you control who can use particular systems and when. If you want an employee to have access to multiple systems, you can assign them more than one card.
On the downside, the service has a limited server network. You can only deploy gateways in just over 35 locations. However, it does cover major locations like the US, UK, Japan, Singapore, Israel, Brazil, and more. You can get a low-latency connection no matter where you are.
Compared to Perimeter 81, this VPN is a little more affordable. You can get started for as low as $5/month with an annual billing cycle. The plans above this are slightly more expensive as they offer extra features. No matter which plan you choose, you get the best value with the yearly subscription term. Prices are per user, with an extra plan for small businesses capped at 3 users for $20 a month (at time of writing).
While the VPN isn't backed by a money-back guarantee, it does have a free plan — but with limited functionality (no dedicated gateway). You can check it out to get a feel for the service. However, it's best to upgrade to a paid plan if you want full protection.
Ultra-fast speeds for instant file sharing and smooth video conferencing
3,000+ servers in 94 countries ensure employees can find servers nearby
Easy-to-use apps to secure your employees' data with the click of a button
Volume licensing subscriptions to create multiple licenses under the same account
Compatible with: Windows, Android, iOS, macOS, Linux, routers, and more
Of all the VPNs I tested, ExpressVPN has the fastest speeds. I recorded an average of 82.6Mbps — only a 4% speed drop. Downloading a 2GB file from my company's server took about 3.5 minutes. The unlimited bandwidth allows you to upload and download as much as you like too.
ExpressVPN's proprietary Lightway protocol was impressively fast during my tests. It's a lightweight but secure protocol that allows for rapid encrypted file-sharing. The service also supports the extra-secure OpenVPN (UDP and TCP), alongside L2TP/IPSec.
Military-grade encryption means third parties can't intercept your employees' communications. It's backed up by perfect forward secrecy, which regularly changes encryption keys for added protection. In addition, the VPN comes with an automatic kill switch, and leak protection to prevent accidental data exposure.
The VPN is easy to set up and use. I installed it on my Windows PC in 3 minutes. Plus, the Smart Location feature automatically picks the fastest available server based on your location.
One downside is that ExpressVPN isn't a full remote access VPN solution. However, it can easily be used in conjunction with remote desktop access, and volume licensing is also supported. This means you can create subscriptions for the whole team under the same account. All I had to do was contact the VPN team for a custom price.
A single subscription allows 5 simultaneous device connections and costs $6.67/month. Alternatively, you can save considerably when you purchase multiple licenses. The service accepts several payment methods including PayPal, credit card, Bitcoin, and PaymentWall.
All the plans are backed by a 30-day money-back guarantee, regardless of how many licenses you buy under your account. This means you can try ExpressVPN risk-free and get a refund within 30 days if it's not for you. I contacted support via 24/7 live chat and asked for a refund. The agent quickly approved my request after I gave a reason. I had the money back in my bank account after 2 days.
Stealth VPN to bypass tough firewalls while working in remote locations (e.g., China)
3,000+ servers in 50 countries ensure low-latency connections for employees
Dedicated IP addresses let you manage access to sensitive data
Deploy the IP firewall to manage incoming and outgoing network traffic
Compatible with: Windows, Android, iOS, macOS, Linux, routers, and more
TorGuard has a Stealth VPN Mode to bypass the tough firewalls and VPN blocks imposed by some countries. The mode is essentially server obfuscation technology, which makes VPN traffic look like regular traffic. My colleague in China used it to securely connect to the office network in the US. This means your employees can safely access the company network even from countries where VPN use is restricted or tracked.
Though this service isn't as fast as Perimeter 81, you can easily find low-latency servers from anywhere. On my TorGuard tests, I recorded reliable speeds — the speed drop was never more than 14% from my baseline connection, no matter which server I connected to. This means you can securely share files and make video conferencing calls without slowdowns.
The service also offers dedicated IP addresses, which is useful for managing who accesses your company's data. A dedicated IP is an IP address that only you have access to, and it stays the same every time you log in. If you only want certain employees to see sensitive information, all you have to do is whitelist their static IP address. That said, this feature is only available on higher plans.
Unfortunately, those business plans are very pricey. The cheapest you can sign up for is $32 per month (at time of writing), which covers up to 5 employee devices. However, if you have a small team and don't care much about user management or dedicated IP addresses, you can get the standard VPN service (with 8 simultaneous connections) for just $9.99/month.
Each plan is backed by a 7-day money-back guarantee, so you can try TorGuard risk-free. If you aren't impressed, it's easy to get a full refund.
Split tunneling allows colleagues to only encrypt business traffic
Free plan with up to 5 users to get started
Servers across 13 countries for widespread employee coverage
2FA for an extra layer of security
Compatible with: Windows, Android, iOS, macOS, Linux, and ChromeOS
Twingate offers split tunneling, which allows you to only encrypt the traffic you want. This reduces the burden on your company's network infrastructure and improves connection speeds. When testing Twingate's split-tunneling feature, I experienced faster speeds on unencrypted traffic. There were no interruptions while I was video-conferencing with my remote team.
The service works on a zero-trust model for improved security. It authenticates user identity upon every request and grants permissions to resources based on the principle of least privilege. This means that the admin can assign detailed permissions for each employee, so your employees are given access to a particular asset instead of the whole network.
While in transit, your company data is secured via TLS/SSL connections. When the data is at rest, it is stored in a Google Cloud Platform-managed database (which is safeguarded with AES 256-bit encryption). The encryption keys change regularly and are stored in a secure keystore — making it difficult for hackers to access your data at any stage.
Unlike ExpressVPN, TwinGate doesn't offer 24/7 live chat. This can be a problem if your working hours don't align with support hours. However, I emailed the support team about its pricing and received a response within 2 hours.
The free plan is fairly limited, but the lowest premium package starts at only $5/month when you sign up for the whole year. Monthly subscription terms are also available but at a higher price.
All plans are backed by a 59%-day money-back guarantee, so you can try TwinGate risk-free. If it isn't right for your business, it's easy to get a full refund.
Quick Comparison Table: Remote Access VPN Features
Tips on How to Choose the Best Remote Access VPNs
I used the following criteria to rank the VPNs on my list. Focus on these features when choosing the best remote access VPN for your business.
Strong security. Military-grade encryption, secure protocols, and leak protection prevents hackers, competitors, and other third parties from getting hold of sensitive company data. Additional features like a zero-logs policy, two-factor authentication, single sign-on, and secure web gateway are also helpful.
Good speeds. Choose a VPN that offers fast connections across all its servers and VPN gateways. That way, your employees can download large files within minutes and make video calls without slowdowns.
Worldwide server location. The VPN servers or gateways that are close to your physical location are usually faster and offer low-latency connections. That's why it's important to choose a remote access VPN that has global coverage.
Reliable support. A good remote access VPN provides responsive customer support whether it's via email, live chat, or contact form. 24/7 live chat is ideal as it's the fastest and most convenient option.
Trustworthy money-back guarantee. A reliable refund process means you have time to see if the VPN is right for your business. Make sure you can claim a refund if you aren't satisfied.
Get the Best Remote Access VPN
FAQs on How to Choose the Best Remote Access VPNs
Are remote access VPNs safe?
It depends on the provider you choose — some don't include the high-level encryption and security solutions you need to protect your company data. All the remote access VPNs on this list are safe to use.
When choosing a remote access VPN, it's important to ensure that your provider has robust security features, like strong encryption, a kill switch, and leak protection. If you're using a SASE solution, you should only stick with reputable providers since you're entrusting them with your critical infrastructure.
How does a remote access VPN work?
By creating a secure virtual tunnel between an employee's device and the organization's NAS (Network Access Server). When an employee connects to the VPN, all their internet traffic is sent through this virtual tunnel and protected by strong encryption. You just need to choose a provider that has strong security features.
This makes it virtually impossible for hackers or other interested parties to decipher your data — ideal if your employees are logging in from unsecured public WiFi. It's also possible to use a primarily consumer-based VPN (like ExpressVPN) to secure your employees' connections in conjunction with remote desktop access.
SASE vs site-to-site vs remote access VPN: what's the difference and which one is better?
A remote VPN is a better solution because it's easier to install and use. Site-to-site VPNs don't work in the same way, while SASE (Secure Access Service Edge) solutions are expensive and require expertise to set up and maintain.
While both SASE and a VPN share the same goal of protecting your privacy, the way they operate is different. A VPN is a standalone tool that protects corporate data by routing all employee traffic through an encrypted virtual tunnel. SASE is a framework that combines different cloud-native security technologies (like CASB, Zero Trust, and SWG) and wide area network (WAN) capabilities.
A site-to-site VPN, on the other hand, creates an encrypted connection between multiple users' networks. It's less popular for businesses than remote access VPNs, which let you create one secure network where employees can access resources safely.
Can I use a free remote access VPN?
You can, but it's not recommended. Free VPNs come with plenty of risks that could put your company in danger. It's better to use a premium VPN that offers a reliable money-back guarantee. Some of these also offer free plans you can try, dedicated to business users.
Many free VPNs collect and sell your data to make money. Some have weak security and can leak identifying information, which defeats the whole purpose of using a VPN in the first place. Others intentionally limit your speeds and bandwidth, placing restrictions on your employees.
Even worse, there have been instances where free VPNs were riddled with malware. From stopping day-to-day operations to stealing sensitive data, malware can wreak havoc on a business. That's why it's important to stick with tried-and-tested VPNs.
Some SASE solutions (like GoodAccess) on our list offer a free tier. However, you only get limited security features and less control over the company's network.
RDP (Remote Desktop) is another free option. However, it has several disadvantages. For instance, the connection is much slower and more susceptible to threats. If your RDP doesn't offer world-class encryption, it's easy for hackers to hijack the connection and gain full control over the host.
Get the Best Remote Access VPN
Get the Best Remote Access VPN Today
A good remote access VPN can secure corporate data and communications. Even though it can be difficult to find the right one, I've shortlisted a few that can protect your company's intellectual property from external threats.
My top recommendation is Perimeter 81. It has fast speeds, a strict no logs-policy, and reliable security to ensure your company data is kept private. It's backed by a 30-day money-back guarantee, so you can try Perimeter 81 risk-free. If it's not for you, it's easy to get a refund.
To summarize, the best remote access VPNs in 2023 are…
Privacy Alert!
Your data is exposed to the websites you visit!
The information above can be used to track you, target you for ads, and monitor what you do online.
VPNs can help you hide this information from websites so that you are protected at all times. We recommend ExpressVPN — the #1 VPN out of over 350 providers we've tested. It has military-grade encryption and privacy features that will ensure your digital security, plus — it's currently offering 49% off.