8 Best (Still Working in December 2019) VPNs for China – 2 Are FREE
Updated on 18th September 2019
Don't take any chances! China is trying to block VPNs, so make sure you'll be protected before you arrive. We tested and verified the top 8 VPNs that are guaranteed to bypass the Great Firewall of China (luckily, 2 are free!). These tried-and-tested VPNs will ensure you have unrestricted internet access to your favorite sites and streaming while in China. Share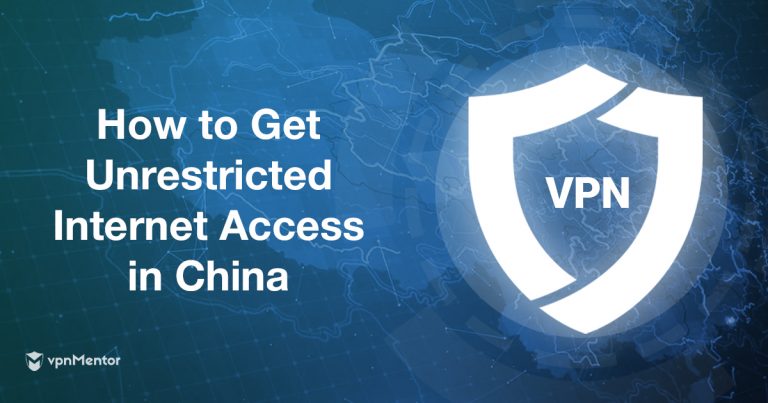 China is cracking down on VPNs. The government wants to completely block all unauthorized services. Most information available about VPNs in China is outdated, so only use those on this list. While others may be useful, we can only guarantee that these ones will successfully keep you safe. We tested all the VPNs on this list in 2019 to ensure they're still working in China.
China has some of the world's strictest censorship laws, so you'll need a VPN to access your regular sites and services. We tested many services to find the best VPNs for China that really work.
While we take digital freedom for granted in the Western world, the situation in China is very different. The Chinese government blocks thousands of websites many of us use every day, such as Facebook, YouTube, and Twitter. Many major news outlets are blocked, as well as messaging apps and streaming services. In China, you can't check your Gmail or chat with your friends on WhatsApp.
If this sounds like your biggest nightmare, you're not alone. If you're traveling to China, you need a VPN.
However, you need to choose your VPN very carefully. The Chinese government doesn't like VPNs, because they help you bypass censorship – so it's cracking down and trying to block all of them.
Many VPNs that worked in China in the past do not work there today. Our team member in China tests various VPNs daily, so we can recommend the best VPNs that currently work in China.
If you want to know that you'll be able to access the internet freely in China, be sure to choose a VPN from this list. We'll even share a little tip on how you can save money on a premium VPN for China – or even get it for free.
We will also introduce you to 2 free VPNs. They're not as good as a paid service, but they will unblock your favorite websites and content while you're in China.
Best VPNs for China
NordVPN – NordVPN has servers in neighboring countries and can unblock just about anything (including US Netflix). It's the most popular choice for full internet access in China. Read more >>
Surfshark – Offers unlimited device connections and specialized Camouflage and NoBorders modes
VyprVPN – Its unique Chameleon technology helps you bypass VPN blocks while keeping your connection private and secure. Read more >>
PrivateVPN – Thanks to its Stealth mode, PrivateVPN can bypass the Great Firewall and give you access to your favorite sites.
Ivacy – This Singapore-based VPN actually has servers in China, as well as neighboring countries.
Astrill VPN – Impressive security features and unblocking capabilities make Astrill VPN a favorite among users in China.
Best Free VPNs for China
Hotspot Shield gives users 500 MB of data every day for free
Windscribe offers free accounts 10 GB of data per month
IMPORTANT! You need to install your VPN on all your devices before you travel to China. Once you land, you won't be able to download or install any VPN software.
What You Need to Know about VPNs in China BEFORE You Travel
The Chinese government announced that it plans to block all VPNs. While this hasn't happened yet, the crackdown on VPNs continues.
While it is against the law for VPN companies to operate in China without government approval, VPN use is still legal.
China has removed almost all VPN apps from the Apple App Store. Google Play, like most other Google services, is blocked.
Right now, most VPNs don't work in China – even ones that have worked there in the past.
To use a VPN in China, you MUST install it on your computer or mobile device BEFORE you get there.
Click here to check if a website is blocked in China.
Don't take any chances with the Chinese government's tough internet laws and enforcement. The VPNs on our list aren't just guaranteed to give you unrestricted internet access. They also have the best security features.
Using the internet in China without the protection of a VPN is actually dangerous. That's why we've compiled a list of the best and safest VPNs for China. A good VPN will mask your identity and encrypt all your online activity, keeping your data safe from the prying eyes of the government and other third parties.
What to Look For in a VPN for China
You already know that you need a VPN if you want to use the internet freely in China. You also know that not all VPNs work in China, so you need to carefully choose one that will bypass censorship laws and protect you.
When testing to find the best VPNs for China, these were our criteria:
Ability to bypass the Great Firewall of China. This firewall is one of the most advanced censorship systems in the world. Bypassing it is a challenge – if not completely impossible – for most VPNs.
High speeds. Unrestricted internet access doesn't mean staring at a blank screen while you wait for your favorite websites to load. Some VPNs significantly slow down your connection in China, so we made sure to only choose services that passed our rigorous speed tests.
Servers in neighboring countries. One of the best ways to ensure a fast connection in China is to connect to a server in a nearby country, such as Japan or Hong Kong (which does not have the same internet laws).
Advanced encryption. You need to know that your identity and private information stay private. Mediocre, outdated encryption technology isn't good enough to keep you safe in China.
Kill switch. This important security feature will instantly disconnect you from the internet if your VPN disconnects. This will keep your identity and IP address secure at all times.
Ease of use. The VPNs on our list are user-friendly and intuitive, so you'll have stress-free experience even if you're new to VPNs. They are all easy to install and set up – no technical background required.
The 6 Best VPNs You Can Count on to Work in China
We tested and verified all the VPNs we recommend. You can rely on them for secure and unrestricted internet access in China.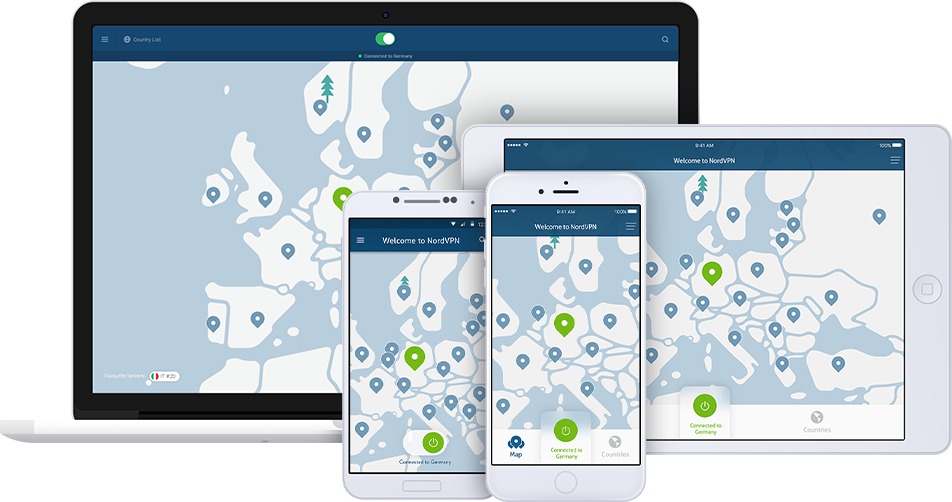 The highest security standards
Multiple servers in countries surrounding China
Affordable
24/7 live chat customer support
Website available in simplified Chinese
With its military-grade encryption and ability to bypass the Great Firewall with ease, NordVPN is our top pick for internet usage in China.
This super-reliable VPN has servers in 10 Asia-Pacific countries near China, including 40+ in Hong Kong and 80+ in Japan. This means you're guaranteed fast connection speeds.
If you experience any trouble connecting, you can enable the Obfuscated Servers option in the settings menu. This will open an alternative list of servers specifically configured for heavily-restricted areas.
The friendly 24/7 live chat support is always around and happy to help. It's no wonder this VPN is so popular among users.
If you're still not sure if NordVPN is right for you, take advantage of the 30-day money-back guarantee and try it out risk-free.
NordVPN can unblock:
Netflix, HBO, Hulu, Showtime, BBC iPlayer, Amazon Prime Video, and Sling TV.
Supports torrenting:
Yes, P2P specialty servers available.
NordVPN works on these devices:
Windows, macOS, Android, iOS, Android TV, Linux, Chrome, and Firefox. It's also compatible with routers.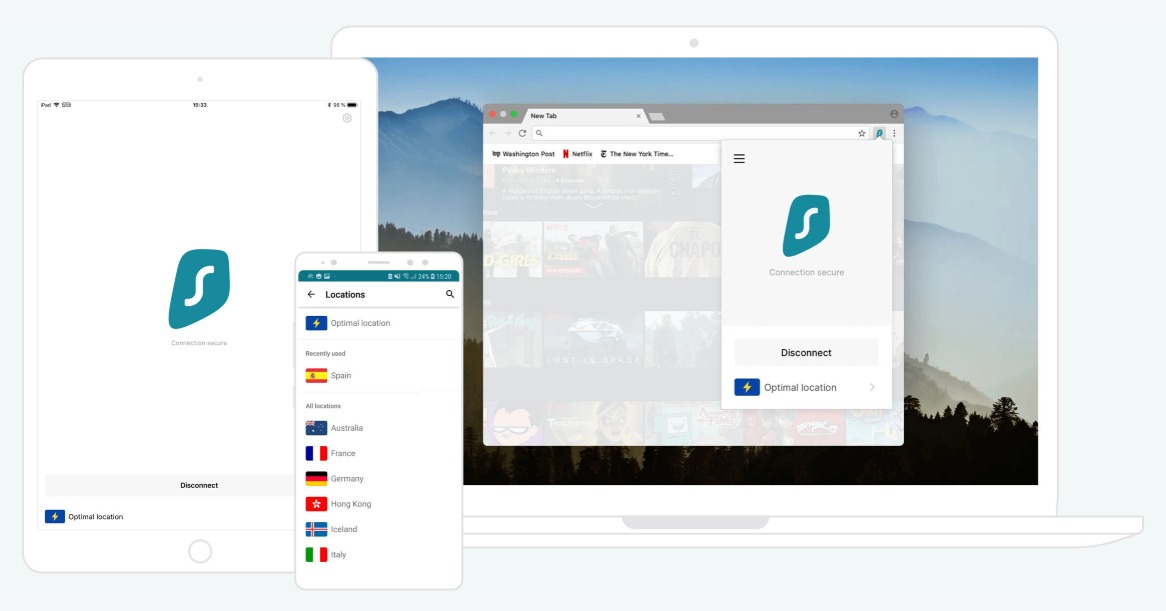 Servers in several Asian countries
Unlimited device connections
Advanced security features
As well as its Camouflage Mode (which means even your ISP can't see that you're using a VPN), Surfshark offers a specialized NoBorders mode which is designed to ensure unlimited access in countries with severe internet restrictions.
Surfshark offers a strict no-logs policy, unlimited device connections, and apps for all major devices. Its powerful encryption and security protocols will protect you against surveillance. Surfshark has servers in neighboring Asian countries, including Hong Kong, Japan, and Singapore.
Surfshark's 30-day money-back guarantee is part of why users love this provider. It's also one of the best-budget options available today.
Surfshark can unblock:
Netflix, Hulu, CBS, ESPN, Amazon Prime Video, and others.
Supports torrenting:
Yes, all servers support P2P activity.
Surfshark works on these devices:
Windows, macOS, Android, iOS, FireTV, Linux, Chrome, and Firefox.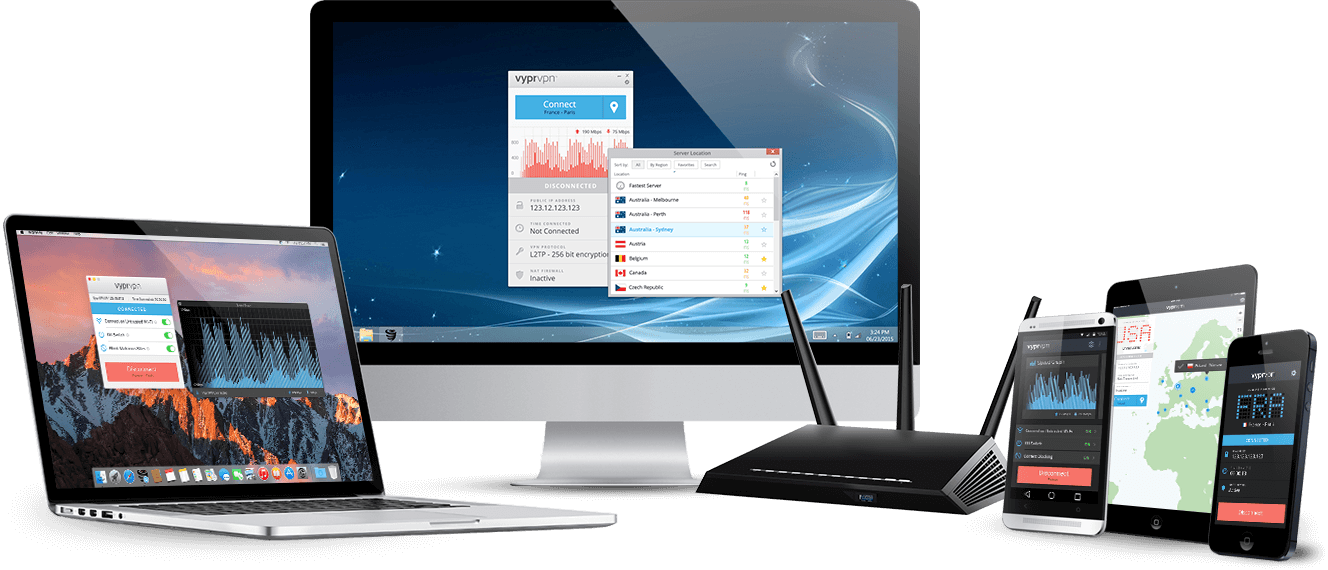 Servers in neighboring countries for fast connection speeds
Unique Chameleon technology
Available for purchase from within China
VyprVPN prides itself on its proprietary Chameleon technology. This scrambles OpenVPN data via deep packet inspection (DPI) so the signature isn't recognized. In layman's terms, this means it can easily bypass the Great Firewall of China.
VyprVPN offers a 30-day money-back guarantee, so you can test out their service risk-free.
VyperVPN can unblock: 
Netflix, Hulu, BBC iPlayer.
Supports torrenting: 
Yes, all servers support P2P activity.
VyperVPN works on these devices:
Windows, macOS, Android, iOS, Routers, Android TV, QNAP, Blackphone, Anonabox.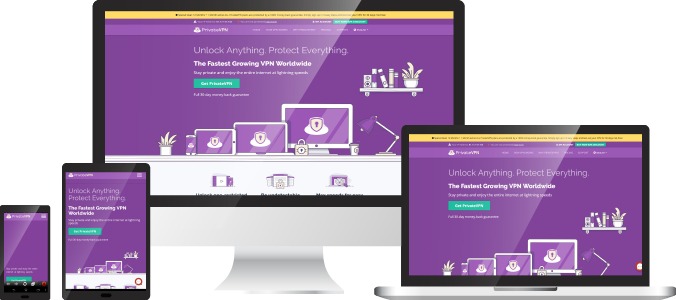 Special Stealth mode that can bypass China's Great Firewall
Servers in nearby Hong Kong ensure fast connection speeds
No-logs policy
PrivateVPN provides decent speeds and advanced encryption. It also has servers in local countries including nearby Hong Kong, Japan, and Singapore.
While PrivateVPN doesn't offer as many features as other VPNs on this list, it can still bypass China's Firewall, and that's no small feat. Make sure you are using the latest versions of their apps – they come with a Stealth mode that hides your VPN traffic. It's also a good idea to contact their customer support before your trip to ask exactly which servers you should connect to in China.
Read what users think of PrivateVPN. If you'd like to try it out for yourself, there's a 7-day free trial and 30-day money-back guarantee. 
PrivateVPN can unblock:
Netflix, Hulu, HBO, Hotstar, Amazon Prime Video, and BBC iPlayer.
Supports torrenting:
Yes, all servers support P2P activity; list of P2P-optimized servers available through the app.
PrivateVPN works on these devices:
Windows, macOS, Android, and iOS.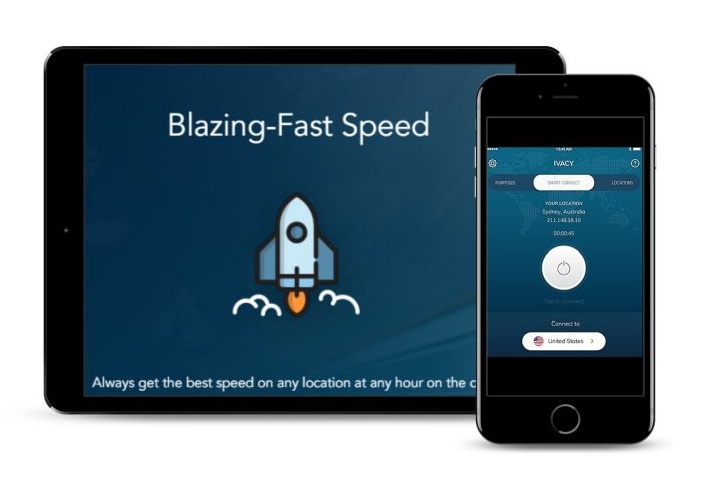 Servers in China and neighboring countries
High speeds
Advanced security features
Ivacy is a budget-friendly VPN that can bypass the Great Firewall. If you experience any connection issues, you can change protocols through the settings menu.
Singapore-based Ivacy is actually has servers in Shanghai, China. If you're trying to bypass the Great Firewall from within China, you should connect to a server in a neighboring country. If you're outside of China and need to connect to a Chinese server for market research or other purposes, this could be a good solution.
Ivacy offers all the essential security features, such as advanced encryption and a kill switch, and it has apps for all major devices. Click here to read real users' experiences. Unfortunately, our users reported that Ivacy's product and security aren't as good as the competitors.
Ivacy's 1-month plan comes with a 7-day money-back guarantee, while its longer plans come with a 30-day guarantee.
Bypasses the Great Firewall
Connect unlimited devices with a single account
Easy to use
Astrill VPN takes your privacy seriously, with advanced security features and a no-logs policy. It has multiple security protocols, so it can keep you safe in China. It offers apps for all major devices.
Astrill VPN's network offers over 320 servers in 65+ countries, including in nearby countries like Hong Kong and Japan. It gets generally positive reviews.
The company offers a 7-day free trial, but unfortunately, the free trial version is not available in China. There is a 7-day refund policy, but only under certain conditions. If you want know that you'll get your money back if, you'd be better off choosing NordVPN or one of the other VPNs on this list.
Our Recommended Free VPNs – Get a Free VPN for China
We also tested several free VPNs, and found two that work in China. While these two offer acceptable protection, we'd advise caution. Free VPNs aren't as secure, fast, or reliable as fully-paid, premium services. They are more susceptible to leaks and hacks, and cannot offer the same impressive security functions.
You can see a full list of free VPNs that work in China here.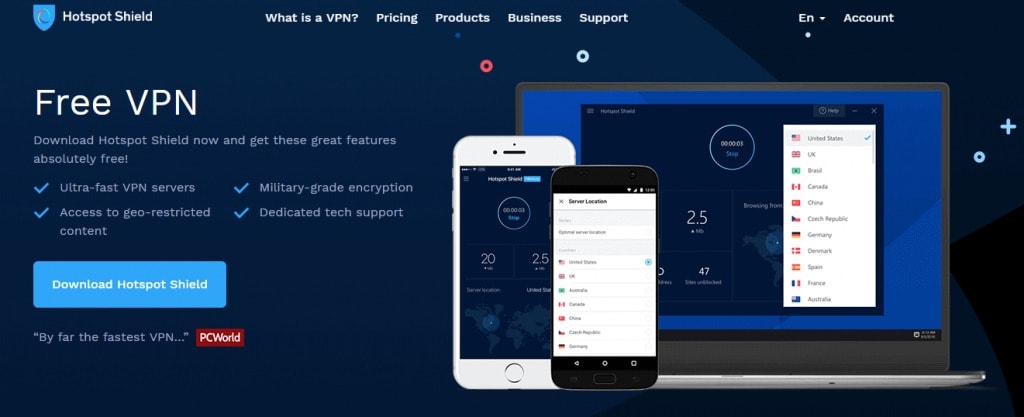 Military-grade encryption
Full internet freedom
Supports all platforms
Thanks to its vast and super-fast server base, Hotspot Shield works well in China. It even manages to unblock your favorite content. They take your privacy very seriously and use impenetrable military-grade encryption to secure your data.
Hotspot Shield offers multi-platform compatibility and advanced security protocols. But beware – they keep partial-logs, which worries the most security-conscious users.
All things considered, it is no wonder that this free provider has so many positive reviews.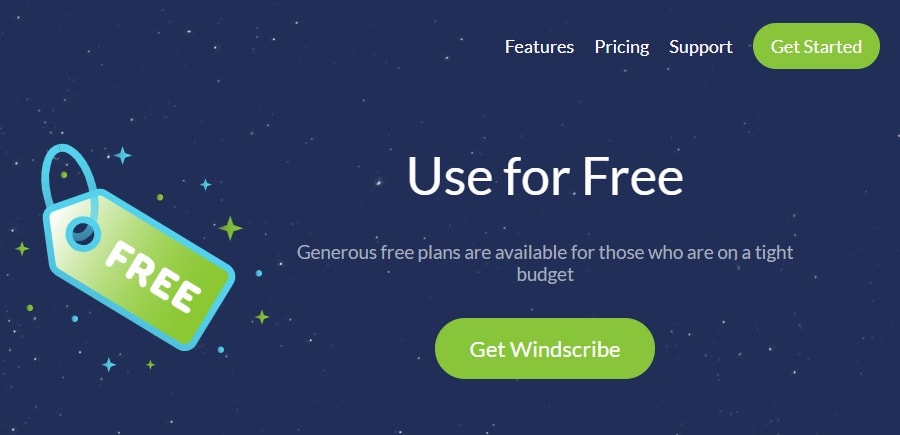 Strong encryption and data protection
Servers in nearby Hong Kong
No-logs policy
Windscribe has servers across the world. While the free version restricts which of these you can connect to, you are guaranteed to have access to the servers in Hong Kong.
Windscribe uses the strongest encryption available, keeps to its no-logs policy, and uses R.O.B.E.R.T which is a feature that blocks malware and ads on all your devices. It's compatible across multiple devices.
Considering that this VPN is free, the number of features that it provides its users with is out of the ordinary. Read what users think of Windscribe VPN.
These VPNs Don't Work in China
These days, most VPNs cannot bypass the Great Firewall of China – even some that have worked there in the past. If you want to be sure you will have unrestricted internet access in China, avoid these VPNs:
CyberGhost – While it is an excellent VPN for most purposes, CyberGhost currently does not work in China.
Trust.Zone – This VPN is no longer able to bypass China's censorship.
PureVPN – Although we have recommended it in the past, PureVPN no longer works in China. While the team has told us they are trying to find a solution, they were not able to provide an ETA on when the service would be working again.
Summary
You may have noticed that most of the VPNs on our list offer free trials or money-back guarantees. If you're only traveling for a short time, you can always cancel your subscription when you get home.
However, once you get used to all the benefits of a premium VPN service, you might decide to keep using it at home.
Either way, before you sign up for a VPN service, be sure to check our coupon page for all the hottest deals going on VPNs at the moment.
If you want to learn the more about VPNs, how they work, and what they can do for you, our VPN newbie guide is a great place to start.
You might also like: