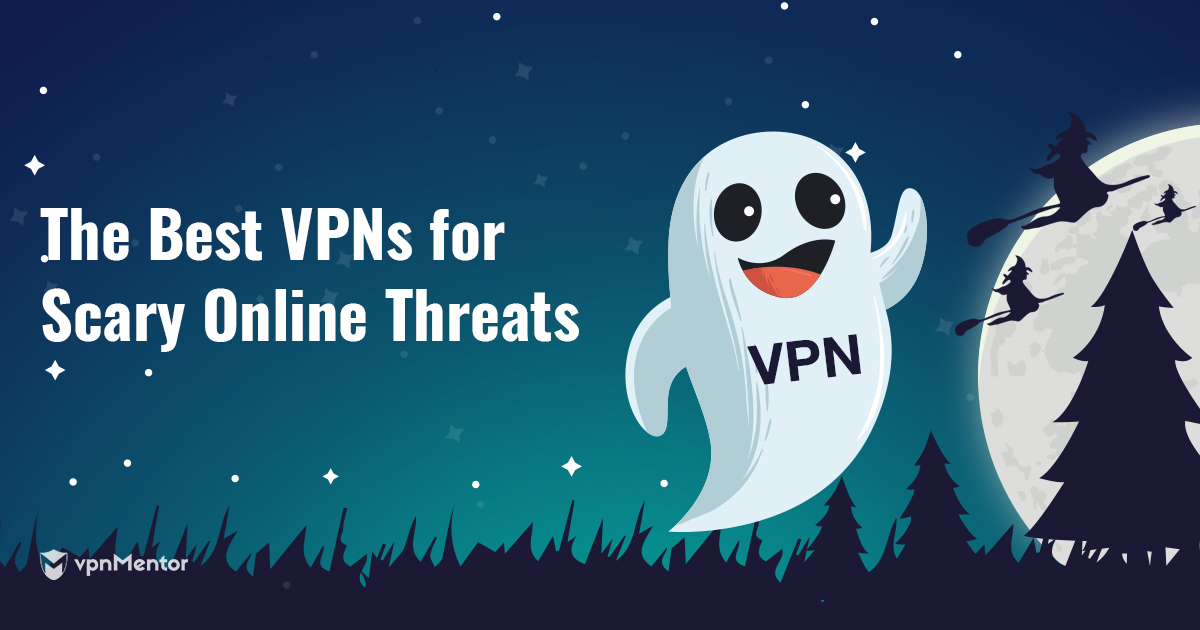 7 Best VPNs for Scary Online Threats + Halloween Discounts!
Trick or treat? When you're surfing the web, it's hard to tell one from the other – and that's a scary thought.
As you're setting out your Jack O'Lanterns to ward off evil spirits this Halloween, don't forget about the dangerous threats that lurk in the shadows of the internet. Digital demons await their chance to possess your device and haunt you forevermore.
But just as Halloween costumes hide your identity from monsters and zombies, a VPN will cloak your device and protect your connection from all the things that go bump in the night.
You'll be virtually invisible to evil hackers who want to play nasty tricks, and your VPN will help you accessed geoblocked content like US Netflix, so you never miss out on a treat.
And if malware's giving you nightmares, you'll rest peacefully knowing your VPN prevents witches from casting spells on your device and ensures that your personal information has safe passage this Halloween.
Best of all, many providers are currently offering MASSIVE HALLOWEEN VPN DISCOUNTS – read on for a rundown of all the best deals!
We don't want to spook you, but these online dangers aren't imaginary monsters that live under your bed – they're very real. Data harvesters, cybercriminals, internet spies, and malware threaten your online safety every day.
We have created this guide to give you a smile this Halloween, but also because we believe in your right to online freedom, safety, and anonymity. Read on for our best VPN recommendations to keep you safe online.
Best VPNs for Scary Online Threats – Quick List
CyberGhost
One spirit you don't need to be afraid of this October is CyberGhost, which is running a SPECIAL HALLOWEEN DEALright now! With 256-bit encryption and NoSpy servers, your data will be kept top secret.
ExpressVPN
Enjoy scary-fast speeds and coverage on all major operating platforms with ExpressVPN's shapeshifting apps.
Ivacy
You'll never roam the scary internet streets alone thanks to Ivacy's responsive, 24/7 customer support. And talk about a treat – Halloween subscribers get 87% OFFa one-year subscription!
TunnelBear
TunnelBear's GhostBear protocol hides your data from deep packet inspection (DPI), perfect for accessing tasty but heavily restricted sites and services.
CactusVPN
Sneak past treasure-guarding goblins to access over 300 geo-restricted websites with CactusVPN's Smart DNS. Knock on the provider's door in time for Halloween to get up to 54% OFFyour subscription!
PureVPN
With PureVPN's split tunneling, you can hide yourself from internet dangers but use your normal ISP connection to visit friendly sites. An October Special means 73% SAVINGSin your bag of Halloween goodies!
Ghost Path
Defeat geolocation demons and hide your IP address from online spooks with Ghost Path's privacy protection.

Start Slaying Internet Vampires Now!
Why You Need a VPN on Halloween and All Year
Countless dangers prowl just out of sight on the web, waiting for the perfect moment to pounce on unsuspecting users and unprotected devices. Here's a brief look at major threats to your privacy and security, and how a VPN fights them off.
The 7 Scariest Online Threats
1. Spying eyes. Like the creature that watches you from your closet at night, many ISPs spy on you and silently log your browsing activity.
Your ISP might sell your browsing data to marketing companies, or supply it to authorities for criminal investigations or as part of government surveillance programs.
2. Data vampires. ISPs, search engines, and corporations like Facebook and YouTube collect your personal information and sell it to third parties.
3. Hackers. Soul-snatching cybercriminals hide in the depths of the internet, looking for vulnerable connections to prey on. Once they find one, they'll steal your identity or infect your device with damaging malware.
4. Malware. Spyware, viruses, and other malware spread through the internet like a zombie curse. They invade and damage your device without your consent – and usually without your knowledge. Head's up: they like to lurk in free VPNs. 
These zombie plagues are often spread through contact with dangerous websites. Although you'll also need a high quality antivirus program for complete protection, a good VPN detects malicious websites and alerts you to the impending danger.
5. Hijackers. Creepy spider programs crawl the web searching for gaps in your security. They use those gaps to hack in and install code that summons a botnet to possess your device.
A botnet is a group of devices that have been infected with this malicious code and are controlled by a master computer, or botnet owner. Some hijackers use botnets to assemble the processing power they need to mine cryptocurrency. Others use them to send spam, steal data, and run DDoS attacks.
6. Geoblocking. Some websites and online services put up a magical force field to control what you see online. Geoblocks limit users' access depending on their locations. It's a wicked trick that denies you a lot of internet treats.
Most famously, streaming services like Netflix use geoblocking technology to restrict the TV shows and movies that you can watch in your region.
7. Censorship. This is one issue we would never joke about. Many governments suppress free speech by restricting the content that citizens can access online.
For example, the Great Firewall of China blocks many foreign websites and slows down international traffic. We strongly oppose all censorship, and helping you overcome it with a VPN is a core component of our mission.
How a VPN Keeps You Safe Every Time You Go Online
Although Halloween is the spookiest night of the year, these digital threats don't go away once the night is through. That's why a VPN should be your constant companion on the web, all year long.
A VPN masks your IP address by connecting your device to a remote server, and encrypts your data so creepy web crawlies can't track your activity.
In addition to changing your apparent location, the best VPNs use high-tech obfuscation methods to give you the ability to anonymously bypass censorship and geoblocking of content from around the world.
When you secure your connection with a VPN, it becomes virtually impossible for data vampires to steal your personal information like your address, passwords, and bank acccount or credit card numbers.
In all these ways and many more, a top-quality VPN will ensure that you have safe and unrestricted access to the internet throughout the spooky season, and every other day of the year.
The 7 Best VPNs for Halloween with Special Deals!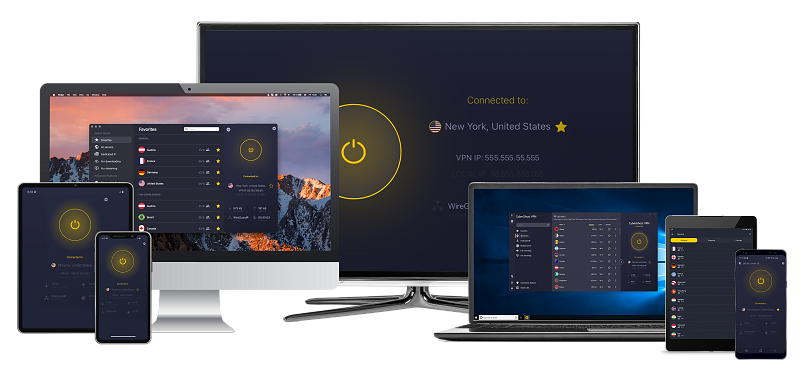 Editor's Choice
Editor's Choice

Tested January 2023
Try Risk-Free for 30 Days
Available on:
Chrome
Router
Smart TV
More
www.cyberghostvpn.com
Offering military-grade encryption and apps for every platform, this friendly ghost will calm all of your fears this All Hallows' Eve. And here's a treat: CyberGhost is offering an amazing Halloween Discount Right NOW – you can get this great service for just $2.75 US per month!!
With over 6,000+ servers across 90+ countries, CyberGhost makes it easy to unblock censored and geoblocked content almost anywhere in the world.
CyberGhost's NoSpy servers and no-logs policy mean that your browsing data will never be recorded. In fact, the provider maintains a purpose-built data center in Romania specifically to avoid government surveillance and keep its users' information out of reach of the 14-Eyes countries.
You can see for yourself why CyberGhost is so highly recommended by its users with a 7-day free mobile app trial, 24-hour free Windows trial, and 45-day money-back guarantee for all platforms.
What you'll love about CyberGhost:
Protection for up to 7 devices simultaneously with one account
Unlimited bandwidth and high speeds
24/7 live chat support
Get CyberGhost's Halloween Deal NOW!
ExpressVPN's quick and easy setup process makes it a perfect match for VPN beginners and veterans alike. It's our overall speed test champion, and with unlimited bandwidth and military-grade encryption, there's no better choice for guarding your online privacy.
If your VPN connection ever fails, ExpressVPN's automatic kill switch will disconnect your device so none of your data is leaked. A strict no-logs policy prevents your browsing history from falling into the hands of an evil witch or warlock.
For added control, you can use the split tunneling feature to choose which sites you access via your VPN and which you access with your real IP address.
ExpressVPN offers 24/7 customer support via live chat and a 30-day money-back guarantee on all of its services. You can also try it free for 7 days on Android and iOS devices. Check out what real users have to say about ExpressVPN.
What you'll love about ExpressVPN:
Industry-leading speeds
Protection for up to 3 devices simultaneously
Automatic kill switch
With servers in 100 countries, Ivacy VPN gives you safe, anonymous access to everything from sweet kitten videos to scary Halloween movie downloads all over the world. A kill switch ensures that your data will never become visible to internet creepers, even if your server connection drops.
Fast speeds, support for torrenting on dedicated servers, and unlimited bandwidth mean that you can stuff your Halloween sack with live streams and downloads. Ivacy's customer support is exceptional and always available, so a friendly face in the dark is always a click away.
All subscribers get a 7-day money-back guarantee, and for 1-year or longer plans, the refund period extends to 30 days. Now's the perfect time to try one of those plans, thanks to a Halloween Discount of up to 87% OFF YOUR SUBSCRIPTION!
Get Ivacy's Halloween Deal NOW!
Shake evil off your trail and keep your browsing activity private with GhostBear, TunnelBear's DPI-evading feature.
Some governments use DPI to identify data that has traveled over a VPN and block it from reaching its destination. GhostBear uses Obfsproxy to change your VPN traffic signature to look like regular, unencrypted traffic when it's under inspection.
TunnelBear itself is an all-around favorite VPN, offering powerful protection from all kinds of spooky threats. It operates super-fast servers in over 20 countries, and the Always On feature means your data is never left unprotected.
If your VPN connection is interrupted, TunnelBear's kill switch will block any traffic until it's reconnected, and its no-logs policy means your browsing activity will vanish into the night when you log off.
Best of all, TunnelBear offers a FREE plan that you can use on an ongoing basis. It's limited to 500MB of bandwidth each month, which won't allow for much streaming or torrenting, but you'll still get great protection against online threats.
What you'll love about TunnelBear:
500MB of completely free bandwidth every month on its Little Bear plan
Easy and automatic connection to the closest server
Set and forget with Always On feature

Dark dangers in the desert? Have no fear with CactusVPN by your side! SmartDNS puts all kinds of web treats within your reach, while a no-logs policy and dedicated servers for P2P guarantee anonymous torrenting.
CactusVPN supports six tunneling protocols, including OpenVPN, IKEv2, and SSTP. Apps for all major platforms, including Android and iOS, mean that you can bring your VPN protection with you wherever you go on Halloween night.
The VPN service comes with a 24-hour free trial (7 days for the SmartDNS) and 30-day money-back guarantee, and paying the provider a Halloween visit will bring you SAVINGS of UP TO 54%!
Get CactusVPN's Halloween Deal NOW!
PureVPN spans the globes with servers in over 140 countries, and treats you to sack full of advanced features.
Sometimes on Halloween, you want to mask your identity part of the time but reveal it to trusted companions like your family. With many providers, switching between anonymous and normal browsing requires disconnecting the VPN, but PureVPN makes it simple with split tunneling.
PureVPN offers special protection from scary online demons with Ozone-ready servers that automatically block dangerous websites and popups that can harm your devices, allowing you to surf without fear.
As is fitting for October, PureVPN bests most competitors by adding an extra day to its refund policy, offering a 31-day money-back guarantee. This Halloween is the perfect time to subscribe, with the provider offering a massive 73% HALLOWEEN DISCOUNT for its yearly plan.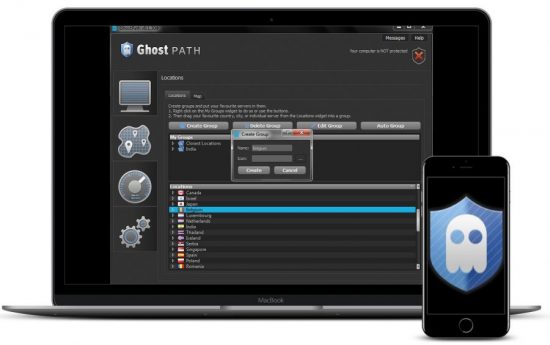 Ghost Path offers you some of the best online protection possible with its Plex Multi-Hop VPN. True to its name, this VPN offers you almost complete invisibility on the net.
Connecting through a Plex gateway will bounce your data around Ghost Path's network and through at least one extra server before it's released back out to the public internet. This makes it impossible for anyone to track your activity.
With 142 servers across 49 countries, Ghost Path's network is not as large as CyberGhost's but it's nearly as strong. And its packages are on the cheaper side, making it a budget-friendly choice.
With Ghost Path, you'll enjoy blazing-fast speeds, unlimited bandwidth, and the ability to connect up to 5 devices at the same time.
Enjoy the treat of a 30-day money-back guarantee to see why so many users love Ghost Path.
What you'll love about Ghost Path:
Apps for almost every device
Budget-friendly packages
Summary
Get a treat – not a trick – when you protect your data with a VPN this Halloween. Your connection will be impenetrable to all forces of evil, whether they are vampires, witches, cybercriminals, or a combination of all three!
A VPN will also grant you access to a huge variety of websites and media, including your favorite streaming services, by bypassing geoblocking and censorship.
Once you put your VPN mask on, you can safely roam the digital streets to get your Halloween treats!
To make sure you use every available tool to repel internet ghosts and ghouls, also check out our recommendations for the best VPN extensions for Chrome.
Start Your Free CyberGhost Trial Now
Privacy Alert!
Your data is exposed to the websites you visit!
The information above can be used to track you, target you for ads, and monitor what you do online.
VPNs can help you hide this information from websites so that you are protected at all times. We recommend ExpressVPN — the #1 VPN out of over 350 providers we've tested. It has military-grade encryption and privacy features that will ensure your digital security, plus — it's currently offering 49% off.