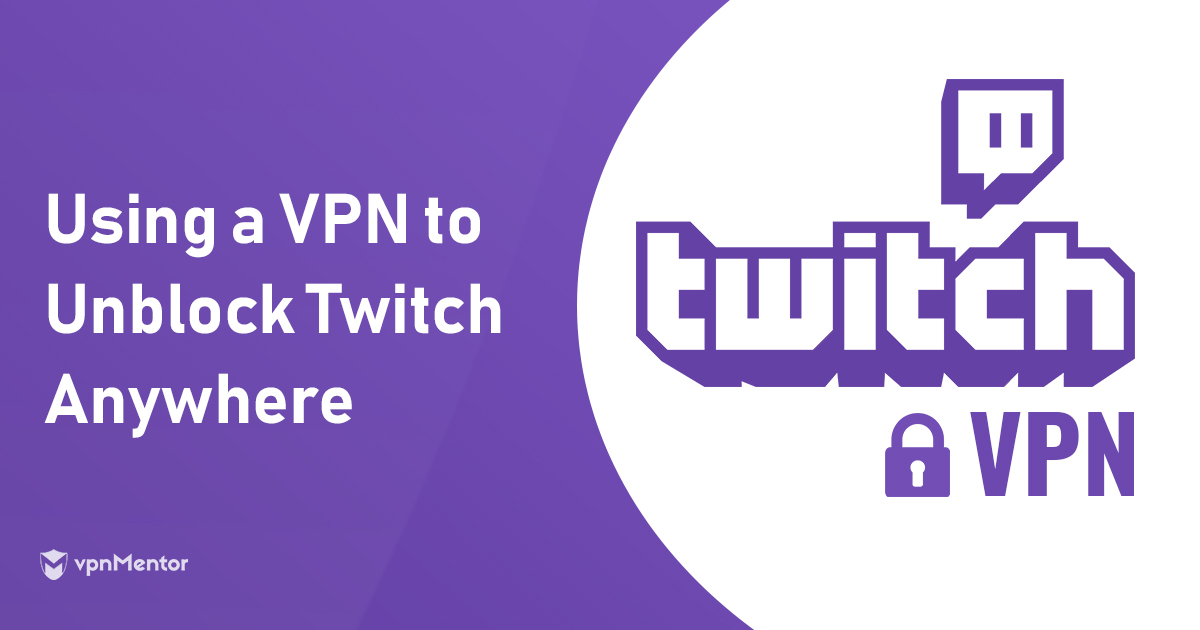 5 Best VPNs for Twitch Streaming — Safe & Fast Access in 2023
Updated on 18th November 2022
For all its popularity, Twitch isn't available in all parts of the world. Countries such as China, Russia, and Turkey have explicitly banned the platform. Some places, like schools and offices, also have firewalls that prevent you from accessing services like Twitch.
Having tested 30 different VPNs, I was able to narrow the pool down to 5, which I think are worth your time. I looked at how fast each VPN was while streaming, as well as how reliable they are at accessing Twitch within private networks.
For me, ExpressVPN stands out for its lightning-fast speeds that allow me to stream HD videos without buffering. It's also packed with robust security features and has a no-logs policy, so I don't have to worry about anyone spying on my activity. ExpressVPN is backed by a money-back guarantee, so you can try it risk-free with Twitch. If you don't like it as much as I do, don't worry. You'll be able to get a refund as long as it's within 30 days of purchasing.
Stream Twitch With ExpressVPN Today
Short on Time? Here are the Best VPNs for Twitch
Best VPNs for Twitch — Full Analysis (Updated in 2023)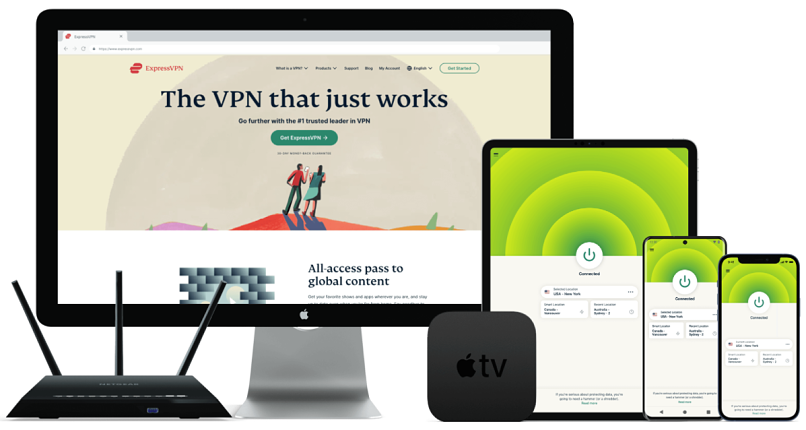 Editor's Choice
Editor's Choice

Tested February 2023
Try Risk-Free for 30 Days
Can access:
Netflix
Disney+
APV
HBO Max
Hulu
BBC iPlayer
Sky
More
www.ExpressVPN.com
Fastest speeds overall for streaming Twitch without lag
3,000 servers in 94 countries to access Twitch wherever you are
5 simultaneous device connections
Can unblock: Twitch, Netflix, BBC iPlayer, Amazon Prime Video, Hulu, and more
Compatible with: Windows, macOS, Android, iOS, Linux, gaming consoles, smart TVs, routers, and more
Widely recognized as one of the fastest VPNs out there, ExpressVPN truly lives up to the name. Its proprietary Lightway protocol ensures that you get the best speeds for streaming on Twitch while still maintaining high security. Thanks to that, streams run exceptionally smooth in high quality with hardly any stutter. Latency is also low when it comes to gaming.
To show you how well ExpressVPN performs, I ran speed tests while connected to servers in Canada, Singapore, and India. On average, I saw speeds at 365 Mbps over a base speed of 415 Mbps. This translates to roughly a 12% drop in speed, which is way better than what most VPNs can accomplish.
ExpressVPN has over 3,000 servers across 94 different countries, so you'll never have to worry about accessing Twitch, regardless of where you're residing. I found that its servers are very secure and reliable. It comes with TrustedServer technology, which means it runs solely on RAM-based servers, so all your data is wiped clean whenever the server reboots.
Because it has split tunneling support, ExpressVPN allows you to run certain apps off your original connection. This gives you the freedom to view exclusive local content while still getting the full ExpressVPN perks as you're streaming Twitch or playing games.
Security-wise, ExpressVPN utilizes AES 256-bit encryption, providing top-class protection against hackers. On top of that, it uses SHA512 authentication for scrambling all your passwords. Its perfect forward secrecy also safeguards your data if someone manages to intercept your traffic since they won't be able to see your past sessions. This is particularly useful since streamers are often targeted for cyberattacks.
Being headquartered in the British Virgin Islands, outside the jurisdiction of the intelligence-sharing 14 Eyes Alliance, ExpressVPN is a favorable pick for privacy. Additionally, it has a strict no-logs policy so nothing ever gets tracked.
To further close off any privacy gaps, ExpressVPN has DNS leak protection as well as a reliable kill switch to make sure your IP and browsing activity are never exposed. I tested it for IP and DNS leaks across multiple servers, and sure enough, my actual IP and DNS information were completely obscured.
ExpressVPN is a little above market in price starting at $6.67/month, but the quality of service more than makes up for the expense. Not to mention, you get great value for money as ExpressVPN offers a 49% discount on its longest plan.
I wanted to test its 30-day money-back guarantee, so I signed up for a subscription and used ExpressVPN for a couple of weeks before requesting a refund. I used the 24/7 live chat support and an agent attended to my request straight away. Feel free to try out ExpressVPN for yourself. If you don't like it, you can request a refund within the first 30 days of subscribing.
Watch Twitch Streams With ExpressVPN Today
9,753 servers in 91 countries, including dedicated ones for gaming and streaming
Fast speeds for watching Twitch streams without buffering
7 simultaneous device connections
Can unblock: Twitch, Netflix, BBC iPlayer, Amazon Prime Video, Hulu, and more
Compatible with: Windows, macOS, Android, iOS, Linux, gaming consoles, smart TVs, routers, and more
The great thing about CyberGhost is that it has different servers that cater specifically to both gaming and streaming. This gives you optimal server performance, which is especially useful when you're running action-packed games. Even though the streaming servers aren't optimized for specific platforms, you can still use them to get a better Twitch streaming experience. They were faster than the regular servers during testing.
I only experienced around 18% drop while testing some of the optimized servers. The regular servers gave me average speeds of 415 Mbps, which was a 20% drop from my base of 517 Mbps. With speeds like these, you'll be able to stream without any interruptions.
For the utmost privacy, CyberGhost provides you with its NoSpy servers for a small fee. These run on a server farm completely owned and managed by CyberGhost itself, as opposed to rented servers, which are run by third-party onsite teams. This minimizes the risk of your data being mismanaged or stolen. As with the other VPNs on this list, CyberGhost also has a kill switch as well as DNS/IP leak protection. They further protect your private data online.
On the security end, CyberGhost uses military-grade, AES 256-bit encryption, SHA256 authentication, and perfect forward secrecy. You can also utilize its automatic WiFi protection feature to customize its response whenever you're connected to a new network. This is especially useful in securing your device if you ever have to use public WiFi.
Unfortunately, CyberGhost isn't great at bypassing China's Great Firewall, so you won't be able to use it for Twitch there. However, it's still reliable in other countries with similarly tight internet surveillance and censorship like Russia and Turkey.
CyberGhost has pretty decent prices, too, starting at $2.19/month. Naturally, its long-term plans provide the best savings. So, you can go for a long time without having to worry about renewing your subscription.
It has one of the longest money-back guarantees I've seen, so I was eager to test it out. The length was great for me because I didn't feel rushed to understand all the functionalities to get my money's worth. When I finally requested a refund, CyberGhost gave me my money back in just a few days. If that's convincing enough for you, give CyberGhost a try risk-free.
Watch Twitch Streams With CyberGhost Today
29,650 servers in 84 countries to easily stream Twitch wherever you are
Strict no-logs policy to ensure your data isn't collected and stored
10 simultaneous device connections
Can unblock: Twitch, Netflix, BBC iPlayer, Amazon Prime Video, Hulu, and more
Compatible with: Windows, macOS, Android, iOS, Linux, gaming consoles, smart TVs, routers, and more
With over 29,650 servers across 84 countries, Private Internet Access lowers your chances of experiencing overcrowding. More importantly, you'll be able to access Twitch from anywhere around the world. You're also more likely to have server locations nearby for better speeds. I tested a couple of its servers and they were all reliable. There were never interruptions or disconnections while I was watching Twitch.
Private Internet Access has split tunneling support for optimizing your VPN connection. This is great if you need to run certain games with the VPN, while also streaming local content. It functions similarly to ExpressVPN's split tunneling, where you can configure specific apps to use or not to use the VPN connection.
It has a lot of customization options so you can set it to meet your needs. If you prefer speeds over security, you can go for the AES 128-bit encryption. Otherwise, you have the option to use the standard AES 256-bit, which is more secure.
Sadly, PIA didn't do well in my speed tests I recorded average speeds of 130 Mbps, which is approximately a 70% loss from my base speed of 415 Mbps. However, it's still fast enough for a good Twitch streaming experience if you choose a nearby server.
PIA's plans start from as low as $2.19/month if you get a long-term subscription. It also offers short-term subscriptions if you need a VPN for a short time only.
It also has a 24/7 live chat, which I thoroughly tested alongside its money-back guarantee so you can try it worry-free. Thankfully, the agents responded to my request quickly, and it took no more than mere minutes for my refund to be filed. I got my money back within the week itself.
Watch Twitch Streams With PIA Today
Unlimited simultaneous device connections
2,000 servers in 75 countries to access Twitch from anywhere
AES 256-bit encryption with WireGuard, IKEv2, OpenVPN, and IPSec to keep your data safe
Can unblock: Twitch, Netflix, BBC iPlayer, Amazon Prime Video, Hulu, and more
Compatible with: Windows, macOS, Android, iOS, Linux, browsers, Amazon Fire TV, routers, and more
IPVanish lets you connect as many devices as you want with a single account, making it the best VPN for multi-device setups. It's great value for money if you share access with family and friends. Everyone will be able to watch their favorite Twitch streams simultaneously even if you're physically apart and don't have native access to the platform. You can also use the Scramble feature on your preferred device to obfuscate your traffic in places where Twitch isn't easily accessible.
It has a sizable server network as well to help you reliably access Twitch from anywhere. I tested some of IPVanish's servers for speeds and they were pretty fast. My average speed was 363 Mbps, which was only about a 13% drop from my native internet speed.
To safeguard your privacy, IPVanish utilizes a kill switch and provides DNS/IP leak protection. This prevents any data exposure as you're connected to the internet, which can be used to identify you. I tested the kill switch by consecutively connecting to different servers. My internet was cut off during those small periods between server changes, which means the feature worked properly. My original IP address remained hidden at all times.
A minor downside is that IPVanish is based in the US, meaning it falls under the 5 Eyes Alliance for intelligence-sharing. Generally speaking, this isn't great for privacy, but since IPVanish also has a strict zero-logs policy, it has no information that can be shared to begin with.
IPVanish has monthly and yearly plans. They're all fairly priced starting from $3.33/month. If you're looking for something short-term, its monthly plans are a good option offering both value and flexibility.
I didn't encounter any difficulty when requesting a refund after I used IPVanish for 2 weeks. It has a 30-day money-back guarantee on its yearly plan if you'd like to see more of what IPVanish has to offer risk-free. Everything was quickly processed, and I got my money back within 5 days.
Watch Twitch Streams With IPVanish Today
Stealth VPN masks your traffic and keeps your activity hidden
200 servers in 63 countries to watch Twitch streams wherever you are
AES 256- and 128-bit encryption with OpenVPN, L2TP, PPTP, IPSec, and IKEv2
Can unblock: Twitch, Netflix, BBC iPlayer, Amazon Prime Video, Hulu, and more
Compatible with: Windows, macOS, Android, iOS, Linux, routers, and more
PrivateVPN is great for accessing Twitch on heavily-restricted networks, like a school's WiFi, due to its Stealth VPN mode. This feature disguises your traffic so that firewalls won't be able to tell that you're using a VPN, thus ensuring complete privacy. Stealth VPN is designed to help PrivateVPN work in restrictive countries, too, like China and Russia.
Speaking of privacy, it comes with a customizable kill switch known as Application Guard. It lets you stop data transfer for certain apps if your internet connection gets disrupted. I found this especially useful during the times I needed to key in sensitive information while on an unstable network that I don't fully trust.
PrivateVPN also has IPv6/DNS leak protection as an added safeguard. I tested it for leaks and there were none. It also doesn't keep any logs so you can rest assured that your data won't be recorded.
The drawback is that PrivateVPN has a small server network, so you might not have a server location close to you to get better speeds. I got average speeds of 220 Mbps, which was a 58% drop. However, you'll be able to stream Twitch content with no buffering with those speeds, and still get access to content around the globe.
When it comes to cost-effectiveness, PrivateVPN is a strong contender. Plans start from as low as $2/month if you get its long-term plan and you can use the VPN on 10 devices simultaneously.
Like most of the items on this list, PrivateVPN has a 30-day money-back guarantee. There weren't any issues when I tested it out. I reached out to live chat and they were more than happy to process my refund without barraging me with a lot of questions. Feel free to give PrivateVPN a try. If you don't like it, you'll be able to easily get your money back.
Watch Twitch Streams With PrivateVPN Today
Quick Comparison Table: Twitch VPN Features
Stream Twitch With ExpressVPN Today
Tips on Choosing the Best VPN for Twitch
Picking out the right Twitch VPN can be daunting, especially when all of them offer roughly similar features but not all offer the same quality of performance. Even though I'm confident that the ones I've narrowed down should generally serve you well, you may still be confused if you don't know exactly what to look for. That's why I've decided to focus on the following points for a good Twitch VPN:
Fast speeds. A fast connection ensures you don't get stuck with buffering during your streams and makes it less likely for you to have to compromise between video quality and playback speed. Your games will also be smoother as a result of having low latency.
High server count. Connecting to a sizable server network means that there's a large pool of IP addresses you can switch to if one of them suddenly stops working. You're also less likely to suffer from overcrowding, which is great for speed. Not to mention, it'll be easy for you to connect to a nearby server and access your Twitch streams, no matter where you are.
Robust security features. The internet can be a dangerous place, especially if you're a Twitch streamer. That's why I looked for VPNs with AES 256-bit encryption, which provides top-level protection against hackers. VPNs that natively support strong, widely recognized protocols like WireGuard and OpenVPN are also highly favored.
Strong privacy policies. VPNs with a no-logs policy and IP/DNS leak prevention ensure your online data remains private. This is especially helpful if you're in a country that prohibits access to Twitch with heavy censorship and internet surveillance.
Extensive device compatibility. Naturally, you'll want your VPN to be able to run natively on all the devices you're planning to stream Twitch videos on.
Quality customer support. I've tested rigorously for the timeliness as well as the relevance of the agents' responses. Support agents should ideally be available 24/7 on multiple channels ranging from chat, support tickets, and phone.
Benefits of Using a VPN for Twitch
Getting a VPN is probably the most worthwhile expense you can make if you're constantly on Twitch. For one, it changes your IP address so you can access Twitch from anywhere and on any network. This is also useful for getting around shadowbans.
Additionally, having your actual IP address masked means that you'll be able to avoid ISP throttling. On top of that, it adds a layer of security against any cyberattacks and web scraping.
Access Streams From Anywhere
Schools and workplaces commonly have firewalls in place that block certain apps. With a VPN, you can get around those firewalls and watch your favorite Twitch streams from anywhere you want.
If you're traveling abroad, having a VPN ensures you have access to the same services as you would back home.
Get Access to Your Twitch Account
You'll always want to use a VPN while going on Twitch because you can easily get a new IP address if you ever get banned. Sometimes, this happens through no fault of your own as Twitch may have imposed a blanket ban on some users with the same IP address. If this happens to you, changing your IP address with a VPN is a quick and easy way to regain access to your Twitch account.
Avoid ISP Throttling
When your ISP sees large amounts of data being transferred, it might decide to dampen your connection speed in order to ensure its networks aren't overloaded. Streaming on Twitch is one such activity that will flag your ISP.
A VPN hides your IP address, effectively stopping your ISP from throttling your connection because it won't know what you're doing and where you're doing it from.
Quick Guide: How to Use a VPN With Twitch in 3 Easy Steps
Download a VPN. From my tests, I was most satisfied with ExpressVPN, as its super-fast speeds made sure that I never had to wait too long for my streams to load.
Connect to a server. ExpressVPN can pick the best server for you automatically, but if you want to connect to a specific region, you can select one manually too.
Start streaming on Twitch. Log in to your Twitch account and start streaming as you normally would.
How to Sign Up for Twitch With a VPN
Get a VPN. I liked ExpressVPN the best. However, if you don't want to take my word for it, you can try it risk-free since it comes with a money-back guarantee. If you don't like it, you can easily get a refund within the first 30 days of subscribing.
Launch your VPN. All it takes is a single click to activate ExpressVPN and connect to the best server for you.
Sign up for Twitch. Visit Twitch and sign up with the necessary details.

For a premium streaming experience, you can also subscribe to Twitch Prime. If you hate ads, then you should consider getting Twitch Prime as well. The subscription comes with many free games and in-game loot every month. You'll need to link your Twitch account to an existing Amazon Prime or Amazon Prime Video account. Otherwise, you'll need to subscribe to either of those first. If Amazon Prime or Amazon Prime Video isn't yet available in your country, make sure to change to a location that does have it before you sign up.

Enjoy streaming on Twitch or Twitch Prime! With a VPN, you can sign up for your preferred service from anywhere.
Try Twitch Streaming With ExpressVPN
FAQs on VPNs for Twitch
Can you use a VPN for Twitch streaming?
Absolutely. In fact, VPNs are great for Twitch streaming because they help you avoid ISP throttling, which streamers are often targeted for because of their large data transfers.
More importantly, VPNs provide maximum protection against snoopers and hackers. Their security features make it extremely difficult for even easily launchable cyberattacks, like a DDoS attack, to target you. Some VPNs even have malware blockers for extra security.
VPNs with a reliable kill switch also minimize any chance of your IP or online activity being leaked if your internet connection is disrupted.
By changing your IP address, VPNs also allow you to stream Twitch content from different parts of the world.
Is it possible to use Twitch Prime with a VPN?
Yes. VPNs allow you to play your free Twitch Prime games from wherever you want. Not to mention, they also help you avoid overcrowded game servers, which online multiplayer games sometimes force you into based on your geographical location. That way, you're more likely to have a smooth gameplay experience. Just connect to a server in your preferred country and start using your Twitch Prime account.
Will using a VPN get me banned from Twitch?
Twitch doesn't ban users just for using a VPN, but it may block you off the chat function. Don't worry if you suddenly find yourself banned — a VPN can easily help you get back on Twitch by giving you a new IP.
That being said, Twitch bans don't always happen without reason. There have been reported cases of people using a VPN to get back on Twitch after intentionally violating its guidelines. This is also why Twitch will sometimes restrict chats for those of us using a VPN, as most of these scenarios have to do with users making offensive remarks.
You'll always want to make sure you're using VPNs responsibly, and that you understand and comply with Twitch's terms of use at all times.
Can a VPN help with IP bans and shadowbans?
Yes, since Twitch bans happen on an IP address level, a new VPN IP address will allow you to circumvent it. Twitch won't always tell you when it bans you, so you might just go around your usual activity unaware until you see things from a different user's perspective.
VPNs are one way to get a new IP address while still using your preferred network. In particular, ExpressVPN is a great option for this because it constantly refreshes its IP address pool.
Is it illegal to use Twitch with a VPN?
No, but it's complicated. While Twitch may be banned in certain countries, and Twitch itself generally discourages VPN usage, it's not illegal to access it with a VPN.
However, VPN use may be prohibited in certain countries with heavy censorship and internet surveillance, like China and Russia.
China in particular only allows government-approved VPNs, which are subject to strict monitoring, undermining the purpose of using a VPN to begin with. While there haven't been any cases of people being fined for using non-approved VPNs yet, it doesn't hurt to be vigilant if you ever find yourself in the area.
What's more, not all VPNs work in these restrictive countries. ExpressVPN is one of the rare ones that can be accessed from China, for example.
The team and I recommend that you always check your local laws to make sure VPNs are allowed before using one, and you should never use it for anything illegal, like pirating content, scams, or harassing others.
Can I use a free VPN for Twitch?
While you can use free VPNs to access Twitch, it's almost always not worth the risk. Compared to paid VPN services, free VPNs are much slower, have fewer servers, and are far less reliable. Not to mention, the trade-off for using a free VPN service is that the provider tracks your activity and sells it to willing buyers. Your device could even get infected with malware in some cases.
For all the reasons above, you'll probably want a premium service that comes with a money-back guarantee. Not only is it much faster and more reliable, but you also don't get any of the security risks that come with using a free VPN.
Stream Twitch With ExpressVPN Today
Get the Best VPN for Twitch Today
When it comes to Twitch streaming, it's important to look at your VPN's speed, unblocking capability, and privacy policies. There's no point in getting a VPN if your streams are constantly buffering, or if you can't even access Twitch to begin with. Making sure there are as few leaks as possible will also protect you from any hackers or snoopers looking to steal your information.
Factoring all the points above, ExpressVPN is my top choice for its great speeds and reliability. It also comes with a no-logs policy and a kill switch to ensure none of your traffic ever leaks out. If you're keen on trying ExpressVPN out, it has a 30-day money-back guarantee. So you can test out all its features risk-free to see if it's the right one for you. If you're not satisfied, you can get a full refund.
To summarize, here are the best VPNs for Twitch
Privacy Alert!
Your data is exposed to the websites you visit!
The information above can be used to track you, target you for ads, and monitor what you do online.
VPNs can help you hide this information from websites so that you are protected at all times. We recommend ExpressVPN — the #1 VPN out of over 350 providers we've tested. It has military-grade encryption and privacy features that will ensure your digital security, plus — it's currently offering 49% off.