CyberGhost vs ExpressVPN Comparison – What's Best in 2020?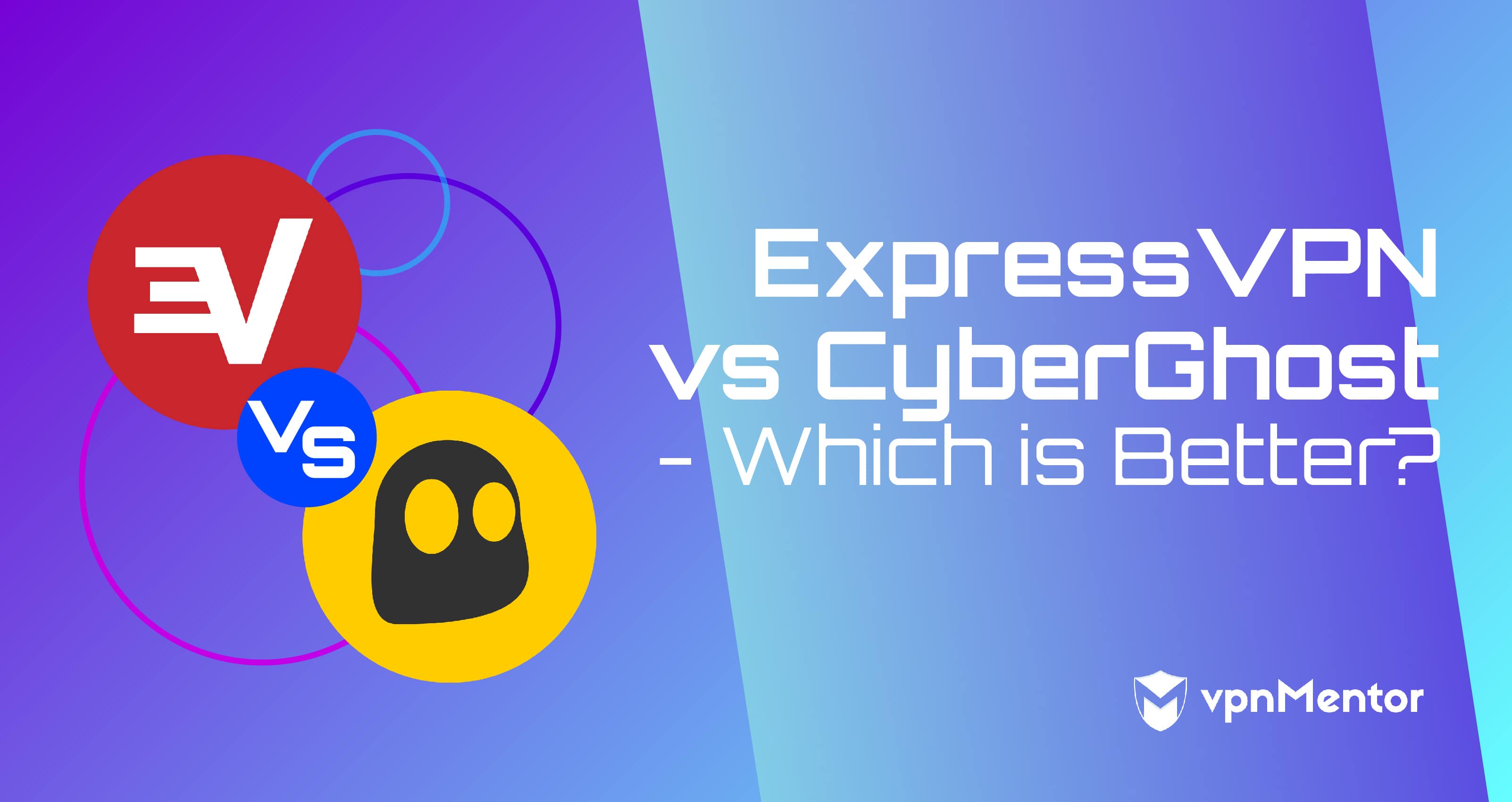 CyberGhost and ExpressVPN need no introduction. Their reputations speak for themselves, with many experts and users praising the two providers. Our best overall VPN rankings are no exception – both services earn a spot in the top three, and for good reason.
But which one should you pick? Good question – ExpressVPN is known for its speeds and high-quality server network, whereas CyberGhost is a leader in user-friendliness, with an amazing app design.
Both VPNs have a lot going for them, so we'll have to look deeper to find the winner. In this comparison, you'll find out how they stack up against each other in several important categories.
For more detailed information, check out our in-depth reviews of CyberGhost and ExpressVPN.
CyberGhost vs. ExpressVPN – the Categories
For this comparison, we focused on eight key VPN attributes.
First off, we'll look at geo-spoofing abilities and P2P features to compare the offerings for streaming and torrenting.
Next up are the cost, ease of use, and compatibility tests. This is where you'll find the VPN with better price points, easier apps, or wider platform support. Maybe all three at once?
We also have a thorough list of speed test results for various servers across the world.
Before we wrap it up, we'll go over server networks, privacy policies, and security features. Both CyberGhost and ExpressVPN offer thousands of servers and high levels of protection, so this will be a close one.
1. Streaming
Many of us rely on a VPN to access our favorite shows, movies, and events from anywhere. That said, it's no secret that you need a special kind of service for consistent streaming without any geo-restrictions ruining the fun.
The good news is you won't be disappointed with either VPN we're looking at here.
CyberGhost has optimized servers for various popular streams, including Netflix (US, France, Germany), Hulu, BBC iPlayer, Sky Go, Amazon Prime Video, ESPN, and many others. The best part is they come in a dedicated streaming profile, which makes finding the right server a one-click task.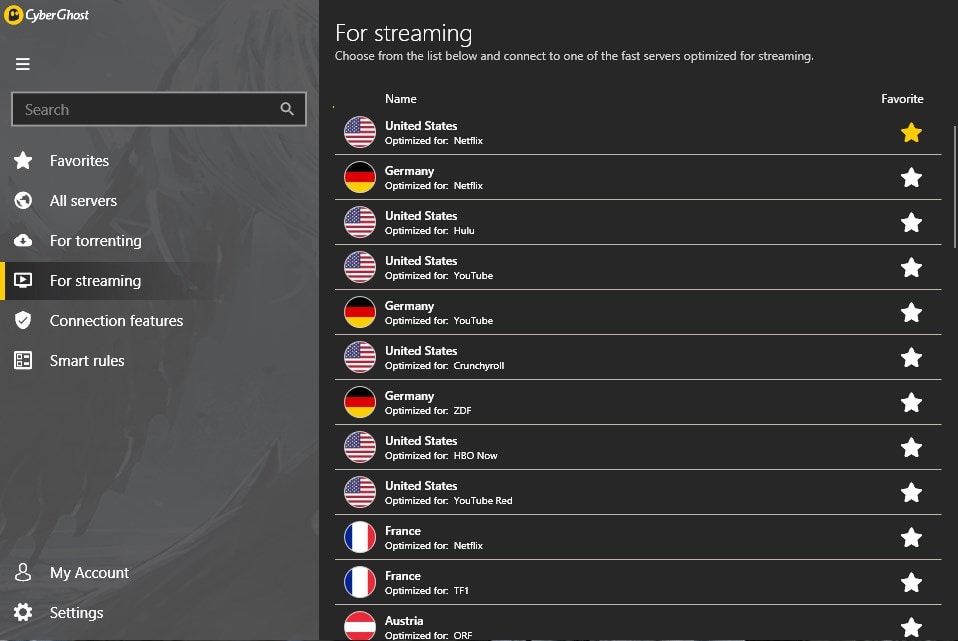 ExpressVPN performs even better than CyberGhost in our extensive Netflix tests, with reliable access to the US, UK, Canadian, French, and Japanese catalogs. It works with a wide range of other streaming services and websites, too – from Hulu and HBO, to BBC and DAZN, and anything in between.
This VPN has no separate profile for streaming, so a little server shuffling may be required before you land on the perfect one. You probably won't notice, though, as ExpressVPN offers very reliable streaming access on the majority of its huge server network.
ExpressVPN gains a big advantage over CyberGhost with its excellent feature for devices without native VPN support. MediaStreamer gives you special DNS settings to bypass regional restrictions when you access content on platforms like Apple TV, Amazon Fire TV, PlayStation, or Xbox. 
Last but not least, both VPNs offer split tunneling. This feature allows you to exclude selected apps and websites from the VPN tunnel – very useful for watching local and foreign streams at the same time.
2. Torrenting
You won't have trouble with P2P traffic on either VPN. Both CyberGhost and ExpressVPN allow it – but there are some differences in the approach.
Similar to the streaming profile, you also get one for torrenting with CyberGhost. Inside, you'll find 25+ server countries where P2P networking is supported. The servers are decently spread out, although there's no suitable option for users in Southeast Asia. Normally, you'd have P2P servers in Singapore or Hong Kong, but the closest ones CyberGhost provides are in Japan.
ExpressVPN is the more versatile service overall. Again, you won't find a special torrenting tab here, and again, you won't need one. This VPN allows P2P on all of its 3,000+ servers – making secure torrenting as easy as launching the VPN and connecting to the best-performing server. With 90+ countries to choose from, chances are you'll always find a perfect location.
3. Cost
CyberGhost has come very close to taking the win from ExpressVPN in the first two categories. Can it finally turn the tables with a more attractive price tag?
It doesn't look that way at first. For a one-month plan, ExpressVPN is about 4% cheaper. But your wallet will take a hit from either VPN if you're paying on a month-by-month basis.
For the best deals, direct your attention to the longer options.
CyberGhost's one-year plan comes with a terrific 56% discount, making it roughly 28% cheaper than the ExpressVPN equivalent. You can also subscribe for two or three years, and guess what – that's an even better bargain. You'll shave off 73% and 80% respectively, which puts CyberGhost firmly in the budget category.
If you're hesitant about paying for two or three years of CyberGhost up front, consider ExpressVPN's special 15-month offer. It comes with a sweet 49% discount and three extra months for free – you can get it right now with one of our exclusive coupons. Or you may want to take a look at the six-month ExpressVPN plan. At 23% more off than the monthly plan, it's a decent and flexible alternative.
4. Ease of Use
CyberGhost and ExpressVPN are two of the most popular VPN services on the market, and one reason for that is their clean, intuitive app design.
We've already mentioned CyberGhost's dedicated streaming and torrenting profiles, which are great for beginners. But that's just one part of this VPN's impressive interface.
CyberGhost can be compact or detailed, depending on your needs. If you like letting the VPN do all the work for you, the main menu is all you'll ever need.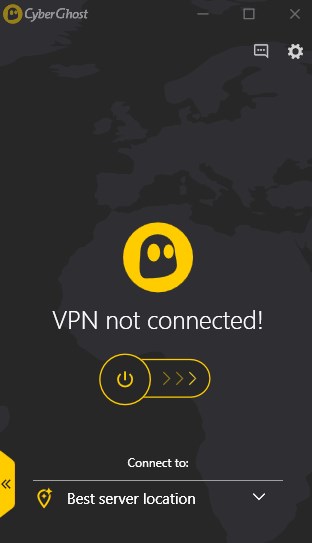 Once you expand the app, you can access the full server list, complete with extra info on distance and load. This is also where you'll find the dedicated profiles.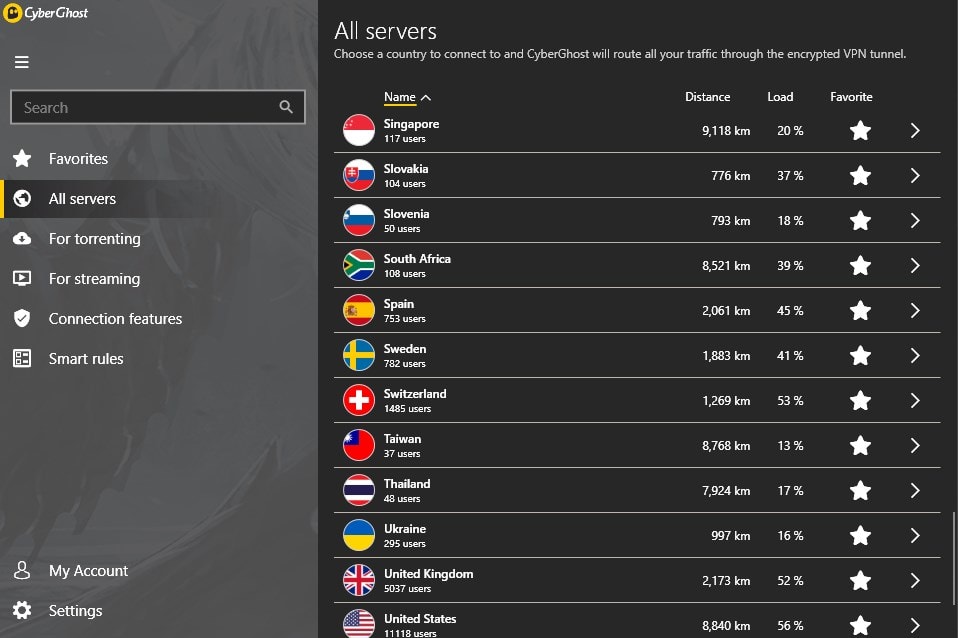 You get a similar experience with ExpressVPN – a mobile-inspired window with the Smart Location feature and everything else neatly tucked away. As mentioned before, you don't get any fancy profile tabs – but then again, you don't really need them.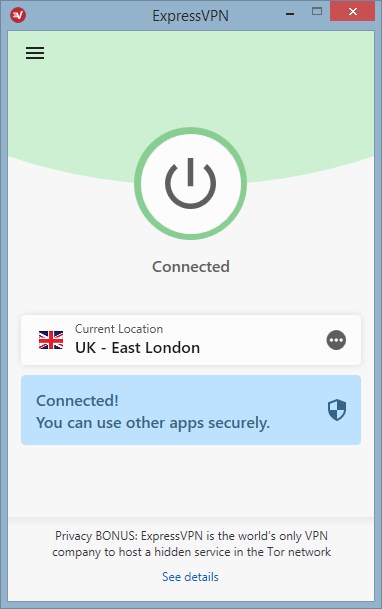 Things start shifting in CyberGhost's favor once you take a deeper look at the Settings. This VPN goes above and beyond to explain every single feature and tool it provides. It's like a mini crash-course in VPNs straight from the app – something that will surely be appreciated by newer users.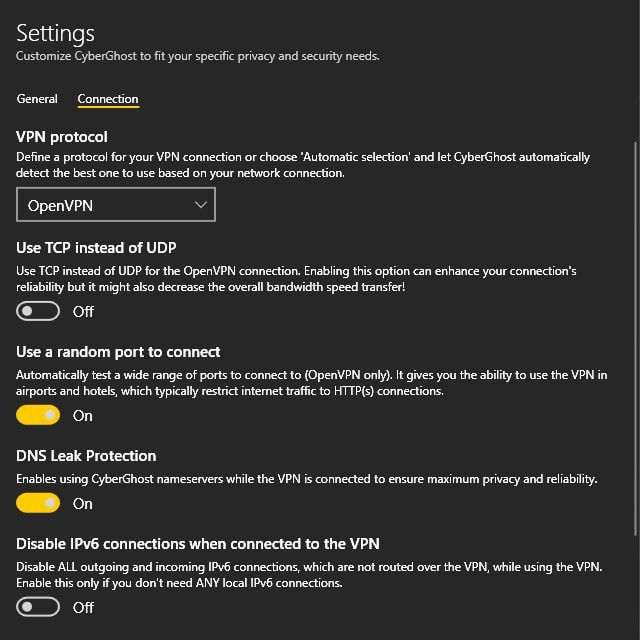 ExpressVPN doesn't do a bad job, but it simply isn't on the same level as CyberGhost here. Granted, this won't be a problem if you're already familiar with VPN services and what they do.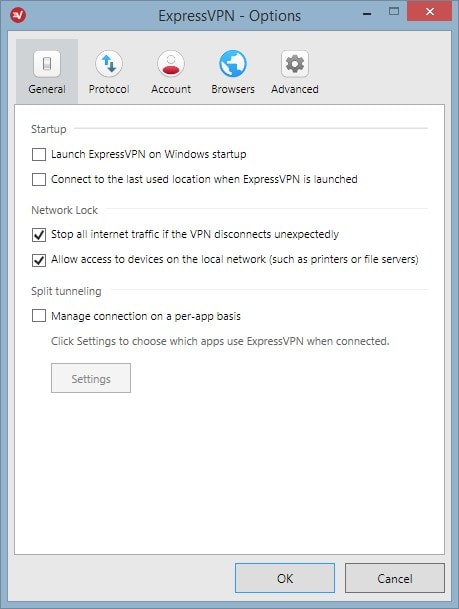 Lastly, both VPNs make it easy to create a custom setup on a third-party interface using the OpenVPN configuration files on their website.
5. Compatibility
CyberGhost and ExpressVPN have a lot in common when it comes to platform support. Both work with various operating systems (OS) and devices.
You can use CyberGhost on up to seven devices at the same time. This is a great number in general, but it looks even better against ExpressVPN's rather meager five simultaneous connections.
Now let's see which VPN has the edge on major platforms:
Windows
Windows is the OS of choice for many users. Neither VPN disappoints here, with app support even for older versions such as XP and Vista.
Mac
If you're running an older macOS version, ExpressVPN may be the better choice for you. With extended support starting from macOS Snow Leopard (10.6), it's more flexible than CyberGhost, which requires at least macOS Sierra (10.12).
Android
CyberGhost supports Android Jelly Bean, KitKat, Lollipop, Marshmallow, Nougat, Oreo, and Pie. If you're allergic to candy, this means anything from version 4.4 and up. It's a small advantage over ExpressVPN, which requires at least version 5.0.
Both VPNs have optimized Android TV apps and downloadable APK files directly from the website.
iOS
ExpressVPN runs on iOS from version 8.0, while CyberGhost runs on 9.3 and later – not bad, but not as good as ExpressVPN.
Linux
Currently, CyberGhost works on Ubuntu (16.04, 18.04) and Fedora 29. This isn't an overly impressive number of distros. ExpressVPN does a much better job here, with support for Ubuntu, CentOS, Debian, Fedora, Raspbian, and Arch.
Routers
Both CyberGhost and ExpressVPN can be configured with a variety of router firmware. You'll also have an easier time setting up a VPN router manually, thanks to detailed guides.
Pre-flashed routers with either VPN's software are also available via third-party vendors.
It's worth noting that ExpressVPN also offers a native router app – but you need to have the right hardware. Only certain Asus, Linksys, and NETGEAR models are supported.
Other Platforms
CyberGhost works on the following additional platforms:
Browser extensions (Chrome, Firefox)
Chromebook
Windows Phone (version 8.1)
Media and gaming consoles (Amazon Fire TV, Roku, Chromecast, PlayStation, Xbox, and more)
Kodi
ExpressVPN supports the following additional platforms:
Browser extensions (Chrome, Firefox)
Chromebook
E-book readers (Amazon Kindle Fire, Nook HD)
Windows Phone (versions 8.1 and 10)
Media and gaming consoles (Amazon Fire TV, Apple TV, Roku, Boxee Box, Chromecast, Nintendo Switch, Nvidia Shield TV, PlayStation, Xbox, and more)
Blackberry
Kodi
Smart TVs
6. Speed
If you're planning on using a VPN for streaming, torrenting, or any other bandwidth-heavy task, fast VPN servers are a must-have. As you may know, the added encryption takes its toll on your connection. Routing through a secure VPN server and securing your data means your speeds will take a hit.
In this context, a fast VPN is one that has a minimal impact on your connection. There's only one way to know whether a VPN is swift or sluggish – with thorough tests.
Below, you'll find out how CyberGhost and ExpressVPN performed on 10 different servers around the world. The tests were conducted from a location in Eastern Europe, with the following benchmarks (speed results without a VPN):

Here are the results:
Server
Download speed (Mbps)
Upload speed (Mbps)
CyberGhost
ExpressVPN
CyberGhost
ExpressVPN

Auto (closest)

68.56
71.81
32.66
31.36

Romania

61.82
67.79
31.41
36.71

Germany

67.05
67.72
31.61
34.79

United Kingdom

30.28
63.41
34.33
28.96

Portugal

47.18
61.15
6.31
25.53

Israel

52.98
39.99
25.02
24.15

United States (New York)

32.86
59.14
8.75
22.48

United States (Los Angeles)

23.48
23.59
15.23
12.95

Japan

18.78
51.95
1.97
1.66

Australia

20.34
31.38
1.55
0.76
As you can see, both CyberGhost and ExpressVPN posted some great results across all servers. Both stay very close to the benchmarks for nearby locations, and neither of them was especially sluggish in any of our tests.
With the exception of Los Angeles (a tie) and Israel (a win for CyberGhost), ExpressVPN is the consistently faster service. It holds a huge lead on the UK, US (New York), and Japanese servers.
Still, CyberGhost doesn't disappoint, and held up well against the VPN that is widely considered one of the fastest providers on the market.
7. Servers and Network
If you're looking for thousands of servers and global coverage, you can't go wrong with either VPN.
CyberGhost has the advantage in raw server numbers – currently, you get more than 5,700 in 90 countries.

ExpressVPN, meanwhile, has "only" 3,000+ servers. But it offers a wider variety in locations than CyberGhost – with 160 locations in 94 countries. It has a stronger server presence in Africa, Asia Pacific, and the Middle East, making it the more appealing service for many users located in these regions.

8. Privacy and Security
CyberGhost and ExpressVPN both take user privacy and security very seriously.
Both offer state-of-the-art encryption and extensive protocol support, accompanied by plenty of essential and advanced features.
Still, each VPN has its strengths and weaknesses. Let's see what they are.
Logging Policy
CyberGhost is registered in Romania, while ExpressVPN is based in the British Virgin Islands (BVI). This is great news if you're interested in either provider, and here's why:
Romania and the BVI don't have mandatory data retention laws, which means the VPNs aren't legally required to collect user data. This allows them to operate under strict no-logging policies – and they do.
Moreover, neither country is a member of the 5/9/14 Eyes alliance. These agreements have been synonymous with widespread government spying on the average citizen, so it's understandable why the privacy-conscious prefer to avoid VPNs within their reach.
Admittedly, ExpressVPN has a slight advantage over CyberGhost here. Since there's no foreign intelligence department in the BVI, this VPN is virtually immune from any government snooping. But this is just in theory. In practice, both VPNs have so far upheld their promises of privacy.
Encryption and Protocols
CyberGhost and ExpressVPN use strong AES-256 encryption on all of their apps. Great news again, as 256-bit encryption is currently considered impossible to crack.
Both providers also utilize Perfect Forward Secrecy. In short, this means you get a different encryption key each time you log in, which is infinitely more secure than using static keys.
Both VPNs support OpenVPN, the industry standard protocol, exceptionally well. They include it in their Windows, Mac, and Android apps. ExpressVPN goes even further with native OpenVPN support for iOS – a rare, but welcome, sight.
CyberGhost supports additional protocols including IKEv2 and L2TP. The VPN app lets you switch between them with ease.

ExpressVPN is slightly more versatile, offering PPTP in addition to the protocols above. While this protocol is dated and far from the best for security, it has its uses – especially for streaming.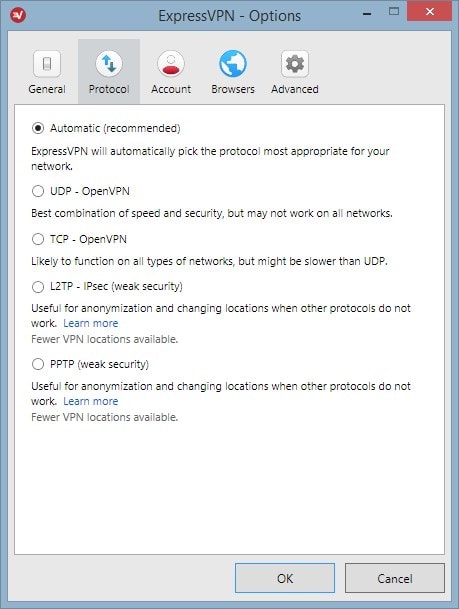 Security Features
CyberGhost is packed with impressive security features. Most of them can be found in the Connection Features tab. Highlights include ad blocking, anti-malware protection, and anti-fingerprinting (which blocks attempts to track your browsing habits).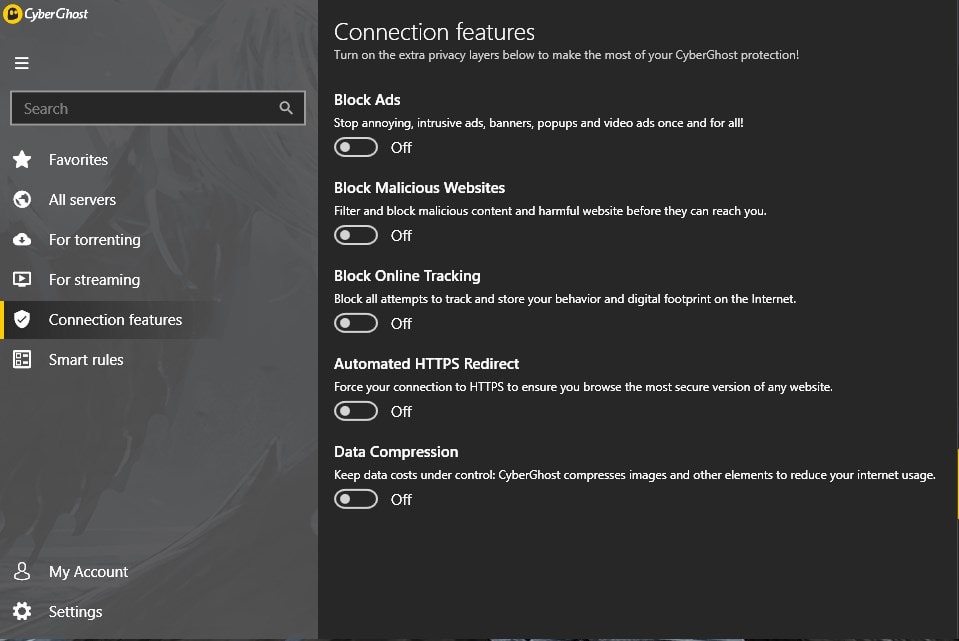 If you're wondering about the kill switch, don't worry – you'll find it in the General tab, under Settings.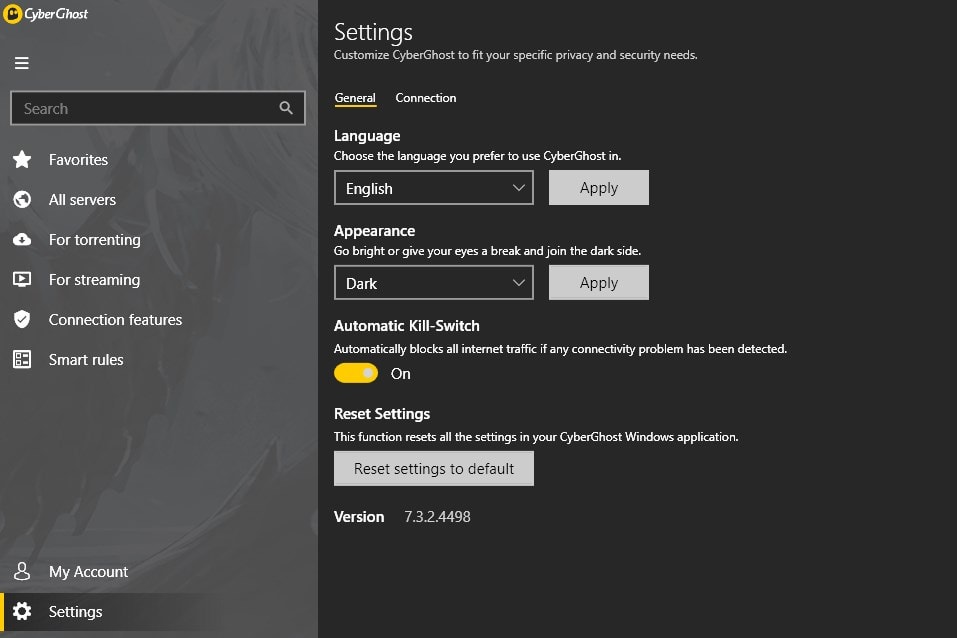 The rest of the features are accessed via the Connection tab, under Settings.  Here, you can enable the Random Porting feature, as well as the DNS and IPv6 leak protection.
ExpressVPN's security features aren't bad either. Aside from the connection kill switch (called Network Lock), you also get DNS and IPv6 leak protection. That said, it lacks several advanced features found in CyberGhost.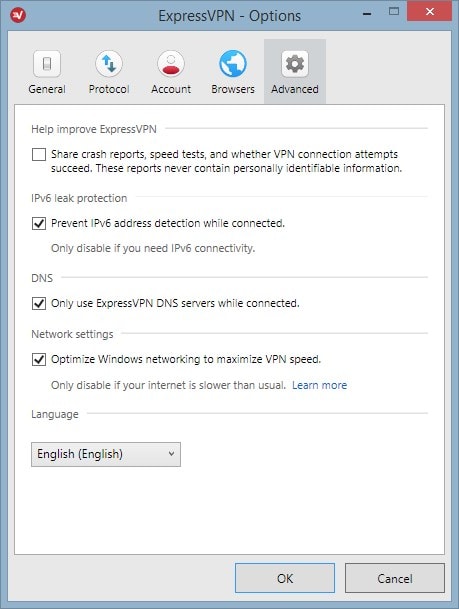 Last but not least, let's talk about obfuscation. ExpressVPN beats CyberGhost here, thanks to special stealth settings that improve reliability in countries with heavy online censorship. This makes ExpressVPN one of the few dependable VPNs for China.
Sadly, CyberGhost struggles with getting past the Great Firewall of China.
9. Final Verdict
ExpressVPN beats CyberGhost in six out of eight categories, but neither service scores a convincing win throughout this comparison.
What does that tell us? That we have two evenly matched VPN services here, each with its own charm.
For a somewhat higher price, ExpressVPN will give you blazing speeds, strong server presence, and unmatched streaming capabilities.
CyberGhost may be the cheaper option, but that doesn't stop it from offering superb, feature-packed apps and thousands of fast servers that often rival ExpressVPN's.
So, which one should you pick? We'll keep it simple – if you don't mind paying a little extra for the best performance on the market, ExpressVPN is the one for you. CyberGhost is a sensible choice if you're on a budget or can live without the advantages of ExpressVPN.