ExpressVPN vs PIA Comparison – Which is Best for You in 2020?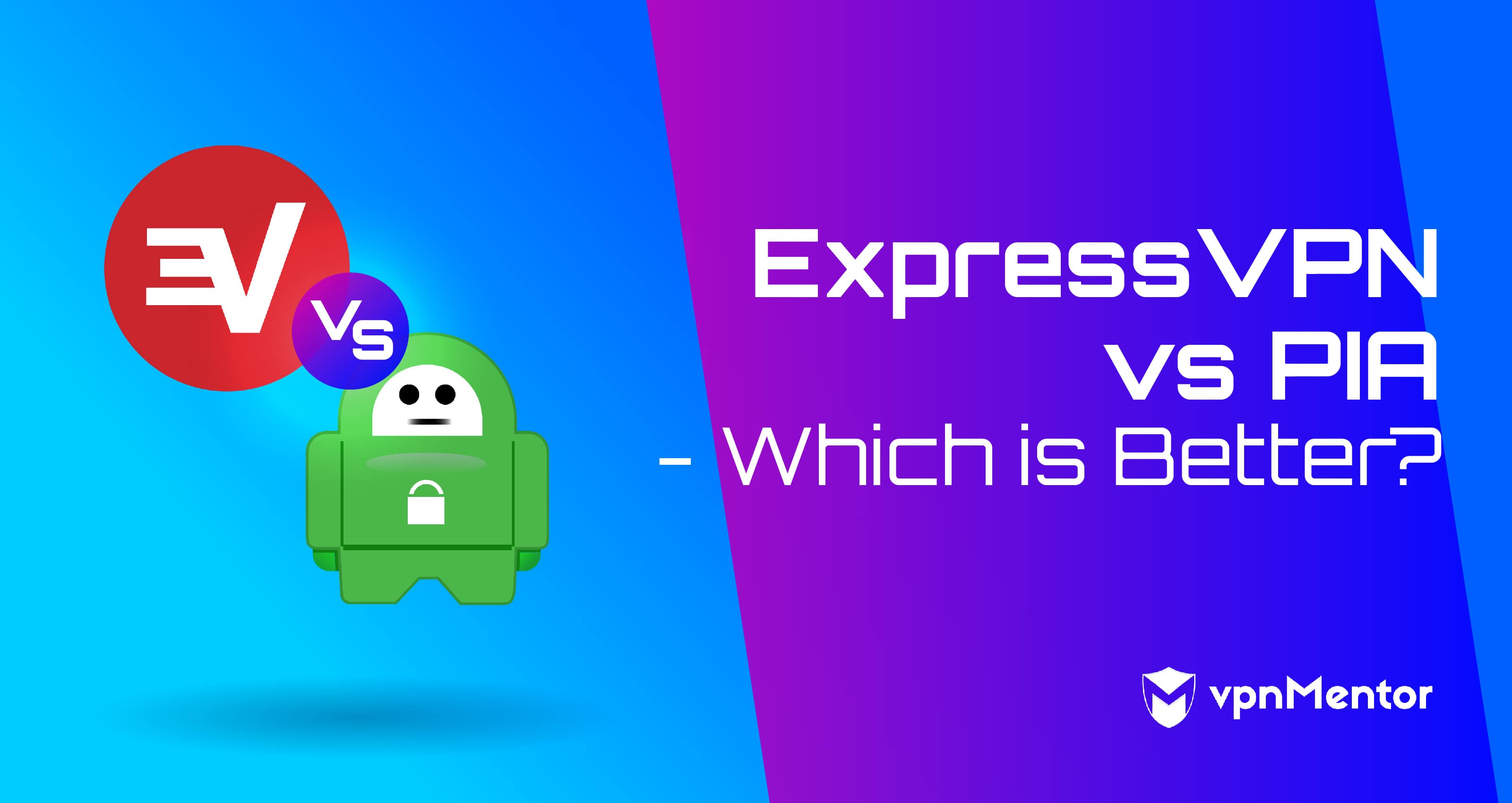 It's a battle of VPN veterans. ExpressVPN and Private Internet Access (PIA) have been around since 2008 and 2010, respectively. Today, both services are stronger than ever.
On the surface, you'll find it hard to pick the better VPN. With robust encryption, thousands of servers, and intuitive apps for all your devices, both ExpressVPNand PIAare impressive at face value.
In other words, you'll need to take a deeper look – and we're happy to help out! Our detailed comparison puts PIA and ExpressVPN to the test in several important categories to see which VPN is the overall winner.
For the full scoop on these top-shelf VPN services, make sure to check out our in-depth ExpressVPN review and Private Internet Access review.
ExpressVPN vs Private Internet Access – The Categories
For this comparison, we went back to the VPN essentials. ExpressVPN and PIA were tested in eight relevant categories.
First off, we'll take a look at streaming and torrenting potential. Which VPN takes the edge when it comes to bypassing geo-restrictions and providing P2P support? Answers coming soon!
Next, we'll compare plans and price tags in the cost category. Ease of use will also be addressed – don't miss out if you need to know which VPN is more user-friendly.
Those running a variety of operating systems and devices will be interested in the compatibility section, where you'll see just how flexible ExpressVPN and PIA really are.
Speed is a deciding factor for many users, which is why we've also prepared thorough tests across several locations worldwide. ExpressVPN is a clear favorite here, but don't write PIA off just yet.
Last but not least, we'll compare server networks, privacy, and security. Needless to say, these categories are going to be very close, with strong arguments in either VPN's favor. But there can be only one winner.
1. Streaming
VPNs can be extremely useful for streaming your favorite content from anywhere, without any geographical restrictions to worry about. But not every service out there has the resources to provide dependable access.
ExpressVPN has built a reputation as a streaming favorite, and there are many good reasons for that. The most important one – it consistently unblocks popular streams like Netflix, Hulu, BBC iPlayer, and Amazon Prime Video.
In fact, ExpressVPN scored well above average in our Netflix tests, granting us access to the regional catalogs in the US, UK, Canada, France, and Japan. The only challenge before this VPN seems to be Netflix Brazil.
ExpressVPN is also one of the few VPNs that still work with DAZN. This content-packed sports stream proves a hurdle for many other premium VPNs, including PIA.
But DAZN isn't the only "brick wall" before PIA. This VPN fails in many areas where ExpressVPN is successful – access to Hulu, BBC iPlayer, and several others is hardly reliable.
That said, PIA had decent Netflix results – with some server shuffling, we could eventually watch the US, UK, Canadian, and Australian versions.
Still, ExpressVPN is the more impressive service in this comparison. Even more so when you consider the great streaming features. Split tunneling is one of them.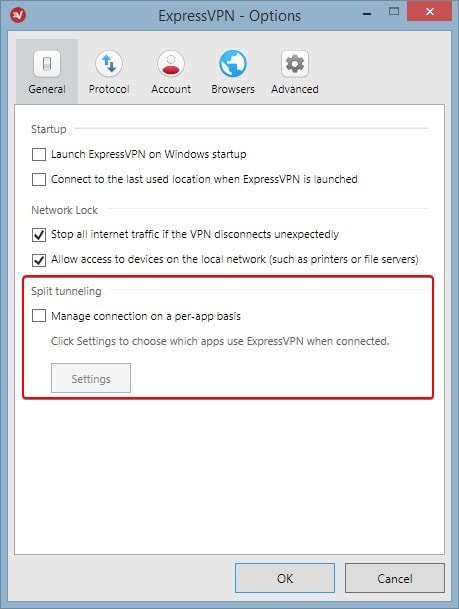 Split tunneling allows you to customize your VPN traffic by selecting which apps are affected by the VPN. It has plenty of uses – one of them is watching local and foreign streams on the same device, at the same time.
MediaStreamer is another useful streaming feature you get with ExpressVPN. It provides special DNS addresses for devices without native VPN support. It's more of a niche extra, but still incredibly helpful if you're looking to stream on smart TVs or media/gaming consoles.
2. Torrenting
Most BitTorrent fans need two things out of their VPN – full P2P support and a fast, reliable connection.
Both ExpressVPN and PIA allow P2P connections and file sharing on all their servers, so they cover the first part equally well. Right?
Well, there's a catch with PIA. Although technically correct (you can connect to any PIA server and torrent without hassle), PIA actually reroutes P2P traffic to select server locations, such as Switzerland and the Netherlands.
Is this a huge problem? Not really, but it can result in slower overall speeds if you happen to pick a server that's not P2P-optimized and the VPN ends up doing a double-hop. The issue here is that some PIA servers are better for torrenting than others, but it isn't made clear anywhere within the app.
The same applies to PIA's port forwarding feature. While it's an obvious advantage over ExpressVPN, which doesn't offer port forwarding, it's only available in a handful of locations (currently Canada, Switzerland, Sweden, France, Germany, Romania, Israel, and the Netherlands). And again, PIA fails to communicate this properly until you actually turn the feature on and open the server list to find which countries have been greyed out.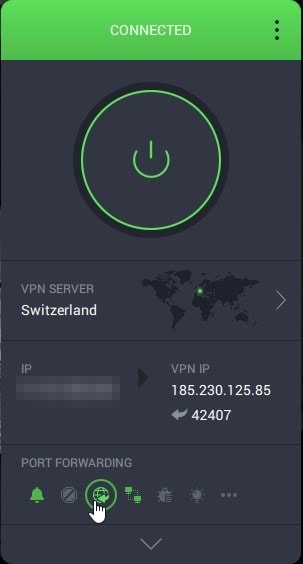 Moving on, you'll also find SOCKS5 proxies included with your PIA subscription. These proxies trade encryption for (usually) higher speeds, but they still provide extra security via advanced authentication. You can use them exclusively with your torrent client or pair them with your VPN for even better protection – overall, a great feature to have when torrenting.
ExpressVPN doesn't come with port forwarding or SOCKS5 proxies, but it has its own strengths in this category. We talked about the streaming benefits of split tunneling, but this feature is just as valuable if you want to tailor your VPN for P2P traffic only.
Additionally, ExpressVPN's favorable jurisdiction (British Virgin Islands) gives it a major advantage when it comes to DMCA (Digital Millennium Copyright Act) compliance. Unlike ExpressVPN, the US-based PIA has to take DMCA requests very seriously, which is why they have a separate policy for this exact scenario.

It goes without saying we don't condone copyright infringement, but a good deal of DMCA notices are sent by copyright trolls who are simply trying their luck. Even if you're playing by the rules and aren't doing anything illegal, there's a higher chance of being targeted and getting a strike on your account with a VPN that's more vulnerable to DMCA notices.
3. Cost
So far, ExpressVPN has amassed a comfortable lead. But pricing is one category where PIA can definitely strike back, thanks to its biggest strength – affordability.
Before we talk about the differences, let's see what the two providers have in common. Both offer three plans upfront – ExpressVPN lets you choose between a monthly, six-month, and and yearly subscription, whereas PIA has monthly, yearly, and two-year options.
No matter which plan you go for, you get the full range of servers and features. The only thing that changes is the price – and it's quite a dramatic difference.
PIA runs some great discounts on longer plans. Going yearly is 40% cheaper than one year of month-to-month payments. At 65% off, the two-year plan is an even better deal.
ExpressVPN goes for the same strategy, but at first glance you'll only see a 35% discount on its annual plan, with the one- and six-month options at full price.
The good news for bargain hunters – there's another hidden deal if you know where to look! You can get ExpressVPN for one year (plus three months free!) at 49% off – and we have the exclusive coupons for you. Surely that makes it cheaper than PIA in the long run?
Well, not really. ExpressVPN offers many things to its users, but a budget-priced service isn't one of them. Its monthly plan is around 30% more expensive than PIA's offering, and the gap only increases with the one-year option (PIA is around 39% cheaper).
ExpressVPN's awesome 15-month deal shaves off a huge amount of money compared to its other plans, but even that doesn't manage to beat PIA's ultra-light price tag. Ultimately, PIA is still around 11% cheaper than its competitor's best offer.
4. Ease of Use
As two of the most popular commercial VPNs around, both ExpressVPN and PIA deliver clean, smooth, and intuitive apps. Finding the winner here will be tough – it's all about the small details.
The "compact but capable" approach is shared by ExpressVPN and PIA. Even on desktop, the software is mobile-inspired, taking up a tiny part of your screen.
ExpressVPN's main menu makes things easy for users of all skill levels. The Smart Location feature allows for simple one-click connections.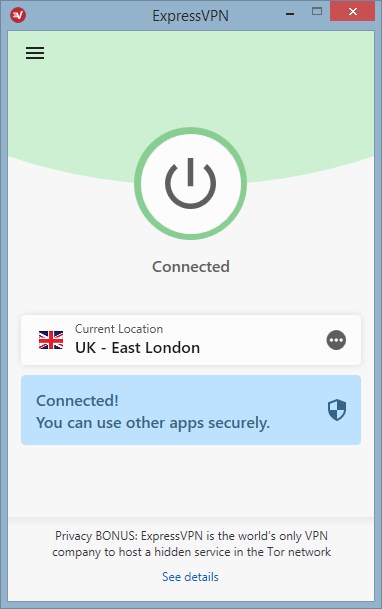 The full server list is neatly tucked away, but still easily reachable. The same applies to the settings, which are just a click (or tap) away. They offer a good degree of customization, but the default setup is perfectly fine if you want to keep things simple.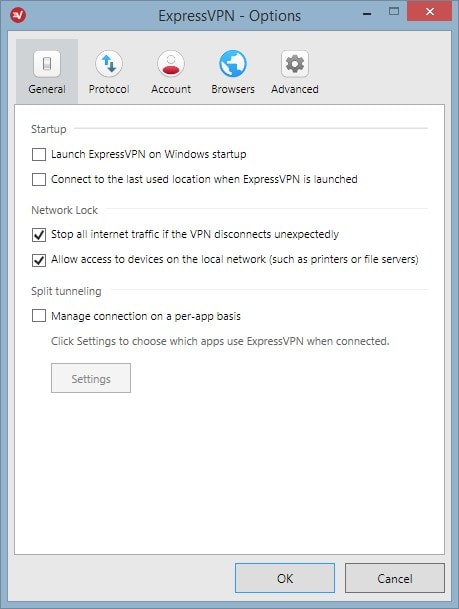 PIA looks very similar. When you first open the app, the VPN server will be set to Auto, leaving you with just the big button to press before you're safe and secure online. PIA allows you to tailor the main panel to your own taste, by adding or removing quick access to a variety of features.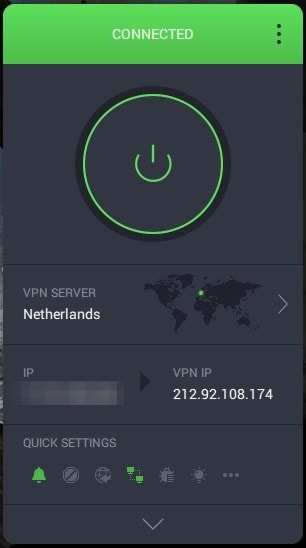 You can also select a VPN country manually, but you can only pick specific locations (cities) and not specific servers. For example, even though PIA has 46 servers in France, the VPN app will always choose one for you, as all French servers are in a single location.
On the upside, PIA is very impressive when connecting to servers. The entire process usually takes less than two seconds (even on distant servers), whereas ExpressVPN often had us waiting five to ten seconds before the connection was established.
Another small issue with PIA on desktop – you can't move the app window around. It simply insists on staying in the bottom right corner.
Other than that, PIA definitely has the more stylish appearance. The Dark and Light themes are a nice touch. But just because this VPN looks sharp, doesn't mean it's any less functional.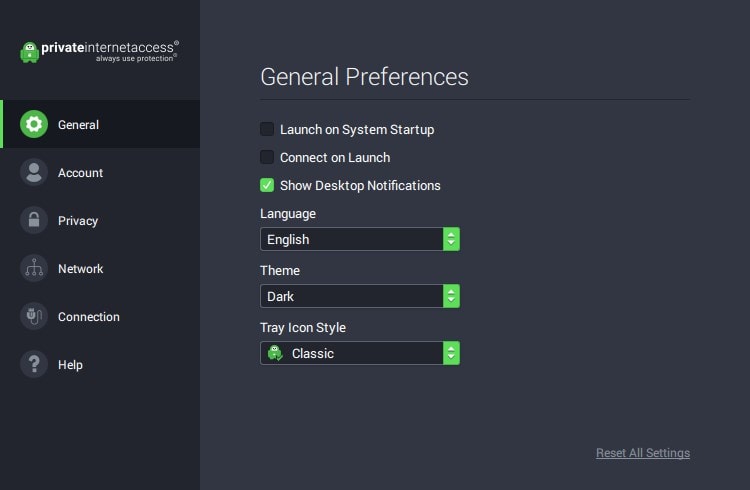 In fact, PIA is very well-organized, with plenty of settings divided across six tabs. The total number of features isn't much greater than the ExpressVPN package, but you do get more depth out of the DNS and encryption settings (more on that shortly).
Lastly, if you aren't too interested in using the native app, both VPNs offer easy access to the configuration files needed for manual setups with third-party interfaces.
5. Compatibility
As expected from two top-shelf VPN services, ExpressVPN and PIA have dedicated apps for every major platform. With ExpressVPN, you can have up to five devices at the same time. PIA is noticeably more generous here, offering up to 10 simultaneous connections.
Let's take a closer look at the apps, platform by platform.
Windows
Windows is the OS of choice for a great deal of users out there, and both VPNs put in the extra effort with polished, hassle-free software for this platform.
ExpressVPN goes the extra mile, with app support starting from Windows XP and Vista. PIA requires at least Windows 7 – not an issue for most, but still not the level of support you'll find in ExpressVPN.
Mac
ExpressVPN apps can be run on macOS Snow Leopard (10.6) and higher versions. The trend continues – PIA isn't as flexible, as you'll need at least macOS El Capitan (10.11).
Android
The tables turn! PIA supports all Android versions starting from 4.1, whereas ExpressVPN starts from Android 5.0.
The Android apps can easily be installed on your Android TV. Moreover, both PIA and ExpressVPN have the APK files available on their websites, so you can download the app directly in addition to installing it from Google Play.
iOS
ExpressVPN returns to form – you can enjoy its app on your iPhone or iPad as long as you're running at least iOS 8.0.
PIA is close, but not close enough, with iOS app support starting from iOS 9.0.
Linux
Both VPNs have a strong showing on Linux, which isn't too common. You can run either ExpressVPN or PIA on Ubuntu, Debian, and Arch distribution. PIA offers additional support for Mint, while ExpressVPN covers CentOS, Fedora, and Raspbian.
Overall, ExpressVPN has the wider Linux support, but it can swing either way depending on the distro you're running.
Routers
Routers are an option for both ExpressVPN and PIA. With thorough and expertly written tutorials, as well as support for the most popular firmware, you can easily set up a VPN router with either of the two services.
If you'd rather save yourself the trouble, both VPNs can be found readily available on pre-flashed routers.
ExpressVPN also provides a dedicated router app for several Asus, Linksys, and Netgear models. If you have the right router, this VPN may be a better pick over PIA, which doesn't offer a similar app.
Other Platforms
ExpressVPN works on the following additional platforms:
Browser extensions (Chrome, Firefox)

Chromebook

E-book readers (Amazon Kindle Fire, Nook HD)

Windows Phone (versions 8.1 and 10)

Media and gaming consoles (Amazon Fire TV, Apple TV, Roku, Boxee Box, Chromecast, Nintendo Switch, Nvidia Shield, PlayStation, Xbox, and more)

Blackberry

Kodi

Smart TVs
PIA supports the following additional platforms:
Browser extensions (Chrome, Firefox, Opera)
6. Speed
Having a high-speed VPN isn't important just for the sake of going fast.
When you connect to a VPN server and encrypt your traffic, your internet speed takes a hit. This hit can range from a small dent to a huge hole in your connection quality.
No one wants a sluggish VPN, but it can be hard to gauge just how fast a service is before you commit to a subscription. This is why we've tested ExpressVPN and PIA so you don't have to.
ExpressVPN is considered by many to be one of the fastest VPNs on the market. PIA doesn't have the same reputation, but you might be surprised by the final results. Let's see how the two performed.
We tested 10 locations around the world. Our tests were conducted from Eastern Europe. Here are the regular download and upload speeds without a VPN:

The table below shows how ExpressVPN and PIA fared in our speed tests.
Server
Download speed (Mbps)
Upload speed (Mbps)
ExpressVPN
PIA
ExpressVPN
PIA

Auto (closest)

71.81
70.63
31.36
35.03

Romania

67.79
70.12
36.71
33.62

Germany

67.72
65.62
34.79
36.43

United Kingdom

63.41
46.93
28.96
27.58

Portugal

61.15
N/A
25.53
N/A

Israel

39.99
39.43
24.15
21.18

United States (New York)

59.14
35.25
22.48
30.12

United States (Los Angeles)

23.59
34.56
12.95
17.09

Japan

51.95
21.81
1.66
2.41

Australia

31.38
4.56
0.76
1.01
NOTE: PIA doesn't have any servers in Portugal.
When compared against our benchmarks, both VPNs had very impressive results. Download speeds barely decreased on the closest servers, and in some cases, upload speeds were even better than expected. Even with increasing distance, ExpressVPN and PIA delivered great overall speeds.
The only exception is PIA's Australia test – a rather poor showing, with around a 90% decrease in both download and upload speeds. The slowdown was definitely felt, and we had to endure some miserable page loading times in addition to annoying buffering on videos.
In a head-to-head comparison, ExpressVPN proves the faster overall service. Both VPNs are very close to each other in Europe, but ExpressVPN takes a convincing win on the UK server (with the added bonus of bypassing the BBC blocks). It also has better results on US servers in the East Coast, and the lead only increases in Japan and Australia.
PIA was the faster VPN on the Los Angeles server and also had slightly better results in the Romania test. But in the end, it's not enough to beat ExpressVPN, which defends its reputation as one of the fastest VPNs in the business.
7. Servers and Network
Now that we've covered speed, let's continue with another crucial VPN aspect – the server park.
If you look only at the raw number of servers, ExpressVPN and PIA are strikingly similar. Both put over 3,000 of them at your fingertips – but that doesn't tell the whole story.
Thousands of servers are almost always a reassuring sign, but equally as important is the way they're spread out. ExpressVPN is the undisputed leader here, with 160 VPN locations across more than 90 countries.

On the other hand, PIA currently has "only" 52 locations in 30+ countries.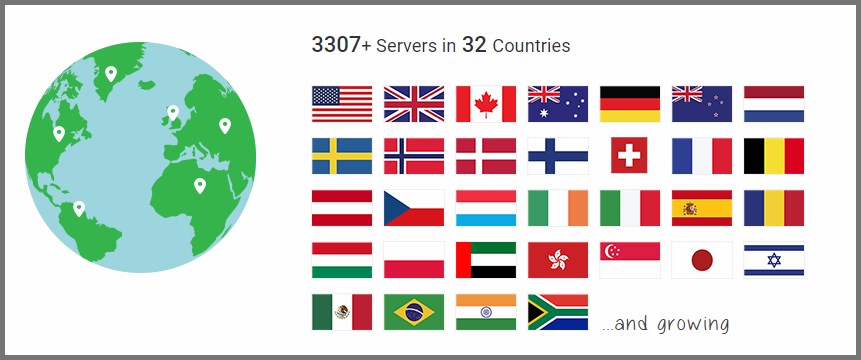 These numbers certainly aren't bad, but PIA simply can't compete with ExpressVPN when it comes to the variety of locations. ExpressVPN has many more options on pretty much every continent – from Europe and the Americas to Asia and even Africa.
Now, you may not care too much about servers in Algeria or Bangladesh, in which case there'd be nothing wrong with PIA missing them. But this is a comparison of server networks, and objectively speaking, ExpressVPN does a better job at server variety.
And one more thing. Earlier, we mentioned PIA's automatic server selection even when users choose a country manually. ExpressVPN has another big advantage here, as it allows you to freely connect to any of its 3,000+ servers straight from the app.
8. Privacy and Security
If there are two make-or-break VPN categories, they are privacy and security. So you're probably wondering why we'll talk about them last.
In truth, both ExpressVPN and PIA are champions here. Between strong encryption, excellent security features, and spotless privacy records, you can rely on either service to keep you safe online.
Still, there are some interesting details to talk about. Let's dive in.
Logging Policy
ExpressVPN is based in the British Virgin Islands, which is a great location for VPN providers to be registered in. Why? Because it allows them to avoid invasive data retention laws and widespread government spying.
What does all this have to do with logging policies, though? Simply put, the lack of data retention laws allows a VPN to guarantee zero data logging, as the provider isn't required by law to collect connection and bandwidth info.
In addition, operating in a country that's not part of the 5/9/14-Eyes surveillance alliances helps the VPN preserve its zero-logging policy. ExpressVPN has so far successfully achieved this, and even has proof.
Back in 2016, ExpressVPN was involved in a Turkish investigation of a high-profile murder. An ExpressVPN server was used to delete important evidence, and the provider was asked to cooperate. Unfortunately for the authorities, ExpressVPN couldn't be of any help, because it truly kept no user logs.
Hold on, because that's not all! PIA has also proven the legitimacy of its zero-logging policy – on two separate occasions. The first one was related to an FBI investigation, again in 2016. The second one was just recently in 2018, in another similar case involving the FBI. Both times, PIA defended its reputation and didn't provide any user data – because it didn't collect any in the first place.
The bottom line – even though PIA is a US-based VPN provider (which puts it in the heart of the Five Eyes), it lives up to its full name.
No matter how you look at it, this one is a draw between two private, zero-logging VPNs.
Encryption and Protocols
Both ExpressVPN and PIA provide 256-bit encryption – the industry standard thanks to bulletproof security and small all-around impact on speed.
ExpressVPN runs AES-256 on its apps with no additional options. PIA does things a little differently – in addition to AES-256, you can also switch to AES-128 from the app.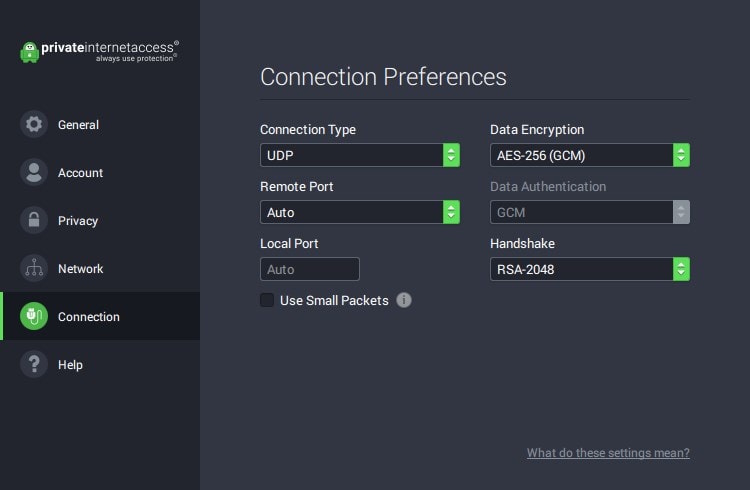 As the name suggests, AES-128 is 128-bit encryption, which is weaker than its 256-bit counterpart but doesn't slow you down as much. We recommend using 256-bit encryption wherever possible, but those who are willing to trade security for performance may appreciate PIA's extra flexibility.
Both VPNs also implement Perfect Forward Secrecy with dynamic 2048-bit DH (Diffie-Hellman) keys.
As for protocols, both VPNs support a range of them, with extra focus on OpenVPN. OpenVPN is currently considered the gold standard of VPN protocols, again due to a great balance of security and speed.
OpenVPN is the default protocol on ExpressVPN apps for Windows, Mac, Android, and iOS. Other supported protocols include L2TP/IPSec and PPTP (available in the apps) and IKEv2/IPSec (available for manual setups).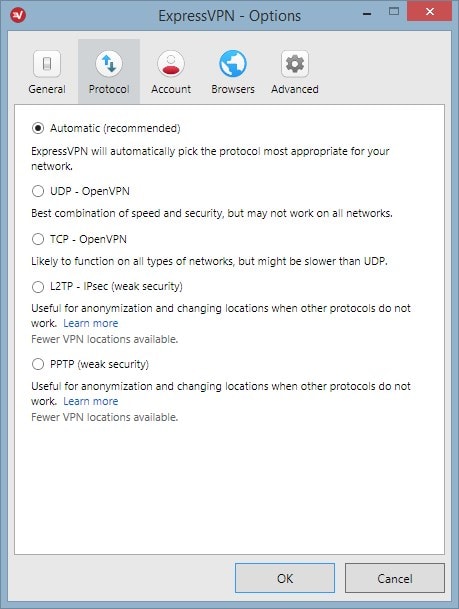 PIA runs OpenVPN by default on Windows, Mac, and Android, but the native protocol on iOS is IPSec. A manual OpenVPN configuration is possible for your iPhone or iPad. Additionally, L2TP/IPSec is supported for some manual setups.
Security Features
ExpressVPN and PIA are packed with useful tools and settings for extra security.
ExpressVPN comes with the Network Lock feature, which is just another name for the essential kill switch. You can enable and disable it in the General settings tab. DNS and IPv6 leak protection can also be found in the Advanced tab.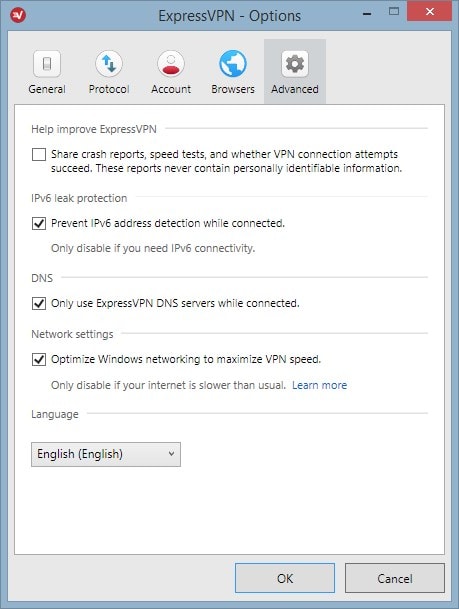 PIA is very similar, but as mentioned earlier, there's a little more to its security features. For example, the kill switch has two modes when turned on – Auto (which blocks outside traffic) and Always (which prevents any traffic leaks when not connected to a server).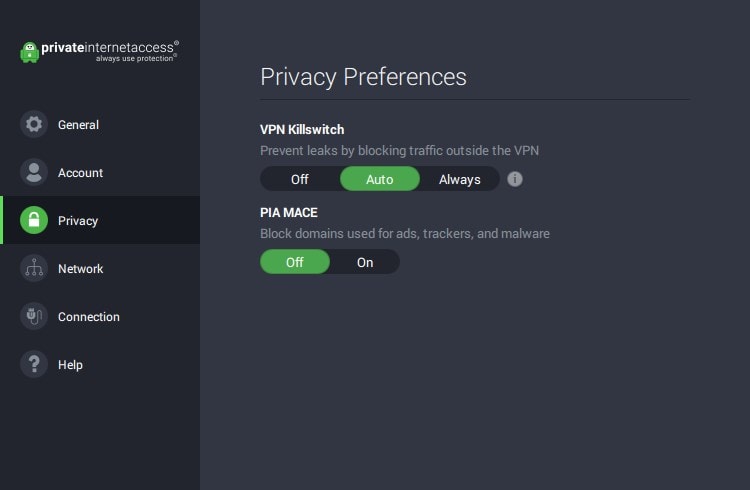 The DNS leak protection is also a little more elaborate. Like with ExpressVPN, you can enable this feature and get secure DNS addresses from PIA instead of your internet service provider. However, you can input custom DNS settings as well.
PIA also has its proprietary MACE feature, which provides ad blocking and anti-malware protection. ExpressVPN doesn't have an ad blocker of its own, but it can be used with third-party ad blockers.
One area where ExpressVPN is better than PIA is obfuscation. Thanks to its special stealth settings, you can make your connection even harder to detect, bypassing strict online censorship with ease. This makes ExpressVPN a solid pick for China and other countries with limited internet freedom such as Russia, Iran, and the UAE.
PIA also offers an extra layer of security. The app allows you to easily switch to port 443 on OpenVPN TCP, which usually solves any problems with a blocked connection. That said, this method currently isn't reliable for getting past the Great Firewall of China, and it remains a struggle for PIA. Some users have mentioned a manual L2TP configuration as a working alternative.
9. Final Verdict
ExpressVPN and PIA have been top-tier services for a long time and finding the better one can be quite the challenge.
ExpressVPN wins in six out of our eight categories, but this comparison is much closer than the final score suggests. In the end, only one factor will help with your decision – your needs.
If they include effortless streaming, access to Western sites and services from China, or both, ExpressVPN won't disappoint you. But it'll come at a price – this VPN isn't cheap, even if the cost is more than justified.
Alternatively, if you're mainly interested in securing your traffic and hiding your browsing sessions from prying eyes with the occasional Netflix or torrenting session on the side, PIA is an affordable choice with plenty to offer. Sure, it doesn't have the same server variety as ExpressVPN and it's noticeably slower on some servers, but it's still a capable and easy-to-use service at a great price.
In short, you get what you pay for. And relative to what you're paying, you'll be getting a lot from either VPN in this comparison.