Watch UFC Fight Night: Overeem vs. Rozenstruik From Anywhere
Updated on 4th December 2019
Never miss another UFC event no matter where you are with a premium VPN, like ExpressVPN. With a quality VPN, you can watch the action on ESPN and ESPN+ and catch every KO. Not only can you stream all the UFC action, but you can stream other great content, too. Share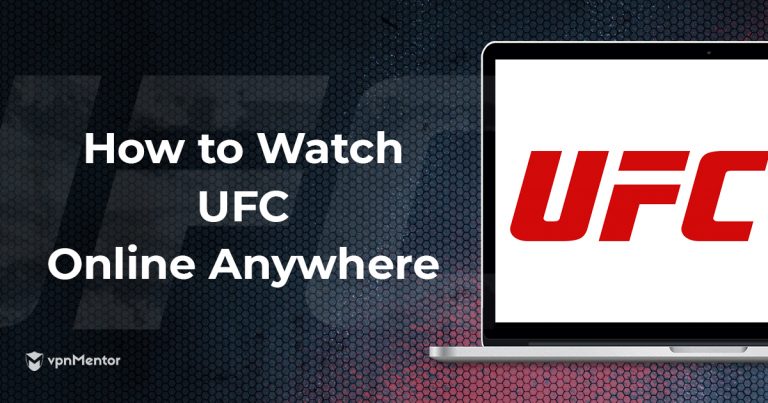 After a couple of weeks off, the UFC comes storming back to the Capital One Arena in Washington, DC for UFC Fight Night. The heavyweights and the women's divisions are well represented on the main card on December 7.
In the main event, Alistair Overeem takes on Jairzinho Rozenstruik. Overeem has been around MMA for 20 years, while Rozenstruik is only in his fourth UFC fight. Will it be youth or experience getting the victory?
In the co-main, Marina Rodriguez takes on Cynthia Calvillo in a strawweight bout. These two relative newcomers have been working through the ranks and are ready for a step up in competition. One fighter will come out as a challenger to reckon with.
On December 7, the UFC is back for the best in MMA. But if you're outside the US, you're likely to run into geo-restrictions and miss the fights. You have come to the right place for help.
Here's how you can use a high-quality VPN to quickly and easily stream all the UFC Fight Night bouts.
Quick Guide – Watch UFC Fight Night on ESPN
ESPN is televising the main card and the preliminary bouts for UFC Fight Night. To watch UFC Fight Night on ESPN, here's what to do:
Choose a premium VPN provider with high-speed US servers. The ExpressVPN service gives you plenty of speed to keep up with the UFC HD stream.
Sign up and install the app, log in, and then connect to a US server.
Go to www.espn.com/watch and sign in through your TV provider.*
When the fights are ready to start, log in to ESPN and start streaming!
* Use the Sling TV Orange package if you don't have a US television provider or payment method. Purchase a Sling TV gift card at MyGiftCardSUPPLY.com and follow the instructions to redeem the card and subscribe to Sling TV.
Quick Guide – Watch the UFC Fight Night Early Prelims on ESPN+
ESPN+ is streaming the early prelims for UFC Fight Night. To watch the action on ESPN+, follow these steps:
Select a premium VPN with US servers. Watching the UFC is easy with ExpressVPN, as it offers the fastest connections available.
Sign up and download the app. Log in to the VPN. Choose a server from the US.
Go to plus.espn.com and sign up. If you use PayPal, you need to enter a US ZIP code.
On the day of the fights, log in to ESPN+ and enjoy!
Why You Need a VPN to Watch UFC Fight Night
Streaming services block their content outside their home region. This makes it hard to watch the UFC in most of the world. But a quality VPN hides your location so you can watch UFC fights wherever you are.
A VPN works by connecting your device to a server in any country you choose. Your traffic passes through this server and the VPN assigns you an IP address from that country.
This allows you to slip past geoblocks on content from that location.
Many streaming sites can detect and block low-quality VPNs, so I recommend using a premium provider to bypass anti-VPN software. With these quality VPNs, you're able to keep up with every UFC event, as fights are coming fast and furious each week.
Look for a VPN with fast, consistent connection speeds if you're planning to stream live sports on a regular basis. High-speed servers help prevent lag and buffering, so you never miss a submission or KO.
Aside from getting you access to restricted live streams, a VPN also protects your online privacy.
With strong encryption and other advanced security features, premium VPNs keep your data safe from hackers, trackers, and governments, while also blocking malicious or harmful content from your device. This keeps you safe and anonymous while online.
3 Best VPNs for Watching UFC Fight Night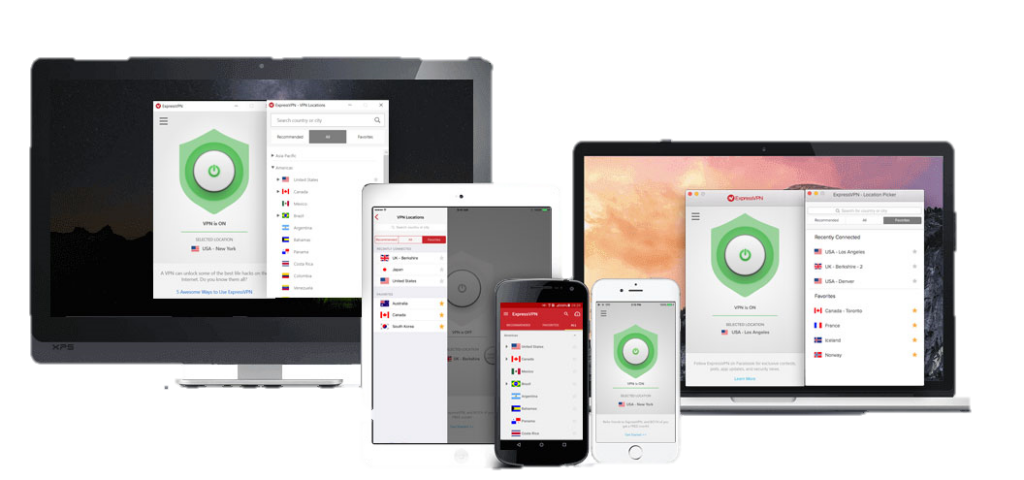 The fastest service on the VPN market, ExpressVPN is my top choice for high-bandwidth activities, such as watching UFC fights. It offers a generous number of servers around the world–more than 3,000.
Streaming with ExpressVPN is fast and smooth, even if you're using a server that's on the other side of the globe. Its high speeds mean you don't need to worry about dropped frames or buffering problems when you're watching the UFC.
This premium VPN allows you to split your traffic between the VPN and your local connection to the internet. This means you stay connected to local sites even while streaming TV content from the other side of the world.
If you run into connection issues or have other questions, ExpressVPN's 24/7 live chat support is there to help.
Try the service and take advantage of the 30-day money-back guarantee!
With ExpressVPN, you can use up to five devices simultaneously. This means you can watch UFC action whether you're at home or on the go.
Want to learn more? Our thorough review tells you more about ExpressVPN's streaming and other features.
Money-back guarantee: Anytime within 30 days.
ExpressVPN can unblock:
ESPN+, ESPN, Sling TV, Amazon Prime Video, HBO GO, Netflix, Spotify, YouTube, CBC, and NBC.
Supports torrenting:
Every server supports torrenting.
ExpressVPN works on these devices:
Chrome, iOS, Android TV, Windows, Linux, macOS, Firefox, Android, and some routers.
Watch UFC Fight Night With ExpressVPN Now!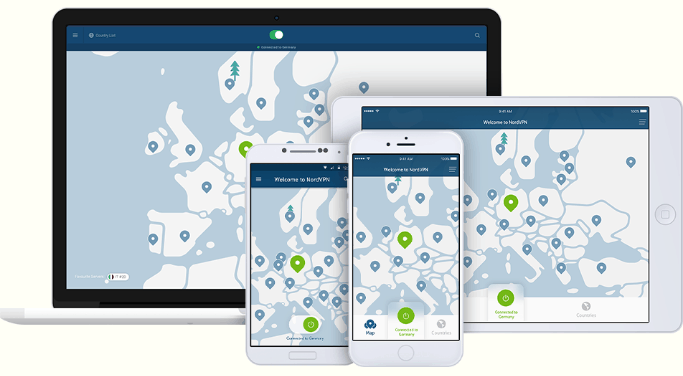 A feature-rich VPN at a reasonable price, NordVPN gives you a great experience and at a great value. Choose from over 5,200 servers in 59 countries to stream content, including the upcoming UFC fights.
You get a solid, fast connection on NordVPN, thanks to the SmartPlay feature. This comes standard with NordVPN. It helps you keep a steady connection and breaks through geoblocks, like those on ESPN.
With an easy-to-use, map-based interface, NordVPN makes it simple to find the connection you need when streaming UFC Fight Night. Click a country on the map and your network traffic routes through a secure server in that location. That's it!
If you need assistance at any time of the day, NordVPN offers 24/7 live chat support.
You can try out the service risk-free with NordVPN's 30-day money-back guarantee. This gives you plenty of time to experience all its features.
When you need a lot of connections during UFC Fight Night, you can use six devices at once!
Learn more about NordVPN when you take a look at our in-depth expert review.
Money-back guarantee: Within 30 days.
NordVPN can unblock:
ESPN, ESPN+, Amazon Prime Video, Sling TV, BBC iPlayer, Showtime, Hulu, and HBO GO.
Supports torrenting:
P2P-dedicated servers are available.
NordVPN works on these devices:
Windows, macOS, Android, iOS, Android TV, Linux, Chrome, Firefox, and certain routers.
Watch UFC Fight Night With NordVPN Now!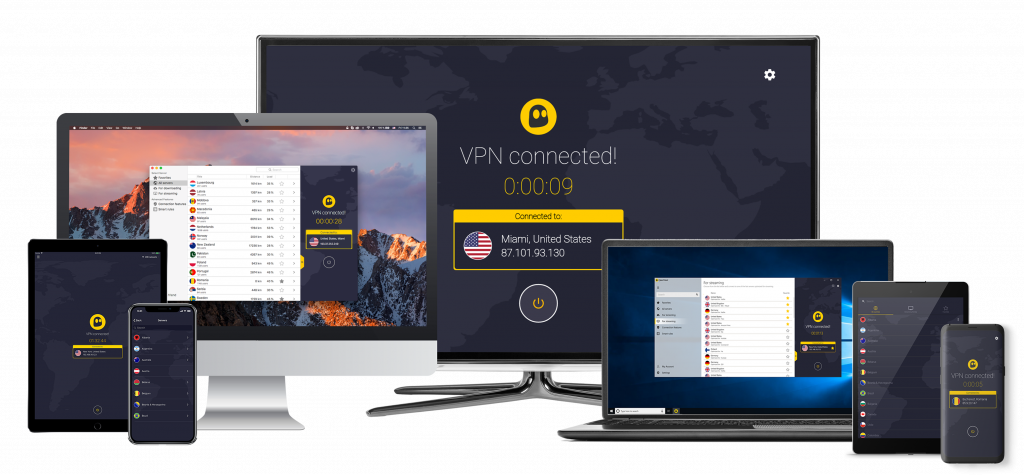 Streaming-dedicated servers and an easy-to-use interface set CyberGhost apart for streaming and watching UFC fights.
If you're new to streaming over a VPN, CyberGhost's streaming servers make it easy. They're specially configured to break through geographical blocks and keep a steady, fast connection for your streams. It even has a server optimized just for ESPN+!
If you need a lot of country options, CyberGhost provides servers in over 90 countries, including China and Russia. Its server list of over 5,500 gives you plenty of options when you're traveling during UFC Fight Night.
Should you run into connection issues, you can live chat with tech support.
Not sure if this VPN is right for you? You can get a full refund within 45 days, so try it risk-free!
To help you stay connected from anywhere, CyberGhost allows you to use one to seven devices simultaneously on a single subscription.
Take a look at our expert review and find out why CyberGhost is a highly rated service.
Money-back guarantee:  Up to 45 days.
CyberGhost can unblock:
ESPN, ESPN+, Eurosport, Sling TV, DAZN, MTV, BBC iPlayer, Amazon Prime Video, and Hulu.
Supports torrenting:
Offers servers dedicated to torrenting.
CyberGhost works on these devices:
Amazon Fire TV Stick, Linux, macOS, Firefox, iOS, Windows, Android TV, Chrome, Windows, Android, and many routers.
Watch UFC Fight Night With CyberGhost Now!
Fight Details
Date: December 7, 2019 (US date)
Time: Main card starts at 9:00 p.m. US EST (GMT -4:00); prelims at 7:00 p.m. US EST; early preliminaries at 5:45 p.m. US EST
Location: Capital One Arena, Washington, DC
Broadcasters: ESPN (main card and preliminary bouts); ESPN+ (early preliminaries)
Main Event, Key Matchups, and Predictions
Overeem vs. Rozenstruik pits an old veteran against a newcomer. Unfortunately, due to the circumstances affecting Walt Harris and his family, Harris needed to back out of his fight with Overeem. Bigi Boy was ready to step in.
Rozenstruik is rapidly rising through the heavyweight ranks. The Demolition Man has been around for a while and has seen everything. Overeem knows enough to teach Rozenstruik a few lessons. Expect Overeem to win.
In another fight with a late change, Marina Rodriguez stepped in to take on Cynthia Calvillo. This battle in the strawweight division pits two relatively new fighters against each other for rankings position.
Both fighters have impressed so far, though both need a big win to move up in the rankings. Look for Calvillo to get the win the co-main.
Upcoming UFC Events
On December 14, 2019, the UFC happens in Las Vegas, Nevada, with the main card featuring three title bouts. UFC 245 will be a night to remember.
Headlining the card is a welterweight battle between Kamaru Usman and Colby Covington. Both men come in with 15-1 records. Who can walk out of the Octagon with a 16-1 record and the belt?
The Max Holloway vs. Alexander Volkanovski co-main bout features the longtime champ against the top challenger. Volkanovski is the next to try his skills for the championship. Can Holloway keep his belt against yet another challenger?
In the women's bantamweight division, it's the legendary Amanda Nunes facing Germaine de Randamie. Nunes is running out of challengers and de Randamie is the next one to take her shot. Can anyone stop Nunes?
It will be a big night at UFC 245. Make sure you can see every minute of the action each week when you sign up for a premium VPN today!
Summary and Further Reading
Set up your VPN now and be sure to catch every moment and KO of UFC Fight Night! Not sure which one to pick? I recommend ExpressVPN for watching the UFC. It offers some of the fastest speeds available to keep up with the action of UFC fights.
Interested in learning more about using Sling TV with a VPN? Take a look at How to Watch Sling TV Outside the US.
Before you decide on your VPN, check out all our deals and coupons and save money!