How to Watch UFC 241: Cormier vs Miocic from Anywhere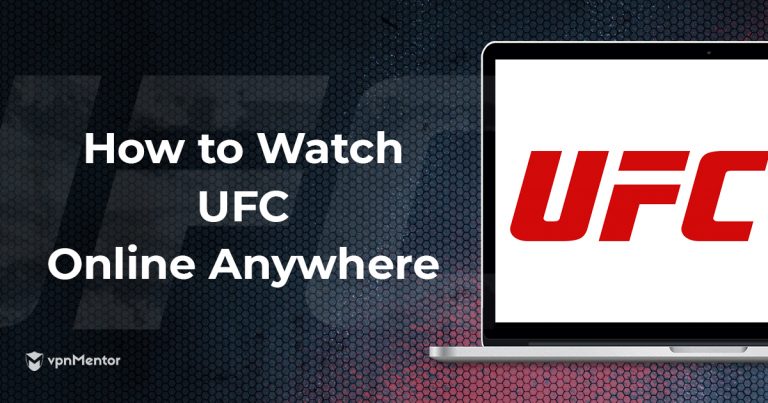 Daniel Cormier is standing atop the heavyweight division. But Stipe Miocic is standing in his way, ready to take back the belt. The heavyweights are back for blood at UFC 241.
The welterweight division pits Anthony Pettis against Nate Diaz. In a crowded division, who can make his name as a contender?
The middleweight division gives us a battle between Yoel Romero and Paulo Costa. Both want a chance to prove themselves against the winner of the Whittaker vs. Adesanyo fight. Who is next up?
It is another big card at UFC 241. But if you are outside the US, you might not be able to see any of the fights. We are here to help.
Here's how you can use a high-quality VPN to quickly and easily stream all the bouts during UFC Fight Night.
How to Watch the UFC 241 Main Card on ESPN+ PPV
The main card for UFC 241 is a pay-per-view event that can be streamed through ESPN+. To watch the UFC 241 main card:
Select a VPN provider with high speeds and US servers (we recommend ExpressVPN for streaming UFC). Sign up and download the app.
Open the app, log in, and select a server location in the US.
Go to espnplus.com/ppv and purchase UFC 241. You can use PayPal, and you will need to enter a US ZIP code.
Log in to ESPN+ and watch UFC 241!
Watch UFC with ExpressVPN NOW!
How to Watch the UFC 241 Prelims with Sling TV Orange
You can use the Sling TV Orange package to stream the preliminary bouts for UFC 241. Just follow these steps:
Choose a VPN with US servers and high streaming speeds (the ExpressVPN service is best for the UFC). Sign up for the service and install the software.
Launch the VPN app and connect to a US server.
Go to sling.com and sign up for the Orange package to get access to ESPN. (If you don't have a US-based payment method, purchase a Sling TV gift card at MyGiftCardSupply.com and follow the instructions to redeem the card and subscribe to Sling TV Orange.)
When the preliminaries start, log in to Sling TV and enjoy!
Watch UFC with ExpressVPN NOW!
How to Watch the UFC 241 Early Prelims on ESPN+
ESPN+ is streaming the early preliminary bouts for UFC 241. To watch the early preliminaries outside the US:
Select a VPN provider with high speeds and US servers (for streaming UFC, ExpressVPN is recommended). Sign up and download the app.
Open the app, log in, and select a server location in the US.
Go to plus.espn.com and sign up. You can use PayPal, and you will need to enter a US ZIP code.
On the day of the fight, log in to ESPN+ and start streaming!
Watch UFC with ExpressVPN NOW!
Why You Need a VPN to Watch UFC Fight Night on ESPN+
Streaming services are often required to block their content outside their home region. That makes it hard to watch the UFC in most of the world. But a good VPN can hide your location so you can watch the UFC wherever you are.
A VPN (virtual private network) works by connecting your device to a server in any country you choose. Your traffic is assigned the same IP address as the server, allowing you to slip past any bans or blocks on content from that country.
Low-quality VPNs can be detected and blocked by many streaming sites, so go with a trusted provider. With the best VPNs, you'll be able to keep up with every UFC event, with fights coming fast and furious every week.
Look for a VPN with fast, consistent connection speeds if you're planning to stream live sports regularly. High speeds help prevent lag and buffering, so you'll never miss a submission or KO.
Aside from getting you access to restricted live streams, a VPN also protects your online privacy. With strong encryption and advanced security features, quality VPNs keep your data out of the hands of hackers, your ISP, governments, and search engines.
Best VPNs to Stream UFC Fight Night LIVE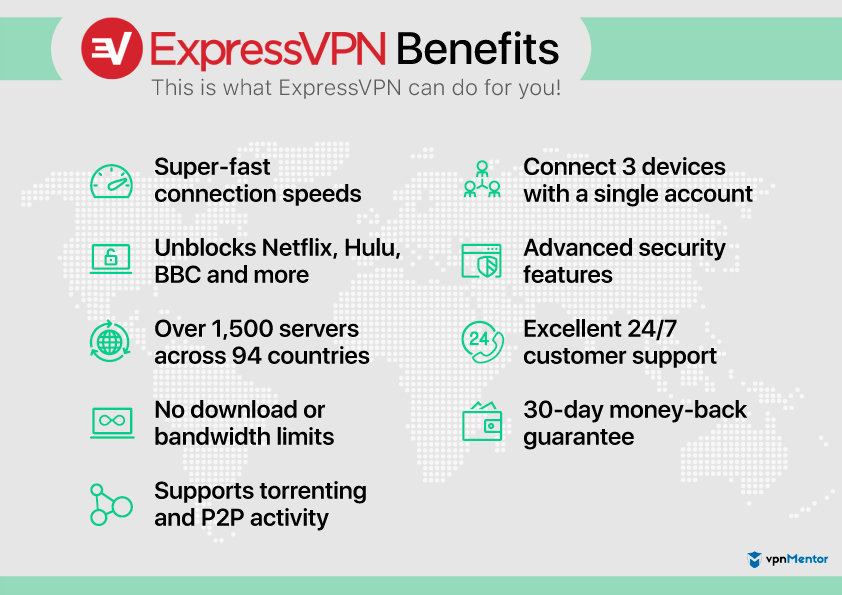 ExpressVPN has some of the best connection speeds on the VPN market. It's ideal for watching live sports, and it has no trouble unblocking content from a range of websites and countries across the globe on up to 3 devices simultaneously.
This provider offers 24/7 live chat support to help you every step of the way. Advanced features include rock-solid encryption and your choice of protocols, plus the ability to split your traffic to stay connected to local devices while watching the fight.
Loved by users and respected by security experts, ExpressVPN will deliver easy access and seamless streaming for every UFC event. It's also a great choice for torrenting and other high-bandwidth activities.
Money-back guarantee: 30 days
Free trial: 7-day trial for iOS and Android
ExpressVPN can unblock:
Netflix, Hulu, HBO, Amazon Prime Video, Showtime, Sling TV, DAZN, and BBC iPlayer.
Dedicated torrenting profile:
No, but all servers support P2P activity.
ExpressVPN works on these devices:
Windows, macOS, Android, iOS, Android TV, Linux, Chrome, and Firefox. It also offers an app for use with certain routers.
Watch UFC with ExpressVPN NOW!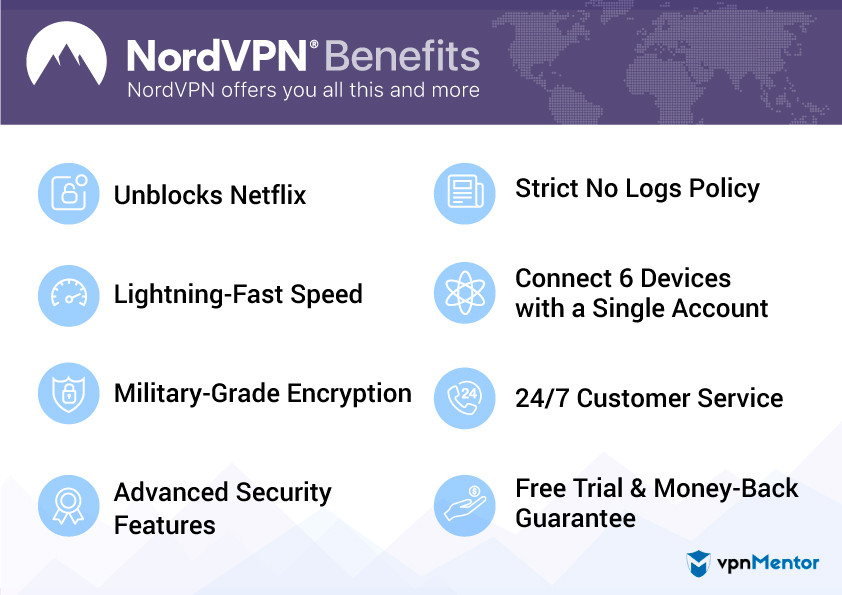 Reasonably priced NordVPN handles streaming UFC content easily, with the largest array of high-speed servers (about 2,000 of them!) in the US, and over 3,000 spread across the globe.
Primarily focused on security, privacy, and unblocking content, NordVPN is an industry leader in data protection. A single subscription allows you to connect up to 6 devices at once, and the SmartPlay feature makes it incredibly easy to stream UFC events live.
The Panama-based provider uses military-grade encryption and top-notch additional features, including Double VPN and CyberSec, which works to block ads and malware. A strict no-logs policy assures your anonymity while torrenting.
Consistently great feedback from users has made NordVPN our #1 Overall VPN Service, and it's ideal for smooth access to HD UFC coverage.
Money-back guarantee: 30 days
NordVPN can unblock:
Netflix, HBO, Hulu, Showtime, BBC iPlayer, Amazon Prime Video, and Sling TV.
Dedicated torrenting profile:
Yes, P2P specialty servers available.
NordVPN works on these devices:
Windows, macOS, Android, iOS, Android TV, Linux, Chrome, and Firefox. It's also compatible with routers.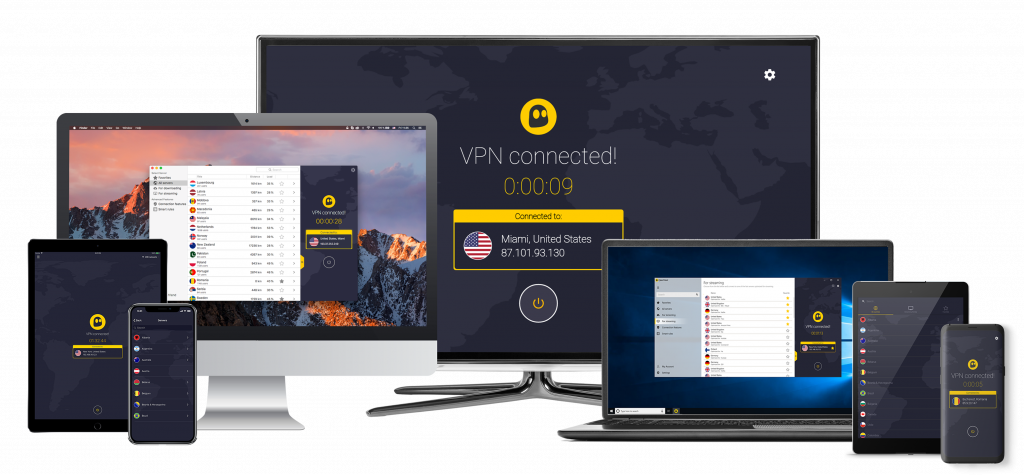 CyberGhost is another reliable choice for watching live UFC action, with a preconfigured streaming profile that makes connecting easy for VPN beginners.
This VPN has over 3,000 servers worldwide, including an impressive 497 in the US. Simultaneous connections on up to 7 devices allow you to share an account with friends so everyone can watch the action.
The apps also work to block online trackers, ads, and malicious content, and the 18-month plan is a bargain if you're planning to keep watching UFC events in the future.
The Romanian-based VPN has a heap of positive user reviews, and it offers dedicated servers for torrenting and other file sharing.
Money-back guarantee: 30 days on short plans; 45 days on 6-month or longer plans
Free trial: 7-day trial for mobile; 1-day or 3-day Windows trial available
CyberGhost can unblock:
Dedicated streaming profile with servers optimized for: Netflix, BBC iPlayer, Sky Go, Hulu, Comedy Central, Eurosport, ESPN, and others.
Dedicated torrenting profile:
Yes; shows countries and number of users.
CyberGhost works on these devices:
Windows, macOS, Android, iOS, Amazon Fire Stick, Android TV, Linux, and Chrome.
Watch UFC with CyberGhost NOW!
Fight Details
Date: Saturday, August 17, 2019 (US date)
Time: Main Card starts at 10:00 p.m. US EDT (GMT -4:00); Prelims at 8:00 p.m. US EDT; Early Prelims at 6:15 p.m. US EDT
Location: Honda Center, Anaheim, CA
Broadcasters: ESPN PPV (Main event), ESPN (Prelims), ESPN+ (Early Prelims)
The Main Event, Key Matchups, and Predictions
Daniel Cormier is the heavyweight champion. Stipe Miocic is the previous heavyweight champion. A belt is on the line in this rematch between two of the UFC's best.
DC is ready for retirement, but he keeps talking about another shot at Jon Jones. Miocic, meanwhile, just wants his belt back. With Cormier looking ahead to a fight that may not even happen, look for Miocic to be heavyweight champion again.
Anthony Pettis faces off against Nate Diaz in a welterweight division battle. In a division with nothing but contenders, this is a chance for both men to move up the rankings. The winner will get a boost, while the loser will be almost entirely out of contention.
Diaz has been out of commission for 3 years and, as a result, is a forgotten man in the division. Pettis, meanwhile, has been active as he's climbed the rankings. Diaz is tough enough and skilled enough to come out fresh from his time off. Diaz is a good pick to win.
Yoel Romero is hoping a win in Anaheim will put him in line for a title shot. Meanwhile, Paulo Costa is hoping to move up into contention for the championship. Both are exciting fighters eager to show their skills at UFC 241.
Costa has been unstoppable in his MMA career, going 12-0 in his seven years in the sport. Romero, meanwhile, is a former champ who wants to get his belt back. Expect the more-experienced Romero to hand Costa his first loss.
Upcoming UFC Events
Abu Dhabi hosts UFC 242 on September 7, 2019, and the lightweight division takes center stage. The main card features four bouts at 155 lbs., including a title fight between the current and interim champs.
Khabib Nurmagomedov and Dustin Poirier face off with the championship on the line. Nurmagomedov's suspension is over and he is ready to defend his belt. Poirier won the interim belt during The Eagle's absence, and now he has a chance to be the undisputed champion.
Edson Barboza and Paul Felder face off in the hope of impressing enough to get a shot at the champ. Both are within striking distance of the top of the rankings. Who can push higher toward a chance at a title?
Also in the lightweight division, Islam Makhachev and Davi Ramos square off with a chance to impress the UFC. Ramos is hoping to climb into the rankings with a win in his sixth UFC fight. Makhachev hopes he can continue his rise with a win in Abu Dhabi.
Set up your VPN now and be sure to catch all the action!  Not sure which one to pick?  We recommend ExpressVPN for watching the UFC. And check out our deals and coupons page if you want to save even more!