How to Stream UFC 232 Jones vs Gustafsson Live from Anywhere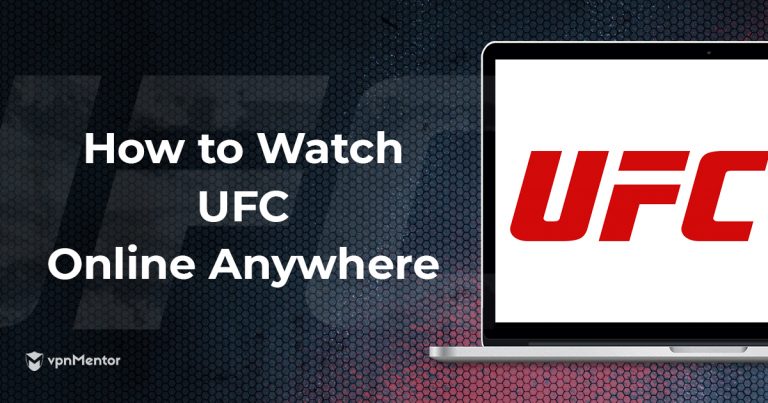 As the final UFC event of 2018, UFC 232 will end the year with a bang.
The infamous Jon Jones (22-1) is finally back in the octagon in the main event. His long-time enemy Alexander Gustafsson (18-4) hopes to put an end to Jones' undefeated streak and claim the light heavyweight belt.
Cris Cyborg (19-1) will face Amanda Nunes (16-4) in the co-main. It's a battle of champions at 145 pounds, with the featherweight title and bragging rights as the best female Brazilian fighter of all time on the line.
To watch the UFC 232 pay-per-view (PPV) broadcast outside the US, you'll need a VPN to bypass the geoblocks on UFC TV and FS1. A high-quality VPN is the best way to avoid geo-restrictions on all sorts of content, including UFC events.
You'll be able to watch the fights with a couple of clicks, and it'll work from anywhere in the world. Here's everything you need to know to watch UFC 232 LIVE on December 29/30.
How to Watch UFC 232 Live Online – Quick Guide
Just four simple steps will get you set up to stream Jones vs. Gustafsson and all the great action at UFC 232 in high quality.
To stream UFC 232 via the UFC website:
A great way to easily stream all UFC events is to subscribe to UFC Fight Pass.
Select a VPN provider with high speeds and US servers (Use ExpressVPN for seamless UFC streaming). Sign up and download the app.
Open the app, log in, and select a server location in the US.
Go to UFC.com and sign up for the UFC Fight Pass free trial. Purchase the UFC 232 PPV event.
On the day of the fight, log in to ufc.tv and start streaming!
To stream UFC 232 via Sling TV
Subscribing to Sling TV Blue will ensure you easy access to all UFC events on FS1 and pay-per-view, along with many other US sports broadcasts and major TV networks.
Select a VPN provider with high-speed US servers for streaming. ExpressVPN is our top pick for all UFC events. Sign up for a plan or free trial and download the app.
Open the app, log in, and select a server location in the US.
Go to Sling TV* and sign up for the Blue package to get Fox networks.
On the day of the fight, log in to Sling TV and select the FS1 stream for the prelims. You can also purchase the UFC 232 PPV Main Event directly from Sling TV.
*PRO TIP: If you don't have a US-based payment method, you can still watch Sling TV! Just purchase a Sling TV gift card at MyGiftCardSupply.com and carefully follow the instructions to redeem the card and subscribe to Sling TV Blue.
UFC 232 Details and Why You Need a VPN to Watch
Date: Saturday, December 29, 2018
Time: Main Event at 10 p.m. US EST (UTC –5:00); Prelims at 8 p.m. US EST
Location: T-Mobile Arena, Las Vegas, Nevada, United States
Broadcasters: Sling TV, DirecTV Now, UFC Fight Pass, Amazon Prime Video
Many streaming services are required to block their content outside of their home regions, making UFC broadcasts hard to reach in most of the world. Luckily, a VPN allows you to mask your location and watch the UFC no matter where you are.
A VPN (virtual private network) works by connecting your device to a server in any country you choose. You'll be assigned a new IP address that matches the server, allowing you to slip past any bans or blocks on content from that country.
Low-quality VPNs can be detected and blocked by many streaming sites, so go with a trusted provider. With the best VPNs, you'll be able to keep up with every UFC event, with fights coming fast and furious in the weeks ahead.
You'll also need to look for a VPN with fast, consistent connection speeds if you're planning to stream live sports regularly. High speeds help prevent lag and buffering, so you'll never miss a KO.
Aside from getting you access to restricted live streams, a VPN protects your online privacy. Anyone from your government to your ISP, from search engines to hackers, could be after your browsing data, but a VPN encrypts it to keep it out of their reach.
The Best VPNs to Stream UFC 232 LIVE
ExpressVPN has some of the best connection speeds on the VPN market. It's ideal for watching live sports, and it has no trouble unblocking content from a range of websites and countries across the globe on up to 3 devices simultaneously.
The provider offers 24/7 live chat support to help you every step of the way. Advanced features include rock-solid encryption and your choice of protocols, plus the ability to split your traffic to stay connected to local devices while watching the fight.
Loved by users and respected by security experts, ExpressVPN will deliver easy access and seamless streaming for every UFC event. It's also a great choice for torrenting and other high-bandwidth activities.
Money-back guarantee: 30 days
Free trial: 7-day trial for iOs and Android
Watch UFC with ExpressVPN NOW!
Reasonably priced NordVPN handles streaming UFC content easily, with the largest array of high-speed servers (about 2,000 of them!) in the US, and another 3,000 spread across the globe.
Primarily focused on security, privacy, and unblocking content, NordVPN is an industry leader in data protection. A single subscription allows you to connect up to 6 devices at once, and the SmartPlay feature makes it incredibly easy to stream UFC events live.
The Panama-based provider uses military-grade encryption and topnotch additional features including Double VPN and CyberSec, which works to block ads and malware. A strict no-logs policy assures your anonymity while torrenting.
Consistently great feedback from users has made NordVPN our #1 Overall VPN Service, and it's ideal for smooth access to HD UFC coverage.
Money-back guarantee: 30 days
Free trial: 7-day free trial with access to all features and servers
CyberGhost is another reliable choice for watching live UFC action, with a preconfigured streaming profile that makes connecting easy for VPN beginners.
This VPN has over 3,000 servers worldwide, including an impressive 497 in the US. Simultaneous connections on up to 7 devices allow you to share an account with friends so everyone can watch the action.
The apps also work to block online trackers, ads, and malicious content, and the 18-month plan is a bargain if you're planning to keep watching UFC events in the future.
The Romanian-based VPN has a heap of positive user reviews, and it offers dedicated servers for torrenting and other file sharing.
Money-back guarantee: 30 days on short plans; 45 days on 6-month or longer plans
Free trial: 7-day trial for mobile; 1-day or 3-day Windows trial available
Co-Mains and Key Matchups at UFC 232
There aren't many bigger stars in the UFC than Jon "Bones" Jones. Like Floyd Mayweather, Jones has most fight fans cheering for him to lose. But his unique skill set, reach, and power always seem to carry him to victory.
Gustafsson has been waiting a long time for a rematch with Jones following their closely fought bout in 2013. However, a knee injury took him out of contention in 2015. With all that time away, you know he is hungry for revenge.
The co-main has Cris Cyborg (19-1) taking on Amanda Nunes (16-4) in a match with plenty of hostility. Cyborg recently played up her national pride, attacking fellow Brazilian Nunes as a "traitor" because of her affiliation with American Top Team.
Cyborg has said she plans to teach Nunes about "respect," and she's a heavy favorite coming into the fight.
Carlos Condit (30-12) vs. Michael Chiesa (14-4) is another interesting matchup, with Chiesa moving up to welterweight after weighing in over the lightweight limit at UFC 226. Condit has lost his last four fights, and is openly discussing retirement.
Ilir Latifi (14-5) was hoping for Daniel Cormier, but he'll face Corey Anderson (11-4) instead. Latifi finished off Ovince St. Preux in the first round in his last outing. Another impressive performance would set him up for an eventual chance at the title.
TUF winner Anderson is on a two-fight win streak, and is focused on fighting for the championship in the future.
UFC 232 Predictions: Who Will Get the Win?
Jones has been a heavy favorite in most of his fights, and the same is true for UFC 232.
Striking at the eyes of opponents with his reach has always given the youngest champion in UFC history an edge.
He is so well-rounded that it's hard to see this match ending any other way than Jones raising the title belt yet again.
Still, for all the talk of Jones' talents, Gustafsson took him to the limit in 2013. After five rounds, many fans and fighters thought Gustafsson had claimed victory.
Missing the chance to get revenge in 2015 due to his injury has eaten at Gustaffson ever since. If anyone can bring down Jones, Gustafsson might just be the one.
Cyborg is undefeated over the past 13 years, and she looked menacing in training. She's incredibly confident heading into UFC 232. But Nunes is still a champion in her own right. When "The Lioness" meets the Cyborg, she'll be hoping to beat the odds.
The meeting between the UFC women's featherweight and bantamweight champions is a Super Fight in every sense of the term. But Cyborg does seem to have the advantage.
Latifi and Anderson are both high-level wrestlers with their eyes on the championship belt. Anderson is a slight favorite, but this one could easily go either way.
Upcoming Can't-Miss UFC Events
UFC 233 was set for January 27th, but the event has been canceled for a number of reasons.
UFC 234 is still scheduled for February 10 in Melbourne, Australia. Robert Whittaker (20-4) and Kelvin Gastelum (15-3) are in the main event, with Anderson Silva (34-8) and Israel Adesanya (15-0) in the co-main.
By setting up your VPN now, you can be certain you won't miss a second of the action.
UFC Updates – Big News, Recent Events & New Videos
Bellator president Scott Coker claimed that UFC 233 was canceled due to a lack of available stars. Meanwhile, Khabib Nurmagomedov told Kevin Lee to "stay humble" following his unanimous decision loss to Al Iaquinta at UFC Milwaukee.
In short, there's never a shortage of drama in the UFC world.
New UFC content on YouTube:
NOTE: In addition to unlocking UFC live streams, a VPN with US servers gives you access to the widest variety of YouTube content.