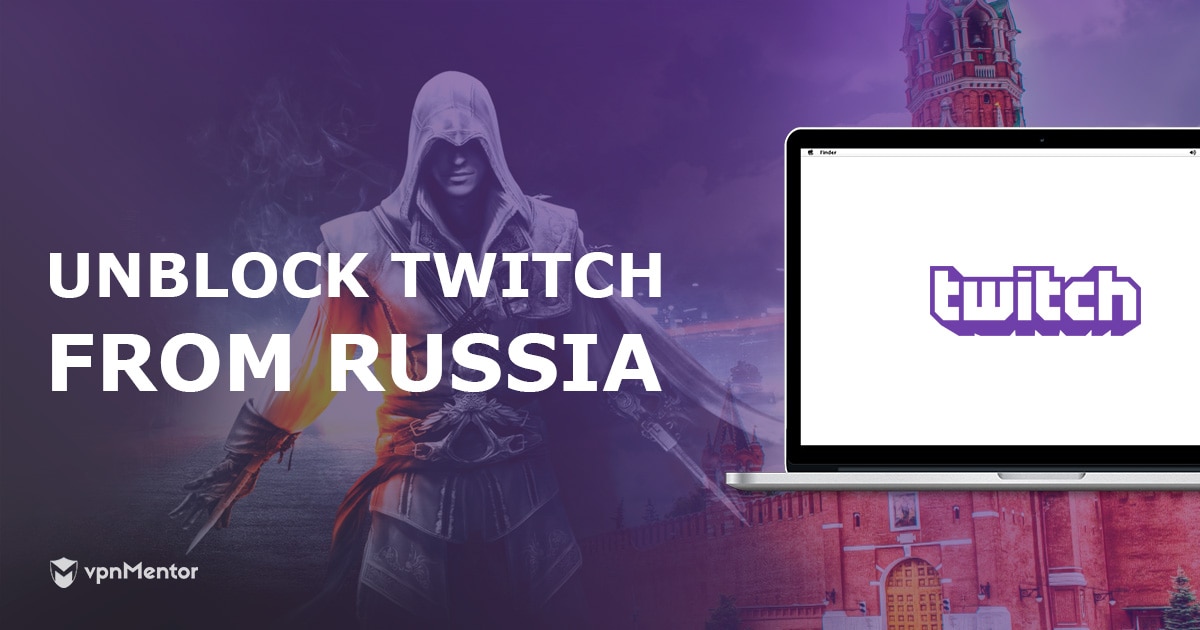 How to Unblock Twitch if You Live in Russia or Got Blocked
In April 2018, when Russia blocked the messaging service, Telegram, its nationwide ban of related IP addresses resulted in the live streaming platform, Twitch, being blocked across the country too.
If you're a Twitch user based in Russia, there's no need to panic. The block can be quickly and easily bypassed with the use of a good VPN.
A VPN will allow you to mask your IP address, routing your traffic through an unblocked server in a different country to get around geoblocking. The best VPNs will also encrypt your data at the same time, so you don't have to worry about being monitored or tracked.
Using a VPN in this way is equally useful for Twitch users outside of Russia who have been blocked from the service.
Remember though, Russia also blacklists many VPNs and proxy servers that might be used to view blocked content. That's why we've put together this list of reliable VPNs that work in Russia, as well as how to use them to access Twitch.
Why You Need a VPN for Twitch in Russia
Back in 2018, Russia's Federal Security Service requested access to user communications on the popular instant messaging service, Telegram. When Telegram refused to decrypt its users' information, the Russian government issued a court order to ban the service.
Since Telegram relies on Amazon and Google cloud platforms and services, the nationwide block of Telegram was achieved by banning over 20 million IP addresses associated with both companies.
One unfortunate side effect of the nationwide bans was the blocking of several other sites connected to Amazon and Google. Alongside messaging apps and retail sites, Twitch was caught up in the ban. Since Twitch uses Amazon cloud services, it was automatically blocked for all Russian users.
While VPNs are fantastic at getting around censorship, using a VPN in Russia isn't exactly simple. In 2017 the Russian government began issuing widespread bans on VPNs themselves in an attempt to enforce their heavy censorship laws.
Fortunately, there are still working VPNs available that have so far evaded Russian blocking. These can be used to bypass Russian censorship and access Twitch easily and securely.
When selecting the best VPN for accessing Twitch in Russia, you need to consider server location and safety.
The VPN you choose will need to have a good number of servers to guarantee the fast speeds needed for streaming on Twitch. These servers need to be located outside of Russia to bypass any blocks but close enough to not hamper your connection speed.
A highly-secure VPN is also vital for protecting yourself from government surveillance. Your chosen service needs to offer the highest level of encryption and a kill switch with DNS leak protection to keep your data secure in the event of a dropped connection.
It's also a good idea to use a foreign provider as Russian providers are vulnerable to government infiltration or seizure. Opt for a VPN registered in a country with excellent privacy laws and that has a strict no-log policy to make sure your information isn't being stored or sold.
The Best VPNs for Unblocking Twitch in Russia
When we tested the fastest VPNs available, Express VPN came out on top. 3,000+ servers in 160 locations around the world guarantee you the lightning-fast speed you need to live stream on Twitch.
ExpressVPN operates a no-logging policy and is based in the British Virgin Islands so isn't subject to any data retention laws. 256-bit AES encryption, DNS/IPv6 leak protection, a kill switch, and a bonus split tunneling feature all work hard to keep your data secure. It also accepts payment methods from Qiwi, YooMoney(Yandex), WebMoney, UnionPay, and Bitcoin.
Try ExpressVPN now backed by a 30-day money-back guarantee or read our glowing user reviews.
Unblock Twitch with ExpressVPN
If you're a beginner looking for a VPN that's easy to use, you'll find CyberGhost's intuitive design straightforward and simple according to our users. Pre-configured profiles take all the guesswork out of selecting the best server for streaming Twitch.
9,753+ servers in 91 countries give you good speeds for streaming and CyberGhost takes care of your privacy with military-grade encryption, an automatic kill switch, a strict no-logs policy, and additional NoSpy servers.
You can connect up to 7 devices now with a 45-day money-back guarantee for short plans or a 45-day money-back guarantee for longer plans.
Unblock Twitch with CyberGhost
Unlimited bandwidth and 1,800+ servers around the world make Hotspot Shield a particularly good VPN for streaming. Best of all, Hotspot Shield's Catapult Hydra protocol is extremely hard to detect, making it perfect for bypassing censorship.
Malware and phishing protection will keep you safe while you stream, and Hotspot Shield's no-logging policy will make sure your data stays private.
You can connect up to 5 devices simultaneously and the service is easy to set up with a 45-day money-back guarantee. Find out more about Hotspot Shield with our user reviews.
Unblock Twitch with Hotspot Shield
A relatively new VPN on the market, VyprVPN still stands out for its unique Chameleon Protocol. The protocol is based on OpenVPN and was designed to bypass strict Chinese censorship so it works especially well in Russia.
AES 256-bit encryption and an automatic kill switch will help you browse securely while malware is blocked by the VPN's NAT Firewall. The service also guarantees complete data privacy via its "no third parties policy".
Although one of the more expensive options, VyprVPN does have a tailored Russian version of its website and rivals more well-established VPNs with its lightning-fast speeds. See what our users have to say about this newcomer.
Stream Twitch Online in Russia with a VPN
Twitch may not have been intentionally banned by the Russian government but it doesn't look like it will be unblocked anytime soon. Until it is, a reliable VPN is the only way to safely and securely access Twitch in Russia.
Want to find out more about bypassing Russian censorship? Check out our list of the best VPNS for Russia.
Having trouble downloading your VPN? Learn how to bypass VPN blocks with ease.
Worried about security? Learn how to make your VPN undetectable.