How to Unblock Vimeo in Indonesia — Easy Access in 2023
Updated on 18th January 2023
You can't access Vimeo in Indonesia. The country's government restricts entrance to the platform due to "inappropriate" content featured on the website. If you're traveling to Indonesia, this makes it very hard to manage your Vimeo account.
Most ISPs in the country prevent you from visiting the streaming site. However, VPNs hide your online activity from ISPs. This makes it possible to unblock Vimeo from Indonesia without issues.
My team and I tested 85+ VPNs, and ExpressVPN is my top recommendation. It has a massive server network and incredibly fast speeds to watch Vimeo anywhere without buffering. The service also has a 30-day money-back guarantee, so you can try ExpressVPN risk-free. If the VPN doesn't meet your standards, getting a refund is quick and easy.
Get the Best VPN for Vimeo Now
Important: While VPN use is legal in Indonesia, accessing some restricted content isn't. Using a VPN to access geo-restricted content on Vimeo may also go against the site's Terms & Conditions. The vpnMentor team doesn't condone any illegal activity. We strongly advise you to check local laws and Vimeo regulations regarding VPN use so you don't accidentally break the rules.
Quick Guide: How to Access Vimeo in Indonesia in 3 Easy Steps
Get a VPN. I recommend ExpressVPN for its strong encryption that helps secure your connection in Indonesia. You can try ExpressVPN without risk (it has a 30-day money-back policy).
Connect to a server. Pick a country where Vimeo isn't blocked, like the UK or the US.
Start watching Vimeo. Enjoy having access to your Vimeo account in Indonesia.
Why You Need a VPN to Access Vimeo in Indonesia
Due to government blocks, Vimeo isn't available in Indonesia. The Indonesian Ministry of Information and Communication (MICT) asks all Indonesian internet service providers to block sites that contain subject matter it considers undesirable (Act on Electronic Information and Transaction 2008). This includes pornography, LGBTQ+ content, nudity, criticism of the government, gambling, hatred, violence, and defamation.
As a result of this ban, popular ISPs such as Biznet, Indihome, and First Media have restricted access to roughly 450+ websites and social media networks. The blocks make it impossible to use Vimeo, Reddit, Tumblr, Imgur, and many others. If you try to access any sites on the banned list, the ISPs employ DNS hijacking to inspect and redirect your traffic.
However, a VPN masks your online activity so ISPs can't see you're accessing sites like Vimeo. By encrypting your connection, VPNs stop ISPs from inspecting your traffic. Since the ISP can't see what you're doing online, it can't restrict your access to sites. Simply put, you can bypass Vimeo blocks and watch your favorite content regardless of your location.
VPNs also enhance your online privacy. Alongside censorship, surveillance can be an issue in Indonesia too. But VPN encryption lets you keep everything you do online safe and private — and out of the hands of hackers or snoops.
Best VPNs to Access Vimeo in Indonesia — Updated in February 2023
All the VPNs on this list can give you access to Vimeo in Indonesia. They offer excellent speeds to stream your favorite content in the highest quality. All the apps are easy to use, too, and support most operating systems — you can watch Vimeo content on your preferred devices.
Plus, they all offer a reliable money-back guarantee that lets you try them without risks. In case the service doesn't meet your expectations, it's easy to get a refund.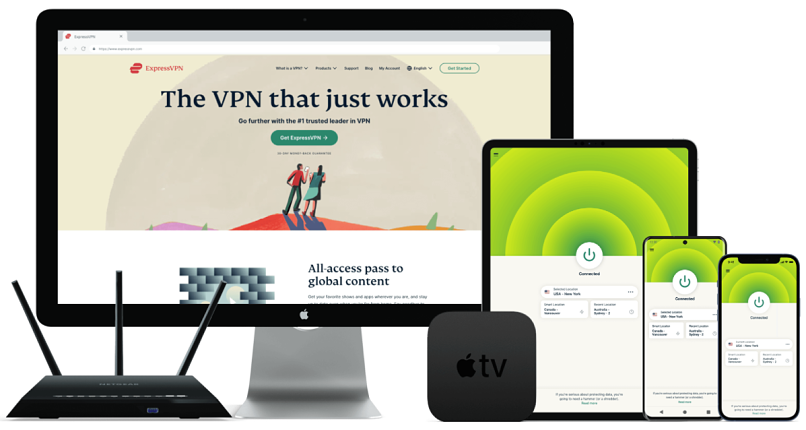 Editor's Choice
Editor's Choice

Tested February 2023
Try Risk-Free for 30 Days
Available on:
Chrome
Router
Smart TV
More
www.ExpressVPN.com
| | |
| --- | --- |
| Best Feature | Rapid speeds to stream Vimeo content in UHD without buffering |
| Server Network | 3,000 servers in 94 countries, including Vimeo-friendly locations like the UK and Canada |
| Security | Military-grade encryption and an automatic kill switch (Network Lock) |
| Can Access | Vimeo, YouTube, Reddit, Hulu, Netflix, Disney+, HBO Max, BBC iPlayer, Vudu, Amazon Prime Video, and more |
ExpressVPN's fast speeds are ideal for high-quality Vimeo streaming. I didn't experience buffering while watching The Act of Coming Out in sharp 4K. When speed-testing ExpressVPN's US servers, I got fantastic results. All servers stayed above 189Mbps, which is roughly 5% less than my base 200Mbps connection. For reference, you only need 22Mbps for 4K streaming on Vimeo.
There are 3,000 servers scattered across the globe, covering plenty of countries where Vimeo isn't blocked. I connected to a US server and quickly accessed my Vimeo account while on a trip to Indonesia. Similarly, I quickly unblocked my Reddit and YouTube accounts. Overall, there were no disconnects or login errors, even though I was 14,952km away from home.
Your connection is heavily guarded by robust security features. Military-grade encryption makes sure that ISPs can't see what you do online. The encryption key is changed every 15 minutes thanks to Perfect Forward Secrecy, while HMAC authentication also verifies that the inputted password is coming from an expected source. There are multiple security protocols too, including the proprietary Lightway that provides a balance of speed and security.
A strict no-logs policy means the service doesn't record what you do online, so the VPN can't hand over your information to authorities. There's TrustedServer technology (RAM-based servers) that regularly erases your browsing activity too. Plus, ExpressVPN is based in the British Virgin Islands, which don't have restrictive data laws like Indonesia. The islands are outside the 5/9/14 Eyes Alliances, free from this international pact to share data on citizens.
I had no problems using ExpressVPN on various devices — the entire user interface is very intuitive and easy to navigate. The VPN offers dedicated apps for Windows, macOS, iOS, Chromebook, Android, and more. The service supports routers, which meant I could connect devices that don't usually support VPNs. If you run into any issues, there's 24/7 live chat support to back you up.
My only gripe is that the plans are a bit expensive. The lowest-priced subscription starts at $6.67/month. However, ExpressVPN frequently runs deals or promotions that let you save money — I got 49% off and 3 extra free months when I signed up for the 12-month plan.
Getting a refund is very easy if you don't like the service as it comes with a 30-day money-back guarantee. I contacted support via live chat and asked for a refund. After providing feedback about the service, the request was approved and my PayPal account was refunded 2 days later.
| | |
| --- | --- |
| Best Feature | Covers multiple Vimeo-friendly countries including Australia, France, New Zealand, Singapore, and Japan |
| Server Network | 9,753 servers in 91 countries |
| Security | Automatic WiFi protection and based in privacy-friendly Romania |
| Can Access | Vimeo, YouTube, Reddit, Hulu, Netflix, Disney+, HBO Max, BBC iPlayer, Vudu, Amazon Prime Video, and more |
CyberGhost's large network has servers in many Vimeo-friendly countries. There are 11 locations in the US alone, and I easily unblocked my Vimeo account when testing CyberGhost's US servers. There are also special streaming-optimized servers that are designed to work with other platforms like Peacock, Crunchyroll, and Sling TV. The Netflix server let me watch The Office in 4K on my account even though I was abroad.
The service provides great speeds, enough to stream Vimeo content in UHD without buffering. I measured 182Mbps on one US server, while the UK one I tested was just 5% slower. There were no skips or delays, even though I was torrenting in the background.
Similarly to ExpressVPN, the VPN comes with powerful security features. The service uses 256-bit encryption, which makes your data incredibly hard for ISPs to crack. Plus, IP/DNS leak security and an automatic kill switch prevent exposure of your real location in Indonesia.
In addition to a reliable zero logs policy, the VPN is based in Romania, which doesn't have strict data retention laws. There's a built-in malware/ad blocker to cover you from malicious sites and ads that track your online activities in Indonesia. Finally, the service comes with WiFi protection that automatically launches the VPN if you connect to any unknown network — giving you protection while on the move.
Installing the VPN on your favorite device is easy. It offers apps for Windows, macOS, Android, and iOS — plus browser extensions for Chrome and Firefox. Thanks to SmartDNS, it's possible to install CyberGhost on devices that don't support VPNs natively. After changing the DNS address to the one provided by the VPN, I accessed Vimeo on my smart TV in Indonesia. In case you encounter any issues, there's 24/7 live chat support too.
One downfall of the service is its monthly plans have a shortened money-back guarantee (14 days). But you can get a long-term subscription for just $2.19/month, which comes with an extended money-back guarantee. The 3-year plan represents the best value.
A 45-day money-back guarantee lets you test CyberGhost for free. If you're unsatisfied with the service, getting a refund is a breeze. I applied for mine via email and, shortly after, the request was approved. Just 3 days later, I saw the money in my bank account.
| | |
| --- | --- |
| Best Feature | Allows you to customize your encryption to prioritize speed or security |
| Server Network | 29,650 servers in 84 countries to get a new IP for Vimeo |
| Security | Automatic kill switch and leak protection |
| Can Access | Vimeo, YouTube, Reddit, Hulu, Netflix, Disney+, HBO Max, BBC iPlayer, Vudu, Amazon Prime Video, and more |
PIA offers customizable security features to balance speed and security. You can pick between the fast AES 128-bit encryption to prevent buffering when watching Vimeo. Or you can choose the extra secure AES 256-bit encryption. There's also the option to set your security protocol to mobile-friendly IKEv2, security-focused OpenVPN, or speedy WireGuard. The VPN's kill switch is automatic and I tested PIA for IP/DNS leaks and found none.
For privacy, the VPN comes with RAM-based servers and doesn't keep logs. Also, the MACE ad blocker wards off ads, beacons, and trackers. I tested the feature with Vimeo, and it managed to get rid of third-party ads.
The extensive server network in 84 countries gives you plenty of options to access blocked content. I used US and UK servers and accessed my Vimeo and Reddit accounts easily. The connection remained stable and I had no disconnects despite using a local 4G connection.
Download speeds are fast enough for most online activities. I measured 178Mbps using the US server, which is just 4Mbps slower than CyberGhost's connection. With these speeds, I downloaded a hefty 8GB video file from Vimeo in less than 7 minutes. I also didn't notice any buffering while watching Vimeo in 4K.
I tested apps across Windows, Mac, iOS, and Android and found each one to be fairly complicated to set up. If you're new to VPN software, you might find the multiple settings a bit tricky. Thankfully, the service comes pre-configured — just connect and start streaming Vimeo in Indonesia without any complicated setup.
Long-term subscriptions are budget-friendly and you can get PIA for just $2.19/month. Monthly plans don't provide any additional benefits and cost more in the long run. That's why I recommend getting the 3-year plan.
In case the VPN doesn't suit your needs, getting a refund is simple since all subscriptions come with a reliable 30-day money-back guarantee. I tested the policy by contacting the provider via the 24/7 online chat to request a refund. After a couple of messages, my credit card was reimbursed 4 days later.
| | |
| --- | --- |
| Best Feature | All servers equipped with SmartPlay technology to bypass geo-restrictions |
| Server Network | 5,384 servers in 60 countries |
| Security | A strict no-logs policy and RAM-based servers |
| Can Access | Vimeo, YouTube, Reddit, Hulu, Netflix, Disney+, HBO Max, BBC iPlayer, Vudu, Amazon Prime Video, and more |
NordVPN's SmartPlay lets you bypass ISP blocks to access your Vimeo account. The feature changes your DNS address, all while the VPN cloaks your IP. I unblocked my Vimeo account on the first try with the US server. Similarly, I quickly regained access to my YouTube, Reddit, and Imgur accounts with the UK server. I didn't need to configure anything to use the feature either. SmartPlay was automatically enabled on every NordVPN server I tested.
I enjoyed unlimited bandwidth and my speeds averaged at 161Mbps. This was more than fast enough to watch Vimeo without buffering while scrolling high-resolution images on Tumblr.
Plus, the VPN's proprietary NordLynx protocol boosts your speeds while keeping your online activity secure. It's enhanced by AES 256-bit encryption with Perfect Forward Secrecy, leak protection, and an automatic kill switch. I tested NordVPN's kill switch by changing servers, and it completely cut off my connection every time.
Like PIA, the VPN doesn't keep any of your online activity logs (its no-log policy is independently audited) and uses RAM-based servers. This means it physically can't store your information, so it doesn't have anything to sell to marketers or hand over to authorities. There's also built-in Threat Protection to ward off ads, malware, viruses, and trackers.
The apps are easy to master, even if you're new to VPNs. The entire interface is presented as an interactive map that makes it simple to find a speedy location. I found the settings easy to navigate in both the Amazon Fire TV app and in the Edge browser extension (you get up to 6 device connections at the same time).
My only complaint is that some of the servers take a long time to connect. That said, the network is so huge — 5,384 servers around the world — that it's easy to switch to a different location if you find one that's a bit slow.
Subscription plans start at only $3.49/month. I recommend the yearly option since it's the most affordable in the long run.
With its 30-day money-back guarantee, you can try NordVPN for free. If the VPN doesn't meet your expectations, getting a refund is easy. After a short conversation via the 24/7 live chat, my request was approved. 5 days later, my bank account was reimbursed.
| | |
| --- | --- |
| Best Feature | Unlimited device connections to enjoy Vimeo on all your favorite platforms |
| Server Network | 3,200 servers in 100 countries to change your IP in seconds |
| Security | AES 256-bit encryption and a kill switch |
| Can Access | Vimeo, YouTube, Reddit, Hulu, Netflix, Disney+, HBO Max, BBC iPlayer, Vudu, Amazon Prime Video, and more |
Surfshark gives you unlimited connections to watch Vimeo on all your favorite devices. I hooked up my PS5, Nintendo Switch, Android tablet, iOS smartphone, and even an old Linux workstation. Surfshark's performance remained stable across all devices tested. I loaded Vimeo on my phone and laptop at the same time while unblocking Netflix on my desktop without any slowdowns.
There are servers in 100 countries. I connected to the New York server and unblocked my Vimeo account in Indonesia. Similarly, the UK location gave me quick access to my BBC iPlayer account.
The VPN's speeds were reliable throughout testing. I measured 155Mbps on the US, UK, and Australia servers. This let me watch The Witcher in UHD — without buffering — on my Netflix account from Indonesia. There are no bandwidth limits either, so you can download and upload as many Vimeo videos as you like.
For security, the service uses Perfect Forward Secrecy and AES 256-bit encryption to make your data essentially unreadable. The service also lets you pick between OpenVPN, WireGuard, and IKEv2 security protocols. I recommend WireGuard for the best combination of speed and security.
A minor issue with Surfshark is that it's based in the Netherlands, which is part of the 14 Eyes Alliance. However, the VPN has a no-logs policy, so it doesn't collect or store your online data. The entire server network is RAM-based, and there's DNS/IP protection to prevent information leaks.
Subscription plans are fairly priced — Surfshark's long-term plan costs just $2.30/month. The monthly subscription is a lot more expensive so I recommend the 2-year plan for the best savings.
Getting a refund is easy thanks to a 30-day money-back guarantee. Using the 24/7 live chat, I contacted support and — after a small conversation — got my money transferred back to my credit card a week later.
How to Sign up For Vimeo in Indonesia
Get a VPN. Any of my shortlisted VPNs will work, but I recommend ExpressVPN as it offers top-notch security and the best speeds for streaming that I tested.
Connect to a server. Vimeo is available in various countries, so choose a nearby connection where the platform isn't blocked (like Australia) to get the best speeds.
Create an account. Visit Vimeo in Incognito mode and click on the Join for Free button.
Fill in your details. Then click on the "Join with email" button to proceed.
Confirm your registration. Head over to your email to confirm the registration.
Enjoy access to Vimeo. Manage, upload, and interact with other Vimeo users while in Indonesia.
FAQs on Accessing Vimeo in Indonesia
Why is Vimeo blocked in Indonesia?
The Indonesian government blocked Vimeo over so-called "pornographic" content. If you are a tourist and still want to maintain access to your account, a reliable VPN can unblock Vimeo in Indonesia. VPNs can get around Indonesia's Vimeo block by encrypting your traffic so that Indonesian ISPs can't see what you do online.
Are VPNs legal in Indonesia, and is it legal to access Vimeo there?
VPNs are legal in Indonesia. There are no known restrictions on VPN software, so it's okay to use one. After all, VPNs are created to protect your online privacy so, as long as you aren't using the software to do something illegal, you can use the tool freely.
The Indonesian government prohibits local ISPs from providing access to Vimeo as per the Anti-Pornography Law introduced in 2008. But there's no mention of whether it's legal for an individual to use a VPN to access the platform or not. That's why it's best to connect to a VPN server where Vimeo isn't banned, just to be safe.
However, it's always worth noting that laws are subject to change. Make sure you do your research before traveling to Indonesia to avoid legal difficulties.
Are Vimeo accounts free?
Yes, Vimeo is free. If you just want to watch content, you don't have to pay for an account. However, to sign up for Vimeo in Indonesia, you need a VPN.
If you're a content creator, the platform also offers optional subscription plans. This includes Starter, Standard, Advanced, and Enterprise, all of which provide their own set of benefits.
Can I watch Vimeo in Indonesia using a free VPN?
Yes, but free VPNs can be dangerous. Most of them lack vital security features, which can make your data vulnerable. This is risky in Indonesia, where surveillance is an issue. Worse, some free services have been known to sell your data themselves, or even bundle malware into downloads. You're better off getting a reliable premium VPN that comes with a trustworthy money-back guarantee.
Even if you manage to find a no-pay provider that doesn't put you at risk, most free VPNs deliberately reduce their service to get you to upgrade. Restricted speeds, capped bandwidth, rationed data, and limited server networks make them practically unusable for streaming.
Access Vimeo in Indonesia Today
VPNs let you conceal your online activities (like using Vimeo) with powerful encryption. With these security measures, your online activity isn't visible to Indonesian ISPs. Good VPNs also provide fast speeds for streaming your favorite content in the best quality without delays. It can be difficult to find all of these features in a single package.
That's why ExpressVPN is the best service encrypting your traffic in Indonesia. It comes with a massive global server network, powerful security features, and impressive speeds to enjoy Vimeo without issues. It's backed by a 30-day money-back guarantee, meaning you can test ExpressVPN risk-free. If it doesn't meet your expectations, getting a refund is easy.
To summarize, here are the best VPNs to Access Vimeo in Indonesia…
Privacy Alert!
Your data is exposed to the websites you visit!
The information above can be used to track you, target you for ads, and monitor what you do online.
VPNs can help you hide this information from websites so that you are protected at all times. We recommend ExpressVPN — the #1 VPN out of over 350 providers we've tested. It has military-grade encryption and privacy features that will ensure your digital security, plus — it's currently offering 49% off.