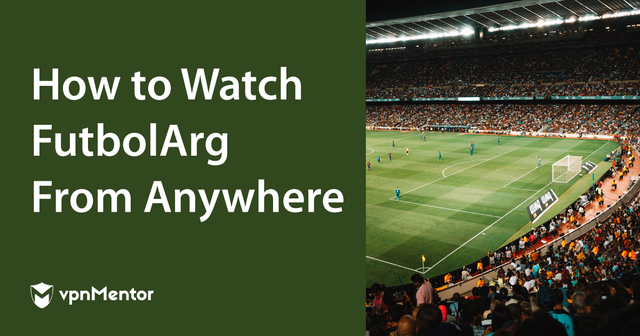 How to Watch Sports on FutbolArg From Anywhere in 2023
I love watching live sports for free on FutbolArg, but the ads are super annoying and sometimes it's impossible to find a stream that doesn't lag. I found out my ISP is throttling my internet speed for high-bandwidth activity (like live streaming), so I tried a few things to improve my speeds and found a solution — and one that also blocked all those annoying ads, too!
I found that a VPN improved my streaming speeds when watching FutbolArg and even blocked on-screen and pop up ads. A VPN hides your IP address and browsing activity. That means your Internet Service Provider (ISP) can't see your online activities, and therefore can't cap your download speeds based on them. Some of the VPNs I tested also come with built-in ad blockers and malware protection.
I tested 40+ VPNs and ExpressVPN is my favorite because it has superfast speeds for live streaming sports and a built-in ad blocker. This way you can enjoy your favorite teams without lag or being interrupted by annoying ads. You can also try it out risk-free for 30 days using its money-back guarantee and ask for a full refund if you're not satisfied.
Start Watching FutbolArg with ExpressVPN Today!
Quick Guide:
How to Watch FutbolArg Safely in 3 Easy Steps
Get a VPN. I recommend ExpressVPN because it has superfast speeds and a built-in ad blocker for live streaming free sports without interruptions. Plus, you can try it risk-free!
Connect to a server. FutbolArg is available worldwide. I connected to a server near my actual location to give me the fastest speeds for streaming.
Start watching FutbolArg! Head to the FutbolArg website to watch the latest sports matches live, lag-free, and without ads.
Why You Need a VPN to Watch Free Live Sports on FutbolArg
There are a few reasons to use a VPN while watching sports on FutbolArg. First, your ISP could be throttling your download speeds, causing major lag while watching. Second, the website bombards you with annoying ads that could have malware. And last, sites like FutbolArg are illegal in some countries and people who use them can be prosecuted for pirating.
A VPN masks your real location and encrypts your browsing data, so your ISP (or the authorities) won't know what you're doing online. Your download speeds can't be capped based on your activity using a VPN. On top of that, some VPNs have built-in ad blockers and malware protection.
That means you can watch free live sports on FutbolArg without lag or annoying ads.
Best VPN to Watch FutbolArg in 2023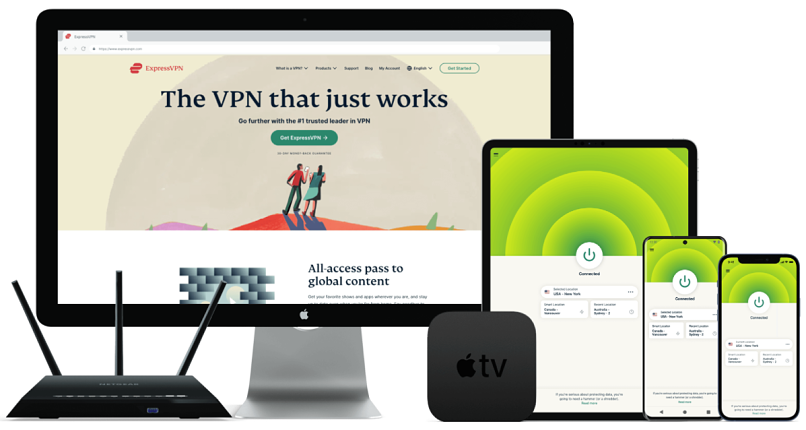 Editor's Choice
Editor's Choice

Tested January 2023
Try Risk-Free for 30 Days
www.ExpressVPN.com
Superfast speeds ideal for watching sports live without interruptions
3,000 servers worldwide for easy access to reliable connections
Network Lock automatic kill switch keeps you protected in case of unintended connection drops
AES 256-bit encryption hides your online activity from third parties, like your ISP
5 simultaneous device connections
30-day money-back guarantee
Works with: ESPN, DAZN, Sky GO, ABC, TNT, fuboTV, beIN Sports, and more
Compatible with: Windows, Mac, iOS, Android, Linux, routers, Apple TV, and more
With thousands of servers worldwide, ExpressVPN offers a big network with lots of servers to choose from. I used the Smart Location feature to find the fastest server available and had a live soccer game streaming in less than 10 seconds. You'll be able to find a strong, reliable connection easily.
ExpressVPN has superfast speeds for watching live sports online. I tested my speeds while watching a Champions League match and had an average download speed of 39 Mbps (way more than the minimum 5 Mbps you need for HD streaming). With ExpressVPN you can prevent your ISP from throttling your speeds and watch your favorite teams in HD without buffering.
Network Lock is an automatic kill switch that keeps your browsing data private even if your VPN's connection drops unexpectedly. If this happens, Network Lock will cut off your internet connection until your VPN is back up and running. This feature guarantees your ISP won't be able to throttle your speeds causing laggy streams because it will never know what you're doing online.
I do think ExpressVPN is a bit pricey, so you can imagine how happy I was to get 49% off my subscription at the time. Check to see if it's still available so you can save money, too!
Even better, you can always try it risk-free with its money-back guarantee and ask for a refund if it's not right for you. I wanted to know how easy it would be to get my money back, so I contacted customer service after 26 days and told them I wasn't satisfied. They asked me to give a couple of reasons why and after I explained, they approved my refund right away. I had my money back in 5 days.
Watch FutbolArg With ExpressVPN Now!
Watching Sports for Free on FutbolArg: Pros and Cons
While the obvious benefit of using sites like FutbolArg is that you don't have to pay for it, there are some pretty serious disadvantages. A VPN can help you overcome some of these cons, but not all of them.
Pros
A huge selection of different sports and leagues, all in one place.
You don't need to register or install any software (Although some streams do make you register for free to access its content).
It's free!
Cons
In many countries, there can be legal repercussions for watching pirated content online, like hefty fines.
Good picture quality isn't a guarantee like it is with paid TV subscriptions.
The site is riddled with ads that can contain malware and infect your device.
The streams can be unstable and stop working mid-game.
A VPN will encrypt your online activity, so you can avoid legal repercussions. Some of them come with built-in ad and malware blockers so you can avoid this problem as well. However, you'll always be stuck with unreliable streams and, in some cases, poor picture quality.
However, by changing your IP address a VPN also gives you access to geo-restricted paid alternatives (there are a few really affordable ones!). This way you'll always have access to reliable, HD quality live streams without having to break the bank.
What Are Some FutbolArg Alternatives?
Sometimes FutbolArg's live streams can be unreliable. It's best to have some backup links to other free streams in case of complications — and I know how hard it can be to find them! I've put together a list of other popular free alternatives (proceed with caution) as well as some official (safe and reliable) ones that come with a monthly fee.
Free
All of these websites are full of ads and you run the risk of malware being downloaded onto your device. I always use my VPN's ad blocker when using these sites.
Futbolarg.tv: FutbolArg's main competitor hosts links to live streams of soccer matches. Although it takes a few more clicks to arrive at your live stream, I like this alternative for soccer games specifically.
CricFree: I love this option for games and tournaments I can't find on FutbolArg. It hosts 25+ different sports as well as live streams from all over the world, but this site isn't available everywhere.
Stream2watch: I like this site for more mainstream sports events. It has a lot of popular leagues from around the world, but I experienced a lot of ads and found out you can't access it everywhere.
Batmanstream: I like this site because it's available everywhere and offers soccer, American football, hockey, and more, but I'm always bombarded by ads.
SportP2P: You can watch championship and regular league soccer matches for free here, but the site asked me to register to be able to watch in HD quality, so your personal info could be at risk.
Paid
These options are all restricted to the US, but I was able to access them by connecting my VPN to a US server.
FAQs on Watching FutbolArg With a VPN
Is FutbolArg free?
Yes, FutbolArg is technically free. But you could pay in other more sinister ways. The website is full of ads which could infect your device with malware and other viruses. Not only that but if you live in a country where streaming pirated content is illegal, you could face legal repercussions and costly fines. I've tested different methods to protect you from these risks and found the best one.
Is there more than one FutbolArg website online?
Kind of. FutbolArg.com is the main website for live streaming soccer. That includes first and second division matches from all over the world, including European and Latin American leagues. It also hosts many other sports for free and is based in Argentina.
FutbolArg.tv is a Swedish-based competitor that took advantage of the popularity of the name FutbolArg. It doesn't host live streams, but links to live streams.
Is it illegal to watch sports on FutbolArg?
It depends on where you live. Many countries have laws against watching pirated content online and you could be faced with hefty fines if you get caught.
While I don't condone watching FutbolArg if you live somewhere where it's illegal, it remains true that a VPN can help protect you against legal repercussions by encrypting your online traffic.
Can I use a free VPN to watch FutbolArg?
Yes. But free VPNs aren't ideal for live streaming. They tend to throttle download speeds and provide limited data. You'll probably experience a lot of buffering and once your data limit is reached, you won't be protected anymore. Not to mention, they can come with dangerous malware and viruses.
All of the VPNs in this list offer money-back guarantees, so you can technically use them for free for a limited time.
Protect Yourself While Watching FutbolArg
If you want to watch live soccer games and other sports from all over the world for free with FutbolArg, I recommend using a VPN. A VPN will block ads and reduce the risk of malware being downloaded onto your device. It will encrypt your online browsing data, making it impossible for your ISP to throttle your download speeds, for better quality streams.
My favorite VPN is ExpressVPN because it has incredibly fast speeds for live streaming sports in HD and handy security features that block all kinds of ads. Don't forget you can try it yourself risk-free and ask for a refund if you're not happy with it.
To summarize, the best VPN for watching FutbolArg is…
1
Privacy Alert!
Your data is exposed to the websites you visit!
The information above can be used to track you, target you for ads, and monitor what you do online.
VPNs can help you hide this information from websites so that you are protected at all times. We recommend ExpressVPN — the #1 VPN out of over 350 providers we've tested. It has military-grade encryption and privacy features that will ensure your digital security, plus — it's currently offering 49% off.