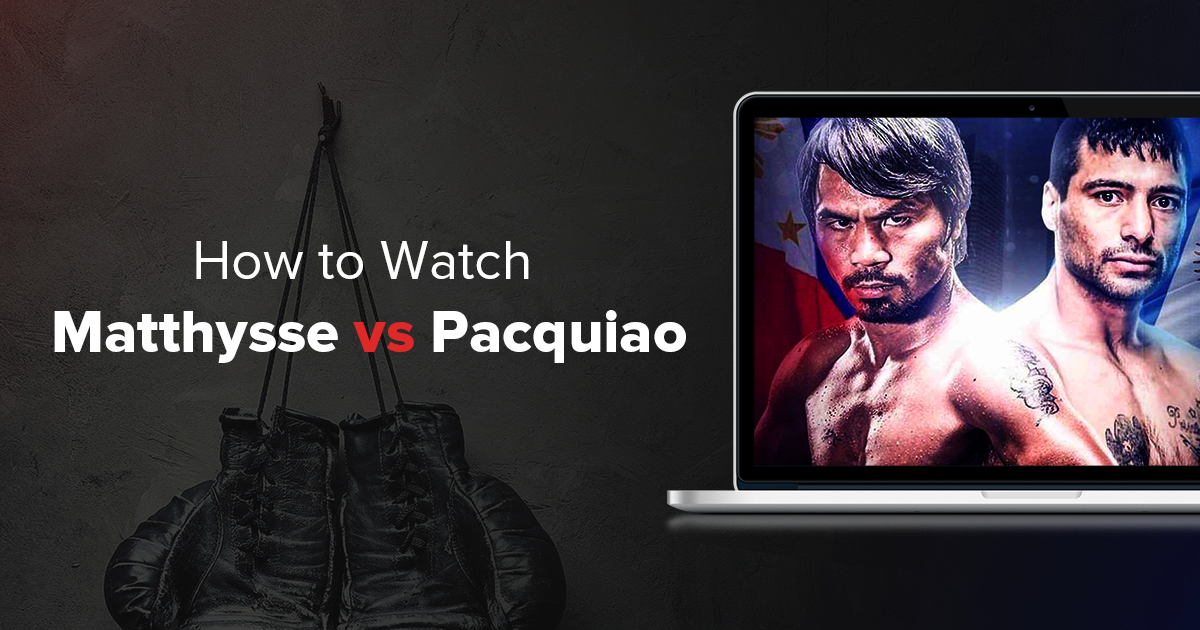 How to Watch Matthysse vs Pacquiao Online for FREE
If you're looking for a way to watch the Fight of Champions online and from anywhere, you've come to the right place.
Between rumors of financial problems and promoter drama, there was serious doubt whether this highly anticipated fight was happening at all. Everything is settled now — Lucas Matthysse will be defending his title against the legendary Manny Pacquiao, who'll be looking to break a losing streak on July 15 (July 14 in the US).
But for those of us who want to catch all the action online, there's another challenge. Access to broadcasts is very difficult due to regional restrictions, and only ESPN+ will be showing it in the US.
Don't lose hope — you can tune in and enjoy the spectacle from the comfort of your own home, no matter where you are! All you need is a VPN and the right strategy. We even found a way for you to watch it for free!
Watch Matthysse vs Pacquiao Online for Free in 4 Steps
Unless you're located in Malaysia, ESPN is the only place you'll be able to stream the match. Here's how to do it.
Get a VPN (This one will get you the fastest streaming. Check out our hack on how to get it risk-free.)
Connect to a US server
Go to ESPN+
Sign up for a free trial, and watch the match.
NOTE: If you don't have an American credit card, you won't be able to sign up for the free trial. There's still a way to access ESPN, but you'll need to pay for a subscription.
We discuss how to access ESPN below.
Get past the Geoblocks with a VPN
Broadcasting rights have limited the coverage of popular sports events (and the majority of premium entertainment), resulting in streams and online TV blocking attempts to access content outside of their supported regions.
This is why Pacquiao vs Matthysse — like many other headlines in the sports world — is a challenge to watch online.
Good news: you can jump over the geographical obstacles by using a VPN! Doing so will provide you with an IP address in a country where your stream of choice is located, so you can load it as if you were there. Neat, right?
There's much more to VPNs than eliminating geoblocks. If this is your first time hearing about them, we welcome you to take a look at our beginner's guide to VPNs.
These VPNs Are the Best Ones for Watching Matthysse vs Pacquiao
With so many VPNs to choose from, which one should you pick?
You can always try a free service, but the results may be limited. While there are plenty of great VPNs without price tags, unblocking content demands premium features.
There's no guarantee that a free VPN will bypass the blocks. Streaming also calls for unlimited bandwidth and fast speeds — a combination that's really hard to find in a free VPN.
What's more, a lot of online streams — including ESPN — have advanced measures in place to block access from VPNs. If a free VPN doesn't work out for you, look at the top-shelf VPN providers with variety in servers, as well as excellent speeds and reliable support for a much easier time.
Here's a tip: you can use the terms of service to your advantage and get an amazing VPN without paying a thing! ExpressVPN is backed by a 30-day money-back guarantee, so you can try it risk-free and get a full refund if it's not for you.
Check out our recommended VPN for unblocking ESPN below.
1
Now that you know how to deal with the restrictions, it's time to find a good broadcaster.
The Best Place to Watch Matthysse vs Pacquiao is on ESPN+
So far, one of the biggest question marks in regards to the match has been exactly that: where will we be able to watch the Fight of Champions?
ESPN+ will be streaming the match at 9 p.m. ET with undercard coverage and Pacquiao and Matthysse not walking to the ring any earlier than 11 p.m. ET.
Unfortunately, ESPN+ is geographically restricted to the United States. Trying to access it overseas will result in the following message:

The good news is with a solid VPN you won't ever see this message!
We'll show you how to bypass the blocks below.
How to Watch Matthysse vs Pacquiao for FREE
We promised you a way to tune in to the epic fight on July 15 — now we'll tell you all about it.
ESPN+ is a subscription-based service, at $5 per month. However, it also offers a free one-week trial when you sign up! You can make use of it and watch the grand boxing match without paying anything. With a VPN, you won't have to worry about the US-only restrictions either.
It's a very simple process. Here's how it goes:
1. Turn on your VPN and connect to a server in the United States.
2. After you've successfully obtained a new IP address, navigate to the ESPN+ homepage.
Instead of the previously encountered "not available" message, you'll find this:

3. VPN servers are often blacklisted by the bigger streams. If you're still having geoblock issues after setting up the VPN, get in touch with customer support for a new, more reliable server.
4. Create an account on ESPN+ and fill out the necessary information.
5. Redeem the trial. You can cancel whenever, but make sure you don't subscribe too early — you only have seven days free!
IMPORTANT: ESPN+ requires a subscription in order to start the one-week free trial. Even though you'll most likely be canceling it, you'll still need an American credit card to complete the registration.
Don't worry — there's another way to watch ESPN from anywhere. Here it is:
How to Watch Matthysse vs Pacquiao on ESPN without an American Credit Card
If you don't have an American credit card, you can still get ESPN as part of Sling TV's Orange package. With a bit of ingenuity, you can pay with PayPal and avoid the credit card restriction!
Note that Sling TV is geographically restricted itself, available inside the US only: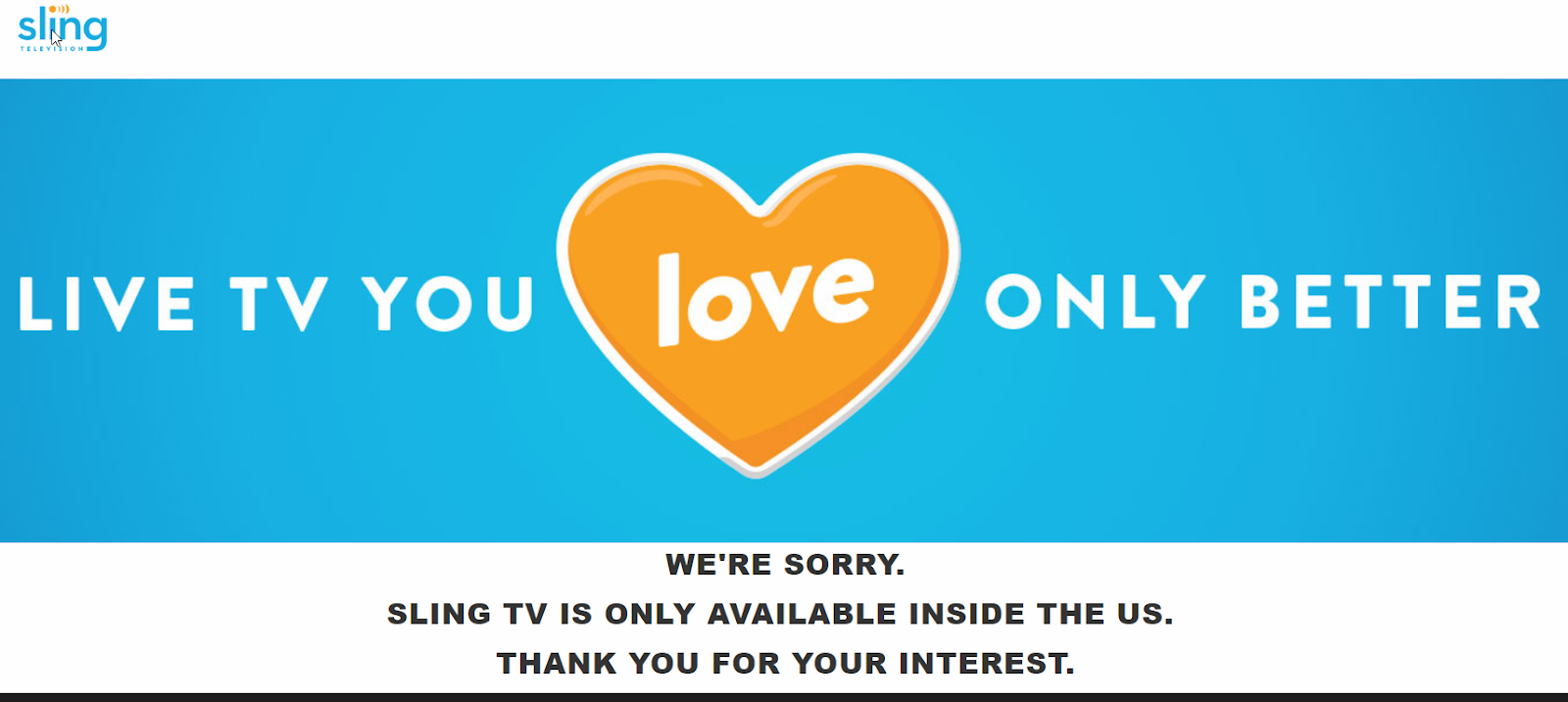 So don't forget to turn on your VPN and connect to a US server before you get started!
For a step-by-step walkthrough of how to get Sling TV, check out our guide on using Sling TV without an American credit card.
Then, navigate to ESPN from the list of channels and start watching!
Watch the Boxing Highlight of This Summer with a VPN
You don't have to settle for laggy, low-quality streams or malware-ridden software to catch Matthysse vs Pacquiao live this July. Get in on all the action in glorious HD and bypass the geoblocks with a VPN.
Remember that a VPN can help you access all sorts of otherwise-restricted content. If you've found other geoblocked streams or channels that will be broadcasting the event online, you can unlock them regardless of your current location!
Did you find this helpful? If so, help others out by sharing it!
Privacy Alert!
Your data is exposed to the websites you visit!
The information above can be used to track you, target you for ads, and monitor what you do online.
VPNs can help you hide this information from websites so that you are protected at all times. We recommend ExpressVPN — the #1 VPN out of over 350 providers we've tested. It has military-grade encryption and privacy features that will ensure your digital security, plus — it's currently offering 49% off.