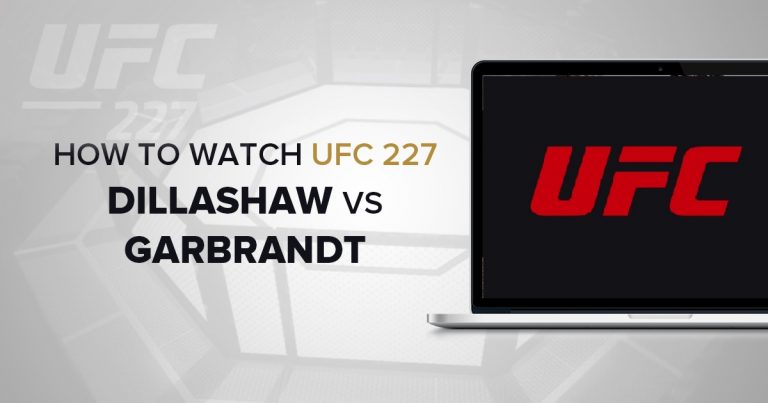 How to Watch UFC 227 Dillashaw vs Garbrandt from Anywhere
Updated on 19th October 2021
On August 4, one of the most awaited MMA fights of the year will take place at the Staples Center in Los Angeles.
At 7pm PST, the build-up to the Bantamweight Title Fight and long-awaited rematch between Dillashaw and Garbrandt begins. With a co-main event between Flyweights Demetrious Johnson and Henry Cejudo, and a packed undercard, it is nigh no MMA fan would want to miss.
The fight is being streamed live on several Pay-Per-View and subscription channels, including UFC TV, Prime Video, and Sling. However, due to geoblocking, if you are not in the US or a few other specific countries, you won't be able to watch the event.
Fortunately, a VPN can help you bypass the geoblock and access the fight. But, to achieve this you need a VPN with numerous servers in the US, fast speeds, stable connections, and excellent encryption. We recommend CyberGhost.
How to Watch UFC 227 Dillashaw vs Garbrandt with a VPN in 3 Simple Steps
Choose a VPN that is great for streaming and has servers in the USA and sign up. CyberGhost is our most recommended for this purpose.
Connect to a US server to appear as if you are located in America.
Purchase the pay-per-view event (you can use PayPal) and enjoy.
Choosing the Right VPN to Watch
A VPN is the best way to gain secure access to geo-restricted content, like UFC 227. But, with so many available, how do you know which VPN to choose?
A VPN that can bypass geoblocks is a must. Not all VPNs are alike in their ability to do this; of those that can bypass blocks, not all have the server locations or speed required to provide a quality viewing experience.
Cost is another consideration. UTC TV is a subscription channel that provides pay-per-view live streamed content, and that's the only way to watch the main card of the 227 match. So, if you already have to pay to watch the fight, why would you also want to pay for a VPN?
The answer is you don't, and we get it, but free VPNs are not recommended because they put your privacy and data at risk.
Free VPNs need to make money and do this by selling off your data or placing advertisements on their service, rather than charging a subscription fee. While the best ones are clear about how they use your data, there is always an increased risk to your privacy.
However, it is possible to use a paid VPN service without it costing you; by taking advantage of the money back guarantees and free trials.
Choosing a VPN with a free trial means you can sign up, watch UFC 227, and cancel your subscription before the end of the trial period – so, you never part with a cent. The process is similar if you choose a vendor that offers a money back guarantee. You pay for the first month, watch UFC 227, and then request your subscription back within the guarantee period.
Once you experience the improved online security and freedom of choice that a VPN offers, you are likely to be content to keep paying your subscription and securing the benefits.
Top 4 VPNs for Watching UFC 227 Dillashaw vs Garbrandt
Here are our top VPNs that let you watch UFC 227 Dillashaw vs Garbrandt while benefiting from greater data security and privacy online.
CyberGhost offers a network of over 7,450 servers, including 406 in the United States. It is a stable and reliable VPN that has an easy-to-use interface and a range of supportive features.
With its streaming profile, CyberGhost lets you find the website you want to watch, and then it does all of the work for you. We highly recommend this one for beginners.
CyberGhost offers a 7-day free trial if you sign up on Android or iOS and all users benefit from a 45-day money-back guarantee.
Get Started with CyberGhost Now
ExpressVPN is one of the quickest VPNs available that provides a stable and secure connection while bypassing geo-blocks. It has 28 server locations within the USA, is easy to use, and has no bandwidth or download limits, making it perfect for streaming content.
The vendor provides exceptional levels of security, including a kill switch, split tunneling, 256-bit AES encryption, DNS/IPv6 leak protection, and a strict no-logging policy.
ExpressVPN does not have a free trial period, however, it does offer a 30-day money-back guarantee.
Get Started with ExpressVPN Now
PrivateVPN is the ideal choice for reliability and simplicity. You can get started within minutes of signing up and its native apps are straightforward to navigate.
The vendor has 10 US servers for you to connect to and connections are secured with 2048-bit EAS encryption. A range of protocols, excellent speeds, no bandwidth or downloading limits, and free remote help add to the usability of this service.
PrivateVPN offers a 30-day money-back guarantee. While there are no offer restrictions on the guarantee, users are asked to give a reason for the request.
Get Started with PrivateVPN Now
PIA's five simultaneous connections, reliable speeds, unlimited bandwidth, and range of configurable settings makes it one of the most user-friendly and affordable VPNs on the market.
Your connection to one of its 2,000 servers within the US is secured with IPv6 leak protection, a kill switch, an ad blocker, and either 128-bit or 256-bit AES encryption depending on the protocol you are using. Additionally, PIA has a strict no logging policy to safeguard your data.
While PIA only offers a 30-day money-back guarantee, it should be long enough to watch the MMA fight of the season.
Finding a VPN that suits your needs opens up a world of possibilities: from streaming live, geo-blocked content and enjoying safe torrenting, to protecting yourself from viruses, malware, and hackers.
Are you still unsure why you should invest in a VPN? Read our Guide to VPNs to learn more. For further VPN options, click here.
To summarize, the best VPNs to watch UFC 227 Dillashaw vs Garbrandt from anywhere in 2021 are…
Privacy Alert!
Your data is exposed to the websites you visit!
The information above can be used to track you, target you for ads, and monitor what you do online.
VPNs can help you hide this information from websites so that you are protected at all times. We recommend ExpressVPN — the #1 VPN out of over 350 providers we've tested. It has military-grade encryption and privacy features that will ensure your digital security, plus — it's currently offering 49% off.