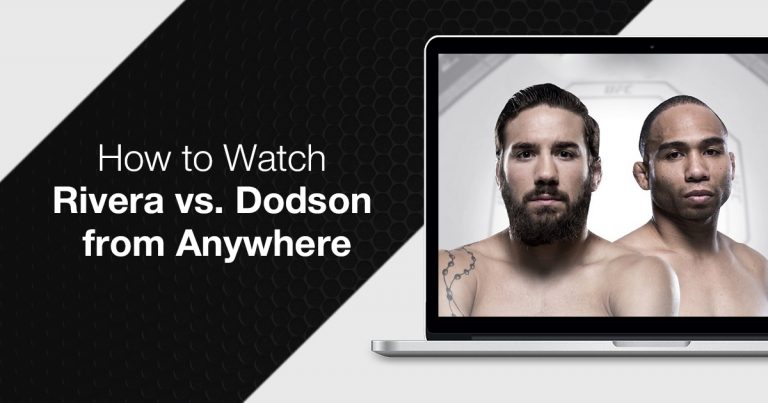 How to Watch UFC 228: Jimmie Rivera vs John Dodson from Anywhere
Updated on 9th June 2021
September 8 is shaping up to be a wonderful day for UFC fans, with plenty of high-caliber fights to go around. If you're looking to watch Jimmie Rivera vs. John Dodson no matter where you are in the world, you've come to the right place.
The two athletes will be going against each other in the UFC 228 preliminary fights at 8 PM EDT/5 PM PDT (US time zones). US network FX will be broadcasting this fight, as well as three others (Sterling vs. Stamann, Byrd vs. Stewart, Alhassan vs. Price) throughout the evening.
We'll explain how to get access to the geoblocked FX live stream – after all, you want to catch every moment of El Terror vs. The Magician. Don't worry, it's easy to do with a quality virtual private network (VPN) by your side!
How to Watch Jimmie Rivera vs John Dodson:

Quick Guide

You can watch FX directly on the channel's website – as long as you use a VPN to unblock it if you aren't in the US. Here's how:
Choose a VPN service. Check out the list below for our top recommendations – like CyberGhost, which has hundreds of US servers, fast speeds, and a super simple interface.
Connect to a high-speed US server.
Go to the FX live stream. Note: you will only have one hour of viewing time if you don't have a US cable provider, so make sure to start the stream right before the Rivera-Dodson fight.
Watch the epic fight live!
If you want longer access to FX online so you can watch all the great UFC preliminary matchups on September 8, you can get around the one-hour time limit by subscribing to a US TV streaming platform. See below for more information.
Why You Need a VPN to Watch Jimmie Rivera vs John Dodson
FX has its own live stream where you can watch the channel online in great quality. Unfortunately, like many other streaming services, its US version is geographically restricted.

The above message is what you'll see instead of a live stream if you're outside of the United States.
Thankfully, a VPN can help you out – you'll be able to connect to a US server and unblock the live stream in an instant! There will be no more geoblocks in your way.
Unblocking content is just one of the many benefits a VPN gives you. If you're serious about your online privacy and want to stay protected, consider using one on a daily basis. For more information on VPN basics and why it's a good idea to always have one, check out our beginner's guide.
After launching your VPN and selecting a server in the United States, you'll see this message in the top left-hand corner of your screen.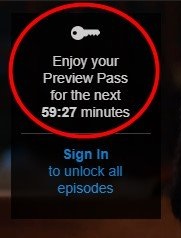 The live stream is now available! But there's another issue.
See the top left corner? FX has a so-called "Preview Pass." Basically, it only lets you watch for an hour before asking you to sign in and fully unlock the stream – and that's when you'll be required to provide your cable subscription info.
This is a problem, since you probably don't have US cable if you aren't living in America. But you can still see the fight if your timing is right!
Pro Tip: With a bit of creativity and time management, you can watch the Riviera vs. Dodson fight within the time limit of the FX Preview Pass. One hour gives you plenty of time to watch the match from start to end – just make sure you load the stream right when the action begins. That way, you won't have to subscribe to any TV platform to access the stream!
What to Look For in a VPN to Watch the Fight
VPNs are first and foremost a privacy tool. Some of them are also very good at eliminating geoblocks and providing seamless streaming, but these aren't qualities that all VPNs have. So, to make sure you have the right VPN to watch Rivera vs. Dodson, we'll give you a few pointers:
Make sure your VPN is fast. No matter what, VPNs will take some speed away from your internet connection. While the speed of your existing connection is the most important factor, you don't want a sluggish VPN that slows you down noticeably. Just imagine how frustrated you'll be if the video freezes mid-punch!
Look for plenty of servers and handy features. Your VPN should be well-equipped – features like leak protection, streaming/security profiles, and a kill switch are a must. You also want diversity in servers – you never know when you might need to connect to a new one. Lastly, responsive support can be the difference between an enjoyable experience and a big headache.
Don't trade security for comfort. If a VPN promises blazing speeds and great unblocking at the cost of a shady privacy policy and extensive logging, it's not worth it. Don't make compromises – you can get a VPN service that offers both. Take a look at the best no-log VPNs on the market to see how the best VPNs give you everything you need.
Overall, the perfect VPN for unblocking American TV can be hard to find. We'll save you some time – scroll down to check out our list of best VPNs for the job.
The Best VPNs for Watching Rivera vs Dodson on FX
We've carefully researched hundreds of VPNs to bring you the ones you can depend on for effortless streaming of the September 8 UFC fight. We recommend regular use of a VPN service, but if you're only interested in one for a shorter period, you can make use of the information we've provided about available trials and money-back guarantees.
CyberGhost has over 460 servers in the United States alone. This makes it a perfect VPN for unblocking American websites and services. The dedicated streaming profile makes it super easy as well, and the user interface is one of the most intuitive we've seen.
Overall, this VPN is ideal for novice and expert users alike. It performs extremely well and has all the features you'll need. You can try it for free with the 7-day trial, but even if you go for a paid plan, you're covered by the 45-day money-back guarantee! No wonder it's one of the user favorites.
If you absolutely need the fastest VPN on the market, ExpressVPN is the one for you. In addition to a stunning network with hundreds of US servers, this VPN has plenty of advanced features you'll love – like split tunneling. And in case you need a solution for streaming Rivera vs. Dodson on devices that don't support VPNs, the MediaStreamer DNS is amazing.
While ExpressVPN is definitely on the pricey side, you can get yourself a great deal on this top-shelf service if you do a little research. Plus, it's backed by the 30-day money-back guarantee to test it risk-free! You can trust us when we say this VPN is worth it, or if you're still having doubts, you can see what users have to say.
PrivateVPN is an exception – even though it only has around 100 servers in total (with several in the US), it will help you unblock whatever you're after with ease. This Sweden-based VPN service is maintained very well, mostly because all the infrastructure is located on-site and owned by the provider.
With fast speeds and a very competitive price, PrivateVPN is a great choice if you prefer a compact VPN that will surprise you in a good way. You can see what it's all about with the 7-day free trial – just make sure to state the reason for your interest. There's also a one-month refund guarantee, but only if you've used less than 100GB of data. If you still need some convincing, you can always see how PrivateVPN scores in user reviews.
PIA is widely considered the ultimate budget VPN – mostly because it has a host of useful features and 35,550+ servers (of which 1,800+ are in the US). And all of that for pocket change.
This VPN certainly isn't perfect. Some servers are way faster than others, support via live chat isn't an option (unlike other VPNs on this list), and the US headquarters of the company isn't good news for the privacy-conscious. However, there aren't many VPNs that can beat what PIA has to offer for a similar price, and it has amassed a loyal community over the years.
To many, PIA is synonymous with cheap, quality protection and excellent unblocking – and you can try it out without losing anything, thanks to the 30-day money-back guarantee. To get a better idea of PIA, make sure to check out what users have to say about it.
Bonus Information: Get More of FX with a Streaming Service
If just seeing one fight on September 8 isn't going to be enough for you, then you need a way to stream FX for the entire day or evening. To do that, you need a subscription to a US streaming service so that you can get around the cable TV requirement. Here's how it works:
The following TV streaming platforms proved the most reliable for watching FX in our tests:
Sling TV
DIRECTV NOW
YouTube TV
Hulu with Live TV
These are some of the most popular American TV streaming services – and unfortunately, they're geoblocked as well. Your VPN can help you gain access to them by obtaining an American IP address, but that's not enough. Here is the procedure:
Turn your VPN on.
Connect to a VPN server in the United States.
Subscribe to your choice of the US TV streams Sling TV, DIRECTV NOW, YouTube TV, or Hulu with Live TV.
Find the FX channel stream and enjoy all the UFC preliminary action on September 8 no matter where you are!
Having trouble with payments? If you don't have an American credit card, you can still subscribe to Sling TV and watch FX without a worry. Just follow these steps:
Launch your VPN.
Choose a server in the US.
Check out our guide to getting Sling TV abroad without an American credit card.
Choose the Sling Blue package, which includes FX in its channel list.
Enjoy the match!
Summary
With some creative thinking and a reliable VPN, watching Jimmie Rivera vs. John Dodson on September 8 isn't as hard as it seems! You just need to know the steps – pick a US server, make a connection, and enjoy all the action!
Looking for a premium VPN at a bargain? We've got you covered – take a look at the best VPN deals you can currently get. New offers are happening all the time, so check back often!
Start Your FREE CyberGhost Trial Now!
To summarize, the best VPNs to watch UFC 228: Jimmie Rivera vs John Dodson from anywhere in 2021 are…
Privacy Alert!
Your data is exposed to the websites you visit!
The information above can be used to track you, target you for ads, and monitor what you do online.
VPNs can help you hide this information from websites so that you are protected at all times. We recommend ExpressVPN — the #1 VPN out of over 350 providers we've tested. It has military-grade encryption and privacy features that will ensure your digital security, plus — it's currently offering 49% off.