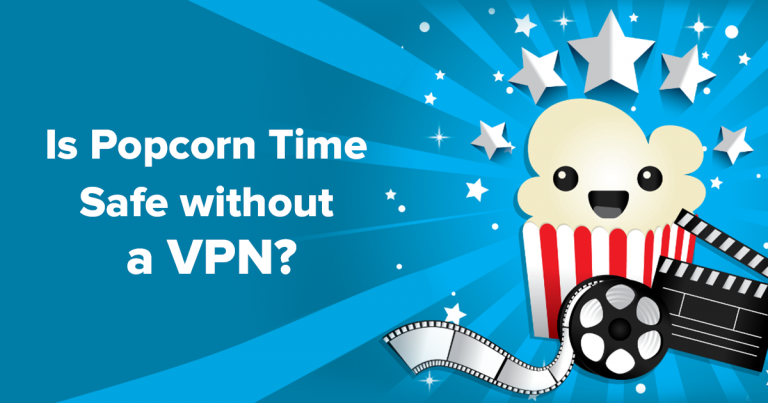 Is Popcorn Time (Still) Safe in 2021? Not Unless You Do This
Updated on 19th October 2021
Popcorn Time can be a risky app for many reasons. It reveals your information to other users since it uses P2P networks. This can expose you to cyber threats, including hackers, trackers, and malware.
The easiest way to stay safe of Popcorn Time is with a VPN. It protects your traffic by encrypting and rerouting it through private servers. It also uses powerful security features to ensure that your location and personal data are hidden.
I tested 50 VPNs with Popcorn Time, and ExpressVPN was my favorite. It uses military-grade encryption and a strict no-logs policy to keep you safe — plus, it's super fast. You can try ExpressVPN with Popcorn Time completely risk-free as it's backed by a 30-day money-back guarantee. If it's not for you, you can easily claim a refund.
Warning! The Popcorn Time app isn't illegal in most countries. It becomes illegal when you watch copyrighted content with it. We don't condone using a VPN for illegal purposes. So be sure to check your local rules and regulations before watching anything on Popcorn Time.
Quick Guide:
How to Safely Watch Popcorn Time in 3 Easy Steps
Download a VPN. I recommend ExpressVPN because it offers military-grade security and privacy features and has fast speeds for streaming high-quality videos.
Download Popcorn Time. But be careful! There are a lot of fake versions out there. You can find safe downloads of the most recent app on GitHub.
Browse Popcorn Time Safely! Make sure you connect your VPN before you open Popcorn Time to protect yourself.
Why You Need a VPN to Watch Popcorn Time
Popcorn Time uses P2P connections (torrent technology), which reveals your data (including your IP address) to other users. This makes you vulnerable to several cyberthreats, including hackers, trackers, and surveillance.
While the software was created open-source and secure, the original developer no longer runs it. Since then, several "forks" (or variations) of Popcorn Time have branched off. Some sources for Popcorn Time are dangerous and full of malware, so it's important to research before downloading.
A VPN protects your data by sending your traffic through an encrypted tunnel. Security features like a no-logs policy, kill switch, and military-grade encryption keeps you safe while using Popcorn Time. At the same time, it hides your IP address while providing you with a different one. This way, no one can identify you, your connection, or track what you're doing on Popcorn Time.
A few Popcorn Time forks offer VPNs, but these can be really expensive. What's more, some of them are missing key security features, so I don't recommend using them. You're better off using a reputable service to keep you protected. The VPNs in this list are affordable, reliable, and trustworthy.
Stay Safe on Popcorn Time Now!
Best VPNs to Watch Popcorn Time in 2021
Military-grade encryption, an automatic kill switch, and a strict no-logs policy to protect your personal data when you watch Popcorn Time
Superfast speeds for zero interruptions while you use Popcorn Time
3,000+ servers in 90 countries to access Popcorn Time from anywhere
5 simultaneous device connections
30-day money-back guarantee
Works with: Popcorn Time, uTorrent, Deluge, BitTorrent, Netflix, Hulu, Disney+, HBO Max, BBC iPlayer, Vudu, and more
Compatible with: Windows, Mac, iOS, Android, Linux, routers, Apple TV, and more
ExpressVPN uses industry-leading security features to keep you safe on Popcorn Time. Its IP/DNS leak protection hides your personal IP and browsing activity from third parties. I tested 7 servers with a specialized tool, and found no leaks. It also makes your online activity unreadable with military-grade encryption. Plus, its kill switch safeguards your connection should the VPN fail for any reason.
You can rely on ExpressVPN to protect your privacy since it follows a strict no-logs policy and uses TrustedServer Technology. Traditional servers run on hard drives, which store your data. TrustedServer are RAM-only servers that remove your data each time you disconnect.
It has lightning-fast speeds and unlimited bandwidth. I tested 10 servers and found an average of 45 Mbps. One of the locations I tried (Colorado), is thousands of miles from me. Even so, it gave me over 70 Mbps — twice what you need to watch 4K content. This means you can watch Popcorn Time in uninterrupted HD.
The cheapest plan that ExpressVPN offers is $6.67/month. Although it's a bit pricier than other VPNs, ExpressVPN offers some major money-saving coupons and discounts. So you can easily make your subscription more affordable. Additionally, all of the plans are full-featured. So it makes sense to get the 12-month plan, since it's much cheaper than the short-term options.
On top of this, you can try ExpressVPN out with Popcorn Time risk-free. It's backed by a 30-day money-back guarantee, so if you're not happy, you can get a refund. After testing for 25 days, I requested my refund. I simply contacted an agent via live chat and answered 2 quick questions. The rep approved my request, and I saw the money back in my account 3 days later.
Ultra-fast P2P servers keep you anonymous and maximize your speeds
A strict no-logs policy, the highest level of encryption, and an automatic kill switch to keep you safe on Popcorn Time
1,900+ servers in 70 countries to access Popcorn Time from anywhere
Unlimited simultaneous device connections
30-day money-back guarantee
Works with: Popcorn Time, uTorrent, Deluge, Netflix, Disney+, HBO Max, Hulu, BBC iPlayer, Vudu, and more
Compatible with: Windows, Mac, iOS, Android, Linux, routers, and more
With its automatic kill switch and WiFi protection, IPVanish keeps your data secure on Popcorn Time. Turning these features on takes a single click and protects you no matter which server you connect to. Whenever I switched servers, it immediately cut from the network until I established a secure connection.
IPVanish also gives you fast speeds to enjoy Popcorn Time without interruption. During my tests, I used "Quick Connect" to find the fastest servers available. I used its suggested location (Frankfurt) and downloaded Charlie Chaplin's Mabel's Strange Predicament (160 MB) in less than a minute. You can also improve speeds by connecting to a SOCKS5 proxy, but I don't recommend this since proxies aren't as secure as VPN servers.
Not only does IPVanish hide your IP from other Popcorn Time users, it doesn't log or track any of your online activity. With its no-logs policy, you can be confident that IPVanish won't distribute your data to any third parties.
Unfortunately, IPVanish doesn't accept cryptocurrency, but you can use most credit cards and PayPal. You can get IPVanish for as low as $3.20/month for a yearly subscription. All of the plans offer the same features. So you're best off getting the yearly plan instead of the monthly plan to make your subscription considerably cheaper. There's also an option to add on encrypted cloud storage for an additional cost.
To try before buying, I suggest you test IPVanish for free using its 30-day money-back guarantee. I tested this after 10 days; the process was easy. I just logged in to my account, clicked "Subscription", and pressed "Cancel Subscription". You don't even need to contact support as long as it's within the 30-day period. I received my refund in 4 days.
Specialty servers and unlimited bandwidth to enjoy Popcorn Time at lightning-fast speeds
NoSpy servers, 256-bit encryption, DNS/IP leak protection, and a kill switch to access Popcorn Time safely
7,350+ servers in 90 countries to keep your location hidden
7 simultaneous device connections
45-day money-back guarantee
Works with: Popcorn Time, uTorrent, Deluge, Netflix, BBC iPlayer, Hulu, HBO Go, Showtime, Amazon Prime Video, and more
Compatible with: Mac, Windows, Linux, Android, iOS, Roku, gaming consoles, and more
The CyberGhost app is user-friendly. You can connect to the nearest location with one click for the best speeds. I also found you can save and label servers according to the sites they work best with. This allowed me to connect to an uncrowded server in less than a minute. With its quick and hassle-free protection, you can get straight to watching Popcorn Time.
CyberGhost has a huge network, including optimized servers for streaming and torrenting. I tested 4 torrent-optimized locations — France, Germany, UK, and Poland and found an average of 29 Mbps. Although it wasn't as fast as ExpressVPN, I could still watch Popcorn Time on my TiVo in 4K. Plus, CyberGhost doesn't limit bandwidth, so I never encountered throttling. You'll have no issue watching Popcorn Time in HD.
It protects you against hackers with powerful security features, such as IP/DNS leak protection and a kill switch. It also offers NoSpy servers, located in Romania and outside of the 5/9/14 Eyes jurisdiction. Meaning, CyberGhost isn't obligated to share user data, even with government agencies. You can watch Popcorn Time safely and anonymously.
Its short-term subscriptions are a bit costly. However, you can get a CyberGhost subscription for just $2.25/month with its 2-year plan. As a bonus, with plans longer than 6 months, you get an extended money-back guarantee period (45 days vs. 14 days).
The money-back guarantee lets you try CyberGhost and its features without limitations 45 days. After testing for 13 days, I requested my refund via live chat and explained why I wanted to cancel. The agent approved my request and I got my money back in less than a week.
Tips on Choosing the Best VPN for Popcorn Time
A quality VPN for Popcorn Time should provide you with fast speeds, security, and reliability. I chose the VPNs on this list based on these criteria.
P2P support. Popcorn Time uses P2P connections, so for a VPN to work with Popcorn Time, it must offer P2P-supported servers. I confirmed that all of the listed VPNs have a selection of P2P servers.
Strong security and privacy features. It should offer 256-bit encryption, IP/DNS leak protection, a kill switch, and a no-logs policy. These features protect you from prying eyes and cybercriminals while you watch Popcorn Time. You can test whether your data is exposed using a third-party IP/DNS leak tool.
Fast speeds. Fast servers reduce loading times and buffering. For HD streaming, you need at least 5 Mbps; for Ultra HD streaming, you need 25 Mbps. I used a free speed test tool to check each VPN's speeds.
Works on all major operating systems. The VPN should work with whichever OS you use, like Mac OS, iOS, Android, and Windows, so that you can access Popcorn Time on any device safely. It should also offer multiple simultaneous device connections so you can connect all your devices under 1 subscription.
Reliable money-back guarantee. All of the VPNs I tested offer a trustworthy money-back guarantee. This allows you to test the service first and decide for yourself if it's worth continuing with a subscription.
Watch Popcorn Time Safely Today!
Additional Tips to Watch Popcorn Time Safely
There are plenty of benefits to using Popcorn Time, but it can also be dangerous. Pairing common safety precautions with a VPN will help you maximize your security. I suggest that you:
Safeguard your device. Before accessing Popcorn Time, make sure you turn on antivirus software to avoid cyberattacks, data theft, and monitoring attempts.
Get anti-malware software. Set up real-time threat monitoring in your anti-malware solution to prevent accidentally downloading malicious files from Popcorn Time. This way, you'll know where the malicious file came from so you can avoid the site in the future.
Set up a sandbox environment. This isolates your data and device from potential viruses, ransomware, and other cyberthreats so you can test Popcorn Time safely.
Watch Popcorn Time Safely Today!
FAQs on Watching Popcorn Time With a VPN
What if Popcorn Time doesn't work with my VPN?
You can try using a different server. If this doesn't work, reboot your VPN and Popcorn Time (you can also restart your device). Also, open your firewall settings and make sure "Popcorn-Time.exe" is not disabled by third-party firewalls. If it still doesn't work, try using a VPN that offers torrent-optimized servers and a separate firewall.
On which devices can I watch Popcorn Time?
You can watch Popcorn Time on devices running Windows, macOS, Linux, Android, and iOS. You can also cast Popcorn Time safely to your smart TV with any of the VPNs in this list by setting it up on your router.
Can I use a free VPN to watch Popcorn Time?
Yes, but I don't recommend it. Typically, free VPNs have limited bandwidth, slow speeds, lack important security features, and some even sell your data to advertisers to make money. At best, you'll be well protected but will only have enough bandwidth to watch Popcorn Time for 1 or 2 hours (probably only in standard definition). It's better to use a low-cost premium VPN instead. All of my listed VPNs offer a money-back guarantee, so you can get a full refund if you aren't pleased.
Can I safely watch Popcorn Time without a VPN?
You can watch it, but not safely. Popcorn Time exposes your data through its use of P2P connections, so anyone can see personal details, like your location and IP address. The easiest way to stay protected is to connect to a highly secure VPN while watching Popcorn Time. Each VPN in this list offers military-grade encryption, a no-logs policy, and DNS/IP leak protection so you can watch safely and anonymously.
Is Popcorn Time's VPN safe?
Not safe enough. There are many VPNs offered through Popcorn Time, but it varies depending on which fork you use. For example, Time4Popcorn uses Kebrum VPN which lacks essential security features: it doesn't have a kill switch and keeps partial logs. On the other hand, popcorntime.tw offers a more secure VPN, but it's super expensive and slow. The VPNs I recommend offer all of these features to protect your data without slowing down your streams on PT. Plus, you can try them out with a risk-free money-back guarantee.
Start Watching Popcorn Time Safely Today
Watching Popcorn Time can be dangerous without proper protection. It makes you vulnerable to hackers, malware, and other cyberattacks. In addition, its built-in VPNs lack key security features, so they're not a good option if you want full protection. Using a reputable VPN with world-class security features will keep you safe on Popcorn Time.
After testing 30+ VPNs, ExpressVPN is my top recommendation. It offers industry-leading security features and blazing fast speeds so you can enjoy Popcorn Time safely and with high quality. You can give ExpressVPN a try risk-free. It's backed by a 30-day money-back guarantee, so if it's not for you, you'll have no problem requesting a refund.
To summarize, the best VPNs for watching Popcorn Time are…
Privacy Alert!
Your data is exposed to the websites you visit!
The information above can be used to track you, target you for ads, and monitor what you do online.
VPNs can help you hide this information from websites so that you are protected at all times. We recommend ExpressVPN — the #1 VPN out of over 350 providers we've tested. It has military-grade encryption and privacy features that will ensure your digital security, plus — it's currently offering 49% off.