Is Popcorn Time (Still) Safe in 2020? Not Unless You Do This
Updated on 1st February 2020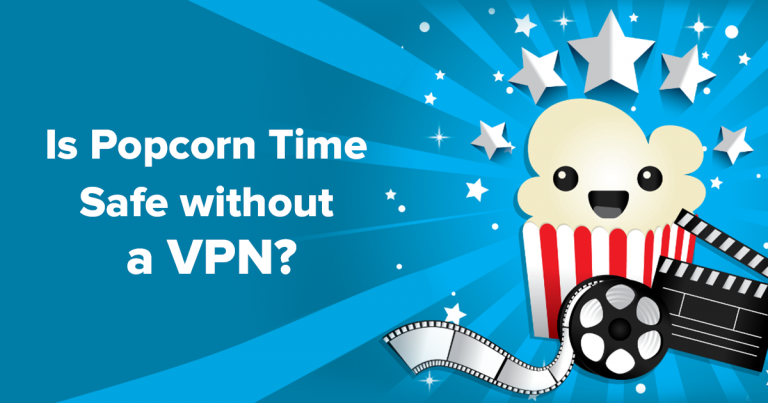 In past years, Popcorn Time has been a blockbuster because of its digital buffet of films and TV series that users can indulge on for free. This multi-platform, open source streaming service is the only software that dodges spamming and cheap advertising, and this has allowed it to gain the trust of users all over the world.
However, the majority of the software's aspects remain a mystery. While the software itself is perfectly legal, storing or downloading digital content on your device can still get you caught up in copyright infringement issues. Nobody wants to face legal trouble just for watching the latest episode of their favorite TV show.
But don't worry! You can still watch your favorite movies and TV shows on Popcorn Time without authorities tailing you. All you need is a good VPN.
A VPN can hide your online identity and activity by connecting you to a remote server and changing your IP address to that of the server's. That way, you can be sure that third parties cannot snoop on your browsing activities.
While we do not encourage you to share or download copyrighted content, we do believe in digital freedom and privacy. Read on to learn how to use Popcorn Time safely and anonymously.
Quick Guide: How to Use a VPN with Popcorn Time
Using a VPN with Popcorn Time is very easy – no technical knowledge is required. To guarantee a safer viewing experience, just follow these simple steps:
Select a good VPN with a subscription plan that works for you. (NordVPN is our top recommendation.)
Download the VPN software or app an install it on your device.
Connect to a server of your choice on the VPN's list of available servers.
Watching content on Popcorn Time safely!
Why You Need a VPN to Stay Safe on Popcorn Time
While Popcorn Time is incredibly easy to navigate, using it without a VPN is risky. Even if you live in a country with lenient policies towards torrents, you can still face interrogation for watching unauthorized content.
Popcorn Time users have experienced this in the past, especially now that governments have taken up stricter measures against mirror websites and have been enforcing tighter anti-piracy laws. Additionally, film producers have been known to sue individual file sharers and monitoring peer-to-peer networks.
In 2015, 11 Popcorn Time users in Oregon were sued by filmmakers of comedy-drama film The Cobbler. The lawsuit was filed against these unnamed users for simply downloading the film. The complaint lists the users' IP addresses alongside their ISPs, as well as the date and time they accessed the movie, and the plaintiffs are seeking $150,000 in damages and legal fees.
Similarly, 16 Comcast subscribers were sued by the same law firm for streaming the 2015 film Survivor. The anonymous users are being charged a statutory minimum of $750, and although it is not as much as the previous case, it serves as a warning sign for Popcorn Time users.
You wouldn't want to get in trouble just for streaming a movie. For a safe viewing experience, you need a good VPN to mask your online activity.
A VPN routes your connection through one of its own servers, replacing your real IP address to keep you anonymous. All your online activity is encrypted, meaning that no one – not even your own ISP – can track your online activity.
When you use a VPN, you can breathe a sigh of relief and rest assured that your online identity is protected from mass surveillance and that you won't run into any trouble when enjoying Popcorn Time.
What to Look For in a VPN for Popcorn Time
When shopping for a VPN to use with Popcorn Time, you want to be sure to get one that allows P2P traffic. You're also going to need fast speeds for streaming and downloading.
To make sure all your private data stays completely private, it's a good idea to get a VPN with tight security and solid encryption, and a strict no-logs policy.
While free VPNs are readily available, we advise you to keep away from them: not only do they usually come with bandwidth and speed limitations that will ruin your viewing experience, but some will even compromise your privacy with low-grade encryption.
Check our top recommendations for the best VPNs to use with Popcorn Time, and don't miss our list of The Best VPNs for Torrenting.
What Else Can a VPN Do for You?
Besides protecting your privacy online, a VPN can also give you access to restricted content. You can easily connect to a server in a location of your choice and bypass geoblocks, and access streaming services like Netflix and BBC iPlayer from anywhere in the world.
A VPN can also bypass restrictions imposed by your office, your college or even your government. Just simply connect to a server elsewhere and uncensored browsing is all yours!
VPNs also make sure you're protected from hackers, data miners and other online threats, even when you use public Wi-Fi.
Stream Safely on Popcorn Time
A VPN can greatly improve your online security and arm you against third parties who wish to monitor your online activity. It hides your IP address and encrypts your data, keeping you safe and anonymous on Popcorn Time.
However, a VPN is not just for users who want to stream their favorite movies without bumping into authorities. It's for anyone who wants to feel safe when surfing the web, while gaining unlimited access to online content.
If you're looking for more reasons to subscribe to a VPN service, read more on why it's important for every internet user to have one.
Start Your FREE NordVPN Trial Now!
You might also like: