PrivateVPN Coupon: Save 83% With This Hidden Code in 2019!
Updated on 30th November 2019
Looking for a PrivateVPN discount code? Look no further! With our exclusive coupon, you can save 83% on your subscription, and it's guaranteed to work! Share
PrivateVPN might not be as well-established as other premium providers, but it's got a lot to offer. It's growing fast, with feature-rich packages and more and more servers around the globe.
If you're thinking about signing up, it's always worth looking around for a valid discount code that might help you save money on your subscription.
Searching for PrivateVPN coupons will display an overwhelming amount of results, so how do you know which one to go for? And which ones will really work?
Thankfully, you've come to the right place. Below, I've rounded up the best and most up-to-date deals for PrivateVPN, and they're all guaranteed to work.
What if I said you could also get PrivateVPN free for a full week, and then for another 30 days, too? Read on to find out how you can get this deal.
How to Claim Your PrivateVPN Discount
Use our coupon to get 83% off your PrivateVPN subscription straight away.
You simply won't find a better deal anywhere else, and it's guaranteed to work. Don't spend hours searching when we have what you need.
83% Off
Save 83% on your PrivateVPN plan today!
Money-Back Guarantee: 30 Days
PrivateVPN's Discount Pricing
PrivateVPN's longest subscription term is one year, and it offers the greatest discount on this plan, giving you 12 months completely free. So, you actually get a two-year subscription while paying for just one year. However, you can still get a discount on its other two plans.
In fact, PrivateVPN is even offering a discounted 1-month plan. This is different, as most VPN providers keep their 1-month plan at the standard base price.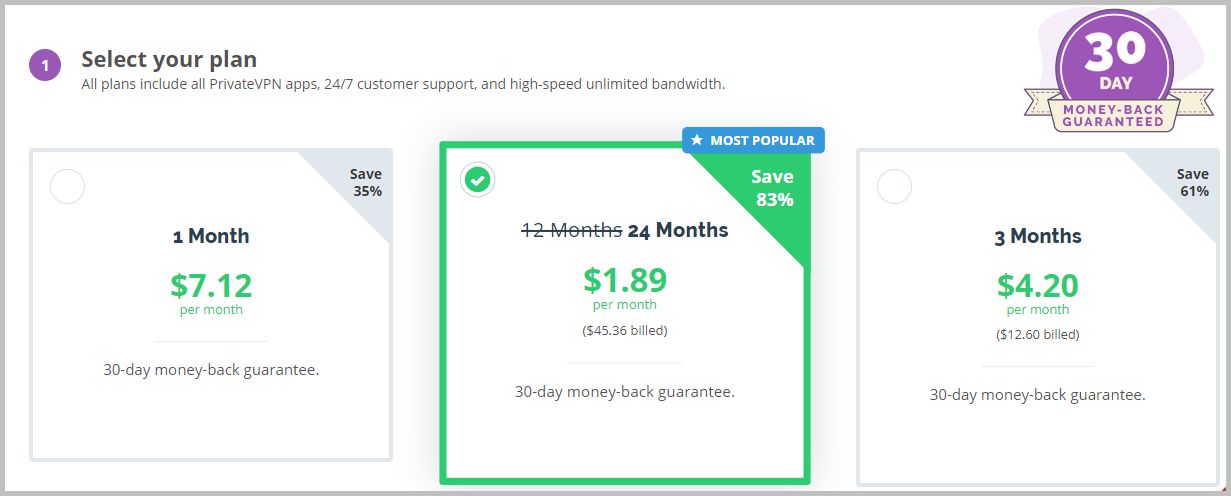 Remember, discounts are usually only around for a limited amount of time, so make sure you act fast and sign up before they end.
PrivateVPN's plans and discounts look like this:
How to Buy PrivateVPN
You can pay for PrivateVPN using the following payment methods:
Credit cards – Visa, MasterCard, American Express, JCB, Discover, Diners Club International
PayPal
Bitcoin

How to Get PrivateVPN 100% Free
PrivateVPN offers a 30-day money-back guarantee. This means you can sign up and claim your money back within a month. This is an excellent way to try PrivateVPN risk-free and enjoy all of its features with no restrictions.

If you only need a VPN to stream a few movies or browse the internet securely for a few weeks, the 30-day money-back guarantee is perfect for you.
To get your refund, just use the live chat service or ticketing support. Make sure you provide the reason for requesting your money back.
Editor's note: You can only use the 30-day money-back guarantee if you have used less than 100GB of data. That's enough to stream up to 150 hours in standard definition, browse the web 24/7 for weeks on end, or stream up to 20,000 songs, so it should keep you going for a while!
You can also try out PrivateVPN for a week completely free, with its 7-day free trial. There's no need to pay upfront for the free trial. Just download the app to your device and use it for a full week.
When you've used the free trial, you can then sign up for a subscription. If you need to, you can still use the 30-day money-back guarantee, too.
Spot The Fake Deals
Learning to differentiate the fake deals from the real ones isn't always easy, especially when there are so many for you to sift through.
Some sites use false coupons to make money from you clicking on an affiliate link, but they don't actually work.
However, you can trust that our coupon works. It's 100% real and guaranteed to cut the cost of your subscription. Just use our link to get the best deals available for PrivateVPN.
It's a good idea to learn how to spot fake deals so you don't get stung, either with paying more than you need to or with online privacy risks like identity theft.
Here's one of the first ones I found in my search engine:

It's offering you a 3-year subscription and claims to give you 87% off. However, the longest plan PrivateVPN offers is two years (a one-year subscription with another 12 months free). You can't actually sign up for three years. Not only is the discount fake, but the subscription is, too.
Watch out for other clever tricks. The above coupon shows 340 users have applied it today, which makes it look more legit. As does the 95% success claim.
Here's another: It's overselling the monthly plan by 5%, leading you to believe you can get more money off than you really can.

Clicking on the coupon takes you to the pricing section of PrivateVPN's site, only leaving you disappointed that you can't get as much of a discount as you thought.
What's So Great About PrivateVPN?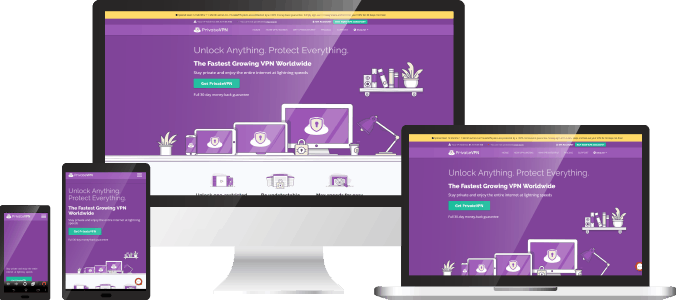 PrivateVPN has growing server coverage, with over 150 servers in 60+ countries spanning the globe.
It can easily get past tough geoblocks, giving you access to popular streaming sites like Netflix, HBO Go, and Amazon Prime Video.
You have unlimited bandwidth and data, with maximum speed for buffer-free browsing, streaming, and gaming.
It keeps you secure with AES 2048-bit encryption, hiding your IP address and all of your online activity.
PrivateVPN's headquarters are located in Sweden, outside of the 5/9/14 Eyes Alliance, which means there's no risk of your data being shared with any government. It also has a strict zero-logging policy for anonymity.
You're protected against leaks with PrivateVPN's IPv6 leak protection and automatic kill switch.
It also allows up to six simultaneous connections, even with the free trial. So, you can install the app and connect to different countries across all of your devices with just one subscription.
If you need any support, there's an online ticketing system and a live chat.
PrivateVPN's Key Features
150+ servers worldwide
Unlimited data and bandwidth
Privacy-friendly jurisdiction
Automatic kill switch, high-end encryption, and IPv6 leak protection
Six simultaneous connections
7-day free trial
30-day money-back guarantee
Works with: Netflix, Amazon Prime Video, BBC iPlayer, HBO Go, SkyTV, ESPN, SHOWTIME
Compatible with: Windows, iOS, macOS, Android, Linux, Chrome, Firefox
The Bottom Line
Searching the web endlessly for deals only stops you from enjoying unrestricted access to your favorite sites via your VPN. And you don't want to be caught with risky fake deals, either.
Save time and stick to a coupon you can trust, like ours. It's 100% real and guaranteed to take 83% off the cost of your subscription with PrivateVPN. Click here to get your deal.
If you're a savvy shopper and like to read as much as you can before signing up for a new service, check out our in-depth review of PrivateVPN. You have all the information you need to make your decision.
On the hunt for deals for other VPNs? Maybe PrivateVPN isn't right for you, and you'd like to check out other vendors. We've got exclusive discounts for them, too! Check out our coupons page.