Surfshark Coupon 2019: Save 85% With This Exclusive Discount!
Updated on 3rd December 2019
Don't be fooled by fake Surkshark coupons and deals. Let us help you get the best savings on subscription plans. Our coupon is genuine and guaranteed to work. Share
Want to sign up to Surfshark? We don't blame you. With its worldwide servers, fast speeds, and advanced features, it offers some of the best VPN packages around. There's only one thing better than a great VPN: money off your subscription.
We're always searching for the best deals to help you save money with your subscriptions. And Surfshark is offering some of the best deals around, with 50% to 85% off its yearly plans for new users.
We've covered all the Surfshark deals and discounts below, plus everything you need to know to sign up and get started. I'll also show you how to use Surfshark completely free for a whole month. Sound too good to be true? It's not, with our exclusive discount.
You can use our coupon right now to cut the cost of your Surfshark subscription and save time sifting through the fake deals. It's 100% real and guaranteed to work.
85% Off
Amazing Black Friday coupon code – save 85% on Surfshark plans for a limited time!
Money-Back Guarantee: 30 Days
Remember, these deals won't be around for long, so you have to act fast.
Surfshark's Discount Pricing
Surfshark is offering the biggest discount on its two-year plan, but the one-year plan offers incredible value for your money, too.
There's no time like the present, so make sure you sign up quickly to take advantage of the latest deals.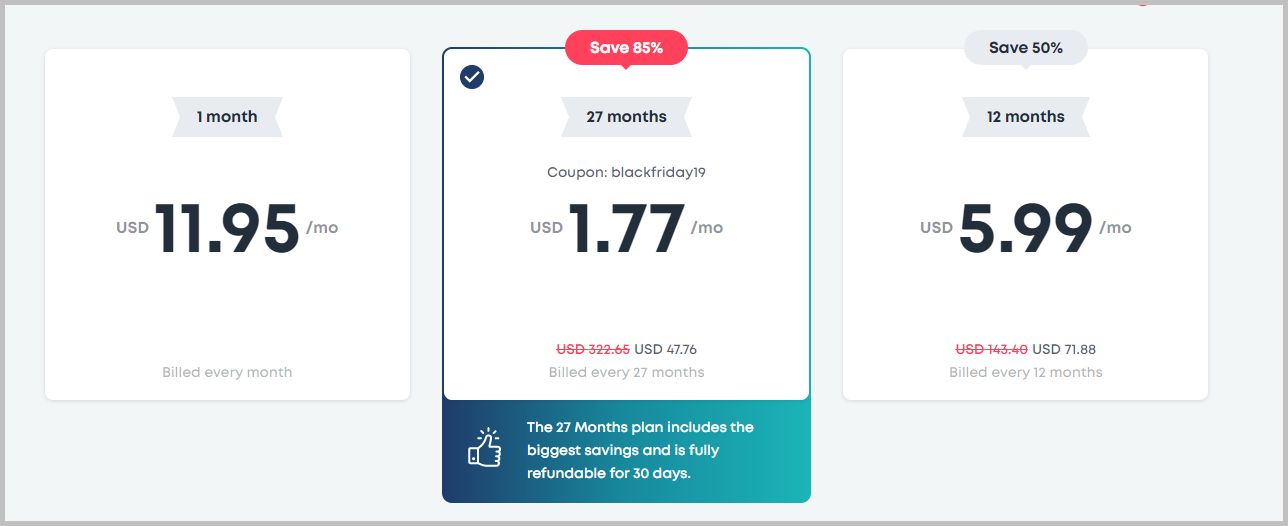 Surfshark's deals and discounts look like this:
Subscription Extras
Surfshark also offers extras that you can purchase on top of your plan. For $0.99 per month, you can use additional privacy tools for even better security online.
These are:
HackLock: A tool that scans the internet and informs you immediately if your email has been leaked.
BlindSearch: A tool to browse on search engines more privately, with no ads or logs.
How to Buy Surfshark
You can pay for Surfshark using the following payment methods:
Credit cards – MasterCard, Visa, American Express, Discover
PayPal
Google Pay
Alipay
Cryptocurrencies, including Bitcoin and others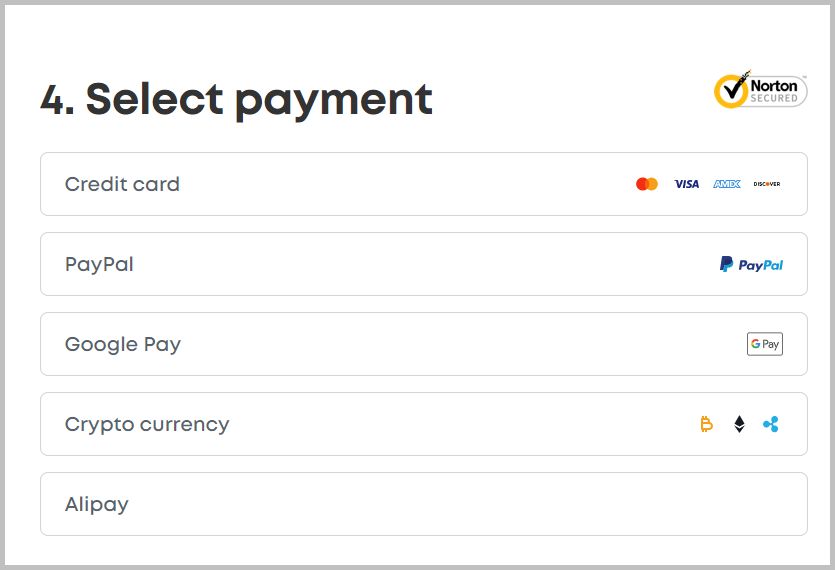 How to Get Surfshark for Free
You can try out a Surfshark subscription completely risk-free for a whole month by taking advantage of its 30-day money-back guarantee.
You need to sign up and pay first, but you get 100% of your money back by simply emailing the company's support department or using the live chat.
If you're only looking to use a VPN for a short time, such as when you're traveling or binge-watching your favorite show, you can use the service completely free.
Remember though: You have to cancel before the month is up, or you won't get your refund.

Surfshark also offers a 7-day free trial, with no upfront cost. Bear in mind, this is only for mobile users. Once you download the app from the App Store or Play Store, you have one week free to test out its premium features before you decide whether you want to sign up or not.
Once you've used the free trial, you can then use the 30-day money-back guarantee. So, really, you get five full weeks of free use. That's hard to say no to!
The Fake Deals to Watch Out For
The internet is littered with fake deals for VPN providers, including Surfshark.
Some sites use clickbait, showing you an offer that looks legit but doesn't work. They make money from you clicking on the coupon, but you save nothing.
Even worse are the deals that are actually scams and can steal your data once you've filled in a form and provided your details. This makes you vulnerable to all kinds of risks, including privacy and identity theft.
That's why it's so important to only use trusted, honest deals that are guaranteed to work.
Keep an eye out for any deals that seem suspicious, like this one:

It looks like you can get 75% off a 1-year plan, and it seems legit. But actually, this is hugely inflated.
Surfshark is offering a huge discount on its 1-year plan, but only 50%. The minute you click the code, the website gets paid, and you're back where you started.
And what about this next one?
It shows an 83% off deal has expired and makes it look like the most you can save on Surfshark's 2-year plan is 71%. That's an underselling of 12% on your subscription!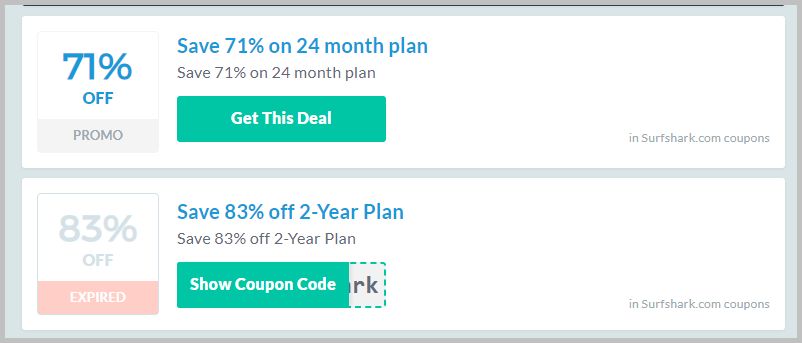 It's not just subscription prices you need to watch out for. There's fake deals floating around Surfshark's features, too.

Surfshark's 24/7 live chat comes standard with any of its plans. You don't have to pay any extra for its live chat, but you might think that with this "offer".
While you might think you're saving money by adding on luxury features, this is false. It even says on Surfshark's website which features you get with every plan.
Fake deals can easily trick you into thinking you can save more money than you thought or underselling plans completely. And as we've seen, they can also lead you to believe you have to pay extra for features!
Stay safe online by using only 100% real deals, like ours. It's guaranteed to work. No catches, no hidden risks. Click here to get your coupon.
What's So Great About Surfshark?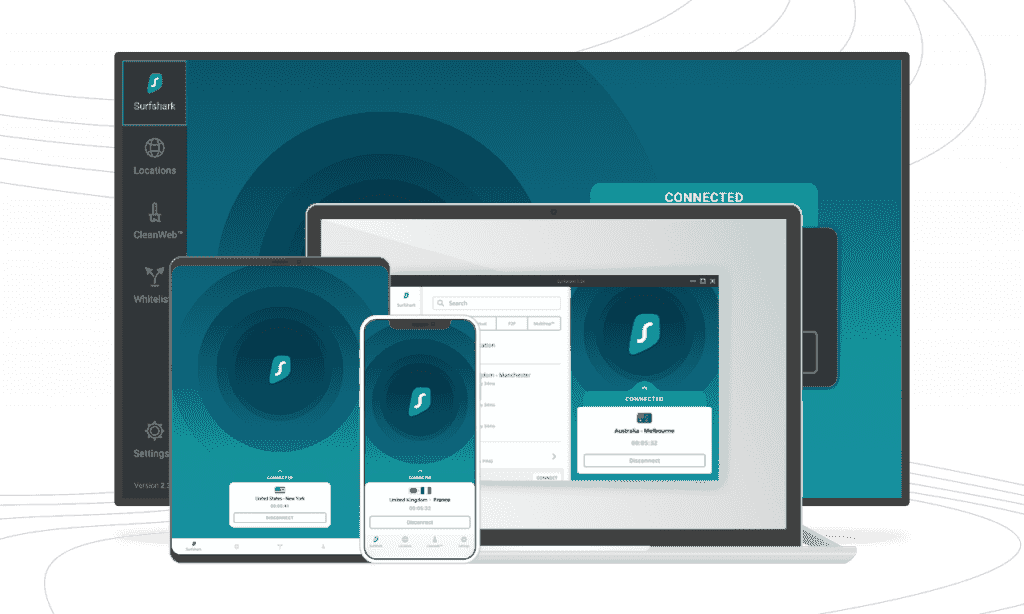 Surfshark is a fast and up-and-coming VPN with feature-rich packages that offer some of the most advanced tools.
It has a network of over 1,041 servers in 61+ countries, so you can access an unrestricted internet anywhere in the world.
Surfshark offers solid speeds and reliable connections for you to browse, stream, and game with no buffering or lagging.
Every server allows torrenting and P2P sharing, which means you aren't limited to certain locations.
There's no restrictions on how much you can do online as bandwidth and data transfer are completely unlimited.
It keeps you secure with military-grade encryption, a strict no-logs policy, and DNS leak protection. There's also an automatic kill switch that shields your IP address if your connection is ever compromised.
Its CleanWeb feature blocks ads, trackers, and malware from infecting your device or stealing your data.
Surfshark even uses a MultiHop feature that allows you to connect to multiple locations at once. This only makes it harder to trace your real location, ideal if you don't want anyone to know what you're doing online or you need ultimate privacy.
Its Whitelister feature, also known as split tunneling, gives you flexibility and control over which apps you use through the VPN and which you leave unencrypted. This means you can browse locally with your IP address and invisible through your VPN at the same time.
Surfshark's app is compatible with most devices and is easy to use, but if you need any support, you can use its 24/7 live chat.
You have unlimited simultaneous connections so you can protect every device in your household with a single subscription.
Surfshark's Key Features
1,041+ servers in over 61 countries
Unlimited bandwidth and data
Torrenting on every server
AES 256-bit encryption, zero-logging policy, and automatic kill switch
Whitelister split tunneling feature
Unlimited simultaneous connections
Works with: Netflix, BBC iPlayer, Hulu, ESPN, HBO Go, SkyTV, Amazon Prime Video
Compatible with: Windows, iOS, macOS, Android, Linux, Fire TV, Chrome
The Bottom Line
Searching endlessly for the best deals is tricky, especially when you're faced with fake ones. Tempting as they might be, fake deals only leave you frustrated and back where you started; or worse, at risk of phishing scams and data theft.
Stick to sites you can trust, and only use the coupons you know will work.
How do you know? Well, just try ours. It's guaranteed to cut the cost of your Surfshark subscription, and you simply won't find a better deal elsewhere. Click here to get your deal.
If you want to read more about Surfshark before you sign up, read our detailed review. We've looked at everything from speeds to security, and tested each of its features.
Not sure Surfshark is the VPN for you? That's fine. There are plenty of other leading vendors out there that also offer great deals And yes, we've got discounts for them too! Check them out here.