How to Unblock HBO and Watch Season 7 of Game of Thrones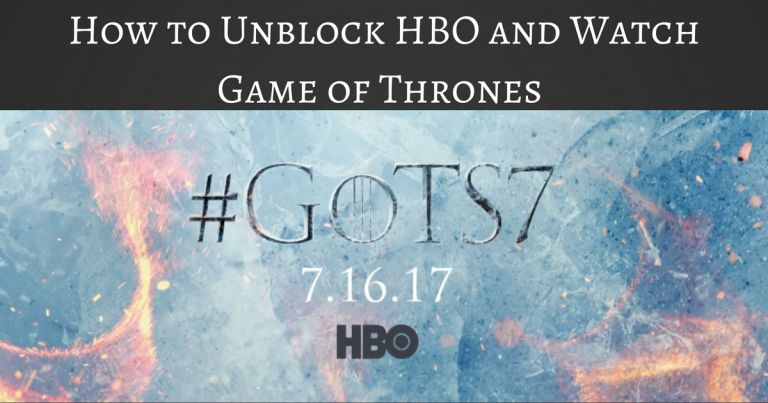 For the diehard Game of Thrones fans out there, July 16th can't come soon enough. This is the day when the Great War descends upon the kingdoms of Westeros in what appears to be the most exhilarating GoT season yet – potentially a new milestone in the world-famous visualization of George R.R. Martin's novels. There is every reason to believe season 7 will be even better than the previous one, which already managed to rack up an impressive 25 million average viewers.
A lot is set to unfold in the upcoming seventh season of Game of Thrones. I won't spoil anything for you, but enthusiasts probably already have a clue on what exciting events await them. With strong hints of action everywhere, including naval warfare, old friends and siblings reuniting, and a touch of dragon fire as your favorite Queen appears to join the fray, it's safe to say that a good deal of sleepless nights has passed for those of you who have, or haven't, watched the new teasers and trailers. However, watching the newest Game of Thrones season may involve a bit of tinkering on your part if you're outside of the US – and a good VPN is a major part of it. Keep reading to find out how you can circumvent pesky geoblocks and enjoy the breathtaking ride that the upcoming Game of Thrones Season 7 is shaping up to be, no matter where you are.
HBO Send Their Regards
Here's where I share the bad news with you – similar to how every good moment in Game of Thrones ends with a stab in the back or some otherwise unfortunate outcome, not everyone will be able to get their fix of Machiavellian designs and magnificent dragons that easily when the Season 7 premiere airs on HBO. While the third Sunday of July will be a hassle-free celebration for the US-based Game of Thrones fans with access to cable TV, an American credit card, and the HBO Go package, those of you who are unfortunate enough to be located outside of the USA's fifty states may experience the real-life equivalent of the Long Night as you wait for Season 7 to become available wherever you are.
Game of Thrones is produced by HBO, so it's only normal that they are the first to premiere new seasons. However, their services are geoblocked to anywhere outside the United States, as mentioned earlier. Frankly, for many people the full new-season experience includes watching the initial episode live as soon as it is aired – it sucks when you have to wait days, maybe even weeks, to watch something due to restrictions out of your control. This is especially true when it comes to the passionate and devoted worldwide fanbase of Game of Thrones. Of course, as with pretty much anything else in the resourceful online world, there are workarounds. And all of them involve the use of a good VPN service.
Choosing the Right VPN
For those of you who may not be well-versed in VPN matters, it stands for virtual private network and it basically provides you with on-demand, encrypted IP addresses, which in turn give you the ability to appear as if you were connecting from a different location, no matter where you are. A VPN is much more than just a tool for geolocation, however, if you want to learn more about the basics as well as intricacies of VPN, check out our beginner's guide.
Going back to the issue at hand, when you put two and two together, you can see how a VPN greatly ameliorates the HBO geoblock hurdle. It appears to be as easy as one, two, three – you set your location the United States, connect to a streaming service or a Netflix-esque platform and enjoy the glorious continuation of the Game of Thrones story come July 16th. However, it's not that simple. There are a lot of VPNs out there that simply won't get the job done: you need to make sure you get one that goes above and beyond expectations and offers you the best in speed, security, and flexibility. Below is a list of the top VPNs you can get for HBO's Game of Thrones.
What About the Streaming Service?
With the VPN sorted, you can move on to the next step towards bypassing HBO's geolocation restrictions. This is a good time to remind you that HBO Go turns into a no-go if you don't have a US-based cable subscription. There used to be a way for people around the world to gain access to HBO Now, the innovative (by HBO standards, at least) standalone service which operates without any cable subscription requirements by default, but recent changes have made it so that providing an American credit card is part of the signup process. It's still possible to get a free one-month trial on pretty much any popular platform with HBO Now, but you will need an American card either way – and the solution I'm about to propose to you requires neither that nor cable.
Watch Game of Thrones Season 7 With the Help of Sling TV and PayPal
I don't have to tell you about PayPal and how great it is – over 203 million active accounts so far in 2017 speak volumes. What I do want to tell you though, is that this household name in online payment services is able to solve your Game of Thrones woes! Well, partly. You will also need an excellent VPN and Sling TV, the famous Internet TV service. The latter is available exclusively in the United States, as with most major streaming services, and trying to access it from any other location will lead to the following screen: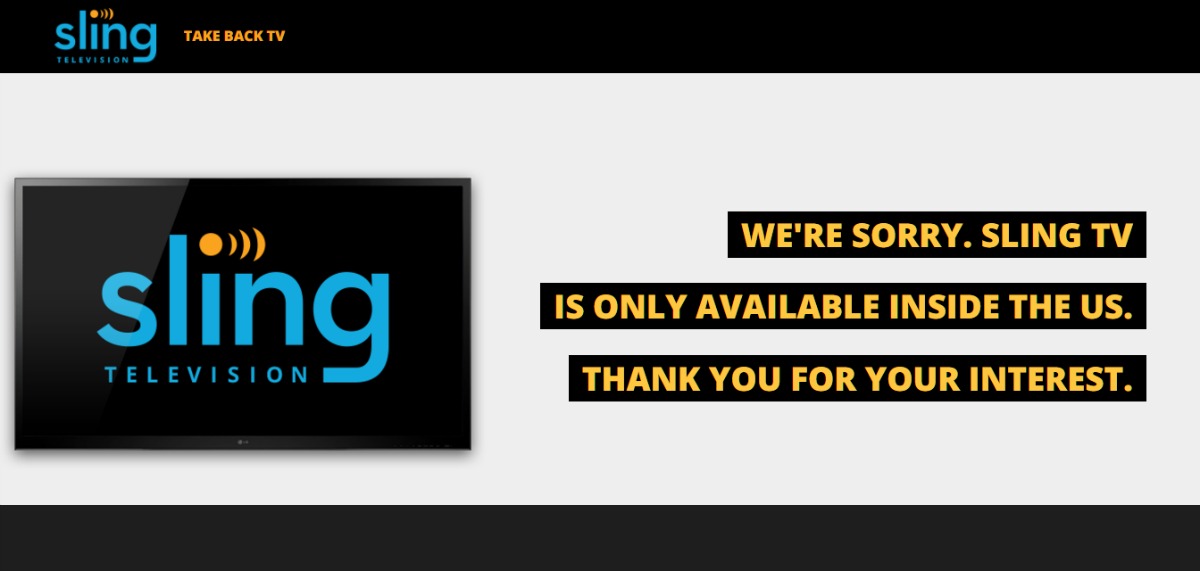 Even after establishing a VPN connection and gaining access to Sling TV, you will still run into a wall when you're asked to pay for the required packages – you will need an American credit card for that. That is, if you try to make a direct purchase. The workaround here is that you can buy a Sling TV gift card with your PayPal account. Simply go to one of the numerous online shops that sell Sling TV gift cards and accept PayPal. Then, choose your desired amount – usually, you have three options at $25, $50 and $100. Keep in mind you'll need to pay for both the standard package and the additional HBO service, so picking up a $50 gift card is probably your best course of action. Some sites may even allow you to set your own value: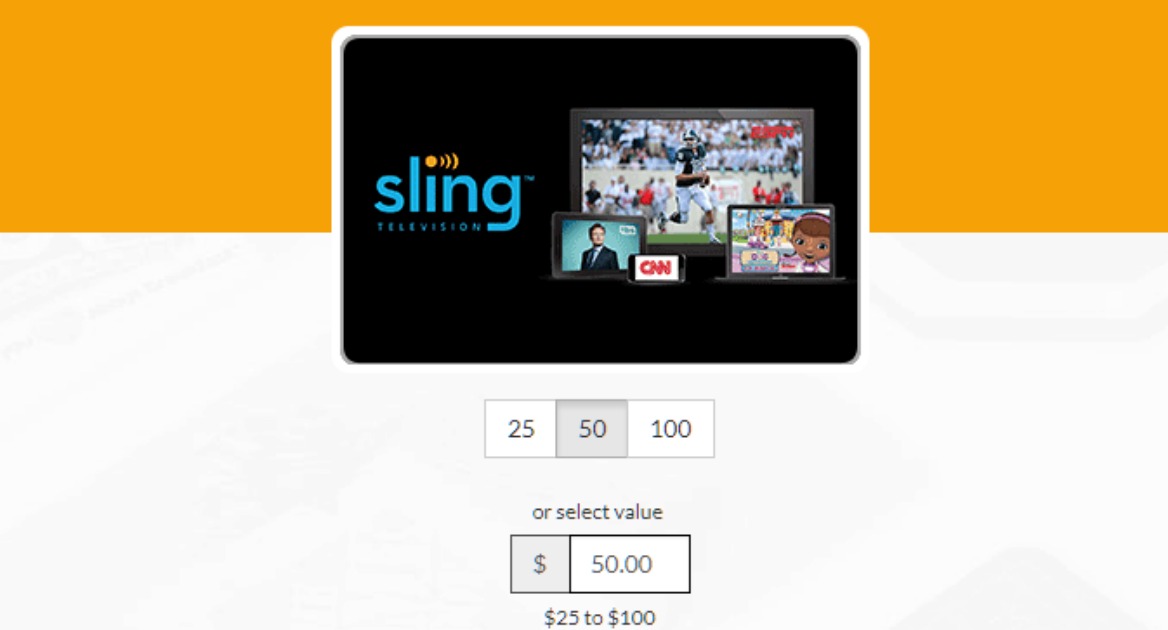 The next step is to boot up your VPN and connect to a US location of your choice. Then, you make your way to Sling TV's website and navigate to the menu where you can redeem your newly purchased gift card – or you can simply use this link*.
*If you click on this page while you're VPN is not on, you will receive the error message below. That's because SlingTV only works in the US. Once you turn on your VPN, the Error message will go away. 
And it's as simple as that! You can now enjoy the glorious premiere of Game of Thrones' seventh season live through Sling TV!
Is This the Only Solution?
If you are located outside of the United States and you want a surefire way of watching the new Game of Thrones Season 7 as soon as it airs on HBO, the above method is tried and tested. Of course, it isn't the only way out there, but it guarantees you the quality and reliability you are looking for. Sure, you could always resort to a free streaming website, but then you'd be dealing with all the negatives that come with it – from poor quality to annoying pop-ups to the possibility of catching some type of malware. In short, it's free, but is it worth it?
The bottom line is simple – if you want the full premiere experience and complete certainty that you will catch the thrilling beginning of what is Game of Thrones' most anticipated season yet, you should definitely go the extra mile. Thanks to the wonderful place that is the Internet, you can circumvent the HBO's cable and credit card restrictions outside of the US and enjoy the mid-July continuation of your favorite saga about kings, queens, ice and fire, no matter where you are located. The main protagonist in your own adventure, however, is your trusty VPN – because true fandom shouldn't have to be hindered by geographical limitations.