How to Watch the NBA Finals (Miami Heat vs. Los Angeles Lakers) in 2020
Updated on 28th September 2020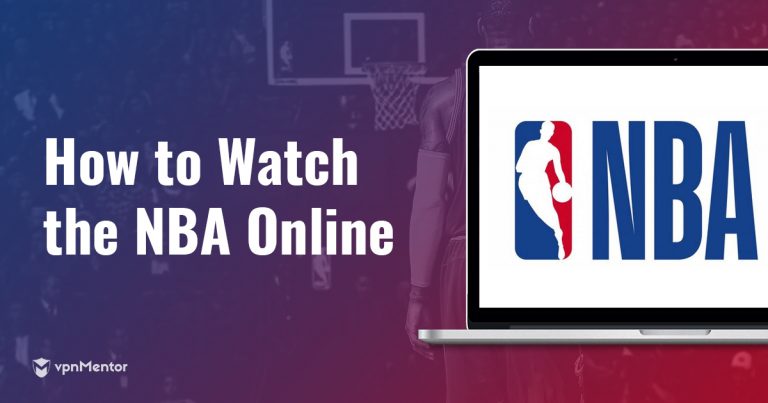 NBA season is upon us, but if you're like me and are in an area without licensing rights, you know that watching the games live is nearly impossible. Don't waste time following fake streams or trying to get around error messages. No matter where in the world you are, you can watch Miami Heat vs. Los Angeles Lakers in the Finals using my tried-and-tested methods.
I found that using a VPN is the only dependable way to get around NBA blackouts. VPNs are privacy apps that hide your actual location. When you use one, you can pretend to be anywhere in the world, tricking streaming sites into unlocking content. With a VPN, I was able to buy and use a super-cheap NBA International League Pass subscription so I can catch every game.
I did all the hard work of figuring out the easiest way to access NBA games. I also tested over 30 top VPNs to find those that can beat geo-restrictions so you can stream from anywhere. I found ExpressVPN to be the most reliable, but all the other VPNs on this list have been proven to work too.
Start Watching the NBA Finals Today!
Quick Guide: How to Watch Miami Heat vs. Los Angeles Lakers From Anywhere in Under 2 Minutes
Get a VPN. During my tests, ExpressVPN was the most consistent when it came to fast speeds and bypassing geoblocks.
Connect to a local server where games are broadcast. I used a South African server to buy International League Pass and catch the games.
Start watching the games! Just sign in to your International League Pass subscription and get ready for tip off!
Watch the NBA Finals with ExpressVPN today!
In short: If you're not in an area that's broadcasting the NBA, you're excluded from the excitement. Broadcasting agreements and copyright licenses dictate where the NBA Finals can be shown. Some viewers get to watch the action live, while fans in other locales may have to wait days for a rebroadcast or be blocked entirely.
A VPN can help you access restricted NBA games from anywhere. It connects you to servers around the world to make it seem like you're browsing from a country licensed to broadcast the NBA (which helps you bypass geo-blocks from sports streaming platforms).
As an added bonus, VPNs can also help you unlock lower prices. Take a look at what happened when I compared the price of NBA League Pass in a couple of countries: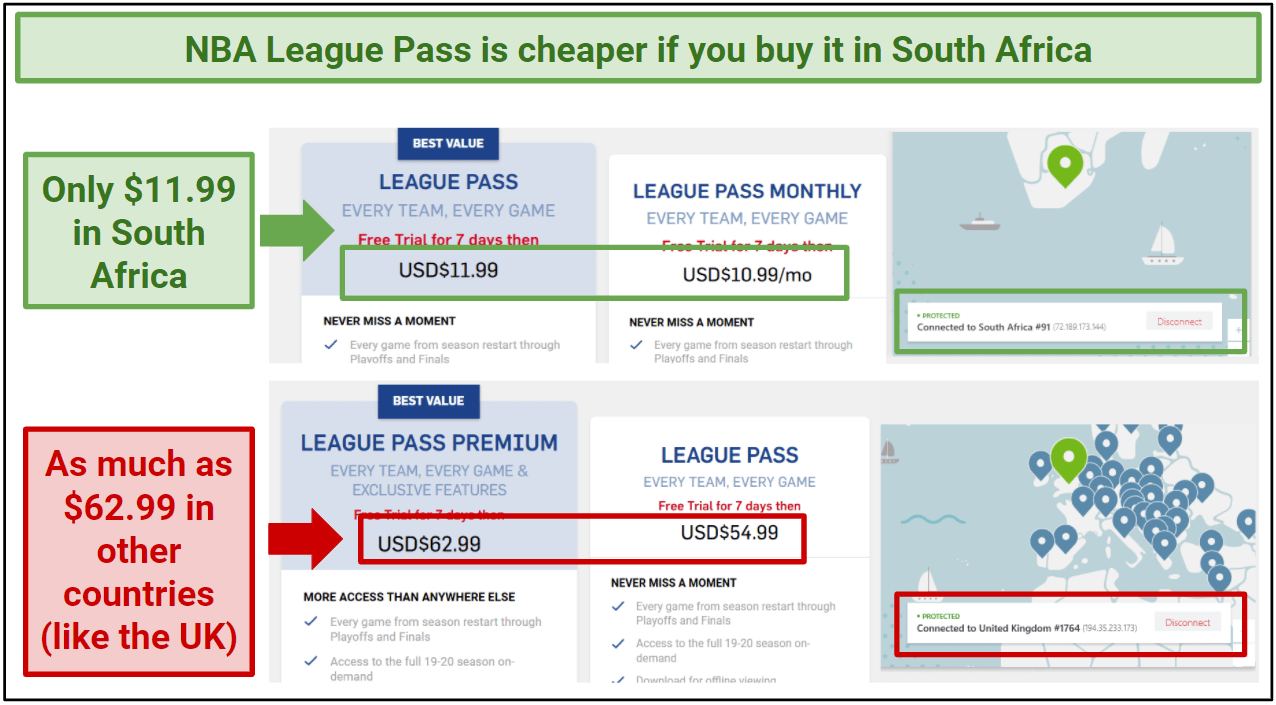 NBA League Pass is over 80% cheaper when you buy it in South Africa
When you connect to a South African server to buy an International League Pass subscription, you can save up to 80%!
Try ExpressVPN FREE For 30 Days!
5 Best VPNs to Watch Miami Heat vs. Los Angeles Lakers in 2020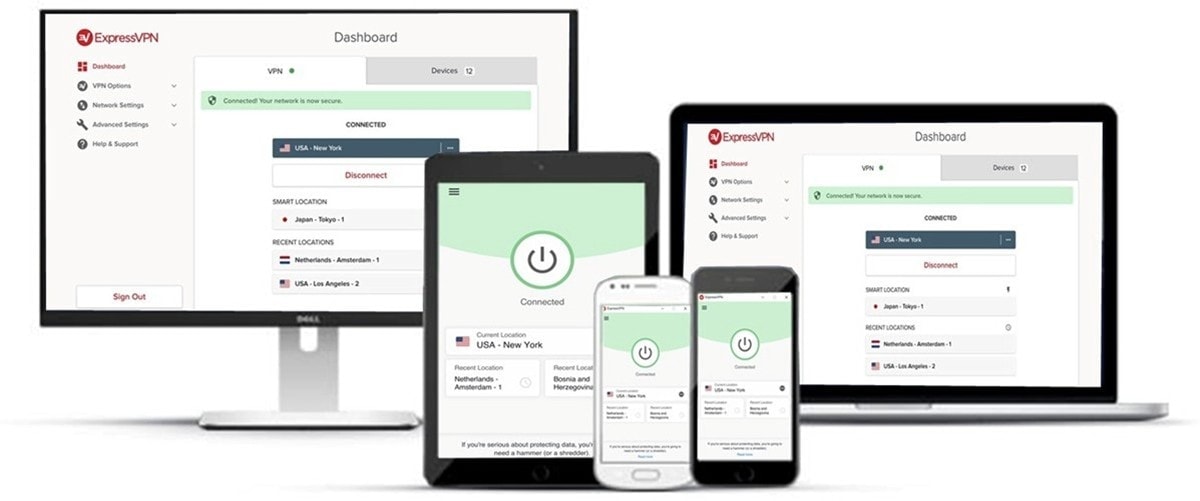 Fast speeds so you can enjoy every game with no annoying lag
Over 3,000 servers throughout the world for watching the NBA
Use up to 5 devices at once
30-day money-back guarantee
Also unblocks ESPN, DAZN, BT Sport, Sky Sports, FuboTV, and more
Compatible with: Windows, Android, iOS, macOS, Chrome, Linux, Firefox, routers
ExpressVPN has never let me down with speeds — and it impressed me once again when I used it to live-stream the NBA. Every server I tested had fast and stable speeds of more than 50 Mbps (you really only need 5 Mbps to stream in HD), which is more than enough for you to watch the game with crystal-clear resolution and no interruptions. I had zero lag as well, so I didn't miss out on any NBA action!
With access to 3,000 servers, I didn't have any trouble finding a server that worked to unblock the games I wanted. Connecting to the servers only took a few seconds, and I could load my geo-restricted International League Pass without a problem. You can connect to any server outside the US or Canada to watch Miami Heat vs. Los Angeles Lakers instantly. (I tried South Africa and the UK, and they both worked).
ExpressVPN is slightly more premium than other providers, but its proven performance makes it worth the price. Here's what most people don't know — you can actually save up to 49% when you take advantage of its latest discount. The deal might change so be sure to check and see if it's still available.
If you're not ready to commit to a subscription, ExpressVPN als offers a money-back guarantee so you can try it out completely risk-free for 30 days. This could also be a useful option if you only intend to watch a few matches. I tested out the refund policy and found it to be really straightforward. The customer support agent did ask me some questions about why I wanted to cancel my subscription, but then quickly processed my request after. I got my money back within 5 days, which was surprisingly quick!
Watch The NBA Finals With ExpressVPN!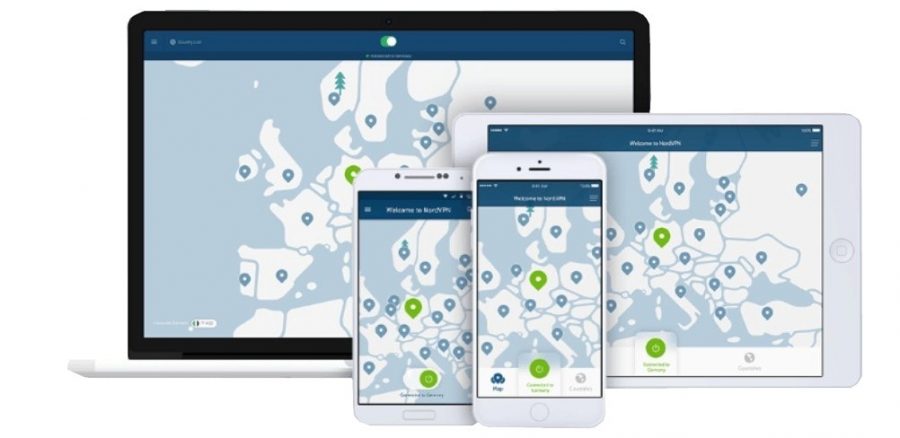 Fast connections means no buffering during the games
5,400 worldwide servers to catch NBA matches live
Connect up to 6 devices simultaneously
30-day money-back guarantee
Also unblocks ESPN, DAZN, BT Sport, Sky Sports, FuboTV, and more
Compatible with: Windows, Android, iOS, macOS, Chrome, Linux, Firefox, routers
With a huge network of worldwide servers, NordVPN virtually guarantees access to all the Finals excitement. The right servers were easy to find by scrolling through the list on the left, and I connected with just one click. From there, I repeatedly tested International League Pass (as well as ESPN+, Sling TV, and Hulu + Live TV), and NordVPN defeated their geoblocks every time. While all the servers worked during my tests, #91 in South Africa and #2073 in the UK were among the most reliable for unblocking League Pass.
The ability to unblock streaming platforms is a must, but so are fast speeds; otherwise, you'll sit through buffering and miss the action. I was impressed when I tested NordVPN's speeds. After checking 20+ servers throughout South Africa and Europe, the greatest speed loss I observed was just 26%. This meant my connections stayed well above 45 Mbps and were fast enough for HD streaming with no interruptions.
NordVPN is a great service, but it doesn't accept PayPal. Considering that it's one of the most popular payment methods, I was disappointed to see this. However, the VPN does offer a ton of other payment options, including credit cards, Google Pay, Amazon Pay, and even cryptocurrencies (a great option if you want complete anonymity for your purchase). It also regularly runs promos that really bring down the price, so be sure to check its current offer.
If you're unsure about NordVPN, you can use its 30-day money-back guarantee to try it out for yourself for free. I tested the refund policy to be sure it worked, and I got my money back in just 3 days — that was much faster than I expected. But be prepared: NordVPN will try to troubleshoot your issue first; however, the representative only asked me a couple of questions before confirming my refund.
Watch The NBA Finals With NordVPN!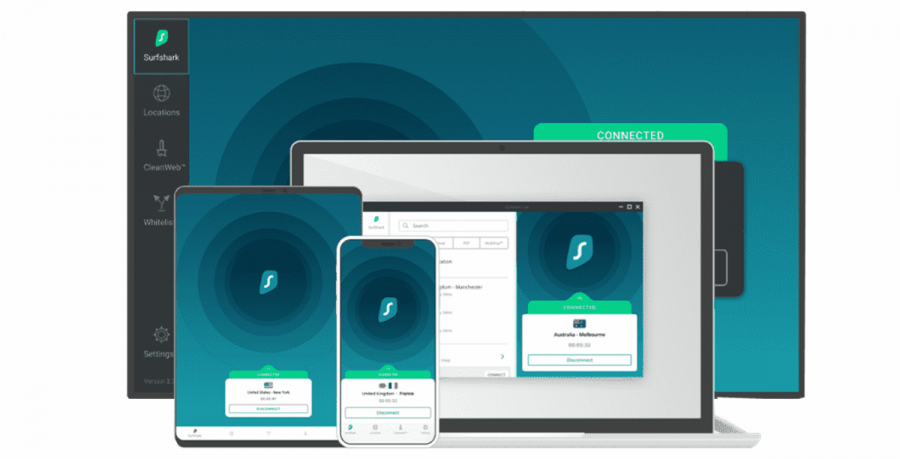 Speedy servers for no interruptions during the NBA Finals
Unlock every NBA game thanks to 1,700 worldwide servers
Unlimited simultaneous device connections
30-day money-back guarantee
Also unblocks ESPN, DAZN, BT Sport, Sky Sports, and more
Compatible with: Windows, Android, iOS, macOS, Chrome, Linux, Firefox, routers
Surfshark includes an unlimited number of device connections — this is a huge perk because it means you (and everyone else in the house) can watch Miami Heat vs. Los Angeles Lakers on virtually every gadget in the house. I managed to get the VPN going on 13 devices at the same time, so I'm confident in its claim.
When I tested Surfshark's ability to get around geoblocks, I ran into a small problem: I was blocked once when trying to access League Pass in Germany. However, all I had to do was disconnect and try another German server — and I got instant access after that. Aside from this small setback, I found the VPN's server network to be reliable for unblocking NBA games. I didn't encounter any other blocks, even as I switched from server to server.
My testing showed that Surfshark's speeds were on par with other top performers, which is great news for watching fast-paced action like basketball. I ran about 30 speed tests on the various servers, and the slowest speed I saw was 45.25 Mbps download. These speeds are more than fast enough for HD streaming, so you'll catch every little detail of the Miami Heat vs. Los Angeles Lakers action.
Surfshark offers a 30-day money-back guarantee, perfect for testing the service risk-free. More impressively, I found that you can still take advantage of the refund policy, even if you use one of its current discounts. As far as getting your money back, it's fast and easy. I cancelled by service and requested a refund via the 24/7 live chat, and the money was back on my credit card in about a week.
Watch The NBA Finals With Surfshark!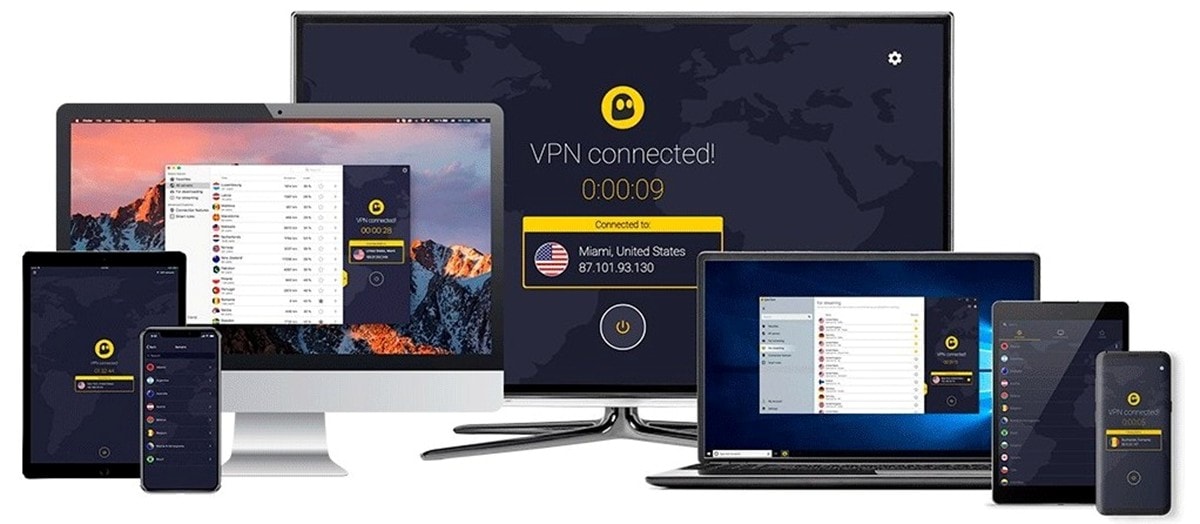 Reliable speeds to maintain high picture quality
6,300 servers in 90 countries to unlock the Finals
Connect up to 7 devices at one time
45-day money-back guarantee
Also unblocks ESPN, DAZN, BT Sport, Sky Sports, and more
Compatible with: Windows, Android, iOS, macOS, Chrome, Linux, Firefox, routers
CyberGhost is compatible with more than 10 different devices and platforms, so you can watch the NBA Finals on practically any device you want. I tested the VPN on my computer using both the Windows app and the extensions for Chrome and Firefox — no problems whatsoever. I also tested the mobile apps on my tablet and smartphone; again, great results. Even getting the VPN running on my PS4 was easy and took just minutes.
CyberGhost is reliable at unblocking International League Pass throughout the world. I also had no issues connecting to AT&T TV Now, Sling TV, and YouTube TV while testing dozens of servers in the US. However, I noticed during testing that CyberGhost had major problems unblocking Hulu. I managed to unblock it once, but I couldn't replicate the results on other servers.
As far as cost, CyberGhost is expensive when it comes to the monthly subscription, but pricing gets better when you choose longer terms. When you take advantage of one the VPN's current deals, you can get discounts of up to 79%. With those kinds of savings, I discovered it's actually cheaper to sign up for 6 or 12 months at a time.
Like other premium VPNs, CyberGhost offers a satisfaction guarantee, and it was so easy to get my money back. It took less than 5 minutes via live chat, and the representative never pressured me to stay. But you do have to pay attention to the fine print: CyberGhost offers a 45-day money-back guarantee, but only on subscriptions of 6 months or longer.
Watch The NBA Finals With CyberGhost!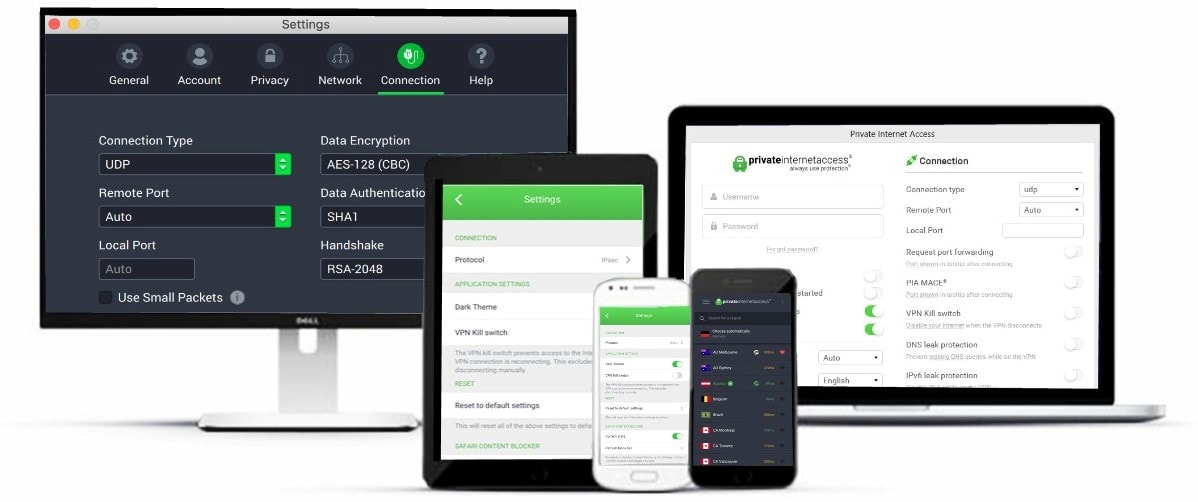 Decent speeds across most of its servers for easy streaming
11,250 servers across the world for bypassing NBA geoblocks
Watch the games on up to 10 at once
30-day, money-back guarantee
Also unblocks ESPN, DAZN, BT Sport, Sky Sports, and more
Compatible with: Windows, Android, iOS, macOS, Chrome, Linux, Firefox, routers
With Private Internet Access' unlimited bandwidth and data, you can watch every game of the NBA Finals — plus anything else you want, without worry of being cut off or having your connection quality tampered with. I spent a weekend checking out other programming with my International League Pass, and I was never booted or felt like my speed was being throttled.
Despite having 11,250 servers around the world, Private Internet Access did have some problems getting around geo-restrictions. The first time I tried Hulu + Live TV, I got an error message about using a proxy. While I didn't get errors while accessing League Pass, the site did refuse to load a couple of times, undoubtedly due to server issues. In both cases, I could eventually get around the geoblock by switching servers, but I hated wasting my time.
Another area where Private Internet Access can improve is its speeds. During my tests, I saw fluctuations that I wasn't happy with. I tried dozens of servers, and while many were fast and steady, some were slow. In most cases, streaming worked, but I did encounter buffering issues on the slowest servers that was annoying to sit through during live TV. Again, switching servers usually fixed these issues, but I'd prefer that they didn't occur to begin with.
Private Internet Access has its shortfalls, but it's still a good option for catching Miami Heat vs. Los Angeles Lakers, especially since you can take advantage of its 30-day money-back guarantee to try the service risk-free. If it doesn't work for you, all you have to do is ask for your money back. Should you decide it's the right pick, check out its current promos so you can save on a longer subscription.
Watch The NBA Finals With PIA!
Where Can I Watch Miami Heat vs. Los Angeles Lakers
Not all broadcasters stream all matches — some only have deals to broadcast certain games. This makes it tricky to know which platform to sign-up for to gain an all-access pass to the NBA games. Here's a shortlist of the best options for you to catch the latest NBA action.
USA
The NBA Finals games are split between 4 broadcasters in the US. This means that to catch all the action, you'll need to subscribe to a streaming platform that includes ABC, ESPN, NBA TV, and TNT.
Sling TV — This is my first choice in the US as it's the cheapest compared to all other options. You can also access it from anywhere in the world as long as you have a VPN connected to a US server. With Sling TV's Orange plan, you'll pay $30 per month for ABC, ESPN, and TNT. To add NBA TV, you'll need to purchase the NBA Team Pass for an extra $17.99 per month, bringing your total to $47.99 per month to catch all the NBA games live. You also get a 3-day trial.
YouTube TV — YouTube TV makes things easy by offering just one tier at $64.99 per month, which includes all the channels you need for watching the NBA Finals. It also offers a 7-day free trial so you can test out the service.
AT&T Now — You'll find all 4 channels for watching the NBA Finals on AT&T Now's XTRA package. The price tag is steep at $124 per month, so I'd only recommend this option if you're already a subscriber. If you want to give it a try, there is a 7-day trial so you can watch free for a week.
ESPN, Hulu + Live TV, and fuboTV broadcast limited games only. ESPN+ does not show any games.
Canada
The NBA Finals are being broadcast in Canada on SportsNet Now and TSN Direct. To watch every game, you'll need to subscribe to both services.
TSN Direct — TSN Direct offers the best monthly rate for Canadian viewers. It offers daily access for $4.99, but the better deal is its 6-months plan at $99.99. If you go for this option, it's like paying for 5 months and getting the 6th month free.
SportsNet — SportsNet costs more per month, but if you're only subscribing for the NBA Finals, you'll save more in the long run as you can cancel when the season ends in October. SportsNet Now's Regional package costs $19.99 per month, and unfortunately, there are no free trials available right now.
Canadians may also purchase an NBA International League Pass subscription, but some games will be blacked out.
Rest of the world
While DAZN and Sky Sports via Now TV will broadcast the NBA Finals in some European countries, the cheapest and most convenient option for viewers outside the US and Canada is an NBA International League Pass subscription.
You can purchase International League Pass in most countries, but during my tests, I found the cheapest country to buy from was South Africa. When compared to the price in the UK, League Pass was over 80% cheaper in South Africa.
Try ExpressVPN FREE For 30 Days!
Step-By-Step Guide to Sign Up for NBA International League Pass
1. Choose a VPN with reliable South African servers. My favorite is ExpressVPN — I've never seen an error message or been blocked when using any of its servers.
2. Connect to a South African server. You must connect to South Africa in order to take advantage of the country's super-low pricing.
3. Navigate to the NBA's League Pass page. Scroll down to the subscription options, and choose the first League Pass option (priced at R169.99 / USD $11.99).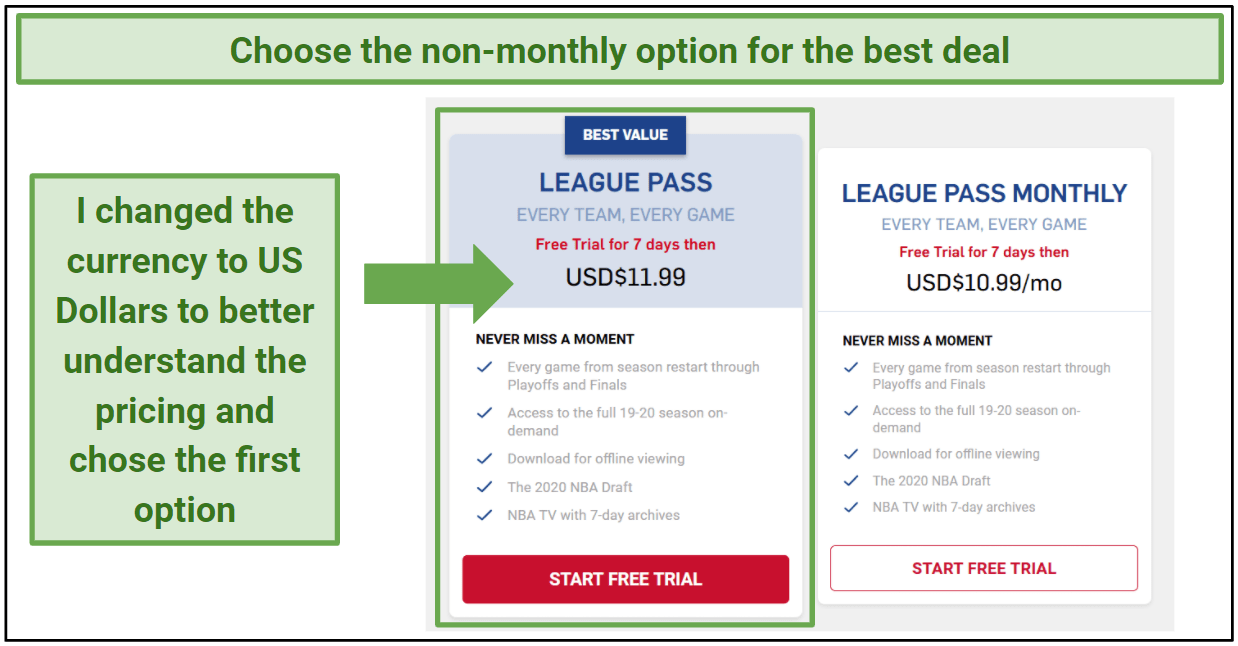 Changing the currency makes it clear that League Pass is very cheap in South Africa
4. Create an account. You'll need to enter your email address, a password, and your birthday before proceeding to checkout.
5. Submit billing information. Enter your credit or debit card information, including your country of residence. Even though I used a US credit card, I had no problems subscribing.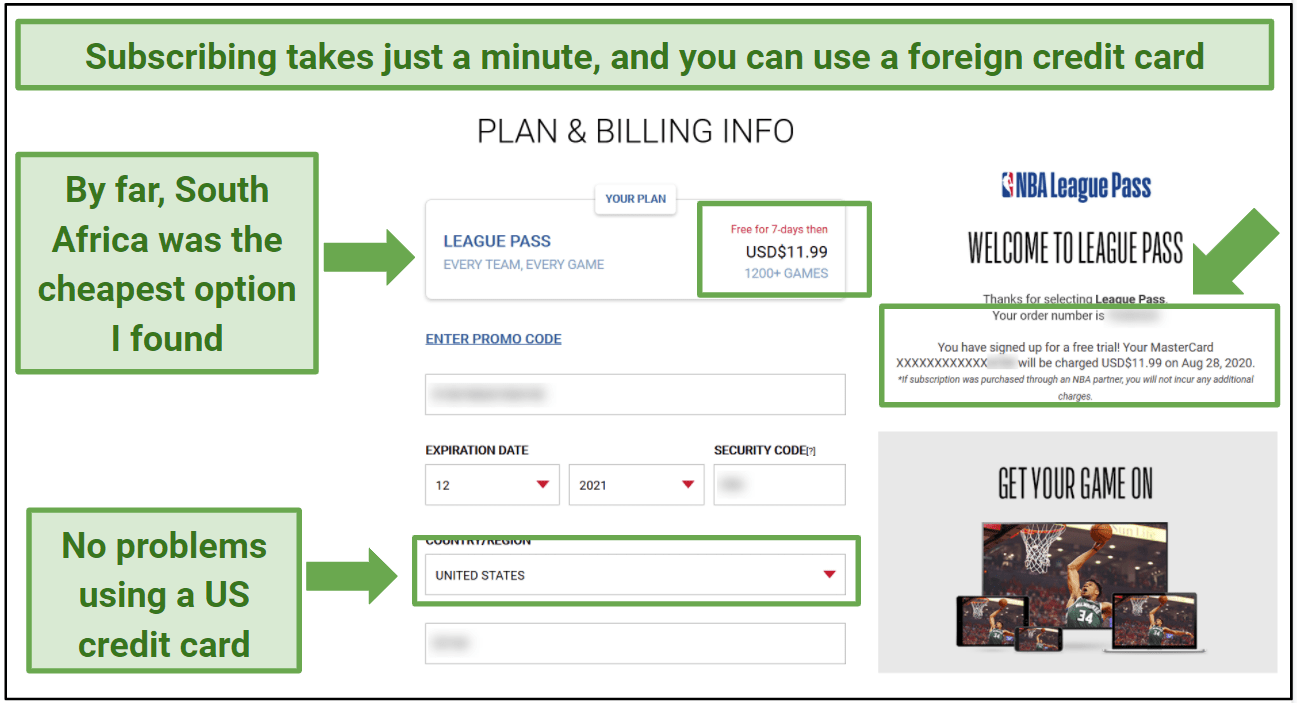 I used my US credit card to subscribe in South Africa, and I even took advantage of a 7-day free trial
6. Start streaming NBA games! After your payment is confirmed, you'll be redirected to the League Pass homepage. Look for the game you want to watch, and enjoy!
FAQs on Watching the NBA Finals With a VPN
😎 Can I watch the NBA without a cable or satellite subscription?
Yes, you can still catch the Finals without cable by signing up online for NBA International League Pass. You can purchase a subscription in most countries, but you'll find the best deal when you use a VPN and subscribe from South Africa.
🤓 Where can I watch the latest NBA games online?
There are several streaming services you can use to watch the NBA, depending on your location. They include:
United States: Sling TV, YouTube TV, AT&T Now, Hulu + Live TV (select games), fuboTV (select games)
Canada: SportsNet, TSN Direct
Rest of the world: DAZN, Sky Sports, NBA International League Pass
If you don't already have a subscription to one of these streaming services, the cheapest and most convenient way to stream the NBA is with an International League Pass subscription. International League Pass is available all around the world, except these countries: Central African Republic, Democratic Republic of Congo, Cote D'Ivoire, Liberia, Libya, Somalia, Sudan, Zimbabwe, North Korea, Cuba, Iran, Iraq, and Syria.
While League Pass is available in the US, it is a different product than International League Pass and cannot be used to watch the NBA outside the country. Canada has its own version of International League Pass, but some games are blocked out due to licensing restrictions.
To ensure you can watch all NBA games, do not connect to servers in the banned countries, the US, or Canada.
🤑 Can I watch the NBA Finals online for free?
There are no legitimate sources streaming NBA games for free. You'll find lots of fake streams, but these are likely to be loaded with ads and malware with the purpose of stealing your personal information.
However, there is a safe, simple hack you can use: Take advantage of free trials and money-back guarantees to watch the games at no cost.
For example, both NBA International League Pass (South Africa) and YouTube TV currently offer free 7-day trials. ExpressVPN and other premium VPNs offer 30-day money-back guarantees, so you can try them out for free, and then get a full refund during the guarantee period. Combine these offers to watch Miami Heat vs. Los Angeles Lakers for free.
😃 Can I use free VPNs to watch Miami Heat vs. Los Angeles Lakers?
Some free VPNs may have the ability to unblock the streaming sites broadcasting the NBA Finals, but I wouldn't recommend them.
For starters, the truth is that most free VPNs don't do a good job of bypassing geoblocks — for this, you really do need a reliable VPN.
Should you find a free VPN that does work, you'll face limitations that make streaming difficult. Lots of free services impose bandwidth and data limits — they have to in order to keep costs low. This means your stream may cut off half-way through the game or constantly buffer due to slow speeds.
Free VPNs have to make money; that's the only way they can keep their business running. If they aren't charging you, they're making money another way — and it usually comes at the expense of your privacy. Free VPNS often record your browsing habits and collect your personal details, just to sell the info to third parties. So you might not be paying to use it, but you might be putting yourself at risk in other ways.
What do I do if an NBA game is blocked?
If you're facing a geoblock or proxy error message, try using one of the VPNs I've recommended — I've tested them extensively and found them reliable at unblocking the streaming platforms that broadcast NBA games.
If you are already using a recommended VPN, there's a chance that the server you've connected to has been blocked. It's not a big deal; it happens all the time. All you have to do is disconnect and try another server to bypass the geoblock.
If you still can't connect to the streaming platform of your choice, reach out to your VPN's customer service. All of these services have stellar customer support, so they'll help you find the right way to connect.
What else can VPNs do?
You know that VPNs can help you watch the NBA Finals, but you might be wondering what else they can do. They're actually powerful tools that can help unlock more of the internet, all while keeping you safe. High-quality VPNs also:
Unblock hundreds of streaming platforms from around the world. No matter where you live, you can access Netflix, Disney+, Hulu, BBC iPlayer, Sky Go, DAZN, and more by using a premium VPN to bypass geo-restrictions.
Safeguard your data and other personal information. Using sophisticated technology, like military-grade encryption and DNS leak protection, VPNs ensure that snoops aren't privy to your private details. This includes everything from your physical location and credit card details to the websites you visit and files you send to others.
Offer anonymity for surfing the web. Whether you're exploring the Dark Web, torrenting files, or just doing online research, VPNs hide your identity by issuing you a new IP address and hiding your online activity.
Protect against online threats. Many premium VPNs offer malware protection and ad blockers to keep your computer from being infected by malicious software or trackers.
Unlock lower prices on digital goods. You may be surprised to learn that companies price their digital goods differently according to country. Use a VPN to check the prices of things like Netflix, NBA League Pass, and other digital goods to see if you can find a better deal.
Don't Miss Out on Any NBA Finals Action!
Think you have to miss the excitement of the 2020 NBA Finals because you're not in a country showing games? Think again. With a high-quality VPN, you can connect to a server anywhere in the world and watch every minute of the action.
I conducted a lot of tests to see which VPNs could unlock NBA action, and ExpressVPN never let me down. It also offers a 30-day money-back guarantee. Test it for yourself, and if you're not satisfied, you can request a refund — there's no risk!
To summarize, the best VPNs for watching Miami Heat vs. Los Angeles Lakers from anywhere are…
Provider
Our Score

9.8

/10

9.8

/10

9.6

/10

9.4

/10

9.2

/10
Privacy Alert!
You are exposing yourself to the websites you visit!
The information above can be used to track you, target you for ads, and monitor what you do online.
VPNs can help you hide this information from websites so that you are protected at all times. We recommend NordVPN — the #1 VPN out of over 350 providers we've tested. It has military-grade encryption and privacy features that will ensure your digital security, plus — it's currently offering  68% off.