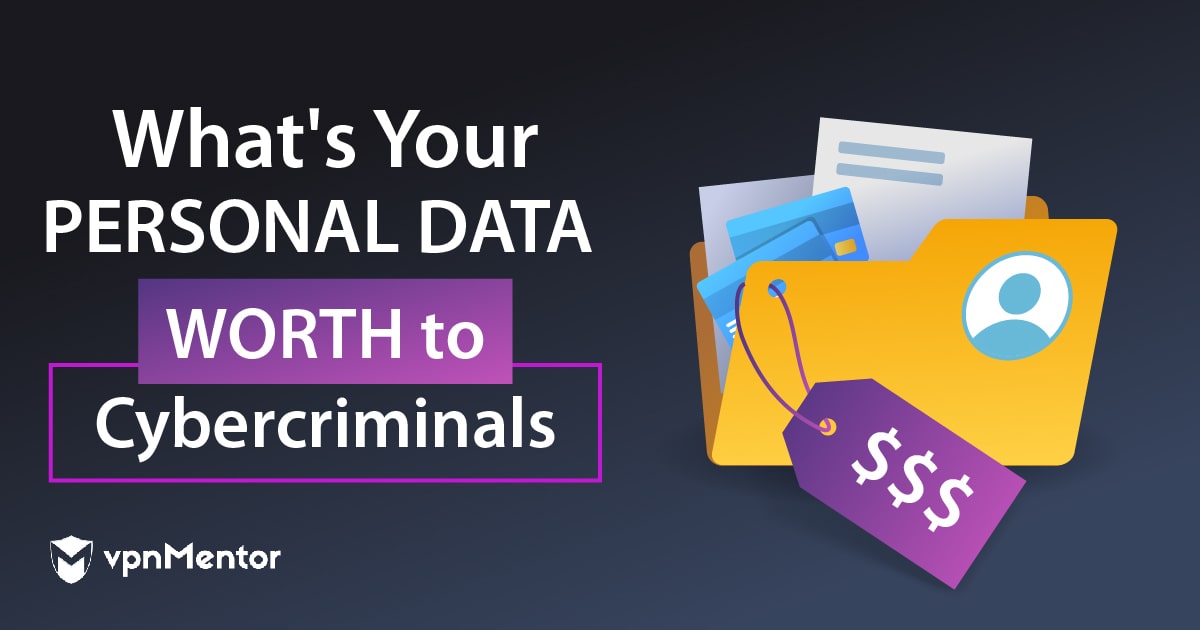 What's Your Personal Data Worth to Cybercriminals in 2023?
You know that identity theft is a major issue that can cause devastating damage, but have you ever wondered how much cybercriminals actually pay for the personal information that can upend your life?
Even though cybercriminals steal trillions of dollars from unsuspecting consumers every year—with the damages expected to top $6 trillion by 2021—you'll be shocked to learn how little it costs them to obtain your credit card info, social security number, and more.
Is it $100, $5,000, or even $10,000? Find out bellow. And find easy ways to protect yourself from hacking and tell you what to do if your information is exposed.
What Personal Info is Available and How Much Does It Cost?
Having your personal information stolen can take a financial and emotional toll. The average victim of fraud or identity theft loses up to $1,600 and spends 60 hours trying to resolve the issue. Some lose thousands more, and all are left feeling angry, fearful, and helpless.
Considering the widespread damage that cybercrime leaves behind, you'll be shocked to know that, according to security and software company Symantec, criminals can buy your personal info for just $45. This is all it costs on average for a file containing your birthday, credit card details, name, and social security number.
If you think that's depressing, it gets worse. While credit card info is the most commonly traded personal information, that's not all that's being sold. Our research shows that other forms of personal information, such as the login details of your Netflix account or a copy of a utility statement, can be had for as little as 10 cents.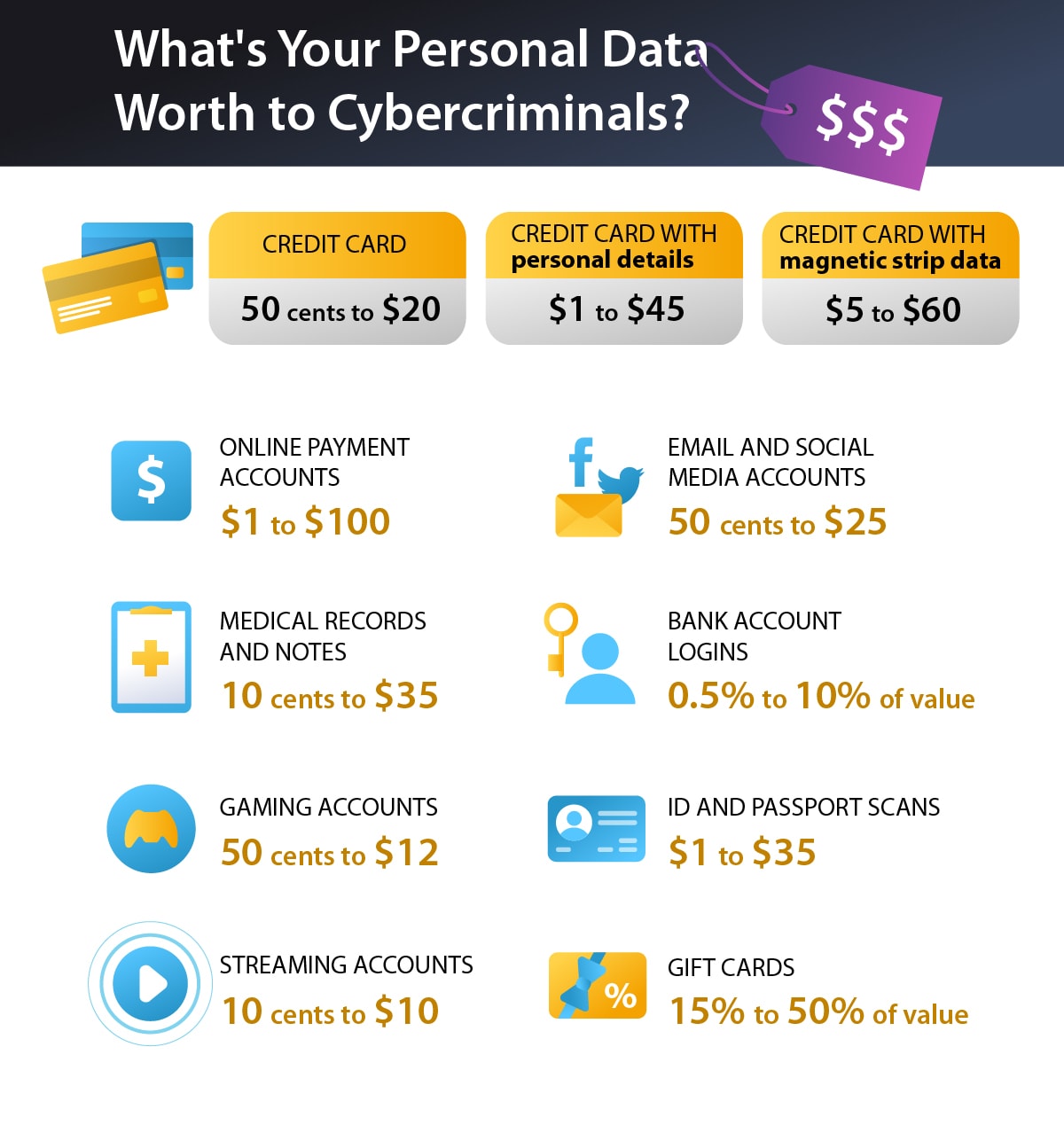 The price of your data varies based on several factors. The amount and type of data, how much data is available, and the reusability of the data all determine whether thieves will pay pennies or dollars. Either way, the price they pay is nowhere close to the damage they cause.
How Do Hackers Steal Data?
There are several ways that your personal information can be compromised. Some criminals may still do it the old-fashioned way by physically stealing, such as snatching your wallet, taking your computer or mobile phone, or snooping through your mail.
Digital hackers have other options. Some may use a method called formjacking, which allows them to steal credit card data by injecting malicious code into the payment form of an online store's checkout page. You think you're entering info that can only be seen by British Airways, Ticketmaster, or Newegg—all companies that have been compromised before—but the hackers see it, too.
Data breaches, where a company's database of personal information is accessed by unauthorized users, is yet another way criminals get their hands on your data. You've probably heard of the brazen attacks on Equifax, Yahoo, even Adult Friend Finder in recent years. But the truth is, data breaches both big and small occur regularly, and many aren't reported until months or even years after the fact.
Other methods of stealing info, as if the above weren't enough, include:
Accessing unsecured networks - when you connect to an unsecured network, like public WiFi, you have no idea who may be peeking in on your activity. If you access online banking, share info over instant messaging, or log into your email account, a hacker could be taking notes.
Phishing - where hackers pretend to be someone else—like your bank, the government, or even a friend or family member—to convince you to provide personal information.
Malware - computer programs that obtain your information by asking for it (by pretending to be legit software) or just taking it (by combing through your files). You've heard them referred to as keyloggers, spyware, trojans, and viruses.
Malicious apps and websites - hackers create fake apps or websites to collect your personal details. These may include free games that access all your phone's data or a fake storefront that collects payment details but never ships a product.
Once cybercriminals have your info, they'll use it themselves or sell it to other fraudsters. The Dark Web, a portion of the internet that you can't access by using familiar browsers like Chrome and Firefox, is the most popular avenue.
What Hackers Do With Your Personal Info
The most obvious thing hackers do is steal your money—either directly by funneling it from a bank account or by creating new accounts under your name. They may use your credit card details to shop at Amazon or set up a Netflix account. They might also use your info to create a sham social media profile to fool your friends or have a fake driver's license made.
While that's scary, there are even more frightening things to worry about. In some cases, hackers may steal info like personnel files, bank records, and private photos for purposes of blackmail, extortion, or even espionage.
Last, some hackers may target you directly. Stolen info, such as an online alias where you share political commentary or an online dating profile, may be shared to prank or embarrass you.
In more nefarious cases, doxxing—releasing personal information about your identity—could put you in danger. Imagine internet users sending you hate mail, calling your cell phone, or even showing up to your house over a post you made online or a particular view you hold.
How You Can Protect Yourself
Identity theft is rampant, but there are steps you can take to protect yourself from becoming a victim. You have to be proactive, especially when some circumstances—such as data breaches—are entirely out of your hands.
Check Whether Your Personal Info Has Been Part of a Breach
It's important to know whether your personal information is already floating around in cyberspace. Two good sites for checking include DeHashed and have i been pwned?
Check these sites regularly to see if you're a victim. If you are, review the information that has been compromised, and whenever possible, change it. Create different passwords, request new credit card numbers, and if necessary, close accounts you no longer need.
If you're part of a breach that involves financial data, set up a credit monitoring service so you'll receive notification of any fraudulent activity. You might also consider freezing your credit to prevent any new accounts from being opened.
Use Better Passwords
One of the first steps to better protecting your personal information is to create distinct passwords for each account you have.
Make sure each password is strong—a long string of numbers and letters that, as a whole, don't refer to any personal or financial information related to the specific account. Don't become password-weary and use variants of the same phrasing over and over.
To help you create strong passwords and remember them, consider using a password manager. We routine test available services and discuss the best in our password manager review.
Last, see whether your accounts offer multi-factor authentication (MFA). MFA doubles down on passwords. You use your distinctive password to initiate access to the account. You then access the site with a one-time password that's sent to your computer or mobile device. The password is available only for a specified time period—usually less than 30 minutes.
Use a VPN
A Virtual Private Network (VPN) masks your whereabouts on the internet, giving you both anonymity and privacy. It encrypts the flow of data between you and your server, so no one—including hackers, the government, or even your own internet service provider—can see the information that's emanating from your online activity.
VPNs are a crucial tool in keeping your data safe whenever you head online. They're a must when you access insecure networks, such as public or airport WiFi, but they can also do so much more. Use them to combat censorship, get the most out of your streaming subscription by accessing geoblocked content, and possibly even increase your internet speed.
Our number one choice for the best protection, fastest speeds, best streaming experience, and all-around performance is ExpressVPN.
Here are our top VPN picks, out of the 300 we've tested, that keep you safe, give you great connection speeds, and let you browse and stream securely and anonymously...
Find out more about staying safe with a VPN in our VPN 101 guide.
Ready to protect yourself?
Protect Your Identity With ExpressVPN Today!
Privacy Alert!
Your data is exposed to the websites you visit!
The information above can be used to track you, target you for ads, and monitor what you do online.
VPNs can help you hide this information from websites so that you are protected at all times. We recommend ExpressVPN — the #1 VPN out of over 350 providers we've tested. It has military-grade encryption and privacy features that will ensure your digital security, plus — it's currently offering 49% off.