How To Unblock Netflix US in 2020 In Seconds [For Any Device]
Updated on 18th February 2020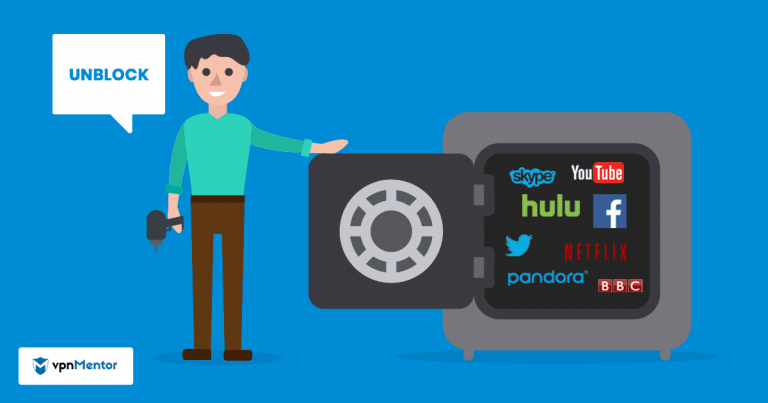 With almost 6,000 available titles, the Netflix US library is one of the biggest out there.
Over 500 of these titles are currently exclusive to the region – and if you're here reading this, then your favorites are probably on that list.
Normally, watching Netflix US abroad would be impossible due to geoblocks. But don't worry! A high-quality VPN can help you access Netflix US from any country in the world.
Below, we'll show you how to unblock Netflix US with a VPN in just five simple steps. We'll also help you choose the best service for your needs and budget.
How to Unblock Netflix US: Quick Guide
To unlock Netflix US from anywhere, you need just two things – the right VPN for the job, and a few seconds of your time.
We used ExpressVPN, our top pick for streaming, to walk you through all the steps. We've also included screenshots to help you along the way.
1. Get Yourself a Reliable VPN for Netflix US
If you haven't set up your VPN yet, simply make an account, then download and install the VPN app.

Make sure your VPN has plenty of US servers.
2. Connect to a US VPN Server
Once your VPN is all set, launch it and pick a US server from the list.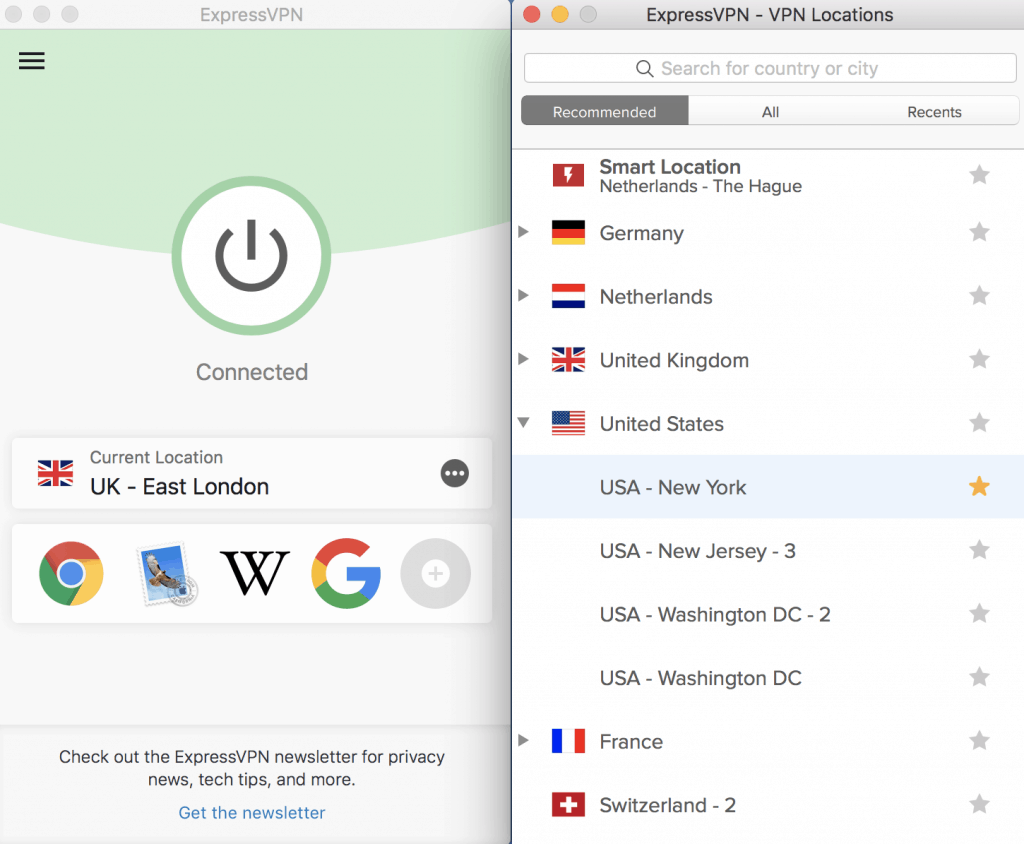 Unless your VPN has special Netflix settings, any US server should work.
>3. Make Sure You Have a US IP Address
Before you head to Netflix, take a moment to check if your virtual location has changed to the US.

NOTE: IP addresses are hidden in the screenshots, so Netflix doesn't end up blocking them.
We have a handy IP lookup tool where you can find your current IP address. If it says you're in the United States, you're good to go.
4. Head over to Netflix
It's time to get on Netflix and sign in, just like you normally would. Only this time, you'll be browsing the Netflix US library.
How do you know? By checking out some US-exclusive titles, of course.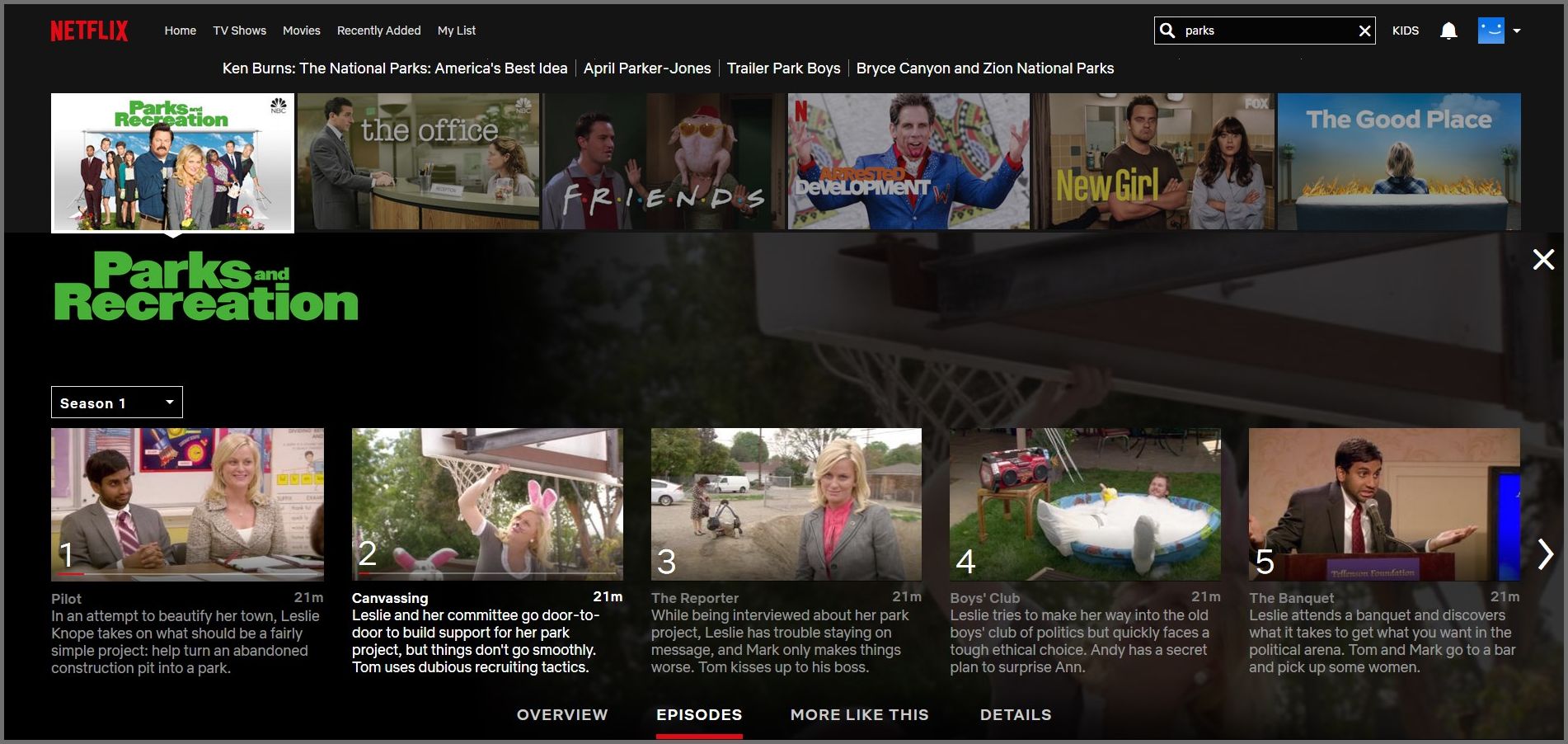 Parks and Recreation has been US-only Netflix title for a long time now. If you see it (or any other title restricted to this region), it means you've been successful.
Only one thing left to do!
5. Enjoy the full Netflix US catalog
You now have Netflix US in all its glory, no matter where you are.
Pick your favorite movie, TV show, or documentary. We hope you love your Netflix marathon – preferably in HD!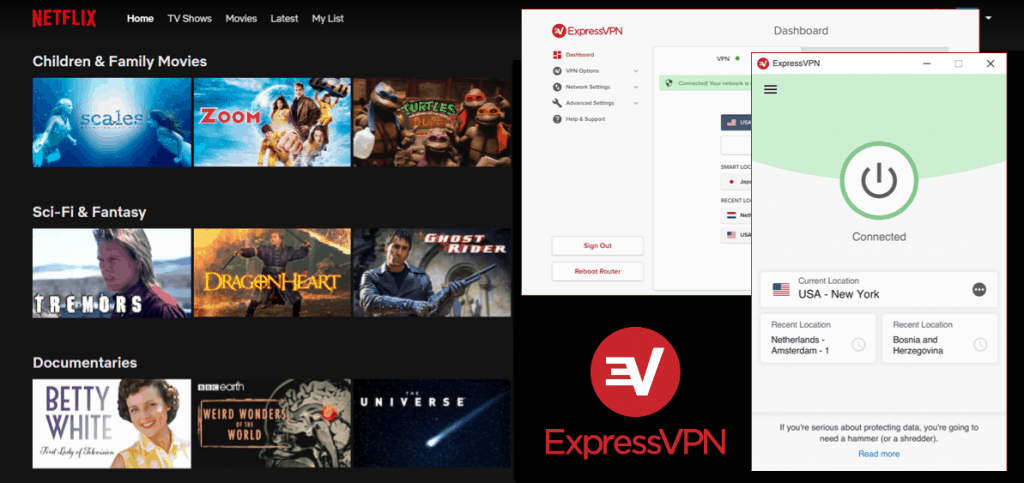 Use this guide at home, or in the hotel on your travels! With the right VPN, you don't have to worry about connection drops, buffering issues, or anything else that might ruin your Netflix US experience.
Start Watching Netflix US with ExpressVPN!
Still Can't Unblock Netflix US?
If you've carefully followed the instructions above, but you're still getting the local Netflix library instead of the US one, try one of these troubleshooting tips:
Clear your browser's cache. Sometimes, Netflix will use cached data to "remember" your usual location when you open it. Clearing the browser cache removes that data, and gives you a fresh start when changing Netflix libraries with a VPN.
Sign out of your Netflix account before launching the VPN. While not mandatory, signing out of Netflix can fix your problem if you're still seeing your country's library.
Try another US server. If your VPN has a decent US server network (it should), just pick a different one. Getting Netflix US outside the country is still based on trial and error – a simple server switch is very likely to take care of your issue
Try another device. If your Netflix and VPN plans support additional devices, simply try out our guide on a fresh device.
Most importantly, remember your VPN's customer support! If you've picked a solid provider, you'll always have live chat as an option, where experts will quickly help you with anything from Netflix issues to server suggestions and other helpful tips.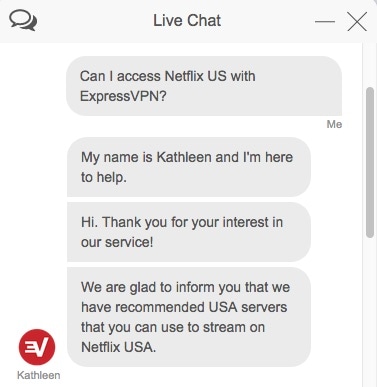 Our final tip – picking a tried-and-tested VPN is the best way to avoid the need for any troubleshooting. For Netflix US fans around the world, here's our top VPN recommendation.
ExpressVPN – the Best VPN for Netflix US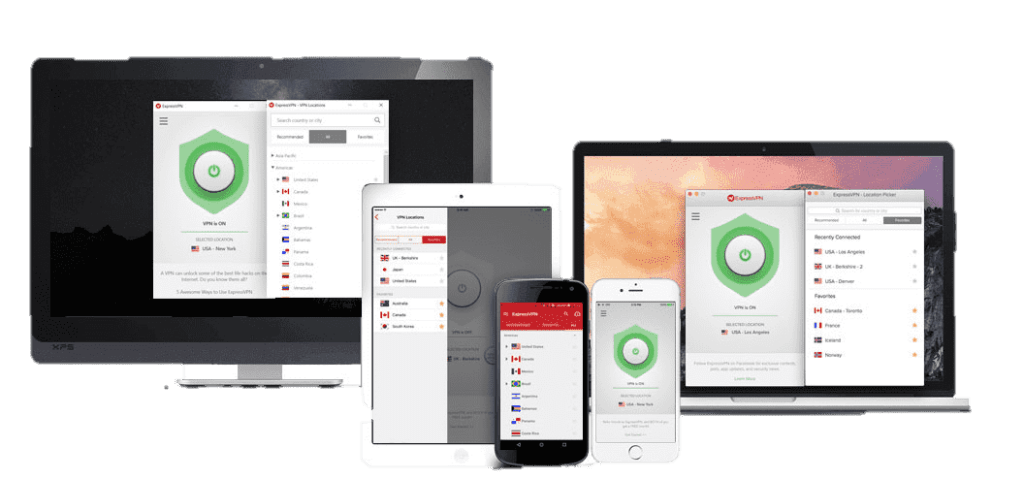 US network: Thousands of servers in 15 major US cities
Unblocks Netflix on: Windows, macOS, Linux, Chromebook, Android, iOS, Windows Phone, Android TV, Amazon Fire TV, Apple TV, Chromecast, PlayStation, Xbox, Nintendo Switch
Also works with: Hulu, BBC iPlayer, HBO GO, Amazon Prime Video, Showtime, Sling TV, Sky TV
Data logging: Strict no-logs policy
We used ExpressVPN for our visual guide because it's super-fast, reliable, and can bypass geo-restrictions and VPN blocks with ease.
These are just a few of the reasons it's our top choice for streaming Netflix US.
ExpressVPN operates 3,000+ servers across 94 countries, with 26 server locations in the US. This means you'll always have great options to unlock Netflix US – and many other geo-restricted streams around the world.
There are easy-to-use apps for all major platforms, and you can protect up to five of your devices with one account.
ExpressVPN uses military-grade 256-bit encryption to protect your internet traffic. It keeps a strict no-logs policy, and the majority of its apps have a built-in kill switch.
It even features split tunneling, which allows you to divert some of your traffic through the VPN and some through your regular internet service provider (ISP). This is extra useful for when you want to stream Netflix US with your VPN but browse the rest of the internet as normal.
Its impressive all-around service has earned ExpressVPN excellent customer reviews. You can try it out risk-free with its 30-day money-back guarantee.
Stream Netflix US Freely with ExpressVPN!
Other VPNs that Unblock Netflix US
All the services we recommend below have been thoroughly tested by our experts. Not only can they access Netflix US, but they will also protect your data with military-grade security.
For more info on the current top picks for streaming Netflix US – and many other catalogs – we recommend checking out our in-depth list of the best VPNs that still work with Netflix.
FAQ
1. Why do I need a VPN to stream Netflix US outside the country?
Netflix offers different shows and movies in every country. The content available in your region's Netflix catalog may not appear in the US one, and vice versa.
You can't simply switch to your preferred Netflix catalog, either. Without extra help, your Netflix is basically locked to the catalog in your current location.
A VPN can "change" this location by masking your real IP address and giving you a new one in the country where the VPN server is located. All you need to do is make a connection.
Now, Netflix thinks you're accessing it from wherever your VPN server is hosted. The bottom line – you unblock Netflix US from anywhere in just a few clicks. Assuming your VPN isn't detected.
2. Does Netflix block VPN traffic?
Yes, much like other popular streaming services such as Hulu and BBC iPlayer. This is one of the reasons why not every VPN out there is ideal for streaming.
Netflix goes even further than some streams. If your VPN is caught, you'll end up with a Netflix proxy error. Simply put, it means the IP address currently assigned by your VPN is on the Netflix blacklist.
This happens more often than you'd think, which is why it's important that your VPN has a big US server park and adds new US IPs/servers regularly.
3. Can I use something else to unblock Netflix US?
You can certainly try, but a proven VPN is the safest, easiest, and most reliable way to bypass the Netflix geoblocks.
Other software, such as proxies and so-called "unblockers," doesn't have the depth and features needed to keep streams like Netflix unblocked for hours at a time.
In short, you need much more than just a US IP address. This includes bulletproof encryption, privacy features such as the kill switch, and protection from deep packet inspection.
Only a VPN offers all that, and even then only a few services are dependable enough in the long term.
4. Do free VPNs work with Netflix US?
Unfortunately, free VPNs have some serious drawbacks when it comes to unblocking Netflix, and streaming in general.
The biggest problem is reliable access. Free VPNs often provide just a few overcrowded servers – and very rarely in the US. Without a US server, you can't even attempt to unblock Netflix US.
Then, there are the data caps and poor speeds. You simply won't find a free VPN that's fast and offers unlimited bandwidth. Both are required for smooth Netflix streaming.
Our advice? If you want to unlock Netflix quickly and without any headaches, stick to a paid VPN that's guaranteed to work. While there are some decent free VPNs out there, streaming isn't one of their strong sides.
5. Do I need a US account to watch Netflix US?
Nope! In fact, it doesn't matter where you registered for Netflix, as long as you have an active account.
When choosing content that's available to you, all Netflix cares about is where you're currently located. So, if you created your account somewhere in Europe or Australia for example, you can still access the full US catalog.
All you'll need is a little help from a VPN. But you already know how to sort that out.
Final Words
Unblocking Netflix US is quick and easy! Whether you want to get the most out of your Netflix subscription, or keep your Netflix library intact on your travels, all you need is our five-step guide to success.
And the right VPN, of course.
Still not sure which one to pick? Take a look at our #1 recommendation – ExpressVPN has the servers, speed, and support for smooth Netflix US streaming. Anytime, from anywhere.
Start Streaming Netflix US with ExpressVPN NOW!
Further Reading
Want to save some of your hard-earned cash? Our budget-savvy experts have compiled a list of the best VPN deals currently available.
Interested to see what Hulu has to offer? These top VPNs can help!
If you want to protect more than one device, take a look at the best VPNs for multiple connections.