Hot VPN is advertised as a VPN service exclusively for iOS devices. It has a large network of 5,000+ servers in 50+ countries.
The idea of a mobile-first VPN service has a lot of appeal for iPhone and iPad users, who often have had to deal with native VPN apps that are essentially stripped-down, weaker versions of desktop apps.
Highlights of Hot VPN include fast speeds, strong encryption, responsive customer support, and a strict no-logs policy.
Weaknesses of this VPN include its inability to access popular streaming content like Netflix, lack of advanced settings, it's for iOS only, and the high price point.
Streaming – Does Hot VPN Work with Netflix?
Hot VPN claims to unblock content on all major video streaming services. We tested its capabilities for ourselves, however, and were not very impressed with the results.
Sadly, it doesn't look like Hot VPN will be helping you rewatch Mad Men on Netflix anytime soon. It was unable to access Netflix content on any of the servers that we tested.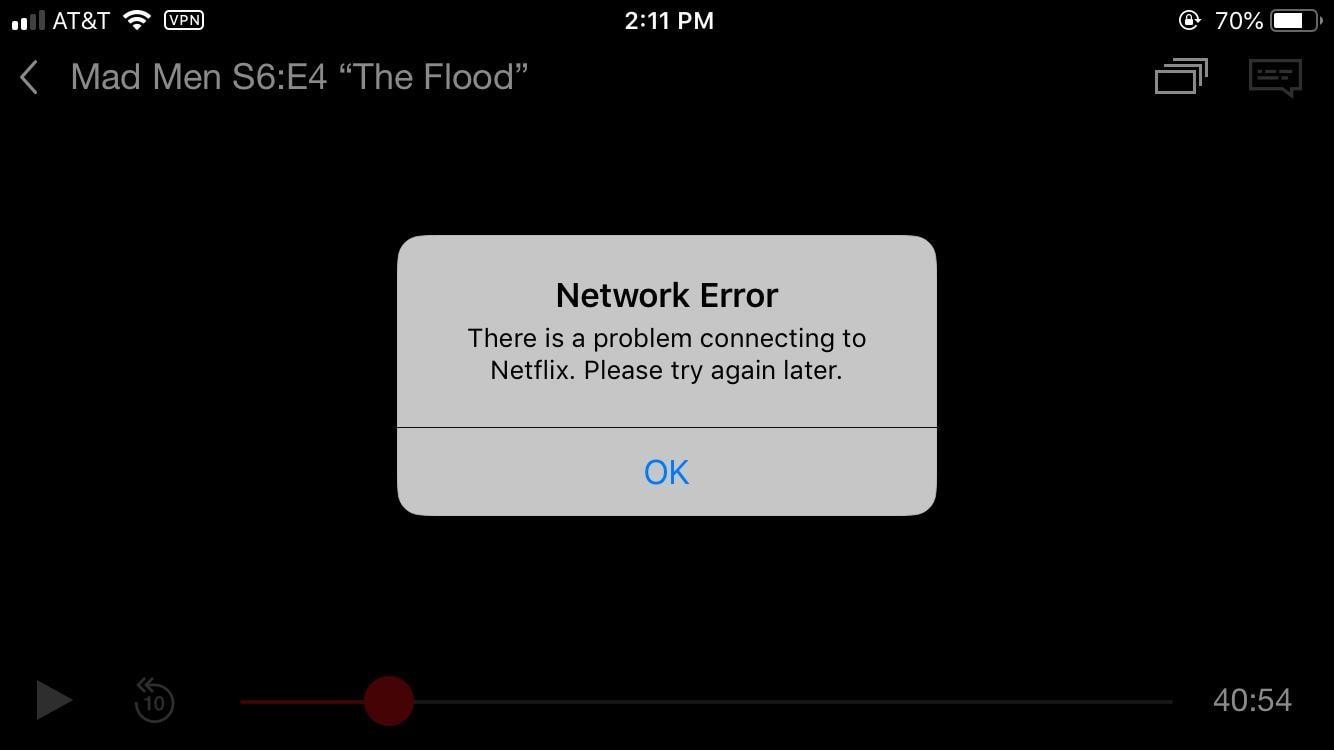 The VPN was also unable to access other popular streaming services, including Hulu, Amazon Video, and BBC iPlayer.
If you want to stream with your VPN, you can find some better options in our guide to the best VPNs for streaming movies.
Server Network and Speeds
Connection speed is particularly important on mobile devices, because they already tend to have slower speeds. A sluggish VPN server could make your iPhone unbearably slow.
To find out how Hot VPN affects iOS speeds, we tested our connection speed on several of its servers.
Before connecting to Hot VPN, our download speed was around 71 Mbps.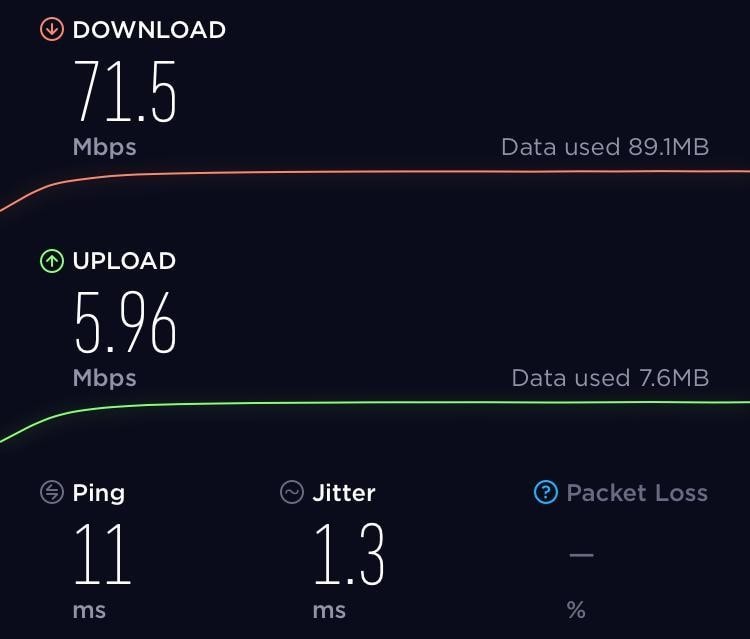 First, we connected to a server in the US labeled "USA > Optimal East," which gave us a great connection speed of 53 Mbps.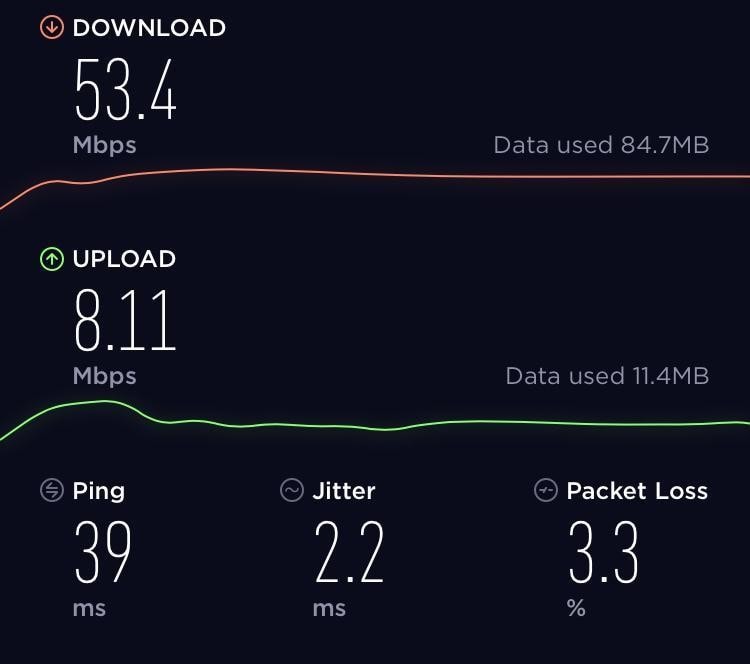 We got equally fast speeds with other servers that we tested in the US.
Next, we tested some servers in Europe.
The UK servers varied a bit in their connection speeds. In the first few tests, our average speed was 56 Mbps.
Later, we tested the UK connection speed again, and this time our average download speed was only 12 Mbps.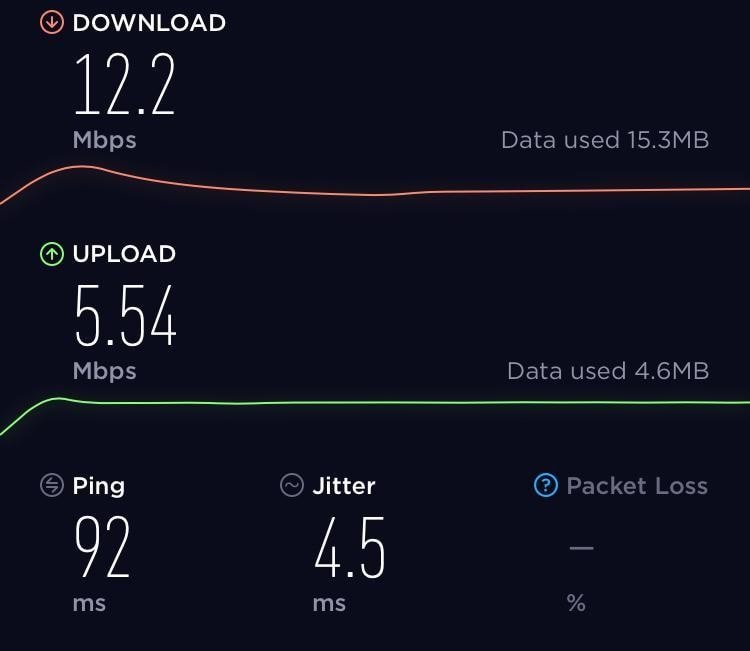 Our average speed while connected to a server in Germany was superfast at 66 Mbps.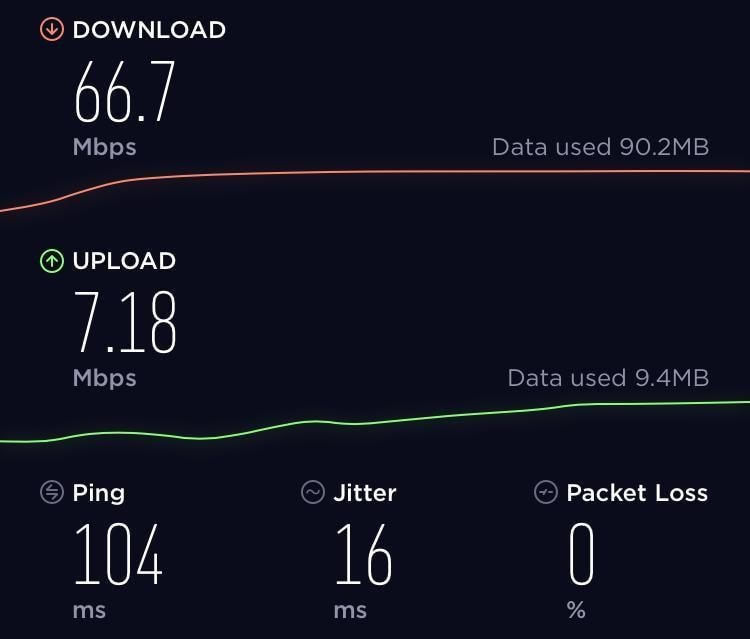 All the way across the world in New Zealand, our download speed was only 8 Mbps. It's common for connection speeds to be affected by physical distance, though.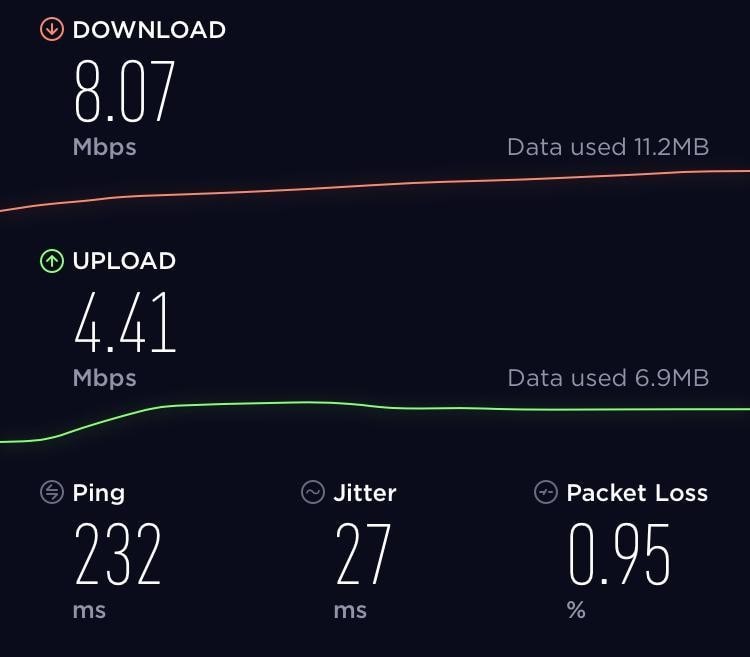 Overall, we were pleased by Hot VPN's fast connection speeds. It's great to find a mobile VPN that won't slow you down significantly.
The only thing we didn't like was that some of the server speeds seemed to vary throughout the day.
Is Hot VPN Good for Torrenting?
We would not recommend Hot VPN for torrenting since it's only offered for iOS.
Security – Is Hot VPN Safe?
Hot VPN's service doesn't include every security feature that we would like to see, but it still has plenty to offer to keep you safe.
The VPN masks your IP address and protects your data with secure encryption and DNS leak protection.
One highlight is dynamic IP addresses. With a dynamic IP address, you will be regularly assigned a new IP address while connected to the VPN. This helps protect your anonymity and prevent tracking.
Hot VPN has recently added a kill switch, which protects your data if your VPN connection suddenly drops.
Does Hot VPN Keep Logs?
Hot VPN claims to have a strict no-logs policy. The privacy policy states that the provider collects no information about users and their usage activity.
You don't have to provide any information when you sign up for the service, which supports this policy.
The downside is that Hot VPN is based in the US, within the jurisdiction of the 5/9/14 Eyes Alliance. If you're looking for total anonymity, it's usually best to avoid providers in this international intelligence-sharing alliance.
Does Hot VPN Have an Ad Blocker?
Hot VPN does not offer an ad blocker as part of its VPN service.
Does Hot VPN Work in China?
Hot VPN does not currently work in China.
Price and Value for Money
Hot VPN's three paid subscription plans are a bit pricey for what they have to offer.
Discounts are offered on longer plans, but even with these reductions, Hot VPN is still more expensive than many premium VPNs that include more features.
Does Hot VPN Have a Free Version?
Hot VPN offers a free version that is supported by ads and only gives you access to servers located in San Francisco.
The website also states that the free version offers slower speeds than the premium version.
If you want to try out the service, there's a 7-day free trial offered on the 12-month subscription plan.
Just make sure to cancel the subscription in your Apple ID settings before the trial is over, if you want to avoid being charged.
Hot VPN's Refund Policy
Hot VPN does not offer a money-back guarantee, but you can take advantage of the 7-day free trial.
Is Hot VPN Compatible with My Device?
Hot VPN is made exclusively for iOS users, and its native app works with all iOS devices.
You can have unlimited simultaneous connections with a single subscription.
Encryption
Hot VPN protects your data with secure AES 256-bit encryption and the IPSec protocol.
This protocol is not as secure as an OpenVPN connection, but it is a common protocol to see with iOS devices. The advantage of IPSec is that it sometimes offers better speeds than OpenVPN connections.
Hot VPN Customer Service
Hot VPN does not offer 24/7 live chat support, but we were impressed with the responsiveness of the email support. We received an answer in less than 10 minutes.
Although the reply was polite and addressed each of our questions, it was very brief. We would have liked to get more details.
For example, we wanted to know why the provider of Hot VPN offers two separate "Hot VPN" apps on the App Store.
Based on the App Store descriptions and our own tests, the only difference seemed to be the pricing. One app offers a free version as well as a choice of paid subscription plans, while the other only offers a paid lifetime subscription.
We wondered why the provider would create two different apps for this reason, so we were hoping to get some clarification from the customer service team.
Unfortunately, the response didn't really answer our question.

We were pleased with the support team's responsiveness, but fast responses are only helpful if they actually answer your questions.
We would like to see the Hot VPN support team offer more thorough responses to customer questions in the future.
User Experience
Hot VPN offers a simple, user-friendly interface without much room for customization.
If you're looking for a fast, one-click VPN that you can use without worrying about advanced settings, you may like Hot VPN's straightforward design.
A paid Hot VPN subscription gives you access to a full list of server locations. You can only choose your location, not your specific server. Clicking on a server location will immediately connect you to a server.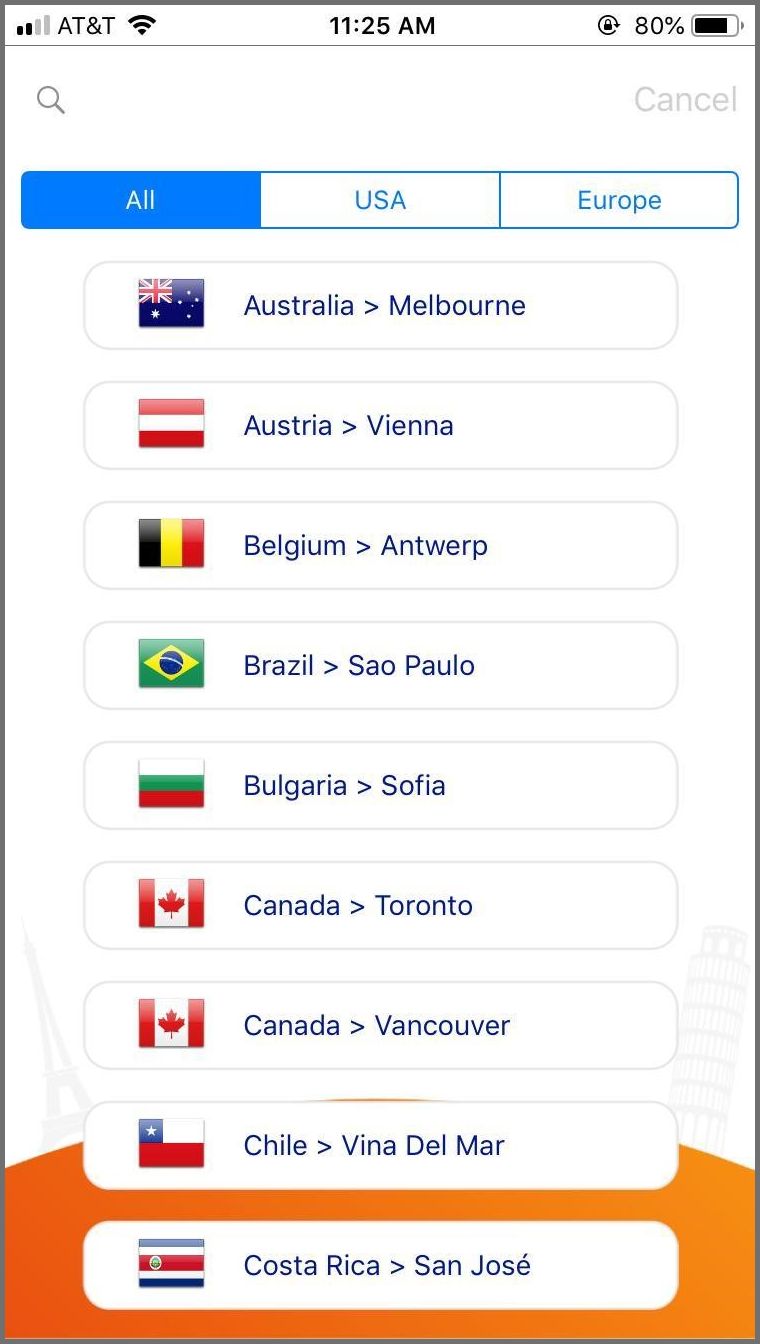 You can also click on the Power button on the main screen to connect to your most recent server location.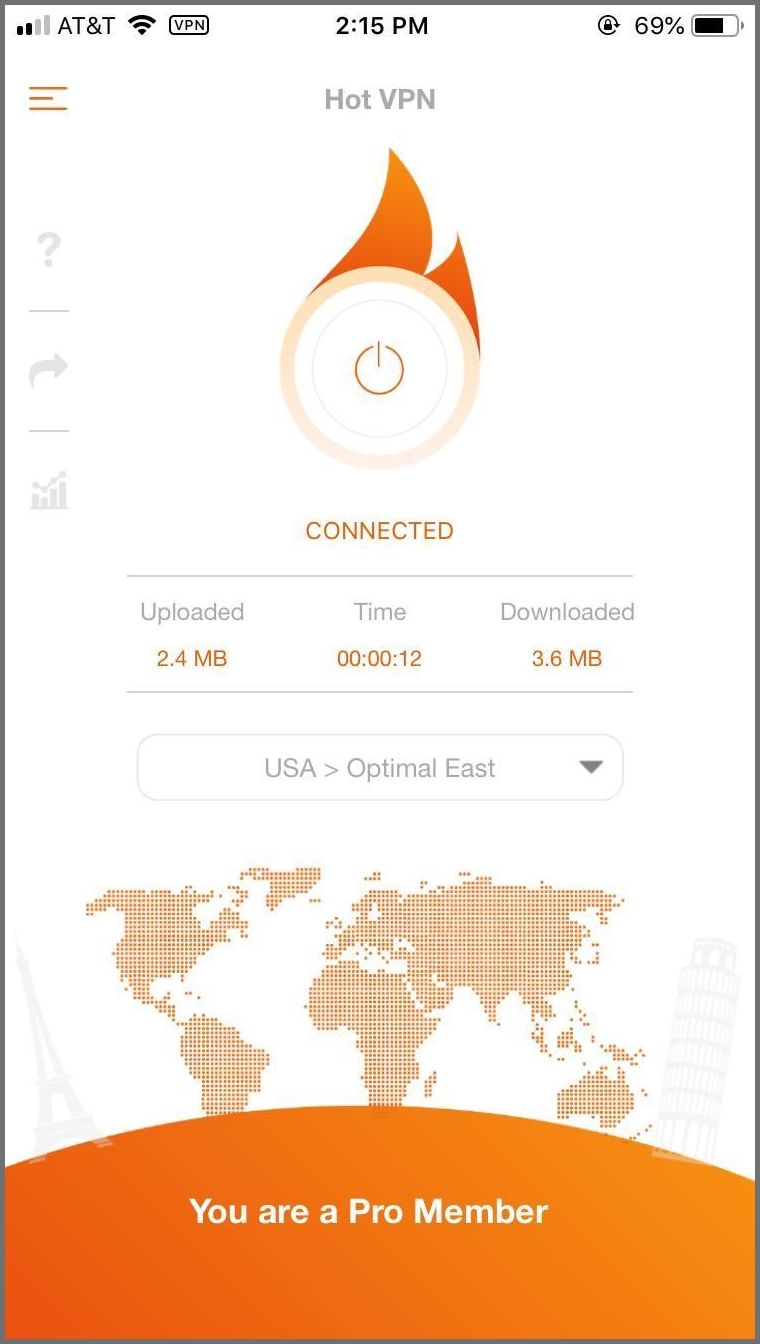 Keep in mind that you must disconnect from your current server before connecting to a new server. We sometimes thought we had connected to a new server just by clicking on it, only to later realize we were still connected to our previous server location.
Other than choosing your server location, you don't have the freedom to change any settings. What you see is what you get. Experienced VPN users may feel a bit restricted by the lack of options.
If you just want a simple VPN for your iOS device, Hot VPN is at least fast and secure. However, most top VPNs are iOS-compatible and you can get a lot more for your money – especially if you want to stream services like Netflix. Check out our guide to the best Netflix VPNs for some recommendations that are iOS-friendly and a little more functional.
Hot VPN Features — Updated in January 2022
5.5
💸

Price
$8.99/month

📝

Does VPN keep logs?
No

🖥

Number of servers
5000

💻

Number of devices per license
Unlimited

🛡

Kill switch
No