How to Watch Winter Love Island UK on ITV2 for FREE in 2020
Updated on 21st January 2020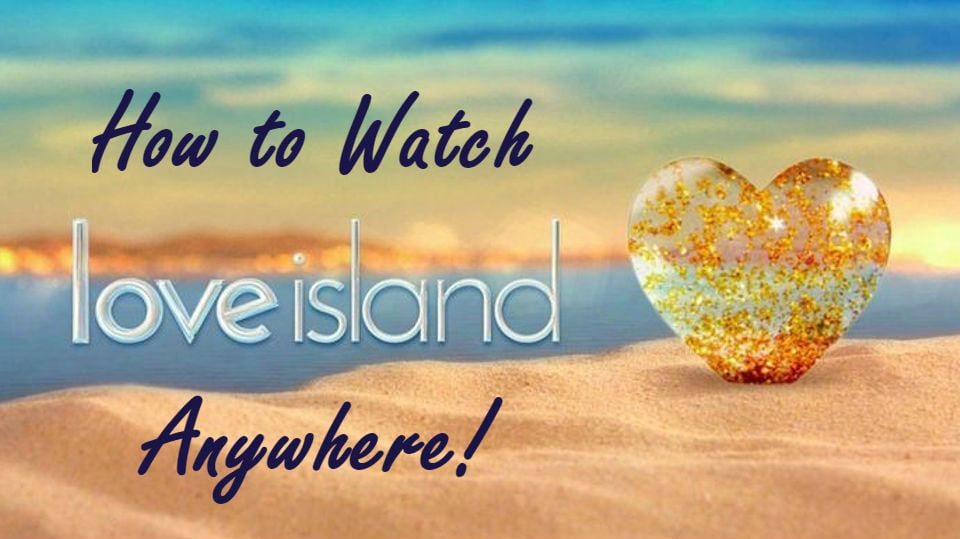 If you're looking for Love Island USA, please
click here
.
A new set of Islanders is heading to a villa in South Africa for the Winter edition of Love Island season 6!
But, with ITV's tough geoblocks that only let you watch Love Island if you're located within UK borders, you might think you're shut out in the cold – but we've got a secret weapon! 
A VPN! It allows you to mask your location and make it seem as if you're located just about anywhere in the world. Connect to a server in the UK, and you won't have any issues streaming the new season.
We did promise you could watch Winter Love Island FREE. 
And yes, the VPNs on this list all cost money, BUT, we've got a little trick that'll let you watch Love Island for free!
All the VPNs on our list offer a money-back guarantee. That means that, once you've finished catching up on all the Love Island drama, if you decide that you're not getting the value from the VPN, you can simply make use of the money-back guarantee, as long as you do it within the time limit (usually between 30 and 45 days – see more below).
Plus, some offer free trials, too, so you can test the service and watch your favorite islanders before you pay.
So you can watch Love Island UK with any of the VPNs we recommend below, 100% risk-free!
Quick Guide: How to Watch Winter Love Island Season 6 on ITV Hub
Choose a VPN with UK servers that can unblock ITV. I recommend ExpressVPN because it's fast and easily bypasses location restrictions.
Install the VPN on your device and connect to a UK server.
Sign up for ITV Hub if you don't have an account.
Look for the latest episode of Love Island and start streaming!
Pro Tip:
If you already have a subscription to ITV through Samsung TV, Sky Go, Virgin Media, Xbox One, or Nintendo Wii, you can still use a VPN to access ITV2 content.
Why You Need a VPN to Watch Winter Love Island Season 6
The ITV Hub is similar to other streaming services in the way it blocks content from users outside of the UK. It does this by analyzing your IP address and ascertaining your physical location.
When it sees that you're located outside the UK, it immediately stops the content from streaming. This is a geoblock, and it will keep you from cheering for your favorite Love Island couples.
But what if you're from the UK and on holiday in the US or Australia? What if you're paying for an ITV Hub+ subscription? It doesn't matter.
To watch Love Island and ITV's other programming, you have to trick ITV into thinking you're in the UK. But how?

That's where a VPN comes in.
When you use a VPN, you'll have the option to connect to servers in different countries throughout the world. By connecting to one of these servers, you'll hide your true IP address and make it seem like you're elsewhere. This is all it takes to bypass unfair geo-restrictions.
The Best VPNs for Watching Winter Love Island Season 6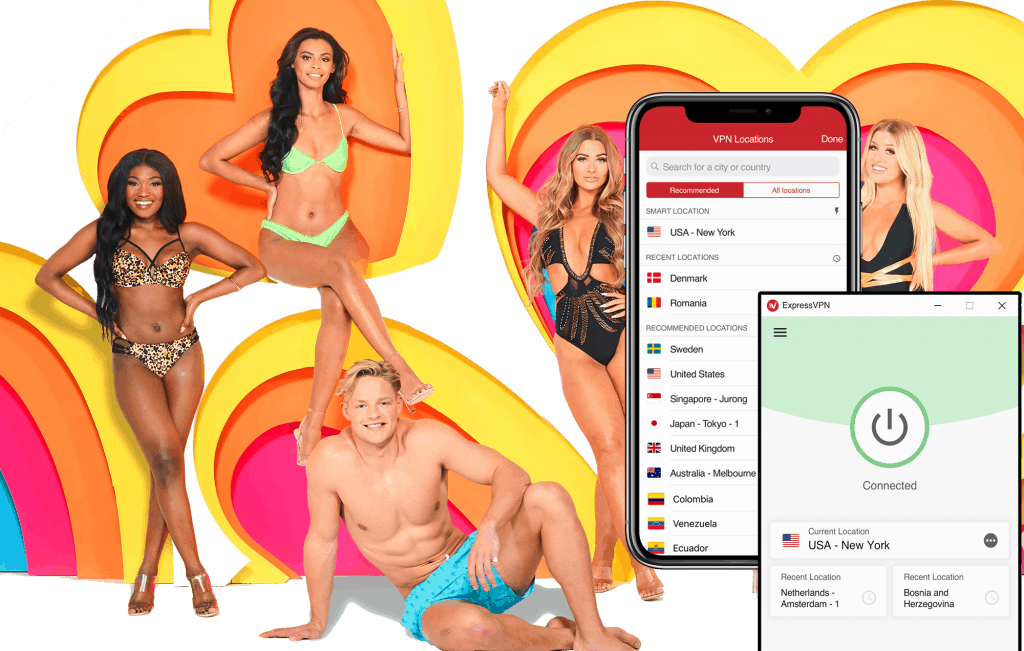 ExpressVPN's Key Features
Super-fast speeds
Unlimited bandwidth for uninterrupted streaming
3,000+ servers in 94 countries, including the UK
30-day money-back guarantee
24/7 live chat support
Works with: ITV Hub, BBC iPlayer, Netflix, Hulu, Sling, DAZN, Disney+, and more
Compatible with: Windows, Mac, Linux, Chrome, Firefox, Android, Switch, Playstation, Xbox, and many routers
ExpressVPN is consistently among the fastest in our speed and quality tests. It also offers unlimited bandwidth so you can stream for hours on end without having to sit around while Love Island buffers.
While the service only has six UK server locations, the quality of the servers is as important as the amount. ExpressVPN has shown time and again that it can unblock the ITV Hub with ease. If you're looking to stream content from other services and countries, you can choose from its full list of over 3,000 servers in nearly 100 countries.
ExpressVPN maintains high standards of service by using 256-AES bit encryption, one of the strongest encryption options out there. It also offers split-tunneling so you can choose which programs go through the VPN and which don't, as well as a no-logs policy that ensures your data is never recorded.
If your whole family is following what happens on Love Island, ExpressVPN is a smart choice because it offers up to six simultaneous connections. This means everyone can watch on their own devices, even if they're not at home.
ExpressVPN offers desirable features with excellent customer service. Should you run into trouble, you can reach a customer representative day or night thanks to the 24/7 live chat option.
Ready to try the service out yourself? You can test it risk-free by taking advantage of its 30-day money-back guarantee.
Watch Winter Love Island with ExpressVPN!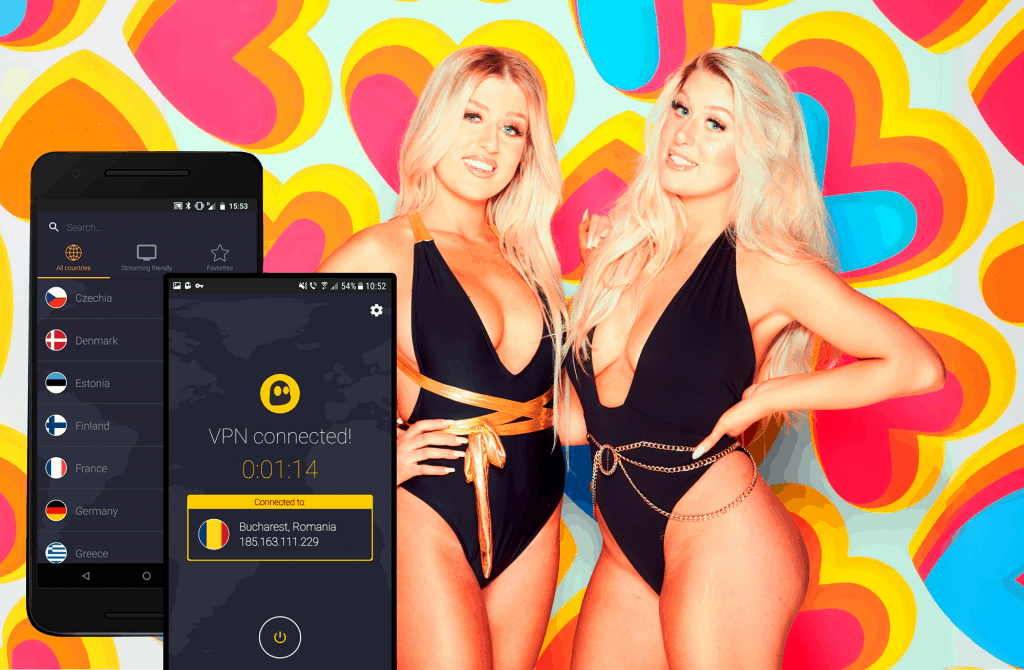 CyberGhost's Key Features
Dedicated streaming profiles
Over 6,100 servers in 90 countries
Up to seven simultaneous connections
No data or bandwidth limits
Works with: ITV Hub, Hulu, Netflix, BBC iPlayer, Sky Go, and HBO Go
Compatible with: Chrome, Firefox, Mac, Windows, Linux, Android, iOS, Amazon FireStick, Android TV, and many routers
CyberGhost has one of the easiest user interfaces for streaming with a VPN. It has dedicated streaming profiles, so all you have to do is choose the streaming service you want to use, and CyberGhost will automatically connect you to a server that unblocks that specific site.
Because it has over 6,000 servers around the world, you can bypass geo-restrictions no matter what you want to see. To watch Love Island on ITV Hub, you can connect through one of 600 UK servers.
As CyberGhost allows for up to seven simultaneous connections, there's room for everyone in the house to connect and stream. You'll also enjoy unlimited bandwidth, which means no buffering or choppy picture.
As expected of a premium VPN, CyberGhost takes security seriously, offering a kill switch, a no-logs policy, and AES 256-bit encryption.
If you run into trouble, help is only a chat away thanks to the service's 24/7 live support. Ask a question in English, German, French, or Romanian for immediate assistance from a real person.
CyberGhost is a good fit if you want a VPN that's simple and streamlined. If you sign up for a plan of six months or longer, you can also take advantage of its 45-day money-back guarantee.
Watch Winter Love Island with CyberGhost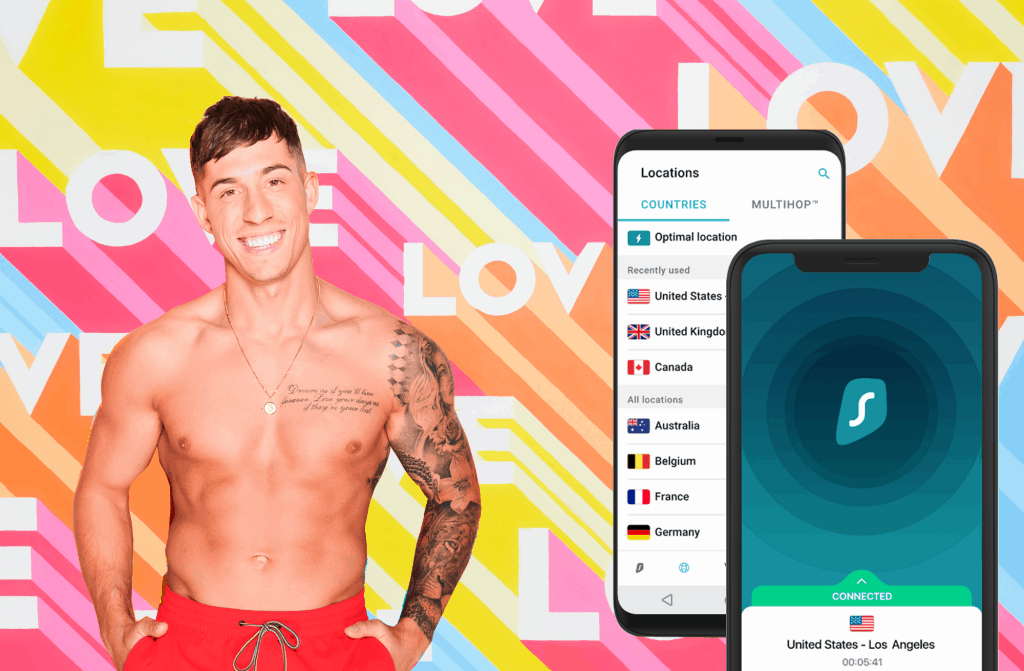 Surfshark's Key Features
Over 1,000 servers in 60+ countries
Unlimited simultaneous connections
Unlimited bandwidth
Live chat support available 24/7
Works with: ITV Hub, Amazon Video, Netflix, Hulu, and BBC iPlayer
Compatible with: FireTV, Apple TV, Windows, Linux, Mac, Android, iOS, Xbox, Playstation, Chrome, and Firefox
Surfshark is one of the newer VPNs on the market, but its great service and features stand up to the more established brands. It offers over 1,000 servers located across the world, including London and Manchester, UK. This allows it to unblock both ITV and BBC iPlayer with ease.
A benefit that Surfshark has over its competition is an unlimited number of simultaneous connections. This means that you and your family can all watch Love Island at the same time, even from separate places. Unlimited bandwidth and fast speeds ensure no one has to deal with buffering, either.
Privacy is a major concern when you use the internet. Surfshark has your back with its no-logs policy, ensuring no records of your online activities are kept. Its kill switch protects you further by stopping all online activity if your VPN connection somehow drops.
If you plan to do other things online while watching the Islanders fall in and out love, you'll appreciate the service's split tunneling feature. When activated, you can choose what goes through the VPN and what goes through your regular connection. This can be very helpful when you need to access location-sensitive services, like bank accounts.
If you'd like to try it out for yourself, you can do so risk-free thanks to its 30-day money-back guarantee.
Watch Winter Love Island with Surfshark
FAQs
What else can a VPN do?
It's important to note that not all VPNs are the same. While some may be able to unblock ITV, they may cause internet slowdowns. Others may have poor security protocols, or worse, record your data and browsing activity. A premium VPN will offer:
A wide variety of servers so you can bypass geoblocks around the world
Strong security features and encryption to protect your identity and data when you're online
Fast streaming speeds so you don't have to deal with endless buffering
A strict no-logs policy that protects your personal info and browsing habits
Why can't I watch Love Island on ITV Hub?
If you're not currently in the UK, you can't watch Love Island on the ITV Hub due to geo-restrictions. It doesn't matter if you're a UK resident traveling abroad or a paying subscriber. If you don't connect with a UK IP address, the service won't work.
To bypass these geoblocks, you must use a VPN and connect to a UK server. When you do this, ITV will think you're in the UK and will allow the content to play.
If you're connected to a UK server and the content still won't stream, try another server. As ITV and other content providers are constantly trying to block VPNs, it's not uncommon for servers to be flagged. Trying a different server will usually solve the problem.
Can I watch Love Island on My Phone?
If you use a VPN that supports mobile devices, you can watch Love Island on your phone or tablet. All of my recommendations above support Android and iOS platforms, so just download the app of the VPN you like best to start streaming.
Can you leave a VPN on all the time?
There's usually no harm in leaving a VPN on all the time. To determine whether you should do it, consider why you're using the VPN to begin with.
If you're connecting to servers abroad to bypass geoblocks or censorship, you'll want to leave your VPN on. The same is true if you want to take advantage of a VPN's other security features, such as data encryption and online anonymity.
However, if you need to access local or location-sensitive services, it's best to shut your VPN off, at least while completing those tasks. For example, some banks may restrict or block your access if they see you're trying to access your account from a different country. They do this to protect your account from hackers.
The Bottom Line
Just because you're outside of the UK doesn't mean you need to miss out on watching the Winter edition of Love Island. When you use a VPN, you'll blast through geoblocks and catch every episode of season 6 without fail. And when you're not streaming steamy reality TV, you can also use a VPN to protect your privacy and safeguard your data whenever you're online.
While all the choices are among the best for streaming Love Island, my favorite is ExpressVPN. Its speed, unlimited bandwidth, and unblocking capabilities just can't be beaten.
Want to watch previous seasons of Love Island? You can catch them on Hulu using any of the VPNs we recommend here.