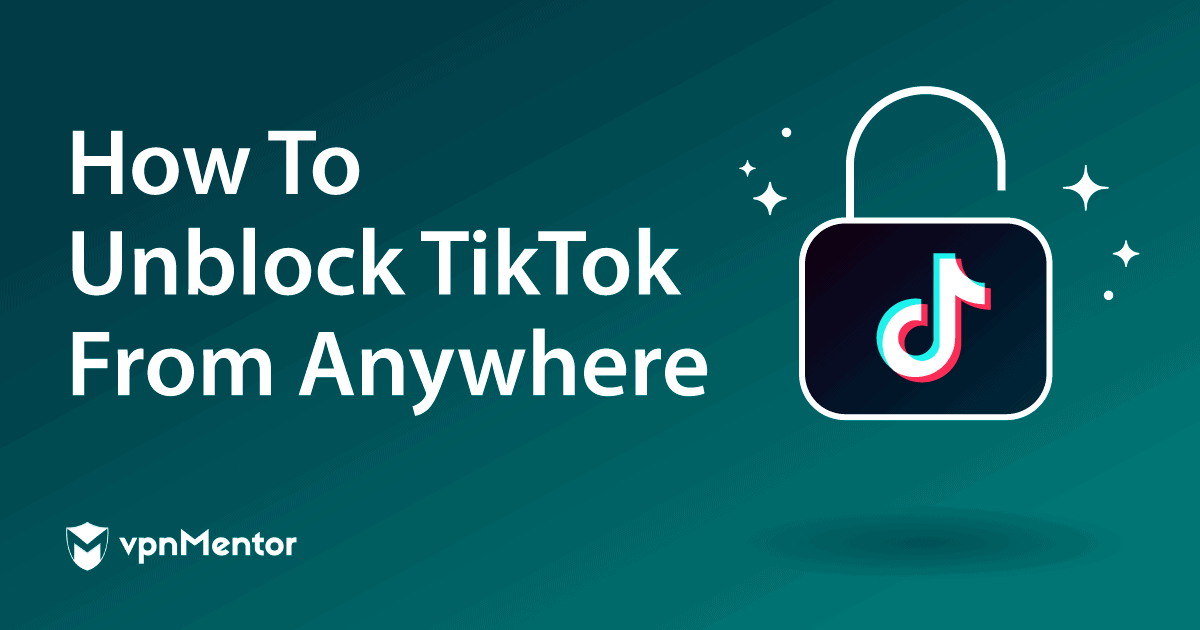 How to Unblock TikTok From Anywhere in 2023
I can't get enough of hilarious TikTok videos, so it's worrying to hear that more countries are banning the app due to security concerns. I have also heard of TikTok users being tracked down by trolls in real life through their IPs, so I wanted to make sure I have a way to watch TikTok wherever I am safe.
After some trial and error, I discovered that the easiest solution is to use a VPN to access TikTok. VPNs are apps that help you get around government bans by changing your IP and encrypting your traffic so your ISP (and the government) can't see what you're doing or prevent you from watching TikTok. You can also use a VPN to get around firewalls if you're trying to unblock TikTok at work or school.
After testing 15 VPNs, I found that ExpressVPN is the best for TikTok because it's fast and reliable, so you don't have to wait for videos to buffer. Plus, you can try it out risk-free.. If you don't like it, you have 30 days to ask for a refund.
Unblock TikTok with ExpressVPN Today!
Quick Guide: Unblock TikTok From Anywhere in 3 Easy Steps
Get a VPN. ExpressVPN us best at unblocking TikTok based on my tests (plus, you can try it out risk-free before you decide).
Connect to a server in your country (or a country nearby). A local server gives you the fastest connection speeds while still hiding your activity from your ISP so you can get around the TikTok ban.
Start watching TikTok! Enjoy all the dances and lip-syncs you like, from anywhere in the world.
Why You Need a VPN to Unblock TikTok
Many governments are scrambling to block TikTok due to security concerns over the Chinese government's control of the app — but a VPN can bypass the ban. TikTok is already banned in India, Pakistan, and Bangladesh. Now, other governments are threatening to block it too.
A VPN can help you access TikTok, whether it's banned by your government or blocked by a school or workplace firewall. VPNs work by masking your location and hiding your online activity, so your ISP and government can't see — or control — the apps you access.
If your government has also removed the TikTok app from your local app stores, you can use a VPN to change regions and download it. But, you'll need to create a new Apple ID or Google Play Store account (I'll show you an easy way to do that below).
Best VPN to Unblock TikTok From Anywhere in February 2023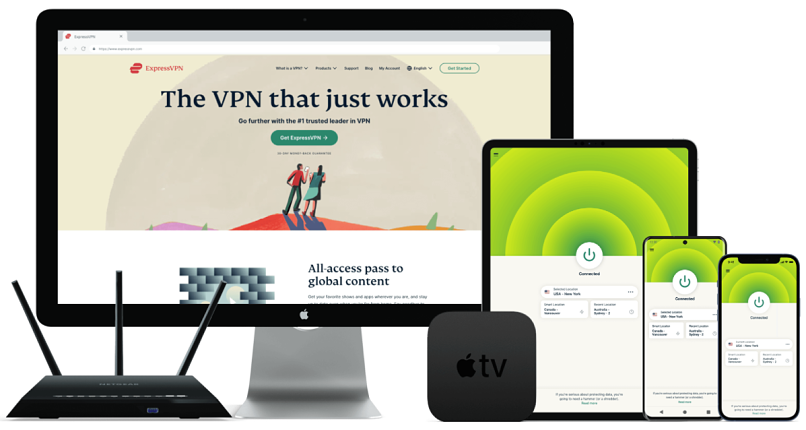 Editor's Choice
Editor's Choice

Tested February 2023
Try Risk-Free for 30 Days
Available on:
Chrome
Router
Smart TV
More
www.ExpressVPN.com
Fast speeds for watching TikTok without buffering
World-class security measures protect your privacy on TikTok
3,000 servers in 94 countries (so there's always a server nearby)
5 simultaneous device connections
30-day money-back guarantee
Also works with: Facebook, Instagram, Pinterest, Twitter, Snapchat, Tinder
Compatible with: macOS, Windows, Linux, Android, iOS, Chrome, Firefox, routers
ExpressVPN's military-level security features protect you from trolls and doxxing. It secures your traffic with military-grade 256-bit AES encryption that prevents anyone from monitoring what you do online. This means that your ISP and the government can't see that you're using TikTok. It also means that hackers looking to harvest information from your TikTok uploads (like your real location) can't access any of your details.
There's a kill switch for Android — but not iOS (which was disappointing). That means that if you're using iOS and your VPN connection drops, you'll be temporarily blocked from TikTok until it reconnects.
ExpressVPN was fast during my tests. I got consistent and reliable speeds across its network — with an average of 45 Mpbs (that's 43 Mbps faster than it needs to be for TikTok). My connection was fast enough to watch TikTok videos with no buffering.
If you're multitasking on your phone, ExpressVPN's split tunneling feature is especially useful because you can use your VPN connection to unblock TikTok without losing access to sites that block or flag VPNs — like your online banking platform.
ExpressVPN's subscription prices might seem steep at first, but don't be fooled: I used its latest coupon to get it for just $6.67/month per month. And the coupon is compatible with its money-back guarantee, meaning that you can also try ExpressVPN for free for 30 days. After my tests, I requested a refund using the VPN's 24/7 live chat. The support representative only asked me one question before processing my request, and I got my money back within 3 working days.
Unblock TikTok With ExpressVPN Now!
How to Download TikTok With a VPN
If TikTok is banned in your country, you can't get the app from the App Store or Google Play Store.
To download it, you need to switch your VPN on and change your region in the App Store or Google Play Store to a county that hasn't blocked TikTok. Here's how:
Pro Tip: If you only want to watch TikToks (and not upload them), you can just use the browser version of TikTok on your mobile device
. You don't need to change your App Store or Google Play Store region to do this — so it saves you a lot of time.
For iOS
Get a VPN. I recommend ExpressVPN because it's fast enough to watch TikTok without waiting for videos to load.
Connect to VPN server in a country where TikTok isn't banned — I used an Australian server because the government there has confirmed it won't ban the app.
Go to the Apple ID sign-in page and create a new Apple ID by following the step-by-step process.
Use all of your real information, except your region and address. Use your real phone number — Apple doesn't cross-check to see if your phone number is from the same country you're claiming to be from.
For your country/region, choose a location where TikTok is available (for example, Australia).
Verify your phone number and email address by entering the codes Apple sent to you.
On your iOS device, go to Settings > Apple ID > iTunes and App Store and sign out from our old Apple ID.
Sign in with your new credentials.
Open the App Store, search for TikTok, and click Get.
You may need to re-enter your new Apple ID details at this stage. If so: simply click Review, swipe right on Agree to Terms and Conditions, and then Next. Under Payment Method, select None.
Enter the address of a hotel in the country you chose — I used 125 North Terrace, Adelaide South Australia, 5000. Then click Continue.
Click Install and enjoy TikTok!
For Android
There used to be a way to change your region on the Google Play Store — but this isn't possible anymore. When I tested it, I discovered that (unlike Apple), Google makes you verify your account using a phone number from the country you're claiming to be from.
If you haven't already got the TikTok app (and it's been banned in your country), don't worry. You can still create an account and watch TikToks using the browser version:
Get a VPN. I recommend ExpressVPN because it's reliable and fast.
Connect to a server in your country or a location close to you.
Go to TikTok's website and create an account or log in (you don't need to sign in to watch the top trending TikToks).
That's it! You've unblocked TikTok.
Unblock TikTok With ExpressVPN Now!
Is TikTok Safe?
Some governments say TikTok is a security risk — but TikTok denies these claims. Most of the governments considering or enforcing national TikTok bans are concerned because a Chinese company owns TikTok. They say that the app collects a lot of your personal information and that there's a danger this information is being sent to the Chinese government.
I delved into TikTok's Privacy Policy and company history to find out which allegations are true and which are false.
Allegation
Truth
A Chinese company owns TikTok.
True. TikTok has an American CEO and offices in several countries, but its parent company, ByteDance, is based in China.
TikTok passes your data to the Chinese government.
Unclear. There is currently no evidence that TikTok has passed data to the Chinese government in the past and its CEO Kevin Mayer has openly stated that it wouldn't. However, its Privacy Policy clearly states:

"We may disclose your information to respond to subpoenas, court orders, legal process, law enforcement requests, legal claims, or government inquiries."

Several countries, corporations, and institutions have banned the app for this reason.

TikTok has a history of censorship.
True. TikTok has previously worked with the Chinese government to censor "undesirable" content and has also worked with governments in other countries to remove videos considered politically or morally inappropriate.
TikTok logs and stores your personal data and usage history.
True. The app stores your "IP address, geolocation-related data, unique device identifiers, browsing, and search history". It also admits to collecting, scanning, and analyzing any messages you send and receive on the service.
TikTok passes your data on to third parties.
True. TikTok's Privacy Policy reserves the right to pass on your information to service providers, business partners, affiliates of its corporate group, as part of a future merger, and to government agencies (if requested).
TikTok is vulnerable to security breaches.
True. TikTok has been called out for security flaws and vulnerabilities several times in the past — putting your sensitive and private information at risk.
TikTok logs more information about you than other social media networks.
False. The data TikTok gathers, stores, and shares isn't that much different from other social media networks like Facebook or Instagram. Governments are just more concerned about TikTok because of its ties to China.
It hasn't been proven that TikTok is the significant national security risk some countries claim it to be. But it is clear that the app has almost unrestricted access to your sensitive data (like your location, preferences, and private communications). It's also evident that we don't really know where that information is stored or who it's passed on to.
Pro Tip: For the best security, give TikTok as little personal information as possible. Use a VPN to mask your location so it can't see where you live, and sign up using a new email address that you've created just for TikTok. Don't sign up using your other social media accounts, Google, or your phone number — and always use a secure, randomly generated password.
Stay Safe on TikTok With ExpressVPN!
FAQs on Unblocking TikTok With a VPN
How do I unblock TikTok in India?
You can unblock TikTok in India by using a VPN. VPNs encrypt your traffic — which prevents your ISP and government from seeing that you're trying to access TikTok and blocking you.
It's easy to do, and if you follow the steps in my guide, it only takes 2 minutes.
Can I unblock TikTok at school or work?
Yes! You can unblock TikTok at school or work with a VPN.
If your school or workplace uses a firewall to prevent you from accessing TikTok and other social networks, the VPNs I recommend will get around the block easily.
VPNs trick firewalls by masking your online activity so that they can't see (or block) the sites you're using. Best of all, their security features prevent your network administrator from being able to tell that you're bypassing the firewall, so your boss (or teachers) won't find out.
Why is TikTok banned in some countries?
Governments around the world are banning TikTok because they're worried about its connection to the Chinese government. Some investigations have alleged that the Chinese government uses TikTok to conduct surveillance (I looked into the claim to see if they're true — you can find out more here).
As a result, TikTok is banned in India, Bangladesh, Pakistan, and other countries. It was temporarily banned in Indonesia — and many governments are still considering blocking it.
Is TikTok safe to use?
At the moment, it's unclear whether TikTok is safe to use. Some governments think it's such a security risk that they've banned it completely. TikTok has denied the allegations that it passes information to Chinese authorities or censors its content according to Chinese politics.
What features does my TikTok VPN need?
To safely unblock TikTok, your chosen VPN needs to have:
Plenty of servers across the world (and in your country)
Fast speeds so you can watch videos with no buffering
High-grade encryption to prevent your ISP from monitoring your traffic and blocking access to TikTok
The Bottom Line
You don't have to let a TikTok ban stop you from watching your favorite content creators. A VPN can unblock TikTok no matter where you live.
ExpressVPN is the best VPN for TikTok because it has thousands of servers, and its fast speeds mean you don't have to wait for ages for the next TikTok to load. I always recommend you try a VPN yourself before you commit — and you can test ExpressVPN out before you make a decision. If you don't like it, you can ask for a refund within 30 days.
To summarise, the best VPN for watching TikTok is…
1
Privacy Alert!
Your data is exposed to the websites you visit!
The information above can be used to track you, target you for ads, and monitor what you do online.
VPNs can help you hide this information from websites so that you are protected at all times. We recommend ExpressVPN — the #1 VPN out of over 350 providers we've tested. It has military-grade encryption and privacy features that will ensure your digital security, plus — it's currently offering 49% off.