ExpressVPN Review & Test (2020): It's Good, but Is It Safe?
Is ExpressVPN really the fastest out there? Is it worth the price, with its latest discount? I ran every test possible to find out.
Whether you want to torrent and game, stay anonymous and secure online, or see how effective its kill switch and DNS leak protection is, I've got it covered.
Or maybe you just want to know if ExpressVPN will unblock Netflix. The answer? Yes. With ExpressVPN, you have access to all major Netflix libraries, including the UK and US. And all with unlimited bandwidth and HD quality.
I put ExpressVPN through its paces to find out just how good this premium VPN is, and was surprised to find ExpressVPN performed well in almost every area.
Get Started With ExpressVPN Now!
My rigorous testing and ExpressVPN review will help you decide if ExpressVPN is the right premium VPN for you. It offers exceptional speeds, impeccable security measures, and seriously impressive unblocking capabilities, but it's not quite perfect.
The Basics
ExpressVPN is one of the fastest and most impressive VPNs I've tested. And I've tested a lot of VPNs.
I ran every test possible on ExpressVPN to dig deep into all of its features and see how well it really performs. I looked at everything from server coverage and speeds to privacy, security, and even customer service and pricing.
Does ExressVPN work with Netflix? Is it good value for money? Will ExpressVPN keep you secure? And just how fast is ExpressVPN? Keep reading to find out. You can also see how ExpressVPN compares to NordVPN and VyprVPN.
ExpressVPN Features

 Logging Policy
 Zero logs (confirmed)
 Security
 256-bit AES encryption
 Servers
 3,000+
 Countries
 90+
 Streaming
 Netflix, Hulu, BBC iPlayer, ITV Hub, Amazon Prime Video, Disney+, and more
 Based in
 British Virgin Islands
 Free trial
 No
 Pricing
 From $8.32 per month
 Support
 24/7 live chat, ticketing system, email, FAQs, and troubleshooting guides
 Money-back Guarantee
 30 days
In a Rush? Here's ExpressVPN at a Glance
Highest level of encryption and advanced security features
Speedy streaming, browsing, and gaming
Compatible with nearly every device
Reliable for unblocking streaming sites
Amazing customer service and support
More expensive monthly plans than other vendors
Tor compatibility and kill switch only available on Windows, Mac, and Linux
How to Get the Fastest Speeds With ExpressVPN
ExpressVPN has a Smart Location feature which allows you to connect to a server with the simple click of a button.
It connects you to an optimized server for your location. Measured by latency, speed, and distance, it makes sure you have the best experience with the VPN. ExpressVPN also shows a list of recommended locations if you need to access servers in other countries, measured using the same algorithm.
There's the option to view and connect to all of ExpressVPN's locations, but the quick connect and recommended servers are ExpressVPN's way of providing you with a guaranteed fast, reliable connection.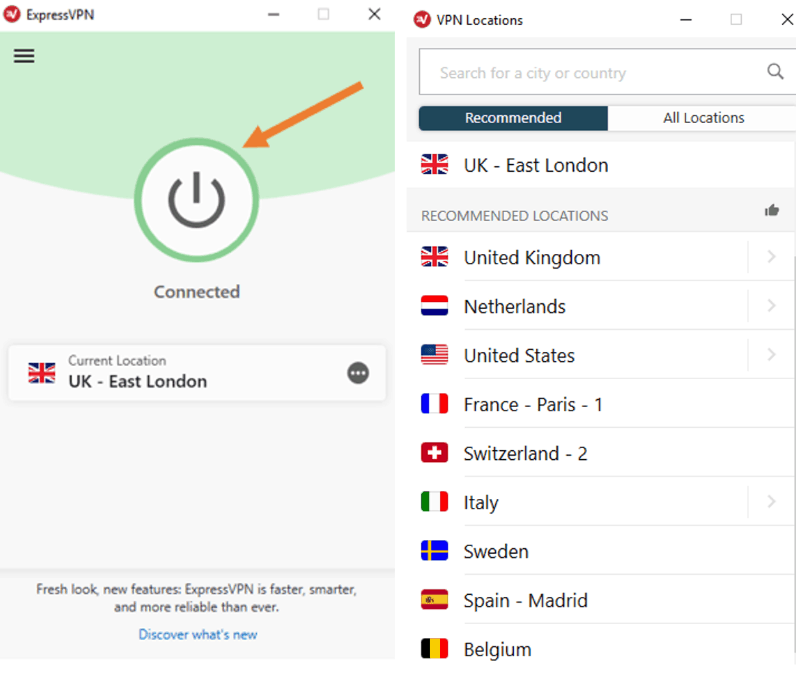 ExpressVPN Speed Tests
Routing your traffic from another country to your device and back again can, unsurprisingly, cause your speeds to slow down. However, ExpressVPN is known for having the fastest servers around, regardless of where you connect. Is there any truth to the hype?
To understand how my speeds were affected, it was important to test my starting speed before I connected to ExpressVPN. 
I found that my super-quick base speed measured approximately 93 Mbps and the upload speed was 94 Mbps.
Having tested my base speed, I connected to ExpressVPN to see how my speeds were affected as I switched between local servers and long-distance ones. If ExpressVPN is as fast as it claims, my speeds should only be affected slightly, right?
Local ExpressVPN Speeds

Using the Quick Connect feature, I connected to a local server nearest to my home. This connected me to an East London server. My speed was 87 Mbps.
My speed only decreased by 6%, which is really impressive. Even when connected to local servers, other VPNs often cause your speed to drop significantly. I was able to browse and stream with the same reliability I'd had before I connected.
As I was connected to the smart location ExpressVPN had chosen for me, I wanted to connect to another local server to see if this would have any difference.
My speed only dropped by a further 3%. That makes it just a 9% decrease in total, which is easily the best speeds I've had with any VPN.
Long-Distance ExpressVPN Speeds
I started with a server in the US. I connected to the recommended server on my list in the app. My speed was 82 Mbps, meaning my speeds only slowed down by 11% overall. With results like these, you can see why ExpressVPN is easily one of the best VPNs for the US.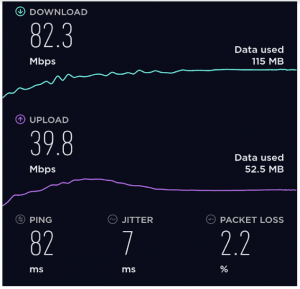 Then, I headed over to a Hong Kong server. My speeds slowed quite significantly - by 25%, giving me a speed of 69 Mbps. However, this was barely noticeable while I was streaming and gaming. After all, speeds of 69 Mbps are still pretty fast.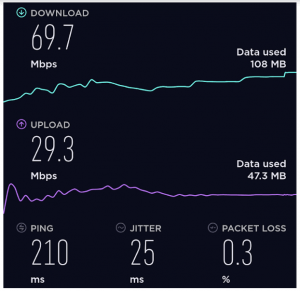 Finally, I connected to a server in Australia to really test the distance. My speed was 57 Mbps. From my base speed of 93 Mbps, this means my overall speed decreased by 38%. I was pleasantly surprised by this, as I expected my speeds to decrease by at least 50% when I connected to a server so far away.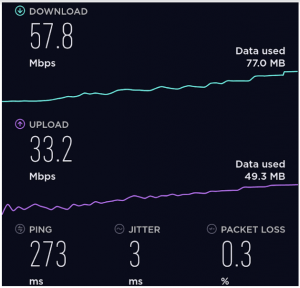 Our ExpressVPN Speed Findings
Even when I connected to a server on the other side of the world, my speeds dropped much less than I expected.
My speeds only slowed by 38% over the longest distance, and since I had such a quick starting speed, the reduction wasn't noticeable. I was able to browse and stream hassle-free, as if I wasn't connected to the VPN. Though if you're starting at a slower speed, you might feel some lagging.
I tested packet loss, too - the amount of data packets that didn't arrive correctly at the destination. Packet loss of 5% significantly impacts the quality of your session. So I was pleased that my results varied from 0 to just 2.2%.
It's clear from my tests that the rumors are true. ExpressVPN's speeds really are lightning-fast. No matter which server you connect to, anywhere in the world, you'll have quick, reliable connections.
Get Lightning-Fast Speeds With ExpressVPN!
Is ExpressVPN Fast Enough for Gaming?
We've seen just how impressive ExpressVPN's speeds are. But the basic speed tests other reviewers rely on only assess how quick a server is with nothing else working in the background - no streaming, no browsing, no gaming.
I believe in tougher tests! And gaming is one of the toughest tests for VPNs.
Can ExpressVPN maintain its high speeds while playing a resource-heavy MMO like League of Legends? With the ping rate and latency be low enough? With the bandwidth be high enough? Can I play LoL with ExpressVPN without lag and buffering?
I decided to find out.
Rather than connecting to the smart location, I decided to connect to a server in the US where my speeds would more likely be affected.
Despite being connected to a server thousands of miles away, my gameplay was remarkable. I was expecting some lagging mid-battle, but ExpressVPN managed to keep up with the fast-paced action easily for the whole hour I tested the game.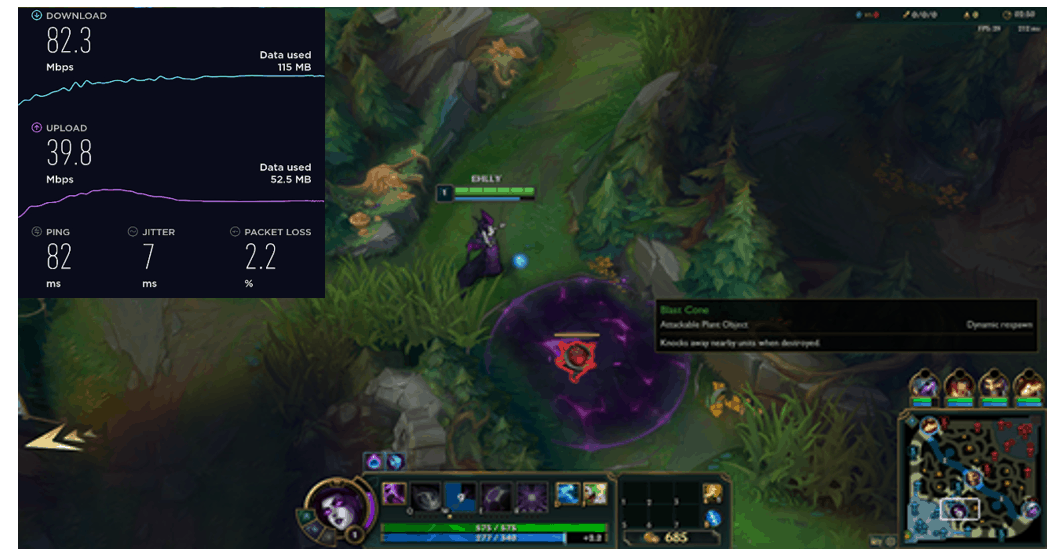 I was able to play in HD with amazing speeds, keeping up with my teammates as quickly as if I was not using the VPN at all.
If you're a hardcore gamer, check out our other top recommendations for the best VPNs for PC gaming.
Security
Many VPNs claim to protect you in the event of a connection failure or guarantee that your IP address always remains hidden. Researching, testing, and confirmation are the only ways to find out if the claims are true.
During my review, I was looking for maximum encryption, strong security protocols, and IP leak protection. I also wanted to thoroughly test out ExpressVPN's extra security features, like its split tunneling feature.
Having run every possible security test on ExpressVPN and troubleshooting all of its features, I can safely say that its advanced security can protect you, even with an unreliable connection.
Encryption
Put simply, there's no need to worry about your data ever being decrypted or falling into the wrong hands.
ExpressVPN uses the highest standard of encryption. It keeps you protected with 256-bit AES encryption, which combines AES 256-bit cypher with a 4096-bit RSA key and SHA-512 HMAC authentication. 
But, what does all this jargon mean?
AES 256-bit encryption is symmetric, meaning the same key used to encrypt your data must be used to decrypt it. This makes it near-impossible to break. Even the world's most powerful computer would take billions of years to decrypt just 0.1% of the data it holds.
The SHA-512 HMAC authentication ExpressVPN uses is highly secure for data transfers, such as P2P file sharing. Using a shared secret key, both the sender and receiver of the download have a way of verifying the authenticity of the file.
This allows you to establish whether the file sent matches the file received. Should the secret key differ in any way, it's evidence that the file has been intercepted or tampered with.
ExpressVPN also uses perfect forward secrecy. This is a highly advanced feature that changes your encryption key every time you log on, so you're assigned a new one at the start of each session. Any data from your previous session is completely unrelated to your current session. Should anyone attempt to intercept your browsing session, anything before or after this is completely secure.
Protocols
ExpressVPN uses various security protocols, including the most advanced OpenVPN UDP protocol. It will automatically select the best security protocol for the most reliable connection by default, though you can change this if you wish.
I was assigned the OpenVPN UDP protocol, which uses the best combination of speed and security, when using ExpressVPN on my Windows and Android devices. This is highly secure and means the encryption tunnel that your data passes through is most unlikely to be compromised.
ExpressVPN always uses OpenVPN UDP as the default option, unless it's blocked, which is definitely reassuring if you're security-conscious like me. You're automatically protected to the highest standard, without needing to change a thing.
OpenVPN TCP is also available, though the app suggests only using this protocol when UDP is not available, as it's not as quick. Unlike UDP, TCP uses error correction to check data delivery. While this increases reliability, it also causes lower speeds.
You can also configure the app to use other protocols, including PPTP and L2TP/IPsec. But these do not offer the same level of security as the other protocols.
Kill Switch
ExpressVPN uses a kill switch, which it calls Network Lock. A kill switch is an advanced security feature that keeps your IP address and traffic secure, even if the VPN connection drops. And here, ExpressVPN has a surprising downside.
ExpressVPN's Network Lock is designed to block traffic if your connection is compromised, keeping your data and IP address hidden. I was pleased to see the kill switch is automatically enabled in the app, rather than requiring manual configuration.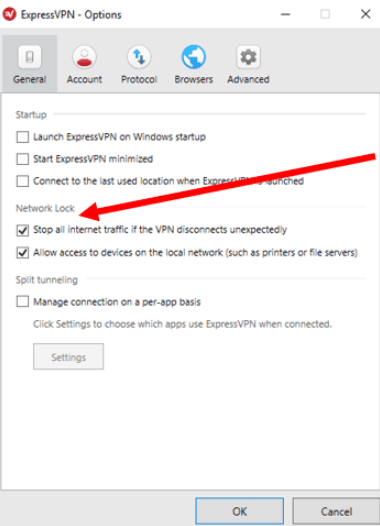 ExpressVPN's kill switch is only available for Windows, Mac, and Linux. I was expecting to see higher compatibility with other devices, but they haven't bought it to Andoird, iOS, or routers yet. At vpnMentor, we keep track of the best VPNs for mobiles, for Android, and for iOS. And ExpressVPN is among the best, so it's a shame this important feature is lacking for iOS and Android.
Split Tunneling
Split tunneling is one of ExpressVPN's standout features. It lets you encrypt just part of your traffic through certain browsers, but leave everything else untouched.
You can browse locally AND through your VPN at the same time.
You just need to decide which apps will use the VPN.
Adding and removing apps is easy. Just click on the plus symbol.
I chose to leave my online banking app and both BBC iPlayer and ITV Hub out of the encryption tunnel so I could still use them. Then I actually put this to the test.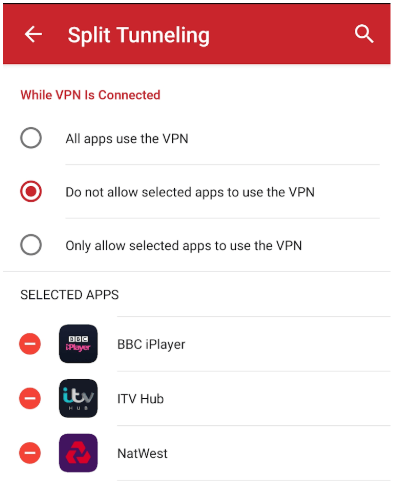 I connected to a server in the US, and then revisited the BBC iPlayer and ITV Hub apps to see if I was able to stream the content. Success! I could watch all content across both apps, and I was able to browse while being connected to the US server at the same time.
Editor's warning: Split tunneling certainly gives you more flexibility. Remember though that any apps you remove from the VPN aren't secured by encryption, so your local IP address and activity are visible while you're using them.
Leak Tests and Leak Protection
Although your traffic is sent through an encrypted tunnel, sometimes your data leaks. This is known as a DNS leak, and it makes your online activity visible to your ISP. More worryingly, it means your data is accessible to third parties.
A solid VPN protects you against DNS leaks and guarantees you anonymity so you aren't at risk. I ran leak tests on ExpressVPN's apps for Android, Windows, and Chrome to see how strong its connections really are.
ExpressVPN does offer its own leak test. However, I wanted to make sure my results weren't deliberately inflated as the leak test is owned by ExpressVPN.
ExpressVPN's leak test is quite basic and didn't provide me with all the information I needed. I could only see my IP address and location, not browser default or fallback information. So, I turned to ipleak.net for more comprehensive results.
I tested servers in the US, Australia, Canada, and the UK on my Windows device. I had no DNS leaks across any server.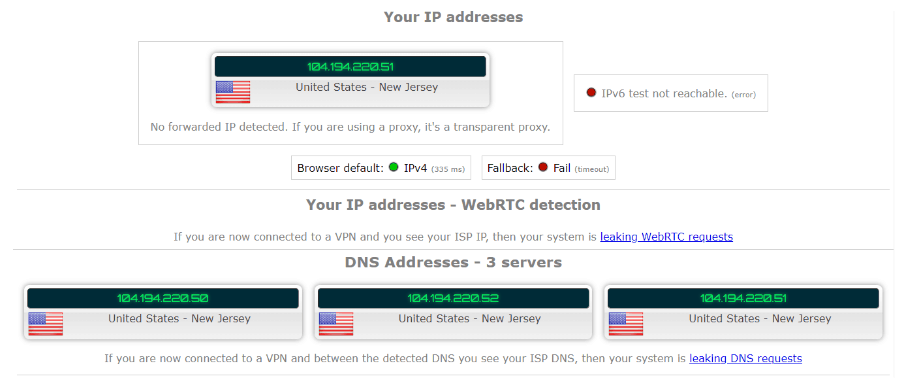 I was pleased to see there were no data leaks and my IP address was completely protected throughout my browsing sessions. IPv6 was also blocked, which is the request from your ISP to your device that provides you with an IP address. This means I was undetectable by my ISP as there was no request sent. Pretty impressive!
Tor Compatibility
Only a handful of VPNs offer this feature as a way of securing its users' privacy that bit further. If you're looking to add an extra layer of security to your VPN, you'll be pleased to know that ExpressVPN does offer compatibility with Tor.
In fact, ExpressVPN even has its own Tor onion website in the Tor network. This is the only vendor I've seen with an onion service of its own. This means you get even greater privacy and ease of access, which is especially important if you're in a country with strict censorship controls.
I was pleased to see that ExpressVPN only supports Tor over VPN rather than the reverse. This means you benefit from maximum anonymity, as your data and online traffic are invisible to the VPN. If it was the other way around, your VPN would still see everything you pass through the tunnel.
To set it up, ExpressVPN requires you to connect to your VPN and then download Tor. Its guides are helpful and straightforward in explaining how to complete this.
To use ExpressVPN for Tor, you have to fire up a browser. While this doesn't take much effort, other vendors like NordVPN actually offer optimized Tor servers that you can connect to, removing any extra steps.
Like its kill switch, ExpressVPN doesn't offer Tor compatibility on mobile yet.
Security Audits
Many VPNs claim to be secure, but then they only rely on internal tests. Seeking independent security audits and publishing the results are strong indicators of just how secure a vendor is.
ExpressVPN uses its online leak test as one way of demonstrating its high security to users. This allows you to test for IP leaks once you're connected to the VPN.
It certainly does give you confidence to see that you're completely invisible and protected online. However, it does make me question whether the tests are ever whitelisted to provide better results.
In September 2019, ExpressVPN signed a strategic partnered with HP. The computing giant's trust is evidence for ExpressVPN's abilities.
In 2018, ExpressVPN published the results of an independent security audit by Cure53 of its browser extension. Cure53's audits are highly robust. They dig deep to test cybersecurity features and look for any kind of security threat. No matter how small, you can guarantee Cure53 will find it.
Publishing the results of an independent review is exactly the kind of honesty and transparency that I look for in a premium VPN.
The results speak for themselves, too. ExpressVPN received a highly positive review, with no major security issues for users to worry about.
In fact, ExpressVPN is so confident in its security that it's published the source code of its browser extension so you can run the exact same tests that Cure53 did.
ExpressVPN was also independently audited by PwC (PricewaterhouseCoopers), one of the four largest professional services assurance and advisory companies in the world. They tested a number of things, from ExpressVPN's code and no-logs policy to its TrustedServer technology. It also interviewed employees.
You'll find that the report is readily available to download from its website, and the results confirm what we already know about ExpressVPN: It's super secure, and its privacy policy is leak-proof, too.
I did speak to one of ExpressVPN's live agents to see how often they conduct independent security audits. He was unable to give me a definitive answer, explaining that they are randomized. I would have expected annual or even bi-annual security audits, so this is a little disappointing.
But the results from its recent audits give me enough confidence that ExpressVPN provides the secure service it claims to. You can also read all the security reports on its website.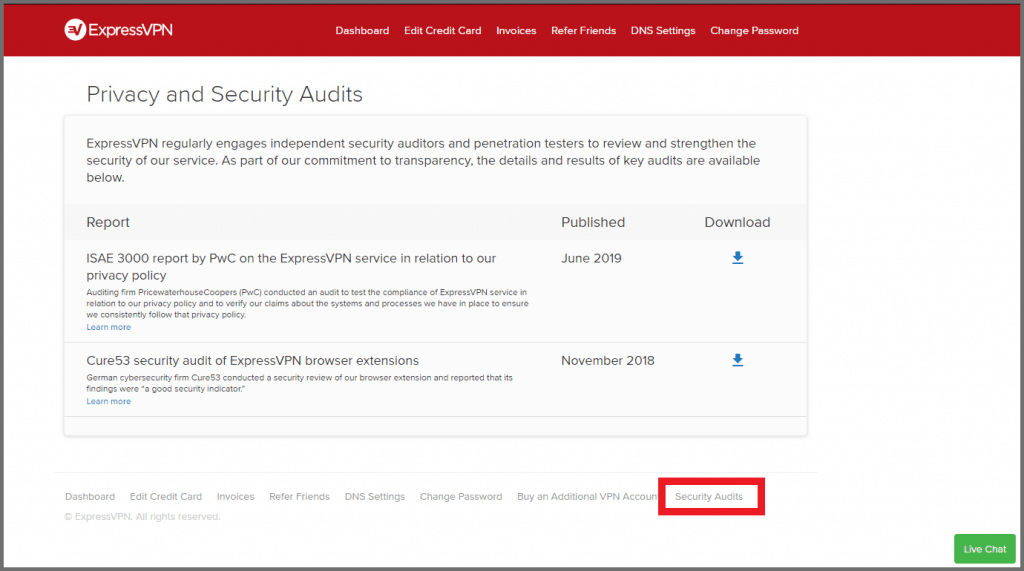 Security Breaches
Reported security breaches either confirm or deny the quality of a vendor's security measures. If there are any loopholes in a VPN's security features, hackers might be able to intercept your traffic and steal your data.
These reports can be hugely damaging to a vendor's reputation. After all, the service is designed to keep you and your data secure.
I couldn't find any reports of security breaches on ExpressVPN's network. This only confirms to me that its military-grade encryption and top-level security measures really are robust. Even if a hacker wanted to try and intercept your traffic, they wouldn't be able to get past ExpressVPN's advanced encryption.
Stay Safe Online With ExpressVPN!
Privacy
Many VPNs claim to keep you private online, but a closer look at their privacy policies reveals all kinds of loopholes and woolly language. This means your data is actually stored and might be shared with third parties, including the government.
I scrutinized ExpressVPN's privacy policy to see how invisible and secure I really was online, and I was impressed. Although, I did leave feeling slightly disappointed that there's no built-in ad blocker. I expected this as a standard feature with a highly-rated VPN like ExpressVPN.
Location
ExpressVPN's headquarters are located discreetly in the British Virgin Islands. The good news is, the British Virgin Islands sit outside of the 5/9/14 Eyes Alliance, meaning it's a privacy-friendly country.
Countries within the 5/9/14 Eyes Alliance are required to share any information they hold about their users with the government, if requested. If a VPN stores partial logs, this can raise concerns as your data may be shared, and you're at a greater risk of being traced.
Thankfully, you don't have anything to worry about with ExpressVPN. In a privacy-friendly country, it isn't required to share any data. Not that there would be any data to share, as it keeps zero-logs. More on that, later!
Who Owns ExpressVPN?
ExpressVPN is owned by ExpressVPN International Limited, a private company based in the British Virgin Islands.
Ad Blocker
ExpressVPN does not have an ad blocker. If you are after an ad blocker, though,check out one of these highly-rated vendors with ad blockers.
This is certainly a downfall, as it means advertisers may collect data about your online behavior to serve you tailored ads. It can also cause your speeds to slow down as the websites you visit have to load ads on the page.
However, some websites will automatically block you if you have an ad blocker turned on as they're paid by displaying ads. Not having an ad blocker may actually help you access a more unrestricted internet.
ExpressVPN Logs Policy
Zero-logs Policy Confirmed
ExpressVPN's privacy policy is one of the most transparent and detailed policies I have come across. It's explicitly clear about what data it does and doesn't store, as well as how it uses or shares any data it logs.
Its policy states that it keeps no logs of any of your activity or connection logs, which includes all of your online traffic, websites visited, data content, and DNS queries.
The only data it does collect is the information you provide when you sign up, such as your email address and payment details.
Again, its policy is transparent about how it uses this information, which is for marketing emails from ExpressVPN, the management of your account, and testing the VPN's performance.
I couldn't find any loopholes in ExpressVPN's policy. However, the only way to really test it is by looking at reports of potential data leaks. And there is, one.
In 2017, Turkish authorities seized an ExpressVPN server when it'd been used to delete social media posts and emails by the assassinator of the Russian Ambassador to Turkey.
The authorities requested that ExpressVPN provide logs from the server so they could find out who deleted the files. As expected, ExpressVPN wasn't able to provide any logs, because it doesn't store them.
Although Turkish officials were unable to obtain any customer data, it's a highly positive outcome for ExpressVPN. If anything, it only confirms that its zero-logging policy really does mean zero logs. That's highly reassuring if you're a VPN user looking for watertight security.
Server Network
A quality VPN has servers all over the world. But it's about so much more than that. Having servers in dozens of countries is only useful if the servers can bypass geoblocks and are reliable and fast. They also need to use high-end encryption to keep you secure.
Testing ExpressVPN's server network, I was looking for extensive global coverage with high numbers of servers in each country. I also wanted to see whether ExpressVPN has servers in China, which is notorious for unrelenting digital censorship, and whether I could browse freely.
I examined ExpressVPN's server security protocols to see how anonymous and secure I was while connected to its servers.
Server Number and Locations
3,000+ servers
90+ locations
Servers in the US, the UK, Australia, Japan, the Netherlands, Canada, and more.
Some locations have more servers than others, and the service offers the best coverage in the US, with 20+ servers in over 15 cities. By comparison, PrivateVPN only offers servers in 9 US cities. This means you can specifically select a server nearer to you within a certain country, so you can enjoy better speeds, lower latency, and more reliability.
However, not every country has multiple servers. There are only a select few that do, but this does include popular locations like the UK, Australia, New Zealand, Canada, the Netherlands, and Hong Kong.
ExpressVPN does have servers in China. It doesn't have them on the mainland, but it does have servers in Hong Kong. I tested access to Chinese TV, such as PPTV and iQiyi, and was able to watch with ease. If you want to explore other VPNs that work in China, click here to read our latest recommendations.
Server Security Standards
ExpressVPN uses TrustedServer Technology. But what does that really mean?
TrustedServer Technology ensures that every server is only run on RAM. This means that all data is entirely wiped with every reboot. RAM is incapable of storing any data, so once it's turned off and on again, any data from your session is deleted.
In fact, literally everything, including the operating system, is loaded fresh with each reboot, from a secure read-only image stored on the hard drive. This makes you less vulnerable to attacks, especially from hackers, as there's no data for them to access in the first place.
Each time a server restarts, it uses the most up-to-date code. This prevents security loopholes and keeps servers from becoming compromised, which would put you and your data at risk.
Using fresh new code for every startup keeps your data secure and means ExpressVPN knows exactly what's on every server. If there are any threats, it will know and rectify them immediately.
ExpressVPN has one other standout server security feature. It runs its own DNS on every server, unlike CyberGhost, which lets a third-party handle its DNS requests. You can't always be sure that the third party offers the same level of security as the VPN vendor you've chosen.
By running its own DNS, ExpressVPN keeps all your DNS requests private and stops any accidental leaks.
Virtual Server Locations
When you connect to one of ExpressVPN's servers, the server and IP address are usually in the same country. However, the service also offers virtual server locations where your IP address is within your target country, but the physical server is elsewhere.
Why does ExpressVPN use virtual locations? It usually translates to better speeds, reliability, and security.
If the physical server was actually held in some countries, you would be more likely to have a poor experience with lagging, buffering, and more importantly, low-standard security.
By holding a server in a nearby country and routing your traffic from there, ExpressVPN provides a more reliable connection with better speeds. You still have an IP address in your target country, regardless of the virtual location of the server.
While ExpressVPN is transparent about which servers use virtual locations, it's easy to see how it could damage trust. Not every VPN is 100% truthful about which servers use virtual locations, and some just withhold the information entirely.
This is not a great sign when you're supposed to be trusting them for security and privacy. Thankfully, ExpressVPN is upfront and honest about each of its virtual servers and has a list on its website.
Does ExpressVPN Offer Static/Dedicated IP Addresses?
In short, no. ExpressVPN told me it doesn't offer static/dedicated IP addresses. It says it aims to rotate its IP addresses regularly to increase your overall experience and make sure you get the best speeds every time.
It changes which IP addresses it connects you to, such as when using the smart location feature, to make sure you're using the one best available.
While that's all well and good, a static IP address can offer a lot of benefits. It allows you to reserve your own IP for each time you connect to the VPN, which is especially useful for things like online banking. Banks may treat new IP addresses accessing your account as suspicious activity, when really it's just you connected to another server.
Having your own IP address every time helps you avoid any blocks. It also means you don't need to worry about being blacklisted, as no other users are sharing your IP.
If you want the flexibility of both static and dynamic IP addresses, check out NordVPN instead.
Apps, Extensions, and Compatibility
ExpressVPN offers compatibility across nearly every device.
To get the full functionality of ExpressVPN, you should install it on your desktop. The iOS and Android mobile apps both fell short of a few important features, but on Mac and Windows, you have everything you could possibly need from a VPN.
Having said that, the mobile apps are incredibly easy to navigate, and connecting to a server of your choice is simple.
iOS and Android Apps
You can download both the Android and iOS apps from Google Play or App Store, and configuration is easy. You need to agree to a few security measures and other preferences, and then just connect to a server. There's also an option to auto-connect to the VPN when you fire up your mobile device.
The installation notifications were something I particularly valued about ExpressVPN. For example, I was asked whether or not I wanted to share crash reports. The app is transparent about how it uses this information, and it's good to see the extra care it takes with my privacy preferences.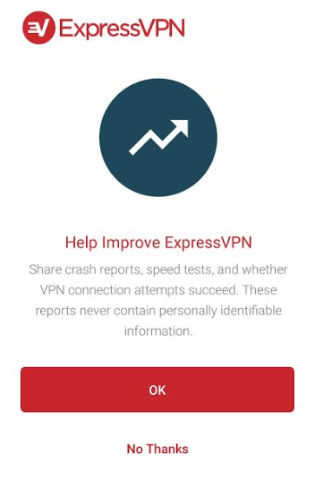 The iOS and Android apps differ slightly between each other, and neither of them has all of the features included in the desktop app.
First of all, the mobile apps have no kill switch. This means if you lose the VPN connection, you may not realize until it's too late. If the connection is ever compromised, the lack of kill switch means your online activity could become visible and vulnerable.
There's also no Tor compatibility with mobile, so if you're looking for added privacy with Tor, you'd be better sticking to the desktop app.
I tested IPv6 leak protection on mobile, but unfortunately, this doesn't work either. I was unable to see whether this had been blocked, which raises some questions about privacy on mobile.
Looking to see how fast ExpressVPN's servers are? Stick to desktop. You can't use the speed test on mobile, so you can't assess servers for latency and download speed. Having said that, other vendors offer no speed test at all, even on desktop.
ExpressVPN's high-level encryption is still used through the mobile app so you're secure while connected. Connections are all reliable, despite no speed test. I didn't experience any buffering or lagging as I switched servers on mobile. In fact, I often found my mobile app was quicker than desktop.
If you're an Android user like me, you'll have to settle for less security protocols, too. iOS users can choose from OpenVPN and IPSec/IKEv2 protocols. However, Android only supports OpenVPN. This is the highest standard, and probably the only protocol you'd use for the majority of the time. Still, it would be nice to have the same choice as Apple users.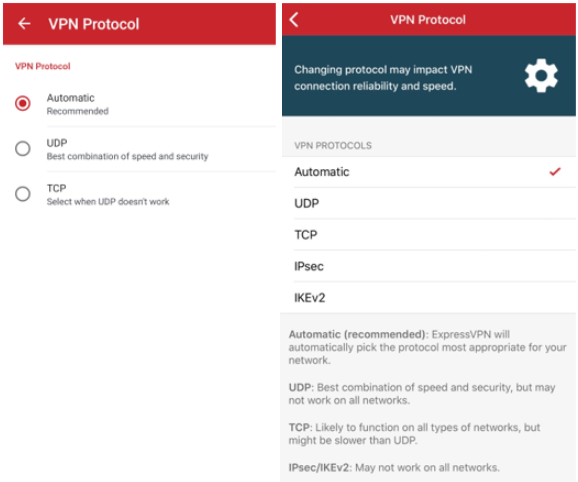 However, Android users do have something that iOS users don't, which is a network protection feature. This acts almost like a kill switch, blocking internet access when it can't connect to a server or has trouble reconnecting.
It's automatically turned on in the app, but you can use the toggle to switch it off. I would recommend keeping it on, though, as it'll keep you secure and invisible from your ISP.
Browser Extensions
ExpressVPN has dedicated browser extensions for both Chrome and Firefox. These only encrypt the traffic that goes through your browser, so everything else you do online is unencrypted. It's almost like a split tunneling feature.
You install the add-on directly in your browser, meaning you don't need to fire up the full VPN to get it to work. Just click on the extension in your browser and connect. It's ideal if you're just looking to encrypt your browser traffic quickly, like when using Chrome and a public wi-fi connection.
You can also set the extension so that it connects as soon as you open your browser, which is a nice extra to have so you don't have to remember turn it on.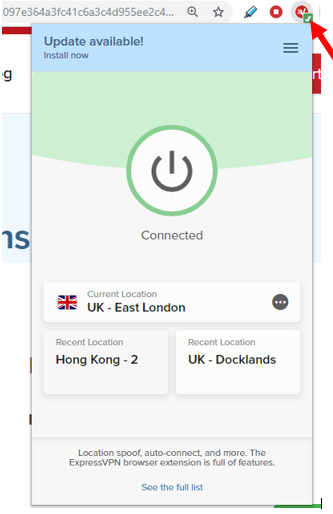 You still have the Network Lock feature, WebRTC leak protection, and access to all of its server locations with the browser extension.
ExpressVPN adds an extra layer of privacy by hiding your HTML5 geo-location, the spot where you're actually, physically standing. Stopping your physical location from being revealed is important if you're accessing a geoblocked site outside of your country.
The browser add-on provides higher security using its HTTPS Everywhere feature, which automatically connects you to the safer HTTPS version of a site. This further encrypts your traffic between your device and the site you're visiting, preventing man-in-the-middle attacks. This feature is only available with the Chrome extension.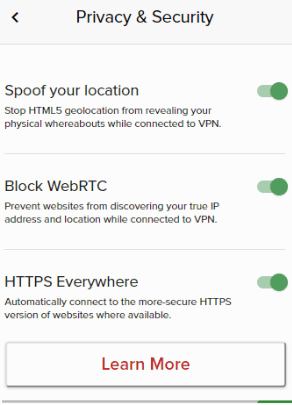 One thing I did notice during my tests is that the browser extensions are only available if you already have the desktop app and have subscribed to the service. Some other premium vendors offer browser add-ons for free, regardless of whether you have the app or not.
Looking for a VPN Chrome extension for an extra layer of browsing safety? Check out our top picks.
While ExpressVPN has some great browser extensions, just how good is its router app?
Router App
ExpressVPN does offer an app for routers. If you install the app to your router, you'll protect every device in your household, even if they don't usually support VPN software. That includes any TVs, games consoles, mobiles, or tablets. There's no limit on the number of connections once it's installed on your router.
There are only a few, quick steps to follow to get set up. You can actually select your specific router from the drop-down on ExpressVPN's website, and it'll give you a guide on how to get started.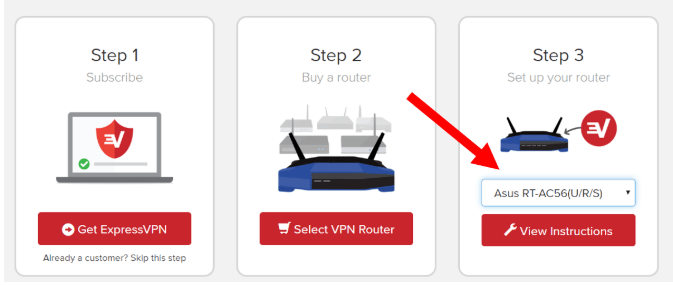 Editor's warning: You can manually configure the VPN yourself with another compatible router. But remember, you often miss out on important security features if you don't configure the app correctly.
If there are certain devices you don't want connected to the VPN, you can change your settings using the split tunneling feature, adding and removing devices freely.
I was pleased to see that you can use ExpressVPN's Network Lock feature on routers, too.
Does ExpressVPN Unblock Global Content?
ExpressVPN is reliable for getting past even the trickiest of geoblocks. You can stream on any of ExpressVPN's servers.
Although, it would be even better to see servers optimized for streaming platforms, like with other premium vendors such as CyberGhost.
Does ExpressVPN Work With Netflix?
Netflix doesn't let you watch all its content - it limits you based on where you are. But the right VPN lets you access all Netflix libraries. Netflix has some of the toughest firewalls of all streaming platforms, so it's only fair that I tested out different Netflix libraries around the globe.
Quick Guide - How to Stream Netflix With ExpressVPN
Set up a Netflix account.
Connect to an

ExpressVPN

server. Make sure you choose a location that corresponds to the Netflix library you want to access; for example, a US server for US Netflix.
Log in to Netflix, find your favorite movie or TV show, and press play!
I started with the UK and US Netflix libraries, both of which were a success. I even tested the US Netflix library across ExpressVPN's 20+ US servers, and I was able to unlock content to stream in HD easily on each one.
Then I headed over to Netflix Australia, which I was also able to access hassle-free.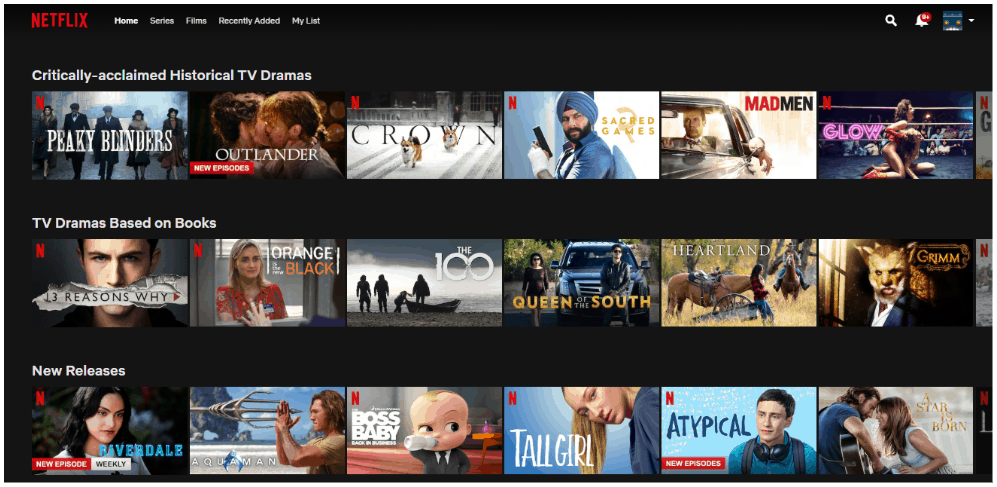 However, when I tried to access Netflix Germany, I did run into geoblocks while connected to a Frankfurt server. I changed to a Nuremberg server and was able to stream freely.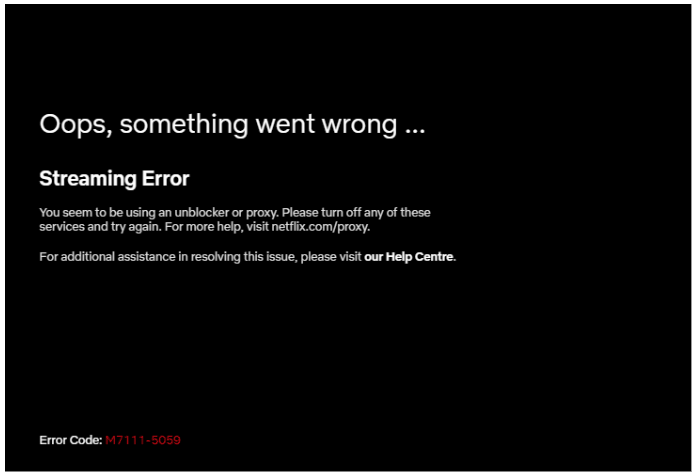 South America was my final test. I tested Netflix libraries in Brazil, Chile, and Peru, and I was able to stream in HD across all. I experienced no buffering, lagging, or fuzzy pictures at all.
Is Netflix your top priority? Check out our top recommendations of VPNs for Netflix – all guaranteed to bypass Netflix's tough geoblocks and unlock geo-restricted content wherever you are. With its impressive unblocking capabilities, ExpressVPN made it to second spot on our list.
Other Global Platforms
Netflix isn't the only streaming site that uses geoblocking. BBC iPlayer is specific to the UK only, and it's known for its intense geoblocks. I put it to the test while connected to a UK ExpressVPN server. Success! I streamed BBC iPlayer easily with no geoblocks, and I was able to download some TV shows to my device to watch another time.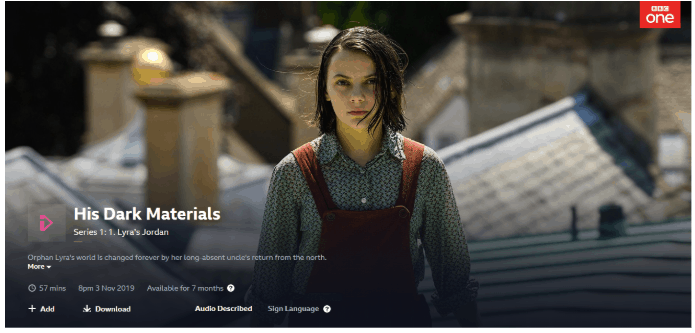 I tested more streaming sites, such as Amazon Prime Video, Hulu, HBO GO, and ITV Hub. ExpressVPN accessed these easily. It's also reliable for unblocking YouTube, Google, Facebook, and other restricted sites.
If streaming is your primary reason for choosing a VPN, read our review of the best VPNs for streaming anywhere in the world.
Check out an impressive list of popular streaming sites ExpressVPN unblocks below.
ExpressVPN Unblocks

Netflix
BBC iPlayer
Amazon Prime Video
Hulu
HBO GO
ITV Hub
Disney+
CBC
ESPN
Sky Go
DAZN
Sling
Unlock Streaming Sites With ExpressVPN!
Does ExpressVPN Work in China?
Working in China is the ultimate test for a VPN.
The Chinese government heavily restricts website access in the country, including sites like Google, Facebook, and YouTube. This is known as the Great Firewall of China, and most VPNs simply aren't powerful enough to get around it. However, ExpressVPN can.
In fact, when the Chinese government cracked down on VPN use a few years ago, ExpressVPN was one of the only VPNs that still worked.
As we've already seen, ExpressVPN has servers in Hong Kong, which allow you to access Chinese TV and websites while outside of China.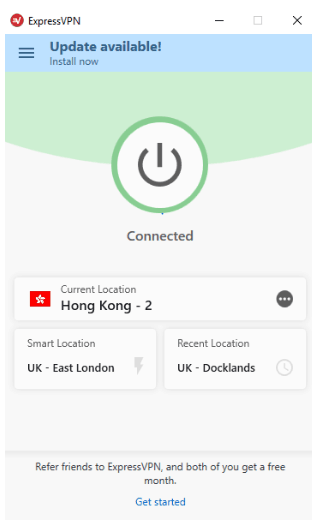 It works in the reverse, too, helping people inside China access digitally censored sites. It does this by using obfuscation across its servers. Why is this useful? Since the Chinese government doesn't allow VPNs, it means a usual server would be blocked right away once the VPN connection was visible, even if your traffic was hidden.
Obfuscation disguises the VPN server code so that it looks like usual internet traffic. This means it won't be detected as a VPN and blocked, so you can browse freely and access restricted sites from inside China.
ExpressVPN allows you to unblock Facebook, Google, WhatsApp, Netflix, and more from inside China. However, you need to install the VPN outside of Chinese borders first, otherwise it will be blocked regardless.
Does ExpressVPN Support Torrenting?
ExpressVPN is a popular VPN for torrenting for a number of reasons. It has unlimited bandwidth and data caps for completely unrestricted torrenting. But it also allows torrenting and P2P sharing across any of its servers.
Since ExpressVPN keeps no logs and is headquartered in a privacy-friendly location, your torrenting activity or history cannot be shared or leaked to anyone. It's safe to use with uTorrent or any other BitTorrent client, with guaranteed anonymity.
DNS protection through ExpressVPN's own DNS on every server further protects you from leaks and revealing your torrenting activity. It's a solid choice for torrenting and P2P sharing, not just for security, but for its speed and performance.
We like ExpressVPN for torrenting so much that it came first in our review of the best VPNs for torrenting (based on performance, not because of some special pricing trick).
How Many Devices Can I Connect With ExpressVPN?
ExpressVPN allows five simultaneous connections. While this is isn't as many as other premium vendors, it's still enough for you to secure multiple devices at the same time with just one subscription.
However, if you install the app to your router, you'll actually have unlimited simultaneous connections. This is because the router is considered to be the device connected to the app. You can protect every wi-fi-connected device in your household, just by installing ExpressVPN on your router.
The ExpressVPN app is compatible with all popular devices, including iOS, macOS, Windows, Android, Linux, AppleTV, and Amazon Fire Stick. It can also be installed on browsers and routers.
| Features | Details |
| --- | --- |
| Number of countries with servers | 94 |
| Number of servers | 3000 |
| Number of IP addresses | 25000 |
| Does VPN keep logs? | No |
| Does VPN include a kill switch? | Yes |
| Number of devices per license | 5 |
Setting up ExpressVPN is easy. After choosing your subscription, creating an account, and entering your payment details, you'll receive a welcome email with an activation code and link. This takes you directly to the installation guide for your device. You can then download and install the app with just a couple of clicks. The process only takes a couple of minutes.
The ExpressVPN desktop and mobile apps are attractive, stable, and incredibly user-friendly. You can choose to select which server location to use or take advantage of the single-click Smart Location feature. This automatically connects you to the nearest high-speed server for fast protection. The app will automatically detect and select the best security protocol for you.
The app always shows the smart connect button so you can connect in an instant. Another thing I liked: The app shows recent locations you've connected to. It all makes for a fast setup as soon as you fire up the VPN app.
Navigating through the app to find your settings is easy: just click on the hamburger menu. From here, you can use the speed test, change security protocols, access the split tunneling feature, and use the toggles to turn other features on and off, such as the Network Lock.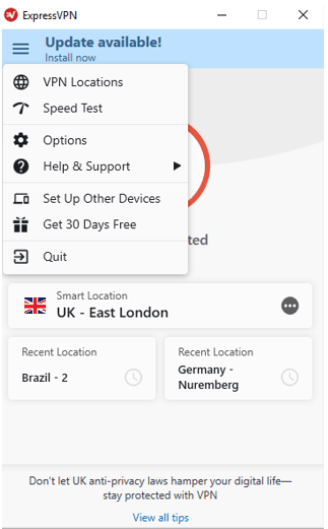 That's about as far as the app goes. It's simple, fast, and highly effective. For any support, just access ExpressVPN's tutorials and troubleshooting guides, or speak to one of its live agents.
For the tech-savvy crowd, you can easily configure the app settings through the settings menu, where you'll find a variety of protocols and connection settings, including a kill switch and split tunneling.
For a detailed guide, read How to Open and Install ExpressVPN on Windows.
Overall, ExpressVPN offers exceptional value for money. As usual, you get what you pay for.
You have three different-length subscription plans to choose from with ExpressVPN, each with the same premium features:
12-month plan: $6.67/month (includes three free months; pay $99.95 first 15 months then every year – 49% discount)
6-month plan: $9.99/month (pay $59.95 every 6 months – 23% discount)
1-month plan: $12.95/month (base price paid monthly – no discount)
The service becomes much more affordable with the discounts offered on longer plans, as well as ExpressVPN's frequent deals and coupons.
ExpressVPN offers a no-questions-asked 30-day money-back guarantee on all subscriptions. We've tested it ourselves; there are no strings attached.
All major credit and debit cards are accepted, as well as a long list of online payment platforms, including PayPal. You can also pay with Bitcoin, which is a great option for anonymity.
While its plans are a tad pricier than some other premium vendors, such as Surfshark, ExpressVPN actually gives you access to much more.
For one, there's the flexible split tunneling feature. There are also the added security features,  such as its own DNS on every server, and of course, the lightning-fast speeds.
The longer the subscription term you choose, the greater the discount you'll receive. There's also an option to get one month free by referring a friend when you subscribe. There's no limit on this either, so you can refer as many friends as you like for more free months.

Does ExpressVPN Have a Free Version?
ExpressVPN does not technically offer a free version or a free trial. However, there is an easy way to get around this.
You can get an ExpressVPN free trial for 30 days by taking advantage of its 30-day money-back guarantee.
ExpressVPN is so confident in the quality of its service that it has a unique, no-questions-asked policy on refund requests.
This means that you can use ExpressVPN's full premium service for 30 days and then request a refund without having to defend your decision in any way. We tested ExpressVPN's money-back guarantee ourselves — there truly are no strings attached.
This loophole is a great way to test out ExpressVPN and the value it provides, with no risk and no hassle.
49% Off
Best speeds on the market at a great discount – save up to 49% with ExpressVPN!
Money-Back Guarantee: 30 Days
Always looking for the best deals? Take a look at our list of the best current VPN deals and coupons.
Reliability & Support
5.0
Support is an area ExpressVPN really excels in. Its live chat service is user-friendly, super helpful, and available 24/7.
When I tried it out, I received a response with all the information I needed. Its agents also take your email address if you're registered so they can send you answers via email if the chat gets disconnected.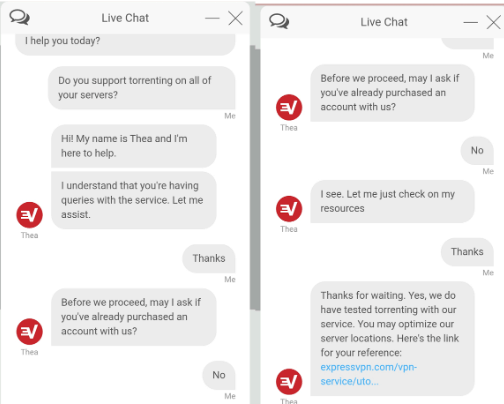 If you'd prefer not to talk to a live agent, ExpressVPN offers plenty of support on its website. There are FAQs, user support guides, and setup guides for everything you could need. There are videos, too, to walk you through certain aspects.
You can also use its ticketing function or email ExpressVPN directly, but in most cases, live chat is the best way to get help.
The ExpressVPN website is easy to navigate and full of helpful resources, including an informative blog, an extensive FAQ section, detailed troubleshooting guides, and step-by-step tutorials.
The website is available in 16 different languages. Their support center operates in six of them. This is impressive compared to other services; for example, NordVPN only offers its Help Center in English.
An impressive VPN service that's worth every penny
It's easy to see why ExpressVPN is so widely used. It's not least for its amazing speeds. It has so much more to offer, including the highest level of encryption, a huge global network, advanced split tunneling, and impressive unblocking capabilities.
What I liked:
Complex features, but it's super easy to use
Added features to protect privacy, such as its own DNS on every server and TrustedServer technology
Consistent, super-fast speeds throughout every test
What I didn't like:
Some features, such as Network Lock and Tor compatibility, are only available on certain devices
No ad blocker
Differences between mobile apps for iOS and Android
Its security is second to none, and this really makes ExpressVPN stand out. From its strict zero-logging policy to its TrustedServer technology, ExpressVPN is clearly committed to protecting your security and guaranteeing your anonymity and privacy online.
Streaming is another area that ExpressVPN has covered. It easily unblocks all major Netflix libraries and BBC iPlayer wherever you are. Although you do need to be careful which servers you choose, since I had trouble with the Netflix Germany library on some servers. If you want reliability across any server, check out our top VPNs for streaming Netflix.
ExpressVPN is complex in features and functions, but it keeps its app simple and easy to use. This makes it ideal for a VPN newbie through to an advanced user like myself.
Sure, there are ways in which ExpressVPN can improve, starting with a built-in ad blocker and adding the Network Lock feature to more devices.
I'd also like to see more features on mobile. But the negatives are few and far between, and overall, it offers remarkable value for money with packages that are too attractive to ignore.
If you're looking for a premium VPN with a more budget-friendly price, check out NordVPN.
If you need more device connections with a much lower price point, check out Surfshark.
Swift installation and user-friendly
3000+ servers in 94 countries
Top-notch 24/7 customer support
No traffic limits and blazing speeds
Strong no-logging policy
Excellent for streaming geo-restricted services, including: Netflix and Hulu
Money Back Guarantee (Days) :
30
Mobile app :
Number of devices per license :
5
Watch the short video review and tutorial below of ExpressVPN
Michael
Apr 4, 2020
I changed from Nord vpn which was always giving me issues. Since being with express has been flawless. Honestly nothing bad to say about it. When ever I am asked by family and friends on which VPN to use only recommend Express vpn now. Cheers
---
See Plans
Reply to this review
Did you know? We approve all user reviews. Companies can't pay to include or exclude any.
Matthew
Apr 2, 2020
This is a great VPN, it's so easy to use - even on Linux. Plenty of platform options to choose from, including setting it up right on your router. Tons of end points from many different countries. You're Awesome Sauce EXPRESSVPN!
---
See Plans
Reply to this review
Kotep
Apr 1, 2020
A must-have for your online world
I looked around and tried a lot of different products. I've had express VPN for over a year now and it's been everything I needed. Love the fact that you can use it on laptop, desktop, phone, even Apple TV. I've never had an issue with speeds and really cool that you can pivot between different servers. Having tried a lot of the other providers I'm sticking with this one. I honestly could not understand why you would not at least try this product. Keeps your snooping Internet provider away from you ha ha!
---
See Plans
Reply to this review