ExpressVPN Review & Test (2019): Too Good to Be True?

Katie Kasunic
(Technology Researcher)
ExpressVPN's new reduced price created lots of hype around its service. You may have heard about this VPN's legendary speeds and powerful unblocking capabilities when it comes to streaming.
But is ExpressVPN too good to be true? What's the downside? Is ExpressVPN sacrificing your safety to achieve such high speeds?
To find out the real story, I put ExpressVPN through our toughest tests. I looked at this VPN with an extra-critical eye to find out if it's the real deal.
I'm going to walk you through ExpressVPN's performance in each category. I will also give you the inside scoop on how to get the best discounts with this premium VPN.
Need for Speed — Is ExpressVPN Really That Fast?
While ExpressVPN definitely has more to offer than speed, the fact remains that this VPN is best known for its blazing-fast network, which includes 3,000+ servers in 160+ locations. It's only fair that I start out by testing those speeds myself.
Unfortunately, VPNs can often slow down connections, either because of heavy security features or because they are directing too much traffic through the same crowded servers.
To understand the results of VPN speed tests, you have to know what the starting connection speed was before connecting to the VPN's network.
In this case, I started out with a base connection speed of around 66 Mbps.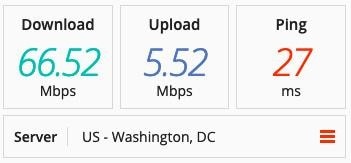 I could then compare this to the speeds I get with the VPN enabled. A fast VPN is one that doesn't significantly decrease your speed while connected.
I then selected ExpressVPN's Smart Location feature, which connected me to the nearest server location at home in the US. My average speed was 62 Mbps.
As you can see, there was almost no decrease in my download speed with ExpressVPN enabled. In fact, my speeds only decreased by 7%! This is very impressive, especially compared to other VPNs that were so slow they really ruined my browsing and streaming experience.
Other servers that I tested in the US gave similar results, with excellent reliability.
Next, I connected to one of ExpressVPN's UK servers to see how the speeds held up over a larger physical distance.
My average speed was 58 Mbps.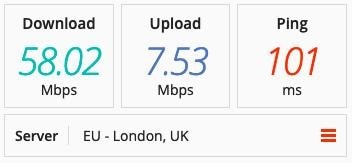 I tested several other server locations in Europe, and didn't find a single one that slowed me down.
My average speed with the servers in Germany was 57 Mbps.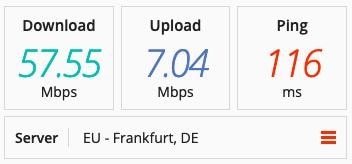 Finally, I went all the way across the world to connect to ExpressVPN's Hong Kong servers. I was shocked to see that the physical distance barely made a dent in my speed.
My average speed was 52 Mbps.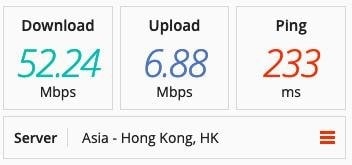 These are incredible speeds. Compared to my starting speed of 66 Mbps, I lost less than 15 Mbps even from ExpressVPN's servers on the other side of the world.
In most cases, I lost less than 10 Mbps from my starting speed, and the speeds stayed consistent throughout the day.
It's official: ExpressVPN is not just fast, it's lightning fast. ExpressVPN's server network makes it into a powerful VPN with better speeds than any other service we tested. It leaves other highly-rated providers like Private Internet Access (PIA) in the dust.
While there are a couple of other VPNs that may be comparable to ExpressVPN in terms of speed, they are few and far between. They can't offer anything close to the full feature package that ExpressVPN provides for its users, including a high level of encryption that doesn't slow it down one bit.
Streaming - Does ExpressVPN Work with Netflix?
Why do I care so much about fast speeds? Fast speeds mean buffer-free streaming for all my favorite shows!
To help me, ExpressVPN will need to be able to bypass some pretty tough geo-restrictions without being caught by the dreaded VPN-block error message.
I tested ExpressVPN with various streaming services. All five of the US servers that I tested were able to access US Netflix, Hulu, Amazon Video, and HBO GO.
Every server country that I connected to was able to successfully access Netflix content, including the US, the UK, Germany, France, Mexico, New Zealand, and Japan.
In addition to Netflix, I was also able to access BBC iPlayer through ExpressVPN's UK servers.
It seems that there is almost no site or service on the web that ExpressVPN can't unblock – and that's more than can be said for most VPNs on the market.
The combination of ExpressVPN's unblocking abilities with its fast, stable connection speeds makes this VPN almost unbeatable when it comes to streaming.
Start Streaming with ExpressVPN
Is ExpressVPN Good for Torrenting?
While it can take some digging to find clear references to torrenting on the ExpressVPN website, the provider gives you a hint on the homepage by promising that you can:
"Stream or download anything, from any of our servers, anywhere on Earth, with your IP address hidden from prying eyes."
ExpressVPN is a torrent-friendly VPN that allows P2P on all of its servers. This is unusual: other top services like NordVPN and CyberGhost have a limited number of P2P servers, and others like ZenMate don't allow it at all.
We think ExpressVPN is great for torrenting because:
Its high-speed servers make sure you don't experience buffering or lag.
It doesn't restrict your speed or bandwidth, so there's no limit to how much you can torrent.
It doesn't log any information, protects you from DNS and IP leaks, and is outside of 14-Eyes jurisdiction. This means you can never be caught torrenting copyrighted material.
All its servers support P2P traffic. This means you'll have better speeds than a service with a limited number of P2P-friendly servers.
Start Torrenting with ExpressVPN
Security - Is ExpressVPN Safe?
ExpressVPN doesn't cut any corners when it comes to security, which is unfortunately what some VPN providers do to improve lackluster speeds.
Instead, ExpressVPN takes your internet security very seriously, offering excellent features such as DNS leak protection, IPv6 leak protection, split tunneling, and a built-in kill switch, which they call a Network Lock.
Kill switches prevent traffic from entering and leaving your device if your connection drops, offering a greater level of protection, especially if you're connected to unsecured public wi-fi. It's worth noting that the Network Lock feature is currently only available on Windows, MacOS, Linux, and routers.
I did not detect any IP or DNS leaks with any of the ExpressVPN servers that I tested. For example, this was how I was identified by the dnsleak website while connected to one of ExpressVPN's UK servers: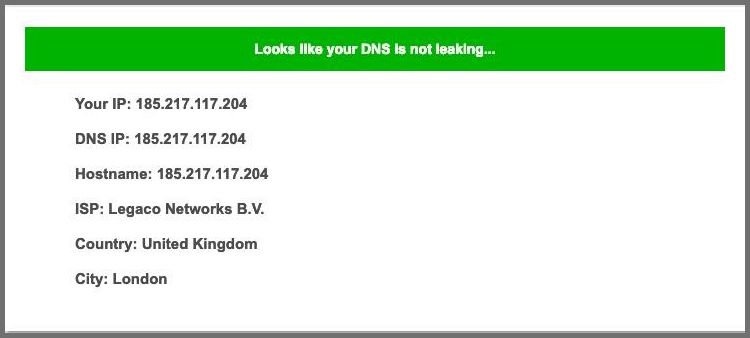 As you can see, my true location in the US was undetectable.
ExpressVPN also offers split tunneling. This feature means you can choose sites to remain unencrypted and use the "regular" internet, instead of sending all your traffic through the VPN. You can also configure your device for inverse split tunneling, and choose to only send traffic from certain sites through the VPN. Split tunneling is only available for ExpressVPN's Windows, MacOS, Android, and router clients.
ExpressVPN Servers
ExpressVPN has more than 3,000 servers in 160+ locations.
While most of these are real, physical servers located in more than 90 countries, 3% are what's known as "virtual servers". This means that your traffic is routed through a server in one country, and assigned an IP address from another. This is because it's hard to find servers that meet ExpressVPN's high standards for speed and security. Virtual servers allow you to use the IP address from the country of your choice, while still enjoying lightning-fast speeds and high levels of security.
ExpressVPN does not offer static IP addresses.
TrustedServer Technology
ExpressVPN recently raised the bar even higher with its innovative TrustedServer technology.
Essentially, TrustedServer means that ExpressVPN runs its servers entirely on RAM. This reduces the risk of security vulnerabilities on ExpressVPN servers compared to other VPN server networks.
RAM can't store data when the server is powered off, so every time a server is restarted its memory is completely wiped. This guarantees that none of your data is ever logged, even accidentally.
Because ExpressVPN's servers run using only RAM, they don't need access to the hard drive via write permissions. Other VPN companies use servers that require the operating system to have both read and write permissions to the hard drive. This traditional setup opens a gateway for hackers to access sensitive data, modify files, or even install a malicious backdoor on the hard drive.
TrustedServer makes sure that each time an ExpressVPN server restarts, it freshly loads all software—including the operating system—from a secure read-only image stored on the hard drive.
The image is cryptographically signed by ExpressVPN to make sure the software hasn't been tampered with. If the signature isn't valid, the server will not operate.
This is different from the way many VPN companies install the operating system only once when the server is first set up. Server updates and security patches are then done in pieces, or on a case-by-case basis, which makes it hard to guarantee that every server in the network is configured the same way. Some VPN companies may go years without fully wiping and reinstalling the operating system.
By packing all of the server's software into one secure image that is rebooted on each startup, ExpressVPN is able to make sure that every single one of its servers is running the correct, up-to-date software and configured for maximum security.
ExpressVPN has recently allowed a third-party audit of TrustedServer by PwC to confirm that the technology works the way ExpressVPN says it does.
Tor Browser
ExpressVPN offers an extra level of security. All its servers are compatible with the Tor browser, so you can connect to both a VPN and Tor for maximized security and protection. There's even a hidden .onion site for users who are looking for an extra layer of anonymity.
Independent Security Audit
Don't just take their word for it. ExpressVPN has taken steps to be more transparent and prove to their customers that the service they offer truly is safe.
ExpressVPN partnered with reputable cybersecurity firm Cure53 to perform a security audit of ExpressVPN's browser extension for Chrome. We talked to Cure53 and are convinced they do a great job - we even hired them to help us identify leaks on other VPNs (don't worry - ExpressVPN passed all our tests!).
The results of the audit, which were made freely available to the public, were very positive. The report made it clear how committed ExpressVPN is to offering strong security and constantly improving their VPN service.
The provider went even further by open-sourcing its browser extension code, which is a big step toward transparency and building trust with the public.
As of June 2019, ExpressVPN announced that they'd recently undergone a second security audit with the accounting firm PwC. The purpose of the audit was to confirm compliance with its privacy policy. Additionally, PwC audited ExpressVPN's TrustedServer technology to validate that it operates according to ExpressVPN's descriptions.
Users can find a full copy of the audit report by going to their ExpressVPN dashboard. At the bottom of the screen, you can click "Security Audits." This will bring you to a page with links to download both of their audit reports.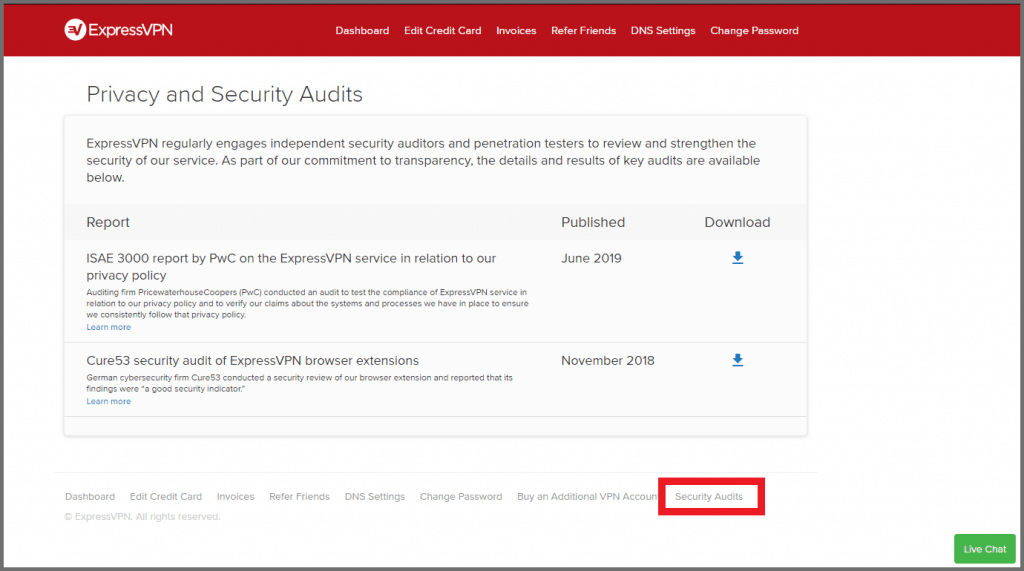 Encryption
ExpressVPN protects your connection with AES 256-bit military-grade encryption, which is the same level of encryption used by many government agencies, to give you an idea of how secure this encryption algorithm is.
It's basically impossible to crack AES 256-bit encryption - it would take hundreds of supercomputers billions of years to unencrypt a single data packet. ExpressVPN offers perfect forward secrecy: just in case someone managed to intercept the data from one browsing session, everything else would remain secure.
For most people, an OpenVPN connection is the best choice because it lacks the security vulnerabilities of older protocols.
The only exception is if you are using a device that isn't compatible with OpenVPN. However, ExpressVPN supports a range of other protocols, including OpenVPN (UDP and TCP), L2TP/IPsec, and PPTP.
If you're new to the world of VPNs and you're not sure what any of this means, that's not a problem. The ExpressVPN apps will automatically detect and select the best protocol for you. It's hard to beat that level of user-friendliness.
Does ExpressVPN Keep Logs?
ExpressVPN is registered in the British Virgin Islands, outside the jurisdiction of the 5/9/14-eyes alliance.
The company has a strict no logs policy. According to their privacy policy, they do not and will never collect any of the following information in any form:
Your real IP address
IP addresses you connect to through the VPN
Browsing history
Traffic destination or metadata
DNS queries
In other words, ExpressVPN does not collect usage data of any kind.
There is a small amount of connection and diagnostic data collected anonymously by ExpressVPN to help troubleshoot technical issues and improve the service, but there is no way to connect any information to an individual user.
This is nothing to worry about: it's standard practice for VPN companies, allowing them to improve their technology and service while their users remain anonymous.
Although I never like to blindly trust VPN providers when it comes to privacy, I have good reason to believe ExpressVPN about their logging policy.
Other vendors (like PureVPN and HMA) have been caught giving away user data. But when an ExpressVPN server was thought to have been used by the suspect of a Turkish criminal investigation in 2016, authorities were unable to find any incriminating information due to the fact that ExpressVPN does not retain any data logs.
Although ExpressVPN does not support using their VPN for illegal purposes, it's obvious that the provider is being sincere in its commitment to preserving user privacy and anonymity online. This is another aspect of ExpressVPN's service that was audited by PwC to confirm compliance.
Their transparency is yet another reason why we trust ExpressVPN.
Who Owns ExpressVPN?
ExpressVPN is owned by ExpressVPN International Limited, a private company based in the British Virgin Islands.
Does ExpressVPN Have an Adblocker?
ExpressVPN does not include an adblocker in its VPN service, but it will protect you from adware-related tracking on the websites you visit.
Does ExpressVPN Work in China?
There aren't many VPNs that are able to successfully bypass the Great Firewall of China. Big brands like CyberGhost and Private Internet Access can't - but ExpressVPN can.
One of ExpressVPN's biggest strengths is its ability to bypass tough geo-restrictions of all kinds, whether you are dealing with Netflix's VPN ban or China's notorious censorship.
This makes ExpressVPN one of the best VPNs for China.
If you are in China and are having difficulties connecting, ExpressVPN's 24/7 customer service can help you troubleshoot and select the best servers for the most reliable connections in China.
Value for Money — Is ExpressVPN Worth the Price?
As previously mentioned, ExpressVPN's subscription plans are not the cheapest on the market. However, it's also true that you get what you pay for.
ExpressVPN's speed and performance are superior to almost every other VPN that we have tested. Even paying full price, you are getting excellent value for your money with this premium VPN.
That being said, you can definitely save more than a few pennies if you take advantage of ExpressVPN's frequent deals and discounts offered on longer subscription plans.
Does ExpressVPN Have a Free Version?
ExpressVPN does not technically offer a free version or a free trial. However, there is an easy way to get around this.
You can get an ExpressVPN free trial for 30 days by taking advantage of their 30-day money-back guarantee.
ExpressVPN is so confident in the quality of their service that they have a unique no-questions-asked policy on refund requests.
This means that you can use ExpressVPN's full premium service for 30 days and then request a refund without having to defend your decision in any way. We tested ExpressVPN's money-back guarantee ourselves — there truly are no strings attached.
This loophole is a great way to find out if ExpressVPN is worth it to you.
In short, if you want to experience first-hand all that ExpressVPN has to offer, you can do so with no risk and no hassle.
Is ExpressVPN Compatible with my Device?
ExpressVPN is compatible with practically every device and platform.
Dedicated apps are offered for the following platforms:
Windows

Mac

Android

iOS

Linux

BlackBerry

Chromebook
Kindle Fire

Router
ExpressVPN also has secure browser extensions for Chrome, Firefox, and Safari. Browser extensions mean you can enjoy VPN protection for specific sessions without using your desktop client. The Chrome extension also ensures that you connect to sites using HTTPS connections for additional security.
ExpressVPN is an excellent choice for both iOS and Android devices.
If you don't see your device on that list, don't worry. ExpressVPN also offers clear and detailed step-by-step installation guides for many additional platforms, including gaming consoles, streaming devices, and smart TVs.
A single ExpressVPN account will allow you to connect up to five devices simultaneously. While you can install ExpressVPN on more devices, you can only use three at once.
This is a rather small number compared to most other popular VPNs on the market - for example, NordVPN lets you connect six devices at once. This can be inconvenient for families or small businesses.
If you want to secure a larger number of devices with ExpressVPN, your best option is to set up the VPN with your router. This will allow you to protect all of the devices connected to the router without worrying about the three device limit.
ExpressVPN Customer Service
ExpressVPN has some of the best customer service of any VPN I've tested. First of all, there are a number of excellent resources available on the website, including a searchable FAQ database, troubleshooting guides, and in-depth installation walkthroughs.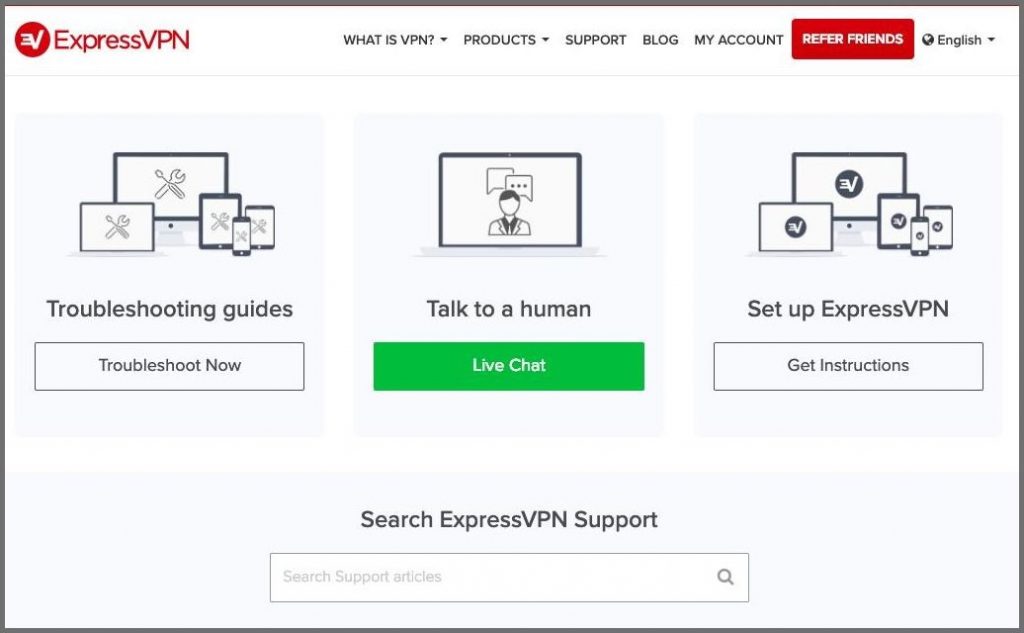 While you can easily find the answer to most common questions and concerns on the website, the easiest way to get an answer to any question on your mind is through ExpressVPN's 24/7 live chat support.
I tried the live chat on several different occasions, and the support team was always highly attentive and responsive. Even my most challenging questions were answered promptly, professionally, and in detail.
If you're not a fan of instant messaging and you don't mind waiting a bit longer for a response, you can also contact support through email or a ticket system. I received an answer to my email query within two hours.

User Experience
The ExpressVPN app is a pleasure to use. It's obvious that a lot of thought was put into creating an interface that is intuitive, straightforward, and user-friendly for new users, that also has plenty to offer for advanced users.
The settings are easy to navigate, and the app gives you a lot of freedom to configure your settings to match your preferences.
When you open the ExpressVPN app, you will see a big power button in the center that tells you whether you are connected to the VPN.
To connect, simply click on the power button. The app will automatically detect the best encryption protocol for your device and connect you to your most recently used server location.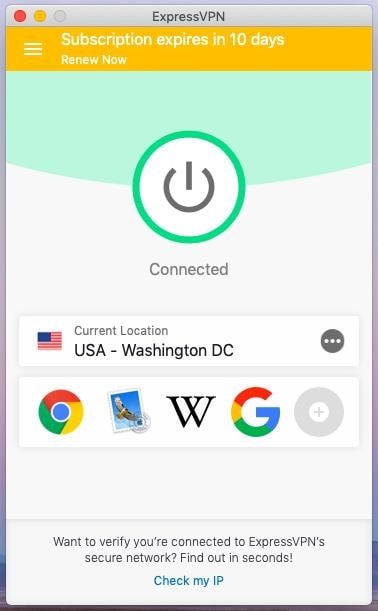 The Smart Location feature will automatically connect you to a nearby server. You can also manually select a server location by clicking on the three dots to the right of your current location.
This pulls up a menu of ExpressVPN servers. You can browse all locations by region, or view a list of recommended and recent servers.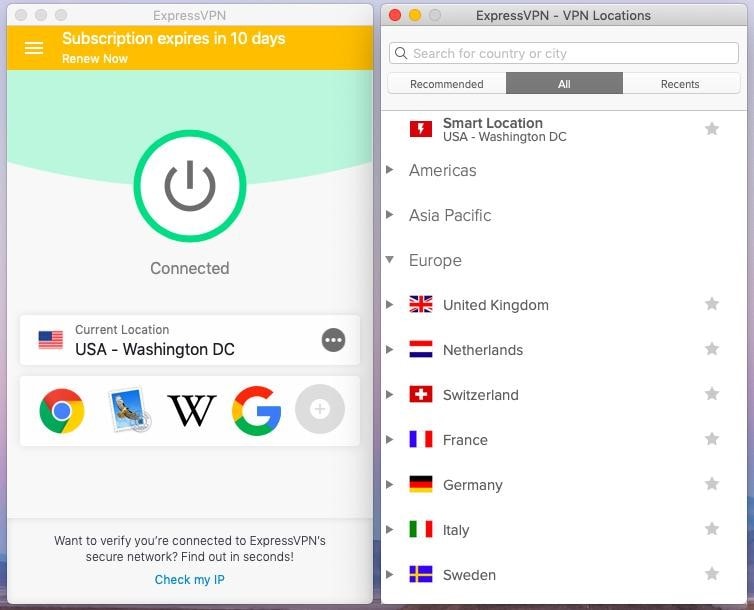 As previously mentioned, by default the user-friendly app is set to automatically select the best protocol for you.
If you would like to manually select a protocol or adjust any of the other settings, you can click on the three lines in the top left corner of the app.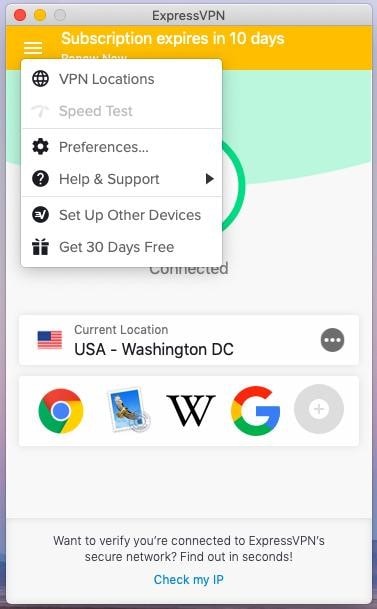 Clicking on Preferences will bring up the settings menu. The settings are sorted in an intuitive way, so I had no trouble navigating to specific options.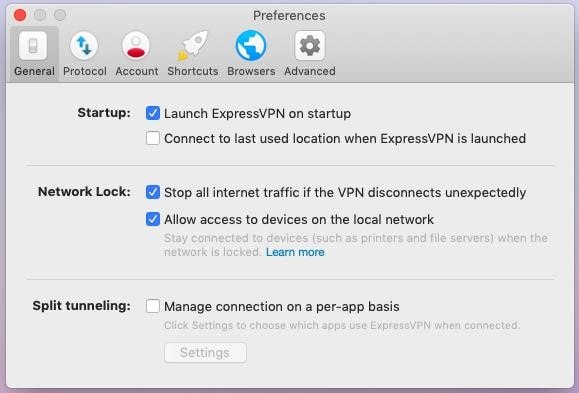 Overall, I was very happy with the user experience offered by ExpressVPN. The ExpressVPN app strikes an excellent balance between advanced features for experienced users and intuitive, hassle-free functionality for beginners.
Things I Didn't Love
ExpressVPN is a nearly-perfect service, but I noticed several issues that could be improved to make it even better:
No ad blocker - other top-rated VPNs have built-in adware and malware blockers. I was disappointed to see that ExpressVPN doesn't include any ad blocking software.
Pricing - ExpressVPN is a premium service that comes with a premium price tag. Other services offer the same encryption strength and unblocking powers at a fraction of the price.
Conclusion
Even after putting ExpressVPN through the toughest tests, it's hard to find a negative thing to say about this VPN. I can conclusively say that the quality of service offered by ExpressVPN lives up to the hype.
ExpressVPN is possibly the best VPN on the market for streaming because of its lightning-fast speeds and ability to bypass the toughest geoblocks on streaming content, including Netflix.
This VPN is also an excellent choice for bypassing censorship, ensuring anonymous torrenting, and protecting your privacy.
When you also consider ExpressVPN's robust security, industry-leading customer service, and user-friendly app interface, it's clear that ExpressVPN is well worth the price.
If you're looking for a premium VPN with a more budget-friendly price, check out NordVPN.
If you need more device connections with a much lower price-point, check out Surfshark.
| Features | Details |
| --- | --- |
| Number of countries with servers | 94 |
| Number of servers | 3000 |
| Number of IP addresses | 25000 |
| Does VPN keep logs? | No |
| Does VPN include a kill switch? | Yes |
| Number of devices per license | 5 |
Setting up ExpressVPN is easy. After choosing your subscription, creating an account, and entering your payment details, you'll receive a welcome email with an activation code and link that will take you directly to the installation guide for your device. You can then download and install the app with just a couple of clicks. The process takes only minutes.
The ExpressVPN desktop and mobile apps are attractive, stable, and incredibly user-friendly. You can choose to select which server location to use, or take advantage of the single-click Smart Location feature. This automatically connects you to the nearest high-speed server for fast protection. The app will automatically detect and select the best security protocol for you.
For the tech-savvy crowd, you can easily configure the app settings through the settings menu, where you'll find a variety of protocols and connection settings, including a kill switch and split tunneling.
For a detailed guide, read How to Open and Install ExpressVPN on Windows.
ExpressVPN isn't the cheapest VPN on the market, but the price is surprisingly reasonable considering the incredible quality that you get with this VPN. As is common, you get what you pay for, and with ExpressVPN you definitely get excellent value for your money.
You have three different-length subscription plans to choose from with ExpressVPN, each with the same premium features:
12-month plan: $6.67/month (includes three free months; pay $99.95 first 15 months then every year – 49% discount)
6-month plan: $9.99/month (pay $59.95 every 6 months – 23% discount)
1-month plan: $12.95/month (base price paid monthly – no discount)
The service becomes much more affordable with the discounts offered on longer plans, as well as ExpressVPN's frequent deals and coupons.
ExpressVPN offers a no-questions-asked 30-day money-back guarantee on all subscriptions. We've tested it ourselves; there are no strings attached.
All major credit and debit cards are accepted, as well as a long list of online payment platforms, including PayPal. You can also pay with Bitcoin, which is a great option for anonymity.
Reliability & Support
5.0 / 5.0
Part of what you are paying for with ExpressVPN is the VPN's nearly perfect performance and industry-leading customer service. ExpressVPN's 24/7 live chat support is always responsive, friendly, and able to resolve any question or concern you may have.
If you prefer, you can also contact support through email or a support ticket system, but in most cases the live chat is the best way to get help.
The ExpressVPN website is also easy to navigate and full of helpful resources, including an informative blog, an extensive FAQ section, detailed troubleshooting guides, and step-by-step tutorials.
The website is available in 16 different languages. Their support center operates in six of them. This is impressive compared to other services; for example, NordVPN only offers its Help Center in English.
An almost perfect VPN service that's worth every penny
ExpressVPN raises the bar for other VPN providers in almost every category. You won't be disappointed with ExpressVPN's lightning-fast speeds and impressive network reliability.
With its geo-spoofing superpowers, ExpressVPN is possibly the best VPN on the market for bypassing geo-restrictions and VPN blocks on popular streaming content around the world, including the most challenging websites like Netflix, Hulu, and BBC iPlayer.
The service also comes with excellent security and anonymity, 5-star customer support, and an incredibly user-friendly interface, making ExpressVPN well worth your money.
Swift installation and user-friendly
3000+ servers in 94 countries
Top-notch 24/7 customer support
No traffic limits and blazing speeds
Strong no-logging policy
Excellent for streaming geo-restricted services, including: Netflix and Hulu
Money Back Guarantee (Days):
30
Mobile app:
Number of devices per license:
5