5 Best Torrent & P2P Clients That Are Safe To Use in 2020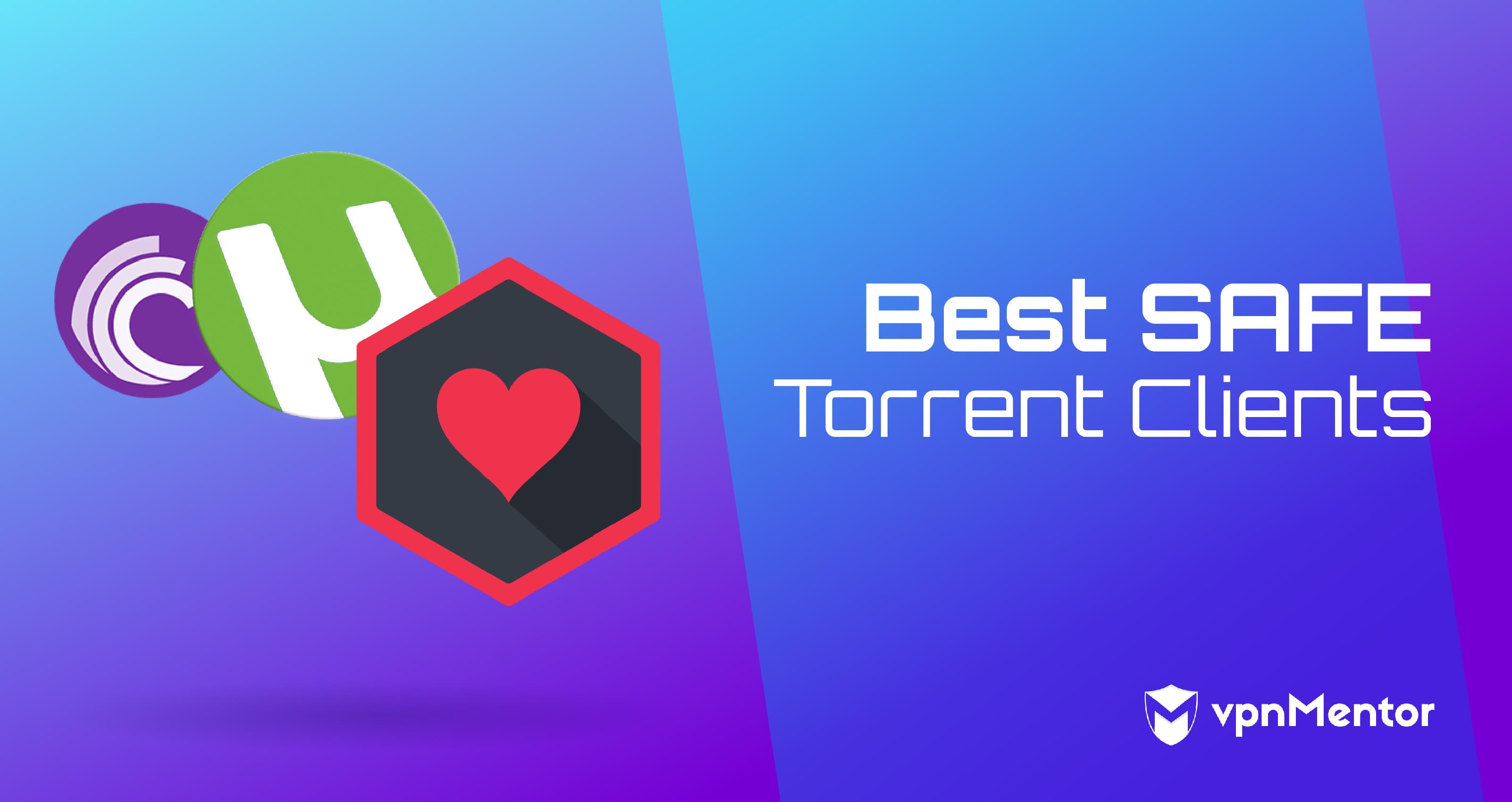 Torrenting is legal, right? Right. So it's completely safe to download the first torrent or P2P client you find and start seeding immediately? Wrong.
While torrenting itself isn't illegal, it is easy to fall into all sorts of traps. From accidentally downloading copyrighted material to giving hackers access to your device, torrenting can be a dangerous business.
To torrent safely, the first thing you need to do is find a trustworthy P2P client.
The second thing you need to do is download a VPN.
A VPN will hide your location and torrent history to safeguard you against any legal issues, as well as from hackers. Using a VPN in conjunction with a good torrent client is the only way you can guarantee safety while torrenting.
With that in mind, we're looking at the best torrent and P2P clients that are safe to use with a VPN.
The Best Torrent & P2P Clients: Quick Guide
Why You Need a Safe Torrent Client
When torrenting any kind of file, you cannot always be sure of what you're downloading. Since torrent files are unregulated, it's incredibly easy for hackers to hide malware in mislabeled files or software bundles.
When you download these files, the malware automatically installs itself on your device. Depending on the type of malware, this can lead to annoying pop-up ads, bloatware cluttering your CPU, or spyware that gives hackers complete access to your sensitive data.
Using a trusted and safe torrent client will go some way to guarding you against these threats. Some clients have paid-for premium versions that offer built-in virus protection. Others will make sure to screen any advertising displayed within the client.
It can be a good idea to look out for an open source client, as these don't rely on making money through advertising — meaning no annoying or potentially dangerous ads at all.
Top 5 Best Torrent and P2P Clients
qBittorrent is frequently cited as a favorite client amongst torrentors for its compromise between being lightweight and fully functional.
qBittorrent is free and open source, so you won't have to put up with any annoying or malware-hiding ads. It's simple to use but not at the expense of features. It has a built-in search engine and media player and supports private torrents, proxies, and encrypted connections.
qBittorrent is compatible with all major devices and platforms and can be accessed and controlled remotely.
Visit qBittorrent.
If you're looking for a user-friendly option for torrenting, look no further than Vuze.
Vuze offers everything you'd expect from a powerful P2P client, including support for magnet links, remote control, and compatibility with most major platforms. But, unlike other torrent clients, all of this practicality comes wrapped up in an attractive and intuitive user interface.
Customers also love Vuze's built-in forums and chat functions. Bear in mind though, that only Vuze's subscription service comes ad-free and with integrated virus protection. The free service does have ads.
Visit Vuze.
One annoying thing about torrent clients is that the bad ones can take up a hefty amount of space on your computer. Bitport.io solves that problem by being completely cloud-based.
This excellent in-browser client still boasts plenty of great features such as efficient torrent fetching. Since all files are downloaded via Bitport's own servers, your connection will also be secure and encrypted.
Purchase the paid subscription service if you want to enjoy additional features like extra storage and antivirus scanning.
Visit Bitport.io.
The champion of lightweight torrent clients, Deluge styles itself as a stripped-back and functional client for users who know what they're doing.
While this is great news for your processing unit, Deluge can be a bit tricky for beginners to find their way around. If you're an old hand at torrenting though, you'll love the customization that comes via a range of useful plugins.
Deluge can also be integrated with Chrome and Firefox and supports scheduled downloads.
Visit Deluge.
Topping our list of the fastest BitTorrent clients, µTorrent remains one of the most popular and frequently downloaded P2P clients.
An incredibly lightweight client, µTorrent is very easy to use and compatible with all major operating systems. It also has plenty of handy features like remote control and automatic downloads.
Although µTorrent has had some issues with security, it is frequently patched and updated. Do expect ads though and bear in mind that µTorrent doesn't have its own integrated search.
Visit µTorrent.
Why You Need a VPN for Torrenting
No matter how good your torrent client, the only way to download torrents anonymously and safely is with a VPN.
A VPN can help to counteract a number of risks that come with torrenting. It will mask your IP address and encrypt all of your online behavior while you are connected to its network. It does this by rerouting your traffic through one of its own private servers via a powerfully encrypted connection. This means that no one can monitor or track your movements online.
This is useful for torrenting since it can protect you from any legal trouble. While torrenting isn't illegal, using a torrent client to download copyrighted material is. If you accidentally download something illegally, a VPN will prevent anyone from finding out or tracing the download back to you.
Masking your online behavior can also be useful if you want to prevent your Internet Service Provider from throttling your bandwidth. Many ISPs will limit your bandwidth if they detect that you're engaging in a data-heavy process like torrenting.
Because a VPN encrypts all of your traffic, it will hide any torrent activity from your ISP. Since your ISP cannot see that you are using a torrent client, it will not throttle your bandwidth.
VPNs will also safeguard you from several different cybersecurity risks. Many come with built-in malware protection that will shield you from any suspicious downloads.
Hiding your IP address will also prevent hackers from targeting you directly as you seed.
When you join a swarm, your IP address becomes visible to other users in that swarm — making it vulnerable to attack.
If you're using a VPN, only the VPN server's IP address is visible. Your own IP address is hidden. This prevents your network from cyber threats.
Lastly, some countries have blocked or banned torrenting sites entirely. We put together a list of the best non-blocked torrent sites for you but a VPN is just as effective at getting around these geo-restrictions.
Bear in mind that you'll need to choose a VPN that not only supports anonymous torrenting but can also offer you the speeds you need for seamless uploads and downloads.
NordVPN is at the top of our list of the best VPNs for torrenting. It has torrent-optimized servers and lightning-fast speeds as well as military-grade encryption and CyberSec software to keep you safe from ads and malware.
NordVPN is also based in privacy-friendly Panama and has a strict no logs policy, so you can torrent risk-free.
That's Not All a VPN Can Do
VPNs aren't just good for torrenting. If you tend to use your torrent client to watch content that isn't available in your country, you might find that using a VPN to stream your favorite shows is much easier.
The most powerful VPNs, like NordVPN, are uniquely equipped for bypassing geoblocks. Since they make you appear as though you are browsing from a different country, they can give you access to streaming content that's only available in certain regions.
This can also be handy if you live in a country where censorship is rife, and need to get around government restrictions.
Conclusion and Further Reading
Torrenting can be risky but it doesn't need to be if you choose the right P2P client and the right VPN. With the two combined, you should be able to seed risk-free and without worrying about your cybersecurity.
Want to find out more about why we love NordVPN? Read real user reviews of this top service.
If you'd rather not pay to torrent safely, check out our guide to the best free VPNs for torrenting (and why they might not be the best option).
Chosen your client and looking to get started? We've found the best Pirate Bay alternatives that work right now.