What's A VPN? & Why You [REALLY] Need One in 2021
Published on 5th March 2021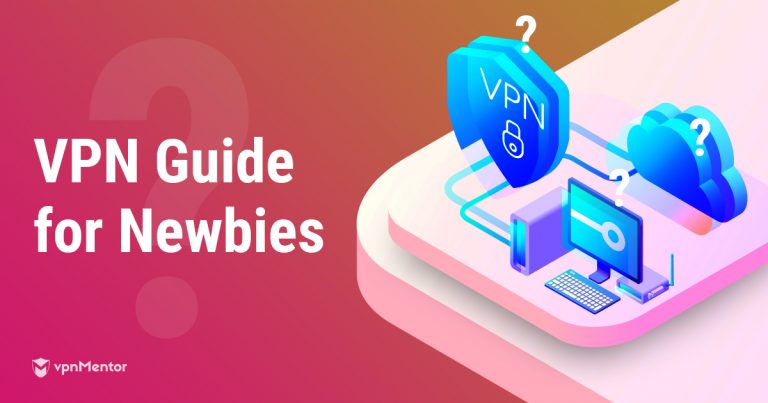 A VPN (Virtual Private Network) is a simple software that was created to protect your online privacy and make life harder for hackers by anonymizing your traffic and location. But you can also use it for many other things, whether that's breaking geoblocks to access every streaming service in the world, downloading torrents faster and more.
After reviewing over 300 VPNs and analyzing everything they have to offer, I can honestly say that VPNs are super easy to use and everyone can do it. My simple, no-nonsense guide will teach you everything you need to know to get started. 
What Can a VPN Do for You?
A VPN can help to protect you in a few key ways:
When you're connected to a VPN server, all your internet traffic is encrypted. This means that nobody can see what you're doing online, not even your internet service provider (ISP). And that means your ISP can't throttle your speeds either, which it often does if you're doing something speed-intensive like streaming or gaming.
Encryption stops hackers from seeing sensitive information that you enter into websites, like your passwords. This is especially important if you're using public WiFi because it's easy for cybercriminals to monitor your connection on public networks. But a VPN makes sure that even if someone stole your data, they wouldn't be able to decrypt it or even understand it.
Websites and services, like Netflix, use your IP to determine your location. When you connect to a VPN server, the websites you access only see the VPN's IP address.
Because they can no longer see your real IP, they can't see where you're located. This is essential if you want to torrent, or bypass geoblocks and censorship. It means you can access any show, movie, or game in the world, and browse with complete freedom in every country you visit.
Some VPNs block malicious websites, ads, and trackers.
Malicious websites can download malware and trackers onto your device without you knowing. VPNs with built-in protection help to prevent infections by blocking these sites before they can do damage.
Some also block ads and pop-ups. This stops malicious ads from infecting your device with malware, and it means you can enjoy streaming platforms, like YouTube, ad-free.
How Do VPNs Work?
Your VPN directs all of your internet traffic through to one of its servers, where it's encrypted. For example, you might be in the UK and connect to a US server. The VPN sends your traffic from the UK to the US, completely encrypted. Because it's encrypted, your ISP can no longer see the websites you access, where you've come from, or track you.
From there, your VPN server forwards your traffic to the website you're visiting, for example a website, app, or streaming service like Netflix. The site sees the VPN server as the origin of your traffic, instead of your device. This means that it also sees your VPN server's IP address instead of yours. The best VPNs use thousands of servers and update their IP addresses regularly, so sites don't have enough time to blacklist and block them. And that means, you stay completely private and undetectable.
How Do VPNs Help Me Stream?
Streaming services, like Netflix and Hulu, use your IP address to find out where you're streaming from. Once they know where you live, they control the content you can stream based on the distribution agreements they have in your region.
You can use your VPN to trick streaming services into thinking you're based in another country. This way, you have access to extra content that isn't available in your country.
For example, if you connect to a US-based VPN server, you can unblock Netflix US. To learn more about unblocking Netflix, take a look at our step-by-step guide.
Start Streaming With a NordVPN!
Are VPNs Legal?
The short answer is, yes! You can freely use a VPN in most countries, but there are some exceptions.
Countries like China and Iraq forbid the use of non-government VPNs. This means that approved providers have most likely complied with anti-privacy and censorship requirements, making their VPN services untrustworthy. Non-compliant VPN companies are usually blocked so that you can't access their websites to download their apps once you're in the country.
You can check our VPN legality guide for the most up-to-date information in your region.
How Does a VPN Guarantee My Privacy?
VPNs handle a lot of sensitive information, so they need to have solid privacy policies and strong security measures. There are some VPNs that can't be trusted, so it's important that you're careful to choose one that is reliable and safe.
Reliable VPNs offer a variety of privacy-protecting features, like:
Tough anti-logging policies prevent VPN providers from recording your browsing activity. If they don't log your information, they can't disclose it to government surveillance agencies, even if they're asked to. It also means that if the VPN becomes compromised, hackers can't garner any of your information from the VPN servers.
Every time you access a website, your computer sends a request to a DNS server to learn the website's IP address. Normally, this request would go to your ISP's DNS servers, which reveals your browsing activity to your ISP.
When you're connected to a VPN, your DNS requests are routed to your VPN's DNS servers. Sometimes, though, your device can reroute your requests back to your ISP without you knowing. Simply, DNS leak protection prevents this from happening.
Even though IPv6 is now available, almost all VPNs still use IPv4 addresses. This creates the potential for a serious security breach.
If your ISP supports IPv6, and you access a website that also supports it, your traffic to that website will be routed through your ISP, and not your VPN. This would reveal your activity to your ISP, and your true location to the website.
Trustworthy VPNs disable IPv6 traffic to protect you from these leaks. You can still access IPv6-enabled websites, but you'll do so using our IPv4 address.
Leading browsers like Chrome, Firefox, Safari, Internet Explorer and Opera, use WebRTC technology to communicate with each other. To do this, they need to know each other's real IP address.
The techniques they use to get this information are more advanced than those that websites like Netflix use, so it's harder to hide your IP from them. Third parties can exploit WebRTC to find out your real IP address and location.
A trustworthy VPN will disable WebRTC and shield your IP address to prevent this from happening to you.
Are There Any Negatives to Using a VPN?
The benefits of using a VPN heavily outweigh the negatives, but there are some drawbacks to be aware of.
Your connection speed will take a small hit.
It takes time for your data to travel, and when you're connected to a VPN, it has to travel a little further to reach the VPN servers. It also takes a few seconds to encrypt and decrypt your traffic. So, it's normal for your connection speed to decrease a little bit.
Untrustworthy VPNs could have access to your browsing activity.
If you use a less-reputable provider, there's no way to be sure that they won't take a look at your browsing activity or share it with third parties. If your provider is based within the 5/9/14-Eyes Alliance, it could even be forced to share this information with the government.
You can protect yourself against this by using a well-known, reputable VPN with a strict no-logs policy and RAM-based servers. RAM-based servers permanently delete your records each time they're rebooted, so your VPN won't have any information to share about you even if it's legally required to.
Some websites block VPN users.
Some websites, like Netflix, check your IP address against a list of known VPN server IPs when you log in. If there's a match, they will block your connection. You can overcome this by connecting to a different server in the same region.
PayPal and some online banks may flag a security breach on your account if you log in from a foreign IP. 
As part of their online security process, PayPal and online banking institutions may temporarily shut down access to your account if they see that you're logging in from a foreign IP. This security measure is in place to prevent international fraudsters from logging into your accounts.
Don't worry – your account won't be locked forever. But, you may need to contact your bank to clear up the error. You can prevent this by accessing your financial accounts while connected to a server in your own country.
How to Get Started With a VPN in 5 Minutes
Choose a VPN service. Use one of my top recommended VPNs for performance and affordability.
Install the VPN app on your phone. Most VPNs are easy to install, and come with an installation manager that guides you through the process.
Connect to a server, and you're ready to go! You can browse the internet as normal, knowing that you're fully protected.
Pro tip: If you just want to protect yourself online, choose a server close to your physical location. If you want to unblock content from another country, like a foreign Netflix library, go with a server that's based in a country where that content is already available.
Installing a VPN on Different Devices
Some VPNs are better than others for different types of devices. Use our quick links below to find our top recommendations for various devices.
What Do I Look for in a VPN?
It's important to choose a VPN that meets your needs and provides the best security and performance. When you're VPN shopping, I recommend prioritizing services that offer:
256-bit encryption: This is the highest level encryption available, and will safeguard your personal information and browsing activity.
An automatic kill switch: Kill switches kick in when your VPN connection becomes unstable. They disconnect you from the internet temporarily to prevent data leaks.
A strict no-logs policy
DNS and IPv6 leak protection
Customer support: Most premium VPNs offer 24/7 support via live chat on their sites. Very few services offer phone support, although it is available with some smaller VPNs.
User-friendly apps for your devices: take a look at the provider's website. Most feature screenshots of their apps so you can get a feel for the program before you install it.
Large server coverage: You need a VPN with servers across the globe. This ensures that you can access geoblocked content from any country you like. It also means that when you travel, there will always be a server nearby.
Streaming and P2P-optimized servers 
Multiple simultaneous connections: Whether you've got a large household or just a laptop and a phone, you need to be able to protect all your devices without having to sign up for multiple VPN subscriptions.
Top 3 VPNs for Beginners
I've been using VPNs for years, and I've tested my fair share of unreliable, untrustworthy services. In my quest to protect myself online, I've also come across some stellar services that I really recommend.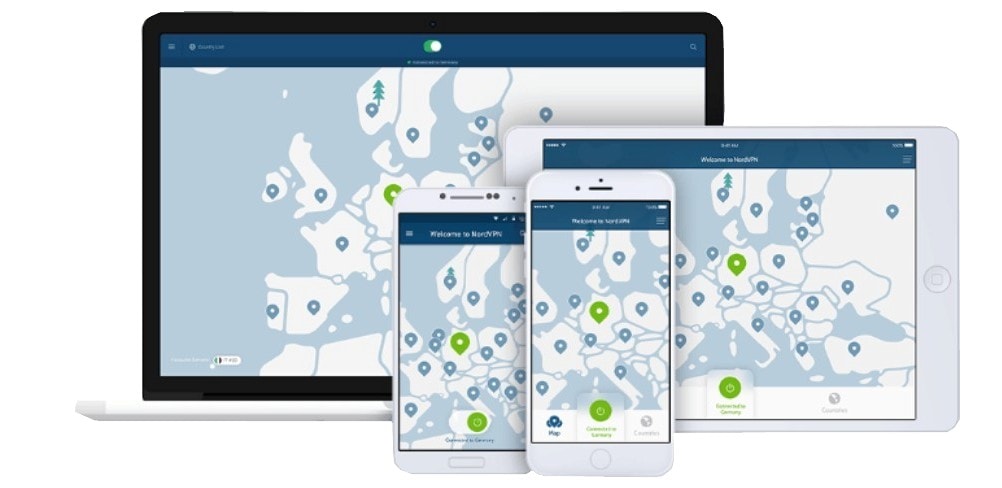 5,480+ servers in 60 countries
Streaming and P2P-optimized servers
DNS and IPv6 leak protection
Strict no-logs policy
Works with: Netflix, BBC iPlayer, Disney+, Fox, Sky TV, Hulu, Amazon Prime Video
Compatible with: macOS, Android, iOS, Android TV, Linux, Chrome, and Firefox. It's also compatible with routers
NordVPN is the best VPN I've used. It's super-fast, secure, and easy to use. 
My colleagues and I set out to test its 5,480+ servers in 60 countries, starting with streaming. We used its SmartPlay DNS feature to unblock international Netflix libraries, Hulu, Amazon Prime Video, and 140 other geoblocked streaming services.
Because it has hundreds of servers in each location, it's easy to overcome VPN blocks. If the server you're on isn't working, plenty of others are. It took me about ten seconds to switch between servers manually, although using the Quick Connect button is faster.
It's fast enough to stream in high definition (HD), even if you're connected to a server in another country. I was able to watch Netflix US from Australia without any buffering. To get a clearer picture of NordVPN's network speed, I ran tests on several servers around the world.
Before I hit connect, I tested my base speed. It was running at 3 ms ping, with 19.84 Mbps download, and 16.58 Mbps upload.
| | | | |
| --- | --- | --- | --- |
| Connection | Ping | Download | Upload |
| Quick Connect US Server | 363 ms | 17.98 Mbps | 15.36 Mbps |
| Manual Connect US Server | 477 ms | 17.85 Mbps | 15.26 Mbps |
| Quick Connect UK Server | 309 ms | 20.49 Mbps | 12.77 Mbps |
| Manual Connect UK Server | 309 ms | 18.27 Mbps | 14.38 Mbps |
| Quick Connect FR Server | 305 ms | 19.15 Mbps | 13.47 Mbps |
| Quick Connect BR Server | 533 ms | 20.60 Mbps | 12.55 Mbps |
| Quick Connect AU Server | 13 ms | 18.70 Mbps | 14.97 Mbps |
I was impressed to discover that NordVPN operates hundreds of P2P-optimized servers. They're preconfigured with the best settings for torrenting, so you get the highest speeds and unbeatable security. It was convenient to be able to hit connect and start downloading without having to tweak my settings to get the best performance.
NordVPN uses 256-bit encryption to keep your data private. This is the highest level of encryption you can get.
It doesn't log your browsing activity, and it offers DNS/IPv6 leak protection, too. This means that there's no risk of your browsing activity being exposed to your ISP, and websites will never see your real location. I ran NordVPN through several leak detection tests, and it passed each time.
NordVPN's apps are really easy to use. You won't have any trouble installing or configuring them if you're new to VPNs. I had mine set up in about five minutes. The help section on the website contains easy-to-understand installation guides for every platform, and most of them feature videos that guide you through the process.
If you get stuck or have a question, NordVPN's customer service team is on hand 24/7 via live chat. They're approachable and easy to talk to. I found that they were able to answer my questions quickly and gave easy-to-understand answers.
You can connect up to 6 of your devices with one NordVPN account. I have a huge collection of devices, and this option really saved me a lot of money. Normally, I'd have to have at least two VPN subscriptions on the go to cover my phone, laptops, TV, and desktop.
NordVPN offers a no-questions-asked 30-day money-back guarantee that you can use to try it out, risk-free. Once you're ready to sign up, you can use one of our verified coupons to save your money.
Want to know more? Explore our NordVPN review to see the full results of our research and testing.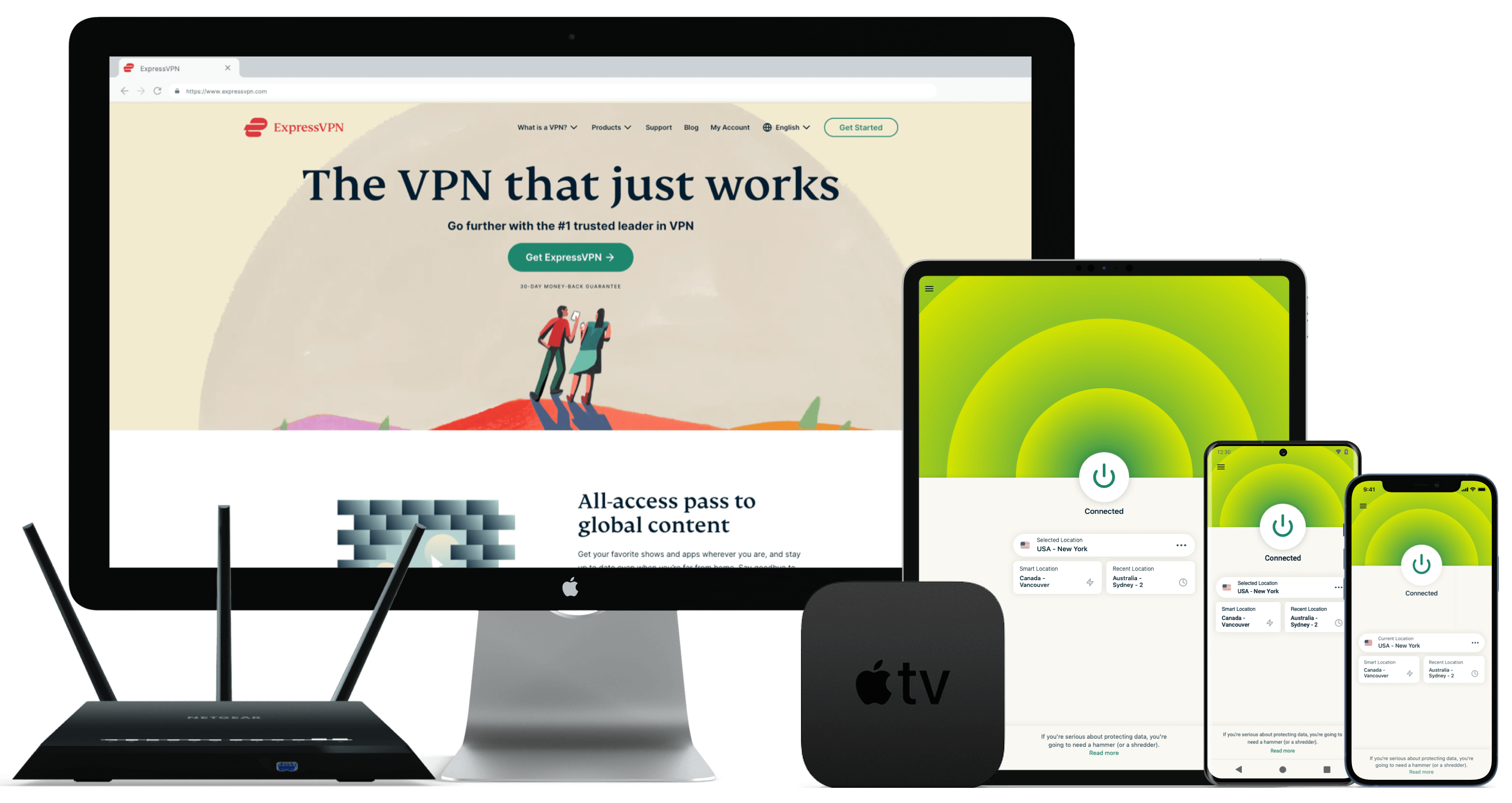 3,000+ servers in 90 countries
Split-tunneling
5 simultaneous connections
Strict no-logs policy
High-end security features
Easy-to-use apps
Works with: Netflix, BBC iPlayer, Disney+, Fox, Sky TV, Hulu, Amazon Prime Video
Compatible with: Linux, Android, macOS, iOS, Windows, Apple TV, Chrome
In my experience, ExpressVPN is second only to NordVPN. It's fast, streaming-optimized, and super-secure. It does beat NordVPN in one area, though: it offers split tunneling. That's a must-have if, like me, you operate a home office with wireless devices.
Split tunneling lets you choose which activities goes through your VPN, and which use your local IP address. I used this to stay connected with my networked devices, like my wireless printer, while keeping my internet traffic secure. It also means you can access local content while you're unblocking international sites.
Many of ExpressVPN's servers are optimized for streaming. We were able to unblock all the best streaming services, like Netflix and Hulu, as well as some smaller ones, like ABC iview.
And it's fast, too. I put ExpressVPN's servers through their paces to check up on its performance. This time, my base speed was: 3 ms ping, 22.13 Mbps down, and 17.13 Mbps up.
| | | | |
| --- | --- | --- | --- |
| Connection | Ping | Download | Upload |
| Quick Connect US Server | 332 ms | 8.84 Mbps | 14.77 Mbps |
| Manual Connect US Server | 371 ms | 16.14 Mbps | 15.19 Mbps |
| Quick Connect UK Server | 319 ms | 15.55 Mbps | 14.67 Mbps |
| Manual Connect UK Server | 301 ms | 15.53 Mbps | 15.38 Mbps |
| Quick Connect FR Server | 310 ms | 16.24 Mbps | 15.66 Mbps |
| Quick Connect BR Server | 539 ms | 16.36 Mbps | 15.78 Mbps |
| Quick Connect AU Server | 29 ms | 15.50 Mbps | 15.23 Mbps |
ExpressVPN uses 256-bit encryption and keeps a strict no-logs policy, too. There's an automatic kill switch that kicks in to protect your data if your VPN connection fails. I looked into its privacy policy, and confirmed that its no-logs policy is bulletproof.
Its TrustedServer technology goes even further to keep you safe. Its servers are RAM-based and don't use hard drives. 
This means that none of your data is permanently stored on the server; it's wiped clean with every reboot. TrustedServer also checks that each server on the network is running up-to-date software to prevent security flaws.
It also has P2P-optimized servers for torrenting. When I tested them, I was able to share some files with my friends quickly and without exposing my IP address to other BitTorrent users. I checked for DNS and IP leaks before I started my torrent client; ExpressVPN passed my tests easily.
ExpressVPN gives you up to 5 simultaneous connections, so you can use multiple devices at once. This is really handy if you want to keep the rest of the household occupied while you're busy streaming your shows. As an experiment, I connected my phone, laptop, and desktop at the same time. It didn't slow my connection down at all.
You can reach out to support 24/7 via its live chat feature, too. The staff are easy to talk to, and were able to answer my questions within two minutes.
Its 30-day money-back guarantee made me comfortable testing it out, but ultimately I couldn't resist and ended up taking out a longer subscription.
Want to know more? Explore our ExpressVPN review to see the full results of our research and testing.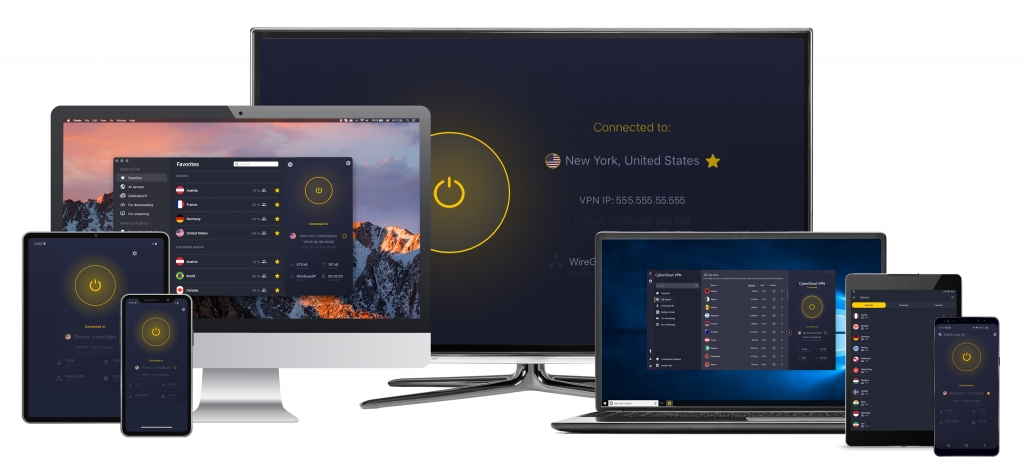 6,400+ servers in 90 countries
Specialized streaming and P2P profiles
Easy to install
45-day money-back guarantee
Works with: Netflix, BBC iPlayer, HBO GO
Compatible with: Windows, macOS, Android, iOS, Linux, Routers, Chrome, Firefox, some smart TVs
CyberGhost is a great choice if you're new to VPNs because its apps are super-simple to install and use. I didn't need to change any settings before I connected; just install, log in, and you're ready to go!
But don't let that fool you – it's also highly customizable. Hidden away in the advanced settings menu, I discovered that you can alter your DNS, change your protocol, and set up custom rules.
CyberGhost operates a huge network. There are more than 6,400+ servers across 90 countries. I tested it on a recent vacation, and found this really useful because there was always a fast, local server close to where I was staying. I didn't have to suffer speed loss by connecting to a distant location. My colleagues reported similar results.
I decided to test CyberGhost again once I got home. My base speed was 37 ms ping, 19.22 Mbps download, with 17.24 Mbps upload.
| | | | |
| --- | --- | --- | --- |
| Connection | Ping | Download | Upload |
| Quick Connect US Server | 337 ms | 7.52 Mbps | 12.27 Mbps |
| Manual Connect US Server | 276 ms | 19.50 Mbps | 15.81 Mbps |
| Quick Connect UK Server | 338 ms | 12.26 Mbps | 14.97 Mbps |
| Manual Connect UK Server | 332 ms | 13.37 Mbps | 13.63 Mbps |
| Quick Connect FR Server | 319 ms | 18.19 Mbps | 16.41 Mbps |
| Quick Connect BR Server | 401 ms | 17.70 Mbps | 11.73 Mbps |
| Quick Connect AU Server | 28 ms | 16.47 Mbps | 15.52 Mbps |
CyberGhost's servers are optimized for P2P connections and streaming.
I found streaming easy because you can select a server based on the streaming service it can unblock. I was able to stream Netflix US and BBC iPlayer during my tests, and my international colleagues tested hundreds of other streaming services with success.
You get access to CyberGhost's NoSpy servers, too. These servers are locked in a secure data center in Romania, outside the 5/9/14 Eyes' jurisdiction. They're independently managed, and run on the highest security level at all times.
There's no middleman involved with these servers, so there's no risk of data leaks or hacking. I noticed that they also have extended bandwidth for higher speeds.
All of CyberGhost's servers use 256-bit encryption. It keeps a strict no-logs policy, and the app comes with a built-in kill switch. I ran several leak tests while I was connected, and didn't detect a single security problem. I also checked into its privacy policy, and it's clear that CyberGhost doesn't retain any of your browsing activity.
CyberGhost lets you connect up to 7 devices at the same time. It also has a generous 45-day money-back guarantee that you can use to test it out first.
Want to know more? Explore our CyberGhost review to see the full results of our research and testing.
FAQs
😀 How much does a VPN cost?
With such advanced features, people often make the mistake of thinking VPNs are really expensive. In fact, all of the VPNs I've recommended are highly affordable, and the longer you sign up for, the cheaper your subscription is.
My top choice, NordVPN, is available for less than $3.71/month. And with that, you get access to everything NordVPN has to offer—its entire server network, speeds, security suite, and every Netflix library you can think of. If you want to get started, make sure you check out our coupons page first where you can get exclusive discounts to cut your subscription cost.
😄 Are there any free VPNs I can use?
Sure. There are plenty of free VPNs out there, but I wouldn't recommend you using one. Here's why.
Free VPNs are usually full of loopholes. They often promise you a high-quality service, only to fall short where you need it most. Free VPNs come with limited server count, slower speeds, lower security measures, and even data limits. And they usually can't bypass geoblocks, especially those used by streaming services. While you might not pay anything upfront, the frustrating restrictions cost you elsewhere.
However, not every free VPN is a complete scam. We're always researching the best ones out there, and we've found a handful of free VPNs that truly offer a safe, reliable service with only a few restrictions (you can't have everything). But we've made sure those restrictions aren't your online privacy or security, so you only have to put up with data, bandwidth, server, and other feature limits.
🙂 What's the best VPN?
We consistently monitor, test and rank VPNs monthly. And we don't let just any VPN pass our tests—they have to be super secure, advanced, and reliable enough to unblock the sites you need. Our current tests show that NordVPN has the most consistent performance in all areas, whether that's speed, security, or its ability to fly past the toughest restrictions. It even works in China.
How to Get a Discount on Your New VPN
I'm a bit of a bargain hunter. I spend a lot of time online searching for coupons to save money. I've discovered that VPN companies regularly release new coupons and special offers, but thanks to scam sites, it's hard to work out which coupons are real.
Because of this, my colleagues and I have created an up-to-date database of the best and most current VPN coupons. We've tested each one to verify that it's real and still working in March 2021.
Bottom Line
VPNs are essential internet security tools. But that's not all they do – besides protecting your privacy, a VPN can help you bypass censorship and geoblocks.
If you're looking to protect yourself with an affordable, high-quality VPN, NordVPN is my best recommendation. It's fast and easy-to-use, and you don't need any technical know-how to set it up.
Ready to dive further into the world of VPNs? Take a look at the pros and cons of using a VPN.
Or, if you're keen to get streaming, you can find the best VPN for you amongst our top VPNs for streaming.
To summarize, the best VPNs for beginners in March 2021 are …
Provider
Our Score

9.8

/10

9.8

/10

9.6

/10
Privacy Alert!
Your data is exposed to the websites you visit!
The information above can be used to track you, target you for ads, and monitor what you do online.
VPNs can help you hide this information from websites so that you are protected at all times. We recommend NordVPN — the #1 VPN out of over 350 providers we've tested. It has military-grade encryption and privacy features that will ensure your digital security, plus — it's currently offering 68% off.
Privacy Alert box - content - Popular posts