IPVanish VPN Review & Test 2020 - What You Have To Know
IPVanish offers high-speed connections and an impressive list of advanced security features at a budget-friendly price.
For this review, we put IPVanish through its paces. We thoroughly tested its speed, performance, ease of use, and ability to access popular streaming services like Netflix. The short answer? Yes, IPVanish is able to unblock Netflix. It can also unblock popular services like Vudu, HBO Go, and YouTube.
Keep reading if you want to see what else IPVanish can do for you.
Streaming – Does IPVanish Work with Netflix?
The mark of a truly great VPN is its ability to bypass geo-restrictions and VPN blocks. IPVanish is now able to unblock Netflix US on most servers. I got the fastest connection, and best quality streaming, on its Las Vegas, Dallas, and Chicago servers. I was able to unblock Vudu, ESPN, DAZN, and HBO Go as well as free services like YouTube.
I also tested:
FOX US: 18/18 servers unblock FOX
ABC.com: 0/18 servers unblock ABC
Hotstar India: 1/1 servers unblock Hotstar
BBC iPlayer: 0/4 servers unblock BBC iPlayer
SlingTV: 18/18 servers unblock SlingTV
Overall, I found it frustrating to use IPVanish for streaming, because it couldn't bypass all VPN blocks.
If you're looking for a VPN to stream geoblocked content, you'll be better off with NordVPN. NordVPN can bypass VPN blocks and geoblocks. It also uses SmartPlay technology to automatically switch to the right server, so you don't have to manually change your settings.
IPVanish Speeds
Buffering is an issue for almost everyone. Nobody likes wasting time staring at a screen while a video loads.
When you're connected to a VPN, your connection speed may drop slightly because your data is traveling farther to reach a remote server. However, this speed loss should be barely noticeable.
In fact, if your local network is subject to congestion or ISP throttling, you may even gain speed with a VPN.
Your connection speed is measured based on its ping, download speed, and upload speed.
Its ping indicates how quickly you will get a response from a website once you've sent a request, or clicked on a link. The lower your ping, the faster your connection will response. Ping is measured in milliseconds (ms).
Its download speed measures how quickly you can download information from a server to your device. This will affect your loading times, and the speed at which you can download files from the internet. Download speed is measured in megabits per second (Mbps).
Its upload speed tells us how fast your connection can send data to other devices and websites. It affects how long it takes to upload large files, share photos, and transmit video via video chat. Upload speed is measured in megabits per second (Mbps).
With all of this in mind, I tested my IPVanish connection for speed loss, and I was pleasantly surprised.
My speed before connecting to IPVanish was 12.39 Mbps download, with 0.79 Mbps upload and a ping of 23 ms.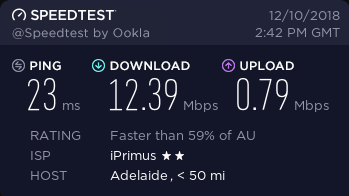 When I connected to my local IPVanish server, my download speed dropped to 8.46 Mbps. My upload speed stayed almost the same at 0.73Mbps, and my ping increased to 58 ms.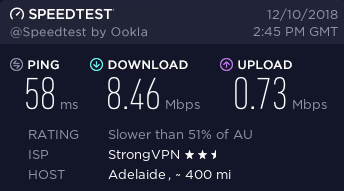 When I connected to an overseas (US) IPVanish server, my download speed decreased again to 7.12 Mbps. My upload speed dropped slightly to 0.71 Mbps. which is still quite fast.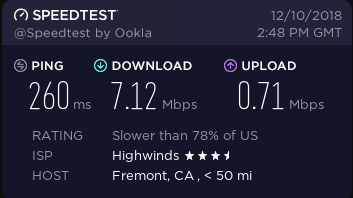 Although my latency suffered a small amount while connected to the US server, it remained within normal limits. I barely noticed any change in loading times while browsing and watching videos.
Is IPVanish Good for Torrenting?
IPVanish allows unlimited P2P connections, so you can torrent safely and anonymously. During testing, I found that my download speeds dropped slightly while torrenting, but the change was barely noticeable.
Security – Is IPVanish Safe?
Does IPVanish Keep Logs?

Today, IPVanish claims to keep a strict no-logs policy.
This was not the case during a data-logging scandal in 2016. IPVanish complied with the Department of Homeland Security's request for user information. The individual was involved in a child abuse and pornography investigation, and ultimately, this information helped the investigation. However, their compliance proved that they kept logs.
It is important to remember that the IPVanish provider is based in the US, and therefore subject to the 5/9/14 Eyes' jurisdiction. This means that they can be summoned to turn over any records they have on an individual to the government.
But is this a security threat to your or me? Well, no, mostly because this issue has been resolved. IPVanish was acquired by StackPath in 2017, and its new management guarantees that they do not store any logs.
Does IPVanish Have an Ad Blocker?
IPVanish does not have a built-in ad blocker. However, you can use third party ad blockers while connected to IPVanish servers.
Does IPVanish Work in China?
IPVanish is blocked by the Great Firewall of China.
Price and Value for Money
Does IPVanish Have a Free Version?
IPVanish offers a free 7-day trial to users who sign up using its iOS app.
IPVanish's Refund Policy
You can try it risk-free with a 7-day money-back guarantee.
This isn't as generous as ExpressVPN's 30-day money-back guarantee, but you'll still have time to test the service.
Is IPVanish Compatible with My Device?
IPVanish offers apps for all major platforms, including Windows, macOS, iOS, Android, Fire TV, Windows Phone, Linux, and Chromebook. You can even install it on your router for network-wide protection.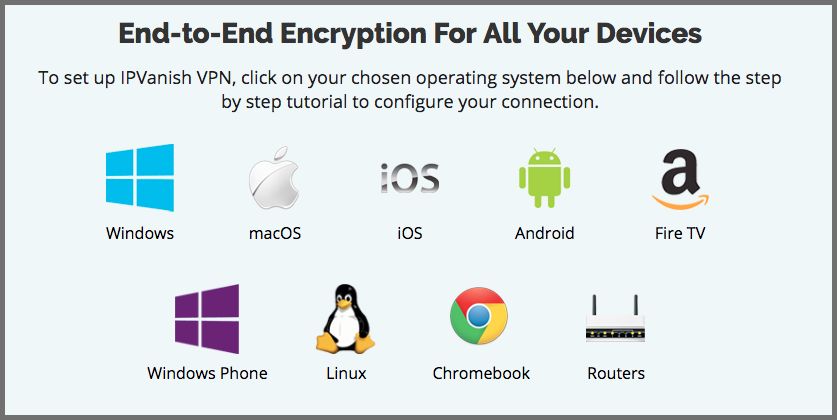 You can connect up to 10 devices with a single account. This is good news for large families, small businesses, and tech enthusiasts such as myself. It's a great improvement on the standard package offered by other premium VPNs, which usually allows 3-6 devices per account.
Encryption
IPVanish safeguards your data with military-grade 256-bit AES encryption.
This protocol is virtually unbreakable. Even if your internet traffic is intercepted by cybercriminals or government spies, they won't be able to read your data. It will just look like a series of random numbers and letters.
DNS Leak Prevention
Sometimes your DNS requests can accidentally be routed to your ISP's DNS servers, even happen when you're connected to a VPN. This reveals your real IP location to websites, and allows your ISP to track your online activity.
IPVanish uses DNS leak prevention technology to ensure this never occurs.
I ran several tests to check the DNS leak prevention while connected to IPVanish, and couldn't find any leaks.
Automatic Kill Switch
An automatic kill switch makes sure your IP Address isn't accidentally exposed in case of a dropped connection with the VPN server.
Kill switches are quickly becoming standard in the industry. I was disappointed to discover that this feature is only available for macOS and Windows.
IPVanish for Fire TV Stick
IPVanish is one of the few VPNs to offer a native app for Amazon Fire TV Stick. With the app, you can protect your connection and bypass geoblocks to unlock content from other regions. Installation is easy, and there's a detailed set-up guide on IPVanish's website.
How to install IPVanish on your Fire TV Stick:
From your home screen, select 'apps' and then 'categories.'
Select 'utility' and then click the IPVanish app.
Click 'get' and wait for the app to download.
Once it has downloaded, click 'open' and enter your log-in details.
Click 'connect' to use the best available server, or choose your server manually in the 'options' menu.
IPVanish Customer Service
IPVanish offers customer support via its help section, email, and 24/7 live chat service.
The fastest way to get in touch is via live chat. I only had to wait one minute to receive a reply to my question from a customer support agent, who was friendly and polite.
Unfortunately, I was given incorrect information. I asked if IPVanish offers a free trial. The agent told me there were no free trials available, but the website states that it offers a free trial for iOS users.
Hopefully, however, you would get reliable technical advice if something goes wrong with your service.
User Experience
IPVanish is perfect for beginners. It's quick to download and easy to install. There are detailed set-up guides for every platform.
You don't need to configure any advanced settings in the app, but you can fine-tune it to your needs.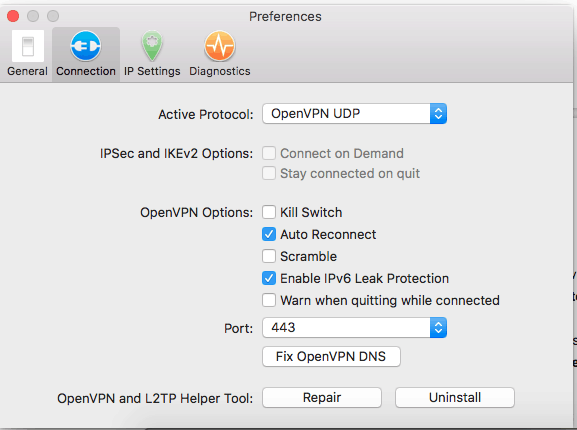 When you log in for the first time, you're greeted with an optional tutorial to show you the ropes.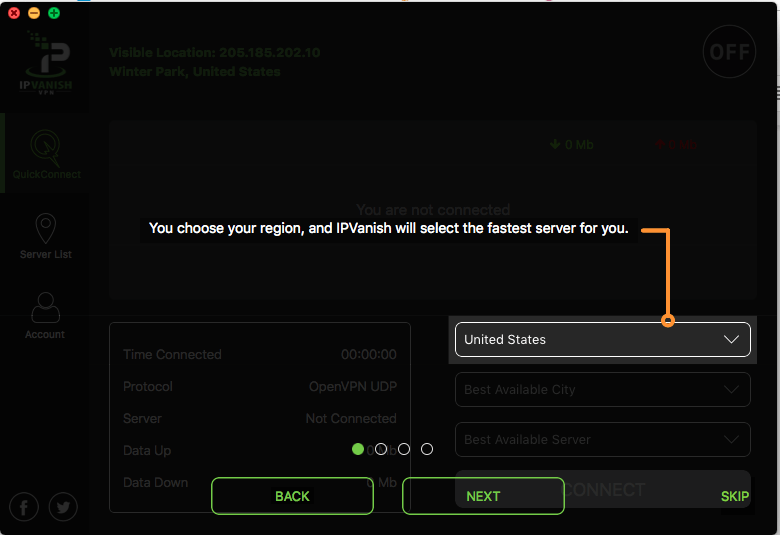 The app is very lightweight. It won't slow your system down, and it's quick to start up when you want to connect.
It's easy to change servers. For anonymity and speed, you should select a server that's close to your current location. To bypass a geoblock, you'll need to connect to a server in the location where the content is readily available.
Conclusion
IPVanish is easy to use and offers amazing security features. It is a solid, reliable VPN that's perfect for security-conscious browsing. However, it can't compete when it comes to streaming and online entertainment.
I was impressed with its speed and performance tests, but unimpressed by its inability to bypass VPN blocks.
It has compatibility issues, struggles with geo-restricted content, and doesn't offer the best value for money.
If you're looking to invest in a VPN for privacy alone, IPVanish excels. But if you need full, unrestricted access to everything on the internet, especially streaming various services, I'd recommend one of these five vendors instead.
| Features | Details |
| --- | --- |
| Number of countries with servers | 75 |
| Number of servers | 1300 |
| Number of IP addresses | 40000 |
| Does VPN keep logs? | No |
| Does VPN include a kill switch? | Yes |
| Number of devices per license | 10 |
As someone who has tried dozens of VPNs over the years, I can say that IPVanish is unusually quick and easy to set up. In less than 5 minutes I had opened an account and installed the VPN.
The app works well with minimal configuration, but you can fine-tune every detail to your personal preferences.
I was pleased to discover that IPVanish offers informative, visual installation guides for each platform.
The app is extremely lightweight, so it's a great option for older systems. When testing, I installed it on my struggling six-year-old MacBook Pro as well as my new computer. Neither experienced any slowdown or freezing.
IPVanish offers three subscription options that offer the same features: one month, three months, and an annual package. The month-to-month subscription is more flexible and a great opportunity to test out the service without committing. The longer plans offer discounts of up to 46%.
Subscriptions are paid up front. IPVanish accepts payment through PayPal, major credit cards, and Bitcoin.

The plans will renew automatically, so you'll need to cancel your subscription if you want to opt out.
Reliability & Support
4.3 / 5.0
IPVanish has an extensive Help section on its website with articles on everything from installation to troubleshooting to privacy tips. If your question is more complex, you can contact the customer support team 24/7 via live chat.
When I tested its customer service, I found the representatives to be friendly and polite. I asked if IPVanish offered any free trials, and was told that they don't. However, the IPVanish blog states that it offers a free trial of up to 7 days for iOS users.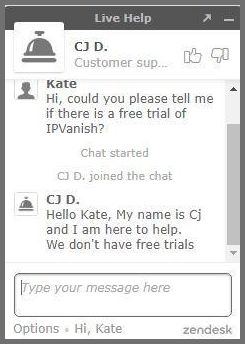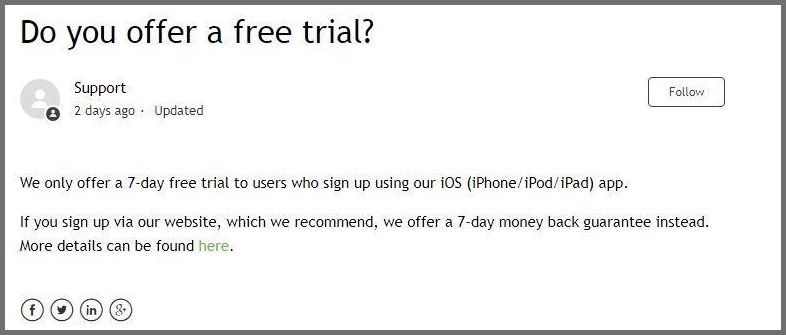 There was a short wait of about one minute to speak with a rep. You can ask them general questions about VPNs even if you aren't yet an IPVanish customer.
IPVanish is good for torrents but bad for streaming
IPVanish is easy to install and use. Its apps are lightweight, which is great if you are using an older computer, notebook, or cell phone.
It offers flexible subscription options with attractive discounts, and it accepts payments from PayPal and Bitcoin.
Its 24/7 customer support team is responsive and polite. Unfortunately, when asked about its free trials, the team member who spoke to me gave me an incorrect answer.
Dedicated Apps for all platforms
Does not keep logs
256-bit encryption
Huge list of 59 countries
Shared-VPN connections to make traffic untraceable
Lots of protocol choice
Money Back Guarantee (Days) :
7
Mobile app :
Number of devices per license :
10
Watch the short video review and tutorial below of IPVanish VPN
IPVanish VPN

User Reviews
Stu Taylor
I am into my third year of using IPVanish. I am extremely happy with the speed, reliability, features and reliability. The fact that I have used it for this long without trying the competition speaks volumes. I am never going to try anything else because I am completely happy with what I have. Why risk it?
---
See Plans
Reply to this review
Did you know? We approve all user reviews. Companies can't pay to include or exclude any.
Stella Nava
Chat Support is no longer available
Chat Support was really convenient, that is while it was available. From my experience trying to use it hasn't been an option. I've had service for about 2 months now. Had no problem connecting Android and fire TV. But for some reason have not been able to connect on Windows 10. Was getting some assistance with the Chat Support. But not the case lately. Am now having problems with setting new password. So now I'm unable to connect anything. Have tried email without any progress! 🙄
---
See Plans
Reply to this review
Anon Ymous
Does NOT work with BBC iPlayer
I had to ask for a refund because it didn't work with BBC iPlayer as promised here, tested with all of the 3 UK locations in the app. The review should be corrected. Haven't tried any other service yet, but I hope the others are better.
---
See Plans
Reply to this review
Compare IPVanish VPN with the top alternative VPNs