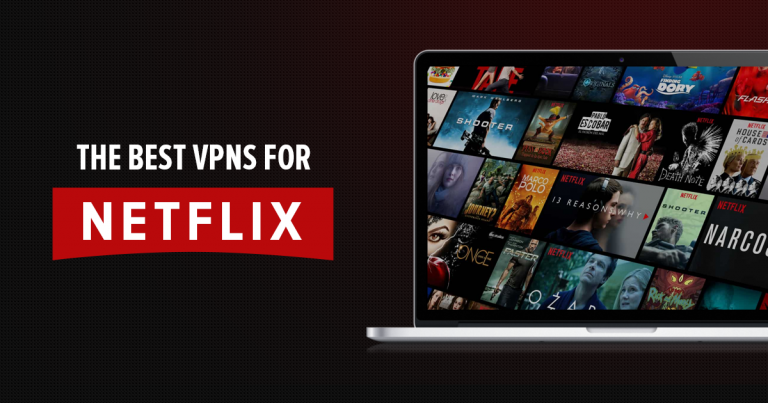 8 Best Netflix VPNs That Still Work Reliably [Tested in 2021]
Updated on 25th August 2021
Netflix is getting better at blocking VPNs, and this is why our research team (spread out in 42 different countries) regularly tests all 300 VPNs claiming to work with Netflix. Many can't access Netflix at all. Some can connect but are too slow, and can't stream for more than a minute without buffering.
As of now, there are only 8 VPNs that really do work consistently with Netflix and are reliable and fast enough for me to recommend them to you.
My top choice for Netflix is ExpressVPN. It only takes a couple of minutes to set up, and with its lightning-fast speeds and the ability to easily get around Netflix's VPN blocks, you can expect a smooth streaming experience. With its 30-day money-back guarantee, you can try it out risk-free.
Watch Netflix With ExpressVPN Now!
Why Does Netflix Block You?
Netflix uses your IP address to find out where you are. Based on your location, it determines which TV shows and movies you can view, and which to block. This is called geoblocking.
In the past, you could use just about any VPN to mask your IP address and appear as if you were streaming from a different location. But now, Netflix can detect most VPN connections, and all you get is that annoying error message:
Whoops, something went wrong… Streaming Error… You seem to be using an unblocker or proxy. Please turn off any of these services and try again. For more help, visit netflix.com/proxy.
Our research team has run extensive tests on all the VPNs on this list, and I've also tested them personally to make sure they can get around Netflix's VPN blocks. You can use any one of them to change your Netflix region. Just install one of these VPNs on your device, connect to a server in a different country, and access your desired Netflix library. Fast and simple. The hardest part is deciding what you want to watch first!
For example, if you want to unblock Netflix US, you can connect to a US server. You'll get a US IP address, which will make Netflix think you're actually in the US. When you log into Netflix, you'll be presented with the Netflix US library.
The Best VPNs for Netflix (Updated September 2021)
To access all of Netflix's content, you need a VPN that's actually going to work. You don't want to be staring at an error message or a buffering screen, so you need a VPN that can get around Netflix's VPN blocks and provide fast enough speeds for a smooth streaming experience.
Our team tests 300 VPNs with Netflix regularly to keep this list up to date.
When my colleagues and I tested ExpressVPN with Netflix, we were pleased to discover it could easily unblock Netflix. ExpressVPN has a network of 3,000 servers in 90 countries. This is important, because Netflix gets better at blocking VPNs all the time. With so many servers in each location, even if one server was blocked, we could simply connect to another one.
We easily unlocked over 30 Netflix libraries, including popular ones like Netflix US, UK, France, Australia, and Japan. We even gained access to some tricker catalogs in Brazil, Germany, Panama, and Vietnam.
Another thing we discovered in our tests is that ExpressVPN really is lightning-fast. You can see the full results of our speed tests in our in-depth ExpressVPN review, but I can tell you that when I connected from the UK to a US server for American Netflix, and I was able to stream smoothly in Ultra HD, with no annoying buffering. And even when I connected to a server on the other side of the world to stream Netflix Australia, my speeds held at a decent 36.97 Mbps download and 6.44 Mbps upload. My colleagues reported similar results.
Many VPNs limit your monthly data transfer, which can be a real pain, especially when you're trying to watch a show that has a lot of episodes. If you're a binge-watcher like me, you'll love ExpressVPN, which provides unlimited data transfer with all plans. You're not limited to a single device, either—you can connect up to 5 devices simultaneously on a single account, which is great if you're not the only Netflix addict in your household.
My colleague in Denmark alerted me to another really cool feature: with ExpressVPN's MediaStreamer, you can stream on any device that can connect to your Wi-Fi, including smart TVs and gaming consoles.
The best part? ExpressVPN has a 30-day money-back guarantee with a no-questions-asked policy. This means you can try it out risk-free. If it's not for you, just request a refund. When I tested this policy, it took less than two minutes and my refund was on its way.
Unblock Netflix With ExpressVPN Now!
One of the best things about CyberGhost is how easy it is to use. Not only is the app quick to download and easy to set up, but it comes with specialized servers for streaming Netflix. It's easy to see why it gets great user reviews.
CyberGhost's network includes 7,300 servers in 91 countries. My team and I were able to unblock Netflix US, UK, Canada, France, Spain, Germany, and Japan. We couldn't access as many libraries as with our top VPN, but you'll still have access to all the most popular Netflix libraries (which have a lot of content).
During our tests, we tried CyberGhost's streaming-optimized servers and also tried choosing random servers manually. We found that the optimized servers could access Netflix consistently and stream faster than the regular servers, so CyberGhost obviously knows what it's doing. All you have to do is click the For Streaming menu and choose a Netflix-tagged server in the country of your choice.
CyberGhost's speeds are super fast, so none of us experienced any buffering. You also get unlimited data transfer, which means you can stream freely without having to pick and choose. I put these features to the test myself by watching eight hours of Ozark on Netflix US (on some days I really love my job), and I enjoyed a consistently high-quality picture and no lag. I checked my speed several times throughout my marathon, and it was always above 10 Mbps download—that's impressive for a connection traveling over 6,800 kilometers.
You can have up to 7 simultaneous connections on a single CyberGhost account—and trust me, this can come in handy.
There's also a generous 45-day money-back guarantee if you choose a long-term plan.
Unblock Netflix With CyberGhost Now!
My team and I tested Private Internet Access with dozens of Netflix libraries from around the world. We could only consistently unblock Netflix US, UK, Australia, and Canada. Not a bad selection if you're just starting out, but this was still a bit surprising, as Private Internet Access has 29,650+ servers in 70 countries.
One thing the team did point out is that the Private Internet Access apps are intuitive and user-friendly, so it could be a good choice for beginners.
The speed test results were decent (you can see the full results in our expert review). I even had an agent in the US connect to a server in Australia—more than 15,000 kilometers away. At that distance, our expectations were low, but we were pleasantly surprised to see consistent speeds in the range of 6 to 8 Mbps download—more than enough for streaming in HD with no buffering problems. When she connected to a closer Canadian server, her speed jumped to 17.39 Mbps.
Private Internet Access is another VPN that offers unlimited bandwidth with all plans, so you can watch without restrictions. It also lets you connect up to 10 devices on a single account.
You can test Private Internet Access for yourself with the 30-day money-back guarantee.
PrivateVPN offers fast speeds and reliable connections, and it could be a good choice if you're new to VPNs.
Compared to the top VPNs on my list, PrivateVPN's network is tiny, with only 100 servers in 60 countries. This raised a few red flags, and I wasn't sure it could actually unblock Netflix.
I was surprised to discover that when it comes to VPN networks, size isn't everything. My colleagues around the world were able to access Netflix US, UK, Canada, Australia, France, Germany, and many others. How does PrivateVPN do this? Well, it's secret is its regularly updated IP addresses—Netflix just can't keep up. To see what else we discovered, read our full PrivateVPN review.
PrivateVPN makes it easy to find the right server. The streaming-optimized servers are labeled, including the current ping time for each. However, there were some issues during our speed tests.
When I connected to servers in the US, Canada, and Mexico, I could easily maintain 10+ Mbps download speeds. But my speeds dropped to just 6.11 Mbps download when I connected to Australia. This is a significant speed drop, and this kind of speed wouldn't be enough to stream in Ultra HD, but I was still able to stream in HD. My advice: If you find yourself connected to a slower server, just try another.
While the speed tests could have been better, PrivateVPN is still not a bad choice for streaming Netflix. It offers unlimited data transfer for uninterrupted binging and up to 6 simultaneous connections so your whole household can stream different shows at the same time.
PrivateVPN offers a 30-day money-back guarantee, but while I was poking around the terms and conditions, I found that you have to stay under 100GB of traffic to qualify for a refund, so keep this in mind.
Unblock Netflix With PrivateVPN Now!
VyprVPN is one of the only VPNs that uses its own security protocol. It's specifically designed to unlock restricted sites like Netflix so you can access blocked content from around the world. This protocol is called Chameleon, and it scrambles your metadata so that ISPs, governments, and blocked services can't tell you're using a VPN—a must-have to get around government censorship in countries like China and Iran.
VyprVPN has 700 servers in 70 countries. With this many options, it's unlikely Netflix would be able to detect and block you. If it does, you can always try a different server.
That said, during our tests, the only Netflix libraries my teammates and I were able to unblock were Netflix US, UK, Canada, and Germany. If you're looking for a more global variety, you should keep this in mind. It's too bad VyprVPN can't access more catalogs, but on the plus side, we didn't encounter any blocked IP addresses in these countries. My colleagues in three Chinese cities also confirmed that the Chameleon protocol worked flawlessly.
My American colleagues were able to access the Canada and UK Netflix libraries easily—they tested this extensively while catching up on Tiger King (yes, they got away with calling this "important research"), and were able to stream every episode in HD with no buffering. But when they tried to view Netflix Germany, they could only stream in SD (Standard Definition), and they had to let the video load for a minute to prevent lagging. That's because their speed dropped to an average of just 2.41 Mbps.
Thankfully, my colleagues in Europe and Asia did not experience the same problem when accessing Netflix US. You can see the full test results in our in-depth VyprVPN review.
A unique VyprVPN feature that we all loved is its dynamic server switching. If a server goes down or becomes overcrowded while you're watching Netflix, you're automatically moved to a new one in the same area. Combine this with unlimited data and the ability to connect up to 30 devices at once, and VyprVPN becomes a pretty good choice.
Unblock Netflix With VyprVPN Now!
IPVanish has 1,900 servers in 70 locations and works with lots of streaming services. However, when my team tested it, we found that it can only unblock the Netflix US library right now. This means it's only really suitable for Netflix streamers located outside the US or US residents who travel internationally.
I had a colleague from Canada try streaming from three different US servers to see what speeds were like. The slowest speed she recorded was 13.74 Mbps, which meant she could stream in Ultra HD with no issues.
When my teammates in Europe and Asia tried the US servers, they did see slower speeds due to the distance data had to travel, but this wasn't a major issue. Even my colleague in Australia got a download speed of 7.12 Mbps on a US server—more than enough for HD streaming. For the full test results, check out our full IPVanish review.
IPVanish's app is simple to set up. I had the software downloaded, installed, and connected to a US server in under five minutes. You get up to Unlimited simultaneous connections per account, and there's a 7-day free trial on iOS devices and a 30-day money-back guarantee to test the service risk-free on other desktop and mobile devices.
Unblock Netflix With IPVanish Now!
ZenMate is a lesser-known VPN, so I was surprised to discover it could unblock Netflix. It also has some convenient features for streamers, including special Netflix-optimized servers.
ZenMate has 3,800 servers in 70 countries. This includes 500+ servers in six US locations, and we were able to easily access Netflix US from 12 different countries during our tests. We could also access Netflix Germany, France, and Japan—every server we tried worked.
One of the best things about ZenMate is that some of its servers are specifically optimized for streaming Netflix and other services. When our team tried the Netflix-optimized servers, we could easily bypass the geoblocks and access Netflix in just seconds.
If you find a particularly fast server, you can use ZenMate's bookmark feature to pin it to the top of your list. This feature may not seem like much, but it's very convenient if you do lots of streaming.
I had a researcher for the US test ZenMate at all hours of the day to check for consistency. His speeds were steady and reliable, with minimal buffering. On German servers (which other VPNs struggled with), his speeds averaged a remarkable 11.05 Mbps. When he connected to servers in faraway Japan, he got an average download speed of 9.78 Mbps. Not bad at all. You can see the full test results in our in-depth ZenMate review.
One thing I found slightly annoying about ZenMate was that after I paid for a plan, I couldn't use it right away. Instead, I had to wait about 10 minutes for the company to send my login credentials. After that, however, the setup was smooth and easy. I tried the apps for Windows, Android, and Chromebook, and they all worked flawlessly.
All ZenMate's plans give you unlimited data transfer, so there's nothing stopping you from streaming for hours, and you can connect up to Unlimited devices at once.
With ZenMate's 30-day money-back guarantee, you can test the service completely risk-free.
Unblock Netflix With ZenMate Now!
SaferVPN has high-quality servers with incredible speeds for hassle-free Netflix streaming. It has streaming-optimized servers around the world that can unblock several streaming services, but our latest tests found that it can only unblock Netflix US.
My colleagues in Australia, Germany, Brazil, Canada, and China put SaferVPN's servers to the test. They all reported success, except in China. Unfortunately, SaferVPN isn't strong enough to defeat the Great Firewall.
When we ran speed tests on SaferVPN's self-managed US servers, we found they weren't as fast as what a top-rated VPN like ExpressVPN can offer, but SaferVPN still held its own. My colleague in Canada enjoyed a download speed of 15.29 Mbps on average, and our researcher in France only saw about a 20% reduction in speed. Not all testers could stream in Ultra HD, but all of them could enjoy buffer-free streaming in at least HD.
SaferVPN gives you unlimited bandwidth and data transfer, up to 12 simultaneous connections per account, and there are apps for all major devices. I especially liked the Chrome and Firefox browser extensions. These lightweight addons installed in seconds and worked with just one click.
If you want to give SaferVPN a try, it's risk-free with the 30-day money-back guarantee.
Unblock Netflix With SaferVPN Now!
Our Research Methodology
To create this list of the best VPNs for Netflix, our international team rigorously tested over 300 VPNs. We tested these VPNs on multiple devices and at all hours of the day, while carefully recording and analyzing our findings. We keep testing all VPNs regularly to keep the list up-to-date.
These are our criteria for selecting a VPN we recommend:
Proven ability to consistently bypass Netflix's anti-VPN technology.
A large server network spread out over a large number of countries, providing access to multiple Netflix libraries.
Consistently fast speeds and unlimited data and bandwidth for HD and Ultra HD streaming, even on long-distance connections and during peak hours. We perform periodic speed tests to keep our recommendations up-to-date.
Streaming-optimized servers to ensure an enjoyable viewing experience.
A user-friendly interface and fast, easy setup, so any user can get started easily, with no tech knowledge necessary.
A helpful and responsive live support system to take care of any issues you might face at any hour of the day.
FAQs
Can Netflix detect a VPN?
Netflix checks your IP address against a third-party database to see if you're connected to a known VPN server. Even if your VPN usually works for other streaming services, you still might not be able to watch your Netflix show. If it matches your IP address to one on the list, you'll be blocked.
Most leading VPNs change and update their IP addresses regularly enough to avoid being detected and blocked, which is why they are so reliable.
Is using a VPN for Netflix legal?
Streaming Netflix is not an illegal activity, and in most countries, you can use whichever VPN you like.
Some countries, such as China and Russia, place heavy restrictions on VPN use. However, a great benefit of using a VPN is that it keeps you completely anonymous online, so no one can trace your activity back to you. Don't miss our list of the best VPNs for China.
How do I change my Netflix region? Can I change it more than once?
All you need to do is install a VPN (ExpressVPN is my top recommendation) and connect to a server in a different country. For example, if you want to access Netflix UK, you'd need to connect to a UK server. You can change your region as many times as you like. You can find the full instructions in our guide to changing your Netflix region.
Can I watch Netflix on my phone with a VPN?
Yes! All of the VPNs I've recommended offer desktop and mobile apps, so you can stream on whichever device you like, at home or on the go. Not only that, but these VPNs also allow you to connect multiple devices simultaneously on a single account. (IPVanish, for instance, lets you connect unlimited devices.)
Why do these VPNs work when others don't?
Netflix employs sophisticated anti-VPN technology to block users from accessing content from outside their home country. There are several ways it can do this, including checking ports commonly used by VPNs and blocking IP addresses that have been linked to VPNs.
Getting around these tough blocks is tricky, and most VPNs can't manage it. It requires a large server network with frequently updated IP addresses. All the VPNs on my list work hard to keep up with the technology and ensure you can always access Netflix and other restricted sites.
What do I do if Netflix is blocking my VPN?
If you're using a VPN that's been proven to bypass Netflix's anti-VPN blocks, all you have to do is disconnect from your current server and try a different one in the country of the Netflix library you're trying to access. If your VPN isn't powerful enough to get around these geo-restrictions, I recommend replacing it with one of the Netflix VPNs from my list.
What countries will these VPNs work in?
These VPNs will work in most countries around the world. Some, includingExpressVPN and VyprVPN, even work in countries where the internet is heavily censored by the government, such as China and Iran.
How do I access other countries' Netflix catalogs?
Accessing a Netflix catalog in a different country is usually as simple as just connecting your VPN to a server in your target country, and then opening up Netflix. Your Netflix login details are valid for all catalogs around the world, so you won't need to purchase any additional subscriptions.
Some VPNs can only unblock certain Netflix libraries, though, and not others. For the widest choice of Netflix libraries, go with ExpressVPN.
Why does Netflix have different libraries in different countries?
Netflix is bound by producers' copyright and licensing terms. This means it only gets permission to make a TV show or movie available in certain countries. It's not always possible to obtain additional streaming rights—for instance, if a local network has an exclusivity agreement with the production, Netflix cannot offer the content in that country.
Can I unblock Netflix by setting up a VPN on my router?
As long as your VPN is connected—even through a router—you can unblock Netflix. The biggest benefit of installing a VPN on your router is that you'll enjoy unlimited simultaneous connections for all devices that connect via Wi-Fi. This can be very helpful when you have a house full of people who all want to watch their own shows or movies.
Can a VPN unblock the Netflix app, or do I have to use a web browser?
When you connect to Netflix, it sends out a DNS request to get your IP address and location. VPNs that unblock Netflix in a web browser ensure that all the info they send matches the location of the server you're connected to.
However, when you connect to the Netflix app, it can force your device to send info about your actual location. As soon as Netflix sees that your physical location and IP address location don't match, you're blocked.
However, the VPNs I've recommended above can get around this anti-VPN block so that you can stream as easily on the app as you can in a browser.
How do I unblock Netflix on Apple TV?
Apple TV doesn't allow for the installation of a VPN app, so you have to take a couple of extra steps to get around geoblocks while using this streaming device.
One option is to connect to Netflix through your VPN-enabled iPhone or iPad, and then cast the stream to your Apple TV using Airplay. This is easy to do, but you'll have to go through the process every time you want to stream.
Another option is to install a VPN on your router, and then connect your Apple TV to that router's Wi-Fi. This process takes a little longer in the beginning, but once you're up and running, it's as easy as activating your VPN connection.
To learn more about these methods, take a look at our guide on how to set up a VPN on your Apple TV.
How do I watch Netflix US? How about Netflix Japan?
To watch Netflix US, connect your VPN to a US server, then log in to your Netflix account. For Netflix Japan, it's the same process, but choose a VPN server in Japan. Check out my quick guide to unblocking Netflix with a VPN for a step-by-step example.
Can I watch Netflix in China?
Yes — some good Netflix VPNs also work in China! From my list, ExpressVPN, PrivateVPN, and VyprVPN can all get around the Great Firewall, allowing you to watch Netflix in China.
How much does Netflix cost?
Netflix costs depend on your country and the plan you choose. Netflix offers Basic, Standard, and Premium plans, which give you different levels of streaming quality and simultaneous connections. A basic plan starts at around $9 USD per month.
What should I do if my VPN doesn't work with Netflix?
Just disconnect and reconnect to a different server! All of my recommended VPNs work with Netflix so you'll always be able to find a server that works. Sometimes you might just come across an IP address that's been blacklisted by Netflix. Disconnecting and trying a different server should solve the problem.
Start Streaming Netflix from Anywhere Now!
Bottom Line
A good VPN will mask your IP so it looks like you're accessing the internet from another country. This means you can bypass Netflix's geo-restrictions and get access to that country's catalog—including exclusive shows and movies that you can't watch on your local Netflix server.
But be careful – not all VPNs are equal, and most can't unblock Netflix at all.
Our global team of researchers tests our top recommendations regularly to ensure they can defeat Netflix's VPN blocks while keeping your data safe and anonymous. My top pick is ExpressVPN, thanks to its speeds, worldwide server coverage, and excellent streaming features.
To summarize, the best VPNs for Netflix in 2021 are…