9 Best VPN Services in 2023 — Our Experts Tested 300+ VPNs
Too busy for the full read? Here's the BEST VPN SERVICE for 2023.
ExpressVPN — The fastest VPN available. It's super secure, easy to use, great for streaming, and affordable. Get 49% off with this special discount.
Finding a great all-around VPN can feel impossible. Some VPNs are good for streaming, but lack strong security features. Others are super secure, but slow your connection down so much that even browsing becomes frustrating. Not to mention the dozens of untrustworthy VPNs that track your online movements or fail to encrypt your traffic properly.
To save you time and hassle, our team of cybersecurity experts spent months testing over 300 VPN services to determine which ones are the best overall.
These VPNs are all great for accessing geoblocked content, securing your connection without slowing you down, and keeping your online activity private. Some of them are even powerful enough to work in countries with strict internet censorship.
TLDR: Our top choice is ExpressVPN thanks to its industry-leading security features and impressive speeds for streaming, torrenting, and gaming. But it also stands out due to its strong commitment to keeping your online activity private.
You can try ExpressVPN risk-free thanks to its 30-day money-back guarantee. If you're not as impressed as we were, you can easily get a full refund.
Try Our #1 Recommended VPN Today
Short on Time? Here Are the Best VPN Services in 2023
The Best VPN Services — Full Analysis (Updated 2023)
Our team is spread across more than 40 countries around the world. Over the course of several months, we conducted hundreds of tests to find out which VPNs offer the best speeds, security, and reliability. We browsed, downloaded, streamed, and torrented for weeks on end to gather data on each VPN and bring you these results.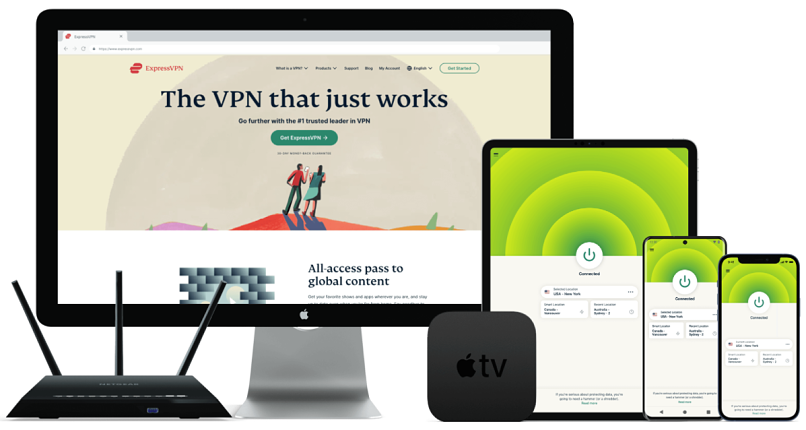 Editor's Choice
Editor's Choice

Tested June 2023
Try Risk-Free for 30 Days
Available on:
Chrome
Router
Smart TV
More
www.ExpressVPN.com
The fastest VPN service we tested thanks to its proprietary Lightway protocol
3,000+ servers in 94 countries help you unblock tons of region-locked content
5 simultaneous device connections
30-day money-back guarantee
Can access: Netflix, Amazon Prime Video, Hulu, Disney+, HBO Max, BBC iPlayer, Vudu, and more
ExpressVPN is the best all-around VPN I've tested, with incredibly fast speeds and strong security. This is thanks in large part to its proprietary Lightway protocol, which is faster and consumes fewer resources compared to others.
You can switch to Lightway in the app's settings or let the VPN choose the best protocol for your network. OpenVPN, IKEv2, and L2TP/IPsec are also available.
I tested 5 nearby servers while using Lightway. My base speed was 53.34 Mbps, and my average speed while connected was 48.95 Mbps. That amounts to an 8% decrease in speed on average, which is significantly less than I recorded with any other VPN.
I was even more impressed when I tested a server in London; although it was thousands of miles away from me, my speed never dropped below 45 Mbps.
Perfect for Streaming on All Devices
ExpressVPN has 3,000+ servers in 94 countries, which means you can enjoy content from around the globe. This large network also prevents potential slowdowns caused by overcrowded servers.
I was able to access regional Netflix libraries for the 10 different countries I tested it with, including the US, the UK, Japan, and Australia. It worked just as well with the other sites I tried, including Disney+ — which is known for its super-tough geoblocks.
To help you stream on more devices, ExpressVPN offers a Smart DNS feature called MediaStreamer. This feature allows you to access streaming sites on devices that don't usually support VPNs, like gaming consoles and smart TVs. It doesn't encrypt your traffic or offer much security, but it's super simple to set up. I got it working on my PlayStation in under 5 minutes, and was able to access Netflix US, Disney+, Hulu, and BBC iPlayer.
User-Friendly and Packed With Features
ExpressVPN's apps are easy to use and install; it took less than a minute to set it up on my Windows PC. Once that was done, I literally just had to click "connect" to turn on the VPN. I also like how sleek and simple its browser extensions are — and the fact that they give you access to the full VPN, not just proxies (like most VPN browser extensions).
ExpressVPN's split tunneling feature lets you select which apps use the VPN and which don't. I tested it by using my regular connection to stream a movie from my local Netflix library, while making sure BitTorrent was set up to run through the VPN. It took only a moment to do this, and it helped me maximize my download speeds.
Speaking of torrenting, ExpressVPN supports P2P sharing across its entire network. I used its Houston server to download a 790MB movie in about 3 minutes. Since torrenting servers aren't limited, you'll have no problem finding an uncongested server with a fast connection.
If there's one area where ExpressVPN falls a bit short, it's the number of simultaneous device connections. One subscription lets you connect 5 devices at once — but some other VPNs offer 10 or even unlimited connections. However, 5 is more than enough for most people. Even if you share an account with a friend or spouse, each of you can use the VPN on 2 or 3 devices at once.
Top-Notch Security and Privacy Protection
With its industry-leading security features, ExpressVPN keeps you safe from online threats. It offers protection against DNS, IP, and WebRTC leaks. I tested for leaks using an online tool, which verified that my traffic was successfully routed through the VPN, and my real location wasn't exposed.
In case your connection fails, an automatic kill switch (Network Lock) prevents your data from leaking. It cuts you off from the network until you can restore your VPN connection.
ExpressVPN uses AES 256-bit encryption along with SHA512 hashing and a 4096-bit RSA key. This combination makes it incredibly difficult for even the most skilled hacker to access your data.
As an additional layer of security, it uses perfect forward secrecy with dynamic encryption keys. This means that in the unlikely event an encryption key was discovered, it wouldn't compromise any past or future communications. You can rest assured that your personal information is safeguarded.
For ultimate privacy protection, ExpressVPN uses TrustedServer technology. This means it has RAM-only servers that wipe your data after every reboot. Most VPNs store user information on hard drives, which require information to be manually erased. Regular servers are also more difficult to keep up to date with the latest security software. TrustedServer technology ensures that each of ExpressVPN's servers is automatically updated, greatly reducing security risks.
Adding to this, ExpressVPN is based in the privacy-haven British Virgin Islands, which is based outside the jurisdiction of international government surveillance networks like the Eyes Alliances. Here, the company is under no lawful obligation to store or share your data.
ExpressVPN also subjects itself to constant audits from independent cybersecurity firms. Its Lightway protocol, apps, and even browser extensions have all been proven to be watertight in recent years. ExpressVPN also adheres to a strict no-logs policy — which auditor KPMG found they were in complete compliance with in 2022.
Our researchers in Asia also tested its ability to work in strictly censored regions. I was impressed to learn that unlike many VPNs, ExpressVPN works reliably in China. That being said, we don't condone any illegal activity — so be sure to read up on the relevant laws in your country.
Great Discounts and a Reliable Guarantee
The only downside of ExpressVPN is that it's a bit more expensive than some competitors. The yearly plan is the cheapest at $6.67/month. The monthly and 6-month plans include all the same features, but at a higher price. However, ExpressVPN usually offers discounts — and sometimes even free months of service. When I signed up for its 1-year plan, I got an additional 3 months for free.
You can try ExpressVPN for yourself risk-free thanks to its 30-day money-back guarantee. If you find it's not for you, it's easy to get a refund. After 27 days of testing, I requested my money back using its 24/7 live chat feature. The process was simple; the agent asked me a few questions about my experience, then instantly approved the refund. The money was back in my account 2 days later.
Dozens of specialty servers that protect your privacy no matter what your online activity
9,167+ servers in 91 countries so you can easily access global content
7 simultaneous device connections
45-day money-back guarantee on longer plans
Can access: Netflix, Amazon Prime Video, Hulu, Disney+, HBO Max, BBC iPlayer, Vudu, and more
CyberGhost is one of the all-around best VPN services on the market — and its specially optimized servers make it particularly good for accessing streaming sites. Each of these servers is labeled according to the platform it works best with. You can find them in the left-hand panel of the app under "For Streaming."
During my tests, I used CyberGhost's Netflix US server, which allowed me to access Netflix without getting blocked. I watched 3 episodes of Ozark with a stable connection and zero buffering. Our reviewers have found that CyberGhost's optimized servers for Disney+, BBC iPlayer, Amazon Prime Video, and other platforms also work seamlessly.
Plus, CyberGhost offers specialized servers for gaming and torrenting. The gaming servers are optimized to offer low ping and consistent speeds. On the other hand, the P2P-optimized servers are designed to handle large data transfers and ensure speedy downloads, all while maintaining your online security.
Each of the torrenting servers displays its distance from your location, making it easy to find a nearby option. I used the Panama server location (the closest to me) to download a 600MB file in just a couple of minutes.
CyberGhost has a Dedicated IP option you can add for a small monthly fee, as well. This is a sort of "personal" IP address that only you have access to, so you can avoid overcrowding and prevent sites from detecting it as a VPN connection. They're available in the US, the UK, Canada, Germany, and France.
Industry-Leading Privacy and Security
CyberGhost ensures that your data stays private. First of all, it's based in Romania — outside of the 5,9, and 14 Eyes Alliances' jurisdiction — where local laws don't require it to gather your data.
It also has its own private NoSpy servers, which are located in Romania and managed solely by CyberGhost employees. Using these makes it even less likely for your data to be exposed or intercepted.
On top of that, it follows a strict no-logs policy to ensure your information is never stored. It was audited by Deloitte — a reputable, global auditing firm — who concluded that CyberGhost truly is a no-logs VPN. Their findings confirm that the VPN company doesn't track or record your: websites visited, chosen servers, date or duration of activity, IP address, DNS requests, or downloads.
In addition, it offers a strong combination of security features to protect you from cybercriminals and other threats. This includes AES 256-bit encryption with perfect forward secrecy, plus DNS/IP leak protection and a kill switch.
I tested the kill switch by changing servers while streaming a YouTube video. As soon as my connection to the VPN was interrupted, I was disconnected from the network. I got a notification telling me that CyberGhost was temporarily blocking my traffic until my VPN connection was restored. This feature makes sure your data won't be leaked — even accidentally.
CyberGhost offers industry-leading security protocols, including OpenVPN and WireGuard. OpenVPN is the most popular protocol, with a great balance of security and speed that makes it ideal for most purposes. That said, WireGuard has emerged as a strong alternative, with even faster speeds and more modern encryption. It's my personal favorite, so I like that it's an option.
Easy-to-Use Apps and Speedy Connections
CyberGhost has user-friendly apps for the most popular operating systems. Each one has features you can tweak to get the exact level of security you need. For example, there's a built-in content blocker that prevents malicious ads and trackers from compromising your device.
I also found the Smart Rules feature particularly helpful; it lets you customize how and when the app protects your traffic. For instance, I enabled a setting that automatically turns the VPN on when I join an unsecured network. Smart Rules also allows you to set "exceptions," which essentially serves the same purpose as split tunneling.
CyberGhost is super fast, allowing you to stream, game, and torrent without interruptions. When I tested 3 relatively nearby servers (in Miami, Atlanta, and Chicago), I got an average connection speed of 45 Mbps. I also tried the dedicated gaming server in New York to play Call of Duty: Warzone online with a consistent ping of just 41 ms. I experienced only minimal lag during my hour-long gaming session.
Next, I tested 3 faraway server locations in Germany, Australia, and Japan. While the ones in Japan and Germany maintained speeds above 39 Mbps, the Australia server dropped to 18 Mbps, which is a significant speed loss. Luckily CyberGhost has more than 150 servers in Australia, so I was able to switch servers and find a faster connection.
One minor con is that CyberGhost doesn't work in some countries with strict online censorship, like China and the UAE. However, this is only a point to consider if you live in or plan to visit one of these countries.
Affordable Plans and Extra-Long Guarantee
Subscriptions are affordable; you can get CyberGhost for just $2.11/month with its longest-term subscription. While monthly plans are available, they come at a slightly higher cost per month and only offer a 14-day money-back guarantee. To maximize your savings, I recommend opting for the longest term plan.
The long-term plans also come with a generous 45-day money-back guarantee, and I personally tested their refund process. I contacted support using its 24/7 live chat and requested a refund. The support rep was helpful and only asked a few quick questions about my experience. Shortly after, my refund was approved, and the money was back in my account in 4 days.
Flexibly adjust settings to optimize speed or security for your desired activity
29,650+ servers in 84 countries that let you overcome geoblocks worldwide
Unlimited simultaneous device connections
30-day money-back guarantee
Can access: Netflix, Amazon Prime Video, Hulu, Disney+, HBO Max, BBC iPlayer, Vudu, and more
Private Internet Access (or PIA for short) offers exceptional security for a low price, which has made it an increasingly popular VPN in recent years.
Fully Customizable Security Features
PIA gives you a great degree of control over your connection, enabling you to personalize it to your specific requirements. For example, you can choose between two of the most commonly used VPN protocols: OpenVPN and WireGuard. To get the optimal speeds for streaming, I switched to WireGuard, which in my tests, outperformed OpenVPN speedwise by 9%.
However, when accessing my bank accounts, I prioritized security and opted for the highly secure OpenVPN protocol. With OpenVPN connections, you have the option to select your preferred encryption level, either 128-bit or 256-bit. To ensure maximum protection of my confidential information, I increased my encryption level to 256-bit.
As an extra layer of protection, I could enable "Multi-Hop" to route my connection through a SOCKS5 proxy, in addition to the VPN server. With PIA, I was able to apply multiple layers of security with ease and remove them when no longer needed.
In addition, PIA has a built-in malware blocker called MACE, which promises to protect against adware and viruses. I tested it by visiting some ad-heavy torrenting sites and other sketchy spots, and I'm happy to report that MACE worked beautifully.
One thing to note is that PIA is headquartered in the US, which isn't ideal from a privacy perspective — but, like CyberGhost, it also underwent a rigorous privacy audit. Deloitte reported that PIA upholds its privacy policy promises and is truly a no-logs VPN. On top of that, PIA has been asked to hand over user data multiple times. But since it doesn't keep logs, it never had anything to share.
Fast Speeds for Streaming and Downloading
While we were testing the ad blocker on torrenting sites, we also tested the VPN's torrenting capabilities. PIA allows P2P sharing on all servers, and has a built-in multi-hop, SOCKS5 setup that'll keep you extra safe while torrenting. Plus, it offers port forwarding, which helps you connect with more peers. This can help boost your torrent download and upload speeds.
Since it advertises a network of nearly 30,000 self-owned servers equipped with the latest tech, we expected fast speeds. Private Internet Access delivered.
Not only are PIA's speeds high enough for swift downloads, but they're also fast enough to stream in HD with little to no buffering or lag. Its geoblock-busting technology allowed me to access Netflix US and UK, Disney+, Hulu, Amazon Prime Video, and several other streaming sites.
You can connect as many devices as you like with a PIA subscription, and it's compatible with all major platforms. I like that its Chrome extension offers a cookie blocker to prevent tracking as you browse. Split tunneling is also available, but only on desktops and Android (not iOS).
Great Customer Support and Resources
PIA's apps are very user-friendly, but if you do need any extra help, you can contact customer support via live chat. Every time I asked a question, I got a prompt and helpful answer from a support agent. If you'd rather figure it out on your own, there's also a huge knowledge base of FAQs, tutorials, and setup guides.
All in all, Private Internet Access offers a pretty great deal for the privacy-conscious — you can get the service for just $2.03/month on a long-term plan. PIA even offers unlimited device connections, meaning that you can protect all of your household devices on a single subscription. By taking advantage of its money-back guarantee, you can also try PIA without risk for 30 days.
Try Private Internet Access Now
Proprietary protocol (NordLynx) provides strong security and fast speeds
5,656 servers in 60 countries to unblock global content from anywhere
6 simultaneous device connections
30-day money-back guarantee
Can access: Netflix, Amazon Prime Video, Hulu, Disney+, HBO Max, BBC iPlayer, Vudu, and more
NordVPN's exclusive NordLynx protocol provides impressive speeds and top-of-the-line security. It's based on the superfast WireGuard protocol minus the data privacy vulnerabilities. Using a double NAT (Network Address Translation) system, your connection is secured without storing any identifiable information on the VPN's servers.
NordLynx gave me superfast speeds nearby and across the globe. With a base of 52.46 Mbps, I first tested a couple of long-distance servers and averaged 45.21 Mbps between Hong Kong and Australia (thousands of miles from my location). My average between 4 local servers (1 in Costa Rica and 3 in the US) was 43.52 Mbps.
Tons of Unique Features
Meshnet (powered by NordLynx) lets you connect to different devices through an encrypted tunnel. This way, you can securely share files between devices, for example, access folders on your home computer while traveling.
NordVPN offers a built-in ad blocker known as Threat Protection (formerly known as CyberSec). To put it to the test, I visited the ad-heavy website forbes.com. Once I enabled the ad blocker, the webpage (which was previously cluttered with ads and slow to load) became both ad-free and fast.
Plus, its Threat Protection feature prevents malware from infecting your device — even when the VPN is disconnected. And the Dark Web Monitor sends you alerts if your email address (linked to your VPN account) is found on the dark web.
Additional security features include a kill switch with 2 settings (for the internet and apps, or both), 256-bit encryption, and DNS/IP leak protection. Plus, NordVPN runs its own DNS servers to keep your online activity from being traced back to you. In addition, Multi-hop and obfuscated servers allow added security and privacy while browsing, although NordVPN doesn't work in China.
NordVPN follows a strict no-logs policy that has been verified on three separate occasions. The most recent of which was performed by well-known cybersecurity firm Deloitte in December 2022. NordVPN was found to be 100% compliant with its no-logs policy. The fact that it is based in Panama, a country without data retention laws, further ensures that your activity with the VPN will be kept entirely private.
Solid Streaming and Torrenting VPN
NordVPN's ability to unblock sites makes it ideal for streaming. I tested it with my favorite streaming sites, including Netflix, HBO Max, and Hulu. There wasn't one platform I couldn't access — I could unblock my Netflix US, BBC iPlayer, and RTL+ accounts.
Although not every server supports torrenting, it has P2P optimized servers in various countries for fast, safe, and reliable downloading. You can also speed up download time using split tunneling or its SOCKS5 proxy connection.
Easy to Use With Responsive Customer Care
Installing the app only takes a few minutes. I wasn't impressed with its large and bulky interface that takes up a large portion of your screen. However, the world map feature is helpful for quickly locating and connecting to servers.
I recommend its long-term plan at $3.29/month for the best savings. There are short-term options available, but they're more expensive.
Additionally, all subscriptions come with a 30-day money-back guarantee, which proved trustworthy. I used its 24/7 live chat to ask for a refund. Even though it had been 28 days, she agreed to the return, and I saw the money in my bank account within 5 days.
Budget-friendly with industry-leading security features to keep you safe online
3,200 servers in 100 countries to quickly access geoblocked sites
Unlimited simultaneous device connections
30-day money-back guarantee
Can access: Netflix, Amazon Prime Video, Disney+, HBO Max, BBC iPlayer, Vudu, and more
Considering how affordable it is, it's impressive that Surfshark offers some of the most advanced security features in the industry. Including AES 256-bit encryption, a kill switch, Perfect Forward Secrecy, and DNS/IP leak protection. After testing 8 servers for leaks, I was relieved to find none.
You can choose from a variety of reputable security protocols, too — WireGuard, OpenVPN, and IKEv2. For added protection, you can enable Rotating IP, which changes your IP address every 5-10 minutes. It never interrupted my connection as it switched me to a new IP address. CleanWeb is a valuable bonus, preventing ads, trackers, malware, and phishing attempts. It's been recently updated to block those annoying cookie consent pop-ups.
Its NoBorders feature helps you enjoy internet freedom by automatically activating when it detects network restrictions. It provides you with a list of servers that work best to bypass such issues. That way, you can access blocked sites and apps privately and reliably. On top of that, Camouflage mode obfuscates your traffic, allowing you to fly under the radar.
Fast Speeds and Reliable Streaming
Surfshark is consistent in its unblocking abilities. I could access my Netflix, HBO Max, and Amazon Prime Video subscriptions while traveling abroad.
Its 'Fastest location' feature gave me the best speeds for uninterrupted streaming and gaming. Using its Nearest country feature, I connected to Costa Rica. This gave me 39.23 Mbps — I watched The boy in the striped pajamas on Netflix Costa Rica without buffering. I also tested 3 US servers and had no less than 35 Mbps. However, New Zealand and Thailand were much slower, with a 16.32 Mbps average.
It's also a good torrenting VPN with its robust security features and fast speeds. I connected to a P2P server hassle-free and downloaded a 1 GB file in 6 minutes with an average download speed of 23.7 Mbps.
Strong Privacy, but Could be Better
I was concerned when I discovered that the VPN is based in the Netherlands, which is a member of the 14 Eyes Alliance. However, it uses RAM-based servers to ensure any user data is inaccessible and wiped from the servers regularly, just like NordVPN. In addition, Surfshark's compliance with its no-logs policy passed an independent audit by Deloitte in 2022, so I was confident that my sensitive data would be kept private.
Plans are budget-friendly, starting as low as $2.30/month. For just a couple dollars more each month, you can also upgrade to Surfshark One. This includes its antivirus software, a private and ad-free browser (Search), and Alert — which notifies you if it detects any breaches to your personal data.
Surfshark lets you try it risk-free for 30 days with its money-back guarantee. When I tested this, a 24/7 live chat agent processed my request, and I saw my money on my credit card before the week had passed.
Unlimited simultaneous device connections to cover your entire household
2,200 servers in over 75 countries that access region-locked sites and platforms
30-day money-back guarantee on yearly plan
Can access: Netflix, Hulu, Disney+, HBO Max, and more
IPVanish lets you connect an unlimited number of devices on a single subscription — ideal for large households. In my tests, I connected a Windows PC, Macbook, two iPhones, and an Android tablet simultaneously. I never experienced any connection issues or sudden slowdowns, even while browsing on every device.
Find the Best City and Server Automatically
IPVanish isn't a complex VPN and has limited customizable settings — but that also means it's very easy to use. I especially like the "Best Available Server" feature; all you have to do is choose a city, and IPVanish will find you the best server there. If you don't have a specific city in mind, you can use the "Best Available City" option to find the fastest server in any given country.
IPVanish has more than 2,200 servers across the world; I did speed tests on 7 of them, and the results were impressive. The lowest speed I got was 10 Mbps, which is more than enough to stream in HD without buffering.
Each of the servers I tested allowed me to access regional streaming sites that would otherwise be blocked, like Netflix Canada and Disney+. IPVanish had no problem bypassing geoblocks on the most popular streaming services out there.
No Outsourced Servers
Unlike any other VPN on this list, IPVanish owns and maintains its entire server network. This means the only people who will ever have access to the VPN servers are IPVanish staff — you won't have to worry about an unknown third-party accessing the physical server and intercepting your data.
It also has a reliable kill switch, DNS/IP leak protection, and split tunneling — although the latter is only available on the Android app. If you're on a restrictive network that blocks VPNs, you can use the Scramble feature to obfuscate your traffic and hide the fact that you're using a VPN. Unfortunately, IPVanish doesn't have malware protection, an ad-blocker, or a multi-hop feature available.
Since IPVanish is fairly simple, it's unlikely that you'll run into any problems. But if you do, you can contact customer support through live chat, via email, or by phone. The live chat feature is available 24/7, and although you'll have to talk to a bot before reaching a real person, we've found it to be a super helpful resource.
Along with high speeds, strong security, and helpful features, it also offers great prices (with plans starting from $2.49/month) — plus a 30-day money-back guarantee so you can sign up for IPVanish with peace of mind.
200+ servers in 63 countries
10 simultaneous device connections
30-day money-back guarantee
Can access: Netflix, Amazon Prime Video, Hulu, BBC iPlayer, Sky Go, Sling TV, and Fox Go
PrivateVPN has a relatively small network — but with server locations in 63 countries, it's still an excellent choice for accessing content from around the world.
Decent Speeds for Streaming
My team and I tested servers in the US, the UK, Italy, and Australia to see if PrivateVPN could bypass geoblocks on popular streaming sites. We tried Netflix US, Sling TV, and BBC iPlayer, and it let us access them all.
When we ran speed tests, we found that PrivateVPN was pretty fast when connected to nearby servers. As you'd expect with any VPN, it caused a bigger drop in speed when we tested faraway servers. But even then, our connections were still fast enough for smooth browsing and streaming in HD. I also noticed that the apps are intuitively designed and easy to use.
Strict Privacy Policy Plus Extra Features
PrivateVPN is based in Sweden, and is clearly committed to ensuring your privacy and security. Although it's headquartered within the 14-Eyes jurisdiction, it follows a strict no-logs policy. This means it can't turn over your data, because it doesn't log any in the first place. It also has great security features, with AES 256-bit encryption and 5 different security protocols to choose from.
To further protect your privacy, PrivateVPN offers a kill switch and IPv6 and DNS leak protection. It also has a Stealth VPN mode designed to bypass VPN blocks and DPI firewalls. We know the Stealth mode works because our researchers in China confirmed it.
If you're looking for a provider with great deals on both short- and long-term plans, you might want to consider PrivateVPN (long-term plans are only $2/month). Plus, its 30-day money-back guarantee gives you plenty of time to make sure it's the right choice for you.
2,963+ servers in 67 countries
10 simultaneous device connections
30-day money-back guarantee
Can access: Netflix, Amazon Prime Video, Hulu, HBO Max, and BBC iPlayer
Proton VPN is a basic provider with more than 2,963+ servers in 67 countries. It can unblock a few of the most common geoblocked streaming platforms, including Netflix, Hulu, and Amazon Prime Video. However, it failed to unblock Disney+ and ESPN in our tests.
Strong Privacy and Security Measures
Proton VPN uses the OpenVPN protocol and AES 256-bit encryption. It's also based in Switzerland and has a strict no-logs policy. This means it doesn't store any information about you or your online activity — and even if it did, the government wouldn't be able to request any info due to the country's data protection laws.
One unique aspect of Proton VPN is its Secure Core servers, which we investigated for our Proton VPN review. These are super-safe servers located at highly secure locations in Iceland, Switzerland, and Sweden — all of which have favorable privacy laws.
Proton VPN gives you the option of routing your traffic through a Secure Core server first, and then another VPN server, before it reaches its destination. This is essentially a multi-hop feature, but it's enhanced by the extra physical security of the Secure Core servers. The only downside is that this will slow your connection down significantly.
Useful Features and a Limited Free Plan
With the Plus plan you can connect up to 10 devices at once on the same account, which is more than enough for most people. Proton VPN has a unique connection profile setup that allows you to personalize your VPN connections how you want. For example, you can choose one of its many P2P-optimized servers, the protocol you want, and label a "torrenting" connection for whenever you want to download files.
You can give Proton VPN a try using its free version — it has unlimited data, and you don't need to watch ads to use it. But the free plan doesn't support torrenting, and won't allow you to access most geoblocked sites (in addition, its connection speeds aren't great). I would suggest opting for the paid plan instead.
The Plus plan comes with everything Proton VPN has to offer, including Secure Core servers, Tor support, and access to its 10 Gbps network. For the VPN alone, your best option is a long-term subscription, which starts at $4.99/month. You can bundle Proton VPN with other Proton services, like its encrypted email, calendar, and cloud services for an extra fee.
Overall, Proton VPN is a stable service that provides strong encryption and unblocks a handful of streaming platforms. You can give it a try risk-free, thanks to its 30-day money-back guarantee.
1,800+ servers in more than 80 countries
5 simultaneous device connections
45-day money-back guarantee
Can access: Netflix, Amazon Prime Video, Disney+, Vudu, Sky Go, and more
Hotspot Shield is known for its ultra-fast speeds, which are partly the result of its proprietary protocol called Catapult Hydra. Like OpenVPN, it uses AES 256-bit encryption, but I found it to be significantly faster. When I tested it, I started with a base speed of 57 Mbps. After connecting to a nearby server using Catapult Hydra, my speed only dropped to 54 Mbps. I didn't notice any effect on my connection.
Even its distant servers maintained impressive speeds. I tested 4 global servers — in Germany, Japan, Australia, and the US — and got an average speed of 49 Mbps. Even though these locations are thousands of miles from me, my connection was still fast enough to stream in Ultra HD.
Hotspot Shield uses strong security features to protect your personal data. These include DNS/IP leak protection and a kill switch to help keep your information hidden under any circumstances. Keep in mind that you have to manually enable the kill switch in the app's security settings, but this is super easy to do. Plus, it comes with built-in malware and phishing protection.
Hotspot Shield also has perfect forward secrecy. This prevents even your past and future data from being decrypted, in the extremely rare event that your current session key is compromised.
Unblocks All Major Streaming Sites — Except Hulu
Hotspot Shield is a solid option for streaming, since it works with (almost) all the most popular platforms. It offers 1,800+ servers in over 80 countries, so you'll have no problem finding a server to unblock virtually any content from around the world. During testing, I used it to access Netflix libraries from the US, the UK, and Japan. It also worked with Disney+ and Amazon Prime Video. The only site I wasn't able to unblock with it was Hulu.
You can also use Hotspot Shield on your smart TV or gaming console by setting it up on your router. I found some easy-to-follow instructions on its website — and within a few minutes, I had it set up on my ASUS router. This allowed me to use the VPN on my Apple TV so I could watch The Mandalorian on Disney+ on the big screen.
With P2P support on all of its servers, Hotspot Shield is a great option for torrenting. I tested it out and found that downloads were fast. I also didn't encounter any overcrowding, since I wasn't limited to just a handful of P2P-friendly servers.
The only complaint I have is that Hotspot Shield's privacy policy is a bit vague. However, upon further research, I found out that it doesn't log any data that can be used to identify you. While it does temporarily record your IP address to prevent fraud, this information is immediately encrypted and then deleted after your VPN session ends.
Super Affordable Long-Term Plans
If you sign up for a long-term subscription, you can get Hotspot Shield for just $2.99/month. There are also monthly and yearly plans offering the same features. But they're significantly more expensive; the 3-year plan is definitely the best deal. There's also a free version, but it only gives you access to 1 server location in the US, and your data is limited to just 500MB per day.
If you want to try HotSpot Shield risk-free, you'll be happy to know that it comes with a generous 45-day money-back guarantee. That's a much longer guarantee period than most VPNs on this list offer.
Best VPN Services — Quick Comparison Table
Why You Need a VPN
In today's world, online safety can't be taken for granted. Every time you use the internet, you could be risking your privacy and making yourself vulnerable to shady cybercriminals or greedy companies. You could also be submitting yourself to the whims of your ISP and government authorities, who might throttle your speeds or censor certain websites to serve their own interests.
Of course, it's not realistic to just stop using the internet altogether — but it is possible to mitigate these risks. That's where a VPN comes in. On top of increasing your online security and ensuring your privacy, a VPN can help you do all kinds of other things, from streaming international TV shows and movies to sharing files via P2P networks. Here are some of the main reasons to use a VPN:
Encrypt your data to prevent cybercrime. VPNs use encryption to scramble your traffic so that no one can intercept and exploit it. The most secure VPNs use AES 256-bit encryption (the same standard used by governments, banks, and militaries) along with a trusted and regularly audited VPN protocol.
Hide your IP address to stay anonymous. When you connect to a VPN server, your IP address is hidden behind a different one — which means no one can use it to determine who you are or where you're located. This can protect you from cyberattacks that attempt to target your home network, but it can also help you avoid paying extra for products and services based on your region. If staying private online is your top concern, we recommend using a privacy-focused VPN alongside the secure Tor browser.
Access content from around the world. Hiding your IP address has another benefit: you can choose the location of the one it's masked with, which allows you to access geoblocked content that's not available in your region. For example, a quality VPN for Netflix allows you to watch all of the series and movies in every regional library around the world, instead of just the one for your country. A VPN can also be used to access live sporting events, regardless of where you are located.
Torrent files without security risks. Torrenting, or P2P sharing, allows internet users to share files directly with one another. Unfortunately, some people abuse this for illegal or unethical purposes, which can make it unsafe. A VPN will protect you while torrenting to ensure that you don't run any unnecessary risks.
Game online securely. Some gamers will pull out all the stops to ensure they win — which can include orchestrating a DDoS attack on your home network to bring you offline. However, while connected to a VPN, any attempted DDoS attacks will instead be mitigated by the VPN servers instead. The best VPNs offer low-latency servers perfect for competitive games such as Call of Duty: Warzone.
Avoid ISP throttling. Sometimes your internet service provider might intentionally slow down your connection speeds to control bandwidth — especially if you're doing a lot of data-heavy activities like streaming and torrenting. Since a VPN makes your activity private, your ISP can't see what you're doing, and can't throttle your speeds accordingly.
Note: There are over 300 VPNs on the market. Many of them can do some of the things described above — and many others promise to, only to fall flat. Only the best VPNs can do it all.
Try Our #1 Recommended VPN Today
How to Choose the Best VPN for You
We can give you all the research and test results in the world, but when it comes right down to it, you're the one that has to choose a VPN. And while some are unquestionably better than others, the best VPN for each individual depends on their personal needs and preferences.
Here are some tips to help you choose a provider that will give you exactly what you're looking for:
Identify your priorities. Are you primarily concerned with keeping your information secure and your activity private? Or are you looking for a VPN that will let you access geoblocked streaming sites? Some VPNs are more security-focused, while others are all about access to entertainment — although our favorites offer the best of both worlds.
Define your purpose. What will you use the VPN for, and how often? Do you only need it for a couple personal devices, or will you need multiple connections to cover your household? Will you only use it to access certain websites while traveling? Or do you plan to secure all your devices, all the time? Once you decide exactly why you want a VPN and how you plan to use it, you can focus on the features that relate directly to this purpose.
Set your budget. Are you trying to save as much money as possible, or willing to invest a bit more? Would you consider opting for a longer-term plan to save money? It's important to decide how much you're willing to spend so that you can look for VPNs in this price range. Remember that a more expensive option doesn't always translate to better quality — and that the top VPNs often have great deals available.
Research Methodology: How We Rank & Compare VPNs
With hundreds of VPNs all claiming to be the best, how do you choose the right one? It's not realistic to research every VPN out there… unless you have a global team of experts ready to put them to the test. That's exactly what we did to create the ranking above — and all our other reviews and lists.
We analyze each VPN based on a variety of factors, with a special focus on a few key aspects. Our goal is to determine which ones excel in each area, and which ones offer the best overall value. We conduct detailed speed tests, try to get past geoblocks and censorship, and do thorough research on every feature and claim. We also repeat these tests periodically to make sure the results are current.
Here are the main areas that we focus on in our research.
Privacy & Security
Two essential elements of any leading VPN are confidentiality and protection. Almost every provider guarantees them in writing, but the actual situation can be quite distinct.
Keep in mind that while some websites (and even VPNs) use these two terms interchangeably, they're not the same thing! Whereas privacy has to do with who has access to your data, security deals with actually keeping that data protected through encryption and other related measures.
To ensure privacy, you'll need a VPN with a verified no-logs policy. This means that it won't record, store, or share any of your data. When you use a VPN, your personal information and online activity is hidden from everyone — except the VPN itself. This is why we only recommend VPNs that promise to keep that data private. Otherwise, it could be accidentally leaked, sold, or even handed over to law enforcement. But if it's not logged in the first place, none of this can happen.
To ensure security, you'll need a VPN that uses strong encryption. The industry standard is AES 256-bit encryption, which is virtually unbreakable. All the top VPNs use it, but some also offer alternatives. For example, PIA gives you the option to switch to AES 128-bit encryption, which is slightly less secure but can help to increase connection speeds.
Other VPNs use the WireGuard protocol, which combines a variety of encryption standards — arguably making it even more secure. One of the very first things we do when researching a VPN is check what kind(s) of encryption it uses.
No-logs policies and encryption standards aren't the only things that determine each VPN's level of privacy and security. Many providers also have other features that are dedicated to keeping your data as secure and private as possible.
This can include things like multi-hop (which routes your data through two servers instead of one), RAM-based servers (which erase all user data every time they reboot), and a kill switch (which automatically shuts off your internet connection if the VPN connection drops).
Privacy can also depend on where the VPN is headquartered; if it's in a privacy-friendly country outside of the 5, 9, and 14 Eyes Alliances' jurisdiction, that's usually a good sign. However, a VPN can be located within this jurisdiction and still have strong privacy measures; PIA is a great example.
Of course, there are plenty of other elements that relate to privacy and security — way too many to cover here. Every time we evaluate a VPN, we're on the lookout for relevant information and features in addition to the criteria above. We take all of this into account when deciding which VPNs do the best job of protecting your privacy and keeping your data secure.
Speeds
When it comes to user experience, connection speeds are definitely one of the most important aspects to consider. First, keep in mind that every VPN will slow down your connection to some extent. This is a natural result of the time-consuming process of encrypting and decrypting your data, and routing it through a server somewhere else in the world.
When we say a VPN has "fast connection speeds," we mean that it keeps this speed reduction to a minimum. The fastest VPNs have the smallest possible impact on your connection speed. They'll let you browse, download, and stream without lag or buffering — the most common symptoms of a slow connection.
Note: There is one situation in which using a VPN could actually increase your connection speeds. If your ISP is intentionally throttling you based on your activity, a VPN can help you avoid this. See the Why You Need a VPN section above for more information.
Now that we've cleared that up, how do we actually test connection speeds? This is a fairly simple — yet labor-intensive — part of the process. We perform rigorous speed tests on each VPN using the Ookla Speedtest tool. Our global team of researchers connects to servers all over the world, and creates situations with limited bandwidth and other challenges to really put each VPN to the test.
Streaming
We have previously discussed the ability of a VPN to enable access to global content irrespective of your physical location. However, various factors contribute to this capability.
First, a VPN has to have a large worldwide server network. Without servers in a certain country, you won't be able to access streaming platforms from that country. Connecting to a local server is what allows you to view local content, so we pay close attention to the number and distribution of each VPN's server locations.
Second, the VPN has to have the techniques and technology to get around VPN blocks. Many streaming sites try to identify traffic from VPN servers and block it accordingly. If you've ever seen an error message along the lines of "It looks like you're using an unblocker or proxy," then you've experienced VPN blocking. We evaluate each VPN's ability to combat this, so that you'll never be blocked from streaming sites.
Some VPNs are great for streaming in general; some are good for certain platforms but don't work at all for others; and some can barely unblock any streaming sites at all. If you want to use a VPN to access a specific platform, check out our articles on the best VPNs for Netflix, Hulu, BBC iPlayer, DAZN, and more.
Note: Your overall streaming experience will also depend greatly on speeds (slow connections = buffering). But we try to assess these factors separately: a) whether the VPN will allow you to access streaming sites, and b) whether its speeds will be fast enough for high-quality streaming.
Torrenting
VPNs are incredibly useful for torrenting — especially in countries where P2P sharing is prohibited. But even if you follow all the rules (and we highly recommend that you do), torrenting without extra protection can make you vulnerable to greedy copyright trolls and hackers.
P2P connections aren't secure on their own, but you can add a strong layer of security with a VPN that will mask your real IP address and encrypt your traffic. In our VPN research, we evaluate torrenting features like dedicated P2P profiles, SOCKS5 proxies, and easy setup with torrent clients. This allows us to identify the best VPN services for torrenting — and the ones that aren't so great.
Ease of Use
A VPN might sound like a super complex tool. And it's true that behind the scenes, there's a lot of complicated stuff going on! But the best VPNs are designed to be accessible for everyone, whether or not you have any advanced technical knowledge.
When we test VPNs, we take note of how easy they are to use — all the way from setup to finding a server to adjusting settings. We also evaluate the interface and design of each app (the more intuitive, the better). This helps us to identify which VPNs are best for beginners.
Compatibility is also an important factor — a VPN should be just as intuitive for Windows as it is for iOS, for example. We give extra points to VPNs that offer easy solutions for setup on devices that don't natively support VPNs, too (like ExpressVPN's MediaStreamer).
But what about more experienced users? If you value customization options or advanced security settings over simplicity, ease of use might not seem like the most important factor to consider. However, truly user-friendly VPNs make it easy not only to do the basics (connect to a server, find a specific location, etc.) but also to use more complex features and settings. These are the ones that get the highest marks in this category.
Customer Support
Customer support is an incredibly important — yet often overlooked — aspect of evaluating VPNs. It would be great if you never had any questions or problems, but let's be realistic: issues are bound to come up. And when they do, it's important for your VPN to have top-notch customer support.
The first thing we look at is the variety of support channels available. Preferably, the VPN will have a 24/7 live chat feature; this is generally the easiest and fastest way to get help when you need it. Other options include email support (sometimes referred to as a ticket system) and phone support, which is usually only available during certain hours.
We also test these support channels to see how useful they actually are. We do this by starting a live chat, submitting a question via email, or making a phone call, and then assessing the quality and promptness of the support we receive. Our favorite VPNs offer super fast and helpful support; ideally, we'll talk to a knowledgeable support agent and get a response that fully answers our question within just a few minutes.
Censorship
First, it's important to distinguish between geoblocking (specific restrictions put in place by certain websites and platforms) and censorship (broader restrictions instituted by governments to control their citizens' online activity). Some of the countries with the strictest internet censorship also ban the use of VPNs, which poses a serious threat to online freedom. But some VPNs have advanced technology designed specifically to outsmart these systems.
When dealing with censorship, we look for settings and features that obfuscate your traffic. The purpose of obfuscation is to hide the fact that you're using a VPN from all third parties, including your ISP and the government. This is what will allow you to fly under the radar in censorship-heavy countries like China, Iran, or the UAE.
Note: We never condone any illegal activities, and we always recommend that you check your local laws to make sure that you're not putting yourself at risk. There are certain places where using a VPN could get you into trouble, so use your best judgment.
Price
Last but not least, let's talk numbers! You'll notice that the vast majority of VPNs that we recommend are premium — meaning that you have to pay for a subscription. This is no coincidence; premium VPNs are almost always faster, safer, and more reliable than free ones.
That said, we understand that it can feel like a big financial commitment to pay for a VPN. We always look for the providers that offer the best ratio of price to quality, to ensure that you're getting the most for your money. For example, if a VPN is relatively expensive, is it really worth the price? And will a cheaper one actually give you the features and functions you need?
In addition to answering these questions, we keep track of all the best deals and offers for each VPN. Most premium providers are constantly offering discounts and coupons.
Finally, we check each VPN's money-back guarantee policy to make sure you can get a refund if you're not satisfied after subscribing. Most top VPNs have a 30-day guarantee, but this can vary depending on the provider and plan.
If you're really opposed to paying for a VPN, check out our list of the best free VPNs to make sure that you're not losing out on important features or putting your privacy at risk.
FAQs About the Best VPN Services
What's the best VPN?
Our extensive testing shows that ExpressVPN is the best all-around VPN for browsing, streaming, torrenting, and more. It offers the fastest connection speeds, the most reliable security and privacy measures, and the best overall user experience of any VPN on the market.
Which VPN is the fastest?
ExpressVPN consistently comes out on top in our speed tests. It has the fastest upload and download speeds and the lowest lag and ping rates. This means that you can use it to stream in super high quality without any buffering; to download torrents at lightning speed; and to play online games without slow connections tripping you up.
Are VPNs legal?
In the vast majority of countries, it's completely legal to use a VPN. VPNs themselves are legitimate tools that promote privacy, security, and internet freedom. Their primary functions (encrypting data, bypassing restrictions, and ensuring privacy) are 100% acceptable under most legal systems.
There are a few places where VPNs are forbidden or occupy a legal gray area, like China, Iraq, Iran, Russia, Belarus, Turkey, Oman, and the UAE. If you're located in a country with internet censorship, you should check to see what the local laws are regarding VPNs.
Sometimes people use VPNs for illegal purposes, which we don't condone under any circumstances. Remember: anything that would be against the law without a VPN is still against the law with a VPN, and should always be avoided.
Are VPNs safe?
VPNs themselves are completely safe to use, and in fact they're designed to make you even safer. However, it's your responsibility to make sure that what you're doing online doesn't violate any laws or local regulations.
You may be putting yourself at risk if:
You're located in a country where the government only allows certain VPNs, and you use one that's not officially approved.
You download copyrighted material with a VPN that keeps logs or doesn't have a kill switch.
Some free VPNs can also be unsafe in other ways; they might sell your data to third parties or make you vulnerable to malware. This is why it's so important to choose a quality VPN that has strict security measures and trustworthy privacy policies.
Are VPNs hard to use?
The best VPNs are actually super easy to use. In most cases, you just need to download the right app for your device, install it, open it, and click "connect." All of the VPN services recommended above have user-friendly interfaces that even total beginners can easily figure out.
Many of them also feature a quick-connect button that allows you to instantly connect to a nearby server. If you're trying to access content from a certain region, you just have to choose the relevant country from the list of server locations.
Tip: If you're new to VPNs and want to learn more about them, check out our VPN guide for newbies — it's packed with info about VPN features, uses, and benefits.
Will a VPN slow down your internet connection?
The reality is that all VPNs will slow down your internet connection to some extent. This is because they have to encrypt and decrypt your data, and route it through a server somewhere else in the world. All of that takes time, so it makes sense that VPN connections are slower than regular ones.
However, the best providers keep this speed loss to a minimum. With the fastest VPNs, you probably won't even notice any difference from your regular connection. That means you won't have to deal with buffering, lag, or long loading times while connected to the VPN.
Can a VPN track you online?
Technically, it's possible for a VPN to track you — but the best ones won't. When you use a VPN, you're protecting your data and personal information from third parties like your ISP, hackers, advertisers, and the government, but the VPN itself still has access to everything. This is why VPNs have no-logs policies that promise they'll never record or store your data.
Some VPNs also use technology like RAM-based servers to minimize the chance of your data ever falling into the wrong hands. These servers are wiped every time they reboot, so all your information is automatically erased.
How much does a VPN cost?
Prices vary between providers, but all of the VPNs recommended here are extremely affordable. Some of them even cost less than $2 per month! In general, long-term subscriptions tend to be cheaper overall than short-term plans; the longer your commitment, the lower your monthly price.
The best VPNs also offer money-back guarantees, which means that if you change your mind after subscribing, you can ask for a refund within a certain period (usually 30 days). This doesn't change the price, but it does give you some added peace of mind in case you're unsure about the expense.
If you're ready to make a purchase, head to our coupons page for exclusive discounts on top VPNs.
Are there free VPNs?
There are free VPNs available, but our advice is simple: It's best to stay away. Getting something for nothing sounds tempting, of course. But even if you pay nothing upfront, you might pay later — in the form of ridiculously slow connection speeds, a malware infection, or even a stolen identity.
That said, not all free VPNs are scams. We've also researched dozens of services to find the free VPNs that are actually legit. They all have limitations, such as data caps or restricted access to certain features, but they're safe to use if you really need them.
Can I use Tor or a proxy instead of a VPN?
Tor, proxies, and VPNs are completely different types of software, but their uses do sometimes overlap. Let's take a closer look.
Tor (short for The Onion Router) utilizes a volunteer-operated network that bounces your connection through several different servers, or "nodes." While this process makes you (and your data) much harder to track, it also slows down your connection significantly. Tor is a very complex topic, so check out our ultimate guide to Tor if you want more info and tips.
Compared to VPNs, Tor has its drawbacks. Although it's free to use, it provides weaker encryption and slower connections. The best solution is to use Tor and a VPN together, and reap all the benefits of both. A good VPN can address Tor's security vulnerabilities, while Tor adds extra layers of privacy and anonymity.
Note that not all VPNs are compatible with Tor. To make it work, you need a VPN like ExpressVPN.
Proxy services have one advantage over VPNs: they offer faster speeds (while hiding your IP address). However, they don't have any other security features, they don't encrypt your data, and they don't even offer a user interface. This means proxies are not very secure or user-friendly. However, they can be a good choice if you only care about speed and not security.
There are hundreds of proxies out there, so it's important to choose the right one. Better yet, invest in a fast, affordable VPN and benefit from extra protection and privacy on top of great speeds.
Should I use a VPN on my phone?
Ideally, you should use a VPN on every internet-enabled device that you have — including your phone. Otherwise, every time you connect to the internet you're putting yourself at risk of hacking, surveillance, and tracking.
Many VPNs offer apps for a variety of devices, including smartphones. Want to know more? Check out our research articles on the best VPNs for Android and the best VPNs for iOS.
Can I use a VPN for online banking?
Absolutely, but this can mean different things in different contexts. If you're traveling outside of your home country and need to access your bank account, you can use a VPN to connect to a server in your country first. This way, your login attempt won't be flagged as possible fraud (which can happen if your bank detects a foreign IP address).
Alternatively, you might be located in your home country and using a VPN for global websites. If you want to access your local bank account without turning off the VPN — or setting off any alarms — you'll need to use a VPN with a split tunneling feature. This will allow you to use your local network to access your bank, without deactivating the VPN for your other traffic.
To summarize, these are the best VPNs in 2023...