6 Best VPNs for Linux That Are ACTUALLY SAFE (Tested in 2023)
Most VPNs have easy-to-use apps for macOS and Windows, but Linux users are often ignored. Some VPNs even claim to fully support Linux but then offer stripped-down services and no native apps.
While it's true that Linux offers more safety from viruses and malware, you still need a VPN to protect your privacy, and you shouldn't have to settle for fewer features and difficult manual configuration.
That's why I tested over 35 top VPNs to find the best VPNs for Linux — those with GUIs or CLIs for Linux so you can get set up and protected, quickly and easily, with all the features you expect.
Out of all the VPNs I tested, ExpressVPN is my favorite. It has a simple command-line interface, super-fast speeds, and the privacy features that are vital for securing Linux-powered computers. It also offers a 30-day money-back guarantee, so you can try it yourself completely risk-free. If you're not satisfied, just request a full refund.
Try ExpressVPN Risk-Free Today!
Short on Time? Here Are the Best VPNs for Linux in 2023
Best VPNs for Linux (Updated in 2023)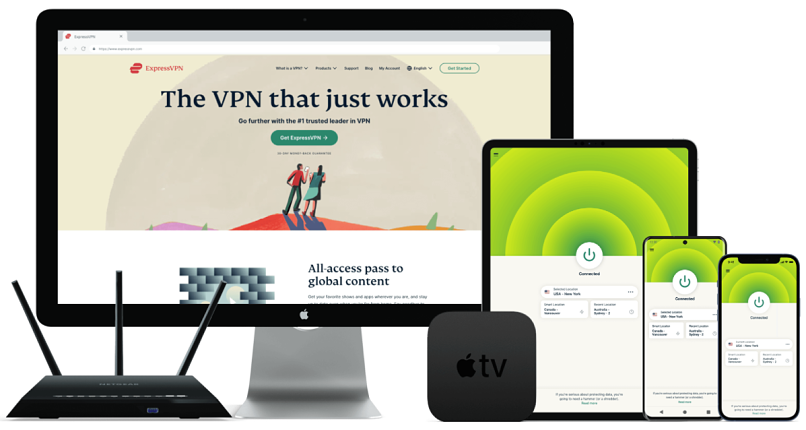 Editor's Choice
Editor's Choice

Tested February 2023
Try Risk-Free for 30 Days
Available on:
Chrome
Router
Smart TV
More
www.ExpressVPN.com
High-end security for Linux, including AES 256-bit encryption, leak protection, and a kill switch
RAM-based servers and a zero-logs policy protect your privacy and guarantee anonymity
3,000 worldwide servers offer fast speeds for streaming, torrenting, browsing, and gaming
5 simultaneous device connections
30-day money-back guarantee
Works with: Netflix, Disney+, HBO Max, Hulu, BBC iPlayer, Vudu, and more
Compatible with: Ubuntu, CentOS, Debian, Fedora, Raspbian, Arch, Kali, Ubuntu Studio, Linux Mint, and more
ExpressVPN's world-class security measures are all available on its Linux CLI app, so you won't miss out on important features as a Linux user. You'll find military-grade encryption that makes it impossible for anyone (including hackers) to snoop your data and an automatic kill switch that protects you should your VPN accidentally drop. ExpressVPN also offers leak protection to keep identifying info from slipping through the cracks. Together, these features guarantee your anonymity.
TrustedServer technology helps ExpressVPN enforce its zero-logs policy. Its servers store data on RAM only — not on hard drives. Whenever a server is restarted, all info is completely wiped. That means the VPN can't log or store information about you to hand over to others, even if it's legally requested — so your privacy and anonymity are assured. (This claim has been proven through an independent audit by PricewaterhouseCoopers, so it's legit!)
Another thing I like about ExpressVPN is that it's based in the British Virgin Islands, a nation that's dedicated to privacy. It isn't part of the 14 Eyes Alliance, so it can't be forced to share anything with member countries of this intelligence-sharing agreement.
I was impressed to see that the Linux app is compatible with most Linux distros and that ExpressVPN provides both picture guides and video tutorials on how to set up the app on each one. The app is straightforward and intuitive, and I found it really easy to use — you can run "man expressvpn" to get a detailed manual of all the app's functions and commands if you need help. If you're more of a visual person, you can access and control ExpressVPN with a GUI when you use its Chrome and Firefox extensions.
There are also terminal and NetworkManager guides for manually setting up OpenVPN on your Linux device. ExpressVPN doesn't support WireGuard, a secure protocol that offers faster speeds. However, it does have its proprietary Lightway protocol, and my tests show it's just as fast and safe.
Speaking of speeds, I tested a dozen ExpressVPN servers and was pleasantly surprised with how fast they were. A Los Angeles server came in at 89.92 Mbps download speed — barely a drop from my original speed. Even on servers much farther away, like in Tokyo, Japan, I still saw speeds over 53 Mbps. You only need 5 Mbps for HD streaming, so this was more than enough for lag-free viewing. The Linux app may only support OpenVPN and Lightway, but it's fast enough for streaming, torrenting, and even gaming.
ExpressVPN is also excellent for unblocking streaming platforms. I was able to access Disney+, HBO Max, Hulu, and Amazon Prime Video on the first try. On top of that, I accessed Netflix libraries in 9 different countries, without ever seeing a single error screen.
The only downside to ExpressVPN is that it can be a bit pricey. Luckily, I found out that you can use ExpressVPN's newest offer to get your subscription for just $6.67/month.
You can also try ExpressVPN out for yourself risk-free because it has a 30-day money-back guarantee. If you're not happy, you can get your money back. To verify that it really offers refunds, I signed up for ExpressVPN and requested one after 28 days. The support agent in the 24/7 live chat asked me why I was leaving, but that was it — she processed my request in less than 5 minutes. I was surprised at how easy it really was. After 3 days, I got all of my money returned to my account.
9,699 servers in 91 countries for fast access from anywhere
Streaming and P2P-optimized servers make it easy to watch content or torrent on your Linux device
Easy-to-use CLI app that's perfect if you're new to VPNs
7 simultaneous device connections
45-day money-back guarantee
Works with: Netflix, BBC iPlayer, HBO Max, Hulu, Disney+, and more
Compatible with: Ubuntu, Fedora, Linux Mint, CentOS 7, PoP!_OS, Kali
CyberGhost has 9,699 servers, more than any VPN with support for Linux users. This is huge because it guarantees you'll find servers in every corner of the world, whether you need them for unblocking streaming content or maintaining a fast connection. And because CyberGhost has so many servers, fast speeds are a given. More servers mean you won't face the congestion that leads to slowdowns.
The extra servers definitely improved my speeds. I speed-tested CyberGhost using both OpenVPN and WireGuard. Both protocols performed well, but WireGuard gave me the best connection speeds — it even managed to improve my base connection. This brought me from 82 Mbps to 86 Mbps! OpenVPN wasn't as fast but still gave me a reliable speed for streaming, torrenting, and browsing.
If you're going to torrent, definitely use the optimized servers (accessible with the CLI) — they're designed for fast speeds when you're transferring lots of data. CyberGhost's website provides an in-depth guide to setting up P2P traffic via terminal that helps you easily connect to one of its torrent-optimized servers. My files downloaded faster with optimized servers versus those I randomly picked.
Using CyberGhost to unblock streaming services to watch TV shows and movies on Linux devices is just as easy. The argument "cyberghostvpn --streaming --country-code" brings up a list of streaming-optimized servers labeled by country and which streaming providers they work with. I was able to unblock Netflix, BBC iPlayer, HBO Max, Hulu, and more. The only streaming site I had trouble with was Amazon Prime Video, but I finally got access after switching servers a couple of times.
As far as CyberGhost's interface, the CLI Linux app is simple and user-friendly, so it's perfect if you've never used a VPN for Linux. I was able to install and start using the client within minutes — and the website provides detailed setup guides that I found easy to follow. All I had to do was add the argument "--connect" to get started (other arguments let you choose the server country, city, or a named server).
You can use OpenVPN, WireGuard, PPTP, IPSec, and L2TP with CyberGhost on your Linux device. There are detailed guides for installing OpenVPN using terminal or NetworkManager, while selecting WireGuard is as simple as adding "--wireguard" to the command line.
In terms of security, CyberGhost offers the same for Linux users as anyone else. Its built-in ad, tracker, and malicious site blockers will keep you safe from online threats, while military-grade encryption will secure your Linux device against snoopers and hackers. In addition, it's based in Romania (not a part of 14 Eyes), where it keeps its special NoSpy servers. These can only be controlled, accessed, and operated by the CyberGhost team, making them extra secure.
If you like what you're hearing, be sure to take advantage of CyberGhost's latest discount to save on your subscription. With this coupon, you'll get your CyberGhost subscription for just $2.19/month.
You can also try CyberGhost risk-free with its 45-day money-back guarantee. To test this claim, I asked for a refund on my subscription after about a month. The support team member over live chat was very helpful but did ask me a series of troubleshooting questions. In around 10 minutes, my cancellation was approved, and I got my money back within 5 days.
User-friendly GUI app is super easy to use
P2P support on all 29,650 servers lets you torrent from anywhere
Advanced security features help keep your Linux device safe
10 simultaneous device connections
30-day money-back guarantee
Works with: Netflix, Amazon Prime Video, HBO Max, Disney+, BBC iPlayer, Crunchyroll
Compatible with: Ubuntu, Debian, Linux Mint, Arch
Private Internet Access (PIA) offers a graphical user interface for Linux. That means you get a user-friendly app where you can click to connect and access settings without having to use the command line — making it a great choice if you're a Linux user who's new to VPNs or prefer clicking buttons rather than using commands.
You still need to use the terminal to set the app up in the first place, but PIA provides a very clear guide for installation and getting started. It only took me about 5 minutes from installation to server connection.
PIA including an app for Linux users at no extra cost is a huge benefit, but the fact that you can use its latest coupon to pay just $2.19/month makes it an even better value.
Despite its simplicity, the app includes several advanced security features, including AES 256-bit encryption (the default setting is 128, so be sure to switch it). It also has a kill switch and leak protection to ensure your traffic can't be hacked or monitored by third parties — and that your identifying information is never accidentally leaked.
You'll also enjoy the protection of MACE, a privacy feature that blocks ads, trackers, and malware by comparing the websites you visit against a database of known trouble spots.
One potential security issue I spotted is that PIA is based in the US, a country that's part of the 14 Eyes Alliance. That's okay, though, because it has a strict no-logs policy — your online activity and personal info is never recorded, so it can't be handed over. This was proven in 2016 when Russia seized some of its servers but couldn't find any user data.
PIA supports WireGuard and OpenVPN for Linux users. Both are secure, and during my tests, I found each offered similar speeds. What made a bigger difference was which servers I connected to.
PIA is reliably fast with local servers. I got an average of 56 Mbps on servers 600 KM away or closer. However, speeds dropped to 22 Mbps on average as I connected to servers that were farther away. It supports P2P traffic on all of its 29,650 servers, but again, server distance will play a big role in your overall experience. Nearby locations let me download at a decent clip, up to 2.0 Mbps on Utorrent. However, past 600 KM, the speeds were sometimes as low as 0.2 Mbps.
When it came to streaming, PIA's unblocking abilities were impressive. The only major platform I couldn't access was Hulu. I instantly unlocked multiple platforms during my tests, including HBO Max, Amazon Prime Video, Netflix, Disney+, and BBC iPlayer. Each one worked on the first attempt; I never had to switch servers or even move to a new browser!
You can try PIA risk-free with its 30-day money-back guarantee if you want to check it out for yourself. I tested the refund process to see how it works, and while it could have been better, I was successful. The agent I spoke to in the chat asked me to stay, and I had to say twice that I wasn't interested. After my request was accepted, the refund took quite a while to arrive. I eventually got my money back within 10 working days.
Try Private Internet Access Now!
CLI app for Linux, with easy-to-follow configuration guides
Chameleon technology masks VPN traffic to help you bypass VPN blocks
700 worldwide servers for unblocking streaming content
10 simultaneous device connections
30-day money-back guarantee
Works with: Netflix, BBC iPlayer, Hulu, Amazon Prime Video, HBO Max, Disney+, and more
Compatible with: Ubuntu, Linux Mint, Debian
VyprVPN is a great VPN for streaming on Linux. During my tests, I was able to unblock several services, including Netflix, Hulu, and HBO Max. Disney+ wouldn't work at first — but I switched to the Seattle server and a Chrome browser, and it loaded right up! I was impressed; it reliably unblocks nearly every popular streaming platform.
Streaming was also smooth and buffer-free thanks to VyprVPN's reliable speeds. I did find some servers that were a lot slower than others. The server in Iceland gave me speeds around 20 Mbps. However, my average speed over 9 servers (excluding Iceland) was an impressive 51 Mbps. This means you can watch TV shows and movies with no interruptions.
Setup on my Linux device was fairly easy. VyprVPN's CLI-based app is officially compatible with Ubuntu and Linux Mint, but I was able to get it working on a couple of other Debian-based devices too. The website has clear tutorials on setup for both 32-bit and 64-bit operating systems and CLI-only machines, OpenElec, and a manual connection guide for Ubuntu 17+.
You're protected by military-grade encryption, a kill switch, and a no-logs policy, but I found something a little worrying in VyprVPN's small print. In reference to some of its apps, including the Linux CLI app, VyprVPN says:
"-although absolutely no personally identifiable information is associated with the VPN connections from these apps, we have outstanding updates to ensure that our analytics solution is not collecting information relative to a user's geographic region."
The fact that no personally identifiable information is logged should be enough for most users, but you might prefer another service if ultimate privacy is your goal.
Its parent company, Golden Frog, is located in Switzerland, a country that doesn't cooperate with data requests from the 14 Eyes alliance. VyprVPN also owns all its servers, so your connections are never outsourced to third parties that might snoop.
Subscription prices can be on the high side, but that's easy to solve when you use its latest coupon: You'll save up to 50% off your VyprVPN plan with this new deal.
You can also try VyprVPN risk-free with its 30-day money-back guarantee. I tried it myself, and while I wish the refund process was faster, I did get my money back within 10 days.
Linux-compatible tool helps you find the fastest server
CLI app makes it easy to enter commands
1,925 servers in 67 countries for streaming, torrenting, and more
10 simultaneous device connections
30-day money-back guarantee
Works with: Netflix, Amazon Prime Video, HBO Max
Compatible with: Ubuntu, Debian, Fedora, Mint, Manjaro, openSUSE, CentOS, RHEL
Proton VPN has an extensive list of commands for its CLI. It's super easy to view the entire server list or switch to the fastest secure core server with one specialized input. You can even connect to the fastest server in a given country with a specific command. Overall, it was quite simple to set up on Ubuntu.
While it doesn't have the most extensive server list, I was able to unblock several streaming sites, including Amazon Prime Video, HBO Max, and Netflix. However, I wasn't able to connect to Hulu or Disney+.
I tested several servers, and their speeds worked well for streaming and torrenting — I had no issues watching or downloading movies and shows. When connected to the CA#76 server, I recorded a download speed of 50 Mbps. I performed tests on 10 different server locations and never recorded any speeds below 33 Mbps.
Its Secure Core servers provide extra anonymity by routing your traffic through its own servers in Switzerland — a country outside the 14 Eyes Alliance. I thought this extra step would lower my speeds, but on average, I only lost about 7% compared to a regular server.
In terms of privacy, Proton VPN has a no-logs policy to protect your data and a kill switch to prevent leaks. You'll also get its NetShield filter that shields you from malware that can steal your info when you choose a Plus or Visionary plan (they're more expensive, but you can pay less when you use this coupon.)
One issue with Proton VPN is the lack of live chat support. When I was first setting up the service, it continually told me my login credentials were incorrect. I knew this was wrong, and I started to get frustrated. After searching through FAQs on the website, I found out I had added an unnecessary underscore to the command. It would have been much more convenient to send the command line to the support staff to get instant help.
The best way to see if Proton VPN is right for you is to give it a try. Take advantage of its 30-day money-back guarantee on any subscription, and you can request a refund if the service isn't right for you. When I tried it, my refund was processed within six days.
One command line is all you need to install
Global access with 2,100 servers in 77 countries
10 simultaneous device connections
30-day money-back guarantee
Works with: Netflix, Disney+, Amazon Prime, Hulu, HBO Now, and DAZN
Compatible with: Ubuntu, Linux Mint, CentOS, Debian, Kali, Fedora
Hide.me can be installed on Linux with a single command line. I was skeptical when I first saw this on its website, but it's true. I copied and pasted the line into my terminal, and the VPN was ready to go!
However, as easy as it is to set up, the Linux CLI is unfortunately barebones. You can connect to a server, or you can disconnect, and that's about it. It does have leak protection and a kill switch, but these are automatic features that can't be affected from the terminal.
It's also not a great choice if you're looking to unblock streaming platforms. During my tests, Netflix worked, but HBO Max, Amazon Prime Video, Disney+, and Hulu required many server changes before they were unlocked.
It's too bad it can't reliably unblock streaming services because it did well in my speed tests. The average speed of the 8 servers I tried was 69 Mbps. It also gave me a ping of 24 ms on the Los Angeles server, so I tested it out while playing StarCraft 2. The performance was impressive; there was zero lag, so it's a good VPN for gaming.
From a privacy standpoint, it has a no-logs policy and 256-bit military-grade encryption. It's also located in Malaysia (outside the 14 Eyes Alliance), so you don't have to worry about invasive data requests.
Hide.me doesn't offer tons of features, but it's a good value for basic protection and fast speeds — especially if you use a coupon code to bring down the price.
You can also try Hide.me yourself with its 30-day money-back guarantee. If you're not happy, use its live chat to cancel and seek a refund. (That's what I did, and I got my money back as promised.)
Quick Comparison Table: Linux VPN Features
VPN
App Type
Supported Distros
Security
Servers
WireGuard
ExpressVPN
CLI
Ubuntu, CentOS, Debian, Fedora, Raspbian, Arch, Kali, Ubuntu Studio, Linux Mint, and more
256-bit AES encryption, kill switch, leak protection, RAM-based servers
3,000
X
CyberGhost
CLI
Ubuntu, Fedora, Linux Mint, CentOS 7, PoP!_OS, Kali
256-bit AES encryption
9,699
✓
PIA
GUI
Ubuntu, Debian, Linux Mint, Arch
256-bit AES encryption, automatic kill switch, leak protection
29,650
X
VyprVPN
CLI
Ubuntu, Linux Mint, Debian
256-bit AES encryption
700
X

(supports WireGuard but not for Linux)

Proton VPN
CLI
Ubuntu, Debian, Fedora, Mint, Manjaro, openSUSE, CentOS, RHEL
256-bit AES encryption
1,925
X
Hide.me
CLI
Ubuntu, Debian, CentOS, Fedora
256-bit AES encryption
2,100
✓
Why You Need a VPN for Linux
Linux is far superior to Windows at protecting you from viruses and malware. But every Linux user still needs a VPN, and here's why:
Maintain your privacy. Linux is less prone to malware attacks, but it doesn't do anything to hide your internet traffic. A VPN ensures your online privacy by encrypting your traffic, making it impossible for third parties (ISPs, governments, workplaces, etc.) to trace or monitor your activity on the internet.
Stay safe over public Wi-Fi. Whether you travel a lot, go to school, or just like working from a coffee shop, sometimes you'll be using a public connection. It's very easy for hackers to spy on your traffic over these unsecured networks, but a VPN scrambles your data so it can't be read.
Avoid censorship and geoblocks. When you connect to a VPN, your internet traffic passes through a new server before reaching its destination, giving you a different IP address. This means you can access websites your government doesn't want you to see or geo-blocked libraries on streaming sites.
Torrent without fear. It's no secret that many companies go after torrenters for downloading copyrighted material. Even if you're planning on downloading perfectly legal material, torrenting may be illegal or restricted where you live. Using a VPN makes sure all your torrenting activity remains anonymous.
Tips on How to Choose the Best Linux VPN for You
These are the most important features to consider when choosing a VPN for Linux:
A native Linux app with a simple command-line interface or a GUI will guarantee the VPN is easy to operate. Manual configurations can be time-consuming, and they require additional steps for simple things, like adding in a new server. If ease of use is important to you, go for a VPN with a native client.
Distro support is key for obvious reasons. If you're running Mint, and the VPN doesn't support it, you'll have to move on.
Additional device support is vital if you plan to use your VPN across other computers, smartphones, and tablets. Top VPNs for Linux will also support Windows, macOS, Android, iOS, and other popular platforms for streamlined accessibility, plus offer enough simultaneous connections so you can use more than one device at a time.
Encryption technology and security features vary quite a bit between different VPNs. If you're focused on privacy, features like military-grade encryption, a kill switch, leak protection, a no-logging policy, and ad/malicious website blockers are important. These are often missing from VPN apps for Linux, so you'll want to read my reviews to make sure it's there.
Worldwide access ensures that you can connect to a VPN and protect your connection, no matter where in the world you are. The best VPNs have extensive server networks so that there's always a nearby server for fast speeds.
Unblocking abilities are crucial if you live in a country with heavy government censorship. It's also essential if you're an international traveler and don't want to miss out on your favorite sports and shows while abroad.
Speeds can decrease quite a bit when you connect to a VPN. A small drop is expected, but some VPNs will drastically increase your ping and drop your download speeds. On the other hand, some VPNs can improve your speed since they bypass ISP throttling. If you're planning on gaming, downloading files, or streaming in 4K, you'll want to find a VPN that's fast.
Support for torrenting doesn't just mean speed. Some VPNs have servers that are optimized for torrenting or offer other options that improve your ability to seed. If you're an avid downloader, you'll want to explore how well a VPN works for torrenting.
Solid customer support ensures that you always have help when you need it. VPNs with 24/7 live chat offer instant assistance, but some companies may also offer email support with quick turnaround times.
Money-back guarantees let you try out VPNs yourself and get a refund if they're not for you. If a VPN company isn't willing to let you try its product, it probably isn't very confident in its quality.
Stay Safe with ExpressVPN for Linux
Linux VPNs to Avoid
The OpenVPN protocol can be installed for free on most Linux distros, but this is not a good replacement for a premium VPN. A protocol is exactly what it sounds like, a set of rules. VPNs need protocols like OpenVPN to work, but OpenVPN can't encrypt your data without a third party (like ExpressVPN). There are many free VPNs that can be used with OpenVPN. However, these VPNs are generally free because they get paid for selling your information. The following are VPNs you should definitely avoid:
Unlocator — Unlocator supports Ubuntu, but it's not safe to use. A quick dig into Unlocator's privacy policy shows that it keeps identifiable logs of your usage, which means your online activity could be traced back to you.
SecurityKISS — SecurityKISS claims to be a secure VPN for Ubuntu and OpenSUSE, but its privacy policy shows otherwise. I found that the VPN logs your timestamps and IP address, so your anonymity isn't protected.
CactusVPN — I was pleased to see this VPN offers WireGuard support for Linux, but it sadly failed all my unblocking tests.
USAIP — This VPN offers OpenVPN support for Ubuntu, but I found it suspicious that customer support wouldn't provide me with a privacy policy. On top of that, it doesn't have its own DNS servers, so your ISP can still track your activity.
Quick Guide: How to Set Up a VPN on Linux
You need to install your VPN via the CLI (Command-Line Interface). Most VPNs include detailed setup guides on their websites, and the process can vary depending on your Linux distribution.
However, here's a quick guide to setting up a VPN on Ubuntu — one of the most popular Linux distros.
Download a VPN. Download the correct command-line application from the VPN company. (If you are using Ubuntu, this will be labeled as either 'Ubuntu' or 'Debian.') ExpressVPN is my top choice for Linux users.
Follow the instructions and install. Follow the VPN's command-line instructions for installation and initialization.
Connect! Most VPNs will have a help and status command to view possible options and check the connection.
Pro Tip: If you get permission errors, you may need to run the VPN in super user mode. To do this, type "sudo" before any commands. Note that there are certain risks involved with running commands in sudo mode so ensure that this is recommended by the VPN distributor before doing so.
How to Manually Install OpenVPN on Linux
If your chosen VPN doesn't support your Linux distro, you can manually configure OpenVPN on your device instead. To do this, you first need to download the OpenVPN configuration files supplied by your VPN provider. The easiest way to do this is to ask your provider for the file links through live chat. I did this myself, and they provided the links quickly!
Because OpenVPN is available in the Ubuntu apt-repository, it is easy to install and connect straight from the command line. Here's how:
Open the terminal and install the application from the repository using: apt-get install -y openvpn. Here, apt-get asks to get the following application from the repository. The -y option will automatically respond yes to any installation questions. If you want more control over the application, you may wish to omit this command.If you did not use the -y option, you will need to approve the installation of any additional software the VPN relies on.
Enter: apt-get install install network-manager network-manager-openvpn network-manager-openvpn-gnome.
This will need to install some other additional software, known as dependencies, as the VPN depends on them to run correctly.
Enter: apt-get install openvpn easy-rsa.
This will install easy-rsa so you can request and sign certificates over to the VPN and use https. The installation should now be complete.
Run OpenVPN. Now you can run OpenVPN with the following command: sudo openvpn -config [path/to/configfile]If you can't work out where the config file is in relation to your path, you can replace the location by dragging the file directly into the terminal. To disconnect, simply close the terminal running the command, hit Ctrl+C, or run service openvpn stop.
Warning: When you manually install a VPN, you end up with fewer security features. The following aren't accessible without a native client:
DNS Leak Protection: On occasion, Linux can route DNS requests to your ISP. A premium VPN like ExpressVPN prevents DNS leaks that expose your browsing history.
WebRTC Mitigation: Most websites support WebRTC, which allows them to ask for your real IP address. This is eliminated with a VPN that offers a CLI or GUI.
Kill Switch: This feature makes sure your traffic drops out if the VPN server ever malfunctions, but it's not available with a manual config.
Additional Safety Tips for Linux
A VPN will protect your data, but there are a few more steps you can take to increase your safety when using Linux.
Antivirus software: Linux is the safest OS, but you should still take every precaution against malicious software. This includes installing and activating antivirus software.
Secure browsers: Many Linux distros come with Firefox, which is good. But you can't beat Tor when it comes to ultimate anonymity.
Linux Distros: Each distro handles safety differently. Tails is a good bet if you're looking for extreme privacy (it funnels all internet traffic through Tor).
Stay Safe With ExpressVPN for Linux!
FAQs on VPNs for Linux
How do I install a VPN on Linux?
You can install your VPN on Linux using your command-line interface and the installation files provided by your VPN supplier. Most VPNs provide easy installation guides on their websites for you.
From there, simply check out the help and status command to make sure you are connected.
Will my VPN work with Ubuntu?
Yes! You can connect to a VPN and use Ubuntu without any problems. All you have to do is download the command-line app from the VPN company you choose and follow the installation instructions from that VPN.
All of the VPNs I tested for Linux support Ubuntu. Most of my recommended Linux VPNs also support other distros like Debian, Fedora, Linux Mint, Kali, and more.
Can I unblock Netflix with a VPN on Linux?
Yes, it is possible to unblock Netflix on your Linux-powered device using a VPN.
By connecting to a server in a country where Netflix is available, you can trick the platform into thinking you are located in that country and watch all of your favorite shows on Netflix. All of the Linux VPNs I tested work with Netflix.
Is it safe to use a VPN with Linux?
Yes! A VPN encrypts your internet traffic, safeguarding you and your Linux device against hackers and snoopers like social media sites, advertising companies, and even government agencies.
Linux is certainly more secure than Windows, but having an OS that's safer from viruses doesn't protect your data. During my testing, I found out it's actually safer to use Linux with a VPN than without one.
Are Linux VPNs legal?
Yes, it is legal to use a VPN with Linux. VPN use is also legal in most countries, and only a handful of governments have banned them for censorship purposes.
You can read our complete guide to VPN legality around the world to find out the situation in your country.
Can I use a free VPN for Linux?
Technically yes, but it's not safe. At best, free VPNs restrict your usage, server access, speeds, and bandwidth. At worst, they can log and sell your sensitive information.
Since privacy is one of the main reasons to use a VPN for Linux, be sure to use one that guarantees your online safety with a strict no-logs policy and strong security features.
Why is my Linux VPN not working?
If your VPN isn't working, you may have come across a blacklisted server. VPN servers get blacklisted all the time. If this happens to you, try choosing a different server. If that doesn't work, contact customer support to see if they can resolve this issue for you.
One way to avoid this problem is to choose a Linux VPN that constantly updates its networks to replace blocked or underperforming servers.
Are there any safety tips I should know for Linux?
Get antivirus software. Because Linux is open-source, any vulnerabilities in the system tend to be patched quite quickly. However, some distros can take longer to be patched than others — and smaller, less popular distros might not have regular patchers at all.
I always recommend using additional antivirus software to protect your Linux device from malware and bugs. Some recommended antivirus products for Linux include ESET, Sophos, Comodo, BitDefender, and Kaspersky.
Use a secure browser. In addition to premium VPNs with strong security features, a secure browser can help protect you against online trackers, ads, and malicious third parties. Secure browsers that are compatible with Linux include Firefox, Iridium, and Tor Browser.
Which Linux VPNs should I avoid?
Avoid Unlocator, SecurityKISS, CactusVPN, and USAIP. Each of these failed in terms of security, privacy policies, unblocking abilities, speed, or compatibility with Linux.
Many VPN services don't go out of the way to cater to Linux users. But all the Linux VPNs I've tested and recommended offer GUIs or CLIs for Linux and a host of security and privacy features.
Can I use a VPN on Linux to safely torrent?
Yes, you simply have to connect to a server on your VPN, and your traffic will be encrypted while you torrent. When I was testing Linux VPNs, I discovered that some VPNs are much better than others when it comes to torrenting.
However, even though your connection is now anonymous, you should still be careful and read the laws concerning torrenting in your country.
Torrent Safely With ExpressVPN for Linux!
What VPN encryption should I use for Linux?
It depends on what you're doing, but OpenVPN is always a good option. This is an open-source protocol, so it's one of the safest out there. Plus, Linux users can manually install it on any distro. However, it can sacrifice a bit of speed. Wireguard is often quicker, but it's not updated with security fixes as frequently.
What is OpenVPN for Linux?
OpenVPN is an open-source software application that can be installed on most Linux distros for free. It's a VPN protocol, or a set of rules VPNs use when encrypting data.
Since it's open-source, OpenVPN is updated with security fixes more often than some other protocols. This makes it a great choice if you're concerned with privacy, so be sure to choose a VPN that supports OpenVPN to protect your data.
How do I connect to a VPN automatically with Linux?
If your VPN supports this feature, you just have to know the proper command. For example, with ExpressVPN, you can enter "expressvpn autoconnect true" into the terminal. This will enable the auto-connect feature so that you'll connect to a VPN every time you boot up.
How can I connect to a VPN using Linux Network Manager?
It varies depending on which VPN and protocol you choose to use. You'll want to find the config files or additional details about installation from your VPN's website. With some, you can import the config files right into the Network Manager. There are more detailed instructions above, but this is what you do after you find the files:
Find the network button on the upper-right corner of your Linux desktop and open it.
You'll see an option titled VPN off; access it.
In the drop-down menu, click VPN settings.
It will allow you to import the config files or choose a VPN protocol to configure.
After you've made your choice, pick Add.
Now, when you access the network from the desktop, you'll see the VPN you've added. Simply click the toggle switch to activate it.
How much is a VPN for Linux?
High-quality VPNs can sometimes be a little pricey, but you can get an ExpressVPN subscription for as low as $6.67/month with its latest promo. You can also save on VPNs by option for longer subscription terms.
Try ExpressVPN for Linux Risk-Free Now!
Which Linux distro is best for privacy?
Tails is the most secure distro for concealing your information, but it does come with limitations. It's run from a USB stick, so it leaves zero traces of your activity on your computer. It also runs all of your traffic through TOR to ensure anonymity.
Plus, everything you do is wiped away immediately once you shut down. However, if you want to stream movies, play games, or download files, you'll need to use a more common distro like Ubuntu or Fedora. Without Tails' extra security features, be sure to use a VPN that protects your privacy and data.
Will a VPN slow down my connection speeds?
VPNs do typically cause slowdowns, but the best don't impact your speeds too much. A slight dip in speed is expected since a VPN has to route your traffic to a new location.
Pick a VPN that maintains fast speeds to avoid lagging and other interruptions. All of my recommendations above are excellent choices for streaming, torrenting, and more.
The Bottom Line
A VPN can protect you online where a Linux operating system can't. While Linux distros are usually very secure, a VPN adds an additional layer of privacy to give you online anonymity and safeguard you against hackers, trackers, and snoops.
ExpressVPN offers the best Linux support of all the VPNs I tested. It has an easy-to-use native Linux app, lightning-fast speeds, and security features that are hard to beat.
Even better, you can even try it out risk-free before you make a decision. If you're not happy, you have up to 30 days to request a refund.
To summarize, the best VPNs for Linux in 2023 are
Privacy Alert!
Your data is exposed to the websites you visit!
The information above can be used to track you, target you for ads, and monitor what you do online.
VPNs can help you hide this information from websites so that you are protected at all times. We recommend ExpressVPN — the #1 VPN out of over 350 providers we've tested. It has military-grade encryption and privacy features that will ensure your digital security, plus — it's currently offering 49% off.