ProtonVPN

Review by our expert
Honesty and transparency – our two core values – make the internet a friendly place. Our reviews are written by users themselves, and are not influenced by VPN companies. When you purchase a VPN, we sometimes earn affiliate commissions that support our work. Here is an explanation of exactly what we do and how to support our work.
Ariel Hochstadt
(Ex-Google, International tech speaker)
You may have heard of Proton Technologies before. They are the creators of ProtonMail, which is currently the biggest encrypted email service. Now, they've turned their attention to VPNs — but does ProtonVPN have the potential to be as ground-breaking as their previous project? ...
Jan 20, 2018
Robert Franklin
Jan 13, 2018
Worked great - for the extent of the trial offer
Worked absolutely well until the trial offer (WHICH I DIDN'T ASK FOR) expired. Thereafter, every time I tried to log on, a nagware popup notification (which I ALSO didn't ask for) appeared over the proton vpn interface, informing me that the *unwanted & not requested* trial version had expired & I'd only have access to the free server. Upon dismissing this nagware popup (which CANNOT be dragged away from the vpn interface for access to it), I was able to confirm my suspicion that I was in fact not yet connected. Even more irritatingly, my username & password had been dropped from their respective fields on the user interface. I reentered them & clicked the connect button only to have the exact same thing happen again. I tried rebooting my computer to fix the problem & received my first - EVER error notice from Bit Defender notice (meaning that Proton doesn't play well with Spybot S&D, at least on my machine). Tried Proton again upon boot up, same sequence of events. Tried uninstalling & reinstalling a fresh download of Proton. No fix there either. I'm CERTAINLY not dumping off Spybot in order to fix this. Now using betternet, which I don't trust at all, but at least it actually *works*... for now, anyway. As to a rating - 2 stars because it worked well for several days until their own trial promotion with its attendant nagware broke it. God, how I wish windscribe would increase their freebie bandwidth cap by just a sliver...
---
See Plans
Reply to this review
Did you know? We approve all user reviews. Companies can't pay to include or exclude any.
Robert Charlefer
Jan 11, 2018
Great free subscription service
I'm using the free option and I must say that I'm surprised by the quality of their connection (fast, clean and without any leaks) Proton is a very trustworthy and respectable team, I like their vpn as I like protonmail . They do a lot for privacy , thanks a lot to them.
---
See Plans
Reply to this review
Slave Nation

Jan 20, 2018

Is the free version really just a proxy?

It worked well during the trial then when it became free some websites began rejecting my browser sending me messages that I was using a proxy or VPN and to turn them off. Netflix was one and GodLikeProductions was another.

---

See Plans

Reply to this review
I've used it after two months of them offering it, and I'm completely happy with it. I use this for security over speed. Just create an email with using only a username and password and you can use their VPN with the same login. They offer a free trial of there best service.
---
See Plans
Reply to this review
Compare ProtonVPN with the top alternative VPNs
| Features | Description |
| --- | --- |
| Number of Server Locations (countries) | 14 |
| Number of servers | 112 |
| Does VPN keep logs | No |
| Includes Kill Switch | Yes |
| Devices per license | 1 |
How to use ProtonVPN
4.4 / 5.0
There's nothing out of the ordinary here — installing and setting up ProtonVPN is a breeze, at least on Windows.

After downloading the client, it takes but a couple of minutes before everything is ready. You don't need to configure anything manually.

Overall, the black-and-green interface looks cool, but more importantly, it's practical. You won't find any confusing elements: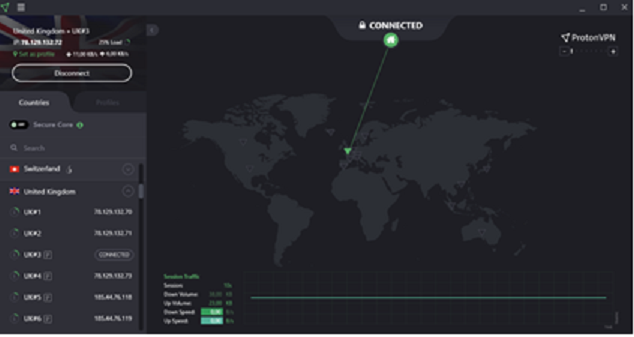 A huge bonus is the ability to select your IP of choice from within the client, as opposed to copying addresses from your browser and other chores of the sort.

Things are a bit different on mobile — for instance, clients are still in development, which means you'll need to run third-party software to use ProtonVPN on your smartphone. But it's still rather simple to set up and use. 

Download


Watch the short video review and tutorial below of ProtonVPN
ProtonVPN has four tier-based plans:

Basic — Access to 11 VPN server locations on up to 2 devices, high-speed connections.

Plus — Access to 11 VPN server locations on up to 5 devices, highest speed. Also includes exclusive Plus servers, Tor functionality, and ProtonVPN's very own Secure Core technology.

Visionary — Has all Plus features on up to 10 devices. This package includes ProtonMail Visionary as well.

ProtonVPN doesn't offer a trial per se. They compensate with a free version, but it comes without any features and access is limited to 3 server locations on 1 device, in addition to slower speed and no P2P support.

Subscribing to the service is the only way to try out the full roster of features. You can choose between a monthly or yearly subscription, with the latter being 20% cheaper.

Payment options for ProtonVPN include credit cards and PayPal. Although Bitcoin isn't listed, there is a workaround to paying via ProtonMail. The company has also mentioned that they're working on adding a full-fledged payment option for Bitcoin in the future.
Reliability & Support
4.5 / 5.0
ProtonVPN doesn't really stand out with its customer support — while competent, answers take rather long.

There is no live chat, which is uncharacteristic for an up-and-coming VPN.

Moreover, emails tend to lag behind tickets, as acknowledged by ProtonVPN's customer support. The reason for that is emails aren't monitored intensively.

While waiting, you can check out their updated knowledge base, which is just a fancier way of saying "FAQ section". It's constantly updated and you can even enter keywords to find the solution to your problem — assuming it's been written down.

Despite the lengthy response times, ProtonVPN redeems itself with clear instructions and evident expertise.
Ariel Hochstadt
(Ex-Google, International tech speaker)
An excellent choice for desktop, but lots of room for improvement on mobile.
Outstanding encryption, Secure Core re-routing, and a strict zero-logs policy allow ProtonVPN to ensure pristine Internet security not only with words, but actions as well. Desktop (and particularly Windows) users looking for an advanced VPN with multiple privacy features, in addition to high-speed servers and Tor support, should definitely take a closer look.

For mobile-focused users, however, there are a few caveats. Presently, there is no official mobile client for ProtonVPN, meaning a lot of tinkering and inevitable use of third-party software to get things running. As a result of that, many aspects of this VPN suffer, to the point where overall quality on mobile takes a major hit.

The good news is that mobile apps are in the works. Until then, many may take their search for a mobile VPN elsewhere.
Detailed expert review of

ProtonVPN