ProtonVPN benefits from its partnership with the well-known, secure email service ProtonMail. The two companies are legally separated for security reasons, but ProtonVPN still draws heavily on existing technology and security from the email service.
A quick sidebar: ProtonMail is still one of our favorite fully encrypted email services. However, many VPNs offer a greater server reach at a lower price. For instance, check out a global provider like CyberGhost, it has over 6,700 in 90 countries.
However, fans of ProtonMail will be happy to hear that ProtonVPN also has a similar focus on security, privacy, and total anonymity.
This VPN is a strong contender for privacy-minded folks and torrent fans. But how does ProtonVPN perform in other areas like streaming, speed, and user experience?
We tested ProtonVPN across many different categories to find out. ProtonVPN does unblock Netflix libraries for you, including US Netflix. But with lagging speeds, be prepared to wait while your episode loads. You can skip the wait and enjoy super-fast streaming with one of our top 10 vendors for watching Netflix.
Its biggest strengths include an attractive and user-friendly interface, robust security, and a strict no-logs policy.
Downsides include unimpressive speeds, a lack of live chat support, and fairly pricey long-term subscriptions.
Streaming – Does ProtonVPN Work with Netflix?
Hoping to use ProtonVPN to catch up on your favorite US Netflix shows? You're in luck. We were able to easily stream US Netflix content on multiple servers without a problem.
ProtonVPN was also able to bypass the geo-restrictions on other popular US streaming sites like Hulu, BBC iPlayer, and Amazon Prime.
It's speeds aren't the best I've seen, which can be pretty frustrating if you're streaming. It led to buffering and lagging while I was watching Netflix. There are plenty of vendors that offer hassle-free streaming. Try out our #1 recommended vendor, NordVPN.
Server Network and Speeds
ProtonVPN has a medium-sized server network of 1,080 servers in 54 countries. We tested server speeds in multiple locations to find out if this VPN's speeds are as fast as it claims.
Our download speed before connecting to ProtonVPN was 64 Mbps: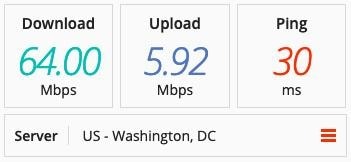 We used the VPN's Fast Connection feature to connect to a nearby server in the US. Unfortunately, our download speed was extremely slow for a location that was supposed to provide our fastest connection: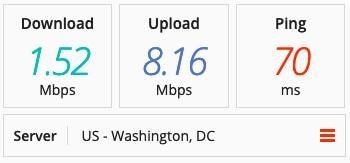 On the Server Selection list, ProtonVPN shows how much traffic there is on each server, which is useful for finding fast servers.
For our next test, we manually selected a server on the US West Coast that showed low traffic. Our download speeds were significantly better this time: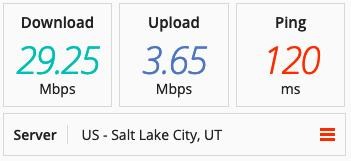 Our speeds in Germany were functional, but not great, at under 20 Mbps: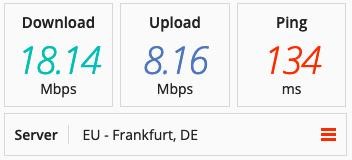 Our speeds in other parts of Europe, including the UK, were similar. Surprisingly, we also got similar speeds all the way across the world in Hong Kong: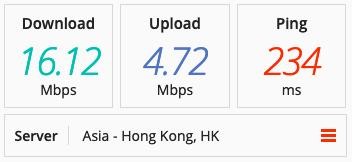 Overall, ProtonVPN's speeds were nothing special. They certainly weren't as fast as some top competitors.
On the upside, its network speeds were perfectly functional and reliable for most online activity in many different locations around the world.
Is ProtonVPN Good for Torrenting?
ProtonVPN is a good choice for torrenting. The provider allows P2P file sharing on all servers and keeps your torrenting activity private with a strict no-logs policy.
There are several articles related to torrenting on ProtonVPN's website, including a guide to using BitTorrent with ProtonVPN.
Security – Is ProtonVPN Safe?
ProtonVPN is packed with robust security features to protect your connection. Your IP address is masked and kept safe with built-in DNS leak protection.
We did not detect any DNS leaks during our tests. Here's our result from a DNS leak website while connected to a ProtonVPN server in Hong Kong: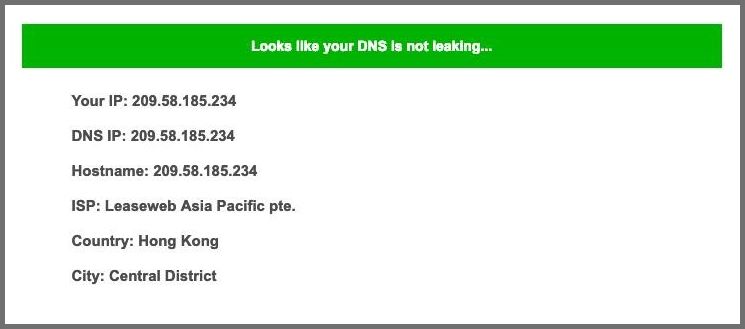 As you can see, our real location in the US was not leaked.
Encryption
ProtonVPN protects your data with secure AES-256 encryption and a 4096-bit RSA key exchange. If you're not sure what that means, rest assured that it's a very secure algorithm.
In addition, the Perfect Forward Secrecy feature protects all connections by generating a unique new encryption key each time you connect to a server.
This means that even if your encryption key were somehow compromised, all of your data from previous connections would be completely safe.
In terms of protocols, ProtonVPN supports OpenVPN and IKEv2/IPsec connections. This isn't the longest list of protocols we've seen, but the ones that are supported are very secure.
An additional security feature, Secure Core, automatically routes your traffic among several different servers in privacy-friendly countries—including Switzerland, Iceland, and Sweden—before reaching your final destination. This provides a strong extra layer of protection.
Does ProtonVPN Keep Logs?
Located in privacy-friendly Switzerland, ProtonVPN has a strong focus on delivering total anonymity to users. The privacy policy is very transparent and straightforward.
ProtonVPN follows a strict no-logging policy that is backed up by Swiss law, which doesn't require retention of any information about your connection, session bandwidth, IP address, or online activity.
Because ProtonVPN doesn't keep any user logs, it can't be forced to hand over identifying information to any third parties.
If you're looking for an even stronger guarantee of anonymity, you can take advantage of the Tor over VPN service, which will direct your traffic through the Tor network without you having to download the Tor browser.
Does ProtonVPN Have an Ad Blocker?
ProtonVPN does not offer an ad blocker as part of its service.
Does ProtonVPN Work in China?
ProtonVPN can be a good choice if you are looking to bypass China's tough censorship. There are multiple server locations near China, including Hong Kong, that get decent speeds.
However, some server locations may be blocked. To avoid trial and error, you can email the support team to request a list of recommended servers for use in China.
Price and Value for Money
As previously mentioned, ProtonVPN offers a free plan along with 3 paid plans.
All of ProtonVPN's paid packages provide high-speed connections. The Plus and Visionary subscriptions include access to Secure Core servers, access to Tor servers, P2P support, and secure streaming.
The Visionary plan also includes a ProtonMail subscription.
The Basic plan is very reasonably priced, while the Visionary plan is on the pricey side.
All plans are available in both monthly and annual subscriptions, with small discounts offered on annual subscriptions.
If you're interested in ProtonVPN, we recommend taking some time to consider what your main purposes are with the VPN. This can help you decide which plan will give you the best value.
Here is an overview of the different features offered with each tier:

There's no free trial offered on paid plans. Still, you can test all the features out ahead of time, as you get the option of a 7-day trial of ProtonVPN Plus when you sign up for the free plan.
If security and anonymity are important to you, the Plus plan will likely provide you with the best value for your money.
All of the paid subscriptions come with a 30-day, money-back guarantee, which we have tested and found to be true.
Is ProtonVPN Compatible with My Device?
ProtonVPN offers good device compatibility, with user-friendly native apps for Windows, macOS, iOS, and Android. All apps are open source and have undergone an independent audit, plus it recently added the option to use OpenVPN in beta for iOS. You can also find detailed manual configuration guides for Linux.
The number of simultaneous devices supported depends on your subscription tier. Free plans allow only one device, Basic plans allow two simultaneous devices, Plus plans allow five simultaneous devices, and Visionary plans allow 10 simultaneous devices.
ProtonVPN Customer Service
Our biggest concern with ProtonVPN's customer service is the lack of live chat support. When you run into a problem with your VPN service, you don't want to have to wait a whole day to resolve the issue.
Unfortunately, the only way to contact ProtonVPN's customer service team is via email or a support ticket.
When we submitted a question to the support team, it took about 24 hours to get a response, which is pretty typical for email support.
However, we were pleased with the quality of the response. We found ProtonVPN's customer service to be friendly, thorough, and helpful.
You can also find the answer to most common questions on the website, which has a helpful knowledge base and installation guides.
User Experience
ProtonVPN scores major points with its user-friendly app interface. The app is easy to navigate and designed in an intuitive way.
The first time you open the app, you are given a brief tour with pop-up tips that walk you through all of the app's important features.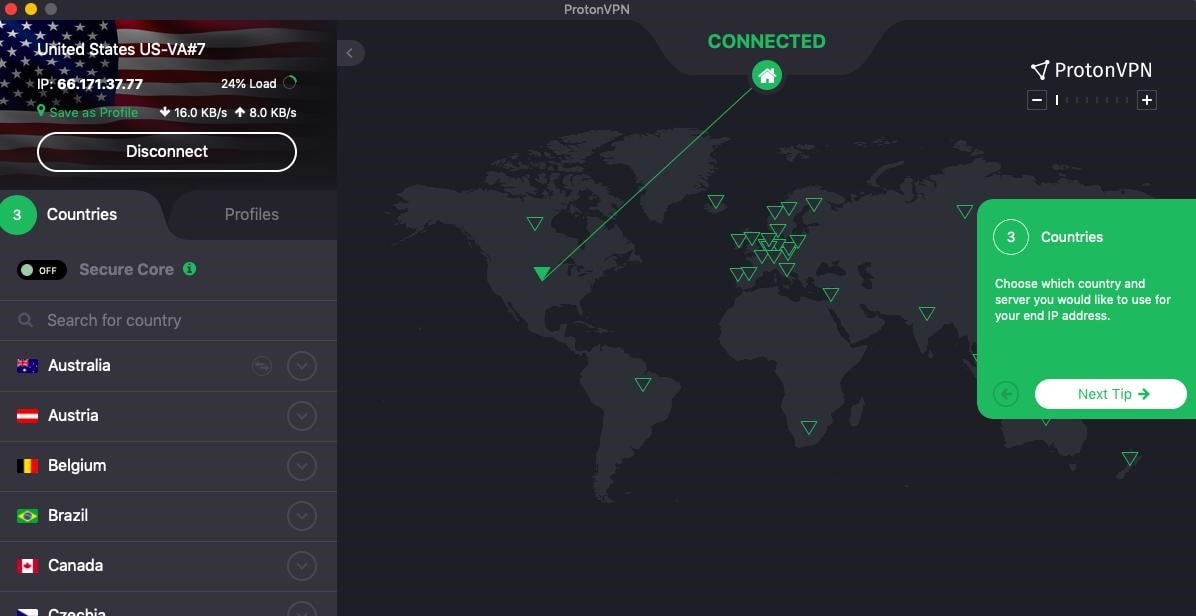 The app displays available server locations on the left, with your current connection status on the top of the screen.
There's also a clear map on the right that marks countries that have ProtonVPN servers with a triangle. A solid green triangle appears on your current server country, making it easy to see your current status and where you're connected.
There are three easy ways to connect to the VPN:
Select a country from the list. When you hover over a specific country, a Connect button will appear.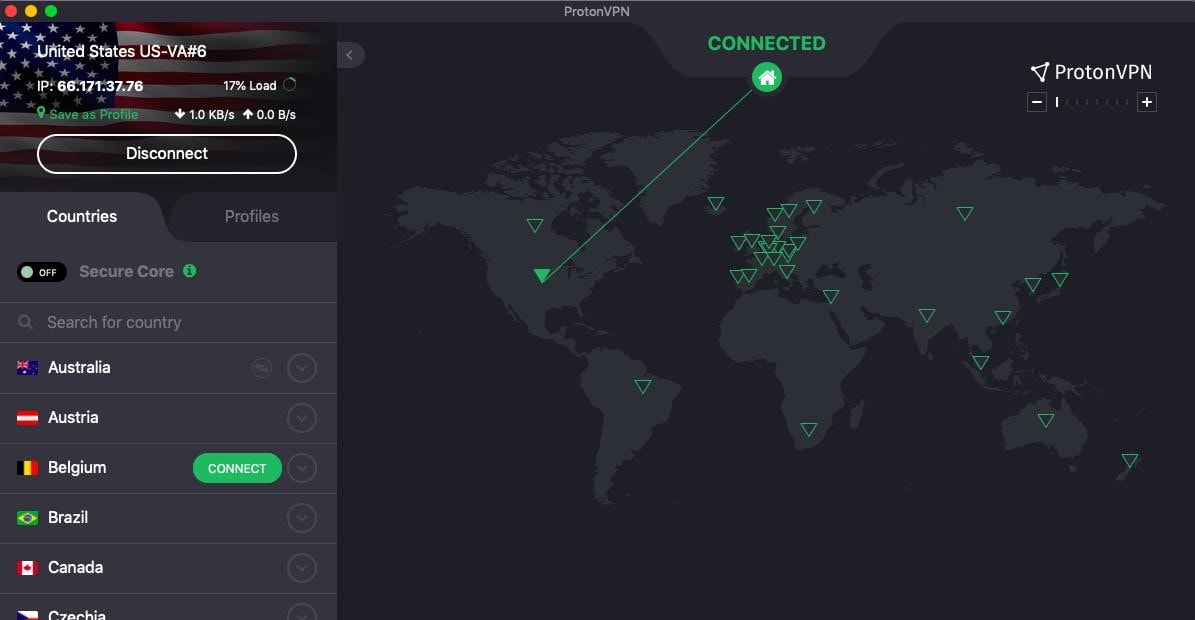 You can also click the arrow to the right of each country to select from a list of individual server locations.
Use the map. When you hover over a triangle on the map, a Connect button will appear.
Use the Profiles tab. This is where you will find the option to connect to the fastest available server.
You can also click Create Profile to create convenient personalized configurations that you can come back to whenever you want.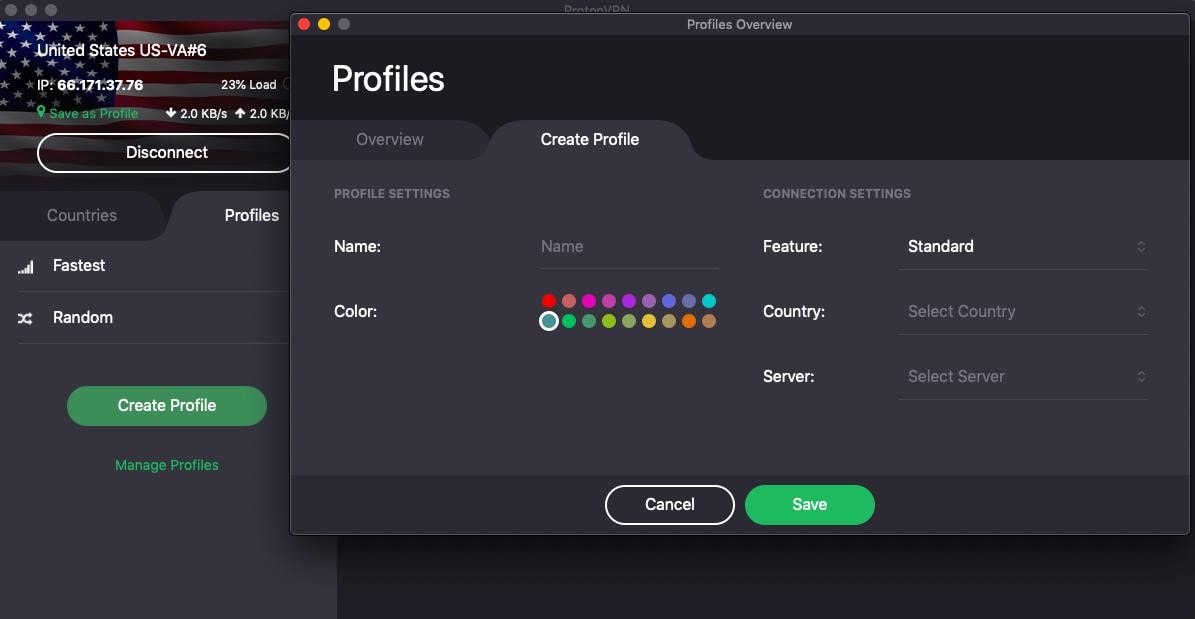 This is an excellent feature that makes ProtonVPN incredibly easy to use even when you're in a hurry.
For each profile, you can choose a specific country or individual server to connect to. You can also add special features for different activities, including Secure Core, P2P, and Tor over VPN.
Additional advanced settings are easy to access through the Options menu.
One thing to be aware of is that the automatic kill switch is disabled by default, so you should switch it on before connecting if you want to take advantage of the feature.
Overall, we were very impressed with ProtonVPN's app and have no complaints. It delivers an excellent user experience.
Conclusion
With robust security and proven respect for privacy, it's clear that ProtonVPN is a top-shelf provider for anyone concerned about staying secure online.
Its attractive, user-friendly app has one of the best designs that we've seen.
This VPN also has plenty of great features for streamers and torrent fanatics.
It falls short on a few important aspects, however, such as diverse support channels, speed, and wallet-friendly prices.
And all the geo-unblocking technology in the world is no good if your streaming session is slow. If you're after speedy streaming, check out one of these vendors instead.
It's a worthy contender, but is it the best VPN in the market? Unfortunately not at the moment. There are higher-performing VPNs that outshine ProtonVPN at a lower cost, like CyberGhost and NordVPN.
| Features | Details |
| --- | --- |
| Number of countries with servers | 54 |
| Number of servers | 1080 |
| Does VPN keep logs? | No |
| Does VPN include a kill switch? | Yes |
| Number of devices per license | 10 |