It's not often that a VPN has cheap prices coupled with an excellent set of features. Yet, when my team and I looked at what NordVPN has to offer, this is exactly what we found. It offers a huge global network of servers, unblocks hundreds of streaming platforms, and has iron-clad security and privacy features — and you can get it all for just $3.30/month. I had to wonder what the catch was.
So I did an in-depth analysis of NordVPN — I tested its speeds, geounblocking abilities, security features, privacy policies, torrenting servers, compatibility with devices, and more. After extensive testing, I'm happy to report that NordVPN's claims are true.
Its lightning-fast speeds are great for bufferless streaming, torrenting with minimal wait time, and lag-free gameplay even with heavy loads. I had no issues accessing many geoblocked streaming sites from my location in Serbia (the only ones I had trouble with were Netflix and Sky Go). Additionally, your data would always be safe with its military-grade encryption and strict privacy policies.
There is definitely room for improvement in some categories. One of them being that it can take a really long time to connect to some servers. If you don't want to wait around to connect, ExpressVPN offers its unique Lightway protocol that lets you connect in under a second. That being said, NordVPN offers a 30-day money-back guarantee so you can test it out for yourself before committing to a subscription. There's zero risk involved — if you decide it's not right for you, you can get a full refund within the 30-day period.
Short on Time? Here Are My Key Findings
Best VPN Deals October 2021
Discounts applied automatically
NordVPN Features — Updated in October 2021
Note: This product is currently not available on our site. 
💸

Price
$3.3/month

📆

Money Back Guarantee
30

📝

Does VPN keep logs?
No

🖥

Number of servers
5190

💻

Number of devices per license
6

🛡

Kill switch
Yes

🗺

Based in country
Panama

🛠

Support
Live Chat Support

📥

Supports torrenting
Yes
Streaming — Unblocks 400+ Streaming Platforms Including Amazon Prime Video, Hulu, and More
I didn't have any issues accessing most of the popular streaming platforms with NordVPN. It unblocked Disney+, HBO Max, Hulu, and many others. On top of that, I could access more niche websites like Crunchyroll and regional streaming sites like TG4 and TVING as well. The only streaming platforms NordVPN couldn't unblock were Netflix and Sky Go.
After testing 45+ of its servers across the globe, I managed to unblock these streaming sites:
| | | | | | |
| --- | --- | --- | --- | --- | --- |
| | Amazon Prime Video | MSNBC | Funimation | Peacock TV | DAZN |
| Hulu | Disney+ and Disney+ Hotstar | Fox Sport | Rai Play | AT&T | ITV Hub |
| YouTube TV | HBO Max and HBO Go | Pandora | Globo and Globo Sportv | CW | Kodi |
| Sling TV | ESPN and ESPN+ | ZDF | Salto | Yle | TF1 |
| FuboTV | Paramount Plus | Stan | 7TV | TVING | 9Now |
| DirecTV | Crunchyroll | SBS Australia | 6Play | TG4 | RTL |
Unblocked: Amazon Prime Video
Amazon Prime Video has really strong geoblocks and many VPNs fail to get around it. I did have some trouble with certain NordVPN servers — but luckily with its huge network of servers in the US, I didn't have to waste too much time trying to find another server that worked.
I started out by testing its servers in Charlotte and Buffalo. While they managed to access the US site, Prime Video still detected that I was using a VPN and prevented me from watching any shows. I got around this by switching to New York server #6718 which worked perfectly and allowed me to stream with fast speeds (my average download speeds were close to 80 Mbps).
Other servers that didn't work for me at the time of testing were Atlanta, Dallas, and Phoenix. If you want a VPN that consistently bypasses APV's geoblocks, there are quite a few better options available. 
Unblocked: Hulu
I didn't have any issues unblocking Hulu. During testing, I easily bypassed Hulu's geoblocks while connected to servers in New York, Manassas, San Francisco, and Salt Lake City. The only time I got blocked was when I connected to Dallas #8105 — but after refreshing the page, Hulu loaded immediately.
You'll have no problem unblocking Hulu or Hulu + Live TV with NordVPN
All the servers I tested not only gave me access to Hulu's shows, but they also allowed me to unlock Hulu's entire add-on library (great for sports streaming) as well as Hulu + Live TV.
No one likes to miss out on sports action because of buffering or lag, so I wanted to make sure its speeds were fast enough for streaming sports. I connected to NordVPN's Virginia, Charlotte, Denver, and Atlanta servers to watch an MLB game and got an average speed of 75 Mbps, which was more than good enough to stream sporting matches without interruptions.
Unblocked: Disney+
Disney+ has really stepped up its VPN-detection game in recent months, so I was happy to find that NordVPN could still beat its blocks without issues.
The US Disney+ library always gets new releases first (plus you get the cheapest subscription prices in the US) so I wanted to make sure there were servers that could access the US page. I tested NordVPN's servers in New Jersey, San Jose, and Salt Lake City — they all bypassed Disney Plus's geo-restrictions with ease.
Next, I wanted to see if any servers could unlock the Australian library as it contains the largest number of Disney+ shows. I tested servers in Brisbane, Sydney, Melbourne, and Perth, and managed to access Disney+ Australia easily. The Melbourne server (#689) was a bit slower at first which made my shows lag, but I reloaded the page and this problem didn't happen again.
Unblocked: HBO Max
NordVPN unblocked HBO Max easily. I tested 10 servers in New York, Los Angeles, San Francisco, and Virginia, and all of them worked well. I could watch Shazam! without experiencing lag or any other issues.
Unblocked: BBC iPlayer
There was a period of time when NordVPN couldn't unblock BBC iPlayer, but since testing it again, I was happy to find that NordVPN bypassed all restrictions with ease. I connected to 12 different UK servers and they all gave me access to BBC iPlayer without any issues.
Blocked By: Sky Go
Out of all the platforms my team and I tested, Sky Go was the only platform I couldn't unblock. We used to be able to unblock Sky Go using US, UK, Ireland, and France servers, but it has since limited access rights to only the UK. Additionally, Sky Go improved its VPN-detection technology so none of the UK servers I tested got around its blocks.
However, I contacted the support about it and they said that the developers are working on fixing this issue.
Blocked by: Netflix
NordVPN couldn't unblock Netflix. The platform improved its VPN-detection technology, and started blocking many VPN services — NordVPN being one of them. In general, these problems are fixed quite fast, but it wasn't the case this time. I got in contact with a customer support rep, and he confirmed that right now, NordVPN is unable to access Netflix. He suggested that I try connecting to other servers, but that didn't fix the issue.
This was a letdown for me, as it performed great with other services. Even though NordVPN claims it's actively working on this, it may take a long time before you can access Netflix again.
Speeds — Exceptionally Fast Speeds on All Servers
I was really impressed by NordVPN's consistently fast speeds. Every VPN will slow you down a little bit as it sends your traffic to different servers (and the further away a server is, the slower your speeds will be). But while testing different NordVPN servers across the world, I didn't notice the speed drops at all as there was no difference in my browsing, streaming, or even gaming experience.
I examined 3 main components during the speed tests:
Download speed shows how fast the data is downloaded from a server. You need about 5 Mbps for HD streaming and 25 Mbps for 4k streaming.
Upload speed shows how fast the data is sent to a server. You need around 2 Mbps for high-quality video calls, and around 5 Mbps to send files quickly.
Ping (measured in ms) shows how long it takes for data to travel to and from your device. This is important for gaming, and you need less than 100 ms to play online games without lag.
NordVPN's fast download speeds allowed me to stream shows for hours without lag or buffering, while the low ping made it easy for me to play games. I even managed to have high-quality video calls thanks to its upload speeds.
While NordVPN's speeds are impressive once connected to its servers, it took a long time to establish that connection sometimes (especially on US and Canadian ones). Sometimes it took so long (more than 5 minutes) that I had to force-quit the app and reopen it. However, usually after I did this it would connect much faster. I found this really annoying, especially because other VPNs I've tested like ExpressVPN can connect in less than a second consistently.
NordLynx Protocol Gives You The Fastest Speeds
NordVPN recently launched a new protocol called NordLynx. It's based on WireGuard which is currently the fastest protocol in the industry. But while WireGuard is great for speeds, it's not the most secure. So NordVPN made it stronger with double NAT technology.
I wanted to see how fast NordLynx is in comparison to other protocols, so I tested its speeds (as well as OpenVPN's speeds) on 6 server locations.
NordLynx was the fastest protocol on all server locations — but that's not its only benefit. I noticed that it only took me 5 seconds to connect to a server with NordLynx (in comparison, it took 30 seconds with OpenVPN). This is great because your connection drops every time you switch servers, so NordLynx's quick connections will save you from annoying wait time.
Because NordLynx had the fastest speeds, I performed all my other speed tests using the NordLynx protocol.
Local Speeds
I started out by collecting my base speed (with NordVPN disconnected) so I could compare the speed drops later on with the VPN connected.
No VPN connection (Pozega, Serbia):
| | |
| --- | --- |
| Download Speed (Mbps) | 94.71 Mbps |
| Upload Speed (Mbps) | 16.11 Mbps |
| Ping (ms) | 11 ms |
After that, I used its "Quick Connect" feature which connected me to a server in Belgrade. There was almost no slowdown at all and it wasn't noticeable when I was streaming, browsing, or gaming.
Quick Connect (Belgrade, Serbia):
| | |
| --- | --- |
| Download Speed (Mbps) | 90.37 Mbps (4.68% decrease) |
| Upload Speed (Mbps) | 15.43 Mbps (4.31% decrease) |
| Ping (ms) | 12 ms |
Then I connected to Croatia, which is close to my location in Serbia. I maintained high speeds which was surprising because most VPNs my team and I test decrease our speed by at least 15%.
Zagreb, Croatia (539 km from base location):
| | |
| --- | --- |
| Download Speed (Mbps) | 89.01 Mbps (6.20% decrease) |
| Upload Speed (Mbps) | 15.25 Mbps (12.25% decrease) |
| Ping (ms) | 20 ms |
So, you can use servers in your country and countries nearby without worrying about your speed changing (you'll be able to stream and browse without lag).
International Speeds
I was impressed with NordVPN's speeds on its international servers. While my speeds did drop, the decrease wasn't significant enough to affect my online activity. It was still easy to stream without lag, browse, and even play games on some server.
First, I tested its servers in Italy since it's close to my location in Serbia. The distance didn't make any difference at all.
Rome, Italy (630 km from base location):
| | |
| --- | --- |
| Download Speed (Mbps) | 89.38 Mbps (6.15% decrease) |
| Upload Speed (Mbps) | 15.35 Mbps (4.83% decrease) |
| Ping (ms) | 31 ms |
The same thing happened when I connected to a UK server — my speed dropped by only 11.37% which is really impressive for a server 2,830 km away from my location in Serbia.
London, UK (2,830 km from base location):
| | |
| --- | --- |
| Download Speed (Mbps) | 84.56 Mbps (11.37% decrease) |
| Upload Speed (Mbps) | 11.28 Mbps (35.26% decrease) |
| Ping (ms) | 45 ms |
I was impressed by my results when connected to a New York server — this is 7,294 km overseas from where I'm located, and the speed was even better than when I connected to the UK server. While the ping increased a bit, it was still good for lag-free gaming.
New York, US (7,294 km from base location):
| | |
| --- | --- |
| Download Speed (Mbps) | 85.87 Mbps (9.79% decrease) |
| Upload Speed (Mbps) | 10.15 Mbps (43.35% decrease) |
| Ping (ms) | 63 ms |
The first significant drop in speeds happened when I connected to a server in Tokyo. It's understandable, considering that it's 9,270 km away from me. But even though my speeds decreased by 42.07%, I didn't have any issues when streaming. The only instance when I did notice the difference was when playing online games — due to 123 ms latency, there was a lot of lag.
Tokyo, Japan (9,270 km from base location):
| | |
| --- | --- |
| Download Speed (Mbps) | 61.79 Mbps (42.07% decrease) |
| Upload Speed (Mbps) | 11.32 Mbps (34.92% decrease) |
| Ping (ms) | 123 ms |
Finally, I tested NordVPN's server in Adelaide (Australia) which is the furthest location from where I am. I expected speeds to drop drastically to a point where I'd experience lots of lag and long page loading times — but this was not the case. Though speeds dropped by 44.66% (which sounds like a lot), I still managed to get impressive download speeds of over 60 Mbps which allowed me to continue streaming in HD without buffering and browse the internet with quick page loading times.
However, the ping was really high on the Australian servers, so it was less than ideal for gaming. I got shot several times when playing Apex Legends because of the slow response times, but I could still play some of the less demanding games like Hearthstone or Civilization V.
Adelaide, Australia (14,749 km from base location):
| | |
| --- | --- |
| Download Speed (Mbps) | 60.13 Mbps (44.66% decrease) |
| Upload Speed (Mbps) | 9.52 Mbps (51.42% decrease) |
| Ping (ms) | 254 ms |
NordVPN's Speeds Are Fast Enough for Lag-Free Gaming
NordVPN is an excellent gaming VPN. Its fast speeds make it easy to play multiplayer, battle royale, and MMO games (and especially turn-based or real-time strategy games).
First, I tried playing Apex Legends while connected to NordVPN's Germany server and I didn't experience any issues. Usually when I connect to a VPN, I miss a lot of shots due to lag, but I managed to win 3 matches without missing any targets (or getting killed because lag makes it hard to see the enemies).
After that, I switched to playing Valorant on a US server. While I did experience some lag, it wasn't that bad considering that it was in New York which is more than 7,000 km away from my location.
I tried playing on other servers in Japan or New Zealand but the distance made the ping really high which caused lag and glitches.
NordVPN makes smooth gameplay possible both on distant and local servers. However, you have to make sure that the server enables ping lower than 100ms. Anything above that, and it will be harder to play.
There's not really much any VPN can do to improve ping time, but VPNs like CyberGhost have gaming optimized servers that display and organize each server based on ping and load. This makes it way easier to find the best server for gaming and is an area that NordVPN could improve upon.
Server Network — 5,190+ Servers With Optimized Options For Streaming and Torrenting
NordVPN has 5,190+ servers in 60 countries. Most of its servers are in the US and the UK, but you can also find servers in Australia, across Asia and Africa, as well as Europe and South America.
NordVPN only has physical servers and there are no virtual server locations. This is rare because most VPNs have at least some virtual servers in hard-to-reach locations. They can cause a decrease in your download speed and higher ping because they're usually far away from the country you wanted to connect to.
NordVPN is also working on establishing full ownership of its network. So far, it's been renting servers after thoroughly vetting each provider. As it moves into private server ownership, NordVPN will be able to offer you better security and stronger privacy.
In addition, NordVPN started using 10 Gbps servers (most VPNs only have 1 Gbps servers). This means that you'll be able to get even faster speeds — especially if your base connection is faster than 500 Mbps.
P2P Servers
NordVPN doesn't support torrenting on all of its servers but it has an optimized server network for P2P sharing. These servers offer fast speeds which means you'll be able to use uTorrent, BitTorrent, Popcorn Time, and others without issues.
I've definitely used other VPNs that make torrenting way easier than NordVPN. ExpressVPN's entire network is P2P-friendly, so you don't even have to worry about connecting to a specific server before opening your bittorrent client.
As a bonus, NordVPN has a strict no-logs policy so your torrenting activity won't be stored or accessible by third parties. It has a kill switch that immediately stops all internet traffic if a VPN connection drops so your data (or activity) won't be revealed to hackers or your ISP. Plus, when testing NordVPN, I didn't get any DNS leaks so I was confident that my IP address remained hidden the entire time I used Popcorn Time.
Obfuscated Servers
Some firewalls are especially good at detecting VPN traffic (especially those in countries with strict censorship like China) so they're trickier to get around. Obfuscated servers help to hide your VPN traffic so it looks like you're just browsing from your computer without a VPN. This helps you get around stronger firewall blocks with ease.
To set up Obfuscated servers on NordVPN, go to settings and select OpenVPN (TCP) as your protocol. Then, turn the Obfuscated servers button on — after that, you'll be able to see the option on your server list.
You can choose from several countries, including the US. The app also gave me several server options per location.
Onion Over VPN Servers
When visiting the Dark Web, you need an extra layer of protection. If your ISP knows you're accessing the Dark Web, they could alert the authorities or flag your traffic as suspicious. This can put you in a tough spot if something bad happens.
These servers will protect you by showing your ISP only that you're using a VPN, not that you're accessing the Dark Web. This way, only NordVPN will know that you're using Dark Web — but since it doesn't keep any logs and all of your data is wiped from the servers with every reboot, this won't affect your privacy.
Onion over VPN has the added benefit of allowing you to access .onion websites from any browser (which saves you the trouble of downloading and using Tor or another onion browser).
Double VPN Servers
These servers are also known as multi-hop servers. When you choose Double VPN, your traffic goes through two servers for double encryption. You can use it on Windows, macOS, and iOS.
Even though it can boost your security, it's not recommended for everyday use, torrenting, or browsing the Dark Web because it will slow your speeds down. If you just want to browse, stream, or torrent, it's best to have it off.
I tested the speeds to see what kind of results I would get. It wasn't as bad as I expected (after all, my traffic had to run through two different servers) but I still wouldn't recommend it. A 54% drop can be really huge for someone with lower download speeds.
US to Canada
| | |
| --- | --- |
| Download Speed (Mbps) | 54.28 Mbps (54.,27% difference from my base speed) |
| Upload Speed (Mbps) | 8.33 Mbps (63.,66% difference from my base speed) |
| Ping (ms) | 89 ms |
Dedicated IP
NordVPN can also give you a dedicated IP address. This means that you'll get an IP that no one else can use except you. This is great for online banking — if your location changes too often when accessing your account, your bank could block you.
It's also beneficial for businesses. If you want secure access to your systems, you can give each employee a dedicated IP address and whitelist them, effectively banning anyone who's not on the list (thus keeping your sensitive files secure).
Shared IP addresses can also end up on blacklists by a lot of websites (you don't know how someone before you used the IP). So, you can get blocked by a website without doing anything wrong. Having a dedicated IP prevents this.
While this is great in some cases, it's also not necessary to use it all the time. It limits you to only one location, which is not ideal for streaming or torrenting.
Diskless (RAM) Servers
In an effort to make its service more secure, NordVPN has plans to launch a completely diskless server network. This means that nothing will be stored locally on the servers (not even the operating system).
This is excellent news for NordVPN's users because even if a hacker breached into one of the servers, they wouldn't be able to get any information — it would just be an empty piece of hardware. The same thing would happen if a government seized these servers. So, your data will be even more secure and private than ever.
Security — Military Grade Encryption and No DNS Leaks
Encryption and Security Protocols
NordVPN has AES 256-bit encryption which is a standard in the industry and used by governments. This encryption is hard to crack through with brute force attacks so it would take hackers billions of years to get through it. In addition, it uses Perfect Forward Secrecy which means that the encryption key changes with each session so it can't be stolen.
When it comes to security protocols, NordVPN offers several choices:
NordLynx protocol — Based on WireGuard, this speed-boosting protocol is set as the default on NordVPN's apps. Since WireGuard isn't the safest protocol yet, NordVPN combines it with double NAT which ensures that your data doesn't end up on the server. It's available on Windows, Linux, macOS, Android, and iOS.
OpenVPN protocol — You can choose between UDP and TCP versions. UDP is the faster one so it's good for streaming, but the TCP version is more secure. It's available on Windows, Mac, Linux, Android, and iOS.
IKEv2/IPSec protocol —This protocol is good for boosting security and privacy and it's available on Apple devices. It's also good for mobile devices using a 3G or 4G LTE connection because it can restore the connection that dropped faster.
L2TP/IPsec and PPTP — These protocols used to be supported but this is no longer the case because they have weaker security.
| | | | | | |
| --- | --- | --- | --- | --- | --- |
| | PPTP | L2TP/IPsec | IKEv2/IPSec | OpenVPN (UDP/TCP) | NordLynx |
| NordVPN protocol support | No | No | Yes (but only for macOS) | Yes | Yes |
| Security | Not safe. Easy to hack (NSA monitors traffic that runs through it) | Not safe. NSA helped develop this protocol — questionable security | Safe — it was developed by Microsoft and there's an open-source version | Safe, it uses OpenSSL which is similar to HTTPS encryption (usually uses AES-256 bit encryption) | Safe — even though WireGuard on it's own isn't that secure, NordVPN combined it with double NAT which made it much safer to use |
| Speeds | Good, but doesn't beat NordLynx | Good, but doesn't beat NordLynx | Good, but doesn't beat NordLynx | Very good, but doesn't beat NordLynx | Very fast (the fastest protocol available on NordVPN) |
DNS Leak Protection
When you connect to a VPN, your traffic is routed through an encrypted tunnel. This means that all of your personal identifiers (such as your IP address) get stripped down so you can stay private. However, sometimes pieces of your information leak through and can reveal your identity and activity to third parties (like hackers or your ISP). This is not a good thing when you're hoping to stay anonymous.
Here are some elements that are susceptible to leaks:
DNS leaks happen when your DNS requests run through your regular traffic (reaching your ISP) instead of your VPN. DNS translates domain names into IP addresses (of the websites you visit). This is bad because then your ISP can easily see what you're doing online.
WebRTC is a technology that allows you to have calls without having to use plugins or apps for this (for example, over Google Hangouts). While this tech is awesome, it has a flaw where it reveals your IP address to these websites. This way, your real identity is revealed to that site and your ISP.
IP address leaks happen when your real IP is exposed to your ISP. There are two types of IP addresses — IPv4 (which is older) and IPv6 (which is newer). Most VPNs can hide your IP if you're using IPv4 but problems happen when you use IPv6 because many VPNs still haven't caught up with this tech. You can turn off your IPv6 and solve this problem (or simply use a good VPN like NordVPN which can hide this as well).
During my tests, I focused on all three types of leaks. I was impressed to find that NordVPN didn't leak my DNS, WebRTC, or IP address.
The fact that it didn't leak my DNS is not surprising considering that NordVPN runs its own DNS servers (which means you get better DNS leak protection and privacy). As you can see in the screenshot above, the DNS server my traffic went to is in the United Kingdom (it would be a DNS leak if it was in Serbia).
My IP address stayed hidden as well — the screenshot shows an IP from the UK even though I'm from Serbia. If there was an IP leak, it would show my country and city. I have IPv4 enabled on my Windows desktop and it didn't leak. I ran the same tests from its Mac, Android, iOS, and Linux apps and didn't experience any leaks.
Kill Switch
NordVPN's Kill Switch will allow you to use the web securely even if your VPN connection drops. You have two options:
Internet Kill Switch will completely shut down your internet access when you're not connected to the VPN or if your connection drops. Mac OS OpenVPN client doesn't have this option, but its IKEv2 client has both types of switches. This is great for added security (you can be sure that your data won't leak) when you're torrenting or using Tor.
App Kill Switch allows you to choose which apps will get closed if your connection fails. So, for example, you can choose to only shut down Google Chrome or a different browser but not your other apps. This is available on Windows and Mac OS. It's good to use when you're streaming, so the streaming platform won't detect that you're using a VPN and block you.
This feature isn't automatic, but it's really easy to set up. You just need to turn it on in settings and select the apps if you decide to use the app Kill Switch. I've used a lot of VPNs, so I know that sometimes you have to enable the kill switch yourself in settings. However, if you're new to VPNs and want one that comes with all the most important security features already enabled, CyberGhost is my top recommendation.
I tested it out by downloading a game from BitTorrent. Breaking a VPN connection this strong is hard, but I found that switching to a different server will do it (albeit briefly). As soon as I changed my server, all of my internet connection got shut down (I used the internet kill switch on my Windows desktop). My download from BitTorrent stopped completely as well. The moment the connection was restored, so did my traffic.
Split Tunneling
With NordVPN's split tunneling feature, you'll be able to choose which apps you want (and don't want) to use through the VPN connection. It's useful when you need to access certain websites with your real IP address (like sensitive business files, bank accounts, smart home devices, etc.). For example, I use it to access my bank account on my regular traffic while streaming shows on HBO Max.
This option is available on Windows and Android (Android TV as well). To turn this on, just go to settings and press the toggle button. Then, pick what apps should use a VPN connection.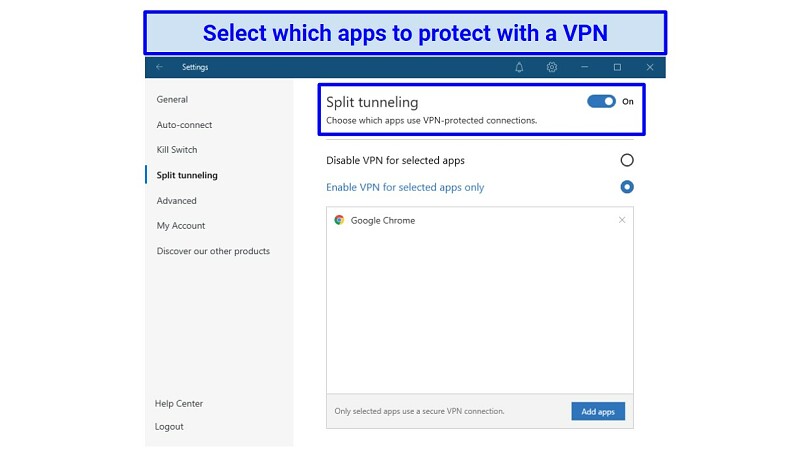 If you turn this setting off, all of your traffic will be routed through NordVPNThe same thing happens if you get a NordVPN extension — essentially, you'll only protect your browser, but not all of the traffic traveling from your device. You can also select which websites can bypass the VPN connection.
CyberSec
Another great aspect of NordVPN is its built-in ad blocker (which you won't find with many providers). Not only will it reduce the number of ads you see, but it will also block malware-infested websites and trackers. It's a great feature if you spend time reading content on blogs, websites, and forums, but don't expect to get rid of ads on YouTube or similar websites that offer a free plan with ads.
Here are its other benefits:
Boosting your load speeds. When ads show up on your screen, they have to be downloaded (which takes up a ton of bandwidth). But if you block them, you can significantly increase your speeds (especially on mobile devices).
Better privacy. Ads have built-in tracking capabilities so advertisers can create a better picture of what you might need at any given time. This isn't harmful on its own, but data breaches happen all the time, and all of the data that the advertisers accumulate could end up in the hands of criminals. By blocking ads, you're effectively protecting your online privacy.
Fight malware. Ads and other files that you may run into while using the internet could be ridden with malware. This isn't really obvious, so you might miss it and inadvertently download something malicious. NordVPN's CyberSec is there to block your access to this type of content. However, its scope can be limited because it only blocks websites that are already on a threat blacklist.
I tested it with Forbes since its annoying ads always make it hard for me to read its articles.
I also tested it with other websites like Daily Mail, BuzzFeed, The Guardian, etc., and each time the ads disappeared. However, it didn't block ads on YouTube or Spotify — you have to get a premium subscription for these services to do that. I couldn't get it to work on Facebook either.
CyberSec is pretty easy to turn on — just go to settings and press the toggle button.
Security Breach
NordVPN doesn't have a scandalous past like many other providers and their parent companies do, but there was one incident in 2018. One of its servers in Finland was hacked.
However, the criminal couldn't get anything since there was nothing to steal. NordVPN doesn't keep any logs, so the data of its users remained safe. Since then, NordVPN is determined to improve its security and plans to roll out these changes in response:
All servers to be diskless (RAM) so that no user data is ever stored. This way, even if a breach occurs, there's no data or even configuration files to steal.
A privately-owned server network means that it would have full control over its server park and thus provide better security to its users.
Security audits (even for vendors). NordVPN plans on running thorough audits of its own infrastructure as well as of the infrastructure owned by its vendors.
Bounties for anyone who catches a bug in NordVPN's code.
Partnership with a cybersecurity firm (VerSpite) which will perform penetration tests to prevent future issues and make NordVPN more secure.
Invisibility on LAN
This security feature will keep your device hidden on both private and public networks — basically, the owners of the network won't be able to see that you're using their WiFi. This is great for public WiFi networks because it boosts your security and privacy.
However, it's not so great when you're at home and using your private network or at work. You won't be able to use printers, connect to your TV or any other devices. So it's best to use this option when you're on the go.
Privacy — A Strict No-Logs Policy and a Privacy-Friendly Location
Logging Policy
NordVPN doesn't keep any logs. My team and I did a deep dive into its privacy policy and after lots of analysis, concluded that it really doesn't keep any information about you. This means that your IP address, online activity, and sensitive data (like payment details) won't get recorded.
In fact, NordVPN is so confident in its privacy policy that it employs an independent audit company called PwC (from Zurich, Switzerland) which checks its no-logs claims (it's been done twice since 2018 and both audits confirmed the zero-logs policy). Plus, NordVPN makes all of these reports publicly available so anyone can take a look and see what the results were. Only a few VPN providers do this, including ExpressVPN and CyberGhost.
It's important to note that NordVPN actually does retain pieces of data about you (like your email address when you sign up) but this is very common and it doesn't affect your privacy. Basically, it can only see that there's an account in your name, but not what you're doing with it.
There are also two algorithms that we wanted to explore (that seemed like they could be collecting data):
An algorithm that checks the server load. NordVPN uses this to assess what the fastest server is for you at any moment. So, it aggregates data across all users to monitor this, but it can't personally identify you.
An algorithm that limits the simultaneous connections. NordVPN offers 6 simultaneous connections which is more than enough to cover all of your devices. However, it needs a way of knowing how many devices you're using with one account. To do this, NordVPN keeps your username and the timestamp of your last session while the session is active. This data is held for only about 15 minutes after your session ends and it can't be traced back to you.
Location
Another great thing about NordVPN is its location. It's owned by Tefincom S.A and its headquarters are in Panama which is based outside of the 5/9/14 Eyes Alliance. This Alliance is an organization of countries and governments that have intrusive data retention policies and it includes countries like the US, UK, Australia, Canada, etc. Since Panama is not a part of it, it doesn't have to share your information with others.
As a bonus, NordVPN publishes a warrant canary on a daily basis. This means that it shares any requests for user information it gets from governments, companies, about any gag orders it gets, warrants, etc.
Torrenting — P2P-Optimized Servers and Privacy Features to Keep You Anonymous
If you need a torrenting VPN, NordVPN is a great option. And here's why:
It has optimized P2P servers in 45+ countries. Even if you forget to connect to one of its torrenting servers, NordVPN will redirect you to it as soon as it detects P2P traffic.
NordVPN has a kill switch that stops all of your internet traffic if your VPN connection drops. So, you're protected from accidental leaks.
It's based in a privacy-friendly location and has a strict zero-logs policy. This means that even if leaks happen (which is nearly impossible), third parties won't be able to access your data.
It has DNS leak protection which my team and I thoroughly tested and didn't find any leaks.
Thanks to all of these features, you'll have an easy time accessing qBittorrent, BitTorrent, Kickass Torrents, RARBG, Pirate Bay, uTorrent, Deluge, Vuze, Kodi, Transmission, and Popcorn Time.
During my tests, I didn't experience any connectivity issues and my speeds were more than fast enough for uninterrupted torrenting. I downloaded music files like The Complete Mozart's Edition (which includes over 160 CD's worth of music) without experiencing any lag.
Another great feature is the SOCKS5 protocol which can boost your torrenting speeds (but at the expense of security because your traffic isn't encrypted). All of this shows that NordVPN can protect its users and keep their information safe.
While NordVPN is definitely a good option for safe torrenting, I wouldn't give it top points for ease-of-use in this category. I personally use IPVanish for torrenting because it's entire network is P2P-friendly (and it also offers a SOCKS5 proxy option), so I don't have to worry about connecting to the correct server.
Does NordVPN Work in China? Yes.
You can use NordVPN in China thanks to its obfuscated servers which make your VPN traffic look like regular traffic to the Chinese firewall. It also has features like the Kill Switch which will make sure that your online activity is never exposed, even if your VPN connection fails. Plus, since it doesn't have servers in China, it doesn't have to apply strict local laws when it comes to internet usage and data logging. This means that nothing you do online will reach the Chinese government.
On the downside, you can't use it if you're already in China. NordVPN doesn't have a website there, so you won't be able to download it. If you're going to China, make sure that you install and set it up before you leave your country. If you're already in China and need a reliable VPN that works there, ExpressVPN can help you out.. If you managed to download NordVPN before arriving in China, it offers optimized apps and setups for countries with restricted internet access which you can easily find in its "Help" section.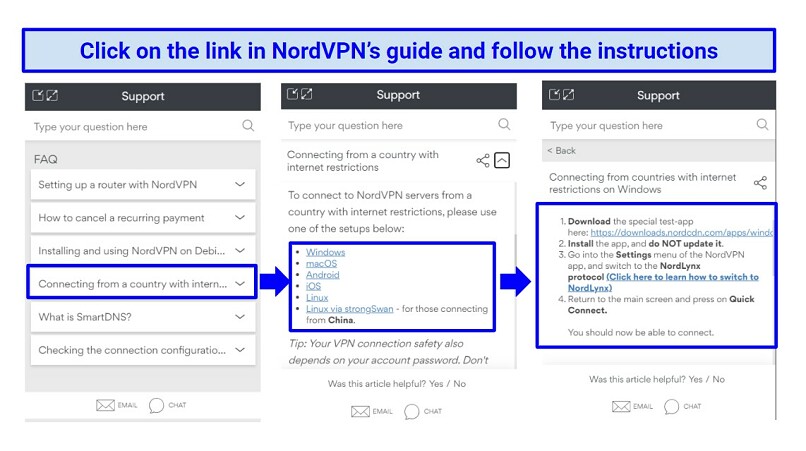 NordVPN doesn't have any servers in China either so you won't get access to exclusive content available there. However, there are servers available in Hong Kong, Singapore, Taiwan, and Vietnam which will unblock similar alternatives.
Simultaneous Device Connections — One Account Supports 6 Devices
You can connect up to 6 devices simultaneously to your NordVPN account. I tested this out by installing NordVPN on 2 of my Android phones, my Windows desktop, Linux laptop, and Samsung TV. With all of these devices using the connection at once, I still didn't notice any drop in speed.
To cover more devices, you can install it on your router. This way, your entire network will be under VPN protection. Not all routers support VPNs, so make sure that you choose one that does. Another thing worth noting is that you might not be able to install any VPN if you use an ISP modem.
As a side note: I've used other top VPNs that offer more device connections — CyberGhost offers 7 simultaneous connections and IPVanish beats all of its competition offering unlimited device connections. So if you have a big family with lots of devices and don't want to set up on your router, these might be better options for you.
Device Compatibility — Compatible With Mac, Windows, Android, and More
Windows, Mac, Linux, and Mobile Apps
You can download NordVPN on a wide variety of devices and operating systems. I installed it on my Android phone, Linux laptop, and Windows 10 desktop computer. The apps have a pretty similar interface with the familiar map feature and a sidebar with the list of servers. I found this convenient since there wasn't a learning curve for every OS — and I especially liked the fact that NordVPN has similar features on any device. VPNs sometimes get rid of certain elements of their service in mobile versions, so this is refreshing.
Another thing that impressed me was that NordVPN has an app for Linux at all. Most VPNs don't have Linux clients but you can install NordVPN on Ubuntu (I tested this one and it worked great), Debian, Linux Mint, and Elementary OS. What's even more surprising is that its app is really easy to use on Linux so you don't have to operate it through command prompts.
I don't personally own a Mac or iOS device, but I checked in with one of my colleagues who let me test it on her MacBook Pro and iPhone 12 Pro. The apps were similar to their Windows and Android counterparts and they were really easy to use. The only noticeable difference is that you get access to IKEv2/IPSec protocol on macOS and you won't get split tunneling on either Mac or Windows. A good thing is that you can download NordVPN on any macOS version as early as Sierra 10.12 and any iOS device starting with OS 11.0.
Smart TVs and Gaming Consoles
NordVPN's apps are also easy to download on Android TV, Apple TV, or Amazon Fire TV Stick. You can find them in the app stores and download them within a few moments. You get similar features on these devices, but the interface is a bit different — you won't get a map. This is not a big deal since you can choose from a long list of servers.
There's also an option to install NordVPN on devices like Smart TVs, Chromecast, Roku, Xbox, Nintendo, and PlayStation. You can do this in a few different ways. The easiest one is to use NordVPN's SmartDNS proxy which means that you change the DNS on your device. NordVPN has a guide for this and it takes only a few minutes to set it up (I tested it on my Smart TV). This option works well on PlayStation and Smart TVs.
You can also set up a hotspot on your computer as you would on your phone and use the VPN connection from your computer on other devices.
Browser Extensions
It has extensions available for Google Chrome and Mozilla Firefox. During my tests, these extensions performed really well although they aren't as great as its apps. They lack a few useful features and only protect your browser while a VPN app protects your entire device. Still, they're really useful if you want protection as soon as you fire up your browser.
Routers and NAS
Finally, if you want to protect all of your devices at once with NordVPN at no extra cost, you can install it on your router. But be careful about what kind of router you have — I assumed this will be possible for my router but it isn't compatible with NordVPN.
To save you the trouble, only get routers with ASUS WRT, DD-WRT, ASUS Merlin, Gl.iNET, EdgeRouter, NetDUMA, DrayTek, Portal, Tomato, Mikrotik, OpenWRT, Sabai, OPNsense, pfSense, and Padavan. You can also buy one of NordVPN's own routers (with a built-in VPN) which give you a certain number of available device connections.
NordVPN can also be installed on NAS, provided it's Synology, Western Digital MyCloud, QNAP, and AsusTor.