Surfshark Review & Test (Updated February 2020) - Low Price, But Performance?
Surfshark's newest pricing discounts make it the cheapest VPN I've tested. But does its quality match its price?
It advertises itself as a great VPN for any purpose. Want to stream your favorite shows? Hide your IP address while browsing? Shop without the risk of being hacked?
Surfshark says it can do it all, so I put it to the test. I researched every feature, from its torrenting ability and security protocols to its device compatibility and customer support. I've got everything you need to know about what it can do (and whether it does it well) detailed below.
Short on time? Read what matters most
Get Started With Surfshark Now!
The Basics
Unlike some providers that specialize in specific services, Surfshark says that it can do everything you need. But how does the VPN really perform in each category? Can it really bypass geoblocks, maintain fast speeds, and keep your personal info safe?
I put Surfshark through my toughest tests to see if it lives up to its claims. It's now the cheapest premium option available, but that doesn't mean much if it can't deliver on the features you need most. I checked on server coverage, conducted speeds tests, looked over its security measures, analyzed its interface and ease-of-use, and even put its customer support on the spot.
Streaming – Does Surfshark Work with Netflix?
Good news for those of you looking to get your streaming fix: Surfshark proved to be an excellent VPN for accessing geo-restricted content on Netflix. If that's your primary reason for choosing a VPN, then check out our review of the best VPNs for Netflix. Our top five all have unlimited bandwidth, incredible speeds, and even specialized servers for streaming.
We were also able to access streaming content on Amazon Video, Hulu, and BBC iPlayer.
Surfshark has over 1,000 servers in over 60 countries. For our research, we tested seven servers around the world, including three servers in the US. The servers consistently got past Netflix's tough VPN blocks, and we were impressed with the high video quality and fast loading times.
Start Streaming With Surfshark!
Surfshark Speeds
Fast and reliable connections add a lot of value to a VPN service. A VPN that slows you down will negatively impact your ability to stream, torrent, and even browse the internet.
Before connecting to Surfshark's network via mobile device, we started out with a download speed of 40.92 Mbps: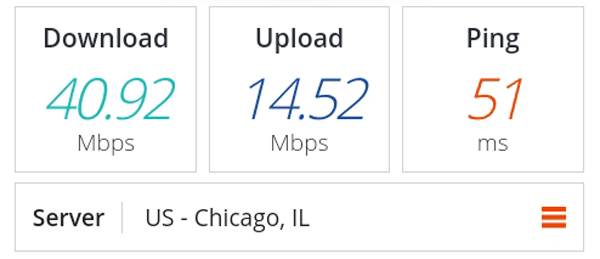 We compared this to the speeds that we got with the VPN enabled to find out how Surfshark's servers perform.
We started out by testing the Quick Connect feature, which is supposed to automatically find the fastest server.
The app connected us to a US server, and speeds decreased to 25.90 Mbps: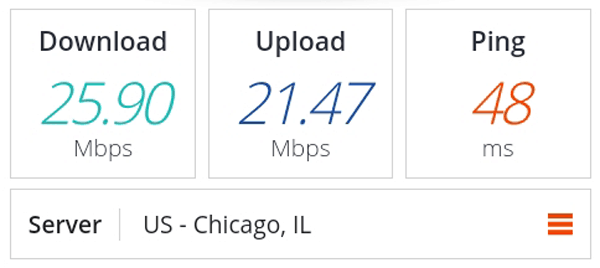 Other US servers that we tested had similar results. These are still good speeds for HD streaming, online gaming, and torrenting.
While connected to a UK server, our average download speed was around 20.06 Mbps: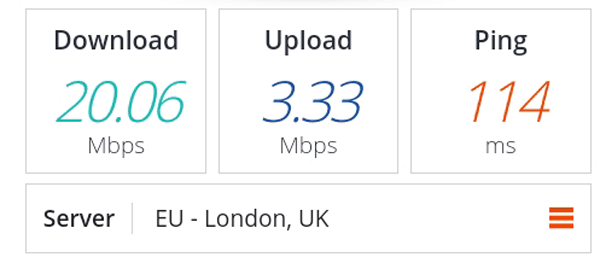 This is slower than the results we got with local US servers, but still fast enough for streaming and other high-traffic activity.
It's common to get slower speeds when connecting to servers that are farther from your physical location.
Our download speed while connected to a server in Denmark was 18.68 Mbps: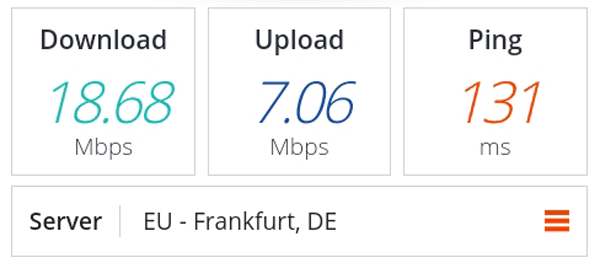 Even across the world in Japan, we got an impressive speed of 13.31 Mbps: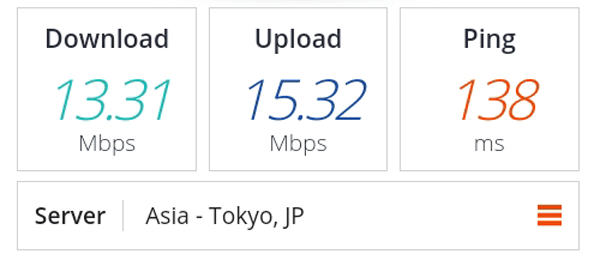 These are fairly consistent speeds. We also got good results for network reliability. We didn't experience any speed drops or connection failures during our tests.
Is Surfshark Good for Torrenting?
Surfshark is an ideal VPN for torrenting. P2P file sharing is fully supported on all servers, and the majority of servers in the network are optimized for torrenting:

The VPN is compatible with torrent software like BitTorrent and uTorrent, as well as streaming players like Ace Player, VLC, and Popcorn Time.
Surfshark also does a good job protecting your identity and hiding your P2P activity from your ISP, which we will discuss in more detail below.
Security – Is Surfshark Safe?
When it comes to security, Surfshark has you covered. We detected no DNS leaks during our tests: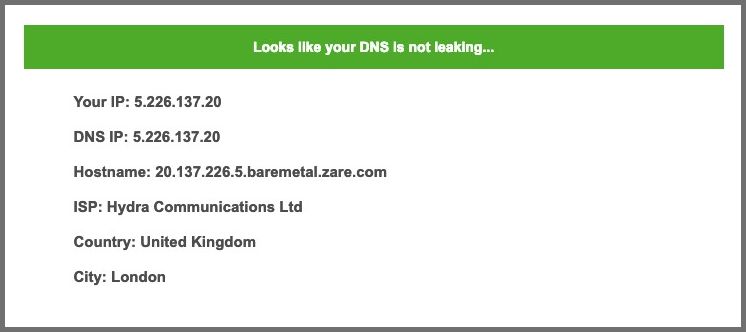 As you can see, our real location and IP address in the US were not detected.
The VPN service includes all of the basic security features that we look for, including secure encryption, DNS leak protection, and an automatic kill switch on all native apps.
This means that you don't have to worry about data leaks even if your VPN connection drops unexpectedly.
Surfshark also goes beyond the basics with advanced security features like MultiHop—Surfshark's version of Double VPN—which gives you an extra layer of protection by directing your traffic through two encrypted servers before you reach your final destination.
The CleanWeb feature protects you from tracking, malware, and phishing attempts. Recently it also introduced HackLock, a data leak alert system that lets users know when their email appears online in leaked databases. Surfshark's other new feature is BlindSearch, an online search tool that never collects your history and is free of annoying ads.
Camouflage Mode uses specialized obfuscated servers which can easily bypass network firewalls and other internet blocks. It's ideal for countries with restricted internet access, as it completely stops your ISP from monitoring any of your activity. Camouflage Mode only works on OpenVPN apps: Windows, Android, and iOS.
The most impressive thing about Surfshark's commitment to security and privacy is that the provider voluntarily hired a renowned cybersecurity firm, Cure53, to conduct an independent security review of their browser extensions.
Many doubt the legitimacy of VPN providers' security claims. Conducting an independent audit shows how seriously Surfshark takes its responsibility toward its users.
We've hired Cure53 professionals for our own reviews before, and we're confident that they perform a thorough and unbiased analysis. The results of the audit were overwhelmingly positive, finding only two very minor issues that were not directly related to the browser extensions.
Does Surfshark Keep Logs?
Surfshark is headquartered in the privacy-friendly British Virgin Islands, outside the jurisdiction of the 5/9/14 Eyes Alliance. The privacy policy confirms that Surfshark does not collect any usage or connection data.
The provider only stores the following information:
Your account email address (used only for customer service purposes)
Your password (encrypted)
Basic billing information
If you're looking for total anonymity, you can avoid providing personal billing information by paying with a cryptocurrency like Bitcoin.
The only part of the logging policy we aren't fans of is that Surfshark may collect unique advertising identifiers from third parties for marketing purposes and user analytics.
This isn't a major concern, however, since you can reset your advertising identifier or opt out of this data collection at any time in your app settings.
Overall, Surfshark has a transparent and privacy-friendly logging policy. None of the following information is collected:
IP addresses
Browsing history
Session information
Bandwidth used
Connection time stamps
Network traffic
Further proof of Surfshark's trustworthiness can be found in its warrant canary, which is a way for businesses to legally inform users of secret government requests for private information. Surfshark's warrant canary is fully up to date and available on the website:

Does Surfshark Have an Ad Blocker?
Surfshark does offer an ad blocker as part of its VPN service. The CleanWeb feature blocks ads, trackers, and malware. Not only does this help protect your privacy, but it also saves network data and improves loading times.
We tested Surfshark with three different ad-filled websites, and the CleanWeb feature was able to block all of the ads that we encountered.
Does Surfshark Work in China?
Since China is improving its ability to detect and block VPNs every day, it's challenging to say definitively whether or not a VPN works in China.
However, most users report that Surfshark does work in China. The FAQ also say that you can reach out to customer support for help if you find that the VPN is not working in your location.
Surfshark's NoBorders feature is useful for bypassing censorship. It detects when you are connected to a restricted network or in a country with government censorship, and automatically redirects your traffic to access restricted content.
Price and Value for Money
Surfshark's three subscription plans come with the same premium features and differ only in length.
The 12-month and 24-month plans come with significant discounts that make this VPN cheap and affordable for long-term use.
A month-to-month subscription is a bit pricier, but the cost is still very reasonable for the value this VPN provides.
Does Surfshark Have a Free Version?
Surfshark has a 7-day free trial available if you download the app from Google Play or the Apple Store, it doesn't have a long-term free version.
Surfshark's Refund Policy
There is a 30-day, money-back guarantee on all subscriptions.
Within 15 days of purchasing a subscription plan, you will receive a full refund if you submit a support ticket asking for your money back or encounter an issue that the support team is unable to solve. To improve its service Surfshark may ask about what aspects of the VPN you had issues with or didn't like. Surfshark's policy is to provide a refund even if you want one on the 30th day, and I had no issues cancelling via Google Pay prior to the 7-day cut off.
Is Surfshark Compatible with My Device?
Surfshark is compatible with all major devices. Dedicated apps are offered for Windows, macOS, Android, iOS, and more.
The VPN also offers secure browser extensions for Firefox and Chrome.
On the website, you can find manual installation guides for Linux, Xbox, PlayStation, Fire TV, Apple TV, and all other platforms it supports.
The SmartDNS feature allows you to unlock US content on devices that may not support VPNs, like Smart TVs and game consoles. The feature is easy to set up and use, so you can connect and go.
There are a few differences in the Surfshark app across devices.
For example, the Windows and Android native apps allow you to select your VPN protocol in the Settings, while the macOS and iOS apps do not.
However, Surfshark does a better job keeping features consistent across platforms than most providers. All of the native apps have an automatic kill switch, NoBorders mode, MultiHop, and the CleanWeb feature is now available on all devices
One outstanding part of the service is that you can connect unlimited simultaneous devices with one subscription.
Encryption
Surfshark keeps all users safe with robust AES 256-bit encryption, and provides optional ChaCha encryption for Android users. It supports OpenVPN and IKEv2 protocols, as well as Shadowsocks protocol for Windows. Shadowsocks is an open-source encrypted proxy. It's another helpful tool to bypass strict internet censorship, especially in areas like China.
It's usually best to stick with an OpenVPN connection for the best security. Surfshark's macOS and iOS apps use IKEv2 by default, but you can manually configure an OpenVPN connection if you prefer.
Windows, iOS, and Android apps allow you to choose between TCP and UDP OpenVPN connections.
Surfshark Customer Service
We were pleased with the quality of Surfshark's customer service. We found the 24/7 live chat support team to be responsive, friendly, and informative.
When you submit a question, the chat box tells you your position in the queue: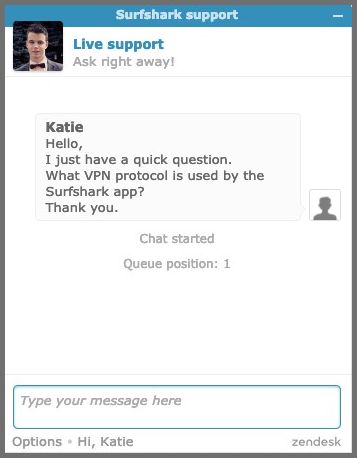 After less than a minute of waiting, a representative joined the chat to answer our question.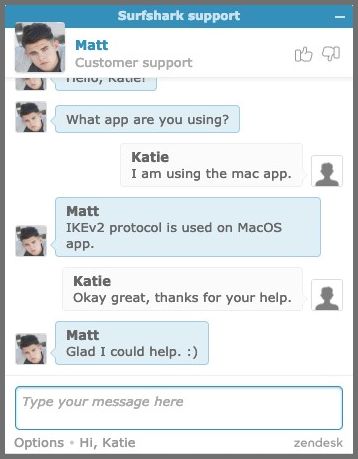 The live chat support functioned exactly as advertised. Since customer service is such an important part of a premium VPN service, Surfshark's high quality customer support is a huge plus.
User Experience
Surfshark's minimalist user interface is designed for ease of use. The native app is both aesthetically pleasing and a breeze to navigate.
On the left is a clear list of all server locations, along with a search bar to help you quickly find what you're looking for.
At the bottom right is a Quick Connect button that will automatically connect you to the most optimal server based on your location.
The intuitive platform makes for a smooth user experience, even for beginners.
When you first open Surfshark on a new device, the app gives you some help with the login and installation process. For example, the app walks you through the process of giving permissions. It also has a separate interface for the MultiHop feature (Surfshark's version of Double VPN), which is equally user-friendly.
The Settings menu is simple and straightforward. Even if you're new to VPNs, you should have no trouble taking advantage of Surfshark's advanced features. Surfshark's mobile app is also attractive and easy to use: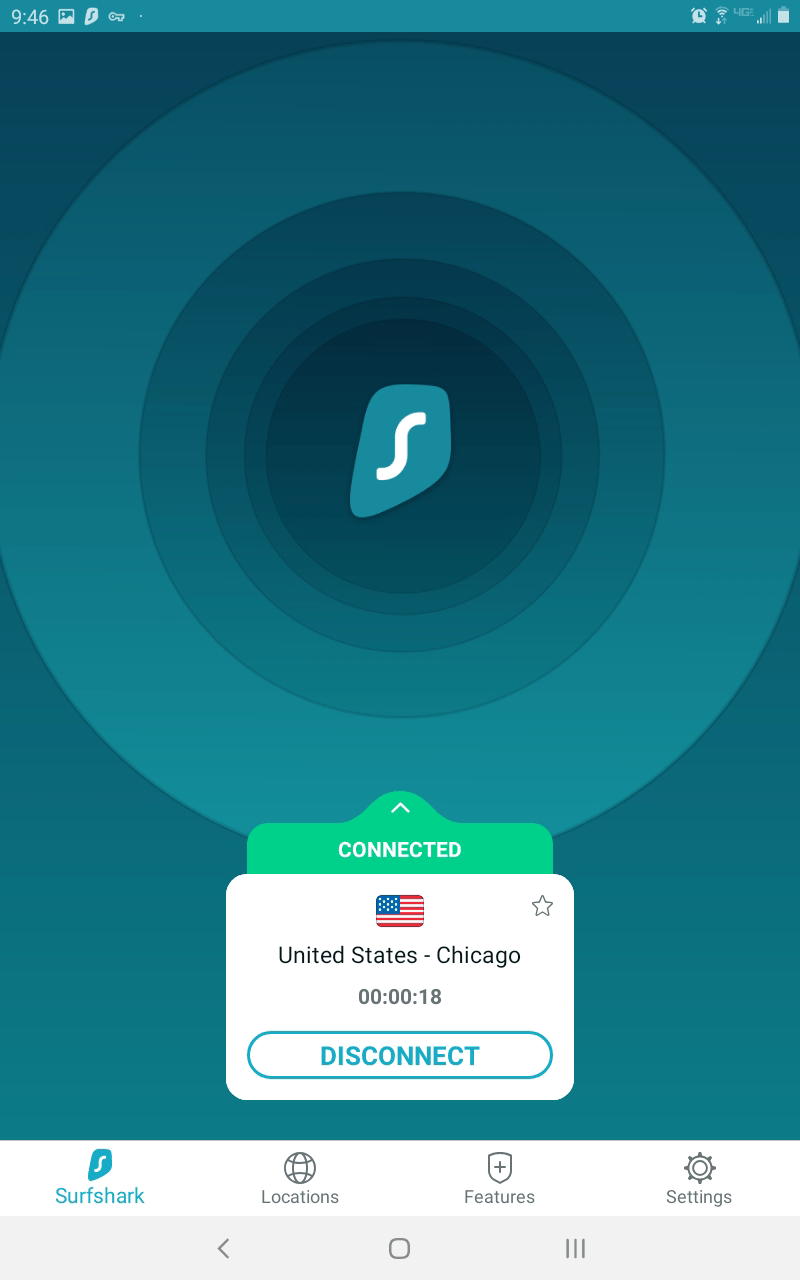 Surfshark has created a positive user experience with its well-designed native apps. The interface is clear for both first-time VPN users using basic functions and experienced users using more advanced settings.
It's rare that we find a VPN app design with no discernible flaws, but we were very impressed with what Surfshark has accomplished.
The Bottom Line
Do we recommend Surfshark? Yes!
Surfshark offers an impressive service, especially for a relatively new provider. If you're looking for a fast, reliable, and secure VPN for streaming, torrenting, and protecting your privacy, Surfshark is an excellent option.
If you're looking for speedy, unrestricted, and reliable streaming (who isn't?), then check out our review of the best VPNs for streaming wherever you are.
We were also pleased to see that Surfshark has improved its device compatibility since the last time we reviewed the service. This is great news for a provider that allows unlimited simultaneous device connections!
Surfshark is especially worth considering if you're looking for a long-term VPN, because of the budget-friendly deals offered on longer subscriptions.
| Features | Details |
| --- | --- |
| Number of countries with servers | 61 |
| Number of servers | 1040 |
| Number of IP addresses | 1000 |
| Does VPN keep logs? | No |
| Does VPN include a kill switch? | Yes |
| Number of devices per license | Unlimited |
Surfshark's native apps and browser extensions are very easy and intuitive to use. They feature a clean and minimal interface that anyone can navigate.
The installation process is fast and straightforward. You'll need to enter your login credentials to set up a new device.
The Quick Connect feature makes it easy to find a fast server. If you prefer, you can manually select a server location with a single click.
There are also some useful advanced features to improve your browsing experience, including an ad blocker. Advanced features are clearly labeled and easily accessible in the Settings menu.
Surfshark offers subscriptions with different lengths and prices, so you can choose the plan that's best for you. Each subscription comes with the same premium features.
Discounts are offered on longer subscriptions, which makes the service much more affordable.
There is a 7-day free trial if you download the app from Google Play or the Apple Store, and a 30-day, money-back guarantee.
A variety of payment methods are accepted, including:
Major credit cards (American Express, Visa, Mastercard, Discover)
PayPal
Amazon Pay
Google Pay
Alipay
Cryptocurrencies (Bitcoin, Ripple, Ethereum)
Reliability & Support
4.6 / 5.0
If you come across any issues while using Surfshark, you have several places to turn. The website has a Help section with installation tutorials, troubleshooting guides, FAQs, and other useful information.
You can also contact Surfshark directly via 24/7 live chat support or a ticket request system.
Our experience with Surfshark's customer support was pleasant and friendly. A live chat representative answered promptly and provided helpful answers to all our questions.
Fast and reliable VPN that's perfect for streaming and torrenting
Surfshark offers an impressive service with competitive prices and very few weaknesses. It includes all the main features you'd expect from leading VPNs who've been in business much longer.
Plus, you can connect to an unlimited number of devices simultaneously and it unblocks most popular streaming services worldwide.
1040+ servers in 61 countries
Offers browser extensions for Chrome and Firefox
Accepts Bitcoin and offers 30-day money-back guarantee
Unlimited connections and strong encryption
Supports P2P
24/7 live chat support
Money Back Guarantee (Days) :
30
Mobile app :
Number of devices per license :
Unlimited