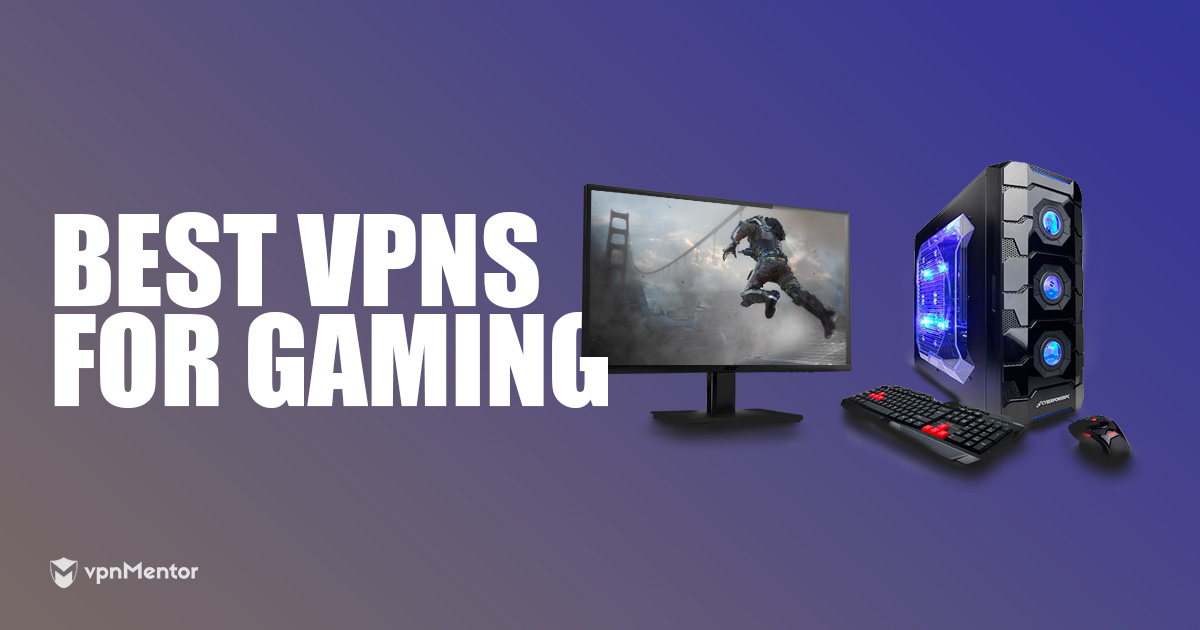 7 Best VPNs for Gaming in 2023: Fast Speeds and Low Ping
Updated on 23rd January 2023
A good gaming VPN can lower your ping, prevent DDoS attacks, and help you access region-locked games. But finding the right one is harder than I thought. Many VPNs will increase your latency, while others lack servers in regions where you need them.
My team and I tested 50+ VPNs to find the best ones for gaming. After analyzing average speeds, server networks, and security features, I handpicked a few VPNs that let you play safely and without lag. Plus, they're easy to install on all your devices — whether you connect via PC, console, or router.
My top recommendation for gaming is ExpressVPN. It offers excellent speeds, an extensive server network so you can access content from around the world, and industry-leading security for smooth and secure gameplay. You can try ExpressVPN risk-free as it's backed by a 30-day money-back guarantee. If you find it's not for you, you can easily get a full refund.
Try ExpressVPN for Lag-Free Gaming >>
Short on Time? Here Are the Best Gaming VPNs in February 2023
Best VPNs for Gaming — Full Analysis (Updated in 2023)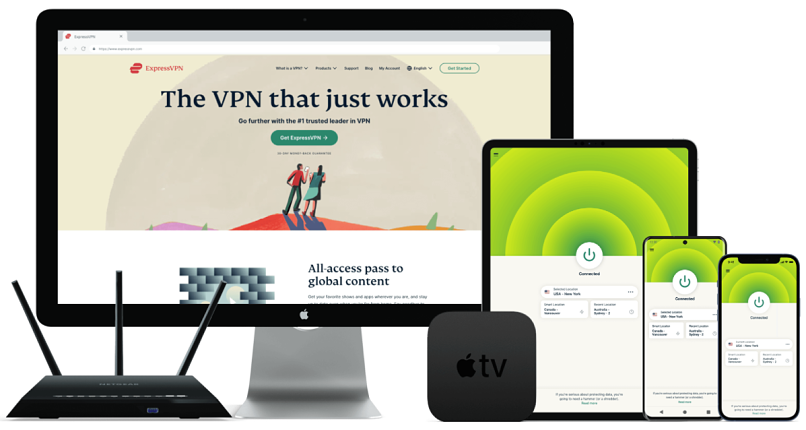 Editor's Choice
Editor's Choice

Tested February 2023
Try Risk-Free for 30 Days
Available on:
Chrome
Router
Smart TV
More
www.ExpressVPN.com
The fastest VPN we tested across dozens of gaming sessions
3,000+ servers in 94 countries
Works with: CoD Series (including Warzone), Valorant, Apex Legends, Minecraft, and more.
Compatible with: PS4/PS5, Xbox One/Series, Nintendo Switch, Windows, Android, iOS, and more
ExpressVPN outperforms every other option on my list when it comes to improving gameplay. Not only does it have the strongest security features, but it's also the fastest VPN we've tested.
During my tests on its nearby servers, I recorded an average download speed of 58.8 Mbps (a 2% drop from my baseline connection). For instance, I played CSGO on its Frankfurt server, and my ping always remained below 30 ms. Even when I connected to long-distance Australian and US locations, the speeds hovered at 56 Mbps, and my ping was consistently low.
ExpressVPN's fast speeds can be attributed partly to its proprietary protocol, Lightway. This innovative protocol is designed to provide stable connections and keep speed loss to a minimum, making it ideal for gaming.
In addition, MediaStreamer lets you use ExpressVPN on devices that don't natively support VPNs, like gaming consoles and smart TVs. I could connect it to my PS5 within minutes by inputting the DNS address directly into the console's network settings.
If your device doesn't let you modify DNS settings, you can easily download ExpressVPN to your router (it has a dedicated app for this). Installing it on a router gives you port forwarding support and allows you to host games. All you have to do is set up a particular port to accept traffic from additional devices.
You can try ExpressVPN completely risk-free as it's backed by a 30-day money-back guarantee. If it's not for you, it's easy to get a full refund. I tested out this guarantee myself and got my money back in 3 days.
Features:
Strong security features. ExpressVPN offers military-grade encryption, DNS leak protection, and more. This prevents ISP throttling and DDoS attacks.
Built-in speed checker tool. Using this tool, you can sort servers based on speed index, download speed, and latency. This helps you find the best possible connection for gaming.
Split-tunneling. This allows you to route only the traffic of your choosing through the encrypted VPN tunnel. For example, you can set it up to only encrypt your gaming traffic to reduce speed loss for your other connections.
Worldwide server network. ExpressVPN offers 3,000+ servers in 94 countries. This lets you access region-locked games from anywhere in the world. Plus, certain games and in-game items can be cheaper in specific regions.
9,753+ servers in 91 countries, including specialty servers for gaming
7 simultaneous device connections
Works with: CoD Series (including Warzone), Valorant, Apex Legends, Minecraft, and more.
Compatible with: PS4/PS5, Xbox One/Series, Nintendo Switch, Windows, Android, iOS, and more
CyberGhost is one of my longtime favorites because it offers specialized servers for gaming. These are optimized for fast speeds and low latency, so you can play without lag.
When I connected to its gaming-optimized servers in London and Paris (both are relatively close to me), I had a ping rate of 33 ms, and an average download speed of 54 Mbps. This is ideal for online gaming — I didn't experience any delay, even during competitive matches in PUBG.
CyberGhost has a user-friendly interface, making it an excellent choice for beginners. For example, its "Best server location" feature automatically connects you to the fastest server with the click of a button. Or, you can easily find one of its dedicated gaming servers listed under the "For Gaming" category.
CyberGhost can be set up on a router, although this isn't as easy to do as with ExpressVPN. Still, I found a tutorial for this on CyberGhost's website, and had it set up in under half an hour.
Plus, I could also install it directly on my Xbox Series S by changing the console's DNS settings. This lets you connect your console without changing your router settings each time, which is super convenient.
The downside with CyberGhost is that some of its long-distance connections aren't as fast as ExpressVPN's. However, this won't be a problem if you have a decent baseline connection.
It's backed by a 45-day money-back guarantee, so you try CyberGhost completely risk-free.
Features:
Strong encryption and leak protection. CyberGhost comes with AES 256-bit military-grade encryption and IP/DNS leak protection.
WireGuard support. WireGuard is often the protocol of choice for most gamers. It strikes the right balance of speed and security.
Large server network. This lets you access more global content and play with your friends from different regions.
29,650+ servers in 84 countries, and customizable security
10 simultaneous device connections
Works with: CoD Series (including Warzone), Valorant, Apex Legends, Minecraft, and more.
Compatible with: PS4/PS5, Xbox One/Series, Nintendo Switch, Windows, Android, iOS, and more
Private Internet Access (PIA) is one of the most customizable VPNs out there. This means you can configure your VPN connection for optimal gaming performance.
For example, you can choose between OpenVPN and WireGuard. Plus, it also lets you pick the encryption type (128-bit and 256-bit) for your connection. AES-128 bit is a bit faster and yet strong enough to keep your gaming sessions secure.
If privacy isn't a main concern, you can use the SOCKS5 proxy to improve your speeds while gaming. Just keep in mind that while this still helps prevent DDoS attacks, there's no encryption in place — so your connection is faster, but not as secure.
PIA offers native apps for tons of devices, plus a Smart DNS feature to change your virtual location on consoles. Once installed, you can view each server's ping and even save your favorites. This way, you'll always have quick access to the fastest gaming connection.
PIA's apps could be a bit overwhelming for new users to navigate since there are so many customization options. However, it comes pre-configured, so you don't necessarily have to tweak its setting, unless you want to. You can start playing straight away.
PIA lets you try all of its features completely risk-free, thanks to its 30-day money-back guarantee. If you're not happy, you can get all your money back.
Features:
Robust security features. All of PIA's apps come with strong encryption, leak protection, and an automatic kill switch.
Massive server network. PIA's server network is the biggest of all the VPNs I investigated. You can access geo-restricted games from anywhere. Plus, you don't have to worry about overcrowded servers.
Good speeds. During my tests, I only experienced an average speed loss of 21% and my ping rate never rose above 55 ms. That's not quite as fast as my connection with ExpressVPN, but more than enough for smooth gaming.
NordLynx protocol offers fast speeds and top security
5,384 servers in 60 countries
Works with: CoD Series (including Warzone), Valorant, Apex Legends, Minecraft, and more
Compatible with: PS4/PS5, Xbox One/Series, Nintendo Switch, Windows, Android, iOS, and more
NordVPN makes it onto my list of the best gaming VPNs because it strikes the right balance of speed and security. It's the second fastest VPN I tested (after ExpressVPN) and delivers consistently low ping without compromising security.
On its nearby US servers, I recorded an average download speed of 56.4Mbps (a 6% drop from my base connection) and a ping rate of 36ms. This is ideal for multiplayer online gaming — I never experienced any lag while playing Apex Legends.
NordLynx is partly responsible for NordVPN's splendid performance. It's built around WireGuard, so it's fast, lightweight, and secure. However, you can also switch to OpenVPN if you want.
One of my favorite things about NordVPN is its Threat Protection feature. It not only blocks ads and malicious sites but also scans downloaded files for malware. This reduces the risk of malicious gaming files infecting your device plus it blocked all in-game ads on my Android.
If you want to cover your gaming consoles, you can install NordVPN on your router. But unlike ExpressVPN, it doesn't have a dedicated router app, so setup can be a bit tricky. However, it does offer detailed installation guides for several different router models on its website, which make it a bit easier.
You can take NordVPN for a test run by making use of its 30-day money-back guarantee. If you're not impressed, it's easy to get a full refund.
Features:
Strong security features. NordVPN protects you from DDoS attacks with its military-grade encryption, leak protection, and a kill switch. When I tested its servers for DNS/IP leaks, I didn't find any.
Dedicated IP address. For a small additional fee, you can get a dedicated IP address that only you can use. This means you don't have to worry about getting kicked out of the lobby (due to server overcrowding) when things are going well.
Global server network. NordVPN has an excellent server network spread across the globe. This means you can always find a nearby speedy server, compete against new players, and take advantage of regional pricing.
NoBorders lets you play safely in restrictive regions
5,384 servers in 60 countries
Works with: CoD Series (including Warzone), Valorant, Apex Legends, Minecraft, and more
Compatible with: PS4/PS5, Xbox One/Series, Nintendo Switch, Windows, Android, iOS, and more
What makes Surfshark an excellent gaming VPN is its NoBorders feature. It uses obfuscation to disguise your VPN connection as normal internet traffic, allowing you to bypass firewalls and VPN blocks. It even works in restrictive countries (like China), so you can have secure gaming sessions no matter where you are.
The best part is that it activates automatically on restrictive networks, meaning you don't have to enter the app settings to turn it on. However, there is an option to enable it manually if you simply want to hide your VPN use.
I also appreciated its user-friendly interface during my tests. The app has a built-in speed test tool, where you can see the upload speed, download speed, and latency on each server. This makes it easy to find a low-latency server for gaming.
You can also use its Quick-Connect feature if you don't want the hassle of running the speed test. This automatically finds the fastest available server, depending on your location.
My only complaint with Surfshark is that some of its servers can take a long time to connect, which can be a bit annoying. However, once connected, I never faced any disconnects, so you get a stable connection for gaming.
Surfshark truly offers great value, since you get unlimited device connections and can sign up for as low as $2.30/month. But if you don't want to commit, you can try Surfshark risk-free using its 30-day money-back guarantee.
Features:
Good speeds and low ping. During my tests on its nearby servers, I received an average speed of 53.4Mbps (an 11% drop), and the latency was always below 50ms. I didn't notice any lag as I played PUBG Mobile on my Android phone.
Robust security. It has all the essential security features you'd expect from a good gaming VPN, including leak protection and a kill switch.
Auto-connect. Surfshark offers an "Auto-connect" feature to ensure you never forget to secure your gaming sessions. When enabled, it automatically connects your device to the VPN when it detects an internet connection.
Unlimited simultaneous device connections
2,000+ servers in 75 countries, independently-owned and speed optimized
Works with: CoD Series (including Warzone), Valorant, Apex Legends, Minecraft, and more.
Compatible with: PS4/PS5, Xbox One/Series, Nintendo Switch, Windows, Android, iOS, and more
IPVanish offers unlimited simultaneous connections, making it a perfect choice for large households (or households that just have a lot of tech). This means you don't have to disconnect one device to use the VPN with another.
To put this to the test, I set up my Android phone, PS5, 2 laptops, and iPad with the same VPN server. Despite having so many active devices, my connection remained stable — I could still play Valorant without encountering any lag.
IPVanish allows you to change protocols, so you can find the right balance between security and speed. I switched from WireGuard to PPTP from the app settings, and it boosted my speed from 39 to 42 Mbps with a nearby connection.
That said, PPTP is an older protocol and is not as secure. If security is a concern, I recommend WireGuard because it's very secure and fairly fast.
For added protection, IPVanish uses a combination of strong security features. This includes AES-256 bit encryption, a kill switch, and DNS/IP leak protection.
Using its money-back guarantee, you can try IPVanish risk-free for 30 days. If you don't like it, you can cancel your subscription directly from your account dashboard.
Very simple app makes it straightforward to choose the best gaming server
200+ servers in 63 countries
Works with: CoD Series (including Warzone), Valorant, Apex Legends, Minecraft, and more.
Compatible with: PS4/PS5, Xbox One/Series, Nintendo Switch, Windows, Android, iOS, and more
PrivateVPN is a user-friendly gaming VPN with two interface settings: Simple and Advanced View. The Simple View is perfect for novice users because all you have to do is choose a server, and the VPN will choose the best settings for you. Experienced users can switch to Advanced View and customize their connection.
I also like that the servers are sorted based on the ping rate. This makes it super easy to find the best connection possible for gaming. I tested 2 of its nearby servers and had a ping rate of less than 54 ms.
Your online gaming sessions are well-protected, all thanks to PrivateVPN's solid security features. It comes with 256-bit encryption and DNS/IP leak protection. Plus, its kill switch ensures that your information doesn't accidentally get leaked, even if you lose your VPN connection.
Its Stealth Mode secures your gaming sessions even on restrictive networks. Unlike Surfshark, it doesn't activate automatically. However, you can easily enable it by switching to its Advanced View.
A small con with PrivateVPN is that its server network is smaller compared to other VPNs on my list, which can lead to overcrowding. However, I didn't encounter any congestion or slowdowns with the servers I tested.
PrivateVPN lets you try it out for free with its 30-day money-back guarantee.
Quick Comparison Table: Gaming VPN Features
This table compares the features of my top-recommended VPNs. It covers the lowest monthly price, countries the VPN has servers in, and average long and short distance speeds. I also included whether it offers a Smart DNS feature, which lets you easily change virtual locations on your console. This is a handy feature if you want to unblock streaming apps or games in another region on your console without complicated setups.
Try Gaming With ExpressVPN Now >>
Tips on How to Choose the Best VPN for Gaming
A high-quality VPN for gaming should give you smooth gameplay, protect you from online threats, and help you overcome geoblocks and access international gaming servers. All of the VPNs in this list have been selected using the following criteria:
Fast speeds. This is necessary for smooth online gaming and quick game downloads. I recommend speeds above 30 Mbps with a ping no higher than 45ms for action-packed video games such as Valorant, League of Legends, Fortnite, and CS: GO. I tested multiple servers from each VPN to verify that they're fast enough for lag-free gaming.
Extensive server network. With a large server network, you'll have access to more opponents and geo-restricted content. Plus, you'll always be able to find a low-latency and uncrowded connection. All of the VPNs in this list have servers scattered across the globe.
Powerful security features. Your VPN should be equipped with military-grade encryption and offer DNS/IP leak protection to safeguard you from DDoS attacks. I ensured that the listed VPNs offer these features to keep you safe while you game.
Customizable connection settings. A VPN should provide options to configure your connection, including changing your protocol, setting up a SOCKS5 proxy, and port forwarding. The VPNs on this list provide customizable settings to help you improve your connection speed.
Device Compatibility. Ensure your VPN works on your gaming devices, including Windows PCs, consoles, macOS, iOS, and Android. If you game with more than one device, look for a VPN that provides multiple simultaneous connections. I made sure that the recommended VPNs can be used on many devices at once and offer a Smart DNS feature or are easily installable via routers.
Trustworthy money-back guarantee. This will allow you to test the VPN with all of your favorite games and gaming devices without risk. All the VPNs I've listed come with a dependable money-back guarantee.
Reliable customer support. Having access to a team of qualified experts will help you solve your VPN problems more effectively. The VPNs in this list offer 24/7 live chat, so you'll get an answer at any time, regardless of your time zone.
Quick Guide:
How to Set Up a Gaming VPN in 3 Easy Steps
Sign up for a VPN. I recommend ExpressVPN since it's superfast, has a huge server network, and is easy to install on almost any gaming device.
Download the VPN. My listed VPNs all offer downloadable apps for PC, macOS, iOS, Android, and more. To install it on a gaming console, you can either use its Smart DNS feature, set it up on your router, or connect it to a VPN hotspot from your PC.
Start gaming! Connect to a server in the region you wish to game. For the fastest speeds and low ping, I recommend using the closest connection to your location.
FAQs on the Best VPNs for Gaming
Will a VPN lower my ping?
Usually no, but in rare cases, it can. VPNs re-route your traffic through an encrypted server to provide you with a safer gaming experience, which in turn can increase your latency. However, sometimes you can overcome overcrowding while gaming online by using an uncongested VPN server. As a result, this can give you reduced latency for smoother gameplay. To keep your ping low, I recommend looking for a server that's near your location and has a low user load. Luckily, the VPNs in this list offer large server networks, so you'll have an easier time finding a fast connection near you.
What VPN settings can I change to improve gaming speeds?
Typically default settings work best. However, you should always check that you're using the fastest VPN protocol that it offers. For example, I found an instant speed boost when I switched from OpenVPN to WireGuard while testing CyberGhost. Also, using the server nearest you will usually give you the best speeds and lowest ping.
Furthermore, disabling privacy features will also help to improve your speeds. For instance, obfuscation and IP modulation will cause major slowdowns while enabled. Plus, you'll usually get a faster connection by using a SOCKS5 proxy connection (if supported) or switching to the PPTP protocol. Remember that using these settings only boosts your speeds because it removes vital security layers. In some cases, this can leave you vulnerable to cyberattacks while gaming online.
How can I set up a gaming VPN on my router?
You can easily install any of these listed VPNs on your router. However, you will need a router that is compatible with the VPN firmware. Usually, Asus, Lynksys, and Netgear models are compatible. In addition, the setup methods will differ depending on your router model and the VPN you choose.
Here's a short tutorial using ExpressVPN's router app setup on an ASUS router as an example:
Download the VPN's router firmware. Visit ExpressVPN's website and go to the device setup page and choose "router". Locate the appropriate firmware for your router model. Select "Download Firmware", and keep this browser window open since you'll need the activation code.
Connect your router to the internet. Either a modem or WiFi connection is fine.
Log in to your router. I just typed "router.asus.com" ("192.168.1.1" works too) into my browser and logged in to my router settings. If you haven't created personal login details, just enter "admin" for both your username and password.
Install the VPN firmware and save the settings. On the left column, select "Administration". Then choose "Firmware Upgrade". Click "Upload" next to "Manual firmware upload" and select the firmware you downloaded in step 1 (it's a.trx file). When the firmware upgrade is complete, reboot your router.
Save your settings. After reconnecting to your router, the router firmware should pop up on your screen. Click "Get Started" and follow the prompts. Take note of the WiFi name and password, as well as the router password you're given and click "Save".
Connect your game console to the router. Go to your console's network settings and connect it to your new VPN router connection.
Start gaming. Enjoy fast speeds and access to geoblocked gaming content.
Which is the best VPN for PES, PUBG, Fortnite, and CoD?
Based on my tests, I found ExpressVPN to be the best VPN for FES, PUBG, Fortnite, and CoD. It provides a proprietary protocol called Lightway to deliver superfast speeds while keeping your gaming sessions secure. It also offers a huge server network, so you can access geo-restricted content and compete against players from other countries. Plus, it's compatible with tons of devices — offering native apps, and a Smart DNS option for simple set up on consoles.
What's the best gaming VPN for Android?
My favorite for Android is ExpressVPN. ExpressVPN's Android app provides fast speeds, low latency, and access to its huge server network. Its user interface is sleek and easy to navigate, making it perfect for VPN beginners. Plus, I enjoyed superfast speeds while playing PES Mobile on my Android using ExpressVPN's Lightway protocol. Lightway is super lightweight and optimized to preserve battery life.
Can I host a game server using a VPN?
Yes, but your VPN will need a port forwarding feature to do this. To host your own game server, you can set up port forwarding on your router through a VPN. That way, you won't be opening your network to cyberattacks. For convenience, you can also get a static IP address (CyberGhost offers this add-on). This way, your friends won't have to change server addresses each time they want to log in.
Is it legal to use a VPN when gaming?
In most countries, yes. However, some strictly-censored countries (like China and the UAE) restrict or ban VPNs. Even if VPNs are legal in your country, using one still may go against the game's Terms and Conditions. In my experience, as long as you're not using a VPN to gain an unfair advantage or cheat, VPN-use is usually OK. The VPNs in this list worked just fine with the games I tested them with and were not detected or blocked.
That being said, my team and I don't condone using a VPN to break any rules or regulations. So I recommend checking your local law and the game's rules to avoid getting penalized.
Can I use a VPN to unblock games at school?
Yes, but make sure you don't break any administrative rules before using a VPN. VPNs allow you to bypass most firewalls by hiding and encrypting your traffic. However, some schools may ban gaming, only allowing it for research purposes (such as a school project).
Can I use a free VPN for gaming?
Some might work, but I wouldn't recommend it. You're better off getting a low-cost premium VPN that offers fast speeds, a large server network, and strong security.
Most free VPNs have severe limitations such as capped speeds, overcrowded servers, and data limits. This can make it difficult to do much gaming at all. On top of this, free VPNs are usually not safe. They lack key security features (like strong encryption and DNS/IP leak protection) which are necessary for protecting you against hackers and DDoS attacks.
In addition, some free services have even been known to sell user data to third party advertisers. This can lead to excessive interruptions from ads and popups while you game, which defeats the point of using a VPN to protect your privacy.
Get the Best VPN for Gaming Today
The best gaming VPNs give you fast speeds, strong security, and access to geo-restricted gaming content. However, it's difficult and time-consuming to find a VPN offering all of these features.
After testing tons of VPNs, ExpressVPN is my favorite gaming VPN. It offers superfast speeds, robust security features, and the option to install it on just about any modern device (including consoles and routers). As an added bonus, it comes with a 30-day money-back guarantee, so you can try ExpressVPN risk-free. In case you find it's not for you, it's easy to claim a refund.
To summarize, the best VPNs for gaming are…
Privacy Alert!
Your data is exposed to the websites you visit!
The information above can be used to track you, target you for ads, and monitor what you do online.
VPNs can help you hide this information from websites so that you are protected at all times. We recommend ExpressVPN — the #1 VPN out of over 350 providers we've tested. It has military-grade encryption and privacy features that will ensure your digital security, plus — it's currently offering 49% off.