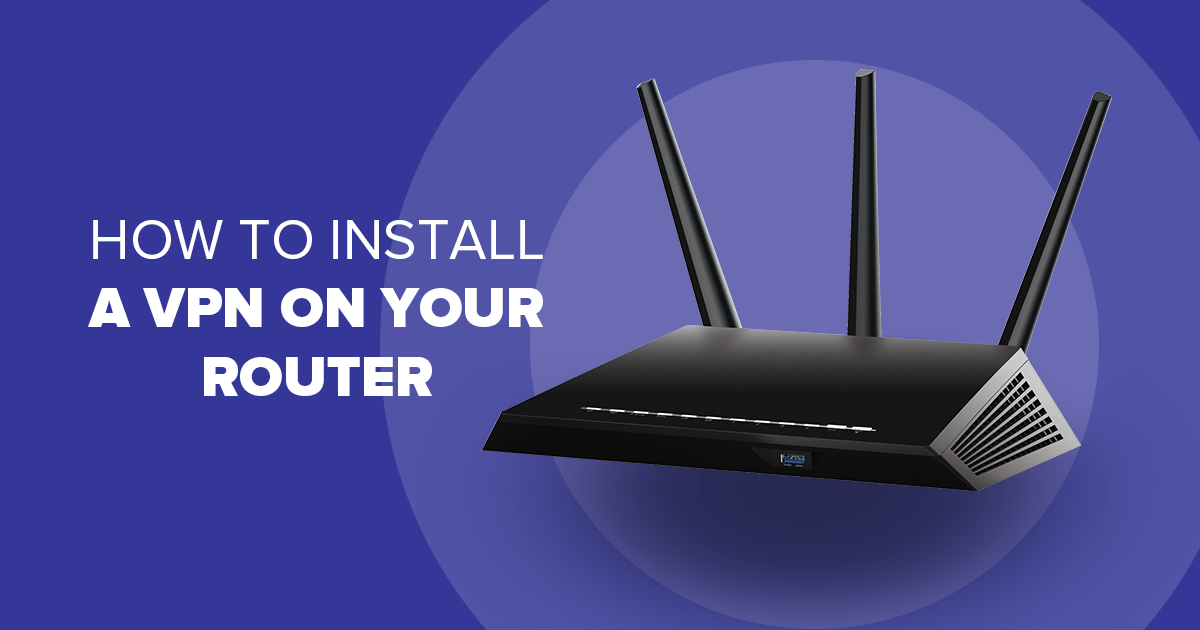 How to Install a VPN on Your Router — Easy Setup Guide 2023
Updated on 2nd January 2023
Setting up your router with a VPN can be complicated. But, if you want hassle-free protection for an entire network of connected devices, it's absolutely worth the effort.
Our step-by-step VPN router setup guide can help you. Whether for your home or business, a VPN on your router can bring many benefits. For example, bypassing geo-restrictions and streaming movies on devices not usually compatible with a VPN, like your Playstation.
ExpressVPN is my top recommendation for routers because it's straightforward to configure. Plus, you can buy routers with it already pre-installed. You can try ExpressVPN risk-free since it has a 30-day money-back guarantee. You can request a full refund if you feel it's not for you.
Install a VPN on Your Router Now
Quick Guide:
How to Install a VPN on a Router in 3 Easy Steps
Download a VPN. I recommend ExpressVPN because of its easy-to-follow online setup guide and 24/7 customer support.
Ensure your router is VPN compatible. Only routers with VPN-compatible firmware (such as Tomato or DD-WRT) will work with a VPN. Otherwise, you will have to flash the router or buy one with a pre-installed VPN.
Enjoy VPN benefits. Once the VPN is installed on your router, all devices connected to the router will be protected and able to access geoblocked content.
Why You (May) Need a VPN Router?
If you're already using a premium VPN (like ExpressVPN or CyberGhost), you likely know that it encrypts your connection by routing your traffic through a private server. But that only goes as far as the number of allowed connections by your provider. VPN routers offer a workaround to this potential limitation by covering all your WiFi-connected devices.
Other unique advantages to getting your VPN protection straight from your router include:
Unlimited connections. When connecting to VPN servers via your router, you can use as many devices as you like. All WiFi-enabled devices will benefit from robust, secure encryption and easy unblocking abilities.
Better device compatibility. Devices like Smart TVs and gaming consoles don't have native VPN support. Using a VPN router adds them to the list of protected devices.
Only one login required. A VPN router requires a single login — you don't have to worry about forgetting to switch on your VPN, leaving devices vulnerable to hackers and snoops. This removes the need to log into the VPN application on each device.
A secure connection 24/7. If you have a favorite VPN server you're constantly using, you can stay connected to it all the time (provided your router is turned on). Although this is easily achieved with auto-connect features on VPN clients, VPN routers offer an even easier way.
Disadvantages of a VPN Router
While a VPN router offers many benefits, there are some drawbacks you should be aware of:
Less server flexibility. Once you've set up your VPN router, you can't quickly change settings or server location. You'll be limited to whatever server you used in the configuration and have to change it via the router interface if you want something different. However, ExpressVPN is the exception — allowing you to use up to 5 different server locations simultaneously with its Device Groups feature.
VPN routers can be expensive. In most cases, a VPN router is no small investment. You need the right features and specifications to run VPN software on a router, which often means baseline devices won't be able to do the job. There are ways to save money — for example, upgrading your router with advanced firmware (if it's suitable) or purchasing a VPN-compatible router if you already need a new one.
Reduction in connection speeds. VPNs generally reduce your connection speeds by some factor. A larger number of connections means that there are higher chances for slowdowns. However, you can minimize this by choosing a premium VPN service.
Weak security spots. The traffic between your router to your device will not be encrypted on the router level. So it can be a security risk if a malicious third party manages to connect to your router.
Types of VPN Router Set-Up Options
Before investing in a VPN router, it is important to know the different setup options available. You can choose between a pre-configured, VPN-compatible, or manually flashed router. Below I discuss these options in greater detail:
VPN-compatible routers
A VPN-compatible router is flashed with firmware such as OpenVPN that supports different VPNs. This means that you can configure a VPN on your own and choose your desired settings. Many top companies provide VPN-compatible routers, such as Asus, Linksys, Netgear, Buffalo, and Synology.
Pre-configured VPN routers
These routers come pre-flashed with VPN firmware and a compatible VPN. They are ready to use out of the box and do not require additional setup. For example, FlashRouters is a well-known service that offers routers pre-configured with top VPNs like ExpressVPN.
Sabai Technology is another similar service that sells pre-flashed VPN routers featuring the company's custom firmware called SabaiOS. You can buy these with or without the pre-configuration with a specific VPN.
Manually flashed VPN routers
This is an option if you're looking for the cheapest way to upgrade your current router. However, flashing a router is highly complex and can render your router useless or void its warranty. Before configuring a VPN on these routers, you will have to flash them with compatible firmware, for example, DD-WRT or Tomato.
TomatoUSB is an alternate firmware that supports more routers and has extra features such as wireless-N mode and USB port support. Popular TomatoUSB forks include Shibby, Victek, Teaman, and Toastman.
What to Consider When Choosing a VPN Router
While installing a VPN on a smartphone or desktop PC is easy, setting up a VPN router is a relatively complex process. Before choosing a VPN router, you should consider the following:
Setup complexity
The ease of setup depends on the type of router you choose. Pre-flashed routers configured with a VPN can be used immediately, which is generally the best option for beginners.
VPN compatible routers are already flashed with the compatible firmware but still require some configuration. However, configuring a VPN on a VPN-compatible router is generally easy. The best VPNs for routers offer detailed setup guides on their official website. Upgrading your current router to become VPN compatible is the most complex as it requires you to flash the router with VPN firmware.
Speed
Make sure the connection is fast enough to cover your day-to-day activity online. All VPNs reduce your base internet speed by some degree due to encrypting your data. But with a premium VPN, you won't notice the difference — you can enjoy buffer-free UHD streaming, fast torrenting, and lag-free gaming. Another factor that can affect your internet speed is the processor of your VPN router. Your router should have a minimum of 800 MHz CPU to handle the encryption.
Cost
How much you'll pay depends on your type of VPN router. Pre-configured routers are the most expensive, costing a couple of hundred dollars, including the VPN subscription costs. However, the setup and VPN configuration is already done, so they are ready to use out of the box. VPN-enabled routers are relatively cheap but need some basic VPN configuration. Lastly, unflashed routers can cost as little as $50 but are very complicated to set up.
Security features
Performance is crucial, but so is security — which is why a VPN is essential. Make sure your router's firmware supports the OpenVPN protocol. This protocol offers the strongest protection and is the easiest-to-use VPN software. Your VPN must follow a no-logs policy if you care about your online privacy. Some other important security features to stay safe online include leak protection and policy-based routing (which allows you to manage internet traffic to different devices).
Number of ports
VPN routers usually come with ethernet ports that allow wired connections for the best speeds. However, some routers also contain additional USB ports that will enable you to wirelessly connect to devices such as printers or attach external storage devices.
Best VPNs to Install on Your Router in 2023
My team and I tested 70+ VPNs and found the best ones that are easy to configure with your VPN-compatible router. Plus, they provide robust security without compromising speed and global servers to bypass geo-restrictions. These VPNs also all come with a money-back guarantee, so you can try them risk-free.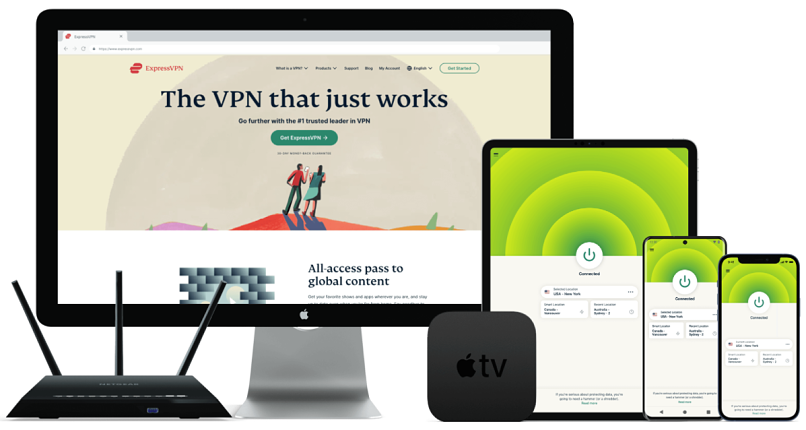 Editor's Choice
Editor's Choice

Tested February 2023
Try Risk-Free for 30 Days
Available on:
Chrome
Router
Smart TV
More
www.ExpressVPN.com
Step-by-step online instructions for a straightforward router configuration
Up to 5 different VPN locations on your router, also 3,000 servers in 94 countries
Military-grade encryption to protect your entire network
Lightning-fast speeds for uninterrupted streaming on all connected devices
Works with: Synology, Sabai, Linksys, Asus, DD-WRT, Tomato, Xiaomi, Netgear, and more
Compatible with: Routers, Windows, Mac, iOS, Android, Linux, Chrome, Firefox, and
ExpressVPN is very easy to set up on different routers with custom VPN apps for several Asus, Linksys, and Netgear routers. It can also be configured manually on router firmware (including OpenWrt, Tomato, and DD-WRT). Using its website's helpful step-by-step tutorials, I installed ExpressVPN on my Asus RT-AC87U within 10 minutes during testing. The VPN also offers several pre-configured routers via FlashRouters. So, you don't have to configure the VPN yourself.
I especially like the VPN's unique Device Groups feature. It allows you to create up to 5 groups for your devices, each for a specific server location. So you don't have to re-configure the VPN if you want to connect to a different server location on a particular device. I grouped my Playstation with my Windows PC to use an ExpressVPN US server location while my SmartTV and Android connect to a UK server. This allowed me to join my US Esport team while my family watched BBC iPlayer.
ExpressVPN is the fastest VPN I tested, providing superfast speeds for browsing and streaming. Once the VPN was set up on my router and connected to a New York server, my speed dropped by only 11.5% (from 55 Mbps to 48.7 Mbps). You can download large files while simultaneously streaming on different devices without delays — you only need 25 Mbps for a seamless UHD experience.
All the devices connected to your router are protected with ExpressVPN's military-grade encryption and various security protocols (like OpenVPN and Lightway). Plus, ExpressVPN's Network Lock (kill switch) immediately cuts your internet connection should the VPN drop. It also follows a strict no-logs policy and provides IP/DNS leak protection preventing anyone from getting their hands on your personal data.
One minor con of this VPN is that it has expensive subscriptions, starting at $6.67/month. However, ExpressVPN frequently offers great discounts. I got 49% off my 12-month plan and 3 months of service for free.
All subscriptions also come with a 30-day money-back guarantee. So, if you're not 100% happy with the VPN, you can easily get a full refund. I tested the refund policy by canceling via 24/7 live chat. The support agent quickly responded and only asked my reason for canceling before approving my request. I received the money in my bank account within 2 days.
Get ExpressVPN for Your Router Now
High-level security features to keep your router-connected devices safe online
Fast speeds and optimized servers for uninterrupted streaming and torrenting
9,753 servers in 91 countries to connect your router to any location
Works with: Synology, Linksys, Asus, DD-WRT, Tomato, Netgear, TPLink, and more
Compatible with: Routers, Windows, Mac, iOS, Android, Linux, Chrome, Firefox, and
CyberGhost offers top-level security throughout your home network. Like ExpressVPN, it uses AES 256-bit encryption and OpenVPN to make your data unreadable. Plus, a no-logs policy means your personal information won't be collected or shared. I also tested it for IP and DNS leaks and detected none — your online identity and real location remain private.
It's also hassle-free to set up on various routers, with its official website providing highly detailed guides. I configured CyberGhost on my Synology router during my tests within 15 minutes. You can also install it on your Raspberry Pi — for those that use it as a low-power home router. Plus, the VPN has a partnership with FlashRouters, which provides ready-to-use routers pre-installed with CyberGhost. Customer support is also reachable 24/7 via live chat or email if you need assistance.
This VPN even offers streaming-optimized servers to quickly access your accounts while abroad. After moving to a different country and installing the VPN on my router, I had no problems unblocking my Disney+ and Netflix US accounts on my SmartTV. There are also specialized servers for torrenting and gaming. I got fantastic speeds on my router, averaging 43.9 Mbps even on long-distance servers (only a 26.3% speed drop).
I do find its short-term plans to be quite expensive. However, a long-term CyberGhost subscription is available at only $2.19/month, which is very affordable. The features for short-term and long-term plans are identical, so the 3-year option offers the best savings.
You can try CyberGhost for free, thanks to its 45-day money-back guarantee. To check whether these claims are true, I contacted their customer support and asked for a refund on the last day of my trial period. After answering some short questions regarding user satisfaction, my request got approved, and I received the refund on my credit card in 3 days.
Get CyberGhost for Your Router Now
Supports the most popular router firmware for easy setup
Several customization options to balance speed with security on your router
Quickly bypass geo-restrictions with 29,650 servers in 84 countries
Works with: Linksys, Asus, DD-WRT, Netgear, TPLink, pfSense, and more
Compatible with: Routers, Windows, Mac, iOS, Android, Linux, Chrome, Firefox, and
PIA is compatible with many types of router firmware. You can find detailed guides for specific firmware on their official website. However, they mention that it will work with almost all VPN-compatible routers. It also offers a simple FlashRouter Privacy app with which you can control your FlashRouter. This makes the setup process incredibly easy and allows you to manage the entire network from a single place.
While PIA is not as fast as ExpressVPN or CyberGhost, its connections are still ideal for high-bandwidth activities like streaming and torrenting, likely due to its large server network reducing any chances of congestion due to overcrowding. After installing it on my Netgear router during testing, I didn't even notice a speed reduction, averaging around 41.2 Mbps.
You can also tailor the VPN on your router to prioritize security or speed. You can choose between AES 256-bit encryption (the strongest available) and AES 128-bit (faster due to less encryption but still offers sufficient protection). Plus, there are various tunneling protocols, including OpenVPN and WireGuard.
However, all these customization options can make the VPN seem less user-friendly to beginners. But, the router app comes pre-configured so that you can use PIA without changing any settings.
All subscriptions come with the same great features. So, I suggest the long-term plan as it's the most affordable at only $2.19/month.
Because of its 30-day money-back guarantee, you can test PIA on your router risk-free. To check its refund policy, I canceled my subscription by contacting customer support via its 24/7 live chat. The whole process was simple — they didn't even ask me any questions. I received the refund in my PayPal wallet after 5 days.
VPN-Enabled Routers That Support OpenVPN
Not all VPN routers offer great performance despite what the companies promise you. Some companies even trick you into buying a bundle, including their own mediocre VPN service. Your best bet is to choose a VPN router from a reputable manufacturer. My team and I reviewed several popular brands and picked the top 5 options:
Asus — These routers typically come with the AsusWRT firmware that supports OpenVPN and is easy to set up. You may get different firmware such as SabaiOS, OpenWrt, Tomato, and DD-WRT based on your chosen model.
Linksys — These routers do not support OpenVPN out of the box. However, some sellers sell pre-flashed Linksys routers, so it is a good idea to ask beforehand. Otherwise, you can flash your Linksys router with firmware that supports OpenVPN, such as DD-WRT and Tomato.
Netgear — Netgear routers are highly reputed among VPN users. But just like Linksys, they do not have support for OpenVPN out of the box. You can either buy a pre-flashed model or flash it yourself with firmware that supports OpenVPN.
Buffalo — While this company does not offer a wide range of routers, some of them are relatively cheap and come with the DD-WRT firmware that supports OpenVPN.
Synology — Synology offers two great options that support OpenVPN. Furthermore, its VPN Plus package allows you to turn your router into a VPN server.
Install a VPN on Your Router Today
How to Install a VPN to Your Router
Installing a VPN to your router can be done in just a few steps. For this example, I set up ExpressVPN on an Asus router using the OpenVPN protocol.
Sign in to your VPN account. I recommend ExpressVPN because it's the easiest and offers the best speeds and security.
You will see multiple installation options on the main settings page. Here, choose "more" and then click on manual configuration.
A new page will pop up where you will see two options: OpenVPN and L2TP. OpenVPN is more secure. But for streaming, you are good to go with either of the two. Since we are using OpenVPN for this example, choose OpenVPN.

Note down the username and password appearing in the boxes — it will be used later. Then choose your preferred server from the list below. After choosing a server, an ovpn file will be downloaded to your computer.
Log in to your router. To do that, type 192.168.0.1 or 192.168.1.1 in the address bar in a new tab. If you are using an Asus router, you can also visit router.asus.com.
Enter your username and password. The back of the router typically has the default password and username written on it.

Screenshot of Asus login screen to connect your VPN

After signing in, you will see several options on the left bar. Scroll down and choose "VPN" which will pop up a new window.
In the new window, choose "OpenVPN" and create a new profile by entering the description, username, and password.

You can install ExpressVPN on Asus routers that support OpenVPN

After that, upload and attach the ovpn file that we downloaded earlier against the "import.ovpn file" field. Once done, click "ok".
Lastly, you have to activate the connection by clicking on "Activate," and that's it, ExpressVPN is now installed on your Asus router.
FAQs on Installing a VPN on Your Router
Do all routers support VPNs?
No, not all routers are compatible with VPNs. You can check your router's manual to determine whether it will support a VPN or request a list of routers compatible with VPNs from your preferred VPN provider. Here's a list of VPN-compatible routers that support the OpenVPN protocol.
Are there routers with a built-in VPN?
Yes, many routers come with a built-in VPN. For example, FlashRouters have specific routers that are already flashed and pre-configured with ExpressVPN firmware. While more expensive, this router-VPN combo is very convenient and an excellent option for beginners — your router uses the VPN as soon as you plug it in and connect.
How many router setups are there?
There are 3 router setup options, each with its pros and cons. Pre-flashed routers are ready to use with compatible firmware and a VPN pre-installed. VPN-compatible routers have compatible firmware, but you must manually configure the VPN. Unflashed routers do not have compatible firmware and require flashing, which is a complicated and risky process that can render your router useless.
Can you use a DNS proxy instead of VPN with routers?
Yes, you can use a DNS proxy on your router to bypass geo-restrictions. However, a DNS can leave your data vulnerable to hacking and monitoring. A VPN with robust security features and router compatibility is a safer option. A DNS proxy will not encrypt your data or hide your IP address. While it will reroute your DNS requests, your ISP can still monitor your internet activities.
Can I use a free VPN on my router?
Yes, you can use a free VPN on your router, provided that your router's firmware supports the installation of a VPN. However, it's not recommended because free VPNs typically limit your speed, bandwidth, and server locations, meaning they're not ideal for streaming, gaming, and torrenting. A VPN with a global network of fast servers is more reliable.
Free VPNs don't have the security features needed to protect your online privacy, with some even selling your data for a profit.
Will using a VPN on my router slow down my internet?
Yes, all VPNs reduce your base internet speed. However, with a premium VPN, you won't notice the difference. Just ensure you also use a high-quality router, like Asus or Netgear.
How can I check if my VPN is working on my router?
There are 3 ways you can check whether your VPN is working on your router:
Launch your VPN and connect to a server in a different country than the one you're in. Go to Google.com and type in the search bar, "what is my IP". If the IP address is different from your actual IP address, your VPN is working on the router
Try to access a geoblocked streaming service and see if you can bypass it, if not, your VPN might not be working.
Use the traceroute command in the command prompt to check the number of hops. This allows you to see the number of intermediaries in the way, including your VPN.
Try ExpressVPN For Your Router Now
Install a VPN on Your Router Now
Installing a VPN on your router doesn't have to be a difficult task, even if you go for a manual setup. With the right provider, you'll have all the guidance you need to succeed.
ExpressVPN is my top recommendation because of its custom router app, ability to use up to 5 server locations, and fast speeds. Plus, its military-grade encryption protects all your devices. You can even try ExpressVPN risk-free. If you're not happy with the service, you can simply ask for a refund, since it comes with a 30-day money-back guarantee.
To summarize, the best VPNs to install on your router are…
Privacy Alert!
Your data is exposed to the websites you visit!
The information above can be used to track you, target you for ads, and monitor what you do online.
VPNs can help you hide this information from websites so that you are protected at all times. We recommend ExpressVPN — the #1 VPN out of over 350 providers we've tested. It has military-grade encryption and privacy features that will ensure your digital security, plus — it's currently offering 49% off.