Private Internet Access (PIA) is one of the most popular VPNs on the market. True to its name, this provider is best known for its strict no-logs policy and commitment to user privacy.
Is PIA truly as trustworthy as they claim when it comes to protecting user privacy and anonymity? How does it perform in other categories like streaming, torrenting, and safety?
We tested PIA ourselves to find out, and the results are in. Some of the highlights of PIA's VPN service include its user-friendly interface, robust security, anonymous torrenting, and support for 10 simultaneous devices.
Downsides include variable speeds and inconsistent ability to access popular streaming sites.
PIA can unblock Netflix US, DE, JP and UK, Hulu, Disney+, Amazon Prime Video, and BBC iPlayer.   If you want to unblock Netflix libraries worldwide, we've had more consistent results with ExpressVPN.
PIA Features — Updated in October 2021
💸

Price
$2.08/month

📆

Money Back Guarantee
30

📝

Does VPN keep logs?
No

🖥

Number of servers
29650

💻

Number of devices per license
10

🛡

Kill switch
Yes

🗺

Based in country
United States

🛠

Support
24/7 Live Chat Support

📥

Supports torrenting
Yes
Streaming – Does PIA Work with Netflix?
With popular streaming sites like Netflix constantly cracking down on VPN use, there's no guarantee that most VPNs will be able to access geoblocked streaming content.
We had mixed results with PIA. The good news is that all of the US servers that we tested were able to access US Netflix content without being blocked by the dreaded proxy error.
We were also able to access UK Netflix on both servers that we tested, as well as Netflix content in Canada, Denmark, and Australia.
The downside is that we were unable to access Netflix in other server locations that we tested, including Germany, Mexico, and Japan.
If you're looking to unblock Netflix and other streaming sites from across the globe, ExpressVPN is a reliable choice. It's fast, secure, and unlimited.
Private Internet Access Coupon October 2021
Discount applied automatically
PIA Speeds
PIA has a large network of 29,650+ servers in 70 countries. Larger server networks are generally good news for a VPN's speed, because more servers mean less crowding.
To understand the results of VPN speed tests, it's important to know what your starting connection speed is before connecting to a VPN server.
The starting speed can then be compared to the speeds you get while connected to the VPN's servers.
In this case, we started out with a base connection speed of 70 Mbps.
We started out our speed test by using PIA's automatic connection feature, which directed us to a nearby server in the US. Our average speed was 34 Mbps.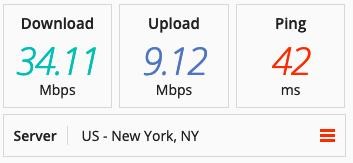 However, when we ran the speed test again just a few minutes later on the same server, our speed was less than 15 Mbps.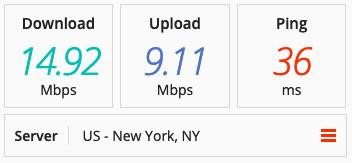 The rest of our speed tests showed similar inconsistencies. We got our highest speed—58 Mbps—through one of the UK servers: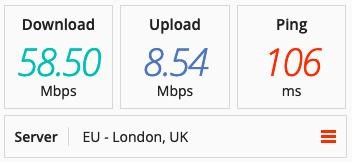 We also were pleased with our speed of 51 Mbps through PIA's Canadian server: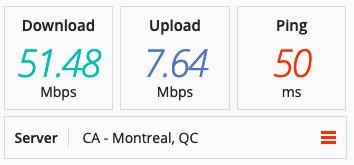 However, most other servers that we tested resulted in speeds less than 20 Mbps.
Our speed test in Germany gave us only 16 Mbps: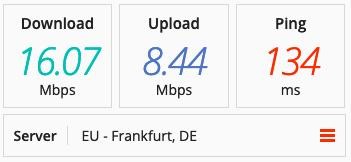 Across the world from our physical location, the servers in Hong Kong and Australia gave us extremely slow speeds of less than 10 Mbps: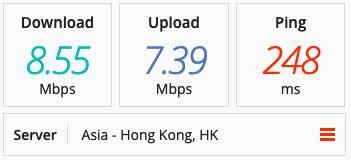 When it comes to the most common online activities like browsing and streaming, inconsistent speeds can get frustrating quickly.
Although PIA was able to give us excellent speeds in some locations, the speeds weren't very stable, and many locations significantly slowed us down.
PIA's performance may vary depending on where you are physically located and which server locations you plan on regularly using.
Is PIA Good for Torrenting?
PIA states clearly on their website that they offer full P2P support. Torrenting is allowed on all servers in the network.
The provider's strict no-logs policy is great for anonymous torrenting. The VPN also offers an automatic kill switch, which will keep your P2P activity secure even if the VPN connection unexpectedly drops, as well as port forwarding.
Security – Is PIA Safe?
PIA claims to be a great VPN for security and anonymity. The security features offered by PIA reflect the VPN's focus on safety.
If you aren't interested in exploring PIA's advanced features, the VPN will still keep your connection safe with IP masking, data encryption, IPv6 leak protection, DNS leak protection, and a firewall.
When we tried connecting to PIA before touching any of the settings, the VPN was able to successfully protect us with no DNS or IP leaks detected.
We tested this on several websites. Here is our result from the dnsleak website while connected to one of PIA's UK servers:
As you can see, our real IP address and physical location in the US were not detected.
Experienced users will appreciate PIA's advanced security features, which are easily enabled in the app's settings. These features include an automatic kill switch, malware and tracking protection, and port forwarding.
Encryption
PIA gives you a lot of freedom to customize your encryption algorithm and protocols. The default setting protects your connection with AES 128-bit encryption.
This algorithm is extremely secure, but not at the same level as the now common AES 256-bit encryption.
Luckily, it's simple to change this setting if you prefer. You can manually select your encryption algorithm and handshake encryption in the settings interface.
If you don't know what any of this means, don't worry. PIA has detailed explanations on their website of each encryption type and how to decide which is best for you.
PIA's dedicated apps default to the OpenVPN protocol, with the option to choose between UDP and TCP connections. The exception is the iOS app, which uses IPsec. The VPN also offers the option to switch to the latest security protocol, WireGuard, on its mobile and desktop apps.
Manual configuration is also supported with OpenVPN, L2TP/IPsec, PPTP, and SOCKS5 Proxy.
For added transparency, PIA has open-sourced all of its desktop and mobile apps. This allows anyone to review the source code of these apps to ensure PIA is delivering what it promises.
Does PIA Offer Split Tunneling?
PIA offers even more freedom over your online activity by offering split tunneling on its desktop apps. This convenient feature allows you to decide which apps will access the internet directly and which will pass through the VPN first.
With split tunneling, you can use PIA to protect your banking data or be safe while torrenting, all while streaming or web browsing outside the encrypted VPN tunnel on the same device.
To activate split tunneling, just click the Network tab, click App Exclusions, and add the programs you want to bypass the VPN.
Does PIA Keep Logs?
There is one thing that categorically impressed us: PIA really keeps to its no-log policy.
PIA is based in the US and therefore is required to comply with US laws and demands. This means that if the government requests information from PIA, then PIA is required by law to hand over any relevant data that they have collected.
Because of its US headquarters, PIA also falls under the jurisdiction of the 5/9/14-Eyes Alliance, which should make privacy lovers nervous.
But with PIA, we're not so worried.
Unlike many VPN providers, PIA's privacy policy is extremely clear. It explicitly states that PIA "does not collect or log any traffic or use of its Virtual Private Network ("VPN") or Proxy."
PIA has also had several opportunities to prove that they stick to this policy. Both in 2015 and in 2017, the government demanded log data from PIA regarding an ongoing investigation. On both separate occasions, PIA did not have anything to hand over.
While it's hard to test whether a VPN retains data logs of its users or not, these events are a great sign that PIA truly does not keep any logs.
Does PIA Have an Adblocker?
PIA's VPN service includes adblocking as part of their MACE feature, which can be easily turned on in the settings.
The MACE feature blocks adware, tracking, and malware whenever the VPN is enabled. It is available on Windows, Mac, Android, and Linux, but currently not iOS.
We tested PIA's adblocker on several websites that are normally filled with advertisements. The MACE feature was able to successfully block all of the ads that we encountered.
Does PIA Work in China?
Bypassing the Great Firewall of China is so challenging that many VPNs won't function within the country.
Unfortunately, PIA is not currently able to offer reliable connections to customers in China.
Some users in China have success with PIA using the less secure but harder to detect L2TP protocol. However, even this is not guaranteed.
While you might get lucky, we don't recommend choosing PIA specifically for use in China.
Price and value for money
One of the reasons that PIA is such a popular VPN service is because of its reasonable prices. Many premium VPNs with comparable features charge more for their service.
If you are mainly interested in a VPN for security and anonymity while browsing or torrenting, PIA offers good value for the price. When you consider the big discounts offered on longer subscription plans, the value is even better.
However, there are other VPNs in the same price range that have strengths that PIA lacks, such as stronger streaming support and more reliable speeds. It all comes down to what you are looking for.
Unfortunately, PIA does not offer a free tier or a free trial, so the best way to try out the service is to purchase an affordable monthly subscription.
If you decide PIA isn't for you, you can take advantage of PIA's 30-day money-back guarantee.
Is PIA Compatible with my Device?
PIA offers dedicated apps for all major platforms, including:
Windows
Mac
Android
iOS
Linux
Features are similar across apps. The exception is the iOS app, which lacks the MACE adblocking feature and uses the IPsec protocol rather than OpenVPN.
PIA also offers secure browser extensions for Chrome, Firefox, and Opera.
If you prefer manual installation, PIA offers in-depth installation guides on their website. PIA can also be installed on compatible routers, including DD-WRT, Tomato, and pfSense.
One big advantage to PIA's service is that you can connect up to 10 simultaneous devices with a single account. This is more than most of PIA's competitors.
PIA Customer Service
One area where PIA is catching up with some of its top competitors is in customer service. PIA does now offer the 24/7 live chat support that we have come to expect from top VPNs on the market.
PIA's biggest positive feature when it comes to support is its website. The support section of the site has some great resources, including easy-to-follow installation guides, troubleshooting walkthroughs, FAQs, and a searchable knowledgebase.
If you're willing to spend the time searching these resources, you can probably find the solution to most problems without needing to contact the support team in person.
User Experience
The user-friendly interface of PIA's dedicated apps is one of the highlights of the service.
When you open the PIA app for the first time, getting started is as simple as entering the login credentials that were emailed to you when you bought your subscription.
It's easy to get started once you've entered your credentials. You can connect to your most recent server location with a single click by pressing the big power button in the center of the screen.
The first time you connect, the app will be set to automatically connect you to the fastest server in your area.
To manually select your server location, click on your current location. A list of all available server locations will pop up. Just select the one you want, then click the power button.
The server selection interface is pretty user-friendly. It lists the current ping times for each server location in ms, with shorter ping times being better.
As you can see in the image above, the fastest servers have their ping times displayed in green, while slower servers are displayed in yellow. This makes it easy to choose the best server.
You also have the option to save servers to a list of your favorites.
Back on the app's main page, the settings can be accessed by clicking the three dots in the upper right corner and selecting Settings.
The settings interface is well-organized and gives you a lot of freedom to customize your features without any hassle.
Overall, PIA is one of the most user-friendly and intuitive apps that we've reviewed.
Although it has plenty to offer experienced users, VPN beginners should have no problem using the VPN.
Conclusion
Despite not having the best speeds or customer support, PIA still offers a solid VPN service at an affordable price.
If you're looking for a trustworthy provider that values user privacy and offers strong security, adblocking, and anonymous torrenting, PIA may be a good option for you. The service is also wrapped up in an extremely user-friendly package.
However, unreliable speeds and inconsistent geo-spoofing abilities mean that PIA may not be the best choice for HD streaming or high-bandwidth gaming.
Although it can unblock Netflix US, DE, JP and UK, you can't access Netflix libraries in other locations. For reliable, fast access to hundreds of international streaming services, we recommend ExpressVPN instead.