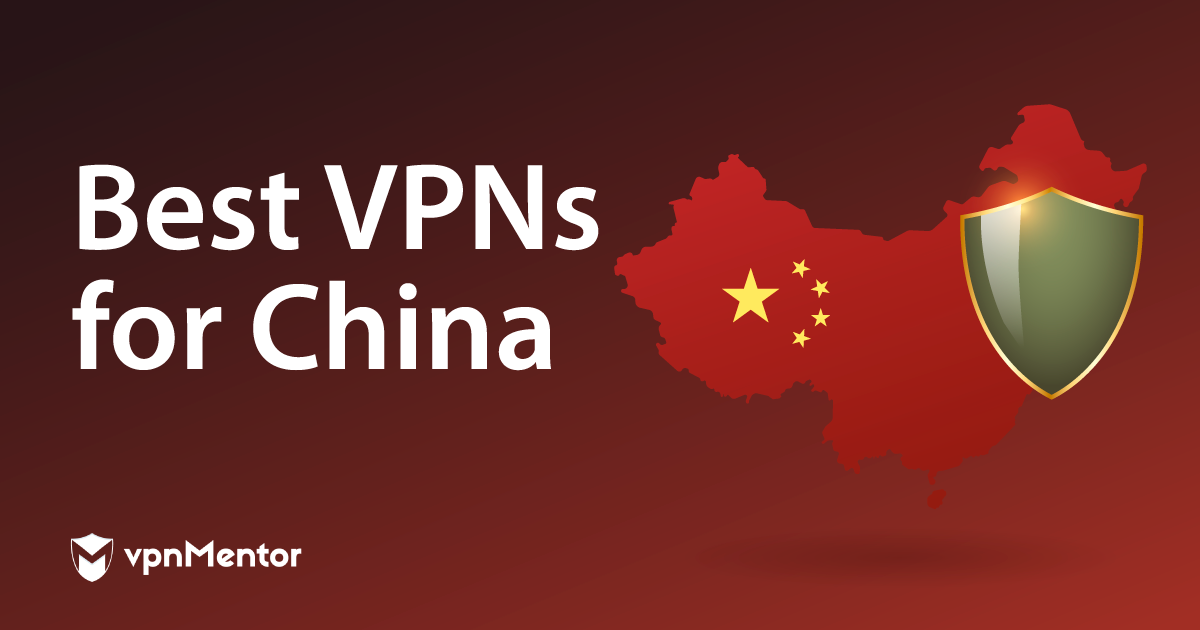 6 Best VPNs for China — Tested & Working in 2023
Updated on 31st January 2023
Covid-19 Update:
Since the start of the coronavirus pandemic, the Chinese government has been implementing even more online restrictions than usual. It's especially hard to access blocked websites right now, but it's not impossible.
ExpressVPN can bypass the Great Firewall as of February 2023
and you can try it risk-free.
If you visit or move to China, you might think any VPN can help you access your WhatsApp, Facebook, and Google accounts. But the country's strict censorship system (known as the Great Firewall) makes many VPNs useless — and even dangerous. A lot of VPNs not only have trouble connecting in China but can also put your privacy at risk.
The viability of a VPN also depends on where you're located. That's why our team of testers located throughout China tested each VPN and reported back to us which ones really work. China blocks access to VPN sites to prevent you from downloading one from within the country. But, many VPNs are wise to this and offer a workaround.
According to our testers, the best VPN for China is ExpressVPN. It has world-class security features and servers optimized for use in China, so you can access your favorite sites safely and reliably. Plus, you can try ExpressVPN risk-free as it's backed by a 30-day money-back guarantee. If you're not happy with it, you can claim a full refund.
Important! The use of non-government-approved VPNs is not permitted in China, but there have been no cases of tourists being penalized by the Chinese government for using one there. A VPN doesn't give you a license to conduct illegal activities online in any case, so please exercise caution when using a VPN in China.
Short on Time? Here Are the Best VPNs for China in February 2023
Best VPNs for China — Full Analysis (Updated in February 2023)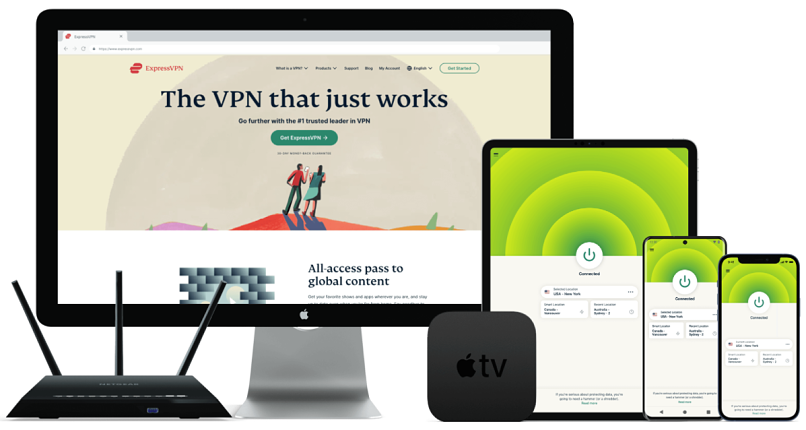 Editor's Choice
Editor's Choice

Tested February 2023
Try Risk-Free for 30 Days
Available on:
Chrome
Router
Smart TV
More
www.ExpressVPN.com
3,000 servers with obfuscation to hide your VPN use (including specific servers maintained to work in China)
Ultra-fast speeds to browse, download, stream, or game without slowdowns
Offers workarounds to download the VPN in China
Can unblock: Netflix, Disney+, YouTube, Google, Facebook, Instagram, WhatsApp, and more
ExpressVPN provides automatic obfuscation on all its servers, so you can access your favorite sites from China easily. Most obfuscation features have to be enabled in the VPN app's settings — but ExpressVPN's works more intuitively. When it detects a tough firewall, it automatically scrambles your metadata and makes your VPN traffic look like regular web traffic. With this, ExpressVPN reliably bypasses the Great Firewall of China.
Even more, its website provides an updated list of servers that are regularly maintained to ensure they work in China. They're located in the US, UK, Japan, France, and Singapore. Our researchers tested them and confirmed that they could access Facebook, WhatsApp, Netflix, and YouTube easily using these 5 servers. ExpressVPN recommends selecting the "Automatic" protocol for obfuscation to work more effectively.
Obfuscation tends to slow your speeds significantly, partly because only slower security protocols (like OpenVPN) support obfuscation tech. ExpressVPN has overcome the common issue with speed loss by developing its own superfast Lightway protocol — it's comparable to WireGuard, but supports obfuscation, so you won't have to worry about drastic speed loss common with many VPNs for China.
My colleagues in China recorded an average of 76.5 Mbps (only a 10% drop from the baseline connection) on its long-distance US servers. That's over 3x what's needed for Ultra HD streaming. On nearby Hong Kong servers, the speed drop was only 3%. You can perform bandwidth-intensive activities in China without slowdowns.
Your online data and privacy are well-protected when you surf the web in China. It uses AES 256-bit military-grade encryption, which is virtually impossible to decipher. Plus, its automatic kill switch (Network Lock) and leak protection ensure your actual IP remains hidden.
None of your data is recorded because ExpressVPN adheres to an audited no-logs policy. This is further upheld by its TrustedServer technology (RAM-based servers), which deletes all data upon each server reboot. In addition, the VPN is based in the British Virgin Islands, which is a privacy-friendly country where there are no data retention laws.
Things get tricky if you're already in China, since ExpressVPN's website is blocked there. However, it's possible to download ExpressVPN if you're already in China via its mirror URLs. You can contact support via email (support@expressvpn.zendesk.com) to get an up-to-date link that should work in China. When I tried this, it only took 45 minutes to receive a response, and I downloaded the.apk file for my Android within minutes.
All plans come with a 30-day money-back guarantee. To test the legitimacy of this policy, I contacted support through the 24/7 live chat to cancel my subscription. After I answered a user-satisfaction question, the representative approved my request, and I got my money back after 2 days.
Threat Protection boosts security by blocking ads, trackers, and malware
Dedicated obfuscation servers for full web access within China
Mirror URL provided via email (support@nordvpn.com) to download the VPN in China
Can unblock: Netflix, Disney+, YouTube, Google, Facebook, Instagram, WhatsApp, and more
NordVPN's Threat Protection is a unique security feature that blocks ads, trackers, and malicious sites. On top of that, it scans files before you can download them and sites before they can load, blocking anything suspicious. With this, third-party snoopers don't stand a chance of intercepting your traffic in China, and your device is protected against malware. The ad-blocking is an added bonus for smoother browsing — for me, it took the pain out of visiting forbes.com.
It offers specialized obfuscated servers to bypass the Great Firewall. While ExpressVPN offers obfuscation on every server, NordVPN provides this in 16 global locations. Luckily, they are scattered pretty evenly across the continents to give you a wide variety of content. It also has servers in locations close to mainland China (like Japan and Hong Kong), so you can always find a speedy nearby connection.
My colleagues in China tested 5 locations (the US, Canada, the UK, Poland, Germany, and Japan). They reported that NordVPN's obfuscated connections have no problem accessing sites like Google, Reddit, YouTube, and Netflix.
The security is also top-notch. With its Double VPN feature, you get increased protection against external threats in China. This allows you to route your internet traffic through 2 servers, making it even harder for hackers and snoops to track your online activity.
Plus, it uses AES 256-bit encryption to make your data impenetrable, while its kill switch and leak protection prevent accidental leaks. When I ran DNS/IP leak tests on its Hong Kong, US, and UK servers, I found none whatsoever. It's also backed by a no-logs policy, so your data is protected in and outside of China.
One thing I didn't like about NordVPN is some of the servers take a long time to connect. For example, it took me close to 20 seconds to connect to its Dallas server. I was a bit annoyed by this, especially since it never takes more than a second to connect with ExpressVPN, for ex.
You can get NordVPN for as low as $3.49/month with its Standard plan. It offers Plus and Complete plans that come with additional apps (like a password manager). If all you need is a VPN, then just stick to the Standard plan.
Each plan is backed by a 30-day money-back guarantee. To test this policy, I canceled my subscription towards the end of the 30-day period by contacting support through 24/7 live chat. I just needed to give a reason to get my money back, which I received after 5 business days.
No limit to the number of devices you can connect at once
NoBorders to hide VPN use and access blocked sites from China without hassle
RAM-only servers that erase your personal data with each reboot
Can unblock: Netflix, Disney+, YouTube, Google, Facebook, Instagram, WhatsApp, and more
Surfshark's unlimited connections let you browse safely with all your devices in China. My colleagues in China tested 9 different devices which they connected to its New York server and reported stable connections all around. They could access blocked sites (including Google, Instagram, and Twitter) and stream videos on YouTube in HD without slowdowns.
With its NoBorders (obfuscation) feature, you can bypass tough firewalls consistently and without issues. It automatically activates when it detects restrictions, but you can also enable it manually. For example, I couldn't find a server to access Hulu on my local library's WiFi. However, after enabling NoBorders, the app presented a list of the best-performing servers to get past the firewall. I used its Miami server and had no issue watching Hulu.
Surfshark's strong security and privacy features keep your data safe in China. This includes leak protection, a kill switch, and a built-in malware blocker. To protect your privacy, it uses RAM-only servers which wipe your data clean after every reboot. Plus, it also offers mirror URLs, so you can safely download the VPN even in China. Just send an email request (support@surfshark.com), and a rep will give you an up-to-date link.
On the downside, it's based in the Netherlands, which is not a privacy-friendly country. However, Surfshark follows a strict no-logs policy. This means that even if the company is ordered to hand over user data, it won't have anything to share.
Prices are affordable — you can sign up for just $2.30/month. For a small additional fee, you can also get Surfshark One. This is a bundle of cybersecurity tools that includes antivirus software, Search (a private search engine), and Alert (a tool that alerts you if your data has been included in a data breach).
You can try Surfshark risk-free as it's backed by a 30-day money-back guarantee. If it's not for you, it's easy to get a full refund. I tested this policy by contacting support through 24/7 live chat. The agent just asked why I wanted to cancel and approved my request without pressuring me to stay. I had my money back in 6 days.
113 servers in 57 countries, plus some specialized to unblock content in China
Owns all of its DNS servers for added privacy
5 simultaneous device connections
Can unblock: Netflix, Disney+, YouTube, Google, Facebook, Instagram, WhatsApp, and more
AstrillVPN offers servers specifically optimized to overcome the GFW. They're in 5 locations: the US, Japan, Hong Kong, Taiwan and Singapore. Our colleagues in China tested each location and confirmed that they work. They unblocked Google, Twitter, Facebook, and YouTube — each in less than 20 seconds.
It isn't as fast as ExpressVPN, but I didn't encounter major slowdowns. Its US servers were able to stream YouTube videos in HD. For a speed boost, it has "Supercharged" servers, designed for fast speeds and low latency. I recommend its Hong Kong servers for the fastest connections from China. Since your data doesn't travel as far, it keeps speed loss to a minimum.
To bypass firewalls that block websites, AstrillVPN uses StealthVPN and OpenWeb protocols. My teammates in China recommend both protocols to obfuscate your traffic. There's also a feature called Site Filter — this lets you use your Chinese IP for websites that are available in China, and tunnel every other blocked site through the VPN.
It has strong security and privacy features, too. This includes leak protection and an automatic kill switch. It uses AES 256-bit encryption for all protocols, but with OpenVPN, you can also choose 192-, or 128-bit encryption to find a preferred balance of speed and security.
For added privacy, all Astrill connections go through the company's own private DNS servers, which prevents third parties from logging your data or seeing what websites you visit. That being said, I disappointed that AstrillVPN does log some information (like connection time, IP address, and device type). All your information is deleted permanently once you disconnect from the server, though.
AstrillVPN is pretty expensive compared to other VPNs — its lowest price is $12.50/month, making it almost double the price of ExpressVPN. The site is blocked in China, as well — but email support (support@astrill.com) can provide a mirror URL to download the VPN from within the country.
Even more disappointing is Astrill VPN doesn't have a money-back guarantee and all payments are final. That said, you can use it for free for 1 month if you refer a friend and they sign up for a paid subscription. The free 1-month period has no limitations either.
Top security settings that can be customized for speeds or security
StealthVPN to bypass the Great Firewall
10 simultaneous device connections
Can unblock: Netflix, Disney+, YouTube, Google, Facebook, Instagram, WhatsApp, and more
PrivateVPN's customizable security settings let you optimize your connection in China as per your needs. For example, it allows you to choose the encryption type. During my tests, I changed my encryption level from 256-bit to 128-bit and experienced a 12% increase in download speeds. You can also choose between a variety of VPN protocols. Our researchers in China found L2TP more reliable than OpenVPN at bypassing VPN blocks.
It disguises your VPN traffic as normal web traffic through its StealthVPN mode. Unlike ExpressVPN, its obfuscation isn't automatic; you have to manually enable this mode from the app settings. My teammates in China tested this feature and reported that they could access restricted social media and streaming websites without hassle.
In addition, PrivateVPN's apps are super secure. After enabling StealthVPN mode, I tested 4 of its servers for DNS/IP leaks and found none whatsoever. Plus, its strict no-logs policy
ensures that your online activity won't be traced back to your account.
PrivateVPN maintains a "High-Quality Network" (HQN) to provide top speeds and reliable unblocking abilities across the globe. Plus, it offers several servers in locations close to Mainland China that are fast and reliable (these include Hong Kong, Taiwan, and South Korea).
Despite all of the features that make this a solid China VPN, it doesn't have any mirror URLs to help you download it in China. In the same breath, if you have yet to enter the country, you can download it before doing so and it will work without any issues.
I found its long-term plan to be the best value starting at $2/month. It has all the same features as the short-term plans but saves you more money in the long run.
It's even possible to try PrivateVPN out with its 30-day money-back guarantee. I tested this policy to make sure it was legitimate, and it is. After I requested a refund through 24/7 live chat, they agreed without hesitation, and I was fully refunded after 4 business days.
Cute grizzly bear animations and a simple interface, great if you're new to VPNs
GhostBear (obfuscation) helps you bypass VPN blocks and tough firewalls
Unlimited simultaneous device connections
Can unblock: Netflix, Disney+, YouTube, Google, Facebook, Instagram, WhatsApp, and more
TunnelBear's cute and simple interface makes it the most user-friendly VPN I tested for China. Its world map feature allows you to quickly locate a server and connect. For instance, I scanned over to Europe and clicked a tunnel icon I found in the UK. Then, an image of a bear dug into my real location on the map, and popped out from the UK tunnel I selected. It let out a big "RAWWRR!" to let me know I was connected. It only took a few seconds to connect — and I must say I was pretty entertained by the whole thing.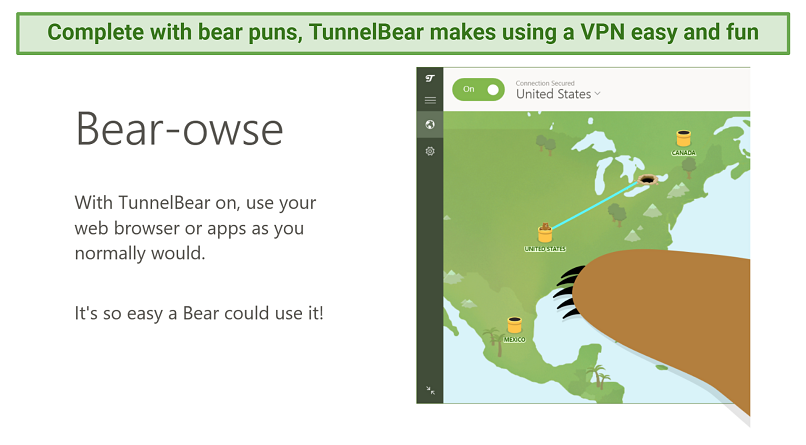 Even the installation process was funny, as each step was a compilation of bear punsIt has lots of fast nearby servers, too. The Fastest Tunnel feature connected me to Japan and Taiwan which never dropped my speeds by more than 9%. By automatically connecting you to the nearest location, it reduces the distance your data has to travel, which increases speeds. This saves you time searching for the right server in our outside China.
Its GhostBear (obfuscation) feature lets you bypass internet restrictions in China with ease. You can turn it on by going to your app's settings, although it's not available on iOS. Our team of experts in China tested this feature in different parts of the country. They reported that the VPN never got detected and they unblocked websites without hassle.
TunnelBear's security and privacy features let you use the internet safely in China. AES 256-bit encryption makes your connection impenetrable, while a kill switch (called VigilantBear) cuts your device from the internet connection in case your VPN disconnects. Also, its no-logs policy has been independently audited, meaning that your online activity won't be recorded while you're in China, or ever.
You can get TunnelBear for $3.33/month with its long-term plan. It also has a short-term subscription, but it costs much more in the end, for the same set of features.
Unfortunately, it doesn't offer a money-back guarantee; it states on its website that refund requests may be approved on a case-by-case basis. In any case, there is a free version that lets you test it with one device. This only gives you 500 MB of data, though, which is enough to try the features out for a couple of hours max.
Quick Comparison Table: China VPN Features
The following table compares the main features of all recommended VPNs. It shows which have an audited no-logs policy to ensure your data is never recorded by the VPN.
I also included other relevant features such as average speeds, number of servers, and device connection allowances. These are more a matter of personal preference; their significance depends on how you'll be using the VPN.
Tips on How to Choose the Best VPN for China
As the Great Firewall uses increasingly advanced technology, it's getting harder and harder to find VPNs that actually work in China. To make our recommendations as helpful as possible, our team of testers reported the most important features to look for when selecting a VPN for China.
This helps us create a full picture of what each VPN service actually has to offer. Here are some of the criteria to consider:
Reliably bypasses the Great Firewall — Choose a VPN that can overcome heavy internet restrictions and bypass the Great Firewall. Look for features such as multihop or obfuscation, which scrambles your metadata and makes the VPN harder to detect. This way, you can access geo-restricted content while staying under the radar.
Robust security features — Your VPN should offer military-grade encryption, a kill switch, and DNS/IP leak protection. These features prevent your data from being exposed to third parties while traveling in China and keep you safe on public WiFi networks.
No-logs policy — This protects your privacy in China because it guarantees that your online activity won't be recorded by the VPN. I read the privacy policy of every VPN and made sure they adhere to a strict no-logs policy.
Fast speeds — All traffic leaving China must go through a limited number of gateways, which can lead to congestion and slowdowns. So, it's important to choose a VPN with fast speeds (the speed drop shouldn't be more than 35%). It's even better if your VPN offers servers in or close to China for faster connections.
User-friendly apps — Since VPNs need to use special technology to even work in China, sometimes they can be tricky to configure. All of the VPNs in this list are simple and easy to use, even if you're new to VPNs.
Helpful customer support — Help should be easily accessible when you need it. The VPNs on my list have several support channels available, including 24/7 live chat, email support, and a detailed FAQ page.
Pro Tip! Before traveling to China, I suggest asking your VPN provider for a list of servers that work there. It's also beneficial to get an email address you can use to contact them directly with any issues. This is helpful since VPN websites are blocked in China, and you can't refer to them for support or use live chat.
Quick Guide:
How to Use a VPN in China in 3 Easy Steps
Download a VPN. I recommend ExpressVPN because it has automatic obfuscation on all its servers and top security to safely access a free internet in China. It's best to download it before arriving in the country because it can be a bit tricky once you're already there.
Connect to a server. Make sure you enable any obfuscation settings, or choose an obfuscated server. Otherwise your connection might fail.
Enjoy unrestricted internet surfing in China. Access all the websites and apps you want while protecting your privacy.
FAQs on the Best China VPNs
Is it legal to use a VPN in China, and is it safe?
Only government-approved VPNs are legal in China. These are heavily monitored by the Chinese government, which means they aren't actually good for privacy. However, a few independent VPNs with advanced security features are able to bypass the Great Firewall. They come with special obfuscation features to hide the fact that a VPN is in use and adhere to privacy-protecting no-logs policies.
The common practice in China is to block VPN technology (and VPN websites), so there's no access to them. That's easier than tracking down a tourist who's using a non-government-approved VPN app. Just remember to download and install your VPN before setting foot in the country because most VPN websites are blocked there.
In addition, it's in your best interest to inform yourself of the most recent laws surrounding VPN use in China to be on the safe side.
What if my VPN stops working in China?
First of all, make sure you're using a VPN that actually works in China. In some cases, even these VPNs might have issues. It's possible the server was detected and blocked. However, the best VPNs for China monitor and maintain their servers regularly to ensure they work reliably.
There are also a few other things you can try to get your VPN running again:
Change your VPN protocol. Some VPN protocols are better than others at bypassing firewalls. You can keep experimenting with all available protocols until you find something that works.
Connect to a different server. There could be some issues with the server you're connected to. In that case, switching to a different server can help.
Update the VPN software. It's possible that your provider has made some changes to the VPN app that requires an update for it to work in China.
Email customer support. If all else fails, you should contact customer support and ask for a list of servers that work from China.
Can I download a VPN in China?
It's possible but it can be tricky. A few VPNs are prepared for this. Usually, it's not possible to download a non-government-approved VPN while you're in China since most of these VPNs' websites are blocked there. That said, you can contact support and check if the provider offers a mirror URL that works in China.
Aside from VPNs' websites being blocked, the Google Play Store and Amazon Appstore aren't available there, either. You can access the Apple App Store, but it is heavily monitored and you won't find non-government-run VPN apps on it. Your best option is to download a VPN onto your device before arriving in China.
Which VPN servers should I use in China?
It's best to use nearby servers for optimal speeds. Make sure to choose a VPN that offers servers close to Mainland China. Most VPNs (including the ones on this list) don't offer servers in Mainland China because the government would either shut them down or force the providers to hand over user data, which renders them unsecure.
That said, you can still experience fast speeds by connecting to nearby locations (like Hong Kong, South Korea, and Taiwan). All the VPNs on this list have servers close to Mainland China, which I recommend using to keep your speed loss to a minimum.
What sites and apps can a China VPN help me unblock?
A reliable VPN can help you unblock any site or app you want. This includes Google, Facebook, YouTube, Instagram, New York Times, Netflix, Hulu, Skype, WhatsApp, and more. Not every VPN offers strong enough security to unblock these sites from China, though. Although, a VPN with obfuscation that's proven to work in China will provide the most reliable access to apps, socials, and other sites.
Get the Best VPN for China Today
Finding a trustworthy VPN that works in China can be difficult because China has increased its crackdowns on VPNs. The Great Firewall only permits government-approved VPNs in China, which are heavily monitored.
Luckily, there are a few independent VPNs that have been proven to work there. All of the VPNs on this list are designed to work on restrictive networks. Additionally, they will protect your sensitive data and privacy.
ExpressVPN is hands-down the most dependable VPN for China that we tested. All of its connections are automatically obfuscated, and it has several nearby servers that are maintained to ensure they work reliably in China. It's also backed by a 30-day money-back guarantee, so you can test ExpressVPN risk-free. If you're not satisfied, then you can claim a full refund within the guarantee period.
To summarize, the best VPNs for China are…
Privacy Alert!
Your data is exposed to the websites you visit!
The information above can be used to track you, target you for ads, and monitor what you do online.
VPNs can help you hide this information from websites so that you are protected at all times. We recommend ExpressVPN — the #1 VPN out of over 350 providers we've tested. It has military-grade encryption and privacy features that will ensure your digital security, plus — it's currently offering 49% off.