TunnelBear is a high-speed VPN that operates servers in 20+ locations. It offers some of the best security features around, including high-end encryption and an automatic kill switch.
Streaming – Does TunnelBear Work with Netflix?
Netflix US: No.
Hulu: No.
HBO GO: Yes.
BBC iPlayer: No.
Unfortunately, TunnelBear wasn't able to unblock Netflix US, Hulu, or BBC iPlayer during my tests. For consistent geoblocking across all the popular streaming platforms, we suggest using a more prolific and established VPN like one of these vendors. (A quick aside, that I was able to stream HBO GO in high definition.)
If you're looking for a VPN for streaming, TunnelBear isn't the best service for you. Instead, I'd recommend NordVPN or CyberGhost.
TunnelBear Speeds
High-speed connections are crucial for any VPN user. It's normal to experience some speed loss when you connect to a VPN because your data has to travel farther to reach the VPN server, but the difference should be barely noticeable with a premium VPN.
When determining the speed of an internet connection, we measure three things:
The download speed is the rate at which you can pull data from a server to your device. The higher this number is, the faster your internet connection will be. This is measured in megabits per second (Mbps).
The upload speed is how quickly you can send data from your device to others. The higher this number is, the faster you will be able to send files and upload things. This is measured in megabits per second (Mbps).
The ping is how long it takes your connection to respond after you've sent a request. The lower this number is, the faster your connection will be. This is measured in milliseconds (ms).
While testing TunnelBear, I measured my speed while connected to a local server as well as a server in the US. Your connection will usually be quicker when you're connected to a local server because your data doesn't have to travel as far.
My speed before connecting to TunnelBear was 12.72 Mbps download, 0.91 Mbps upload, with a ping of 31 ms.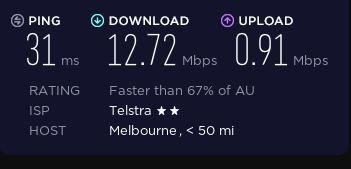 When I connected to TunnelBear's Australian server, my speed remained almost the same. My download was 12.25 Mbps, my upload dropped a tiny bit to 0.75 Mbps, and my ping increased to 54 ms. I didn't notice a difference in the overall speed of my connection on this server.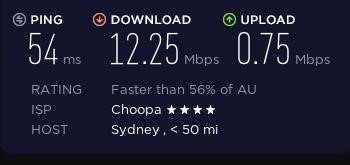 When I connected to TunnelBear's US server, my download speed dropped to 4.90 Mbps. My upload speed was 0.83 Mbps, and my ping increased to 277 ms.
Although my data had to travel halfway across the world to the US server, my connection was still very fast. I was able to stream videos in high definition, send emails, and browse without much of a delay.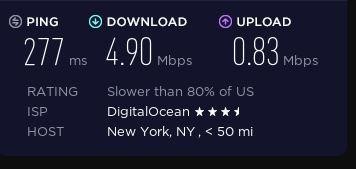 Is TunnelBear Good for Torrenting?
Yes, TunnelBear supports P2P connections.
Security – Is TunnelBear Safe?
TunnelBear uses high-end security protocols to protect your information. It also publishes regular, independent security audits to give its users an insight into its policies and security tools.
Does TunnelBear Keep Logs?
TunnelBear does not keep logs. But it is based in Canada, which is a member of the 5/9/14-Eyes Alliance.
Is this a concern for regular VPN users? Not really. Since it doesn't keep any logs, TunnelBear wouldn't have any information to give surveillance authorities even if it was summoned by the government to do so.
Does TunnelBear Have an Ad Blocker?
Yes, but it isn't built into the app. TunnelBear's ad and tracker blocker is a separate program available for free as a browser extension.
Does TunnelBear Work in China?
Yes. TunnelBear's GhostBear feature disguises your internet traffic so that it can bypass China's firewall and VPN blocks. It's built into the app, and included with all of TunnelBear's subscriptions.
Price and Value for Money
There's no doubt that TunnelBear is feature-rich. But, there are VPNs available in the same price range that are even better value for money because they can do more. For example, NordVPN can unblock streaming services and offers 24/7 customer support.
Does TunnelBear Have a Free Version?
TunnelBear offers a free account that grants users 500MB of free data per month.
TunnelBear's Refund Policy
According to TunnelBear's Terms of Service, all subscription fees are non-refundable. However, certain refund requests may be considered on a case-by-case basis.
Is TunnelBear Compatible With My Device?
TunnelBear's premium subscription allows for up to five simultaneous connections.
There are apps available for Windows, MacOS, iOS, Android, Chrome, Firefox, and Opera.
Encryption
TunnelBear uses 256-bit AES encryption.
GhostBear Mode
Its GhostBear mode disguises your VPN traffic as regular traffic so it can bypass deep packet inspection. This is useful for users in countries where internet surveillance and censorship is an issue.
VigilantBear
Its VigilantBear mode acts as an automatic kill switch. It will stop unprotected data from leaving your network in the event your VPN connection fails.
Customer Service
When I reached out to TunnelBear via email, I received a response from 'Paddlington Bear' within two hours.

I still prefer the option of receiving an instant reply via live chat, but I'm impressed with TunnelBear's quick turnaround. Cute bear puns aside, their reply was informative, polite, and helpful.

User Experience
It took just under five minutes to download and install TunnelBear's Windows app.
The website states that users need a minimum of Windows 7 to run the app. I was testing it on my Windows 8 PC, but when I opened the .exe file to install it, a dialog box popped up to inform me I'd have to upgrade to Windows 8.1.
So, I had to leave my computer to download the update and install it before I could use the VPN. This isn't enough to put me off using TunnelBear, but it's definitely something to be aware of if you're running an older operating system.
After that, things went smoothly. The app is easy to use and understand. It's ready to go as soon as you log in, and its simple visual server map makes it easy to get started.
You can set the app to connect or disconnect automatically based on a list of networks you trust.
Changing servers is easy. All you need to do is click on the location you want to tunnel to on the map, and the app will do the rest.
Overall, the app is beautiful and very simple to use. I recommend it for complete beginners and VPN veterans alike.
Conclusion
TunnelBear is secure and easy to use. It offers great connection speeds, and some very useful privacy tools, like its GhostBear mode.
Unfortunately, it was not able to bypass Netflix US' VPN block. So, if streaming is your main concern, I'd recommend trying a leading vendor instead. Check out our top five recommended VPNs for unblocking Netflix. With these vendors, you have speed, reliability, and safe streaming.
However, if you're security-minded, or looking for a VPN that works in China, TunnelBear may be the best choice for you.
| Features | Details |
| --- | --- |
| Number of countries with servers | 23 |
| Number of servers | 4000 |
| Does VPN keep logs? | Partially |
| Does VPN include a kill switch? | Yes |
| Number of devices per license | 5 |