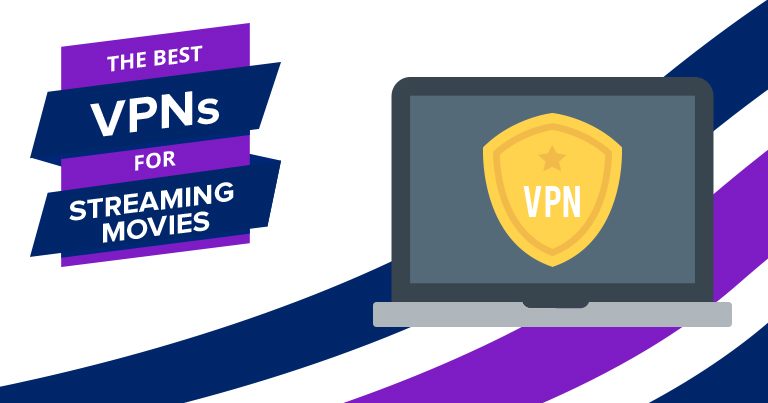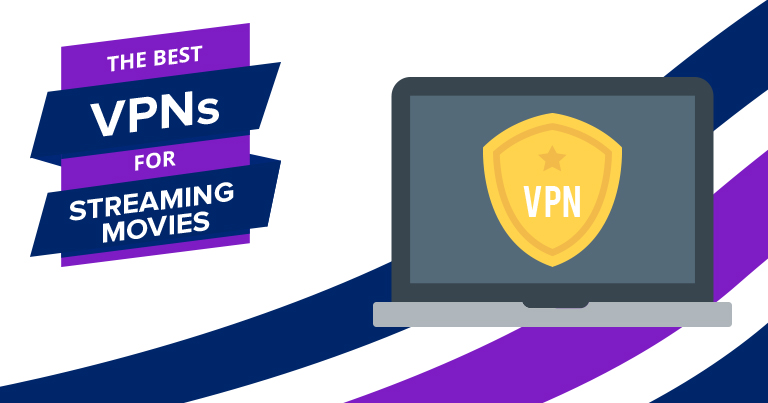 8 Best (FASTEST) VPNs for Streaming Movies in August 2021
Updated on 10th July 2021
It takes a powerful VPN to unblock movie streaming sites, and many services aren't up to the task. If you're tired of only having access to a fraction of Netflix's catalog or being unable to stream Hulu outside the US, let me help.
I've tested more than 300 services in the search for the best VPNs for streaming movies. ExpressVPN — in my tests—in my tests, it unblocked 140+ international streaming services and gave us the fastest connections so we could watch our movies without any buffering.
Check out my analysis of the 8 best streaming VPNs to decide which is best for you. I also included a few you should avoid.
Why the Right VPN is Important for Streaming Movies
Movie streaming sites like Netflix use geoblocks to control what you watch. They don't want you to stream movies they aren't licensed to air in your country, so they use your IP address to determine your location and block those that are off-limits.
To get around this unfair practice, you can use a VPN to mask your real IP and unlock access to content from other countries.
Sounds too easy, right? Streaming sites thought so, too, and now many of them employ anti-VPN technology. When you access one of these platforms, they log your IP address and compare it to a list of known VPN IPs. If there's a match, you're blocked.
This means you can't just use any VPN for streaming movies. You need a premium VPN that regularly refreshes its IP addresses and uses other technologies to avoid detection.
The Best VPNs for Streaming Movies – Full Analysis (Updated August 2021)
After hundreds of hours of testing VPN services, I found the 8 best VPNs that'll reliably stream your favorite movies from almost anywhere. Rest assured, I retest these VPNs regularly to make sure that they're still working, so if they're on the list, they're ready to take you through a movie marathon.
ExpressVPN is a solid all-round VPN, and it's especially great for streaming movies because it's fast and has a huge server network. With servers in over 94 countries, there are few streaming services it can't unblock.
Its built-in speed test takes the guesswork out of picking a quick server so you can get right to streaming. It was particularly useful when I wanted to stream in 4K and needed maximum speed. Sadly, the speed test is only available for Windows, macOS, and Android.
I put ExpressVPN's speed to the test from my US connection. It held up to the challenge and didn't noticeably impact my speed. Even when my data traveled across the globe to Australia, my connection was steady and fast enough for HD streaming.
My researchers and I tested YouTube, BBC iPlayer, Netflix, Hulu, Amazon Prime Video, Kodi, Disney +, HBO, Showtime, and Vudu. We were able to access every one of them. Our only problem came when we had to try three different servers to unblock Stan in Australia.
My favorite ExpressVPN feature is MediaStreamer. It lets you unblock streaming sites on devices that don't normally work with VPN connections, like your smart TV and game console. I set it up on my Xbox One, and it worked seamlessly.
Its split tunneling feature let me stream with a masked IP address so I could access geoblocked content, all while accessing my online banking, PayPal, and email in a different browser.
ExpressVPN allows for 5 simultaneous connections, so I shared it with my family. We were able to stream different services on several devices at once without any buffering or connection issues.
I found ExpressVPN easy to install. Still, I tried its 24/7 live chat to ask a few questions—my queries were addressed within six minutes, and the agents were friendly and helpful. ExpressVPN offers a 30-day money-back guarantee so you can test it on your devices, risk-free.
Want to know more? Explore our ExpressVPN review to see the full results of our research and testing.
Sign up before the 49% discount ends!
CyberGhostVPN wins high marks for its super easy setup. I recommend it if you're new to VPNs or just want a simple way to stream quickly.
CyberGhost has 7,198 servers in 91 countries, including high-speed streaming-optimized servers.
The VPN labels its optimized servers with the streaming sites they're best at unblocking. All I had to do was search for a streaming service, and CyberGhost did the rest. We were able to stream Netflix in the US, Canada, Germany, France, and Japan, as well as unlock Hulu and BBC iPlayer—all platforms with strong anti-VPN technologies.
To get a better understanding of CyberGhost's performance, I tested its connection speeds on several servers. Most of its servers were fast, but I noticed a significant drop when using its Australian and Brazilian connections. I had anticipated this, though, because my data had to travel farther.
Unfortunately, none of our Chinese researchers were able to use CyberGhost to bypass China's firewall.
I used CyberGhost to stream on my laptop, desktop, and smart TV at the same time with no change in performance and no buffering. You can connect up to 7 devices simultaneously with a single account.
I installed CyberGhost in less than a minute; seriously, it's that easy. If you're intrigued, take advantage of its 45-day money-back guarantee on plans of 6 months or longer and 24/7 live chat support.
Want to know more? Explore our CyberGhost review to see the full results of our research and testing.
Enjoy huge savings on an annual subscription
PrivateVPN's connections are fast and consistent. It also offers streaming-optimized servers for the most popular platforms, including Netflix.
In addition to 100 servers in 63 countries, PrivateVPN's streaming-optimized network includes Netflix servers in 32 countries. I put the speed of several servers to the test using the OpenVPN (TUN+UDP+1195) protocol recommended by PrivateVPN. While some speeds were slower than the other VPNs tested, they were enough for streaming.
I easily unblocked Netflix, BBC iPlayer, Amazon Prime, Disney+, and Hulu with no buffering. And I streamed in HD whether I was connecting through a server in Australia, Brazil, Vietnam, or the US. I even reliably streamed on PrivateVPN's standard servers, which I attribute to its use of a High Quality Network (HQN) across its entire server pool.
My colleagues around the globe also streamed the Netflix US library, other Netflix libraries, Hulu, Amazon Prime, and BBC iPlayer easily and with no buffering.
We even put PrivateVPN's ability to stream on 6 devices at the same time to the test. We were pleased to stream consistently and buffer-free on PCs, Macs, iPhones, and Android phones thanks to its unlimited bandwidth.
If you want to try PrivateVPN, you can take advantage of its 30-day money-back guarantee. You also get access to 24/7 live chat and email support.
Want to know more? Explore our PrivateVPN review to see the full results of our research and testing.
Save big on a PrivateVPN plan
VyprVPN has a smaller server network when compared to others, but its proprietary Chameleon technology negates the need for more servers by bypassing geoblocks and censorship.
Chameleon scrambles the metadata on OpenVPN packets on all but iOS devices. This helps you bypass deep packet inspection (DPI) in countries like China. It also makes it easy to get around VPN blocks.
But does the technology—available only with a premium VyprVPN account—work? We streamed with and without it to find out.
My colleagues tested VyprVPN's streaming abilities and reliably enjoyed HD content on Netflix, BBC iPlayer, Hulu, and Amazon Prime Video in the US, Germany, Canada, and the UK.
A researcher in Canada who often has throttling issues had consistent, throttle-fee access with VyprVPN's Chameleon protocol turned on. My colleague in China accessed Netflix US from behind the Great Firewall. Based on these results, Chameleon does work.
One caveat is that we didn't get the speed we needed to stream in Ultra HD on many of VyprVPN's servers. Speeds were adequate for HD, but not Ultra HD or 4K.
I tested streaming on 30 devices at once without a problem. And VyprVPN has a 30-day money-back guarantee and 24/7 live chat support so you can put it to the test yourself without worry.
Want to know more? Explore our VyprVPN review to see the full results of our research and testing.
Save up to 75% with our discount
Zenmate is a hidden gem among more well-known VPNs with its dedicated servers for streaming and 3,900 servers in 78 countries.
I put its Netflix-optimized servers to the test myself. I had fast, lag-free streaming connections in SD on those servers. I compared Netflix on the optimized servers to its standard servers and didn't see a significant difference in performance. I was impressed that I streamed buffer-free, even on its regular servers.
I was able to access Netflix buffer-free on servers in the UK, FR, DE, and US, which are the ones Zenmate says will access Netflix. I was also able to access it on other Zenmate servers—an unexpected surprise.
My colleagues and I couldn't access Netflix from China, which is the only reason Zenmate isn't higher on my list.
Zenmate does support an unlimited number of devices on a single subscription. My testers and I streamed on 12 devices simultaneously, and it worked perfectly.
You can use Zenmate's free 7-day trial to give it a try. If you choose a paid subscription, you can access a 30-day money-back guarantee to test it risk-free.
Want to know more? Explore our Zenmate review to see the full results of our research and testing.
Pay as little as $2.22/month for your Zenmate subscription
SaferVPN's streaming-optimized servers allowed us to stream Netflix US, Hulu, BBC iPlayer, HBO, and Prime Video in HD. We had buffer-free connections on every server we tried. Unfortunately, it wasn't fast enough to let us stream in Ultra HD or 4K.
SaferVPN lets you search for servers by their best feature. I typed "streaming" into the search field and found a server for UK streaming—although that was the only one. I streamed an SD movie on Netflix on both the standard UK server and the UK streaming server. I saw a faster download speed on the streaming server, though. It ran at 10.29 Mbps compared to 6.5 Mbps.
With 950 servers in 35 countries, SafterVPN doesn't have as great a reach as our other picks. We weren't surprised to see that it doesn't work in China. But testers from other countries were all able to unblock Netflix US.
Use the VPN on up to 12 devices simultaneously. If you need help getting started or finding the right server, rest assured that the 24/7 live chat and email support is stellar. In my testing, they were one of the fastest to respond on live chat.
SaferVPN has a free 24-hour trial and a 30-day money-back guarantee so you can easily try it out yourself.
Want to know more? Explore our SaferVPN review to see the full results of our research and testing.
Save up to 100% on a SaferVPN plan!
UltraVPN isn't as robust as some other VPNs and it won't unblock as many services, but it's still a solid choice. And it's a great option if you want to unblock Netflix and Hulu.
It has streaming optimized servers labeled as "ULTRAFLIX." We tested these servers and streamed Netflix, HBO GO, and Hulu buffer-free in SD and HD. I accessed several Netflix catalogs, including Netflix US and HK.
I wasn't able to unblock BBC iPlayer with UltraVPN. I asked a support agent on chat about this and was told that the company's working on a solution.
One huge drawback to UltraVPN is that it limits its service to just 6 connection at a time. Most other services let you stream on five or more devices simultaneously.
Like other VPNs, it has a 30-day money-back guarantee so you can test it out. There's also 24/7 live chat plus email and phone support for billing and tech support.
Want to know more? Explore our UltraVPN review to see the full results of our research and testing.
In my testing of IPVanish, I found it great for buffer-free streaming of Netflix US content from any location. My colleagues and I tested servers around the globe from various starting locations and streamed in SD, HD, and even ultra HD when connecting to servers closer to home.
I did have to sometimes manually switch between servers to find a connection. When I did, though, IPVanish delivered reliable, consistent speed and let me watch SD and HD movies without any buffering.
While my researchers and I couldn't unblock BBC iPlayer or non-US catalogs for Netflix, we could unblock Hulu, Amazon Prime Video, Vudu, and HBO GO.
IPVanish allows up to unlimited simulatenous connections, which we tried and found no issues with.

It also offers 24/7 live chat support. I pinged them late one night just to test and heard back within a minute. See all that the service has to offer by taking advantage of its 30-day money-back guarantee.
Want to know more? Explore our IPVanish review to see the full results of our research and testing.
Save up to 66% by signing up today!

VPNs That Don't Work for Streaming Movies
There are a lot of great VPNs out there. But streaming movies from around the globe takes a little more than just masking your IP address. During our tests, the following VPNs didn't work for streaming movies.
Hotspot Shield – Free Version
Hotspot Shield's free version is one of the best free VPNs available, but not if you want to stream movies. The free version's 500 MB daily data cap only let us stream for 30 minutes in SD each day. The good news is that there are paid Hotspot Shield plans that offer much more, including the ability to stream movies. Learn more in our Hotspot Shield review.
TunnelBear – Free Version
The free version of TunnelBear does work if all you want is to unblock Hulu. But Hulu is the only service we could get to work. There was also the problem of the free version only allowing 500 MB of data a month, so we could only stream for about 30 minutes. Learn more in our TunnelBear review.
CactusVPN
CactusVPN say it won't unblock streaming services unless you switch to the non-encrypted smart DNS service. If you use the Smart DNS to stream movies, your connection isn't encrypted and you don't have the security of a true VPN. I tried anyway with Netflix US, and I found the whole point moot as I couldn't get in. This service is a better choice for safe web browsing. Learn more in our CactusVPN review.
Stream Movies With ExpressVPN!
Research Methodology
I tested over 300 VPNs to find which services are best for streaming movies. When deciding the ranking above, I considered the following:
The VPN's ability to bypass both VPN blocks and geoblocks so you can watch movies from around the globe.
Ping, download, and upload speeds. I only selected VPNs that consistently offered at least 5 Mbps download speed during our tests.
How many servers the service has and how many countries those servers are in. When you have more servers from which you can choose, you'll generally see better results in terms of speed and unblocking ability.
Device compatibility and ease of use to ensure simple accessibility, even if you're a novice.
A money-back guarantee so you can try the service without any risk.
The VPN's customer support level. I tested available support options for each VPN to ensure response times were fast and answers were helpful.
FAQs
Do I need a VPN for streaming?
If you want to access movies that aren't available in your country, you need a VPN to mask your IP address. Companies like Netflix use geoblocks to limit the movies you can watch in order to protect moviemakers from copyright infringement. You can overcome this by using a VPN.
A VPN also gives you added security and privacy benefits, like anonymity and encryption.
Which VPN is best for Netflix?
All of the VPNs tested here worked well for Netflix US during our tests. But ExpressVPN is the best for unblocking all of Netflix's libraries, including the UK, Japan, and Australia.
Is using a VPN for Netflix illegal?
In most cases, it's completely legal to use a VPN for streaming Netflix and other services.
Some countries, including China, Iraq, United Arab Emirates (UAE), Turkey, Belarus, Oman, Iran, and Russia, do restrict or ban VPN use, no matter what you plan to do. Find out more about region-specific laws in our VPN legality guide.
How fast does my internet connection need to be to stream a movie?
The faster your connection, the better quality you can stream. Generally, streaming services require:
3 Mbps for SD
5 Mbps for HD
25 Mbps for Ultra HD
How much data do I need to stream a movie?
Streaming video actually consumes quite a bit of data. Here's how it breaks down:
SD = 1 GB an hour
HD = 3 GB or more an hour
Ultra HD = 7 GB or more an hour
This is why a VPN with no data cap is best for streaming movies. All of the VPNs on my list give you unlimited data, so you don't need to limit your movie marathons.
What do I do if my VPN is blocked?
If you know your VPN unblocks a service you're using, but the server you're connected to can't access it, just disconnect and try connecting to a different server. The new server will give you a new IP address that will likely let you connect.
Have you discovered that your current VPN doesn't have the strength to get around the blocks of Netflix, Hulu, and other popular streaming platforms? Choose one of my recommendations above to enjoy fast, easy, and reliable access.
The Bottom Line
To help you find the best VPN for streaming, I put 300 services to the test. After hundreds of hours of testing, I found several services that can reliably unblock the world's most popular streaming platforms, including Netflix, Hulu, Disney+, and BBC iPlayer.
Of them all, my top pick is ExpressVPN. It's simply the best overall VPN, and its SmartPlay feature makes streaming so easy. Even better, you can try it risk-free for 30 days. Based on my testing and experience using the service, I think you'll love it.
To summarize, here are the best VPNs for streaming movies in 2021.