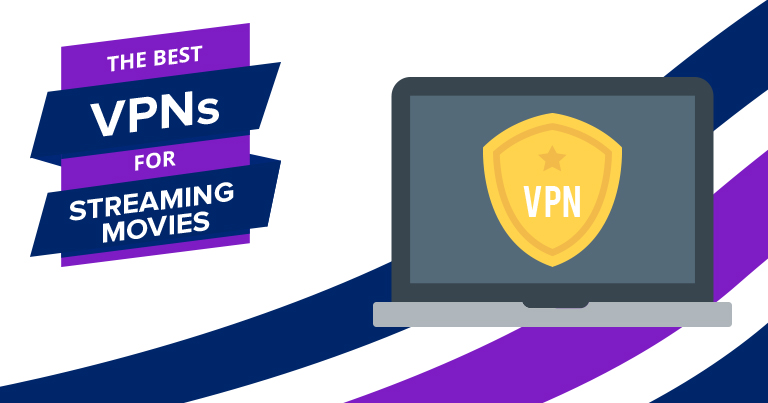 8 Best VPNs for Streaming Movies (in Any Country) in 2023
Updated on 26th January 2023
VPNs are by far the most convenient tools for accessing worldwide films, but finding a reliable one isn't always easy. Streaming platforms (like Netflix, HBO Max, and Prime Video) use highly advanced blocks that many VPNs struggle to overcome. Even some that bypass those VPN-blocking technologies can be slow, interrupting your movie nights with buffering and long loading times.
With this in mind, my team and I tested 50+ VPNs to find the best for streaming movies in good quality. We even found some that work in countries where popular streaming sites are blocked, like China and Russia.
Our testing showed that the leading VPN for accessing and streaming movies is ExpressVPN. It accessed every platform we tested, and its fast speeds were ideal for UHD movie marathons. You can even give it a risk-free try with your favorite movie sites since it offers a money-back guarantee. If you're not 100% happy, you have 30 days to claim a refund.
Best VPNs for Streaming Movies — Full Analysis (Updated in 2023)
ExpressVPN unblocks more movie platforms than any VPN I've tested. With locations in 94 countries, you have 94 movie markets to choose from, which is more than any VPN on this list. During my tests, I accessed 20+ Netflix libraries and a number of popular streaming sites. You can also use it with niche channels like Hallmark, Starz, and Freevee. Plus, all its servers offer dynamic obfuscation, meaning it can easily overcome VPN blocks. This allows it to work in strictly censored countries like China.
Its blazing-fast speeds allow you to watch movies in great quality. For Ultra HD (UHD), you need at least 25 Mbps. While testing, my speeds remained above 40 Mbps (9 Mbps less than my base speed) — even with long-distance servers. I watched Extraction on Netflix in UHD without buffering. That's partly down to Lightway, its superfast proprietary protocol, which also uses less battery on your devices.
The app is super easy to use. To change location, all you need to do is select a country and double-click to connect. That way, ExpressVPN automatically chooses the fastest server for you in your selected location. It also lets you save shortcuts to your favorite movie platforms in the app's interface. This lets you enable the VPN and open the streaming app or site within seconds.
Plus, its MediaStreamer feature lets you watch movies on devices that don't usually support VPNs, like smart TVs and game consoles. All you have to do is insert a set of numbers (provided by ExpressVPN) into your device's network settings. I tested this with my smart TV and started watching Prime Video on the big screen in less than 5 minutes.
On the downside, ExpressVPN isn't the cheapest VPN on my list. Even at its lowest price, it costs $6.67/month. Luckily, it usually offers generous coupons and deals; when I got its long-term plan, I saved 49% and got 3 months free. And ultimately, I'm fine with paying a little extra since it's the most reliable movie VPN I have tested.
You can try ExpressVPN risk-free since it offers a 30-day money-back guarantee. If you're not completely happy, it's easy to claim a refund — I tried it myself. When I spoke to customer support via 24/7 live chat, I got an instant response. The agent didn't ask any questions and agreed to my refund. My money was back in my PayPal account after 4 days.
CyberGhost has around 100 specialty servers for easy access to global platforms, including 6+ Netflix libraries, BBC iPlayer, Prime Video, DAZN, and more. While testing, I accessed Hulu on my iPad, Windows laptop, and Mac. Initially, I couldn't access it on my Android TV. However, CyberGhost's Hulu Android TV server unblocked it instantly. Using it, I watched Parasite from the comfort of my sofa.
Navigating the app is simple. During my tests, I saved my favorite servers for accessing movie sites into a dropdown menu for 1-click connections. Since there are specialty servers for specific platforms, you need to connect to the one that's optimized for the site you want. This makes it a bit less convenient than ExpressVPN in terms of ease of use, but the streaming-optimized servers are well organized, so you can quickly find them.
These are in a separate tab labeled "For streaming," which also features a search bar. You just type the site you wish to access, like "HBO Max," and it presents a list of regional servers optimized for the platform.
Speeds are superfast, so you can stream movies in Ultra HD. I never got less than 30 Mbps when connecting to servers in Italy, the US, and even faraway locations like Japan. The regular servers were sometimes faster than its specialty connections. Although they couldn't unblock many libraries, they were great for watching movies on YouTube without interruptions.
One drawback is that its short-term plan is pricier and only has a 14-day money-back guarantee. However, you can get a CyberGhost long-term subscription for just $2.19/month. When I got the long-term plan, it was 84% off and came with 2 months free as well.
Longer plans also offer a more generous 45-day money-back guarantee. I put this to the test by contacting its 24/7 support. After going through an FAQ search, I could connect to a live agent. My refund was granted after a brief chat, and my money landed back in my account 5 days later.
Private Internet Access (PIA) has a Smart DNS feature that lets you access region-locked movies on a wide range of devices. Using the straightforward instructions from PIA's website, I set it up on my PS4 within a few minutes. I could unblock Netflix US (and tons of other movie sites) from my game console and watch on my big-screen TV.
Its streaming-optimized servers give you reliable access to movie sites in the US, UK, Japan, Denmark, Finland, and Sweden. Rather than unblocking specific sites like CyberGhost, they're optimized for location. For instance, I tested its US East connection which accessed Netflix US, Hulu, and HBO Max. The connections were fast, too. I got an average of 25 Mbps on the 2 US streaming servers and 28 Mbps between the UK and Sweden.
PIA supports 10 simultaneous connections, which means you can cover most of your VPN-compatible devices in your household. This allowed me to share my subscription with my family, so we could all watch different movies at any time. You can log in to as many devices as you like without it kicking you off, even if it's over 10, granted that each one is not connected to a server.
The app has tons of adjustable features, which can be daunting to VPN beginners. Although, the ability to customize it can be beneficial — for instance, you can lower encryption to boost speeds. Plus, for streaming movies, you're good to just use the default settings.
There's a range of fairly-priced plans; you can get PIA for as low as $2.19/month. I went for a long-term plan and got 3 months free, with it being 83% cheaper than its short-term plan. It also included a free year of encrypted cloud storage.
All of its plans come with a 30-day money-back guarantee, which is legit — I tested it. I went on instant live chat, clicked "Transfer to agent," and got an immediate reply. After a quick chat, the agent approved my refund request, and my money was back a few days later.
NordLynx is NordVPN's own secure protocol, and it's ideal for waiting movies. It's based on WireGuard, the leading open-source protocol used by many VPNs. In my tests, NordLynx was 23% faster than OpenVPN, giving speeds of 41.30 Mbps from a base of 49.45 Mbps on a local server, so it's definitely better for streaming.
With NordVPN's Presets feature (only on macOS), you can create profiles for your favorite movie sites. For example, I made a preset for Netflix UK, Disney+ US, and Hulu. I set each one up to connect me to the fastest available server in the appropriate country and optimized each one for speed. This makes it easy to set the VPN up for streaming, but so far you can only use it on Macs (rollout planned for other OS's).
You also get specialty servers optimized for P2P torrenting, which is great for quick movie downloads. I connected to a server in Switzerland and downloaded a 3GB public domain movie in minutes. I also enabled Threat Protection, an advanced blocker that protects you against malware and malicious ads that can be prevalent on torrent sites.
Unfortunately, NordVPN couldn't access every streaming platform I tested. I couldn't access Prime Video or Sky Go. Fortunately, it worked very eliably with the other major platforms I tested, and I was impressed it could access BBC iPlayer as some VPNs struggle with it.
NordVPN offers tiered pricing; you can choose from Standard, Plus, or Complete plans. Plus and Complete plans offer a password manager and encrypted cloud storage. The Standard plan does not include these extras, but it's the cheapest by far. By choosing to commit long-term, you can get 57% off for an affordable price of $3.49/month.
You can try NordVPN with your favorite movie platforms with a 30-day money-back guarantee. I tested this out myself by contacting 24/7 live chat. My request was quickly approved, and my money was returned 3 days later.
Surfshark offers unlimited device connections on a single account, which is ideal for a houseful of movie fans. I tested this out by using Netflix US to stream Monty Python & The Holy Grail on an Android, a Windows laptop, 2 iPhones, an iPad, and a desktop Mac simultaneously. Each of them streamed smoothly, without any lag or sudden disconnects, which was impressive.
Speeds are good enough for high-quality streaming, even at long distances. I connected to a server in Sydney, Australia, over 9,000 miles away. From a base speed of 49 Mbps, I got 28.28 Mbps. While this is a significant drop of 57%, it was still fast enough to stream in UHD.
Its unblocking abilities are impressive. As well as accessing 5 Netflix libraries (the US, UK, Germany, Japan, and Australia), I could get on HBO Max, Hulu, Peacock, and Disney+. It even managed to slip past Prime Video's heavy geo-restrictions, giving me access to its libraries in the US and Germany.
An issue I noticed with Sufshark is that it sometimes takes a while to connect to a server. Local and mid-distance servers took 15 to 20 seconds connect, but a faraway location in Japan took 40+ seconds. That's far longer than any other VPN I've tested. That said, it was reliable and my speeds were consistently fast once connected.
As with most VPNs, you can save money by choosing a longer contract. I subscribed long-term and got a discount of 82% off, for a final price of $2.30/month. This makes Surfshark one of the best value VPNs in this list.
You can test Surfshark without risk since it offers a 30-day money-back guarantee. If it's not the blockbuster you were hoping for, it's easy to claim a refund. I tried this by requesting one via 24/7 live chat and I had my money back 3 days later.
IPVanish offers a SOCKS5 proxy. It masks your true location so you can access geo-blocked libraries, but it doesn't encrypt your data like a VPN. This makes it a faster option if you dont' mind a bit of manual setup (there's a guide on its site). While testing IPVanish, I configured SOCKS5 to work with Firefox on my laptop. This gave me 51 Mbps, just 1% below my starting speed. I could stream movies on Netflix US in UHD without an effect on my internet speed.
If you'd rather not bother setting up a proxy, IPVanish has a widespread network of VPN servers, too. You can view each server's load percentage (how many people are using it) and ping — those with lower user load/ping are usually the fastest. Its world map display also lets you quickly locate and connect to a country of your choice.
My only concern is that IPVanish couldn't unblock every platform I tested. For example, when I tried to access Prime Video, it detected I wasn't in the US, and I got an error message. However, it had no problem with the other platforms I tested, including Netflix, Disney+, HBO Max, and Peacock.
By choosing the long-term plan, I saved 66% for a final price of $3.33/month. IPVanish also offers a 30-day money-back guarantee, though keep in mind that it's only included with the long-term plan.
The 30-day guarantee lets you try IPVanish risk-free. You don't even have to ask an agent to claim your refund. I simply logged in to my account on the website, clicked "Subscription", and then "I wish to cancel my subscription". The process is automated, and I got my money back after 3 days.
With PrivateVPN's app, you can connect with 2 clicks to watch movies worldwide. Its interface offers "Simple View," which only displays a power button and the selected server. You don't have to navigate through the advanced settings, as it comes preconfigured. When you open the server list, it displays the ping and proximity next to each server to help you easily select a fast connection.
Its specialty servers give you fast streaming and downloads. They're labeled Dedicated IPs, (not to be confused with private IP addresses). These are in popular streaming countries like Spain, Japan, and Canada. During my tests, USA - New York gave me 41 Mbps; 3 Mbps faster than the regular NY servers.
PrivateVPN has a relatively small server network, so I was worried that would lead to user overload and slowdowns. However, it keeps speeds fast by purchasing internet capacity directly from the transit provider instead of a third party (referred to as High Quality Network). Thanks to this, you get consistently fast speeds for watching movies.
It also regularly checks its servers to ensure they're not blocked by streaming platforms. Rather than offering thousands of servers like some VPNs, PrivateVPN turns its small network into a strength by ensuring they can all access movie sites. In fact, it's one of few VPNs that reliably works in strictly-censored countries like China.
There's a range of plans available with prices starting at $2/month. I recommend the long-term option; when I subscribed, I saved 85%. All plans are covered by a money-back guarantee, not just long-term ones.
You can try PrivateVPN for free with its 30-day money-back guarantee. I put this to the test, and live chat was quick to respond. My refund was approved, and 5 days later, I got an alert from my bank to say that my money was back.
Proton VPN lets you customize profiles for quick access to movie platforms. I tested this by making a profile named "Disney+". I like to watch Disney+ Canada, so I assigned a Toronto server to my newly created profile. Now, whenever I click Disney+, it automatically connects to this server for a reliable access.
Its VPN Accelerator gives you top speeds for watching movies without buffering, even on long-distance servers. This feature boosts your speeds and consequently reduces the drop from your base connection. Before enabling it, I got 23 Mbps on its US-FL#4 server (Florida), which increased to 36 Mbps with the VPN Accelerator.
Proton VPN unblocks a range of streaming platforms, like Netflix, Hulu, and HBO Max. At first, I couldn't access Disney+ US, but after trying a couple of different connections, I got it to work. The Courier took a few seconds to load but then played in HD without interruptions.
The app is clunkier than PrivateVPN's and displays a large map on the home screen. However, its vast display of features can help you find the best connection. For instance, it lists all servers with a symbol to show which are recommended for streaming.
Proton VPN offers Pro and Unlimited subscriptions, but it only affects your access to its Mail, Calendar, and Drive apps. For simply watching movies, you can get the Pro program, with prices starting from $4.99/month.
It comes with a 30-day money-back guarantee. If it doesn't meet your expectations, claiming a refund is easy. Although Proton VPN prorates your refund, it's calculated on the unused days left on your plan. For me, a couple of weeks of testing only cost a few dollars, so it wasn't a big issue.
Quick Comparison Table: Movie VPN Features
The following table provides a glance at each VPN's features that are relevant for watching movies. The best VPN for you depends on a number of factors.
For instance, consider the number of people using the account and the devices you use to watch films. Or think about whether you prefer a technical or easy-to-use interface. If you get slow internet speeds where you are, you may want a fast VPN to minimize additional speed loss. Additionally, you might benefit from an extra feature for streaming movies like the Smart DNS.
Tips on How to Choose the Best VPNs for Streaming Movies
I've identified the factors I used to rank the best VPNs for movies. All the services on my list are reliable for accessing streaming platforms. However, you may consider the following points to determine what to look for in a VPN to best suit your needs.
Works with popular movie sites. A VPN bypasses geo-restrictions by constantly maintaining and switching its IPs to ensure they work. I made sure that all of the listed VPNs work with at least a few of the most popular movie sites, like Netflix, HBO Max, Hulu, and Prime Video.
Large server network. The more countries with servers, the more content you can access. Check that the VPN has servers in the countries where you wish to watch movies from.
Fast speeds. All VPNs slow your internet to a certain extent due to encryption, but a fast VPN minimizes slowdowns. This makes a huge difference if you have a slow connection as it is. I ensured that each VPN gave me speeds fast enough for HD or UHD streaming.
Unlimited data and bandwidth. Streaming movies is data-heavy, which sometimes leads to ISP throttling. The VPNs on my list don't cap your speeds or data and can help you avoid ISP throttling.
Diverse device and OS compatibility. I made sure each VPN supports the most commonly-used operating systems and devices, including Windows, macOS, Android, and iOS. To stream movies on a smart TV or game consoles, look for a VPN with a Smart DNS feature, like ExpressVPN's MediaStreamer.
Excellent customer care. All the VPNs on my list are reliable, but you may still run into technical problems when streaming movies. It's preferable to have 24/7 live chat for quick support. Most VPNs on my list offer it. Those that don't, offer email support, FAQs, or knowledge base.
A trustworthy money-back guarantee. In case a service doesn't work for your movie-watching purposes, you should be able to get a refund. The VPNs on my list offer a money-back guarantee, so you can test them with your devices and streaming platforms risk-free.
FAQs on VPNs for Streaming Movies
How do I use a VPN with Kodi?
There are a few options, but the easiest way is to install both apps (VPN and Kodi) and watch it on your computer. Alternatively, you can also install a VPN and use it with Kodi on your Fire Stick or configure it to your router for more device options.
Kodi addons are often geo-restricted, so as with any other streaming platform, you may need to change your location to access your preferred content. Furthermore, some Kodi addons aren't 100% official and can therefore be unsafe. So be sure to only download Kodi from the official app store or site and not through a third party.
Which VPN works best for Netflix?
My tests showed that ExpessVPN works best for Netflix. After trying several services with the site, it impressed me the most — I could unblock over 20 Netflix libraries and stream in Ultra HD, no matter which server I chose. ExpressVPN also works in heavily censored countries that block Netflix. Plus, it has many servers in the US — where Netflix's biggest library is.
Can I stream geo-blocked movies without a VPN?
Yes — proxies can also help reroute your virtual location and change your IP. Some VPNs (like IPVanish) offer proxy connections as an alternative to their VPN connections to help you minimize speed loss while watching movies. That said, they are less secure and don't offer encryption, so they're not the best option in locations with strict censorship.
What can I do if my streaming VPN isn't working?
There are various fixes you can try if your VPN isn't working. But the easiest way to avoid technical issues is to use a reliable movie VPN with strong unblocking abilities. Should you come across a problem, here are some possible solutions:
Switch servers. Streaming platforms often block IP addresses they suspect belong to a VPN. Movies can be accessible simply by connecting to a different server. If available, you could also try a different location.
Use another platform. Frequently, multiple platforms carry the same titles. If you're having problems accessing the movie you want, check if it's available elsewhere.
Adjust the VPN settings. Sometimes, all you need is a boost in security to overcome tough geoblocks. You can try changing protocols, upping your encryption level (256-bit is the most secure), or switching ports. Though, not all VPNs offer this level of customization.
Clear your cookies and use a private window. Websites can leave cookies on your device that reveal your true location, causing you to fall foul of geo-blocks. Try clearing cookies/deleting browsing data/clearing history (depending on your browser). Private or Incognito windows don't gather data, which can also help you evade blocks.
Use a different viewing method. For example, if you're using the Netflix app, try logging in on a web browser or vice versa. Try another device or a different browser.
Contact support. Customer support may be able to find a solution or workaround, or you could simply alert your VPN to the issue so it can be fixed.
Is it illegal to use a VPN to watch movies?
In most cases, no, but it depends on your location. Like streaming platforms, VPNs are legal in most countries. That said, accessing copyrighted material via torrenting or pirate streaming sites is illegal almost everywhere. But if you pay for a subscription, accessing it with the help of a VPN isn't pirating.
On the other hand, in a few countries (like China), only government-monitored VPNs are permitted. These locations use VPN blocks to prevent the use of third-party services. However, ExpressVPN is one of few VPNs offering strong enough security features to work in strictly-censored countries. That said, I recommend that you check the laws of your country and avoid using a VPN illegally.
Can I use a free VPN to watch movies?
You might be able to, but I advise against it. To unblock movie sites with consistently fast streaming speeds, I recommend a low-cost premium VPN with a money-back guarantee. Most free VPNs aren't equipped with the necessary features for bypassing streaming site blocks — that's the reason they're free. Even if you can access a platform, you will likely run into a bunch of limitations.
Free VPNs typically have few locations, limiting your access to global libraries. Because they have far smaller networks than premium VPNs, their servers get crowded, giving you poor picture quality and constant buffering. Even if you find one that works, you'll likely run into a monthly (or even daily) data limit, which can put a disappointing end to your movie night.
Get the Best VPN for Streaming Movies Today
Today's movie platforms use highly advanced technology to block VPNs, and many VPNs fail to overcome this. We tested many of the leading VPNs for movies and found a few that work reliably.
ExpressVPN is the #1 VPN for movies. It gives you blockbusting access to global libraries and lightning-fast speeds for streaming in Ultra HD. You can try ExpressVPN risk-free since it offers a money-back guarantee. If it doesn't suit your needs, you've got 30 days to claim a refund.
To summarize, here are the best VPNs for movies