6 Best VPNs for Mac and MacBook (SAFE & FAST) in 2023
Macs come with basic security features, but this doesn't guarantee you're 100% protected online. A good Mac VPN offers additional security that encrypts your traffic to help keep you safe from data leaks, tracking, and other cyber threats.
But not all VPNs work well with macOS — they're usually just a simplified version of the Windows app. Even Mac VPNs with top customer reviews slowed down my Mac's performance to the point where I had to uninstall the app.
With the help of my team, I tested 300+ VPNs using a MacBook Pro and shortlisted the best ones (that boosted my Mac's security without slowing it down). Moreover, they all offer user-friendly Mac clients.
I recommend ExpressVPN for Mac. It was easy to set up on my Mac, and it has top-tier security features for added protection without causing slowdowns. Moreover, its high-speed global network is super reliable if you want to access geoblocked content. You can test ExpressVPN on your Mac risk-free because it's backed by a 30-day money-back guarantee. If you're not happy with it, then it's easy to get a full refund.
Short on Time? Here Are the Best VPNs for Mac and MacBook — Tested in February 2023
Best VPNs for Mac and MacBook — Full Analysis (Updated February 2023)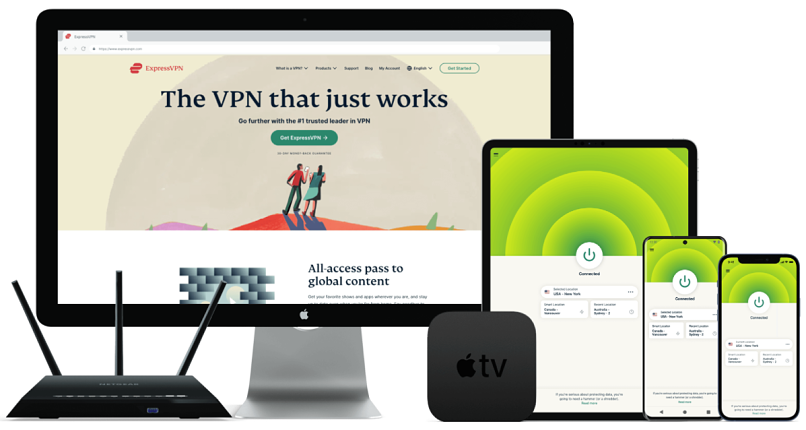 Editor's Choice
Editor's Choice

Tested February 2023
Try Risk-Free for 30 Days
Available on:
Chrome
Router
Smart TV
More
www.ExpressVPN.com
Lightning-fast speeds
3,000 servers in 94 countries
Top security and privacy features, including unique Lightway protocol and TrustedServer Tech
5 simultaneous device connections
Can unblock: Netflix, Disney+, Hulu, BBC iPlayer, Amazon Prime Video, ESPN, DAZN, and more
Compatible with: Mac (El Capitan 10.11 and newer), iOS, Apple TV, Windows, Android, routers, and more
ExpressVPN adds a solid extra layer of security and privacy to your Mac. It comes with military-grade 256-bit encryption, IP and DNS leak protection, and an automatic kill switch (called Network Lock) to keep your Mac protected even if the VPN disconnects unexpectedly. Network Lock wasn't enabled when I first installed and opened ExpressVPN, but it was easy to toggle on under Preferences.
I liked that when Network Lock kicks in, you get a warning so you know your Mac is protected. At one point, my Mac went into sleep mode while ExpressVPN was connected. When I turned it back on Network Lock warned me that my internet had been disabled until it rebooted my VPN connection, which only took about 4 seconds.
ExpressVPN has a strict no-logs policy that has been audited and verified, so none of your sensitive data is stored or shared. It's also headquartered in the British Virgin Islands (outside 5/9/14 Eyes jurisdiction), which is a privacy-friendly country with no data retention laws. That means no government or agency can force ExpressVPN to store or share any of your information with third parties.
On top of that, it uses Trusted Server technology (RAM-based servers), so that all of your browsing and connection data is wiped clean every time the servers are rebooted. So, even if a government subpoenaed ExpressVPN to hand over user data, it would have nothing to share.
You can choose between 4 security protocols with its Mac app: L2TP/IPsec, IKEv2, OpenVPN (UDP and TCP), and its own unique Lightway protocol. Lightway is designed by ExpressVPN and is optimized for speed, security, and reliability. It uses a well-established cryptography library (wolfSSL) that's been extensively tested and examined by third parties for security, so it's safe to use. I was curious just how much faster Lightway would be than OpenVPN, so I compared my speeds on a few servers using both protocols.
Overall, I had faster speeds with Lightway than with OpenVPN. Moreover, my connection times using Lightway were always less than 1 second — using OpenVPN I had to wait 5-10 seconds to connect. Even though I was disappointed at first that there was no WireGuard support (because it's usually the fastest protocol), Lightway proved to be a great alternative.
Ultimately, ExpressVPN's speeds are really fast. For my speed tests, I connected using the automatic selection feature, which chooses the fastest protocol based on your network and activity. On other local servers, I had speeds averaging 42 Mbps (10% loss) and on long-distance ones my speeds averaged 38 Mbps (19% loss). It's normal for a VPN to decrease your speed by about 10-25%, and since I had a fast connection to start with, these drops in speed weren't noticeable.
Its native Mac app is also really user-friendly. I was able to download and install the app within 2 minutes. Plus, It only takes 1 click to connect and the server list is organized intuitively. There are 3 categories organized by country: recommended, recent, and all. You can also search for a location using the search bar and save your favorite servers, which show up in a list in the recent tab.
The recent tab puts all your favorite and most recent servers in one place, making it super easy to navigate quickly. I tested it out on my iPhone as well (since you can connect 5 devices at once) and the iOS app is almost the same as the Mac one — super easy to use. However, I was pretty disappointed that there's no kill switch for iOS.
If you connect in a restrictive country (like China or the UAE), you will be shown a list of servers under the recommended tab that have been tried-and-tested to bypass internet blocks and VPN-blocking technologies. That means ExpressVPN works in countries with a lot of internet censorship, like China.
Because there are so many servers (3,000 servers in 94 locations), ExpressVPN also makes bypassing geoblocks on streaming sites painless. I was really impressed with how reliably ExpressVPN unblocked some of my favorite sites on my Macbook — I accessed 8 different Netflix libraries including the US and UK, Hulu, Disney+, and HBO Max to name a few. Since ExpressVPN has such fast speeds, it only took about 5 seconds for each site to load and I could watch shows in HD quality with no buffering whatsoever.
It even works with Apple TV — its MediaStreamer feature lets you unblock apps like US Netflix, HBO Max, and Hulu so you can watch on your big screen using Apple TV. It only took me a couple of minutes to set up by tweaking the DNS settings in my Apple TV device.
All of the servers are P2P-friendly, which makes it a great option for torrenting, too. You don't have to search for a specific server to torrent safely. I simply opened Transmission and my 3GB file was downloaded in 12 minutes. It's also a great option for streaming safely on Kodi and since ExpressVPN doesn't limit your bandwidth, you can torrent and stream as much as you want.
ExpressVPN offers a split tunneling feature as well. This lets you choose which apps and websites you want to use the VPN connection and which ones you want to bypass it. However, I was pretty disappointed that it isn't available for newer versions of macOS. I contacted ExpressVPN through their 24/7 live chat module to ask about this and they informed me split tunneling isn't supported on macOS 11 (Big Sur) or later. You can only use this feature if you're running a version of Mac between 10.10 and 10.15.
Its cheapest plan for $6.67/month is a bit more expensive than other VPNs. However, ExpressVPN often offers discounts or free months of service. I recommend the 1-year plan since it offers the same features as the monthly one, but it comes at a lower monthly price.
ExpressVPN comes with a 30-day money-back guarantee, so you can always get your money back if you're not happy with it. I tested its policy to ensure it's trustworthy and asked for a refund using its 24/7 live chat support. After a quick chat with the agent, my refund was approved. The process was easy, and I had my money back in 2 business days.
Speciality servers for streaming and torrenting
9,753 servers in 91 countries
Superfast speeds
7 simultaneous device connections
Can unblock: Netflix, Disney+, HBO Max, Hulu, BBC iPlayer, Amazon Prime Video, and more
Compatible with: Mac (OS Sierra 10.12 and newer), iOS, Apple TV, Apple Watch, Windows, Android, Linux, routers, and more
CyberGhost's app for Mac is super easy to use, even if you've never used a VPN before. It only took me 2 minutes from download to connection. In a single click, you're automatically connected to your fastest server and protected by military-grade 256-bit encryption, IP and DNS leak protection, and a built-in automatic kill switch. It takes almost no effort to fully protect your Mac with CyberGhost.
While most VPNs organize their servers only by location, CyberGhost organizes its 9,753 servers (in 91 locations) based on what you want to use them for, which makes it a great VPN for beginners. You can choose servers optimized for downloading if you want to torrent safely or servers optimized for streaming if you want to watch geoblocked streaming content on your Mac.
CyberGhost has more than 80 servers dedicated to specific streaming platforms in more than 20 different countries. I could consistently access Netflix US, Hulu, Disney+, Amazon Prime Video, and more. When I tested its Hulu-optimized server, it only took 7 seconds for the site to load and I was able to watch shows in HD with no buffering at all. The team at CyberGhost maintains these streaming servers to ensure that they're always up and running, even after new VPN-blocking measures are set in place.
The downloading optimized servers gave me a list of more than 50 locations with the load percentage next to each one. With this information, you can select a server that isn't too overcrowded (and is close enough to your actual location) to ensure the fastest speeds for torrenting. I chose the Austrian server during my tests and downloaded a 1GB video file in 7 minutes — that's about how long it would have taken without a VPN, so I was pretty impressed.
Since CyberGhost is headquartered outside surveillance alliance jurisdiction in Romania and has a strict no-logs policy, your sensitive info is super safe. So if you accidentally download a copyrighted file while torrenting, you won't have to worry about anyone spying on your traffic.
You can also activate your own personal dedicated IP address, but this will cost you a minimum $4.75/month extra when I checked. I'll stick to the shared public IPs to stay anonymous because I find that a bit expensive.
You get some advanced security features in CyberGhost's Mac app to further improve your privacy as well. Firstly, you can choose between IKEv2 or WireGuard security protocols (you have to manually configure OpenVPN, unfortunately). There's also ad, malicious website, and online tracking blockers — however, it didn't work well to block all ads when I tested it out.
You can connect up to 7 devices at once with CyberGhost. I set it up on my Windows PC, iPad, and iPhone and found the app easy to install and use across platforms. I was especially pleased that CyberGhost has a kill switch on its iOS app because that's something that a lot of VPNs don't offer. Similar to ExpressVPN's MediaStreamer, you can even set CyberGhost up on your Apple TV. Its SmartDNS feature unblocks multiple regions' streaming content.
A minor downside is that the VPN can't bypass China's Firewall. However, you can still use it in other countries with strict censorship (like Iran and Turkey).
You can subscribe to CyberGhost's long-term plan for just $2.19/month. It also offers a monthly subscription, but it's almost 4 times more expensive. It also comes with a shorter money-back guarantee period than the longer plans. You get the same features with all subscriptions, so I recommend signing up for the 3-year plan since it's the best value.
Its money-back guarantee allows you to try CyberGhost for free for 45 days (14 days for the monthly plan). When I tested the refund process it was easy to get my money back. I used 24/7 live chat on its website and the agent didn't even ask me why I wanted to cancel. I got my money back in 3 days.
Choose encryption levels, multiple security protocols, and a customizable kill switch
29,650 servers in 84 countries
Good speeds
10 simultaneous device connections
Can unblock: Netflix, Disney+, HBO Max, Hulu, BBC iPlayer, and more
Compatible with: Mac (OS High Sierra 10.13 and newer), iOS, Windows, Android, Linux, routers, and more
Private Internet Access' Mac app has an impressive set of security features that you can customize the way you want. You can choose between AES-128 or AES-256 encryption under connection settings. While 256-bit is stronger, 128-bit is still safe to use, but it takes less time to encrypt data, giving you faster speeds. I toggle on 128-bit when I'm streaming videos (for example), but use 256-bit on public WiFi to ensure my Mac's fully protected.
It also has a customizable kill switch. You can set it to "auto", so it will only block traffic in case the VPN connection drops. Or you can set it to "always" which will block traffic even if you terminate the VPN yourself. So, depending on whether you're more concerned about speed and reliability or strong security, you can set up PIA to best suit your online activity. I love how much freedom I had testing PIA out — and it's something that I haven't seen with many other Mac VPNs (they're usually a very simplified version of their Windows counterparts).
To further customize your Mac's VPN connection, you can choose between OpenVPN and WireGuard protocols, select remote and local port settings, set custom DNS addresses, and choose certain apps to bypass the VPN connection (aka. split tunneling). Despite all the advanced features and customization options, the app is intuitive and easy to use. I found it really convenient that it was located in my Mac's top tray menu for easy access as well.
PIA performed really well when I used it for P2P file-sharing on my Macbook. All of its servers are P2P-optimized and it offers a SOCKS5 multi-hop and port forwarding on some servers to help optimize performance. I tested this out by downloading the same 2.5GB file on 5 local servers with port forwarding enabled. I was super impressed that each time it only took about 12 minutes for the transfer to complete. PIA is a strong choice if you use your Mac to torrent often and want to stay anonymous.
While my speeds were fast on local servers, I did have some slower speeds on long-distance connections. One US server gave me speeds of 8 Mbps (an 81% decrease from my base speed). It was too slow to stream even in HD without choppiness. However, it wasn't hard to find another US server with better speeds, since PIA has 53 servers in the US alone.
I was a bit concerned that PIA is headquartered in the US (within 5/9/14 Eyes jurisdiction), however it operates under a strict no-logs policy that's been proven multiple times in real-life court cases, so it's safe to use. Your privacy is also protected with IP and DNS leak protection (PIA passed all my leaks tests) and PIA MACE — this feature blocks domains flagged for ads, trackers, and malware (it doesn't block ads on safe websites like in YouTube videos, unfortunately).
You can get PIA's long-term plan for only $2.19/month. It also offers a more expensive monthly subscription, but it has the same features as the other plans. This is why I suggest signing up for the cheaper 3-year plan.
You get 30 days to play around with all PIA's features. Its money-back guarantee allows you to get a full refund if you're not 100% satisfied. After 26 days I decided to request a refund as a test. You can't ask for your money back through its live chat, so I had to email customer service. It was a hassle-free process and my money was back in my account after 4 days.
Threat Protection to prevent third-party tracking on your MacBook
Fast speeds for buffer-free streaming on iOS devices
5,384 servers in 60 countries to access your favorite content when abroad
Can unblock: Netflix, Disney+, Hulu, BBC iPlayer, Amazon Prime Video, ESPN, DAZN, and more
Compatible with: Mac (El Capitan 10.11 and newer), iOS, Apple TV, Windows, Android, Linux, routers, and more
NordVPN comes with a Threat Protection tool to block malware-ridden sites and stop web tracking. It also fends off suspicious files to prevent damage on your Mac. This feature works even if you're not connected to a VPN server. I tested NordVPN's ad blocker with Forbes, and it successfully stopped annoying ads. Plus, your online privacy is safeguarded with an audited no-logs policy and DNS leak protection.
AES 256-bit encryption scrambles your traffic to protect you from hackers and snoops. Another security feature available on the macOS is Dark Web Monitor. It detects if your email address has been publicly exposed on a leaked database on the dark web and sends you an alert. Besides, a kill switch keeps your data private even if your VPN connection drops.
Dedicated Mac apps are user-friendly and work without issues. I got it from the Apple App Store and installed within a few minutes. However, if you ever get stuck, there's 24/7 live chat to help you out anytime. NordVPN offers apps for many devices, including Amazon Fire TV/Stick. You can also use it on up to 6 devices simultaneously.
Servers across 60 countries let you easily unblock your favorite websites. After connecting to the US server, I watched live MLB games on my ESPN+ account from abroad. Accessing your other streaming platforms, like Amazon Prime Video, BBC iPlayer, and Hulu, isn't a problem either.
I was disappointed to see that torrenting isn't supported on the whole network. However, NordVPN offers a choice of P2P-optimized servers to use for reliable downloads. Plus, speeds are fast enough for high-bandwidth activities like UHD streaming, torrenting, and lag-free gaming. So you can download large files and watch your favorite shows without interruptions.
Long-term plans are very affordable, starting at $3.49/month. I highly recommend the 2-year subscription because it lets you save big.
You can try NordVPN on your Mac for free thanks to a 30-day money-back guarantee. Getting a refund is hassle-free. I sent an email to customer support explaining why I wanted to leave, and my credit card was reimbursed 5 days later.
3,200 servers in 100 countries to access sites and services from abroad
Unlimited simultaneous device connections
Multiple security protocols to safeguard your online activity on your Mac
Can unblock: Netflix, Disney+, Hulu, BBC iPlayer, Amazon Prime Video, ESPN, DAZN, and more
Compatible with: Mac (El Capitan 10.11 and newer), iOS, Apple TV, Windows, Android, routers, and more
Surfshark has a vast server network that covers 100 countries for easy unblocking on your Mac. You can access your favorite streaming platforms like Netflix US, Disney+, and DAZN anywhere. When testing Surfshark's UK servers, I quickly unblocked my streaming accounts abroad, such as BBC iPlayer and ITV Hub. Some servers are P2P-optimized for reliable torrenting.
Speeds are fast, and there's unlimited bandwidth to stream and torrent without interruptions. So you can watch live videos on YouTube in UHD and play online games lag-free. I played RuneScape using the US server, and my ping stayed low — below 50ms.
I connected 11 devices simultaneously, including my Mac, two smartphones, and an iPad, and all of my connections stayed strong. It only took me a few minutes to set up Surfshark on my MacBook Air because the apps are easy to install and use. If you require assistance, you can always reach customer service through live chat.
The VPN comes with strong security features to protect your online data. It offers AES 256-bit encryption and a kill switch, both of which make your data unreadable to hackers. Bypasser is Surfshark's split tunneling feature, so you can choose which apps use the VPN. Besides, I ran several IP/DNS leak tests on the US servers, and my actual location wasn't revealed.
One thing to note is that Surfshark is based in the Netherlands — part of the 14 Eyes Alliance (countries that share user's data). However, the service uses RAM-only servers to protect your privacy, which means all your information is wiped with every reboot. The VPN also provides two-factor authentication (2FA) for extra protection of your account.
You can get Surfshark for as low as $2.30/month. I recommend getting the 2-year subscription for the most significant savings in the long run.
It's possible to try the service without risk since it's backed by a 30-day money-back guarantee. Getting a refund is very straightforward. I contacted support through live chat. The rep asked me to provide feedback about the service, but I wasn't pushed to stay. My PayPal wallet was reimbursed after 6 days.
Unlimited simultaneous device connections
2,000 servers in 75 countries
Fast speeds
Can unblock: Netflix, HBO Max, BBC iPlayer, Vudu, and more
Compatible with: Mac (OS High Sierra 10.13 and newer), iOS, Apple TV, Windows, Android, Linux, routers, and more
IPVanish gives you unlimited simultaneous connections, so you can protect all of your Apple (and non-Apple) devices. It offers all the standard security and privacy features including 256-bit encryption, leak protection, WiFi protection, and an automatic kill switch, so all your devices will be well protected (however, the iOS app doesn't have a kill switch). You can also choose between multiple security protocols including IPSec, IKEv2, WireGuard, and OpenVPN.
You can customize how OpenVPN and IKEv2 connect. For example, you can add a "scrambling" (aka. obfuscation) feature when using OpenVPN. This makes your VPN connection look like a regular internet connection. If you live in a country that bans VPNs (like China), scrambling will help bypass VPN blocks. Unfortunately, it slowed my connection down quite a lot — when I tried to use it to bypass network firewalls during my tests, I had really long loading times.
The app is also intuitive and easy to use. You can use the Quick Connect feature to get the best server based on your network and location. If you want to manually select a server, you can view its 2,000 servers (in 75 locations) as a list or as a map — or you can filter them by region or latency. I always think it's a bonus to see the load and ping data of the servers because it helps you choose the best possible connection.
IPVanish also offers TOR compatibility and a SOCKS5 proxy, which will help improve performance if you torrent a lot with your Mac. It was a bit difficult to set up — I had to manually configure the proxy details into qBittorrent's preferences. However, I used a setup guide on IPVanish's website and it was easy to follow. Once I'd set it up, I downloaded a 2.5GB file in only 9 minutes — that's really fast.
Every IPVanish server supports P2P sharing, and when using the WireGuard protocol, I saw impressive speeds. The results of my testing five of the company's servers revealed an average speed of 38 Mbps. Thanks to the US servers unblocking Netflix and HBO Max on my Mac, I was able to stream all of my favorite shows in high definition without any buffering. Therefore, IPVanish is a good choice if you're looking for a VPN for Kodi.
Because it has a strong privacy policy and doesn't log users' traffic data, IPVanish is a good choice for users who value their privacy.
IPVanish's cheapest plan costs only $3.33/month. You can also sign up for its monthly plan, but it's more expensive — that's why I recommend signing up for its yearly plan. Moreover, this plan comes with free encrypted cloud storage and VIPRE antivirus (malware and ransomware protection). However, it's a bit disappointing you can't pay with cryptocurrencies for added anonymity.
You can also test IPVanish for free with its 30 day money-back guarantee. If you're not impressed you can simply claim a refund. I decided to try this policy and asked for my money back after using the VPN for 29 days. I didn't even have to contact customer support or give a reason for canceling. I just submit a request via my account on its site. It only took 2 hours to receive an email saying that my refund was approved. I had my money back in my account within a week.
Quick Comparison Table: Best VPNs for Mac and MacBook
You can use the table below to compare some of the key features of the best VPNs for Mac in this list. It shows the lowest price as well as the length of the money-back guarantees. Moreover, you can find the macOS compatibility of each VPN.
Tips on How to Choose the Best VPN for Mac
A reliable Mac VPN should come with military-grade security features, a user-friendly Mac app, and a global high-speed server network. You can use this list when deciding on a VPN for your Mac. I've used the following key features to determine my shortlist:
Easy-to-use Mac apps — Choose a VPN provider that has user-friendly apps. The VPNs listed here have similar apps for Mac and iOS, as well, so it's easy to use them across devices. It's also important to choose a VPN that regularly updates its software to keep up with macOS updates. This way you won't be left unprotected with an old, outdated VPN app.
Strong security features — To add an effective layer of security to your Mac, you need a VPN that comes with (at the very least) 256-bit encryption, a strict no-logs policy, leak protection, and an automatic kill switch. Many of the VPNs in this list offer even more security features like ad/malware blockers, stealth or scramble features, and Wireguard support.
Fast speeds — I conducted speed tests with all the VPNs I shortlisted to ensure that you can browse, stream, and torrent without slowdowns. All of these VPN apps are also lightweight, so they won't make your machine run slower, either.
Reliable server networks — The more servers a VPN has, the faster it tends to be. The more server locations available, the more geo-restricted content you can access. Most of the VPNs in this list have large global server networks, so they're great for unblocking streaming sites (like Netflix and Hulu) and have speeds more than fast enough to stream in HD.
Simultaneous device connections — All of the VPNs in this list offer at least 5 device connections, so you can connect your iPhone, iPad, and other devices with a single subscription. Some even offer unlimited connections, so you can keep your whole family safe online.
Torrenting support. Not all VPNs support torrenting, so it's important to check that at least some servers support P2P file sharing. All the VPNs listed support torrenting, and a few of the VPNs listed here also come with a SOCKS5 proxy or port forwarding, which are torrenting-specific features meant to boost torrenting speeds.
Reliable customer support. It's best to choose a VPN that has 24/7 live chat support so it's possible to solve any issues right away. I made sure that it's easy to get in touch with customer support and find answers on the VPN's website.
Quick Guide:
How to Set Up a VPN for Mac in 3 Easy Steps
Get a trusted Mac VPN. I recommend ExpressVPN because it's Mac app is lightweight, easy to use, and it has superfast speeds — you don't even notice it's running on your Mac.
Connect to a server. Choose a server close to your actual location for the fastest speeds.
Start browsing! Now you can safely browse, stream, or game on your Mac and MacBook.
FAQs on the Best Mac VPNs
Which Mac VPN is best for Netflix?
There are only a few VPNs for Mac that can access Netflix reliably and all the VPNs shortlisted are tried and tested — they can unblock multiple regional Netflix libraries.
Most VPNs won't work at all due to the fact that Netflix is constantly blocking IP addresses, so VPNs have to keep up with these blocks. ExpressVPN, for example, is constantly updating its servers and IPs, which is why it's one of the most reliable Netflix VPNs available.
If you want more Netflix compatibility, choose a VPN with a Smart DNS feature. ExpressVPN, CyberGhost, and Private Internet Access offer this and it allows you to easily unblock Netflix on your Apple TV, too.
Is there a Safari VPN extension?
There are no VPN browser extensions for Safari. However, using a VPN's app will keep your entire Mac protected, including everything you do in Safari. On top of that, some VPNs (like ExpressVPN) can be controlled from the top drop-down menu bar on your Mac — it's as convenient as a Safari extension and keeps your whole device protected (instead of only your online activity within the Safari browser).
Apple stopped supporting many third-party Safari add-ons with the release of Safari 12 (in 2018) and started charging a fee to anyone who wanted to keep theirs in its gallery. That's the reason why you won't find a VPN extension for Safari.
Can I use a Mac VPN for other iOS devices?
Yes! macOS and iOS are 2 different operating systems. I only selected VPNs that have native apps for both macOS and iOS, so you can use them on all your Apple devices (including iPhone and iPad). They also offer at least 5 simultaneous device connections, so you can download the app on all your Apple (and non-Apple) devices with only one subscription. Some even have ways to set up a VPN to unblock streaming content on your Apple TV.
Can I use a free VPN for my Mac?
Technically yes, but I would not recommend it. It's always a better idea to opt for a low-cost premium VPN like the ones listed here.
The reason being that most free VPNs come with hidden costs like a lot of ads, service caps, untrustworthy privacy policies, and even malware. All of the free VPNs I've used on my Mac throttle your speeds so much you can't do anything except browse the web. They also limit your data to around 1-5GB per month (1-3 hours of HD streaming) and can rarely unblock popular streaming sites. I even encountered a few free VPNs for Mac that were unsafe to use:
UFO VPN was caught storing sensitive data that could be used to track its users, even though its privacy policy says it doesn't.
Unlocator's privacy policy actually says that they store your information for a limited time and that it can be used to identify you.
Hola VPN stores and shares identifiable information. They even fully admit to sharing it with third parties as if that doesn't defeat the whole purpose of using a VPN anyway.
Opera VPN logs your browsing activity and sells it to advertisers. It's also only available as a browser, so it doesn't protect your Mac system-wide.
Betternet VPN keeps logs on an anonymized basis. This provider's privacy policy isn't straightforward and while the logs they keep can't be traced back to you, you're better off using a VPN with a strict no-logs policy to protect your privacy.
GoVPN claims to be a VPN for Mac, but actually doesn't work. Your Mac's IP address is still visible when you're connected to it. This means that your data isn't kept private while browsing the web.
FreshVPN claims to offer a free trial but the trial only lasts 5 minutes. After that, you'll have to pay to use this VPN.
Will a Mac VPN slow down my speeds?
Yes. A VPN for Mac will slow down your speeds a little bit because it takes time to encrypt your traffic. However, a quality VPN app won't slow your Mac's speed in any noticeable way.
To minimize speed loss, connect to a server near your actual location (so that the data doesn't have to travel far). You can also select a server with low capacity or load (the fewer people connected to a server, the faster it will be). Moreover, using a lightweight protocol such as WireGuard or ExpressVPN's own unique Lightway will also help to reduce speed loss.
Does Mac have a built-in VPN?
No. macOS doesn't come with a built-in VPN. It does offer IKEv2 and L2TP support and this can be manually turned on in Network settings. However, you need a VPN subscription to get the IKEv2/L2TP config files to set it up. It's easier to just download a Mac VPN and secure your connection with its app.
If you have iCloud, you automatically have "Private Relay". This is a proxy, and therefore not as safe as an actual VPN. It only works for the Safari browser, you can't change your server location, access geo-restricted content, or bypass internet restrictions. Moreover, it's slower than most VPNs, so I don't recommend using it.
Do Mac VPNs work in China?
Yes, but not all of them.
ExpressVPN is the best Mac VPN to use in China. It has security features built into its app that were designed to bypass the "Great Firewall of China". It also works in many other countries with a lot of internet restrictions (like Turkey, the UAE, and Russia).
China is always improving its VPN-blocking technologies to censor what you can see online. If you're looking for a Mac VPN that works in a restrictive region, you need one with obfuscated servers (sometimes called stealth mode) to make your VPN connection look like regular internet traffic so it won't get blocked. You might also need to download the VPN before you enter China in case its website is blocked there.
Note: The team at vpnMentor doesn't condone illegal activity, so we advise that you read local laws surrounding VPN-use before using one that could be banned in your location.
MacOS is pretty safe, why should I get a VPN for Mac?
There are a few reasons why using a VPN on your Mac is beneficial. The VPNs in this list will boost your Mac's security (without slowing it down) because they:
Keep your online activity anonymous. A VPN encrypts your traffic and hides your IP address. That means no third parties (including governments, ISPs, and hackers) will be able to see your personal details or what you're doing online. This also keeps you safe on unsecured WiFi networks where people using the same network can see sensitive details about you.
Allow you to watch geoblocked content. By changing your IP address, a VPN tricks websites and streaming platforms (like Netflix or Hulu) into thinking you're in another location. This allows you to access content that isn't normally available in your location.
Bypass tough firewalls. Many VPNs have special technology (called obfuscation) that allows you to bypass firewalls. If your workplace or school campus blocks Facebook, for example, a VPN will allow you to access it. Moreover, it also allows you to use the VPN in highly censored countries like China, Russia, and UAE.
Don't Risk the Safety of Your Mac (And Your Personal Data)
It's difficult to find a reliable VPN for Mac with hundreds out there. All VPNs shortlisted here offer military-grade security features and user-friendly Mac apps to keep your MacBook and other Apple devices safe. Moreover, they offer fast speeds and large server networks to access content worldwide within seconds.
Of all the VPNs I tested, ExpressVPN is the best option for Mac. It has top-tier security features, a strict no-logs policy, and an easy-to-use native app that runs smoothly on Macs. It also has fast speeds for streaming and torrenting. Plus, ExpressVPN offers a 30-day money-back guarantee so you can try it out for yourself completely risk-free. If you're not satisfied, you can always get a full refund.
To summarize, the best VPNs for Mac and MacBook in February 2023 are…