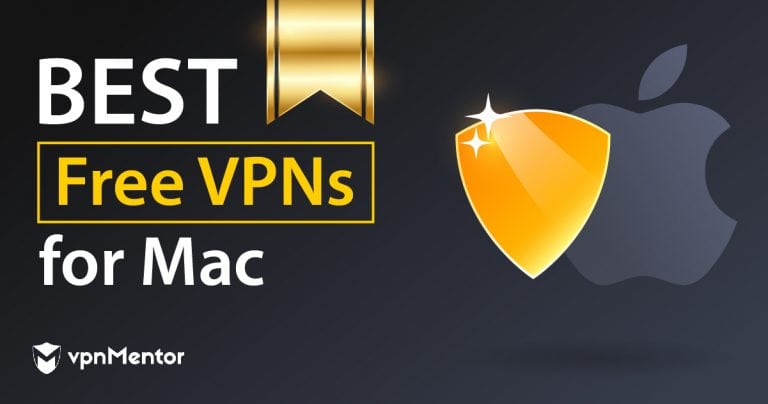 11 Best (100% FREE) VPNs for Mac and Safari in 2021
Updated on 27th September 2021
Free VPNs can be unreliable, slow, and – at worst – unsafe. Most don't work on macOS, either. But to keep you safe, I've tested 37 VPNs on my MacBook Pro, and have found 10 that are secure, fast, and totally free.
Free VPNs always come with a catch, such as streaming support, data limits, or server access. This is why I'd recommend a budget-friendly premium VPN like ExpressVPN. The VPNs I've found for you have the least possible compromises and will keep you safe online.
Get The Best VPN For Mac and Safari Today!
Try ExpressVPN Risk-Free Today!
The Best Free VPNs for Mac – Full Analysis (Updated October 2021)
So, is it possible to find a safe, free VPN? Yes, but remember, though, free VPNs are always limited.
I've tested 37 free VPNs to find the best services to keep your Mac secure. Even though they are limited, the free VPNs I recommend fast, easy to use and of course macOS-compatible. 
ExpressVPN is a premium service, but you can test it out completely risk-free (it's backed by a 30-day money-back guarantee) and get a refund if you're not satisfied. It's my top recommendation because of its fast speeds, high-end security, and unlimited data.
It has 3,000 servers in 90 countries, so it's easy to establish a reliable connection in any part of the world. You can always find a nearby server to use, even when you're traveling.
With its lightning-fast speeds, you can stream and browse without buffering and lag. I tested servers in over 20 countries, and the connection was always speedy and reliable.
ExpressVPN has no problems bypassing geo-restrictions and VPN blocks. This means that you can watch your favorite shows on Netflix US, Hulu, BBC iPlayer, and more, regardless of your location. You can just as easily access your favorite websites even if you're traveling in a country with high censorship.
It allows P2P sharing on all of its servers, and you can use its split-tunneling feature to make sure you're always anonymous during file exchanges. I tested them by sharing a large video with some of my friends. Since its servers are ultra-fast, it only took a couple of minutes for them to receive it.
ExpressVPN protects your MacBook with the strong AES 256-bit encryption, an infallible kill switch, and its strict no-logs policy. On top of that, it has DNS and IP leak protection, so you don't have to worry about your ISP or the authorities watching what you do.
You can connect up to 5 devices to its servers, meaning that all your devices can be protected at all times with only one account. If you need more, ExpressVPN's MediaStreamer allows you to set it up on your router and gain unlimited connections on that network.
If you encounter any problems, you can message its support team through the 24/7 live chat. During my test, the process was fast, and the agents helped me solve the problem in no time.
Want to know more? Explore our ExpressVPN review to see the full results of our research and testing.
Start Risk-Free With ExpressVPN!
CyberGhost is a top-tier VPN that lets you test it for free for 24 hours. Like most free trials, there's no need to provide your payment details.
Its server network consists of 7,170+ servers across 90+ countries, which is really handy for bypassing geoblocks. When I connected to its US and UK servers, I managed to access US Netflix and BBC iPlayer in under a minute every time.
Thanks to its superfast speeds, you can stream shows without any lag. I recorded an average download speed of 44.5 Mbps on its US servers, which was a lot more than the 5 MBps needed for HD streaming.
Your personal data will also be well protected with its robust security features. CyberGhost uses AES-256 bit encryption, which is impossible to penetrate, while its automatic kill switch will act as your last line of defense on a public WiFi network.
You won't leave a digital footprint when surfing the net on Safari, as Cyberghost adheres to a strict no-logs policy. This feature protects your privacy by ensuring that you remain totally anonymous online.
If you ever encounter any problems with CyberGhost, then you can always contact its 24/7 live chat team for assistance.
Want to know more? Explore our CyberGhost review to see the full features of our research and testing.
ProtonVPN offers unlimited free bandwidth and data. There are no restrictions on how long you can browse. However, it can't unblock any streaming sites, and it doesn't allow torrenting.
You can connect to servers in the US, Holland, and Japan only on the free plan. It can only access geoblocked sites that are available in these countries. If you want to unblock YouTube, Google, or your social media accounts, ProtonVPN is a good choice.
ProtonVPN doesn't allow simultaneous connections, so you can only use it one device at a time on the free plan. If you want to protect your cell phone or tablet as well as your Mac, you need to upgrade to the premium plan.
Be prepared for slow connection speeds, too. During my tests, I found that my connection was deliberately throttled, which I found frustrating. It was still fast enough to load websites, but it was too slow to watch HD YouTube videos.
ProtonVPN has excellent security features. It uses 256-bit AES encryption and a choice of IKEv2/IPSec or L2TP/IPSec to keep your data safe. There's a strict no-logs policy, which means none of your data or online activity is stored or shared elsewhere.
ProtonVPN also includes a built-in ad blocker with its macOS app, which makes for breezy browsing with no interruptions.
If you have questions or need further support, you can get in touch via ProtonVPN's ticketing system. They'll respond to you by email, usually within 24 hours.
Want to know more? Explore our ProtonVPN review to see the full results of our research and testing.
Hotspot Shield's easy-to-use, dedicated Mac app uses the unique Catapult Hydra protocol, which is designed to improve your connection speed and latency. You can stream for about 30 minutes a day with 500MB of data, but the free plan limits you to just one server in the US.
You can't use Hotspot Shield to unblock Netflix US, Amazon Prime Video, or HBO GO. Still, it can access geoblocked YouTube videos and Kodi add-ons. When I tried to watch Netflix, Hotspot Shield displayed a premium payment wall telling me I had to upgrade to access streaming services.
I was able to browse with minimal lag. But, because all of its free users connect to the same server, it's often overloaded. During peak times, your connection speed can drop.
The free version provides the same high-level protection as the paid subscription. There's military-grade encryption and a built-in kill switch. If the server fails, the kill switch disconnects your internet temporarily so your activity stays hidden from your ISP.
Its built-in malware protection blocks suspicious websites to protect you from potential malware infections and phishing scams. This is a great first line of defense, but you still need to install a full anti-malware program on your MacBook.
Hotspot Shield is ad-supported. Its privacy policy states that it shares your approximate location and device identifiers with Google to help create targeted ads. It's only your city-level location, however. Because your real IP is masked, Google can only see the VPN server's IP address.
You can only connect one device with the free plan, so you can't protect any other devices when you're using your MacBook. You have access to its extensive FAQ section, but there's no option for live support with the free plan.
Want to know more? Explore our Hotspot Shield review to see the full results of our research and testing.
Start FREE with Hotspot Shield!
hide.me offers 2GB of free data every month and access to servers in the US, Canada, Singapore, and the Netherlands on its free plan. 2GB is enough to check your emails and stream in standard definition for two hours, but it isn't enough to torrent or watch a movie marathon.
Because you don't need to register to use the free plan, there is no risk of your information falling into the wrong hands.
It offers excellent security features, including 256-bit AES encryption, a strict no-logs policy, and the all-important kill switch. It uses multiple VPN protocols, including OpenVPN. hide.me is compatible with Tor, so you can access.onion sites without exposing your browsing activity to Tor's exit nodes.
There's also IP leak protection. Sometimes, device and software malfunctions reveal your actual IP address to websites and apps. hide.me's built-in IP leak protection keeps your IP hidden, even if there's a problem.
You can configure hide.me to connect as soon as you start your Mac, so you don't have to worry if you forget to connect. However, this uses your data very quickly if you don't enable split tunneling.
Split tunneling is one of hide.me's stand-out features. You can route some of your traffic over your VPN, and the rest through your local IP address. This preserves your data because only websites that you access through your VPN count towards your usage.
Split tunneling also allows you to access local websites and wireless devices on your local network without disconnecting your VPN. Only a few premium VPNs offer this, and it's not something I often see with free VPNs.
I was able to unblock Netflix in Canada, but not in the US. You can't stream UK-based streaming services like BBC iPlayer because hide.me's UK servers are only available to premium users.
There are no ads, and you can access its friendly customer support service 24/7 via live chat.
Want to know more? Explore our hide.me review to see the full results of our research and testing.
TunnelBear's macOS app is perfect for beginners because of its easy-to-use interface. Even if you've never used a VPN before, you will be able to install TunnelBear without any problems.
There are high-speed servers in 40 countries, including the US and the UK. You can connect to all of them with the free plan, but you only have 500MB of data per month. 
That's enough data to watch just over 90 minutes of your favorite YouTube channel in standard definition, but you can't watch movies. You can earn an extra 1GB by tweeting TunnelBear.
Unfortunately, you can't use TunnelBear for streaming. I wasn't able to watch Netflix, Amazon Prime Video, BBC iPlayer, or ITV Hub. It does allow torrenting, but you can't download large files because of the data limit. 
TunnelBear uses 256-bit encryption to keep your Mac safe. Its no-logs policy means that your data and browsing activity is completely anonymous and never recorded. There's a built-in kill switch, called Vigilant Mode, and a free ad blocker for Chrome.
Its GhostBear Mode can bypass censorship and deep packet inspection (DPI). It makes your encrypted data look like regular, non-VPN traffic to surveillance agencies and firewalls. This means you can use it to bypass the Great Firewall of China without anyone knowing you're using a VPN. 
Its ticketed customer support system is accessible to both free and premium users.
Want to know more? Explore our TunnelBear review to see the full results of our research and testing.
Opera VPN isn't a full VPN; it's a browser extension for Opera. There are no desktop apps, and you need to install the Opera browser on your MacBook to use it.
Because it's a browser extension, only your Opera traffic is encrypted. Anything you do outside of Opera uses your local IP address, unencrypted.
You can choose from servers in Europe, Asia, or the Americas on the free plan. You can't select specific countries within these regions, which means you can't use Opera VPN to bypass geoblocks.
When I tried to access Netflix US and Canada, it automatically diverted me to Netflix Sweden. You can watch this library with no problems.
I couldn't access BBC iPlayer or ITV Hub while connected to the European server. I also had no luck with Hulu. However, I could access HBO GO and YouTube.
Its Optimal Location feature connects you to the fastest available server, but it's still pretty slow.
Opera VPN is compatible with all of Opera's other extensions, including the ad and tracker blocker and Facebook Messenger extension.
There is am FAQ section on the Opera VPN website, but no other form of customer support.
Want to know more? Explore our Opera VPN review to see the full results of our research and testing.
Speedify offers 2GB of free data each month. This is enough for you to listen to 400 songs, or browse for about 30 hours. It has free servers in 50 countries but only lets you connect on one device at a time.
You can use its channel bonding feature to increase your connection speed and lower your latency. Channel bonding combines your cellular data and WiFi, sending your data over both connections. It does increase your speed but, because it's sending twice as much traffic, it uses twice as much of your internet data allowance. You can go over your WiFi or cellular data limits pretty quickly.
Unfortunately, Speedify can't get around Netflix's geoblocks. I wasn't able to access BBC iPlayer, ITV Hub, or Hulu, either.
Speedify offers ChaCha encryption, but its kill switch is only available with the iOS app. Your MacBook is not protected if your VPN connection fails. Unless you notice the dropout immediately, your data is transmitted without encryption using your local IP.
Its website states it has a no-logs policy. Further digging into Speedify's privacy policy shows that it keeps partial logs. Speedify stores information about your approximate location, bandwidth usage, and the duration of your connection. It doesn't log your activity or IP address.
Speedify provides a Knowledge Base and support via email and social media, but there's no live chat feature. 
Want to know more? Explore our Speedify review to see the full results of our research and testing.
VPNBook offers unlimited free data, and you don't need to register an account to use it. You're completely anonymous. There are servers in 6 locations, including the US and the UK.
Unlike many free VPNs, it can access Netflix US, Hulu, and HBO GO. You can connect to the UK server to unblock BBC iPlayer and ITV Hub, too. You can't torrent with VPNBook, though. 
During my tests, I experienced reliable speeds and I was able to stream with little buffering.
Installing VPNBook is a little more complicated than it is with other vendors. You need to download the OpenVPN app from the App Store. Then, you have to choose the server you want to connect to and load its config file into the OpenVPN console. If you're after a UK server, you need to install the VPNBook proxy instead.
Thankfully, there's plenty of help on the VPNBook site to get started. You can also email them directly if you have questions.
It offers military-grade encryption to guarantee your security while streaming and browsing.
Digging into its privacy policy revealed that it stores partial logs, including your actual IP address. It audits these logs and deletes them weekly.
Want to know more? Explore our VPNBook review to see the full results of our research and testing.
Kaspersky Secure Connection VPN offers 200Mb of data to use every day. This is enough to browse the web for a couple of hours, and stream for less than an hour.
It has 500 servers in 30 countries, including some in hard to reach locations like Russia and China. However, on the free plan, you can't choose the server you want to connect to. Instead, Kaspersky will choose one for you. The good side is that you can use it to unblock Netflix and Amazon Prime Video in the UK and US.
Kaspersky Secure Connection VPN allows an unlimited number of simultaneous connections. This means that you don't need more than one account if you want to keep all your devices secured.
The downside is that your connection won't be very fast on a free plan. During the tests, I noticed a 55% drop in download speed. This means that you may not be able to watch movies if your base connection is not fast enough.
You can check out our Kaspersky Secure Connection VPN review to see how it performed during the tests and what you can expect.
Start FREE With Kaspersky Secure Connection VPN!
On its free plan, Avira Phantom VPN offers 500 Mb of traffic per month. It's not enough to watch movies or shows, but it is just fine if you need a VPN to conceal your regular browser traffic.
It has a small server network, and can't unblock most streaming platforms. However, this is not unexpected — most free VPNs don't bypass geoblocks, but Avira Phantom VPN allowed me to watch movies and shows on Netflix US, UK, and the Netherlands.
A downside of its free plan is that it doesn't offer the kill switch. This is an essential feature for VPNs because it keeps you anonymous in case your connection fails. Besides, if too many people are connected to its servers at the same time, your speed will decrease quite a lot.
On the plus side, Avira Phantom VPN allows torrenting on its servers, which is a big plus. And to make it even better, you can connect as many devices as you want to its servers.
If you want to find out more about it, check out our Avira Phantom VPN review. It will give you all the information you need to make a decision.
Start FREE With Avira Phantom VPN!
How I Tested and Ranked These Free VPNs
I downloaded each VPN on my MacBook to make sure that it is compatible with macOS. I looked for essential features like encryption, leak protection, kill switches, and zero-logs policies.
I explored each app to find out if it is user-friendly and suitable for beginners as well as advanced users. I've only recommended VPNs with reliable macOS apps that you will find easy to install even if you've never used a VPN before.
Once I familiarized myself with the app, I used speedtest.net to measure my connection speed. I eliminated VPNs that are too slow to watch YouTube videos in high definition.
Then, I checked to see if the service supports streaming and torrenting. I also noted whether they offer P2P-friendly servers to free users and whether they were reliable enough to guarantee anonymous torrenting.
What's the Catch With Free VPNs?
Most free VPNs limit your data and bandwidth. When you exceed the data allowance, you can't browse or stream. Limited bandwidth slows your connection down, and causes buffering and lag. Even if it's quick enough to stream, very few free VPNs can access streaming services like Netflix. 
The free VPNs I recommend are safe to use, but they do have some limitations, which I've described.
During my research, I discovered that most of the free macOS VPN apps available on the App Store are outdated, glitchy, and frustrating to use. Many free services don't offer macOS apps at all. Because of this, I tested each VPN's macOS app before recommending it, so you get a free VPN that works well with macOS.
FAQs
 

Will these VPNs work with my version of macOS?

All of the VPNs on this list are compatible with the most recent versions of macOS.

Over time, most VPNs cease support for older operating systems. If you're using a version of macOS that's no longer supported, you may be able to use the OpenVPN app to configure a free VPN with your Mac manually.
 

Will a VPN impact my speed?

It's normal for your connection speed to drop slightly when you connect to a VPN. Your traffic has to travel farther, and it takes extra time to encrypt your data. With a premium VPN, this loss is not noticeable. 

However, I can't say the same for free services. Many free VPNs throttle your bandwidth to slow your connection down. Usually, this is to encourage you to upgrade to a premium plan.
 

How do I know how much data I need?

If you just want a VPN for quick, secure browsing, 500MB of data per month may be enough.

However, if you want to stream or play online games, you need 10GB per month or more.

You don't need to worry about data caps when you use a premium VPN because they offer unlimited data.
The Bottom Line
Most free VPNs can't be trusted. Some don't work on macOS, and others can compromise your security. They may even sell your personal information for profit.
The free VPNs on my list are trustworthy and safe to use, but they are limited.
If you're looking for an unlimited short-term solution,I recommend trying ExpressVPN. It's backed by a 30-day money-back guarantee so you can try it risk-free and claim a refund if you're not satisfied.
My budget-savvy colleagues have compiled a list of the best VPN deals and coupons to save you money. Check out our coupons page to explore the latest offers.
New to VPNs and not sure where to start? You can read everything you need to know in our comprehensive VPN guide.
Top Mac VPNs that you can try risk-free with money-back guarantees…