5 Fastest VPNs in November 2019 – Only Those Passed Our Speed Tests
Updated on 14th November 2019
We looked at some of the most popular VPNs in order to find out which one is the fastest VPN of all. ExpressVPN is by far the fastest, living up to its name. Share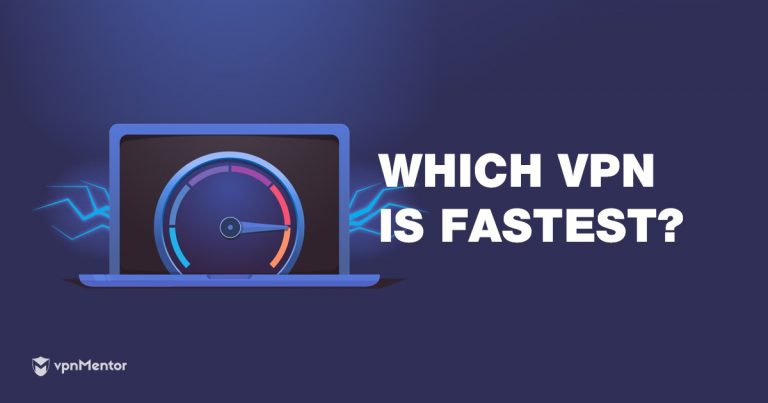 Every VPN provider claims it has the highest speeds available. So how do you know which service is actually the fastest on the market?
I put the top VPNs through extensive tests to find out which providers offer the highest speeds, and which VPNs you should avoid.
Read on to find out if you're getting the best speeds and value from your VPN, or whether it's time to change providers.
VPN Speed Test Winners
ExpressVPN:The clear winner. ExpressVPN has the fastest speeds on the market, coming in at almost twice the speed of any other service.
NordVPN: NordVPN is a VPN powerhouse with user-friendly apps and a huge server network, and it's risen up through the ranks with its latest spike in speeds.
Hotspot Shield:Only slightly slower than ExpressVPN and NordVPN, Hotspot Shield zooms along for streaming, downloading, and browsing.
Surfshark: Surfshark is dedicated to service and speed, and it really showed during our tests.
CyberGhost: Although it's last on our list, CyberGhost doesn't disappoint. It's incredibly fast, and a perfect match for your everyday needs.
The Losers
Why is Speed an Issue for VPNs?
Using a VPN improves your online security, but the time it takes to encrypt your data can affect your internet speed. If you use a quality VPN, you won't notice the difference when you're browsing and sending emails. But, if you torrent or stream videos, your connection may start to lag.
Because of this, it's important to ensure you use one of the fastest VPNs available. I have tested the top VPNs for you. You'll find my speed test winners below.
Our speed tests use three main criteria to determine which service is the fastest:
Factors that Affect Your VPN Speed
Server location: The farther your data has to travel to the server, the slower your connection will be. If your VPN server is on the other side of the world, your connection will be slower. This is why I recommend choosing a server in your country unless you're using your VPN to bypass geoblocks and censorship.
Your line speed: The connection speed, or line speed, set by your ISP affects your VPN connection.
Most connections can handle 10Mbps-1GBps, so if you're using high-speed internet, this shouldn't slow you down. But if you're using dial-up or 3G, you may experience some issues.
Your line speed can also be slowed down by poor infrastructure, faults on the line, and your internet plan.
Can a VPN Increase Your Internet Speed?
Yes and no. For most people, a VPN won't improve their connection speed, assuming they have a high-quality, rock-steady connection from a reputable ISP. However, more and more users are being subjected to bandwidth throttling – without even being aware of it!
Many ISPs shape or throttle bandwidth, slowing specific types of traffic, like video streaming and large file downloads. Or they'll throttle bandwidth at busy times of the day. Then they'll offer a subscription for "fast lane" or unlimited bandwidth – if you pay them a higher fee.
That's where the VPN comes in. Once you connect via a decent VPN, your traffic is encrypted, so what you're doing is hidden from your ISP. If, for example, your ISP regularly slows video streaming traffic, but you're streaming your favorite show via your VPN, your ISP can't detect that you're streaming and therefore won't slow you down.
How I Tested Each VPN
I used the same ISP and computer for each of my tests. Before testing each VPN, I connected it to a server in the US. Because of this, my data had to travel all the way from Australia to the US. If you use a server that is close to your physical location, you can expect your connection to be even faster. 
I measured the connection speeds using three different testing services: speedtest.net, fast.com, and broadbandspeedchecker.co.uk.
I also measured my connection speed before connecting to a VPN. This gave me a base speed to compare my VPNs' results to.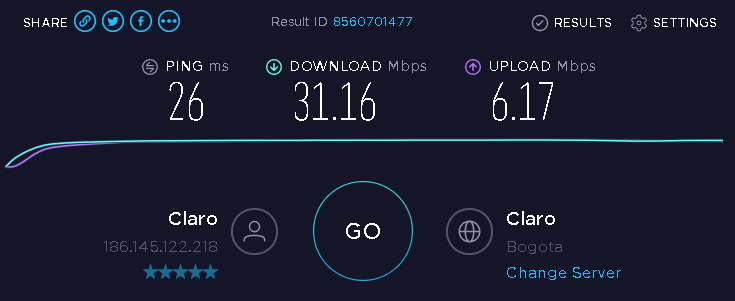 Our base connection speed before connecting to a VPN.
The Results

ExpressVPN is my speed test champion! Its download speed was 23.59 Mbps. These are the some of the fastest results I've seen.
Although I expected to see some speed loss due to the distance my data had to travel, ExpressVPN actually increased my connection speed.
Its upload speed is remarkable too. I could easily upload large email attachments and even YouTube videos. It even improved the quality of my video calls on Skype.
If you plan to watch live video streams or download torrents, this would be your best choice.
 ExpressVPN can unblock:
Netflix, Hulu, HBO, Amazon Prime Video, Showtime, Sling TV, DAZN, and BBC iPlayer.
Supports torrenting:
Yes, all servers support P2P activity.
ExpressVPN works on these devices:
Windows, macOS, Android, iOS, Android TV, Linux, Chrome, and Firefox. It also offers an app for use with certain routers.

NordVPN is one of the most reliable VPNs available. With over 5,000 servers across 50+ countries, it's a great choice for bypassing geoblocks. And recently, I've seen a huge spike in its speeds making it worthy of second spot. In fact, the speeds are so good it's hard to believe I was even connected to a VPN at all.
My data had to travel across the world from Australia to its US server. With that in mind, NordVPN's 76 Mbps download speed was incredible. While its ping was slightly higher than the VPNs in my top three, the results are brilliant. It's 79 Mbps upload speed was capable of just about anything, from video chats to sending large downloads.
I recommend NordVPN if you're looking for a speedy and reliable VPN for streaming, torrenting, and browsing.
You might be thinking, if the speeds are so amazing, then why haven't I placed NordVPN at #1? Well, this is all very new. While it's impressive, I'd like to see consistently great speeds before I move it up to the top spot. Having said that, perhaps ExpressVPN has finally met its match.
 NordVPN can unblock:
Netflix, HBO, Hulu, Showtime, BBC iPlayer, Amazon Prime Video, and Sling TV.
Supports torrenting:
Yes, P2P specialty servers available.
NordVPN works on these devices:
Windows, macOS, Android, iOS, Android TV, Linux, Chrome, and Firefox. It's also compatible with routers.

Sitting at a solid #2 with a 10.53 Mbps download speed is user-favorite, Hotspot Shield.
Although it was no match for ExpressVPN, I was still impressed by its quick connection speeds. Its ping was actually lower than ExpressVPN, so the websites I visited reacted a little faster when I opened them. Its upload speed reached 0.58 Mbps. This is great for uploading photos and small email attachments, but I did notice a bit of a slow-down when we tried to attach videos and larger files.
Hotspot Shield has a global network of high-speed servers, and I recommend it if you're looking to bypass geoblocks and censorship.
 Hotspot Shield can unblock:
 Netflix, Hulu, BBC iPlayer, Amazon Prime Video.
Supports torrenting: 
Yes, P2P allowed on all servers.
Hotspot Shield works on these devices
Windows, macOS, Android, iOS, Chrome.

Surfshark may not be as well-known as big-name competitors like ExpressVPN, but it hasn't let this hold it back.
Although it had a slightly lower download speed than Hotspot Shield, I could barely feel a difference. It was able to download files and stream videos quickly and seamlessly.
I recommend Surfshark if you're hunting for a budget-friendly alternative for browsing and streaming.
 Surfshark can unblock:
Netflix, Hulu, CBS, ESPN, Amazon Prime Video, and others.
Supports torrenting:
Yes, all servers support P2P activity.
Surfshark works on these devices:
Windows, macOS, Android, iOS, FireTV, Linux, Chrome, and Firefox.

Although it's not the speediest VPN on my list, CyberGhost's 7.4 Mbps download speed is more than enough for streaming and browsing.
I also recommend CyberGhost for its feature-rich apps. It's perfect for beginners, and more advanced users can take advantage of its customization options to tailor it to their needs.
 CyberGhost can unblock:
Dedicated streaming profile with servers optimized for: Netflix, BBC iPlayer, Sky Go, Hulu, Comedy Central, Eurosport, ESPN, and others.
Supports torrenting:
Yes; dedicated profile shows countries and number of users.
CyberGhost works on these devices:
Windows, macOS, Android, iOS, Amazon Fire Stick, Android TV, Linux, and Chrome.
The Losers
Unfortunately, some VPNs failed my speed tests.
When your internet connection is slow, you will experience problems with streaming, such as buffering and low video quality. You'll also notice that websites take a long time to load, and if you play games online, your connection will lag. If your speed drops too low, your browser will time out while it is trying to load websites and you won't be able to access the internet.
During my tests, the three slowest VPNs were:



Summary
Based on my tests, one thing is clear: ExpressVPN is the fastest VPN on the market. But if NordVPN can keep up its incredible speeds, there might be a new contender.
A small amount of speed loss it to be expected when you connect to a VPN, but ExpressVPN actually increased my connection speed.
VPNs are powerful internet security tools, and speed isn't everything when it comes to choosing the best service for you. You can read everything you need to know in our comprehensive VPN guide.
Further Reading
Our budget-savvy experts have compiled a list of the best VPN deals and coupons to save you money on your service.
Learn how to test your VPN's security.
Hungry for entertainment? Learn how to unblock Hulu from anywhere.