Hotspot Shield VPN Review & Test 2020 - Keep This in Mind Before Buying
Hotspot Shield is a popular VPN service with over 650 million users and multiple servers in 55+ countries.
In fact, the website claims it is the #1 grossing app for productivity in the US App Store. (When we checked the App Store source, it actually indicated #8, which is still an impressive ranking.)
One of the features that make Hotspot Shield special is its unique Catapult Hydra protocol, which maximizes speed without sacrificing security.
Coronavirus Update
: Hotspot Shield now has a reduced price! We found this VPN is able to both improve speeds in countries where internet is slowed down by crises, and access Netflix and other streaming services with no issues.
It's worth checking their current offer
, and using their 45-day money-back guarantee, to decide for yourself.
But is Hotspot Shield as fast as the vendor claims?
We put the VPN through our toughest tests to find out how the service performs in each category.
We found that Hotspot Shield indeed delivered fast speeds and unblocked most popular streaming sites. Its other major strengths include user-friendly dedicated apps, P2P support, and responsive 24/7 live chat support.
In addition to the privacy policy, we have some reservations about the security of Hotspot Shield's browser extension.
Streaming – Does Hotspot Shield Work with Netflix?
Yes! During testing I was able to unblock popular streaming services like Netflix, BBC iPlayer, Hulu, and Amazon Prime Video globally. I wasn't hopeful because I ran into an issue with getting blocked on the first server I chose. However, after switching to another compatible server the issue was resolved, and I was able to stream content seamlessly.
Hotspot Shield Speeds
Hotspot Shield claims to be the fastest VPN on the market.
The VPN's unique Catapult Hydra protocol was designed to fix some of the latency issues in the IPsec and OpenVPN protocols that can reduce connection speeds.
The website claims that the protocol will significantly improve connection speeds compared to other popular VPNs.
We put that claim to the test. Before connecting to Hotspot Shield's network, we started out with a download speed of 70 Mbps:

Hotspot Shield allows you to select a country, but not an individual server, so we were unable to test multiple servers within the US. After connecting to a nearby US server, our download speed was 57 Mbps:

With the UK as our virtual location, our average download speed was 62 Mbps. This is an impressive speed, especially for the distance from our physical location.

When we connected to a server in Germany, our download speed was 65 Mbps:

Across the world in Hong Kong, we got a download speed of 68 Mbps. This speed is particularly impressive, because connection speeds tend to drop as your physical distance from the server increases.

These are excellent connection speeds across the board. Not many of the VPNs we've tested have been able to deliver such reliably fast connections.
We also found the connections to be stable and reliable over time. We didn't experience any speed loss or dropped connections during our tests.
Is Hotspot Shield Good for Torrenting?
Hotspot Shield is a good VPN for torrenting. The provider allows torrenting on all servers and all device platforms.
The VPN will mask your IP address and hide your P2P activity from your ISP. Hotspot Shield also delivers on its promise of excellent download and upload speeds, which is ideal for P2P file sharing.
You can even find torrenting help and troubleshooting guides in the website's Help Center.
Security – Is Hotspot Shield Safe?
Well, it's complicated. The app does an excellent job of protecting your security and privacy as you browse. We detected no IP or DNS leaks during our tests of the VPN's app: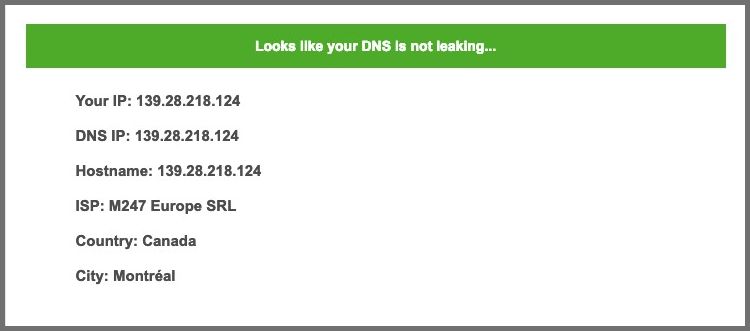 As you can see, our real IP address and location in the US remained hidden.
The VPN keeps your connection secure with robust encryption, leak protection, and malware protection. These features all functioned as expected during our tests.
If you're using the Windows native app, you'll also be protected by an automatic kill switch that keeps your data safe, even if your VPN connection suddenly drops. Unfortunately, the kill switch is exclusively available for Windows.
When we tested for IP and DNS leaks with the Chrome browser extension, the results weren't as great: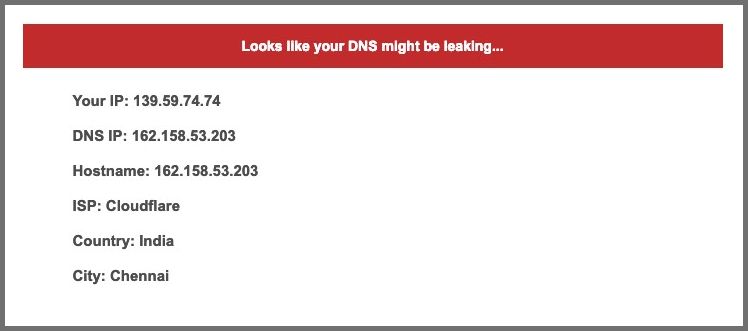 Although our real location and IP address in the US weren't leaked, the browser extension was leaking multiple DNS addresses to the websites we visited. This can let websites know that you're using a VPN.
There's are two other issues to be aware of concerning Hotspot Shield's safety:
In 2017, the Center for Democracy and Technology (CDT) filed a complaint to the Federal Trade Commission (FTC), claiming "undisclosed and unclear data sharing and traffic redirection occurring in Hotspot Shield Free VPN."
Basically, they said that the VPN was misleading users about the amount of data it shared with third-party advertisers.
The other issue involves a bug that a security researcher discovered in early 2018, which could cause Hotspot Shield to leak users' real country and the name of their wi-fi network.
These issues are something to consider, even though Hotspot Shield does provide strong encryption and other security features.
Does Hotspot Shield Keep Logs?
Hotspot Shield is headquartered in the US, one of the founding members of the 5/9/14-Eyes Alliance.
This alone should make privacy-lovers nervous; in addition, we weren't very impressed with the VPN's privacy policy.
The good news is that the VPN doesn't keep usage logs of your online activity. However, it collects plenty of other information. According to the privacy policy, Hotspot Shield logs the following:
Real IP address (deleted at the end of each session)
Email address
Username
Unique mobile ID
Hardware model
Operating system version
Language
"Network information"
We particularly don't like the vague terms, such as "network information."
It's even worse if you are using the free version of the VPN. In that case, Hotspot Shield may share the following information with third-party advertisers:
Your city-level location
Unique advertising ID
Unique mobile ID (IMEI)
MAC address
Wireless carrier
The amount of information that Hotspot Shield collects could potentially be enough to identify you as an individual—the opposite of what you want if you're concerned about maintaining anonymity.
Does Hotspot Shield Have an Ad Blocker?
No, Hotspot Shield does not include an ad blocker in the VPN service.
Does Hotspot Shield Work in China?
Since China is improving its ability to detect and block VPNs every day, it's challenging to say for sure whether or not a VPN works in China.
In the case of Hotspot Shield, users report mixed results. Some users are able to use Hotspot Shield in China without a problem, while others can't use the VPN at all.
If you're specifically looking for a VPN to use in China, we recommend sticking to a more reliable choice, like NordVPN.
Price and Value for Money
You can choose from four different-length subscription plans with Hotspot Shield Premium. Each plan comes with the same features.
You'll get the best value for money with a longer subscription plan. The 3-year subscription is very affordable, while a month-to-month subscription will cost you more.
The price is reasonable for what you get with Hotspot Shield, but there are also cheaper options out there.
Does Hotspot Shield Have a Free Version?
Yes, Hotspot Shield has a completely free version: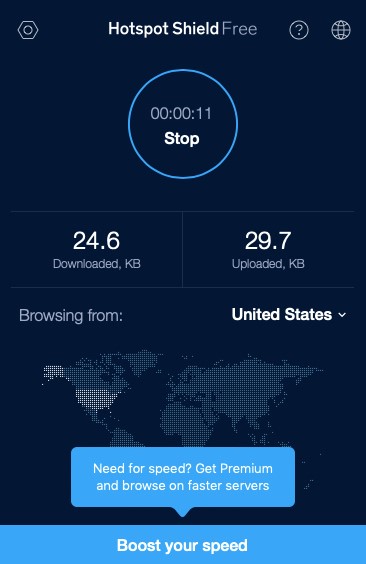 There are a few limitations compared to the premium version (see below).
For example, Hotspot Shield Free is supported by ads and only gives you access to the US virtual location. You can't access any streaming content; you will run into a paywall. You are limited to 500 MB per day.
Here's an overview of the differences between Hotspot Shield Free and Premium: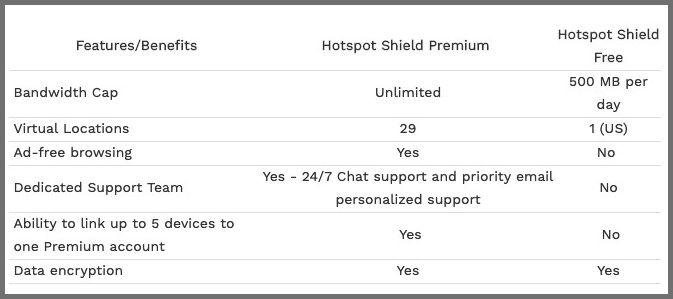 We were impressed with the results of our speed test with Hotspot Shield Free:

A tip: While the premium service is not free, you can take advantage of the 7-day free trial to check it out.
Hotspot Shield's Refund Policy
All paid subscriptions come with a generous 45-day money-back guarantee—one of the longest we've seen.
Is Hotspot Shield Compatible with My Device?
Hotspot Shield is compatible with most major devices; dedicated apps are offered for Windows, macOS, Android, and iOS.
The VPN also offers a browser extension for Chrome.
On the other hand, there are no manual installation guides. The only way to use the VPN is through a dedicated app, so Hotspot Shield is not compatible with Linux, routers, gaming systems, smart TVs, and other devices.
The Windows app is the only platform that has an automatic kill switch. The macOS, iOS, and Android apps lack a kill switch.
You can connect up to five simultaneous devices with Hotspot Shield.
Anchorfree Hotspot Shield VPN Adapter
Some users will see that Anchorfree, Hotspot Shield's parent company installs software on their hard drive called the Anchorfree HSS VPN Adapter. According to the service, the adapter is a driver to help support and stabilize your VPN connection.
Encryption
Hotspot Shield uses robust AES 256-bit encryption to secure your traffic.
It also uses perfect forward secrecy, a key-agreement protocol that constantly changes your encryption key. This ensures that even if your session's current encryption key is somehow compromised, the rest of your data remains secure.
All of Hotspot Shield's native apps use the vendor's proprietary Catapult Hydra protocol. The protocol is similar to OpenSSL, but is optimized to get the fastest connection speeds, especially over long distances.
Hotspot Shield Customer Service
We were happy with Hotspot Shield's customer support, which is an important part of any premium VPN service.
The 24/7 live chat is responsive and helpful; we were assisted by a friendly representative within a few minutes.
Most common issues can be solved with the resources provided on the website's Help Center. If you prefer, you can also submit a support ticket through the website.
User Experience
Hotspot Shield's native apps are straightforward and user-friendly. The app's main interface is minimalist and simple to navigate.
You can quickly connect to a server with a single click.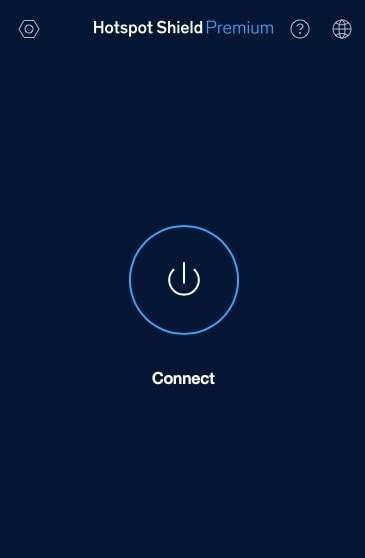 You can manually select a server location by clicking on the sphere in the top-right corner.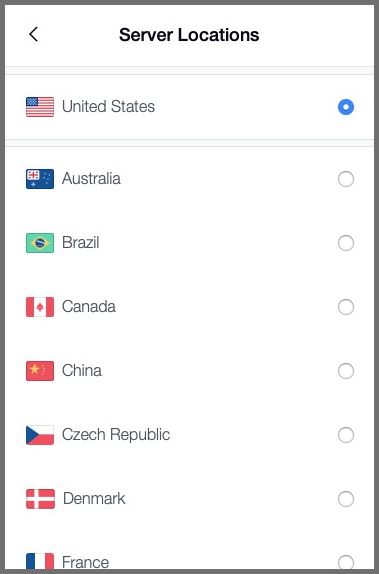 Clicking on a new location will immediately connect you to a server.
You can also access the list of virtual locations by clicking on your current location while connected to the VPN.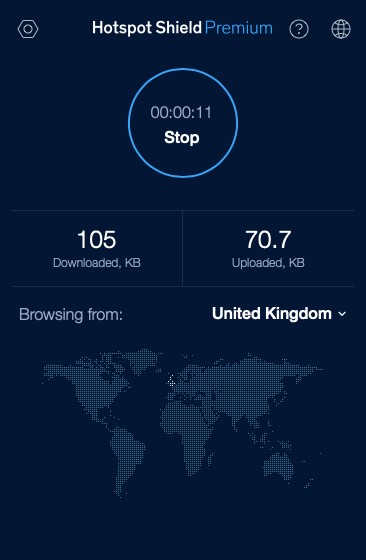 Each time you connect to the VPN, you'll see a map with your current location, the length of your session, and the amount of data downloaded and uploaded during the session.
The icon in the top-left corner opens the settings.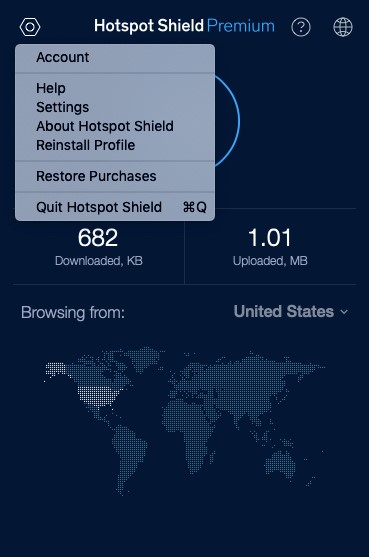 Overall, Hotspot Shield has created an excellent user experience with its native apps. Our only concern is the lack of advanced settings, especially in non-Windows versions of the app.
For example, the only options available in the macOS version are turning on push notifications and enabling auto-start.
Conclusion
Hotspot Shield impressed us with its lightning-fast speeds and excellent customer service.
But can Hotspot Shield Premium compete with top VPNs on the market?
Right now, the answer is no.
Despite its strengths, we have concerns about this VPN's ability to protect your security, privacy, and anonymity.
Hotspot Shield was also blocked from most popular streaming sites, and the device compatibility could be better.
If you're looking for a secure VPN that's great for streaming, torrenting, and protecting your anonymity, check out our list of top VPNs. Or, if you just want to see more VPNs that can unblock Netflix for you, try out one of these top five.
| Features | Details |
| --- | --- |
| Number of countries with servers | 61 |
| Number of servers | 2500 |
| Does VPN keep logs? | Partially |
| Does VPN include a kill switch? | Yes |
| Number of devices per license | 5 |
Downloading and installing Hotspot Shield is a fast and simple process. The website is easy to navigate, and the native apps are very user-friendly.
You can download Hotspot Shield Free without creating an account or choosing a subscription. You will then have the option to upgrade to Hotspot Shield Premium within the app.
It took us less than a minute to download and install the Hotspot Shield macOS app from the App Store. You can connect to the VPN with a single click or choose from a list of virtual locations.
The Hotspot Shield app is simple enough for anyone to use, but the lack of advanced features may make experienced users wish they had more freedom to customize their connection.
Hotspot Shield offers four premium subscription plans. Each comes with the same features and differs only in plan length and cost. Budget-friendly discounts are offered on longer plans.
There's also a completely free version that works well, but only allows limited data, server locations, and streaming.
You can try out Hotspot Shield Premium with a 7-day free trial. Paid subscriptions also come with a generous 45-day, money-back guarantee.
You can pay using major credit cards, PayPal, or anonymous gift cards; hundreds of major-brand gift cards are accepted.
Reliability & Support
4.3 / 5.0
The website's Help Center has many useful resources, including device-specific troubleshooting guides, FAQs, and a searchable Help database.
The easiest way to get in touch with customer service is via 24/7 live chat support. You can also submit a ticket request through the website.
We found Hotspot Shield's customer support team to be friendly, helpful, and responsive. We were able to get in touch with a live chat representative within minutes.
Impressive speeds, but not great for streaming or protecting your privacy
This VPN's biggest selling point is its lightning-fast connection speeds, thanks to the proprietary Catapult Hydra protocol. Hotspot Shield also delivers great user experience with attractive native apps that are easy to navigate, but their privacy practices could use some fine tuning.
Great value
No Torrenting
Free version, but uses ads
Not very clear guides
Money Back Guarantee (Days) :
30
Mobile app :
Number of devices per license :
5
Watch the short video review and tutorial below of Hotspot Shield
Hotspot Shield

User Reviews
Anonymous
Jan 15, 2020
They have gotten rid of cities, cutting down their servers, my speed went from 136mbps to 38 - 82.5 mbps. their support is either dishonest or does not know what they are doing. They kept sending me emails to go to their site and sign in, even gave me a new password, because mine no longer worked, and the new password would not let me log into answer. Now they have closed the dispute. I am cancelling and moving to ExpressVPN or Surfshark, my friends have switched over also. Once the best out there, now the worst.....I would give -5 stars if I could.
---
See Plans
Reply to this review
Did you know? We approve all user reviews. Companies can't pay to include or exclude any.
JoeR
Based on my trial tests, I am very pleased with the speed and access to streaming sites like Hulu and Amazon Prime. I knew I will get good speed in the US. I am impressed with the speed internationally. I haven't tried additional services yet.
---
See Plans
Reply to this review
Bonsai12
IT JUST WORKS! Need I say more? Fast, easy, reliable, good for TV and torrenting movies (not that I do that *cough*). Been using this 3+ months after switching from NordVPN and haven't regretted it once.
---
See Plans
Reply to this review
Compare Hotspot Shield with the top alternative VPNs