5 Best (TESTED) No-Log VPNs | Remain Anonymous & Private in 2019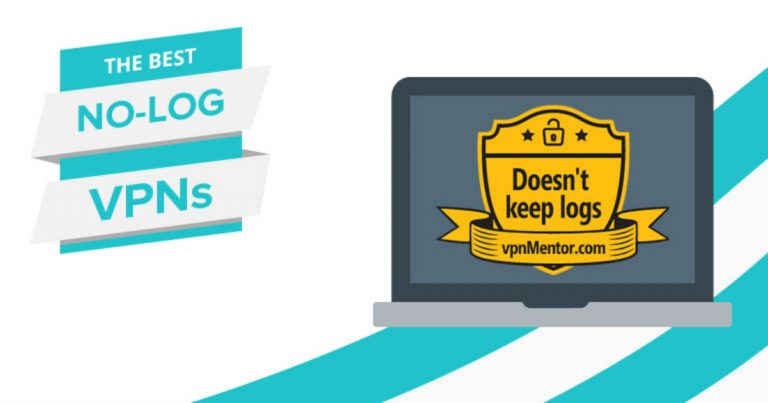 A VPN that logs your data simply isn't safe to use.
When your VPN records what you do online, your data is susceptible to leaks and attacks. If your VPN is from a 5/9/14-Eyes country, it could even reveal your browsing activity to government surveillance agencies.
A reliable, no-log VPN will keep you safe, even if it is hacked or subpoenaed for information. If it doesn't store your data, it has nothing to reveal. 
Our VPN experts take your security seriously. They have researched and tested the top providers to find the best no-log VPN available. You can find their in-depth reviews and recommendations below.
Best No-Log VPNs
NordVPN is Panama-based and has an ironclad no-logs policy
ExpressVPN keeps zero logs and offers lightning-fast speeds
CyberGhost backs their no-logs policy with transparency reports
ProtonVPN and its parent company are renowned for their commitment to privacy
Private Internet Access took on the FBI to prove itself log-free
Why Do You Need a No-Logs VPN?


When you connect to your VPN, your ISP can't see what you're doing online. But, your VPN provider can. So, if you use a VPN that keeps logs, you're putting yourself at unnecessary risk.
Should your VPN provider become compromised, hackers and spies can access these logs and steal your personal information. Untrustworthy providers could even be selling your records to third parties for profit.
If your VPN keeps logs, the biggest threat to your privacy is the 5/9/14-Eyes Alliance. If your VPN is based in an allied country, surveillance agencies can access your browsing activity.
To put it simply, a VPN that doesn't keep logs won't have any information to give the authorities.
The Best No-Log VPNs
Best overall VPN – simply the best there is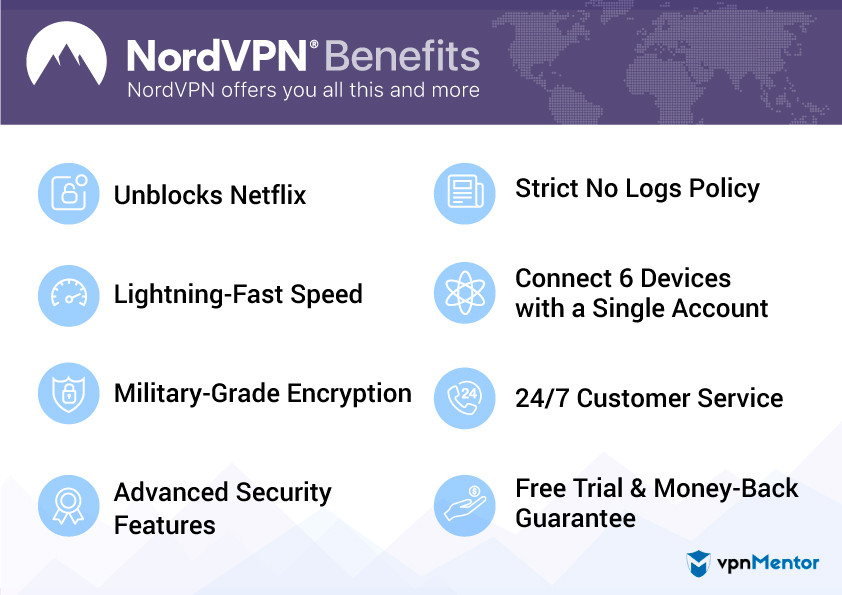 30-day money back guarantee
Panama-based — doesn't monitor, retain, or share any logs/data
Transparent privacy policy
NordVPN is transparent about its logging policy, and this is great news for its privacy-conscious users. According to its privacy policy, your activities are not monitored, logged, stored, or passed on to any third party.
It's also based in Panama, which means that it doesn't have to comply with any data storage or reporting laws. NordVPN is 100% log-free.
Although it doesn't record your browsing activity, it does collect some of your information, like your email address and payment details. This is normal, and necessary, of any VPN that accepts credit cards and PayPal.
However, you can pay with cryptocurrency if you'd like to keep your account completely anonymous.
NordVPN isn't just great for security. With 5,000+ high-speed servers across 60 countries, it's also our top choice for streaming. There's no wonder that it's one of the most popular VPNs on the market.
Looking for speed? Then this is your VPN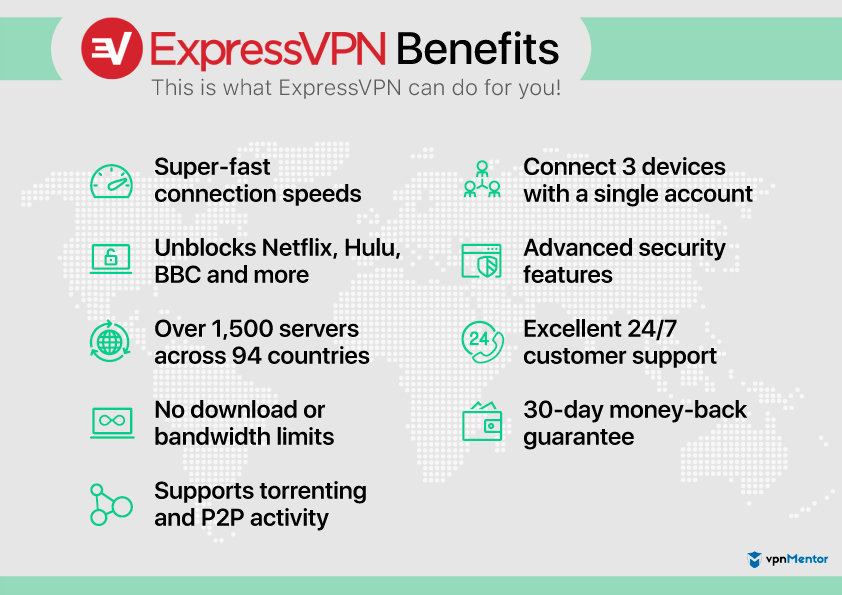 Keeps ZERO traffic logs
Headquartered in the British Virgin Islands — no data retention/reporting laws to worry about
30-day money back guarantee
Based in the British Virgin Islands, ExpressVPN is another service that puts privacy at the forefront.
It keeps a strict no-logs policy, and, because of its location, it isn't subject to any data retention laws. Any out-of-state disclosure orders it receives must come from the British Virgin Islands High Court.
In short, you don't need to worry about the 5/9/14-Eyes Alliance spying on your activity when you use ExpressVPN.
ExpressVPN is one of the best all-round VPNs available. From hiding your location to unblocking Netflix, it can do it all. According to our speed tests, it's also the fastest provider on the market.
Looking to get your money's worth? Then this is VPN for you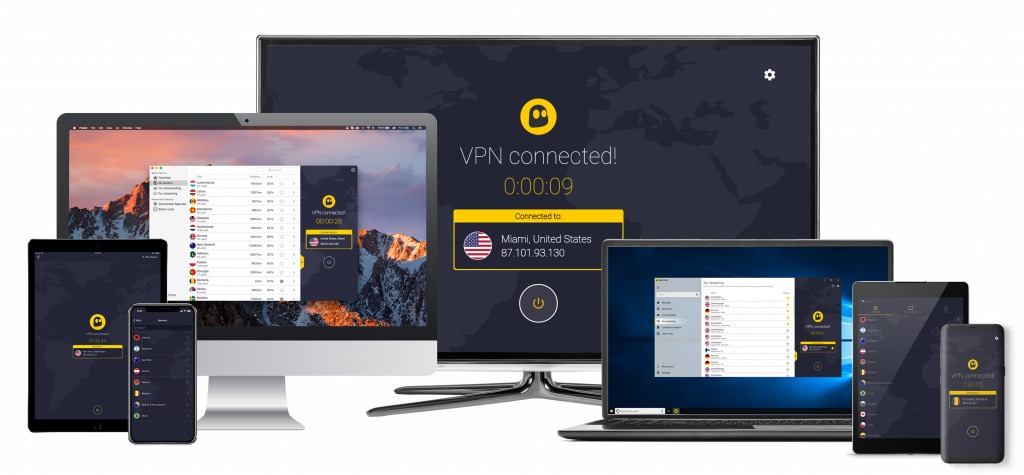 Doesn't store traffic OR connection logs
"No-spy" servers eliminate the need for third-party hosting
P2P- and unblocking-friendly, but suffers from mediocre speed
Romanian-based CyberGhost is a great VPN for beginners because it's straightforward, fast, and secure.
According to its privacy policy, no data pertaining to traffic or connections is monitored or stored.
Like NordVPN, it collects some of your personal and billing information. It also records your IP address for anti-fraud purposes. However, it's stored in an anonymized format and isn't associated with your browsing activity.
CyberGhost owns and manages its own no-spy servers on-site. This means they are free of any third-party involvement and the potential risks associated with it.
With a neat interface, P2P support, and optimized high-speed servers, this VPN will keep your sessions private and practical. Don't believe us? See what their users have to say.
Secrecy? Protection? No one does it better than the Swiss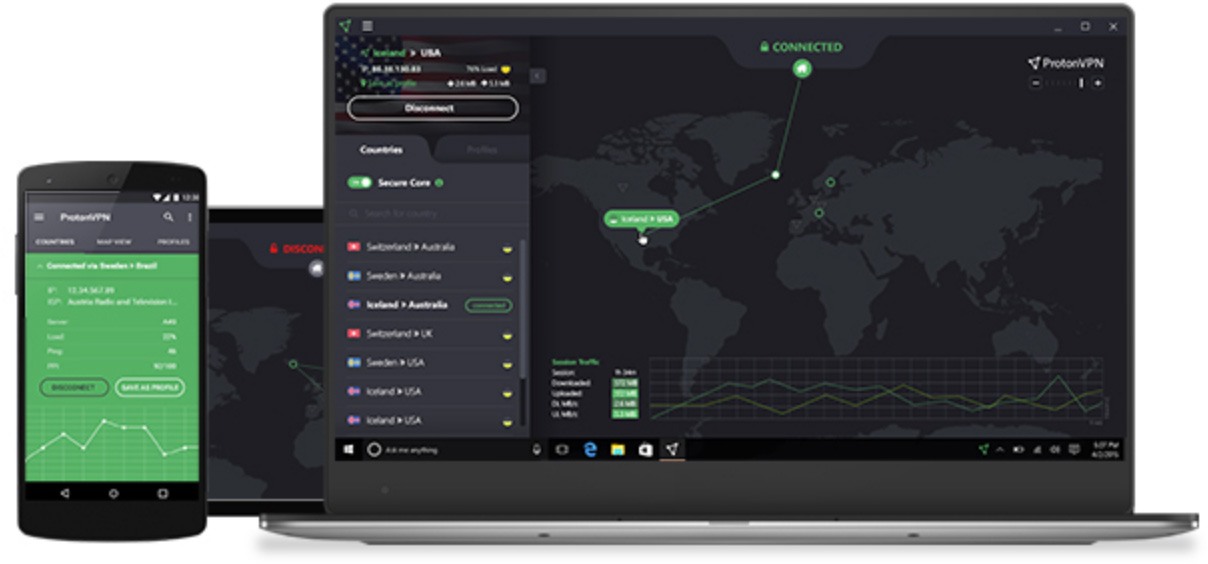 Headquartered in Switzerland
Parent company is known for its focus on encryption and privacy
SecureCore feature provides "double VPN" functionality at no additional cost
ProtonVPN is as close to completely log-free as it gets. The only information it keeps is your login time stamp, which is overwritten with every new login.
Its Swiss headquarters afford it a unique kind of security. Switzerland is outside both US and EU legislation, and completely out of reach of the 5/8/14-Eyes Alliance.
Although Switzerland requires major telecom operates to store connection metadata for a year, ProtonVPN had confirmed it is exempt.
ProtonVPN is a formidable candidate if privacy is your top priority, but this isn't the extent of its features.
With unlimited bandwidth on servers across the globe, we also recommend it for streaming, gaming, and everyday browsing. Its premium plans allow P2P connections for high-speed torrenting.
To help you decide if it's right for you, check out these reviews from real users.
Looking for stability? Then this is the VPN for you

Tried-and-true no-logs policy
You can pay anonymously with Zcash and Bitcoin Cash
US headquarters might be worrying to some
Although its US headquarters are in prime 5/9/14-Eyes territory, PIA has a spotless track record as far as its users' privacy is concerned.
In 2016, PIA received a subpoena from the FBI demanding information about one of its users. Because of its no-logging policy, PIA didn't have any data to release to the FBI.
It's clear that PIA takes this policy very seriously. It's consistently proven its commitment to keeping zero logs. This has made it one of the most respected providers in the industry.
PIA operates a strong global network of servers, and offers apps for almost every device. Although its commitment to security is impressive, it's also great for streaming and other everyday uses.
Keep Your Privacy Intact with a True No-Log VPN
Here at vpnMentor, we believe your VPN should never record your browsing activity.
The providers we recommend above keep a strict no-logs policy and offer the best all-round protection and security.
If you still aren't sure which VPN is the best match for you, we recommend NordVPN. Its privacy features are second-to-none, and you can even try it free for 7 days.
Start Your Free NordVPN Trial NOW!
Further Reading 
Everyone loves to get a good deal. You can save money on your no-log VPN by using our best deals and discounts.
For the ultimate online security solution, consider combining Tor with a high-quality VPN. You can find our experts' recommendations here.
If you're new to the world of VPNs, we have some great tips on choosing the best service for you.