The 5 Best (VERIFIED) No-Log VPNs – Safest & Cheapest in 2019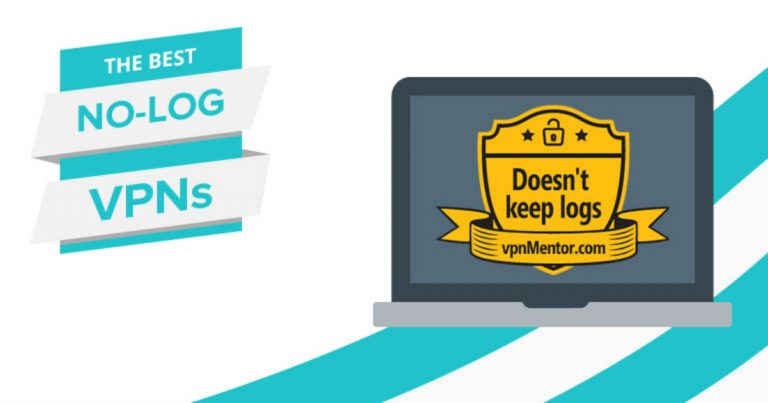 Torrenting, streaming, secure access, or just a safer time on the Internet — it doesn't matter what you're getting a VPN for. A no-logs-kept policy should be on the top of your list whatever the case.
You won't find too many VPN providers that fail to mention how they delete all traffic and connection logs, in addition to other sensitive information. But — advertising practices aside — it's common to land on the seemingly perfect VPN for you, only to later find out that the logging policy isn't as strict or privacy-friendly as you were led to believe.
So how do you make sure you're getting a transparent, bulletproof VPN that truly keeps zero logs?
We're here to help you out. After some heavy research, rigorous tests, and careful examination of privacy policies, we are happy to present you with our roundup of the best no-log VPNs currently available!
Best No-Log VPNs
NordVPN is Panama-based and has an ironclad no-logs policy
ExpressVPN keeps zero logs and offers lightning-fast speeds
CyberGhost backs their no-logs policy with transparency reports
ProtonVPN and its parent company are renowned for their commitment to privacy
Private Internet Access took on the FBI to prove itself log-free
The Best No-Log VPNs
Best overall VPN – simply the best there is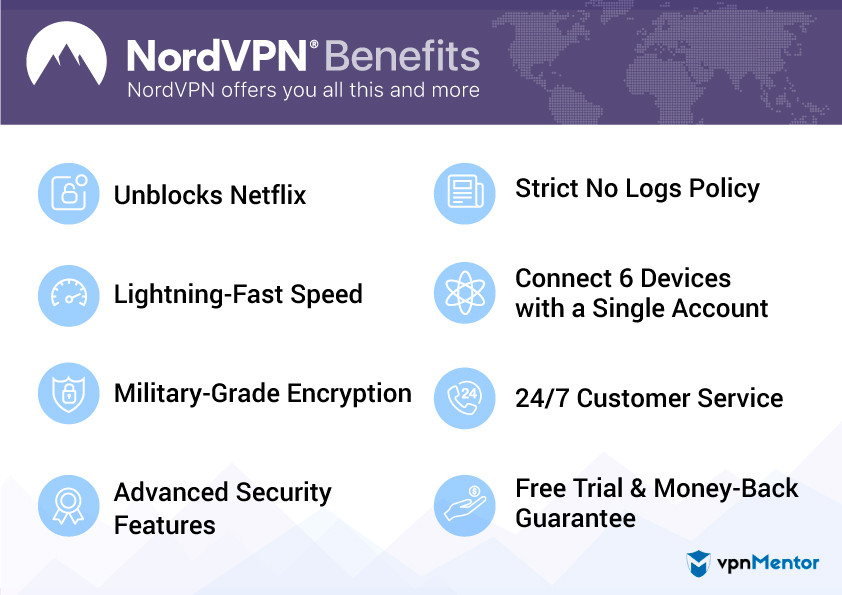 30-day money back guarantee
Panama-based — doesn't monitor, retain, or share any logs/data
Transparent privacy policy
Kill switch prevents accidental IP leaks
Myriad of security, P2P, and streaming features
NordVPN makes its stance on logging perfectly clear — and it's nothing but great news for the privacy-conscious. In a short but concise paragraph found in the privacy policy, you can read the reassuring statement that "your activities while using the privacy solutions created by NordVPN.com are not monitored, recorded, logged, stored or passed to any third party."
Of course, any provider can write whatever they want to (and they often do). So let's take a look at what really matters: location. NordVPN is based in Panama, meaning it doesn't have to comply with any data storage or reporting laws.
With that said, NordVPN's website does collect some user info, like account and payment details. This doesn't pose a risk to your privacy in the slightest, but NordVPN allows you to avoid giving out your billing info by paying anonymously via cryptocurrency.
NordVPN is also feature-packed — with many great features like a kill switch, OpenVPN support, and optimized servers for streaming and torrenting, you have the freedom to do anything you want while keeping it private. Optional extras include Double VPN, Dedicated IP, and much more for an extra layer of security. It's no wonder that it's one of the most popular VPNs on the market.
Looking for speed? Then this is your VPN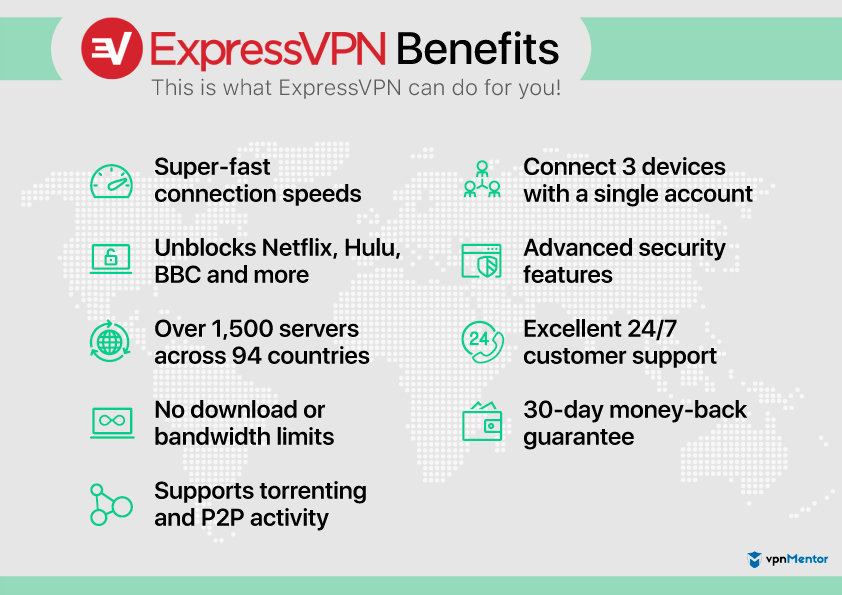 Keeps ZERO traffic logs
Headquartered in the British Virgin Islands — no data retention/reporting laws to worry about
Extremely fast
30-day money back guarantee
Variety of premium features — kill switch, split tunneling, MediaStreamer, DNS leak protection, and more!
Operating out of the British Virgin Islands (BVI for short), ExpressVPN is another service that puts user privacy at the forefront. Its privacy policy is extensive and extremely detailed — the most important takeaways are that this VPN isn't subject to any data retention laws and any out-of-state disclosure orders must come from the BVI High Court.
ExpressVPN clearly states that no sensitive logs are kept in its system — a claim it proved in late 2017 when a high-profile Turkish investigation concluded that an ExpressVPN server was used to delete crucial emails and social media posts. The provider was unable to hand over any user info, simply because it doesn't retain IP addresses, DNS queries, traffic data, and browsing history.
The favorable location, plus the non-collection of any information that could link users to their respective online activity, result in ExpressVPN being one of the most dependable services you can use. But that's not all — this VPN is more than well-equipped to meet any of your needs, from P2P to unblocking and streaming, all while keeping your privacy intact. It also lets you pay via bitcoin.
Because of all this, users are big big fans of the service.
ExpressVPN is also (according to our tests) the fastest VPN you can currently get your hands on.
Looking to get your money's worth? Then this is VPN for you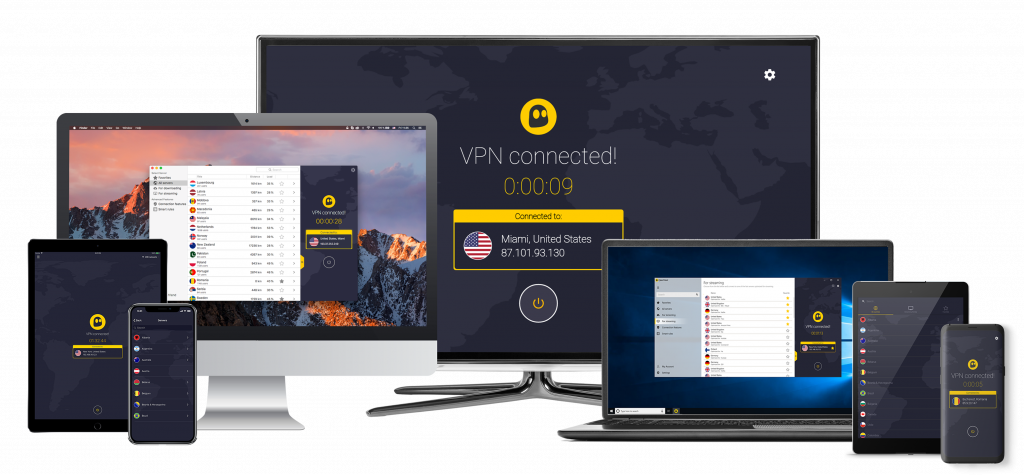 Doesn't store traffic OR connection logs
In-depth privacy policy cuts no corners
"No-spy" servers eliminate the need for third-party hosting
P2P- and unblocking-friendly, but suffers from mediocre speed
CyberGhost is a great VPN for beginners who aren't proficient enough to navigate through an advanced interface but know that a zero-logs policy is crucial for their safety online.
The service itself is based in Romania, which is known for looking out for individuals' privacy (it was one of the first to reject the EU data retention law in 2012). This allows CyberGhost to maintain a strict zero-logging policy — no data pertaining to traffic or connection is monitored or stored.
That said, some personal and billing info is indeed collected — including your IP address for anti-fraud purposes. However, the latter is "stored in an anonymized format", and CyberGhost makes it clear that none of the information can be associated with user activity.
Another great privacy feature is the presence of "no-spy servers" — a crowdfunded addition which allowed CyberGhost to purchase their own servers and manage them on-site. The end result? These servers are free of any third-party involvement and all the potential risks associated with it.
CyberGhost can truly turn you into a phantom for ISPs, hackers, and other unwelcome visitors. With a neat interface, P2P support, and excellent premade profiles, this VPN will keep your sessions private and practical. Don't believe us? See what their users have to say. 
Secrecy? Protection? No one does it better the Swiss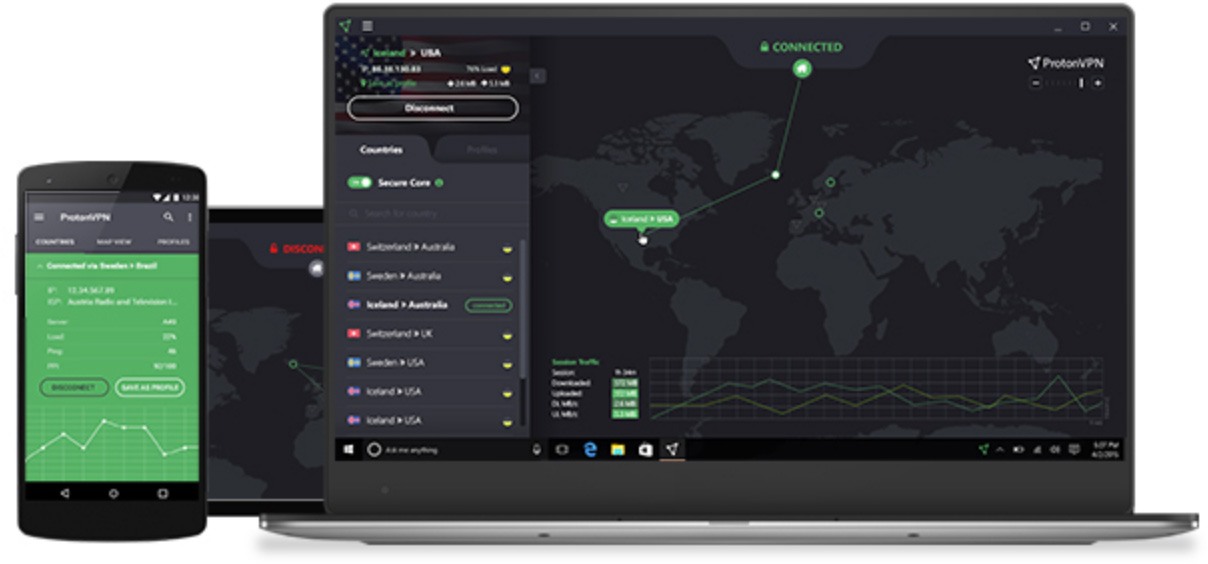 Headquartered in Switzerland
Parent company is known for its focus on encryption and privacy
SecureCore feature provides "double VPN" functionality at no additional cost
Has a free client with limited speeds
Crypto payments are possible but difficult
The existence of a truly logging-free VPN is debatable, but ProtonVPN comes mighty close. Based in Switzerland and created by the same people responsible for ProtonMail (the largest encrypted mail service in the world), this VPN has a lot going for it.
The only data kept by ProtonVPN is a login timestamp. That's it — if other providers keep minimal connection logs, this one sets a new bar. Furthermore, this timestamp is overwritten with every new successful login.
IP logging is out of the question, as are any all traffic logs. The VPN's registered location is also favorable for users — Switzerland is outside both US and EU legislation, and its policies on data retention and P2P activity are rather lenient.
On the flipside, Switzerland has recently passed some questionable surveillance laws requiring ISPs and major telecom operators to store connection metadata for a year. Now, this may affect all Swiss VPNs, but Proton Technologies AG (the owner) has officially stated that it's exempt from the list and not considered a major telecom operator.
The bottom line? ProtonVPN is a formidable candidate if privacy is your top priority — but some issues like bandwidth throttling in the free version, confusing multi-tiered subscription plans, and a convoluted Bitcoin payment process prevent it from placing in our top three. With all the pros and cons, you still might not be sure about ProtonVPN, so to help you decide if it's right for you, check out these reviews from real users. 
Looking for stability? Then this is the VPN for you

Tried-and-true no-logs policy
One of the cheapest VPNs around
Supports P2P
Kill switch included
You can pay anonymously with Zcash and Bitcoin Cash
US headquarters might be worrying to some
Despite being headquartered in the USA, Private Internet Access is a VPN with a spotless track record as far as user privacy is concerned. Actions speak louder than words, however, and PIA has seen its fair share of the former.
Here's some proof: in 2016, PIA received a subpoena from the FBI regarding an ongoing investigation into a potential hoaxer. The company, London Trust Media Inc., kindly let the agent know that it didn't log any user activity as per its privacy policy, essentially proving its commitment to protecting users' identities.
Later that year, PIA demonstrated its integrity again by shutting down its Russian servers in response to new invasive laws. While bad news for some users, many others were relieved to find that PIA took its logging policy very seriously.
So, PIA has been through a few ordeals — and it's consistently proven its commitment to keeping zero logs. This has made it one of the most respected providers in the industry. Still, it's hard to ignore the fact that this VPN shares a home with the NSA — and Edward Snowden already proved to us that the latter's reach is wide and cares little for fair play. Learn more about what users think about PIA here.
Keep Your Privacy Intact with a True No-Log VPN
We believe a robust zero-logging policy isn't just an optional feature, but a must-have. Nearly every VPN out there will "guarantee" you something along those lines — now you know which providers back up their words.
We hope you found this article useful! If so, don't hesitate to share this post — everyone deserves a virtual private network that really is private.
NordVPN is our most highly recommended VPN. Don't miss amazing deals and discounts on our top VPN!
Looking for a fast and secure VPN to keep you safe torrenting? The search is over — check out the best VPNs for torrents.