Top 7 (REALLY FREE) VPN Services That Still Work in 2019
There's a reason free VPNs don't cost any money - you always end up paying one way or another. You deserve better than limited data, annoying ads, and dangerous malware. We tested 100+ free VPNs and found 7 that will give you fast speeds, great streaming, and security you can trust. Share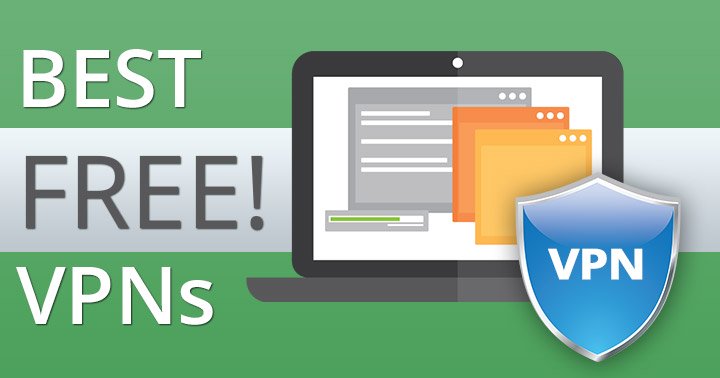 Online privacy is a right, so you shouldn't have to pay for it. Our top seven free VPNs guarantee you secure, private browsing, free of charge and they would also effectively hide your IP address. There are no hidden costs – just download your free VPN and get online.
Usually, the choice between getting a free product or buying one is obvious. Why pay for something you can get for free? It's not so clear-cut when it comes to VPNs, though. After all, there's no such thing as a free lunch: you always end up paying somehow. With free VPNs, you could pay with crawling speeds, annoying ads, dangerous malware, or even having your data stolen.
VPN providers use an obvious trick: they downgrade their free version to push you into paying for the full one. After all, when you're tired of buffering, limited servers, and no Netflix, you're more likely to pay for a fully-functional service.
The better free VPNs give a service that's almost as good – so good, in fact, that you probably won't want to upgrade. Using the free VPNs we recommend, you'll:
be able to stream Netflix, Hulu, and others, and access other geoblocked content
have lightning-fast connection speeds
know that your data isn't being logged
What's the Catch?
Most free VPNs have limitations. These may include a limited choice of servers, slow connections, or capped data usage. More than 65% of the free VPNs we tested won't let you stream or torrent, and some have deliberately slow connection speeds. While you may not pay anything, you'll probably have a frustrating experience.
Free VPNs make it seem like you're getting a product for free. In reality, however, you could be the product. Many users reported to us that free VPN services stole their personal information and sold it to third parties.
This raises another issue. Even a free VPN should help you stay anonymous online – but only a really safe one actually will. Unfortunately, many free VPNs pose serious risks to your security.
Your information can only be sold if it's stored. Many free services don't have a no-logs policy, meaning they can track your data and put your privacy at risk. Free services are also notorious for spam, ads, and malware.
We've seen a lot of good free VPN offers, and some seemed a little too good to be true. This raised our suspicions, so we investigated the more unrealistic providers.
Shockingly, we discovered that many free VPNs are owned by China – the same Chinese government that imposes the world's strictest censorship laws! In their privacy policies, some even specified that user data would be logged and could be shared. This is, frankly, shocking. To protect your privacy, stay away from any VPN owned by China.
There's one more very important reason to be careful of free VPNs. Businesses know that customers like our lives to be easy. They assume that if you like their limited free service, you'll upgrade to their paid VPN later.
The problem? The best free VPN doesn't necessarily mean the best paid VPN. It certainly doesn't mean the best value for money. Many free providers offer expensive plans with second-rate features, while other services don't have a free trial but offer cheaper plans with better features. Sticking with your now-familiar provider could mean you end up paying more for less, and settling for a second-rate service instead of a top VPN.
1. ExpressVPN – Most Expensive VPN for Free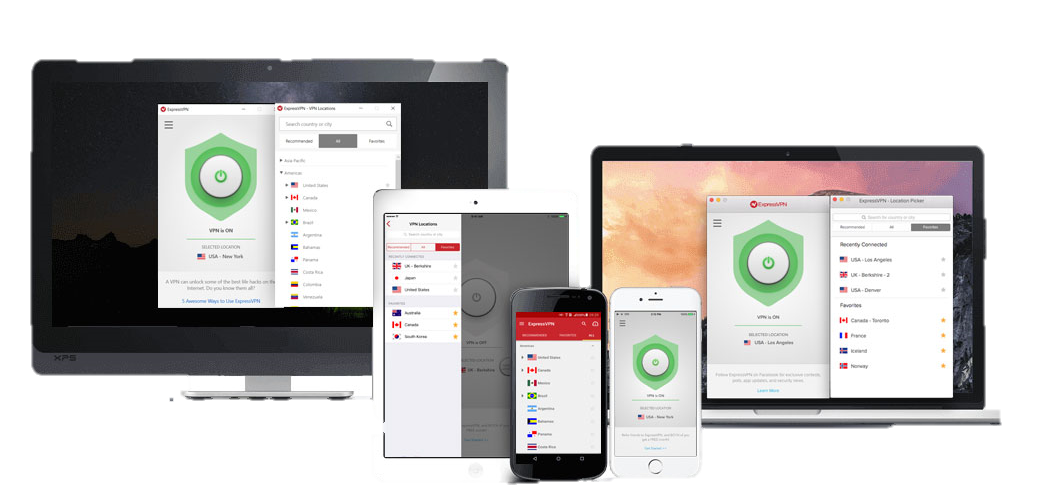 ExpressVPN isn't usually free. It's actually one of the most expensive VPNs available, as it's packed with some of the most advanced features. So why are we listing it here with our top-rated free VPNs?
ExpressVPN offers a 30-day money-back guarantee, no questions asked. We actually tested it, and it really is that easy! This means you can test one of the best VPNs for free for a month, and it's totally risk-free.
This is ideal if you only need a VPN for a short time. If you're traveling to China or Russia for less than a month, ExpressVPN's free trial will let you bypass online censorship. You'll be able to access your emails, socials, and streaming as normal.
It's also a great way to enjoy unlimited streaming and outstanding security without committing to an expensive plan. After all, if you want to understand why people love VPNs without paying, you shouldn't use a slow, spammy, free program. Instead, try a great service like ExpressVPN or NordVPN for free. If you love it as much as these real users did, keep it – and if not, cancelling your trial is easy.
ExpressVPN:
Consistently unblocks Netflix so you never miss an episode
Has more than 2000 servers in 148+ locations across 90 countries
Guarantees lightning-fast connection speeds
Offers advanced security protocols, military-grade encryption, and has a kill switch
Ensures complete and total privacy as its host country is not part of the Five-Eyes Alliance
Will protect your privacy and give you unrestricted internet access in China and Russia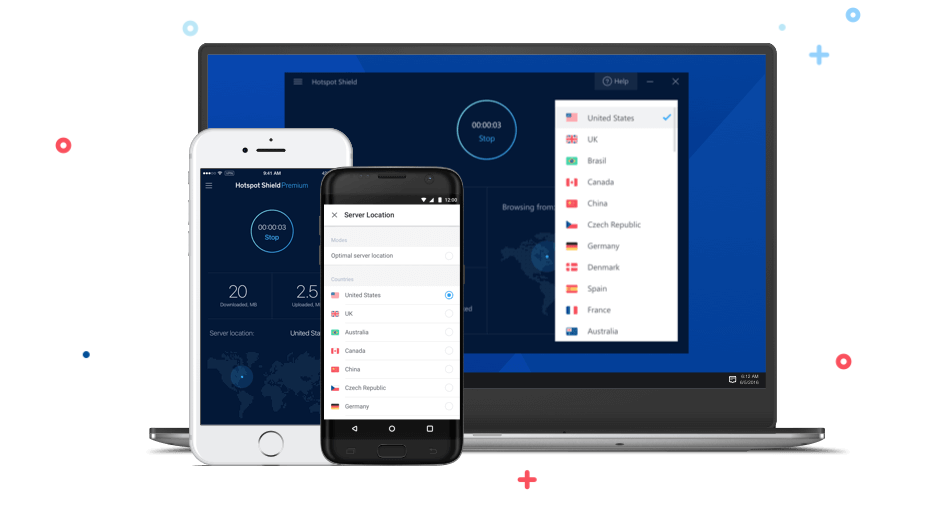 Hotspot Shield is our top choice for a free VPN. The free version offers lightning-fast speeds as well as military-grade encryption, guaranteeing quick, secure browsing.
Hotspot Shield is compatible with every operating system, has a no-logs policy, and offers dedicated tech support. You'll be able to access geo-restricted content from anywhere, using any device.
The free version gives you just 500 MB of data every day. While this isn't enough for streaming Netflix or torrenting, it's definitely enough for secure browsing on the go.
You can add just one device to your free Hotspot Shield account, and access a very limited number of servers. The free version is supported by ads, so you'll see plenty of them!
| | |
| --- | --- |
| Free Version Pros | Free Version Cons |
| Fast connection speeds | No streaming |
| No-logs policy | Data limit: 500 MB/day |
| Military-grade encryption | Lots of ads |
Advantages of a premium Hotspot Shield account:
Streams Netflix, Hulu, and more great content
Unlimited data for up to 5 devices
Access to 2,500+ servers in 25 countries
24/7 live chat tech support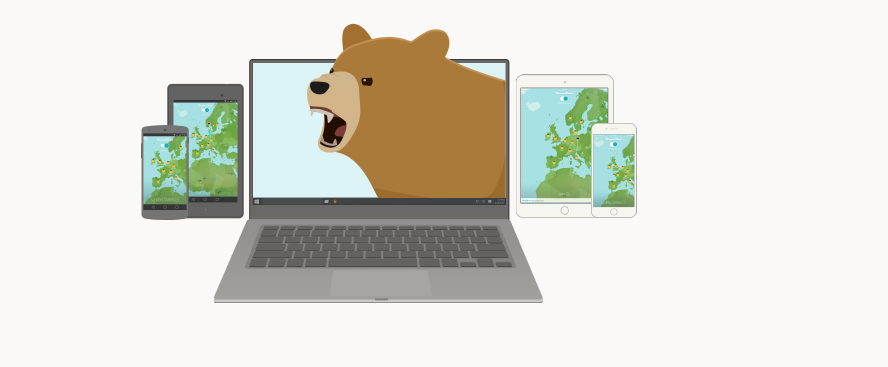 If you're new to VPNs, TunnelBear's free version is a great way to get started. It has a user-friendly interface which comes complete with animated grizzly bears. You can connect to servers in 22+ countries, and enjoy decent connection speeds.
TunnelBear take security and anonymity very seriously. The VPN is independently audited, uses AES 256-bit encryption, and guarantees no data logging. This means your data will never be stored and your identity will always stay private.
A free TunnelBear account gives you just 500 MB of data every month (but you can tweet them for an extra 1 GB). This VPN doesn't work with Netflix, streaming sites, or torrenting sites, so it won't help you access geo-blocked video content.
| | |
| --- | --- |
| Free Version Pros | Free Version Cons |
| Good connection speeds | No streaming |
| No logging and powerful encryption | Data limit: 500 MB/month |
| No ads | Small server network |
Advantages of a premium TunnelBear account:
Unlimited data for up to 5 devices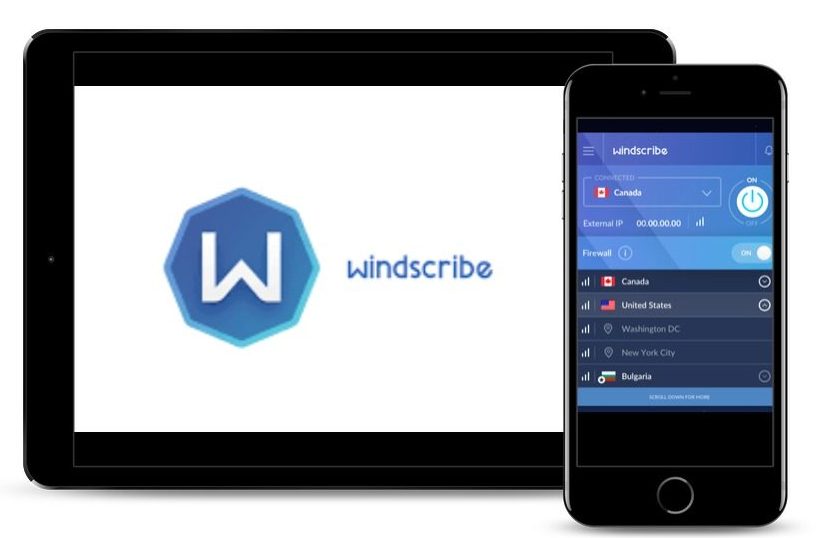 Windscribe's generous data allowance makes it one of our top free VPNs. Free account users get 10 GB of data every month, and can get an extra 5 GB by tweeting the company. You can also "win" an extra 1 GB of free data every month by referring friends.
Windscribe developed Windflix, a special feature designed to guarantee access to Netflix US and UK. As well as unblocking the most popular streaming sites, Windscribe also supports torrenting across most servers.
Both paid and free users can access all Windscribe features, including R.O.B.E.R.T, its ad and malware blocker. The company has a detailed privacy policy that clearly explains what data they store, as well as a no-logs policy. Windscribe also boasts state-of-the-art encryption and security.
Windscribe offers a desktop app and browser extension. The program has a user-friendly interface, with a choice of customer support options including live chat and setup guides.
As well as limiting your data, a free Windscribe account restricts you to accessing servers in just 10/50 countries.
| | |
| --- | --- |
| Free Version Pros | Free Version Cons |
| Streams Netflix | Data limit: 10 GB/month |
| Supports torrenting | Reduced server network |
| Good security options | Stores some information while connected |
Advantages of a premium Windscribe account:
Unlimited data
Access to full server network in 50 countries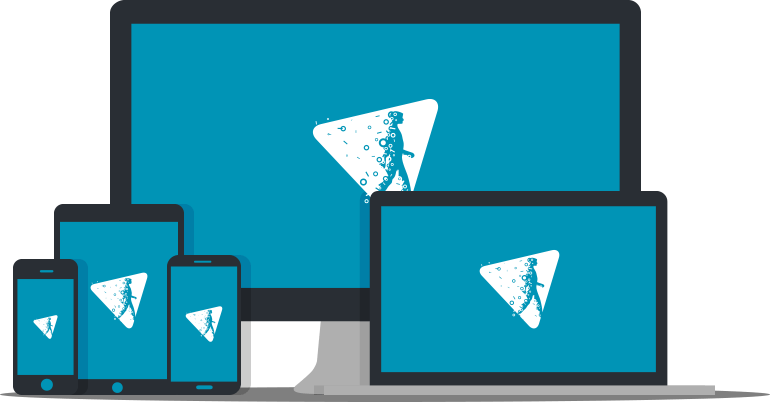 hide.me offers a stripped back, reliable free service. You'll get 2 GB of free data every month, all the benefit's of hide.me's security protocols, and a choice of five countries to connect through. Only one of these servers is in Europe.
Unfortunately, hide.me won't give you access to Netflix. However, it supports torrenting.
Hide.me really believes that free is free, so they don't penalize free account users. You'll have 24/7 access to technical support and ad-free browsing. hide.me has a no-log policy, strong encryption, and multiple protocols, ensuring your safety and privacy.
| | |
| --- | --- |
| Free Version Pros | Free Version Cons |
| Good connection speeds | Data limit: 2 GB/month |
| No-log policy | Access to limited number servers |
| Lifetime free service guarantee | Limited bandwidth |
Advantages of a premium hide.me account:
Unlimited data on 5 devices
Access to 160+ servers in 55+ countries
Supports torrenting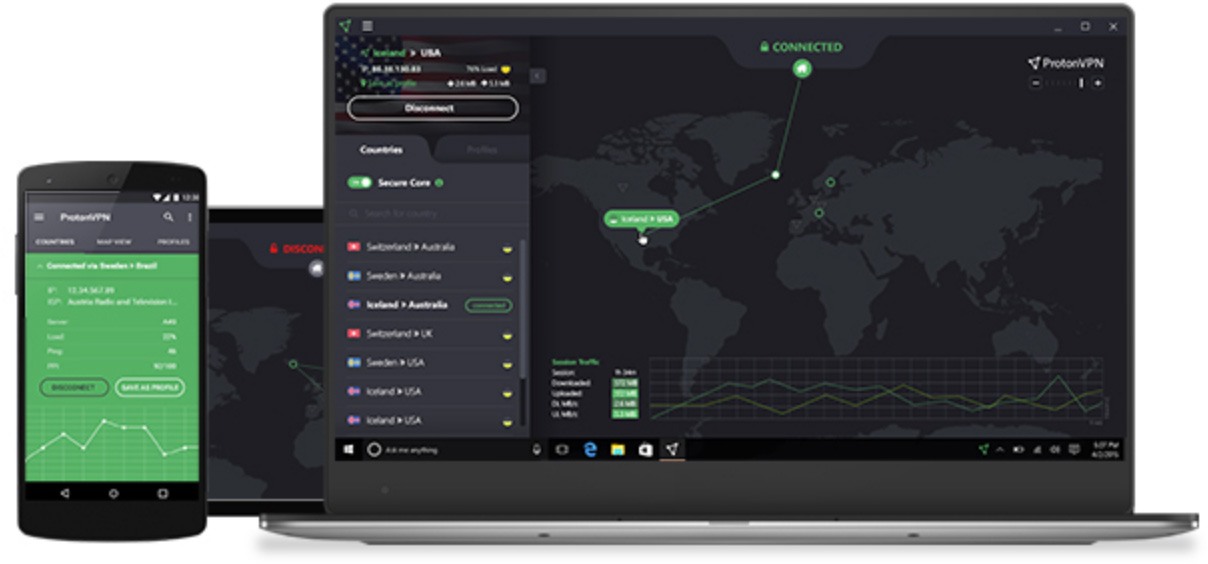 While ProtonVPN offers a strong premium service, their free VPN seems a little threadbare. Although you'll have unlimited data on one device, you'll struggle with deliberately reduced connection speeds.
You'll be able to watch Netflix US with ProtonVPN. It claims to have optimized its servers specifically for torrenting. However, free accounts do not support P2P file sharing, so you won't be able to torrent.
ProtonVPN features an easy-to-use, intuitive interface and multi-platform compatibility. The company also offers very strong security features, including powerful encryption and protocols. This means that your browsing activity will remain secure, and your data will stay private.
| | |
| --- | --- |
| Free Version Pros | Free Version Cons |
| Unlimited data | Reduced server access – only 3 countries |
| No-log policy and Swiss privacy laws | Slow connection speeds |
| Great security features | No torrenting or streaming |
Advantages of a premium ProtonVPN account:
Up to 10 simultaneous logins
High speeds
Supports P2P file sharing for torrenting
Access 340+ servers in 30 counties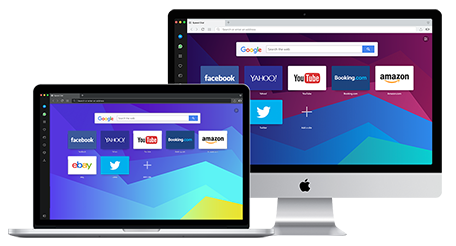 Opera isn't a VPN service per se. They create web browsers with the intention of keeping the internet open, free, and safe.
The Opera browser is available for Windows, Mac, and Linux, as well as Android. It features a built-in ad blocker and VPN, as well as malware protection and other privacy features. Its VPN function hides your identity for anonymous browsing; this is especially useful over public Wi-Fi networks.
Conclusion:
To summarize, there are some good free VPNs available. However, even the safest free services are not risk-free. The best free services cannot measure up to the best paid ones.
A premium service offers increased security and protection, as well as streaming and torrenting support. And unlike most free VPNs that limit your data, premium VPNs also offer you unlimited data. You'll also be able to access more servers in more countries and enjoy faster connection speeds.
The best part of the top premium VPN services is that you can test them out for free. Most offer free trials and offer a risk-free money-back guarantee if you're not completely satisfied. You'll be able to make sure the service you choose is 100% right for you.
Check out our VPN deals page (updated weekly) where you can find top-shelf VPNs for ridiculously cheap prices!
Here's our pick of the top premium VPN services today:
You Might Also Like: