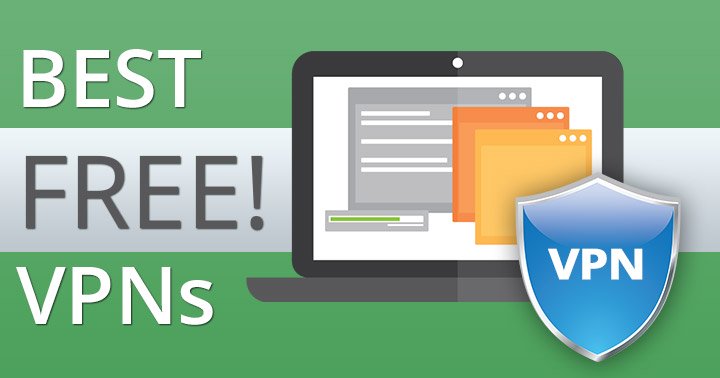 10 Best (REALLY FREE) VPN Services That Still Work in 2021
Updated on 29th April 2021
It's hard to find a free VPN that's safe and fast enough to actually use. With the help of my team, I tested over 80 free VPNs — and found there are only a few services you can trust. Most of the services were too slow to load websites and some even caused my computer to crash.
If you don't want to waste time or ruin your device by downloading risky apps, the 10 I've listed below are working, reliable, and safe.
Out of all the VPNs I tested, ExpressVPN wins because of the high-end features you have access to. You get unlimited bandwidth, fast speeds, and a secure connection — the only thing is that it isn't free upfront. You can get a plan and test it out for yourself risk-free. If you feel it's not suitable, you can then claim a full refund within 30 days. This makes ExpressVPN great for short-term use, while the other free VPNs on my list are suitable for longer-term use (with other limitations).
Start Using ExpressVPN Risk-Free!
Best Free VPNs – Full Analysis (Updated May 2021)
I tested the leading free VPNs to see if I could find any that offered a secure service with no limitations. Unfortunately, no truly free VPN offers the whole package of security, speed, reliability, and unlimited usage. You need a low-cost premium VPN for that. What I did find was 10 free VPNs that are safe to use as long as you don't mind a few compromises.
30-day money-back guarantee
Unlimited bandwidth and data
3,000 servers in over 90 countries
256-bit AES encryption and a no-logs policy
Up to five simultaneous connections
Works with: Amazon Prime Video, BBC iPlayer, Disney+, Hulu, ITV Hub, Netflix, and more
Compatible with: Android, iOS, Linux, macOS, Windows, Amazon Fire Stick, AppleTV, and many routers
ExpressVPN is a premium service, but it has a 30-day money-back guarantee. This means that while it's not free upfront, you can get your money back if it doesn't work out for your needs.
With ExpressVPN, you'll experience unlimited bandwidth and data so you can browse and download for hours without being cut off. If you like to stream Hulu, Netflix, or any of the other sites that the VPN can unblock, you'll find that unlimited data is a feature you can't live without.
ExpressVPN can unblock so many sites because it has over 3,000 high-speed servers across more than 90 countries. Access to so many IP addresses allows the service to go undetected by even the strictest anti-VPN measures.
To ensure your personal info stays safe, ExpressVPN employs military-grade 256-bit AES encryption, which scrambles your data so well that it would take billions upon billions of years to crack. It also maintains a no-logs policy that guarantees it will never record your browsing history, identity, or any other personal data.
Other important security perks that come with your subscription include an automatic kill switch to prevent leaks during accidental disconnects and split tunneling that allows you to choose what traffic passes through the VPN.
With ExpressVPN, you can connect up to 5 devices simultaneously. This gives you the freedom to stream on your phone as you work on your computer, while others in your home do other things on their own devices.
Want to know more? Explore our ExpressVPN review to see the full results of our research and testing.
Start RISK-FREE With ExpressVPN!
Unlimited free data
No-log policy and Swiss privacy laws to protect your anonymity
Robust encryption and an automatic kill switch
Works with: YouTube, Spotify, Kodi
Compatible with: Windows, macOS, iOS, Android, Linux
ProtonVPN offers a limited free version of its strong premium service. One of its biggest advantages over most free VPNs is that it comes with unlimited data. It is also ad-free, which is a big plus. With the free plan, you get access to servers in only Japan, Netherlands, and the US.
With all of ProtonVPN's free users connected to one of just three locations, its servers are often overloaded and your connection speed could be slow. You will need to upgrade to a paid plan to stream or torrent with ProtonVPN, but you can still use the free virtual locations to bypass censorship and access geoblocked social media platforms and messaging apps.
ProtonVPN features an easy-to-use, intuitive interface and multi-platform compatibility. The Quick Connect feature connects you to the fastest nearby server. The VPN also offers strong security, including powerful AES encryption and an automatic kill switch. Other features include DNS leak protection and split tunneling support.
One thing I liked about ProtonVPN was how straightforward its privacy policy is. This VPN has a clear zero-logging policy that is strictly enforced. The company is based in Switzerland, outside the jurisdiction of the 5/9/14-Eyes Alliance, which is great for privacy.
Want to know more? Explore our ProtonVPN review to see the full results of our research and testing.
10 GB of free data every month
Access blocked content in 10 countries
Robust encryption, malware protection, and ad blocking
Torrenting support
Works with: Netflix, Hulu, HBO
Compatible with: Windows, macOS, iOS, Firefox, Chrome, Linux
Windscribe's generous data allowance makes it one of my top free VPNs. It's enough to stream in high definition for just over three hours. You can get an extra 5 GB by tweeting the company. You can also "win" an extra 1 GB of free data every month by referring friends. Windscribe boasts state-of-the-art security, with robust AES encryption and support for multiple VPN protocols.
Both paid and free users can access all Windscribe features, including its ad and malware blocker. It's pretty rare to find a free VPN with this feature, so this is a big bonus. Windscribe also comes with a firewall that blocks all traffic outside the VPN's secure tunnel in order to prevent unexpected leaks.
Other useful features include port forwarding and split tunneling. The company has a detailed privacy policy that clearly explains what data they store, as well as a no-logs policy to protect your privacy. Windscribe offers a desktop app and browser extension. The program has a user-friendly interface, with a choice of customer support options including live chat and setup guides. Single-click connect makes it super easy to get started.
As well as limiting your data, a free Windscribe account restricts you to servers in only the US, the UK, Canada, France, Germany, Hong Kong, the Netherlands, Norway, Romania, and Switzerland. A limited selection of servers means you can't use Windscribe to unblock content from outside these regions.
Want to know more? Explore our Windscribe review to see the full results of our research and testing.
500 MB of free data every 24 hour period, which means 15 GB per month
Simple, user-friendly interface makes it easy to get started
Military-grade encryption protects your internet activity
Stable connections ensure lag-free browsing
Works with: YouTube and Spotify
Compatible with: Windows, macOS, iOS, Android, Chrome
Hotspot Shield offers reliable connections and military-grade encryption. My tests didn't reveal any DNS leaks, which means it effectively masks your IP address to protect your privacy online. Hotspot Shield is compatible with all major operating systems, has a no-logs policy to protect your anonymity, and offers dedicated tech support. It also offers P2P support for both free and premium users.
Its user-friendly, dedicated apps offer one-click connect, so you can get started without a hassle. The free version comes with limitations. It is supported by ads and gives you only 500 MB of data per day. While this is far too little for downloading large files, you will have no problem checking your email or browsing social media.
Unfortunately, you can't use the free version for streaming.
Although Hotspot Shield has 3,200 servers in 80 countries, the free version only gives you access to the US virtual location. You will be blocked by a Premium Payment Wall if you try to access streaming content with the VPN enabled. Even with only one virtual location, Hotspot Shield can still help you escape government censorship and bypass content filters at school or work so you can access your favorite websites and social media apps from anywhere.
If you like Hotspot Shield Free and want to try the premium version, you can test it out with a 7-day free trial.
Want to know more? Explore our Hotspot Shield review to see the full results of our research and testing.
Start FREE with Hotspot Shield!
10 GB of free data per month
Free servers in four countries
Strong encryption and multiple available protocols
Good connection speeds for quick loading and browsing
Works with: Hulu, iPlayer, Amazon Prime Video, HBO GO
Compatible with: Windows, macOS, iOS, Android, Linux, Chrome Firefox, Amazon Fire TV, routers
hide.me offers a stripped back, reliable free service. You'll get 10 GB of free data every month and all the benefits of hide.me's user-friendly dedicated apps and robust protection. Advanced security features include strong AES encryption, an automatic kill switch, leak-protection, and strict no-log policy.
hide.me supports multiple VPN protocols so you can optimize your connection and choose the best fit for your device. Thanks to these secure connection protocols, you can connect to unsecured public WiFi networks without worrying about prying eyes.
Users are not required to enter an email address or any personal details when signing up, further protecting your online anonymity.
The five free servers – located in Canada, the Netherlands, Germany, US East, and US West – aren't currently able to access geoblocked content, including Netflix and BBC iPlayer.
However, you can use the free servers to get around content filters at your workplace or school and bypass tough government censorship. Plus, hide.me is P2P-friendly and supports torrenting for both free and paid users. However, you are limited to the amount of file-sharing you can do with the 10GB data cap.
A free account also limits you to one device connection at a time. So, if you're browsing on your laptop, your phone or tablet won't be actively protected.
Additional features the free hide.me trial includes 24/7 access to technical support, split-tunneling, and ad-free browsing.
Want to know more? Explore our hide.me review to see the full results of our research and testing.
500 MB of free data every month
Servers in 25 countries
No-logging guaranteed
Works with: YouTube, Spotify
Compatible with: Windows, macOS, iOS, Android, Chrome, Firefox, and Opera
If you're new to VPNs, TunnelBear's free version is a great way to get started. It has a user-friendly interface that comes complete with animated grizzly bears. Unlike most free VPNs that limit you to a handful of servers, TunnelBear allows free users to connect to many countries and enjoy decent connection speeds.
TunnelBear is independently audited, uses AES 256-bit encryption, and guarantees no data logging. This means your data will never be stored and your identity will always stay private. This VPN can unblock most geo-restricted websites and bypass pesky content filters without a hassle, but it doesn't work with Netflix or other streaming services.
A free TunnelBear account gives you just 500 MB of data every month, but you can tweet them for an extra 1 GB. This is enough to stream for about 30 minutes, but you won't be able to download large files or watch any movies.
Want to know more? Explore our TunnelBear review to see the full results of our research and testing.
Unlimited data and bandwidth
Built-in ad blocker and malware protection
No registration needed
Compatible with: Windows, macOS, iOS, Android, Linux
The free web browser Opera comes with a built-in VPN that masks your IP address as you browse the web. You will need to enable the VPN in the browser settings. Because it is a browser extension only, your OperaVPN won't protect any traffic sent from other browsers or apps. So even though your browsing activity is safe, your emails and banking apps aren't protected.
In addition to its free VPN service, the browser features a built-in ad blocker and malware protection. When you use the browser, the VPN function hides your identity for anonymous browsing – this is especially useful over public WiFi networks. You can choose from only three virtual locations: the Americas, Europe, and Asia.
Because you can't select specific servers within those regions, OperaVPN is not a good choice for streaming. I was not able to unblock Netflix US, BBC iPlayer, or any other streaming service I tried. The browser is available for all major platforms.
Want to know more? Explore our OperaVPN review to see the full results of our research and testing.
2 GB of free data every month
430 servers in 50 locations worldwide
Fast and reliable connections with Channel Bonding technology
ChaCha encryption cipher combines security and speed
Compatible with: Windows, macOS, iOS, Android, Linux
As its name suggests, Speedify was designed using VPN protocols that improve your connection speed. Its Channel Bonding technology allows you to use multiple internet connections at once which splits your web traffic and reduces congestion so you get faster speeds.
Speedify passed all my DNS leak detection tests. This means it effectively masks your IP address to protect your privacy and help you access censored and geo-restricted content online. Your online activity stays safe and anonymous with Speedify's unique ChaCha encryption cipher and strict no-logs policy.
Speedify's Amsterdam server is optimized for BitTorrent and P2P activity. 2 GB of free data per month is plenty if you want secure VPN protection while you quickly check your email or update your FB feed, but it isn't enough for streaming or torrenting.
Like most free VPNs, Speedify encourages you to upgrade to a premium account. However, the vendor is committed to keeping the free version ad-free. This is great for your security because it means that Speedify doesn't have to share any of your information with third party advertisers or Google ads.
Want to know more? Explore our Speedify review to see the full results of our research and testing.
500 MB of free data per day
No registration needed – just download and get started
Robust encryption and malware protection
Compatible with: Windows, macOS, iOS, Android, Chrome
Although 500 MB might be enough for 30 minutes of low-quality streaming, Betternet does not allow you to stream using its free account. You can only connect to its US server location, so you can't access geoblocked websites from anywhere else in the world. Still, Betternet does a good job covering the basics when it comes to security.
It offers robust encryption, good speeds, and perfect forward secrecy – but no kill switch. If your connection to the VPN server fails, your traffic will not be protected. This free VPN is a good choice for protecting yourself from spying eyes when you connect to an unsecured public WiFi network, but you should look elsewhere for total anonymity.
Betternet collects more user information than is ideal for privacy, some of which may be shared with third-party service providers. You can also expect to see plenty of ads with your free account.
Want to know more? Explore our Betternet review to see the full results of our research and testing.
Unlimited data
Virtual locations in 6 countries
Built from secure OpenVPN technology
Compatible with: Windows, macOS, iOS, Android, Linux
VPNBook offers unlimited free data, secure AES encryption and a choice of OpenVPN and PPTP connections. You can get online from any location without worrying about spying eyes, but VPNBook only has servers in the US, the UK, Canada, France, Germany, and Poland. On its website, VPNBook claims to unblock Netflix and Hulu, but I couldn't access either of them when I tested it.
The company operates out of privacy-friendly Romania and doesn't collect any activity logs, but it does retain some connection logs for up to a week. Unlike the other VPNs on this list, VPNBook does not offer dedicated apps for your devices. Instead, it provides manual configuration files for OpenVPN. It's not as complicated as it sounds, especially with VPNBook's step-by-step installation guides.
VPNBook supports torrenting on some servers and it can be used to bypass censorship. This VPN is supported by ads, so you can expect to see some while using the service.
Want to know more? Explore our VPNBook review to see the full results of our research and testing.
Warning: What Free VPN Providers May Not Tell You
Free VPNs are never truly free — you always end up paying in one way or another. Free VPNs limit your data and bandwidth because they want you to upgrade for more. Many even sell information about you for profit which puts you (very unfairly) at risk because they're not transparent about who it's sold to. The free VPNs on this list won't put you at risk — but they still come with some big limits.
Paid VPNs charge an ongoing fee but they offer far better protection and features (they don't sell your data behind your back either). Plus, you can get a paid VPN for free for a short period by using money-back guarantees to get a refund.
Quick Summary Table: Free vs. Paid VPNs (Pros and Cons)
Pros
Cons
Free VPNs

Free
No need payment information
No need to commit to a subscription

Usually restrict data and bandwidth
Overcrowded server networks = slow speeds
Most do not have customer support (that actually respond to you)
Don't usually offer IPv6 protection so your ISP can see your activities
Annoying ads
Poor security and encryption (some are just proxies)
Many sell your personal data for profit
Many keep logs

Paid VPNs

Give you unlimited data and bandwidth
They have servers in most countries
Allow streaming and torrenting (and have enough data for both)
Most have 24/7 support
IPv6 and DNS leak protection is included to keep you safe
Most have built-in ad blockers
They use 256-bit encryption (the highest level available)
They don't keep logs or share your information with anyone

Not free (usually a small monthly fee)
Payment details required (unless you pay with BitCoin)
Free VPNs You Should Avoid
I found some really untrustworthy free VPNs with frightening security issues that you should avoid. Unlike the free services on my list, these VPNs are dangerous to use.
| | |
| --- | --- |
| Hola | Isn't a real VPN; it's a P2P network. Other users connect to your computer and use your IP address — you could get in trouble if they do something illegal because it can be traced back to you. |
| CrossVPN | CrossVPN was infected with a trojan virus that installed itself alongside the VPN app. Installing it risks your security, and could damage your device. |
| sFly Network Booster | It isn't a VPN — and it can access and send messages from your device. |
| OkVPN | Can make ads appear in other apps. |
| EasyVPN | Also has the ability to display ads in your other apps. |
| Psiphon | Allows its partner companies to track you, shares your data with them, and lets them display targeted ads to you |
| HoxxVPN | Is a proxy — not a VPN (and it keeps logs that it sells to third parties). |
| Archie VPN | Infested with malware. |
| HatVPN | Share free users' city location with advertisers and is infested with malware. |
| SuperVPN | Stores logs and downloads malware to your device. |
| Private Pipe VPN | Shows you targeted ads and logs your activity. |
| Tuxler VPN | Logs your browsing activity and shares it with advertisers to create targeted ads. |
| GO VPN | Not a VPN — it's just a proxy. Its apps display targeted ads, which suggests it shares your logs with advertisers. |
| Hexatech | Allows advertisers to access your user data and browsing activity. |
| Faceless.me | Doesn't work — when I visited the site, McAfee flagged it as malicious. |
| FinchVPN | Downloads malware to your device. |
| VPN OneClick Free | Installs malware on users' devices. |
| Fast Secure Payment | Riddled with malware. |
Try ExpressVPN Risk-Free For 30 Days!
Research Methodology: How I Tested These VPNs
My research process is based on monthly tests of each VPN, using performance analysis tools, real-life use cases, and additional tests done by our field operatives in 10 countries around the world, including countries with monitored networks such as China and Russia.
Each of my recommendations is ranked based on its combined results on security, speed, usage limits, and reliability. I also looked at streaming and torrenting support, logging policies, server availability, compatibility, and bonus features like malware blocking.
I tested each service's security features for leaks and potential vulnerabilities. I also looked into their logging policies to find out exactly what information they store—if any—and how that information is used. Keep in mind that only a VPN with a strict no-logs policy can guarantee that none of your data is stored or sold.
I tested speeds with speedtest.net, comparing my connection speed both before and after connecting to each VPN. You can expect most VPNs to slow down your connection to some extent. However, due to limited networks or deliberate restrictions, free VPNs can be so slow that they make browsing or streaming very difficult. Only the best VPNs can give you speeds that are comparable to your normal connection.
I ranked each of my recommendations according to the compromise they offer between free data and other features. For example, if a free VPN offers unlimited data but is too slow to use, it is not ranked as highly.
The results you get from a VPN can vary depending on the server you use. The bigger a VPN's network, the more servers you can choose from and the more reliable the service. Where possible, I tested a range of servers across each VPN's network to give you the most accurate picture of what you can expect from each service.
FAQs About Free VPNs
? Are free VPNs safe?
Out of all the VPNs I tested, I found that only a few are actually really safe to use. Most free VPNs are dangerous to use because they don't offer proper encryption, they keep logs, and their apps don't work correctly. Some free VPNs have even been reported to download malware onto users' devices.
I tested over 80 services with the help of my team, and the free VPNs on my list are safe, reliable, and fast.
? Can I install a free VPN on all my devices?
Most free VPNs are only compatible with laptops, desktops, and phones.
I have included a compatibility guide with each free VPN review on this list to help you find a free VPN with apps for your devices. I've listed free VPNs with apps for: Windows, macOS, iOS/iPhones, Android, Linux, Chrome, Firefox, routers, Amazon Fire TV Stick, and more.
? Can free VPNs unblock streaming platforms like Netflix?
The free VPNs on this list can access popular streaming sites like Netflix, Disney+, and Hulu. Some of them will have trouble accessing platforms with stricter detection technology like Amazon Prime Video and BBC iPlayer.
In all of my testing, the only VPNs I have found to be able to access streaming sites reliably are paid VPNs. If you don't want to pay for a subscription, you can take advantage of their money-back guarantees to use them for a short time.
? How can I try a paid VPN for free?
You can try paid VPNs for free for a short time by using their money-back guarantees — you just need to request a refund before the guarantee ends.
? Will a free VPN protect me when I'm torrenting?
Very few will. There are a few good VPNs that will keep you safe when you're torrenting  — but many don't. A lot of the free services I found don't encrypt your traffic or stop data leaks (so they're not safe to use for P2P connections).
Most free VPNs are too slow and don't give you enough data to download large files either. You'll need to find free options that won't throttle your speeds and that are safe to use.
Can I use a free VPN in China?
There are a few free VPNs that work in China — but they're not secure enough to use. You need tough security features to keep you safe in places with strict censorship laws (like China, Dubai, India, and Russia).
The main problem is that free VPNs don't offer obfuscation which means the Chinese government can see that you're using a VPN and will block your connection (and you may be punished for breaking their laws if your free VPN hasn't encrypted your data properly). Obfuscation changes the way your internet traffic looks so that it's impossible to tell that you're using a VPN. Additionally, the free VPNs that work are very limited — you'll run out of data in a few days and be left without any protection at all.
ExpressVPN is your most reliable option for China because it hides your location, activity, and VPN use.
Are free VPNs legal?
Yes — it's legal to use a free VPN in most countries. VPNs in general are banned in some countries (like Russia and China, where only government-operated VPNs are allowed). But if you're a tourist, you don't need to worry: You won't get in trouble for using a VPN on vacation in these places.
Should I use a free VPN with Tor?
It's possible to use the free VPNs on this list with Tor — but it can be very slow.
Since Tor already takes extra time to send your traffic through its relays, you need a high-speed VPN to make it fast enough to use. Free VPNs that limit your bandwidth and speed won't work.
For the best speeds, you should connect to a server that's close to your physical location. This can sometimes be difficult with a free VPN because they have fewer servers, so there may not be one nearby.
How do free VPNs earn money?
Free VPNs make money in three ways: showing you ads, selling your data, or by being funded by a paid VPN service (i.e. "freemium" VPNs).
Showing ads is the most common way for free VPNs to make money. These ads are a bit annoying, but there's something else you should worry about. If your free VPN is showing you targeted ads, that means it's selling your browsing activity to third-parties.
Selling your information is another way free VPNs make money. It's usually to advertisers (to make those targeted ads) but some services have been caught selling data to more dangerous companies (like Hexatech and Psiphon, which allow third parties to see who you are and what you're doing online). Free VPNs aren't transparent about this, and it's a violation of your privacy because you rarely know who your information is being sold to.
"Freemium" VPNs are free versions of paid VPNs. You don't have to pay, but your speed, data, and server access is usually limited. In this situation, a portion of the paid VPN users' subscription fees goes towards paying for your free service.
Most of the VPNs I recommend are freemium VPNs (they don't show ads). None of them sell your data.
The Bottom Line
While you can find some good free VPNs, even the safest free services can't compete with low-cost premium VPNs. A premium service offers the best security, as well as streaming and torrenting support. And, unlike most free VPNs, premium VPNs offer you unlimited data and bandwidth. You'll be able to access more servers and enjoy faster connections.
Most premium VPNs offer free trials and money-back guarantees so you can make sure the service you choose is right for you. My top recommendation is ExpressVPN because it's fast, secure, and it can unblock hundreds of streaming services, including Netflix US. Best of all, you test it risk-free with its 30-day money-back guarantee.
Check out our VPN deals page (updated weekly) where you can find top-shelf VPNs for ridiculously cheap prices!
Top VPNs That You Can Try Risk-Free With Money-Back Guarantees…
Privacy Alert!
Your data is exposed to the websites you visit!
The information above can be used to track you, target you for ads, and monitor what you do online.
VPNs can help you hide this information from websites so that you are protected at all times. We recommend ExpressVPN — the #1 VPN out of over 350 providers we've tested. It has military-grade encryption and privacy features that will ensure your digital security, plus — it's currently offering 49% off.