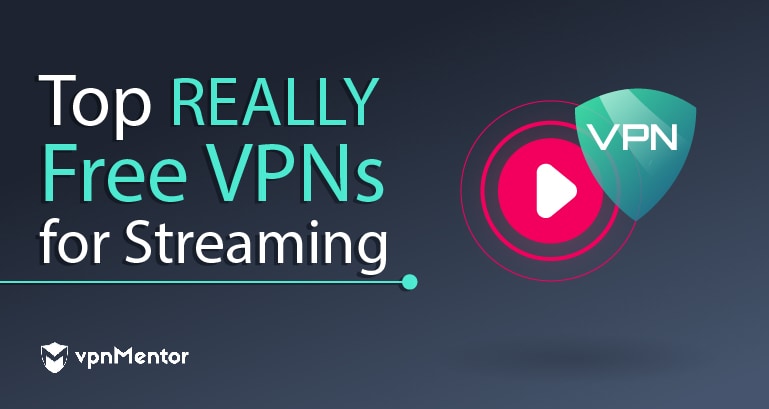 5 Best FREE VPNs for Streaming — Updated February 2023
Updated on 19th January 2023
Using a VPN to stream your favorite content sounds appealing — you can get around geo-restrictions even while traveling to other countries. You might have considered getting a free VPN, but after testing over 30 options, I found that most of them don't work well.
I found a handful of free VPNs that work OK for streaming. While these can bypass some geoblocks, they do have major drawbacks like data limitations, only a few servers, or intrusive ads that can ruin your experience.
Even though it's not free, I trust a reputable service like ExpressVPN to unblock and stream georestricted content. It has a wide range of servers worldwide, doesn't limit your data or speeds, and has a responsive 24/7 live chat to make streaming as smooth as possible. And it comes with a 30-day money-back guarantee. If it doesn't work for you, it's easy to get a refund.
Try ExpressVPN Risk-Free Today
Short on Time? Here Are the Best Free VPNs for Streaming
Try ExpressVPN Risk-Free Today
5 Best Free VPNs for Streaming — Full Analysis (Updated 2023)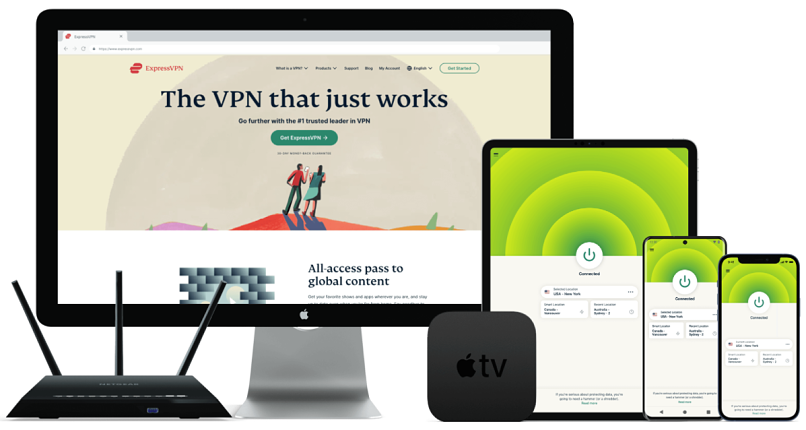 Editor's Choice
Editor's Choice

Tested February 2023
Try Risk-Free for 30 Days
Available on:
Chrome
Router
Smart TV
More
www.ExpressVPN.com
Lightning-fast speeds and unlimited data for bufferless streaming
3,000 servers that unblock platforms worldwide
MediaStreamer lets you stream on almost any device
Can unblock: Netflix, Disney+, HBO Max, Hulu, BBC iPlayer, Vudu, and more
ExpressVPN is super fast, so you can watch movies and shows without interruptions. Unlike most free VPNs, ExpressVPN never throttles your speed. When I tested 6 of its US servers, I got an average speed drop of 11%. This slowdown is barely noticeable, and you only need 25 Mbps to stream in 4K. I liked that these fast speeds always gave me high-quality video with quick load times.
It lets you choose your preferred location from 3,000 servers across 94 countries worldwide. This means you can easily find a server that'll unblock the platform you're trying to watch (and you can use ExpressVPN in China too). I was able to connect to various servers across the US, UK, and France to access their Netflix and Prime Video libraries without any problems. Many free VPNs fail to unblock these 2 streaming services, but I had no issues with ExpressVPN.
MediaStreamer lets you unblock platforms on game consoles and smart TVs. This is a smart DNS service that offers faster speeds than a regular VPN, but be aware it doesn't add encryption. It let me unblock Netflix US and BBC iPlayer on my smart TV, and the setup only took 5 minutes.
The one drawback is it's not free. But it comes with a 30-day money-back guarantee that lets you test out ExpressVPN's features risk-free. If you're not satisfied, you can ask for a refund through its 24/7 live chat. I was impressed with how easy it was; the support agent quickly processed my cancellation after a short chat. The money was back in my account in 4 days.
Try ExpressVPN Risk-Free Today
9,753 servers with streaming-optimized options
Superfast speeds so you can stream buffer-free
7 simultaneous device connections to stream on several devices
Can unblock: Netflix, Disney+, HBO Max, Hulu, BBC iPlayer, Vudu, and more
CyberGhost has streaming-optimized servers that consistently unblock the most popular services. I like how this helps you avoid the trial and error of looking for the right server. Along with that, you have access to an extensive network of 9,753 servers in 91 countries. I used the Amazon Prime Video US server to watch The Man in the High Castle. I was impressed because it's a tough service to unblock – no free VPNs could in my tests.
Like ExpressVPN, CyberGhost provides fast speeds and unlimited data. You can easily find a superfast server in the "For streaming" section. In my tests, CyberGhost's servers only lowered my speeds by 13% on average. With those speeds, I could easily stream in 4K with zero buffering.
With CyberGhost, you can connect up to 7 devices per license. This makes it easy to watch movies and shows while you're on the go. I tested this by streaming Netflix on my laptop, desktop, phone, and smart TV simultaneously. There were no interruptions on any of them.
Its only problem is, like ExpressVPN, it isn't free either. However, it comes with a generous money-back guarantee, which means you can try it for 45 days without risk. The shortest plan only has a 14-day guarantee.
If it isn't for you, you can use the 24/7 live chat service to contact customer support and claim a refund. When I tested this policy, they processed my refund quickly, and I got my money back in 6 days.
Try CyberGhost Risk-Free Today
Unlimited data so you can stream without limits
3 server locations to access geo-restricted content
Can unblock: Netflix Originals, Crunchyroll, Crackle, YouTube, Kodi
Proton VPN sets itself apart by being one of the few free VPNs with no data cap. This is a big advantage over most free VPNs, which usually give you much less data per month. I love this feature because I hate getting stressed out about data limits when I'm watching Netflix.
The free version of Proton VPN only lets you connect a single device at a time. But unlike most free VPNs, it can be installed on your router. I like that this lets me stream with every device connected to my WiFi, including my smart TV.
It's too bad Proton VPN's limited free server options are pretty slow. You can only choose between 3 locations — the US, the Netherlands, and Japan. In my speed tests, I had a 32% reduction in speeds. That's enough to stream in HD, but it's significantly slower than ExpressVPN and CyberGhost.
Registration is easy — you only need an email to sign up. Unfortunately, it doesn't have 24/7 live chat support. You also get access to the free plan of ProtonMail, an encrypted email service, when you sign up for Proton VPN.
Unthrottled speeds to stream without slowdowns
8 free server locations to unblock your favorite shows
10 GB data cap per month
Can unblock: Netflix Originals, Disney+, Crackle, YouTube, and Spotify
hide.me is among the few free VPNs that claim they do not restrict your speed. But still, the speeds are significantly slower compared to premium VPNs like ExpressVPN. While testing it, I got a slowdown of almost 30%, from 148 Mbps to 104 Mbps. This may be enough for you to stream HD, but 4K can be an issue if your base speeds are slow.
It comes with a 10 GB data cap per month, so you can stream about 3.5 hours of HD content. If you switch to regular definition, you can stream for about 10 hours. This does limit how much you can watch, but 10GB is more than what most free VPNs offer.
Free users can only choose between 8 locations — Canada, the Netherlands, the US (East & West), the UK, Singapore, Spain, France, and Germany. I could only access Netflix Originals and Disney+ with hide.me's free plan — it couldn't unblock BBC iPlayer, Hulu, or Amazon Prime Video. Plus, once you exhaust your data limit, it takes away the option to change server locations and defaults you to a random server.
You can use hide.me on just 1 device. On top of that, its free version isn't supported on routers, so you can't connect it to your gaming console or most smart TVs. But it's nice that there's a free app for Amazon Fire TVs and Fire TV Sticks, and it's just as easy to use.
Unlimited connections for uninterrupted streaming
Fast speeds to watch your favorite content in HD
Servers in 34 countries
Can unblock: Netflix Originals, Hulu, Crunchyroll, and Crackle
Avira Phantom VPN offers unlimited connections, so you can stream on any device without disrupting an existing connection. This is impressive because most free VPNs only allow one device at a time. To put this to the test, I connected my iPhone, Android tablet, and Windows laptop to the VPN. Despite having multiple active devices, my connections remained stable. Plus, I could connect in under 3 seconds.
The speeds were pretty good too. During my tests, the speed drop was never more than 16% even over long distances. On nearby servers, the drop was only 8%. This let me stream Stranger Things in HD until I ran out of data.
Its mobile apps offers servers in 34 countries, including Canada, Japan, the UK, and the US. While the server coverage around the world is excellent on mobile, it's a bit unreliable when it comes to accessing geo-restricted content. For example, it failed to unblock region-locked Netflix titles, and only its Chicago server could access Disney+. However, it consistently worked with a couple of platforms, including Hulu, Crunchyroll, and Crackle.
It's disappointing that the desktop apps only let you connect to your nearest location. And unlike Proton VPN, you only get 500 MB of data/month with the free plan (1 GB when you sign up with an email). This is only enough for about 30 minutes of HD streaming on Netflix.
Another downside is that you don't have access to Avira's customer support with the free plan. However, it has an extensive knowledgebase where you can find answers to your questions.
Start Free With Avira Phantom VPN
Quick Comparison Table: Best Free VPNs For Streaming
Warning: Risks of Free VPNs
If you download a random free VPN, you'll probably get a poor streaming experience. Even worse, it may compromise your security and privacy. I made sure to only include free VPNs that can unblock Netflix and are safe to use. These are the biggest risks that come with using free VPNs:
Some free VPNs sell your data. Free VPNs need an alternate source of revenue, so many load up their apps with annoying ads. But some free services take it a step further by keeping logs and selling your data to the highest bidder, compromising your privacy.
Free VPNs restrict your bandwidth. To give you the incentive to opt for its premium plans, free VPNs can throttle your speeds to a crawl and impose data restrictions. This negatively impacts your streaming experience by making HD streaming near-impossible.
Some free VPNs come with malware. A lot of shady free VPNs can infect your device and threaten your privacy. They can slow you down with adware or cryptojacking programs. Even worse, they might steal your personal information by installing malicious code on your device.
Try ExpressVPN Risk-Free Today
Tips on How to Choose the Best Free VPN for Streaming
I ranked the best free VPNs for streaming based on these criteria. I recommend you keep these in mind when you pick a VPN:
Speed and data caps. Speed is the first thing to take note of for any free VPN. Most free services reduce your speeds significantly — sometimes to the point where you can't even load videos. You'll need a fast VPN to watch movies and shows without constant buffering.
Server network. A wide range of servers is important to access content from different countries. Most free VPNs have a very small number of server locations. You could miss out on online content from places like Japan, France, the UK, and even the US with a free VPN.
Unblocking streaming platforms. Most streaming services try to block VPNs. The top premium VPNs can get around these blocks, but most free VPNs can't. So it's a good idea to test a free VPN and make sure it can unblock your favorite streaming sites.
Strong security and privacy features. You don't have to compromise your security when you use a free VPN for streaming. The VPNs in my list all have strong encryption to keep you safe and no-logging policies that prove they're responsible with your data.
Easy to use and set up. No one wants to spend more than a few minutes trying to set up an app. A hassle-free VPN ensures you're ready to connect to your favorite stream in just a couple of minutes.
Responsive 24/7 support. Responsive customer support is essential whenever you run across technical problems while using your VPN. Any concerns you may have regarding the services can also be answered with an always-online service. Unfortunately, most free VPNs lock this service behind a paid subscription or lack it entirely.
If you don't want to go through the hassle of finding a service that ticks all the right boxes, you can opt for ExpressVPN, my recommendation for streaming. It has all the features listed here and much more, so you won't face any issues while watching your favorite content.
Try ExpressVPN Risk-Free Today
FAQs About Free VPNs for Streaming
Is streaming with a VPN legal?
Yes, using a VPN is legal in most of the world. But some countries with strict censorship laws, like China and Russia, have banned manys VPNs. The law requires citizens of these countries to use only government-approved VPNs.
With that said, using VPNs to commit illegal activities is always against the law. This is a full guide for countries with strict VPN laws. I don't condone any illegal activities, and I recommend reading the laws of the country you're in before you use a VPN.
What is the best free VPN For Netflix?
The best VPN for Netflix is ExpressVPN, as it consistently unblocks multiple libraries. However, it has one drawback — it isn't free. But you can try it risk-free since it's backed by a 30-day money-back guarantee. If you're not fully satisfied, you can get a refund.
If you want a truly free VPN, you can try Proton VPN's free plan. It offers unlimited data but can only access Netflix Originals. This means you won't be able to access region-locked Netflix titles.
Is there a free VPN for Fire Stick that works?
Proton VPN works with Fire TV Stick. It offers unlimited data but restricts you to only 3 server locations. It can unblock Netflix Originals, but can't unblock other services like Hulu and HBO Max on the free plan. If you want the best streaming experience on your Fire Stick, I recommend ExpressVPN because it can unblock every major streaming service.
Will using a free VPN lower my speeds?
Yes, every VPN will slow you down to some extent. However, the best VPNs slow you down so little it's barely noticeable. A free VPN is more likely to reduce your connection speed and cause buffering. This is because most free VPNs have a limited server network that often becomes overcrowded. You have to check the free VPN you're going to use to make sure it doesn't ruin your experience.
Try ExpressVPN Risk-Free Today
Get the Best Free VPN for Streaming
You can use a free VPN for streaming, but it will always come with a lot of restrictions. The VPNs on this list are safe, but some other free VPNs can compromise your security and privacy too.
I recommend streaming with ExpressVPN. It helps you maintain superfast speeds for buffer-free streaming and comes with unlimited data, so you can watch as much as you want. Plus, it's backed by a 30-day money-back guarantee, so you can try all its features risk-free. If it doesn't work for you, you can easily get a refund.
Top Streaming VPNs You Can Try Risk-Free With Money-Back Guarantees...
Privacy Alert!
Your data is exposed to the websites you visit!
The information above can be used to track you, target you for ads, and monitor what you do online.
VPNs can help you hide this information from websites so that you are protected at all times. We recommend ExpressVPN — the #1 VPN out of over 350 providers we've tested. It has military-grade encryption and privacy features that will ensure your digital security, plus — it's currently offering 49% off.