Top 6 REALLY FREE VPNs for India in 2020
Updated on 14th October 2020
Out of the 27 free VPNs I tested, I found only 6 that work in India. You can learn about each service below, including premium VPNs you can use for free.  Share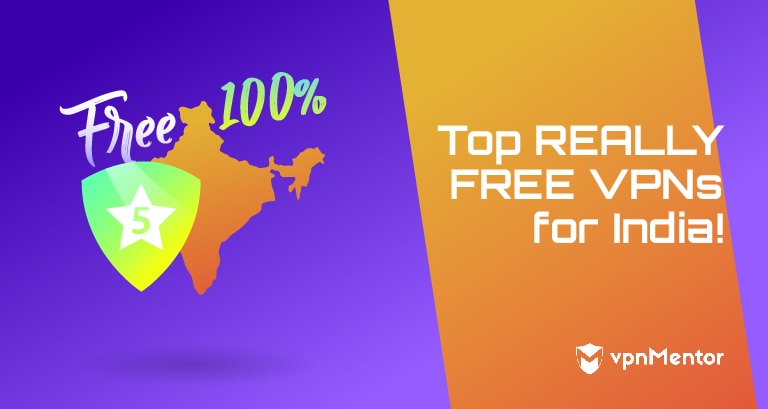 Some premium VPNs are expensive, and committing to a long-term subscription might not seem worth it when you only need protection for a short period. That's why I have created a list of the six best free VPNs for India.
Granted, no "free VPN" is really free. Most find alternative ways to make enough money to cover their costs, like selling information about your device and browsing habits to third parties. Even the safest free VPNs limit security features and data allowances to save money.
You'll always get military-grade security features and unlimited data with a premium VPN. I recommend NordVPN because it's fast and can unblock over 140 streaming services. It has a 30-day money-back guarantee so you can test it for a short time risk-free.
I discovered that there are some safe, but limited free VPNs. I've tested 27 services to find the best free VPNs that work in India.
Best Free VPNs – Quick Guide
NordVPN: Unlimited data and bandwidth on 5,530+ servers worldwide. It can access 140+ streaming services, and you can try it for 30 days with its money-back guarantee.
Windscribe: 10GB of free data per month, with Stealth Mode for bypassing censorship and perfect forward secrecy. You can access YouTube and social media sites, but not Netflix.
PrivateVPN: Unlimited data, no logs, and 2048-bit encryption. You can try it free with its 7-day trial.
Speedify: Unblocks Netflix and Hulu, but you only get 2GB free data per month. That's only enough to stream in standard definition for two hours.
OperaVPN: Unlimited free data and bandwidth, but you can only use it with the Opera browser.
What's The Catch With Free VPNs?
It's hard to find a free VPN that works in India. Poor security features often make free VPNs unsafe to use, too. Let's take a look at how using a free VPN can cost you more than you anticipated.
Security
The VPNs on my list use advanced security features, but that isn't the case with most free VPNs. It's expensive to develop, build, and update a VPN. Most free services don't have enough money to maintain a quality network. 
It's rare to find a free VPN that uses secure encryption and doesn't log your data. Some are ad-supported and bombard you with disruptive ads. I found out that some even download spyware and malware to your device. 
Negative reviews destroy a premium VPN's reputation, and, like any business, they can't afford to fail. They use advanced security features to protect you, and they don't record your browsing activity. You're always safe with a quality, premium VPN.
Compatibility
Most free VPNs don't operate Indian servers, so you'll need to connect to an overseas server instead. Because your data has to travel further, your connection will slow down. You'll also lose access to local websites and services.
It's difficult to stream with limited server locations, too. If Netflix or Hulu realizes you're using a VPN and blocks you, the only way to get around it is to switch to another server in the same location. If there are no other servers, you won't be able to reconnect.
Premium VPNs operate thousands of servers in different countries, including India. They have multiple servers in each location, and you can switch servers as many times as you need.
Limitations
Bandwidth and data limits are some of the most frustrating problems when you're trying to use a free VPN.
Most free VPNs limit your data allowance. Once you run out of data, you can't use the VPN until it resets. Reduced bandwidth slows your connection speed, which causes excessive buffering and long loading times.
Free VPNs are ultimately trying to force you to upgrade to a paid plan. I have a hard time believing that the paid version of a low-quality free VPN would be impressive or secure.
Premium VPNs offer unlimited data and bandwidth. You can browse, torrent, and stream as much as you like with no restrictions.
The Best Free VPNs for India (Updated 2020)
I tested 27 free VPNs to find the best options for India. Local server availability and security took first priority, followed by connection speeds and data limits.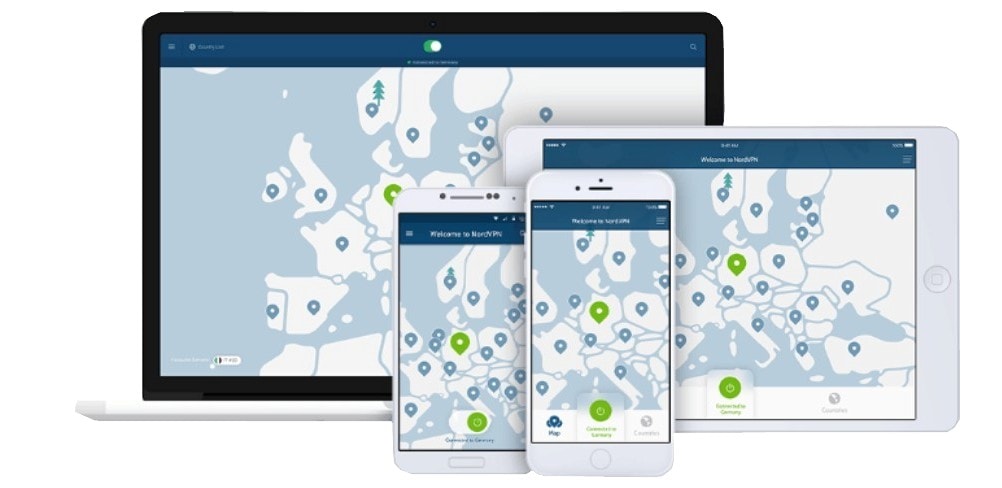 30-day money-back guarantee
256-bit AES encryption
IPv6 and DNS leak protection
Onion over VPN for Tor
Strict no-logs policy
Works with: Netflix US, Kodi, YouTube, Hulu, BBC iPlayer, HBO GO, Amazon Prime Video, Showtime, and SlingTV
Compatible with: Linux, Windows, macOS, Android, iOS, Blackberry, Raspberry PI, Windows Phone, Chrome, Firefox, Routers, Android Smart TV, Amazon Fire TV, Xiaomi Mi Box, and Anonabox
NordVPN is the best VPN for India, and you can try out with its 30-day money-back guarantee. You get unlimited data and super-fast connection speeds. 
NordVPN uses military-grade encryption and DNS leak protection to keep your browsing activity private. IPv6 leak protection stops your browser's security flaws accidentally leaking your location to the sites you visit.
It's registered in privacy-friendly Panama, outside the 5/9/14-Eyes Alliance. Not that it would matter, because NordVPN does not keep any logs. It even accepts Bitcoin for complete anonymity.
There are 5,530+ servers across 59 countries. NordVPN's SmartPlay DNS can unblock Netflix, Hulu, Amazon Prime Video, and over 100 other geoblocked streaming services so you can watch all your favorite shows.
It also offers an automatic Onion over VPN for Tor connection feature built into the app, so you don't need to configure it to work with Tor manually. I found that its specialty P2P servers provide lightning-fast download speeds for torrenting.
You can connect up to 6 devices with one NordVPN account. Plus, NordVPN offers 24/7 customer support via live chat. If you want to try to find an answer yourself, the extensive FAQ and troubleshooting sections are very helpful. I found answers to all my questions about security and details about all its plan options in the help center.
Read the results of NordVPN's performance test in my colleague's in-depth review.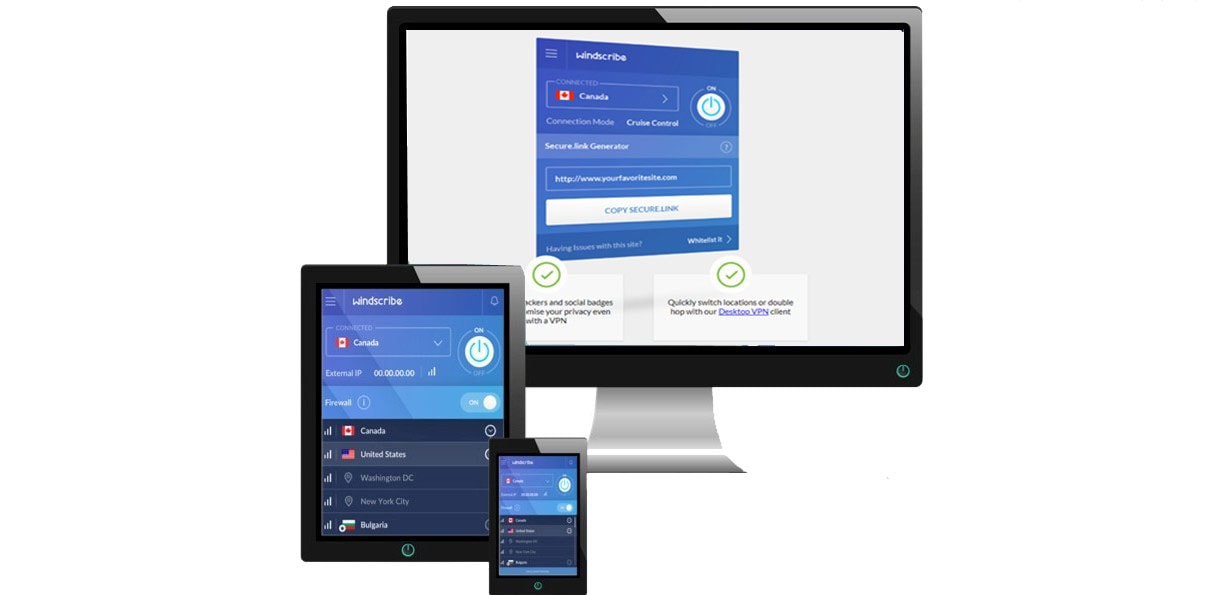 10 GB of free data per month
Stealth mode bypasses censorship
Ten server locations
IPv6/DNS/WebRTC leak protection
P2P-friendly
Works with: YouTube, HBO GO, and Kodi
Compatible with: Linux, Windows, macOS, iOS, Windows Phone, Android, Opera, Firefox, Chrome, Routers, Amazon Fire TV, and Nvidia Shield
Windscribe offers 10 GB of free data per month. That's enough to stream standard definition (SD) videos for up to 10 hours, check your email, and update your social media accounts. You can tweet Windscribe to earn additional data.
You don't need to provide any personal information to open a free account. This means Windscribe won't have access to your address, real name, or phone number. You do need to provide a working email address. Otherwise, your service is limited to 2GB of data per month.
Military-grade encryption and its no-logs policy keep your browsing activity private. The Stealth Mode makes your encrypted activity look like regular traffic under deep packet inspection (DPI). This helps you to bypass censorship. Windscribe even works in Russia and China. 
You can't unblock Netflix or other streaming sites with Windscribe's free account, but it can access geo-restricted YouTube videos and Kodi add-ons. It allows torrenting on most servers.
Its apps are well-designed and easy to install. The Cruise Control feature connects you to the fastest available server based on your location.
Garry, Windscribe's customer service chatbot, offers a quick way to get answers to your basic questions about plans, features, and policies. If it's unable to answer your question, it connects you to a human support agent via live chat.
Read our extensive Windscribe review to see how it performed during our tests.
Start Using Windscribe for Free!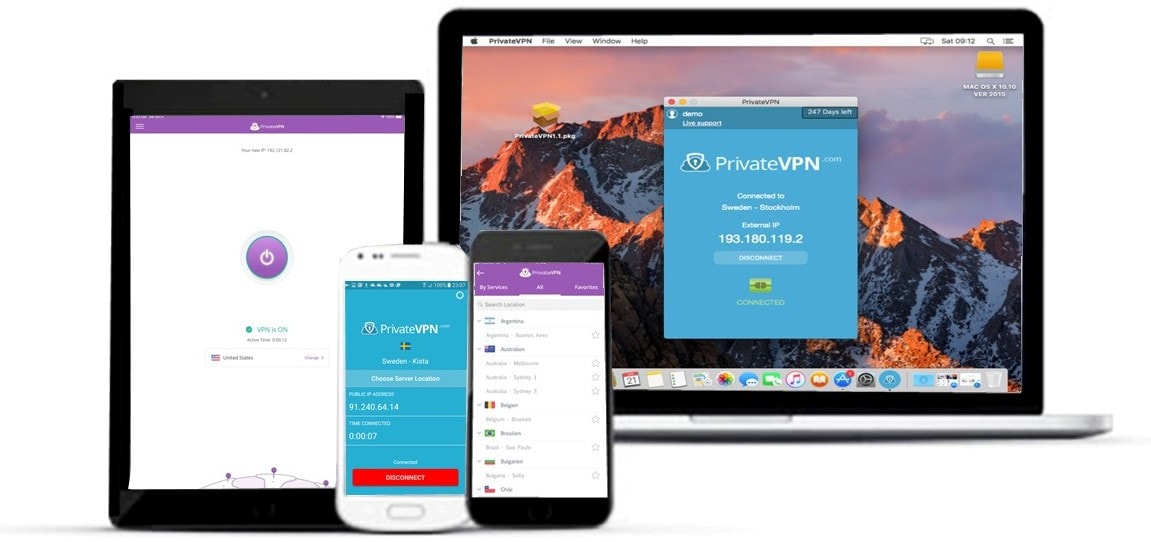 7-day free trial
Unlimited speed and bandwidth
Connect up to 6 devices simultaneously
2048-bit encryption
Works with: Netflix, BBC iPlayer, YouTube, and Kodi
Compatible with: Windows, macOS, Android, iOS, Blackberry, Windows 10 Phones, Chrome, Firefox, Safari, Playstation, Xbox, Routers, Samsung TV, Apple TV, Android Smart TV, Roku, Google Chromecast, Amazon Fire TV, and Smart TVs
PrivateVPN offers unlimited data, speed, and bandwidth, and you can use it for free with its 7-day trial. It's perfect if you want to test a premium service, or you only need a VPN for a short time.
This Swiss-based VPN is 100% log-free. PrivateVPN uses a variety of secure VPN protocols, including OpenVPN, L2TP, IKEv2/IPSec, and PPTP. You can choose from 150+ servers in 60 countries.
It uses military-grade encryption to protect your sensitive data. IPv6 leak protection makes sure that your IP address isn't accidentally exposed if your browser falls victim to a security breach. Its kill switch, called Connection Guard, lets you choose which apps are disconnected if your VPN connection fails. You can choose to have it disconnect uTorrent, for example, without losing access to the internet entirely.
PrivateVPN unblocks Netflix, YouTube, BBC iPlayer, and more. Its lighting-fast speeds mean you won't have to deal with constant buffering or slow loading times. During my test, I noticed that it couldn't bypass the Great Firewall of China. 
You can connect with up to 6 devices at a time with one account. PrivateVPN is a budget-friendly choice if you want to protect all the devices in your household.
Uniquely, if you have a technical problem, you can get answers directly from PrivateVPN's developers. Most VPN companies don't offer that type of support. PrivateVPN also has a reasonably extensive FAQ section.
Need to know more? View the results of PrivateVPN's performance test in our review. 
Start Using PrivateVPN for Free!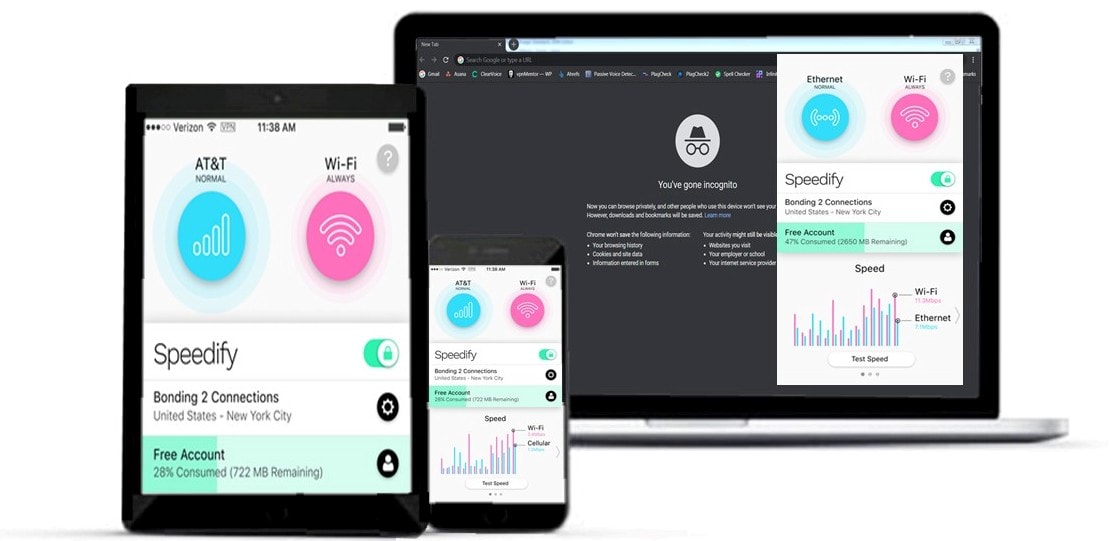 2GB of free data monthly
AES 128-GCM based encryption
200 servers across 50 countries
Works with: Netflix US, Hulu, BBC iPlayer, YouTube
Compatible with: Linux, Windows, macOS, iOS, and Android
With Speedify, you get 2GB of free data per month. That's enough to browse the internet for 33 hours or stream for two hours in standard definition. You don't need to register an account to use the free service, so Speedify doesn't have any of your personal or contact information on file.
Speedify operates 200 servers across 50 countries. It uses AES128-GCM encryption, which puts it a bit lower on my list. This is still more than enough protection for browsing, but it's not as secure as the other free VPNs I've listed. It offers DNS leak protection and has a no-logs policy. 
The free servers unblock Netflix, Hulu, YouTube, and most other popular streaming services.
You can use its channel bonding feature to increase your connection speed. It combines your available mobile, Ethernet, and wi-fi connections. But, this uses twice as much of your wi-fi and cellular data. If you have a limited internet allowance, you could incur extra fees from your ISP or cell provider.
Speedify's app is easy to install and use. You can choose a server manually or automatically connect to the fastest available server. You can also configure it to connect to the best P2P-friendly server automatically. There's a connection quality panel that you can use to monitor your speed and usage directly in the app.
You can only contact customer service by email, but the site's support section is exceptionally well organized.
Find out more about the pros and cons of using Speedify in our thorough review.
Start Using Speedify for Free!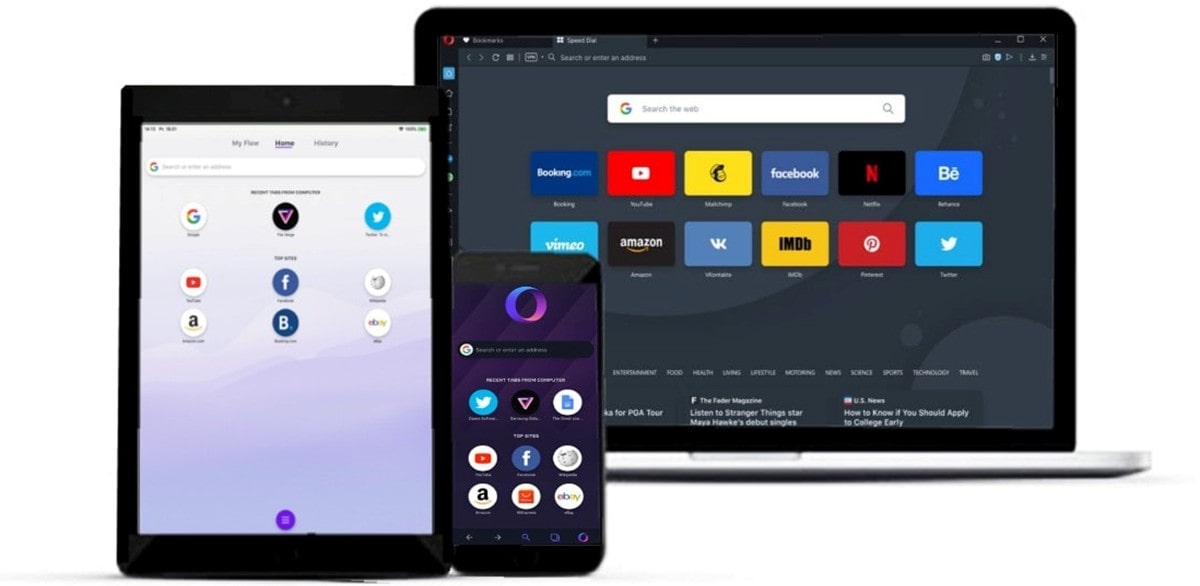 Unlimited free data and bandwidth
Military-grade encryption
Three server locations
Works with: Pandora, Spotify, HBO GO, Kodi, and YouTube
Compatible with: Linux, macOS, Windows, and Android
Opera VPN offers unlimited free data and bandwidth. It's a browser extension, which means that it only works if you're using the Opera browser. Any data you send and receive from apps outside your browser isn't protected.
You can connect to servers in the Americas, Europe, or Asia, but you can't choose a specific location within those regions. This makes it impossible to unblock most geo-restricted content.
It can't access Netflix, Hulu, or BBC iPlayer. I was able to unblock HBO GO during my tests as well as geo-restricted YouTube videos and Kodi add-ons.
It uses industry-standard 256-bit encryption, and it doesn't log your browsing activity. Some records are kept, though, including crash reports and basic device information.
With so many users connected to just three server locations, Opera VPN is sluggish. My connection speeds slowed down dramatically as soon as I established a connection. But, it's still fast enough to load YouTube and other websites with a little buffering.
It's compatible with all of Opera's other browser extensions, including its built-in adblocker. Opera also has a battery-saving feature that can extend your battery life by up to 50%.
There is no dedicated customer service for Opera VPN. If you have trouble, you need to find the solution on its FAQ page or search the forums for help. You can contact Opera's support team via email.
See how Opera VPN compares to other free services in our detailed review.
Start Using Opera VPN for Free!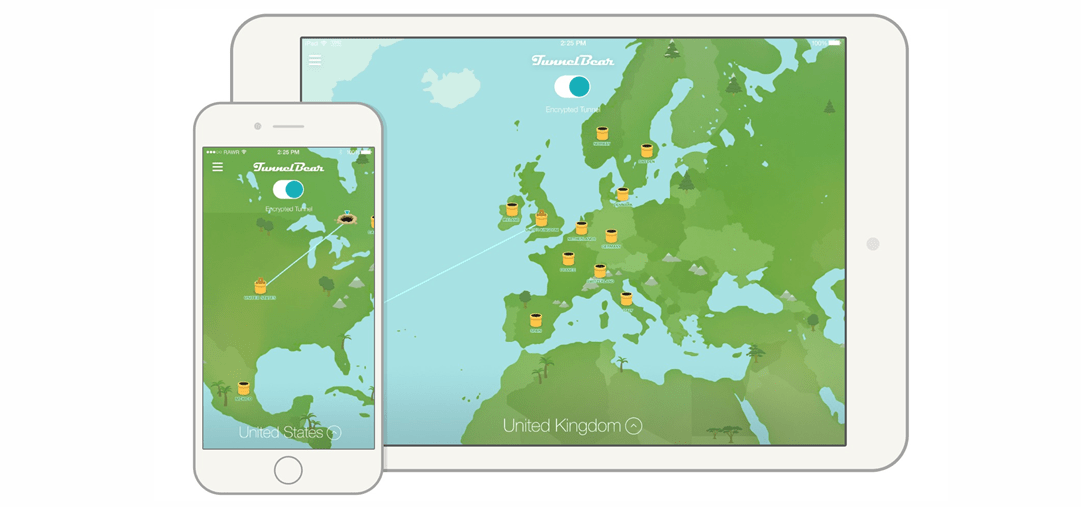 500MB of free data per month
Automatically connect to the fastest available server
Simple app
Can bypass censorship and DPI
Works with: YouTube, Kodi, and HBO GO
Compatible with: Windows, macOS, Android, iOS, Opera, Firefox, and Chrome
You can use TunnelBear's 500MB of free data per month to catch up on social media or check your emails, but it's not enough to stream. 
It uses 256-bit encryption and the OpenVPN protocol to secure your connection. There is no built-in adblocker. You can download a separate, free adblocker from the TunnelBear website, but it's only available as a Chrome browser extension.
There are several security modes to choose from in the app. GhostBear makes your encrypted connection look like regular traffic under deep packet inspection (DPI). This allows you to bypass censorship and VPN blocks in restrictive regions. It even works in China. 
Always On mode connects you to a VPN network as soon as you switch your device on, and Vigilant Mode acts as a kill switch. 
TunnelBear offers servers in 23 countries, and it doesn't limit your connection speed. You can watch videos and torrent without buffering and lagging, but 500MB won't last you very long.
You can't use TunnelBear to unblock Netflix or Hulu, but it can access YouTube and HBO GO.
You can read my colleague's in-depth TunnelBear review for more information.
Start Using TunnelBear for Free!
Our Recommendations for Affordable Premium VPNs for India
The free VPNs I've recommend will protect your privacy, and some will help you bypass geoblocks and censorship. But, premium VPNs are a better choice for India because they are unlimited and have the security features you need to keep you safe.
I have also tested some premium services that operate Indian servers to give you a few more options.
Provider
Our Score

9.8

/10

9.2

/10

8.8

/10

9.4

/10

9.6

/10
FAQs
? Are VPNs illegal in India?
It is legal to use a VPN in India, but you may have trouble accessing some providers' websites to download their apps if you use Reliance Jio. The ISP has reportedly blocked at least 10 VPNs and proxies.
The VPNs on my list are accessible on all cell and ISP networks in India, including Reliance Jio. 
? Why do I need a VPN?
VPNs cloak your IP address and encrypt your data to hide your browsing activity. They also help you bypass geoblocks and censorship so that you can access exclusive content from other countries.
To learn about more things you can do with your VPN, take a look at my colleague's article.
? Can I use one VPN on all my devices?
There are VPN apps for almost every computer and mobile device, but not every VPN works on multiple platforms. I have included a compatibility guide above each VPN on my list so you can check if it has an app for your device. 
If you want to protect all your devices at the same time, you'll need a VPN that offers multiple simultaneous connections. 
Summary
Most free VPNs are dangerous and lack the safety measures you need to keep you safe. You'll never know if your data and anonymity are 100% protected.
The free services on my list are safe to use, but they limit your data, bandwidth, and speed.
You won't have this problem using a premium VPN, like NordVPN. It even allows you to bypass geoblocks and censorship. NordVPN offers a 30-day money-back guarantee, so there's no reason to risk your security with a free VPN.
Privacy Alert!
You are exposing yourself to the websites you visit!
The information above can be used to track you, target you for ads, and monitor what you do online.
VPNs can help you hide this information from websites so that you are protected at all times. We recommend NordVPN — the #1 VPN out of over 350 providers we've tested. It has military-grade encryption and privacy features that will ensure your digital security, plus — it's currently offering  68% off.