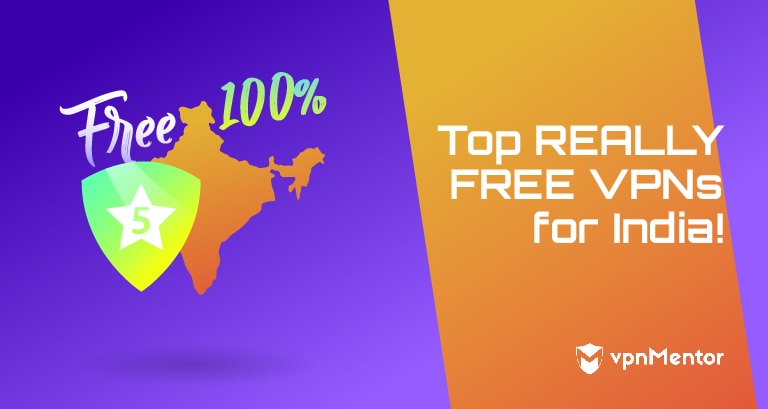 5 Best Free VPNs for India — Tested & Still Working in 2023
Updated on 23rd January 2023
Important! Some VPN providers no longer host physical servers in India, due to a recent change in VPN data-sharing laws. But, you can still get an Indian IP address without a real server. The top 2 VPNs in our list host reliable, fast virtual Indian servers that work.
It's rare to find a free VPN that can keep you safe and access global content from India. The ones that can unblock some streaming sites come with risks. Some sell your data to third parties for a profit while others have weak security. Plus, most of them don't offer Indian IP servers, so you can't access Indian content from abroad.
My team and I tested 83 VPNs and shortlisted the best free options for India. That said, all truly free VPNs come with some sort of restrictions — for instance, they offer limited data and/or a small selection of servers. I managed to shortlist some that are fast and safe, but if you're looking for unlimited data and access to streaming platforms, you're better off with a cheap VPN.
Out of all the VPNs we tested, ExpressVPN is my top pick. It has unmatched security features and a worldwide server network to unblock local streaming sites like Hotstar, as well as global favorites such as Netflix US.
Even though it's not 100% free, it's still my top pick because it's safer and has none of the limitations of free VPNs. Plus, you can try ExpressVPN completely risk-free as it's backed by a 30-day money-back guarantee.
Short on Time? Here Are the Best Free VPNs for India in February 2023
The Best Free VPNs for India — Full Analysis (Updated in 2023)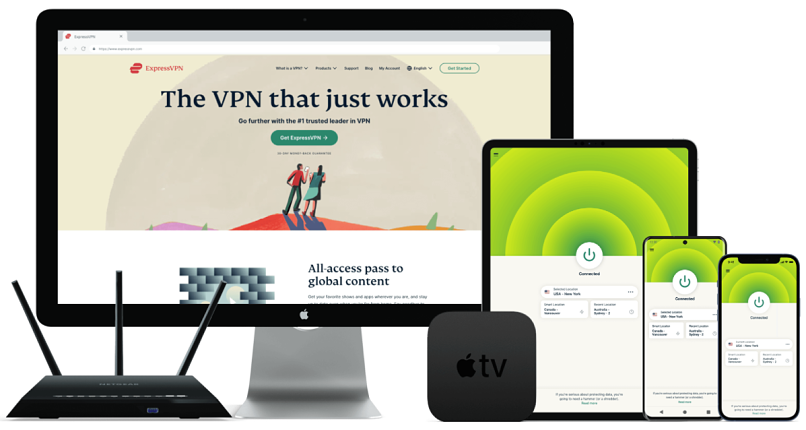 Editor's Choice
Editor's Choice

Tested February 2023
Try Risk-Free for 30 Days
Available on:
Chrome
Router
Smart TV
More
www.ExpressVPN.com
Excellent speeds and unlimited bandwidth (tested from India)
3,000+ servers in 94 countries, including virtual Indian servers
Military-grade encryption and a strict no-logs policy
Can access: Hotstar, Voot, SonyLiv, Zee5, Netflix, Disney+, BBC iPlayer, and more
ExpressVPN is the fastest VPN I tested, which makes it perfect for streaming, downloading files, browsing, and gaming. When I connected to its US servers, I recorded an average download speed of 57 Mbps: only a 5% drop from my base connection. This means you won't experience any lag or delay, unlike with most free VPNs, which are notoriously slow.
In addition, ExpressVPN goes above and beyond to uphold its privacy commitments to users.
For instance, in April 2022, the Indian government passed a law requiring VPN providers to store identifying user data (including usernames, IP addresses, and usage patterns) for at least 5 years. Not only did ExpressVPN refuse to comply, but it also shut down its physical servers in India to prevent risking its users' privacy.
That said, you can still get an Indian IP address and access domestic Indian content using ExpressVPN's virtual Indian servers. These are securely located in other countries, so the Indian government can't demand user data.
For instance, with ExpressVPN's India (via UK) server, I was able to unblock Hotstar and Voot within a few seconds. Plus, I could still use its international servers to access global content as usual.
ExpressVPN allows torrenting on all its Indian and international servers, which takes the guesswork out of choosing the right server. During my tests, I could download a 3 GB torrent file in just 10 minutes. And since you get unlimited data, you can torrent safely as much as you want without interruptions.
ExpressVPN isn't 100% free, but you do get 3 months for free when you sign up for an annual plan. Also, you can try the service risk-free since it's backed by a 30-day money-back guarantee. If you're not impressed, it's easy to get a full refund.
Features:
Strong security. ExpressVPN protects your data with AES 256-bit military-grade encryption, which is the strongest available. In addition, it offers leak protection and an automatic kill switch to keep your data from being exposed.
RAM-based servers. This ensures that user data from previous sessions is wiped clean with every reboot. Plus, it has a strict no-logs policy, so none of your identifiable data will be traced back to you.
Unblocks popular platforms. Out of all the VPNs I tested, ExpressVPN was the most consistent at accessing geo-restricted content. It unblocked all the platforms that I tried, including Netflix, Disney+, and BBC iPlayer — all on the very first try.
Lightway protocol. Even though Express doesn't offer WireGuard, it has its own version of the protocol called Lightway, which is just as good. It's fast, lightweight, and consumes less data. It's especially helpful while torrenting and gaming or while you're browsing on mobile.
Fast speeds and unlimited bandwidth
9,753+ servers in 91 countries, including virtual server locations in Mumbai
Military-grade encryption and a strict no-logs policy
Can access: Hotstar, Netflix, Disney+, HBO Max, Hulu, and more
One of the reasons I keep coming back to CyberGhost is that it offers activity-specific servers. For instance, its P2P servers are optimized for fast speeds so you can download torrent files quickly. During my tests, I connected to its torrenting server in the US and got 8% faster speeds compared to its regular US servers.
The streaming-optimized servers were equally impressive, and since the apps are so intuitive, they were all very easy to find.
You'll also appreciate CyberGhost if you're looking for a gaming VPN that works well in India. I played Valorant while connected to its New York gaming server, and my ping remained below 50 ms the entire time. You won't experience any lag or delay, even in competitive games.
CyberGhost has a strict no-logs policy, meaning it will never collect or sell your data. Plus, it's based in Romania, which is a privacy-friendly country. This means that it isn't required by law to hand over user data, even if the Indian government makes the request.
All plans come with a trustworthy money-back guarantee. This way, you can test out CyberGhost for free and request a refund within 45 days if it's not for you.
Features:
Fast speeds. During my tests on its nearby servers, I got an average of 52.8 Mbps (only a 12% drop from base speeds). Its long-distance connections were a bit slower than with ExpressVPN, but you won't notice the difference if you have a decent baseline connection.
WireGuard support. WireGuard is much faster than OpenVPN and is just as secure, making it suitable for streaming, torrenting, and other high-bandwidth activities.
Easy access to global content. CyberGhost's streaming-optimized servers make it super easy to access global streaming services like Disney+ and BBC iPlayer from India. They're also helpful for enjoying local Indian platforms (like Hotstar) from abroad.
Robust security. An automatic kill switch, military-grade encryption, and leak protection are all included.
Fast speeds and unlimited bandwidth
1,925+ servers in 67 countries
Top security and split-tunneling
Can access: Netflix, Peacock, and Crunchyroll
Unlike most free VPNs that severely limit data allowance, Proton VPN offers unlimited data and bandwidth even with its free version. This makes it a good option if you want to bypass content-based ISP throttling, which is when your internet provider (like Jio and BSNL) restricts your bandwidth based on your activity.
When your traffic is encrypted, your ISP can no longer know what you're doing online. Meaning, you can browse and stream for hours without worrying about activity-based throttling.
That said, the free version of Proton VPN only offers servers in 3 countries, and I couldn't get it to unblock region-locked Netflix titles. It also failed to access Amazon Prime Video, Disney+, and Hulu during my tests, though I could still access some US-exclusive sites like Crackle, Crunchyroll, and Peacock.
Also, it's too bad the free version doesn't permit torrenting. It doesn't offer Indian servers either, so you can't watch Indian content from abroad — unless you subscribe to a paid plan.
Features:
Private and secure. Despite being free, Proton VPN doesn't skimp on security. You get all the essential features, like an automatic kill switch, AES 256-bit encryption, and leak protection — even on the free plan.
Split tunneling. You can exclude certain apps from using the VPN connection, which lets you access geo-restricted content while you enjoy a normal, high-speed connection on other apps and sites.
Access more global content on the paid plan. When I tested Proton VPN's paid plan, I could access all the popular streaming platforms, including Netflix US, Disney +, and more.
Good speeds and 500 MB of data per day
1 free server in the US
Easy to use apps, and 5 device connections
Can access: Amazon Prime Video, Crackle, and Crunchyroll
What sets Hotspot Shield apart from other free VPNs is its Catapult Hydra protocol for speedy connections. This works by reducing network congestion, and the time it takes to connect over long distances. While it's not as fast as ExpressVPN, I only experienced a speed loss of 31% even on Hotspot's free server, which is pretty impressive for a free service.
All of Hotspot Shield's apps are very easy to use and set up — plus, you don't even need to sign up with an email to get started. All you have to do is install the app, click "Proceed with Basic," and you're all set.
Hotspot Shield comes with excellent security features to keep your data safe, even in India. In addition to military-grade encryption and leak protection, it offers an Auto-Protect feature that automatically secures your connection whenever you're on public WiFi.
Plus, I really appreciated that the VPN allows 5 simultaneous device connections with its free version. This means that you don't have to disconnect one device to make room for another.
It's disappointing that it only provides 500 MB of daily data and limits you to only 1 US server. But thankfully, Hotspot Shield offers a 7-day free trial of its premium version, which gives you unlimited data and access to all of its servers.
Try Hotspot Shield for Free >>
Customizable VPN settings and split-tunneling
Decent speeds and 10 GB data per month
5 free server locations
Can access: Crunchyroll and Funimation
hide.me lets you tweak VPN settings, so you can have more control over your connection in and outside of India. For example, you can choose between 4 VPN protocols (including OpenVPN) and also change your connection type (IPv4 vs IPv6). Unfortunately, WireGuard is only available with the premium version.
The free version offers servers in 5 locations: US East, US West, Germany, Canada, and the Netherlands. Its US server worked well with Funimation and Crunchyroll. However, I couldn't get it to unblock Hulu, Netflix US, and Peacock.
Unlike Proton VPN, all of hide.me's free servers support P2P traffic. Since it offers 10 GB of data, you can download several small torrent files or a couple of large ones per month. During my tests, I did experience a speed loss of 55%, but thanks to a decent baseline speed, I could still download a 2 GB torrent file in 10 minutes.
hide.me is based in privacy-friendly Malaysia and has a strict no-logs policy, which has been independently verified. So, you can rest assured that hide.me doesn't store identifiable data.
The free version only allows you to connect a single device at a time, but you upgrade to the paid version and secure 10 devices simultaneously.
Warning! The Risks of Free VPNs
Free VPNs often come with limitations such as slow speeds, restricted bandwidth, and limited server networks. Even worse, many free VPNs put your security and privacy at risk. All the free VPNs on this list have been thoroughly tested to ensure their safety.
Listed below are some of the risks associated with a free VPN:
Free VPNs can sell your data — Because free VPNs have to find alternative ways to make money, they often sell your data to third parties. Before downloading a free VPN, you should always make sure to read its privacy policy to ensure your online safety.
Free VPNs can have weak security — Most free VPNs lack important security features such as military-grade encryption, an automatic kill switch, DNS/IP leak protection, and more. This makes you more vulnerable to hackers and identity leaks.
Free VPNs can expose you to viruses and malware — Most free VPNs don't have built-in adblockers, so they won't prevent malicious ads from loading. Even worse, some have malware embedded in their apps that will infect your devices.
Free VPNs to Avoid
During my tests, I found some VPNs that are unsafe and should be avoided at all costs. They are:
Hola Free VPN — Hola's free VPN utilizes its users' devices as endpoints, allowing other users to route their traffic through them. This means that any random stranger can use your IP address, and if they do something illegal, you could get in trouble for it.
BetternetVPN — BetternetVPN doesn't block IPv6 traffic, and its privacy policy is rather vague. It says that it may use your information to prevent fraud. Moreover, the VPN's Android app was found riddled with malware in 2016.
Psiphon — This free VPN keeps an alarming number of identifiable logs, including browsing history, region identifiers, and connection timestamps. On top of that, it shares this data with third-party advertisers.
TouchVPN — TouchVPN keeps logs of your data to target you with ads.
Tips on How to Choose the Best Free VPNs for India
There are hundreds of free VPNs out there, but not all of them are safe and reliable. I tested all the VPNs for these features and ranked my choices based on that. Here are a few things to look out for when choosing the best free VPN for India:
Really free — A free VPN means that you shouldn't have to commit to a subscription. I made sure that all the VPNs on the list are either completely free or backed by a trustworthy money-back guarantee.
Fast speeds — You should look for a free VPN that gives you fast speeds, so you can browse, stream, and torrent without delays. All my recommended free VPNs have average speeds of at least 18 Mbps, which is more than sufficient for these activities.
Streaming support — Free VPNs generally do not work well with streaming services. I chose truly free VPNs that could access at least a couple of popular streaming sites, like Crunchyroll. I found the best way to unblock streaming sites is to use a premium VPN's money-back guarantee or free trial.
Strong security features — Look for a free VPN that has strong security features such as military-grade encryption, an automatic kill switch, and DNS leak protection. A built-in ad blocker is also helpful. All the VPNs on the list are trustworthy services and safe to use, offering AES 256-bit encryption and protection from potential leaks.
A strict no-logs policy — Your free VPN for India should have a strict no-logs policy. This ensures that none of your data is ever stored, shared, or sold to third parties. I read each of my recommended free VPNs' logging policies to make sure that your data is kept private.
Torrenting support — Unfortunately, most free VPNs restrict torrenting. However, I shortlisted some free VPNs that support torrenting and offer enough data to at least download a couple of large files (or several smaller ones).
Responsive customer support — Pick a VPN that offers responsive customer support, whether it's via 24/7 live chat, email, or contact form. Live chat is preferred — this way, you can get all your answers almost immediately. I ensured that all my recommended VPNs have reliable customer support.
Quick Guide:
How to Set Up a Free VPN for India in 3 Easy Steps
Download a VPN. I recommend ExpressVPN because it's fast, secure, and has a vast server network to access both local and global streaming sites in and outside India. Plus, you can try ExpressVPN completely risk-free since it's backed by a 30-day money-back guarantee.
Choose a server. Choose a server location depending on your needs. For example, if you want to access Indian streaming services, select one of the Indian servers.
Click connect! Your connection is now secure, and you can stream, browse, or torrent safely without any problems.
FAQs on Free VPNs for India
Will a free VPN work with Netflix and Hotstar?
Most free VPNs won't be able to access Netflix or Hotstar. However, the top 2 VPNs in this list could easily access Netflix, Hotstar, and other streaming sites like Disney+, Hulu, and Amazon Prime Video. They're not 100% free, but you can use them for free for a limited time.
Most free VPNs do not offer servers in India — even if they do, Netflix and Hotstar usually detect them. The truly free VPNs on this list do not offer Indian servers with their free versions, so you'll need to upgrade to their paid versions to access these streaming sites. However, a couple of them could access Netflix Originals and other sites like Crunchyroll and Peacock.
Is there a free VPN with Indian servers?
Unfortunately, there is no safe free VPN that has servers in India. The 100% free VPNs in this list are safe to use but don't offer Indian servers. The best option is to use a premium VPN with Indian servers that comes with a free trial or money-back guarantee. That way, you can use them for free for a limited time.
Can I use a free VPN for PUBG and BGMI?
You can, but it's not recommended. Most free VPNs don't have servers in India, which means that you can't really play BGMI with them.
Even those that do are incredibly slow, causing slower download rates and high ping. Moreover, many of them don't protect you from DDoS attacks as they have weak security and often leak your true location.
For competitive games like PUBG and BGMI, I recommend using a low-cost premium VPN with servers in India and other locations you want to play. The VPNs in this list come with money-back guarantees, so you can test them out with PUBG and BGMI and ask for a refund if you're not happy with them.
Why do I need a VPN for India?
There are several benefits of using a VPN in India. It not only helps you access geo-restricted content, but it also adds a layer of security and privacy online. A reliable VPN hides your IP address, guards you against hackers, and prevents third parties from snooping on you.
That being said, most free VPNs lack important security and privacy features. Some even expose you to malware and viruses. Therefore, it's important to choose a tried-and-tested free VPN that offers strong security features and has a trusted no-logs policy.
Is using a VPN legal in India?
Yes, it's completely legal. There are no laws that ban VPN use in India. You can use a VPN to protect your privacy and access geo-restricted content. However, you may get into trouble if you're using one to perform illegal activities, like downloading copyrighted content.
I don't condone using a VPN for illegal activities, so make sure to check the most up-to-date local laws to ensure you're not breaking any rules.
Is it worth getting a free VPN Chrome extension for India?
A free VPN Chrome extension is helpful if you just want to spoof your location and access geo-restricted content. However, the VPN extensions are usually just proxies and do not offer the same level of encryption as the VPNs listed in this article. Plus, they offer limited servers and do not secure your traffic outside Chrome.
For maximum protection, it's better to use a free full VPN app instead. That way, you get faster speeds, more servers, advanced security features, and full device protection.
Get the Best Free VPN for India Today
Free VPNs often don't have servers in India, so you can't use them to unblock Indian sites. Plus, they can be dangerous and lack important security features, failing to keep you safe.
All the free VPNs in this list are safe to use. However, ExpressVPN is my favorite because it has unlimited bandwidth, strong security to keep you safe online, and servers in India to unblock your favorite sites. It's also backed by a 30-day money-back guarantee, so you can try ExpressVPN risk-free and get a full refund if you don't like it.
The best VPNs for India that come with money-back guarantees are…
Privacy Alert!
Your data is exposed to the websites you visit!
The information above can be used to track you, target you for ads, and monitor what you do online.
VPNs can help you hide this information from websites so that you are protected at all times. We recommend ExpressVPN — the #1 VPN out of over 350 providers we've tested. It has military-grade encryption and privacy features that will ensure your digital security, plus — it's currently offering 49% off.