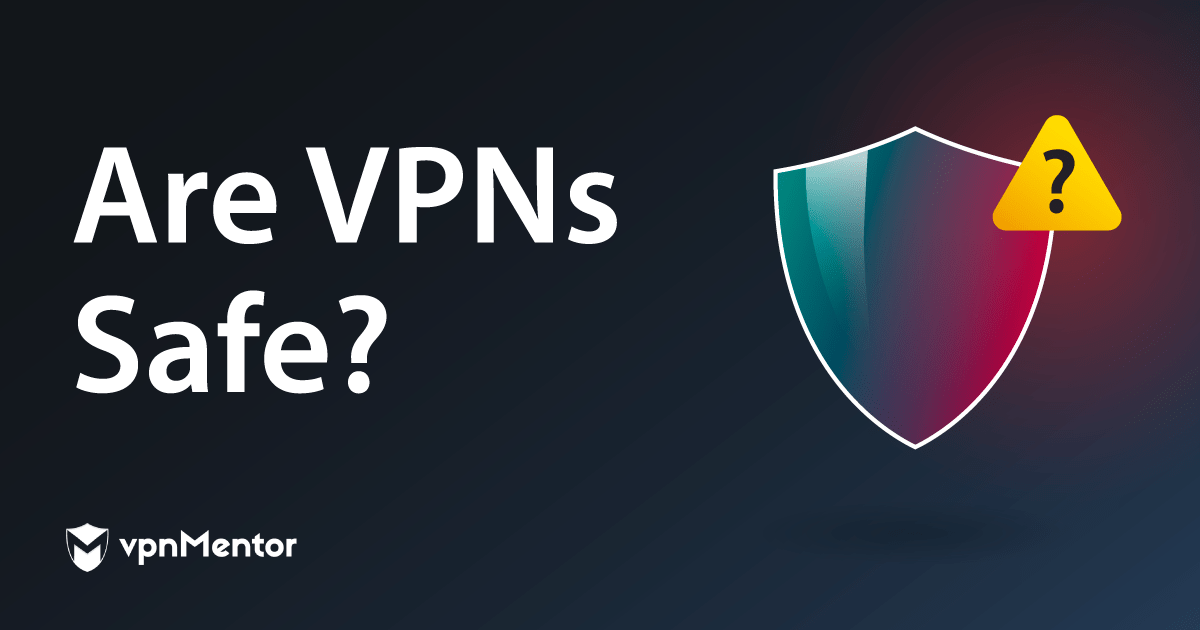 Are VPNs Safe? How to Know Which VPNs Are Secure in 2023
Most VPNs advertise with promises of maximum security, impenetrable encryption, and online privacy. However, you'd be surprised that some may risk your safety and privacy to make more profit.
Certain free VPNs can even infect you with malware; others track your online activity to sell it to the highest bidder for malvertising purposes. Many have security flaws and can't even keep your sensitive information private. Choosing the right one can be tricky, especially when you don't know whose claims are trustworthy.
I've tested 50+ VPNs to find the ones that can truly secure your connection and keep you private while browsing. My #1 choice is ExpressVPN because of its military-grade encryption and privacy features that can reliably protect you against online threats. It also comes with a 30-day money-back guarantee, so you can try it risk-free.
Short on Time? Here Are the Safest VPNs in 2023
ExpressVPN — A first-rate VPN with RAM-based servers, state-of-the-art security features, and super-fast speeds. If you're not 100% satisfied, you have 30 days to claim a full refund.
CyberGhost — Automatic WiFi protection, excellent security features, self-operated NoSpy servers, but an expensive monthly plan.
Private Internet Access — Highly customizable security options, strong DNS and IP leak protection, but its ad-blocker isn't the most reliable.
How Does a VPN Keep Me Safe Online?
In a nutshell, a VPN keeps you safe by encrypting your internet traffic and routing it through one of its secure servers. That way, nobody else can read or intercept your data, which makes it hard to steal your sensitive information.
Here are some examples of real-life scenarios where a VPN can keep you safe online:
Security while surfing on public WiFi
Connecting to an unsecured WiFi hotspot in a café or an airport can be dangerous. Hackers can infiltrate these networks and collect your banking details, passwords, and social security number while you're surfing. Reliable VPNs use ultra-secure AES 256-bit encryption, making your traffic virtually impenetrable.
Keeping your shared company data secure
A VPN can help employees keep sensitive files confidential while sharing them across the network. Organizations that employ remote workers often use it to ensure secure communication between a worker's and a business network, for example.
Most users don't read the fine print when installing apps that often collect or forward your information for advertising. VPNs ensure nobody can share your personal data, including the apps and services you use. Even your ISP can't see the websites you're visiting. This is good because your ISP can make a personal profile of your activities that third parties use to show you ads. It can also be shared with the government, if requested. With a VPN, the data is unreadable thanks to the strong encryption, so it can't be used against you. Reputable providers are audited by independent companies or their no-logs claims are verified in court. This is especially important in high-censorship countries like China, Russia, Qatar, and the UAE.
Safe access to your apps and streaming services while traveling
Some streaming platforms and apps are unavailable if you're abroad due to licensing issues. A good VPN can help you stay on the safe side and access those services, so you're not tempted to visit sketchy websites that can infect you with viruses and malware.
Torrenting with a VPN is highly recommended because it prevents exposing your real IP address. Security features like high-end encryption and a kill switch are especially important. If the VPN connection drops unexpectedly, the kill switch cuts your internet connection until the VPN is back on, so your identity is safe at all times. However, make sure to follow the regulations of your country when torrenting. Neither my team nor I condone using a VPN for anything illegal.
Are VPNs Legal to Use?
VPNs are legal in almost every country, depending on your actions. However, their usage is in a legally gray area in some countries like Iran and the UAE, where the governments heavily regulate them. Similarly, Russia and China banned non-government-approved VPNs to prevent access to the content they deem "unlawful."
However, some activities that you use them for can be illegal. This includes torrenting copyrighted material, for example. Also, many online services block VPNs. That doesn't make it a crime to use them, but it may go against the terms of service you agreed to when you signed up.
Essentially, in most cases, you're not breaking the law by using a VPN itself, but you should make sure what you're using it for is legal.
Important! Bear in mind that this article does not offer legal advice. Though we have done careful research, the legality of VPNs and other encryption software is constantly changing. We recommend you consult a lawyer or other expert if you need specific legal support, depending on the country you're currently in.
Dangers of Free VPNs
Free VPNs often come with a hidden cost. VPNs use complex technology, which costs money to maintain. Since you're not paying for the service, free VPNs try to earn in other ways.
Here are some of the common dangers of using a free VPN:
False claims and compromised security. According to a CSIRO study, despite their claims, about 18% of free VPNs don't encrypt your traffic. The others use substandard encryption protocols and have IPv6 and DNS leaks, which means your online activities and data are no longer confidential.
Getting infected with malware. More than a third of free Android VPN apps contain some type of malicious software, meaning some of the most popular in your Google search are unsafe. If your computer is infected, hackers can steal your private data such as passwords or files. They can even make your device unusable.
Data collecting and sharing with third parties. Many free VPNs use embedded tracking to sell your data to advertisers or even give third parties access to your data without asking you. According to the same CSIRO study, 75% of free VPNs contain third-party tracking libraries.
Your best bet is to try a reputable VPN risk-free since they're backed by a money-back guarantee. This way, you can be sure that you're getting a safe and reliable service.
Premium VPNs vs. Free VPNs
Besides the security concerns, free VPNs usually have poor performance. Here's why you should consider opting for a subscription to a trustworthy VPN:
No data caps. Free VPNs often limit the amount of data you can use, sometimes even as low as 500MB per month. That means you wouldn't be able to finish watching a single 40-minute episode in HD. By doing this, free VPNs want to make users upgrade to a paid plan.
No annoying ads. Free VPNs tend to earn profit through ad revenue and selling your data to advertisers. Paid VPNs usually done come with ads.
Faster speed. Even with top-tier VPNs, some loss is expected (up to 20%) due to all the extra steps needed to secure your connection. But most free VPNs slow you down by more than average because their servers are often overcrowded. They may also decrease your speeds on purpose, so you'd upgrade your plan.
No bandwidth selling. Certain free providers even let their paying customers use your unused bandwidth for profit. That is potentially dangerous because someone can use this to intercept your traffic and see your sensitive information. Paid VPNs make money from the subscriptions they sell, so there's no reason for them to sell bandwidth.
Access to popular streaming services. Free VPNs rarely have enough IP addresses, so they assign the same one to many users. When a streaming platform notices a lot of traffic from a single IP, they know they are dealing with a VPN, and they block it. Premium VPNs constantly add new addresses, so you can access the platforms easily.
Best VPNs to Stay Safe in February 2023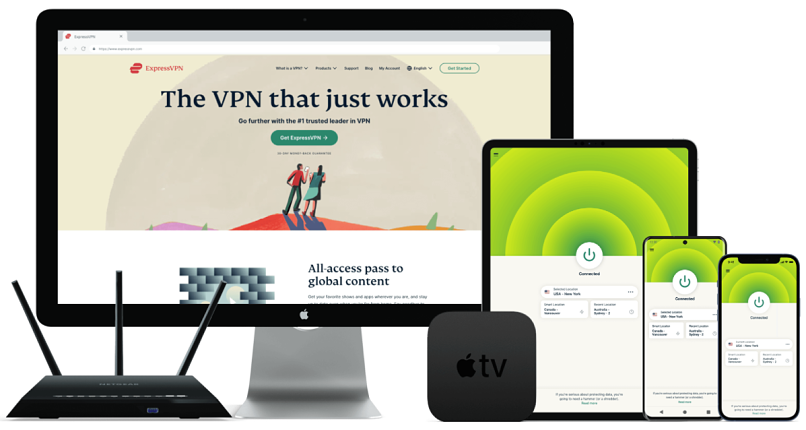 Editor's Choice
Editor's Choice

Tested February 2023
Try Risk-Free for 30 Days
Available on:
Chrome
Router
Smart TV
More
www.ExpressVPN.com
RAM-only servers to keep your data safe from anyone
AES 256-bit encryption to protect your data and prevent hackers from snooping
Different protocols to adjust your security levels, including its proprietary Lightway
Can unblock: Netflix, BBC iPlayer, Hulu, HBO Go, Showtime, Amazon Prime Video, and more
Compatible with: Windows, Mac, iOS, Android, Linux, Apple TV, many routers (e.g., D-Link, Netgear, Netduma), and more
I was really impressed with ExpressVPN's unique TrustedServer Technology. This prevents intruders from stealing your data by eliminating write access to the hard drive. Its servers run on RAM only, meaning traces of your information and activities are erased after each reboot. Most VPNs store the information on hard drives, which means it stays there until someone manually deletes it, which can pose a threat to your personal information. Using this kind of memory ensures ExpressVPN doesn't store any sensitive information that could jeopardize your privacy.
One of ExpressVPN's security features I use the most is the kill switch, which stops your internet if the VPN drops for some reason. It makes sure you never use the internet without a VPN protection, so you always remain safe. If you're using ExpressVPN on a macOS, Windows, or Linux device, the kill switch is automatically enabled, so you don't have to configure anything. I checked this out on my MacBook, and it was on by default. I tested its Network Lock (the kill switch) by force-stopping the app, and it cut my internet each time.
ExpressVPN passed all of my DNS, WebRTC, and IP leak tests. Since it runs its own DNS servers, you eliminate the middleman whenever you request to visit a site. This lowers your leak incidents because all your traffic goes through one of its private servers, so nobody can intercept or monitor your online activities. I tested 10 of its servers, and my personal information always remained confidential. While I was testing ExpressVPN's servers, the ipleak.net detected only the VPN's IP, meaning that my actual address wasn't revealed.
One issue I have with ExpressVPN is its price tag, which starts from $6.67/month. However, if you opt for one of its long-term plans, you can save up to 49% on subscription costs. I even got 3 months for free when I signed up.
ExpressVPN comes with a 30-day money-back guarantee, so you can try it with zero risk. You can ask for a refund if you are not completely happy with it. To see if its claims are true, I tested this out after 28 days by contacting its support through live chat. The whole process took less than 2 minutes. I was granted a full refund and received my money back after 3 days.
Public WiFi protection to keep you safe from intruders trying to steal your data
Open-source protocols with AES 256-bit encryption for a safe and stable connection
7 simultaneous device connections
Can unblock: Netflix, BBC iPlayer, Hulu, HBO Go, Showtime, Amazon Prime Video, and more
Compatible with: Windows, Mac, iOS, Android, Linux, routers, Apple TV, different routers, and more
When you connect to unprotected WiFi anywhere in public, you put yourself at risk to cybercriminals. Your passwords, banking details, or social security number can get stolen. I always felt safe banking online while traveling using CyberGhost's public WiFi protection. To enable it, go to "Settings," choose "WiFi," and toggle the "WiFi Protection" button. You can set it up to automatically start whenever you connect, so you don't have to think about security each time you're using the public internet.
I also tested its IP, WebRTC, and DNS leak protection, which affects how secure your traffic is from hackers, trackers, and any spying entities. I performed my test connected to CyberGhost's Estonia server, and I was pleased to see that there were no leaks detected. The only IP address others could see was the one from the VPN.
For complete privacy, CyberGhost has over 20 self-operated NoSpy servers in Romania. Most VPNs store their servers in third-party data centers, which leaves them vulnerable to man-in-the-middle attacks. CyberGhost cuts out the middleman by having only its own team taking care of the servers. Using them comes at an additional cost, but I think it's a small price if you need complete security from outside threats.
Its monthly subscription plan is on the more expensive side, starting from $2.19/month, and comes with a shorter money-back guarantee. However, if you choose a long-term one, your costs can be lowered by 84%, depending on the active offers.
Also, it has one of the longest money-back guarantees on the market: 45 days if you opt for an extended subscription. That way, you can try CyberGhost completely risk-free. I tested its refund procedure by contacting the support team via email. They responded within an hour, and I received the money to my PayPal account after 4 days.
Change protocols and encryption levels depending on what you're doing
10 simultaneous device connections
Vast network of 29,650 servers in 84 countries so you can stay safe anywhere
Can unblock: Netflix, BBC iPlayer, Hulu, HBO Go, Showtime, Amazon Prime Video, and more
Compatible with: Windows, Mac, iOS, Android, Linux, routers, Apple TV, and more
PIA offers several encryption levels and protocols you can combine depending on the level of security you need. By combining different protocols and encryption levels, you can improve your device's performance. For example, if speeds are important for a certain task, you can switch to lower encryption (e.g., from 128-bit to 256-bit AES). I recommend using 256-bit AES whenever possible because it's the safest. You have both WireGuard and OpenVPN protocols to choose from, while IPsec is only available on iOS.
It also has a strict no-logs policy. This is not just a claim — PIA has proven in court that it never logs its users' data and has undergone an audit. A Big Four auditing firm, Deloitte, examined PIA's servers and concluded they don't store any personally identifiable data. I really appreciate the fact my browsing habits and other personal data are never in danger of being misused. Being regularly tested and audited means it truly lives up to its promises.
It also has a built-in ad-blocker called MACE but unfortunatelly it doesn't block all ads. I tested it on several websites, and even though some ads still got through (e.g., on YouTube), it did protect me from malware. So, it is still a solid choice against malware and trackers, and you're more secure while browsing.
PIA's pricing is reasonable, starting at $2.19/month. It often offers generous discounts on its long-term plans, which can help you save up 83% on subscription costs.
It also comes with a 30-day money-back guarantee, so you can try it out for yourself. Its refund process works as promised. The support agent did ask me one question to see if I was willing to continue with the subscription, but after, my payment was processed super quickly. The money was back in my account within 4 days.
Quick Guide: How to Use a Safe VPN in 3 Easy Steps
Download a VPN. I recommend ExpressVPN because it uses military-grade encryption to protect your data and never logs your private information.
Connect to a server close to you. For the best connection and speeds, I recommend you connect to a server in your country or nearby. For example, choose a UK server if you're there.
Start using the internet securely! With your traffic fully encrypted, you are safe from online threats wherever you are.
Pro Tips on Choosing the Safest VPN
Check the encryption levels. The safest encryption levels on the market are 128-bit or 256-bit AES used even by the US government to safeguard top-secret information.
Find out which protocols it offers. You may want to switch between protocols depending on what you're doing. For example, some apps, features, or VPNs work only with WireGuard or OpenVPN. Some providers even have their own in-house protocols, like ExpressVPN's Lightway protocol, which can make the VPN faster and more reliable.
See if a kill switch is available. The kill switch halts your internet if your VPN stops. That ensures that you are never left vulnerable to online threats. Sometimes the feature isn't automatically enabled, so make sure to check.
Stick to verified no-logs VPNs. You want to make sure to find a VPN that doesn't retain your private information. You can also check whether any court cases or independent audits are confirming its privacy claims.
Look for IPv4, IPv6, WebRTC, and DNS built-in leak protection. Data leaks can still happen, so you should have a VPN that actively works on preventing them.
Opt for a VPN with a reliable money-back guarantee. That way, you can test it out with zero risk. If it doesn't work for you, you can always request a refund.
FAQs on Safe VPNs
What are the dangers of using a VPN?
Using a VPN can be dangerous only if you're using one that's not safe. They are actually recommended for improving online safety. Still, some (especially free VPNs) can compromise your security, infect you with malware, and track your activities. Besides security and privacy concerns, some VPNs are also often slow and limit your data usage. That's why I always recommend getting only tried-and-tested VPNs like the ones on my list.
A study by CSIRO on free Android VPN apps found that about 18% don't encrypt the traffic despite promises, and almost 40% contain malware. Many use embedded tracking to collect data on you for advertising purposes. They can even share this data with third parties putting you at risk of identity theft. The study showed only 25% of VPNs on the Google Play Store don't use trackers. Users are unaware of security or privacy risks when signing up for them because they're advertised as safe.
Which VPNs are safe?
Only VPNs with powerful encryption protocols, IP and DNS leak protection, and a strict no-logs policy are safe. Since this type of technology isn't cheap, it's mostly paid VPNs that can be called truly secure. Here are some features that they have:
Strong encryption levels and protocols like WireGuard, OpenVPN, IKEv2, or ExpressVPN's proprietary Lightway. All provide 256-bit AES encryption, ensuring that your data can't be deciphered if intercepted. Most of these protocols are open-source. That way, anyone can check their code and see if anything nefarious is happening there.
Built-in DNS, WebRTC, and IP leak protection. Data leaks can occur, but a good VPN can prevent this with special features.
A strict no-logs policy. You want a VPN that doesn't collect your data or share it with third parties. It's best if a VPN has undergone an independent audit to confirm its privacy claims.
A kill switch option. If your VPN connection drops suddenly, the kill switch turns off your internet altogether, so you are never at risk of various online threats.
All 3 VPNs on this list fit these criteria and can reliably keep you safe online.
Do VPNs steal your data?
Yes, some untrustworthy VPNs can steal your data. It's mostly free VPNs that track your online activity and sell your data to third parties for advertising purposes. A study by CSIRO has found that only 25% of Android VPN apps don't contain embedded tracking libraries. I recommend using a top-tier VPN like ExpressVPN because of its robust security features, strict no-logs policy, and independent audits. An independent auditing company, PwC, has confirmed that ExpressVPN does not collect, store, or share your data with third parties. It also comes with a 30-day money-back guarantee, so you can try it risk-free.
Can free VPNs be trusted?
Unfortunately, very rarely. While there may be some that don't endanger your privacy, most free VPNs don't have the resources to keep you safe online. Free VPNs are unreliable because they often use embedded trackers in their apps, infect you with malware, and have dubious ownership. Instead, I recommend using a tried-and-trusted VPN that never logs any of your data and comes with a money-back guarantee.
Which VPN is safe for banking?
VPNs with strong security, such as 256-bit AES encryption and a kill switch, are safe for banking. High-level security features prevent hackers from stealing your sensitive data. The US government even uses this encryption, so it's almost impossible for cybercriminals to crack the key. All the VPNs on my list can protect you while banking online. Due to its TrustedServer technology, kill switch, and military-grade encryption, I recommend ExpressVPN as one of the safest ones for banking online.
Can VPNs keep me safe on public WiFi?
Yes, trustworthy VPNs with strong encryption can easily protect you while using unsecured WiFi. Another thing that can keep you secure is an automatic public WiFi protection feature like the one offered by CyberGhost, for example. You can even set it up to connect automatically whenever using any unprotected network. With a premium VPN, you can safely browse the internet without fear that someone can steal your identity or credit card information.
The Bottom Line
VPNs are not only secure but are recommended for improving your online safety. Still, not all of them can deliver on that promise. Some (especially free ones) can compromise your security by infecting you with malware, tracking you, or selling your data.
With a reliable VPN, all your data and activities are kept safe. Your digital footprint is under layers of strong encryption and rerouting. Trustworthy VPNs also don't keep track of any of your data. That makes it much harder for anyone trying to monitor or steal your personal or business information.
Out of all the ones I tested, my top recommendation is ExpressVPN because of its ultra-secure 256-bit AES encryption, verified no-logs policy, and other top-class security features.
It also comes with a 30-day money-back guarantee, so you can try it completely risk-free.
To summarize, here are the safest VPNs…
Privacy Alert!
Your data is exposed to the websites you visit!
The information above can be used to track you, target you for ads, and monitor what you do online.
VPNs can help you hide this information from websites so that you are protected at all times. We recommend ExpressVPN — the #1 VPN out of over 350 providers we've tested. It has military-grade encryption and privacy features that will ensure your digital security, plus — it's currently offering 49% off.