7 Hidden Dangers to Using Free VPNs in 2020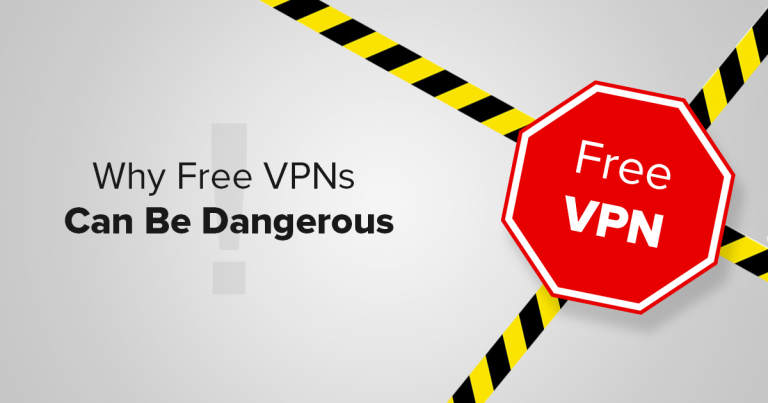 VPNs continue to grow in popularity, as more people become concerned about internet privacy.
As the VPN market grows to meet this demand, there are now 1,000s of free VPNs promising to keep you safe and secure online, at no extra cost.
This sounds like a great deal, almost too good to be true. It usually is. VPNs are expensive and complicated software that require a great deal of investment to maintain. They also need to keep up with the ever-changing world of internet privacy.
Free VPN providers need to cover costs and turn a profit. Instead, they generate revenue from their customers using hidden tools and tricks. These tactics are not only dangerous and dishonest, but completely betray the principles of VPNs.
As you're about to see, using a free VPN could actually make you less safe online, cost you more than you know, and ruin your entire internet experience.
Quick Guide: How to Use a Premium VPN for Free
Before going any further, let's take a look at premium VPNs.
Everything free VPNs promise, a premium VPN actually can do, for a small fee and without any hidden dangers.
Premium VPNs charge a small monthly subscription – starting as low as $1.89 – and use this to invest in state-of-the-art security tools, 1,000s of servers across the globe, lightning speeds, unlimited bandwidth and much more.
Even better, many offer a 30-day money-back guarantee. You can sign up and test one out for a month, risk-free, and compare the experience to a free VPN.
Here's what to do:
Choose a premium VPN with a 30-day money-back guarantee. We recommendNordVPN, the #1 highest rated VPN in the world.
Download and install the VPN.
Connect to a server anywhere in the world. NordVPN has over 5,500 servers in 60 countries.
Enjoy faster streaming, less annoying ads, greater privacy, unlimited bandwidth, etc.
If you're not satisfied, cancel your subscription in the first 30 days. You won't be charged a cent.
You Will Pay for a Free VPN – Here's How
Free VPNs need to earn income from their users somehow – how else would they generate revenue?
However, instead of providing the highest standard possible and charging a small fee, they use you to make money indirectly. Their methods are often annoying, dishonest, semi-hidden from users, and, sometimes, dangerous. 
Before signing up to a free VPN, be aware of the many issues and dangers involved.
1. Compromising Your Security
One of the primary purposes of a VPN is to protect you from hackers. So it's alarming that there are some VPNs that actually contain malware – one of the biggest online security risks.
Unfortunately, that has turned out to be the case. A study of 283 VPNs revealed that many free providers contain malware – including Betternet, SuperVPN, and CrossVPN.
In fact, 38% of VPNs showed signs of infection.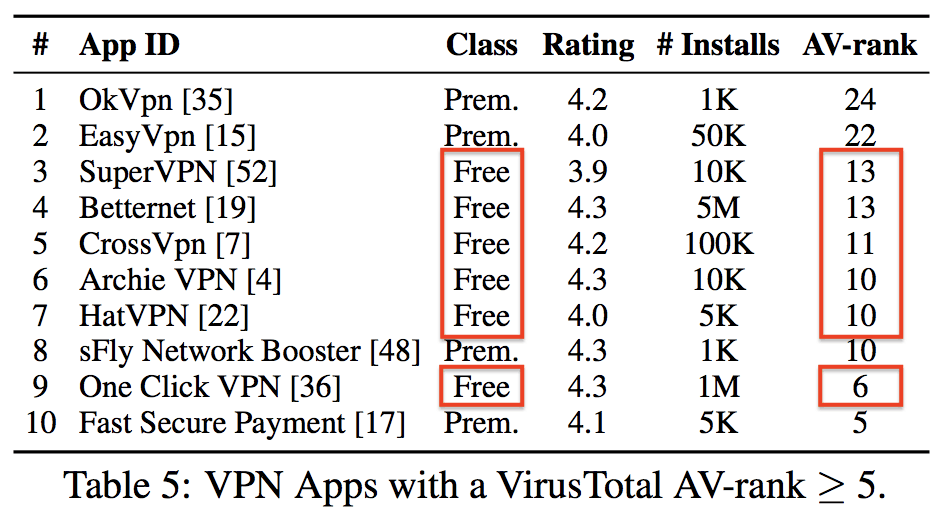 Image: Free VPNs are much more likely to contain malware. An AV rank of more than two indicates that malware is most likely present in an app.
Most of the malware is related to advertising – which makes sense.
Free VPNs rely on advertising for revenue. This is also why a VPN that limits your data is less likely to be dangerous than one that offers a free product.
On the other hand, many premium VPNs provide built-in adblockers, malware protection and unlimited bandwidth.
2. Tracking Your Online Activity
This is maybe the worst offence a VPN can make – and disturbingly, it's the most common.
A major reason you use a VPN is to protect your privacy while browsing the internet. Thus, its startlingly ironic that the same study found 72% of free VPNs embed third-party trackers in their software.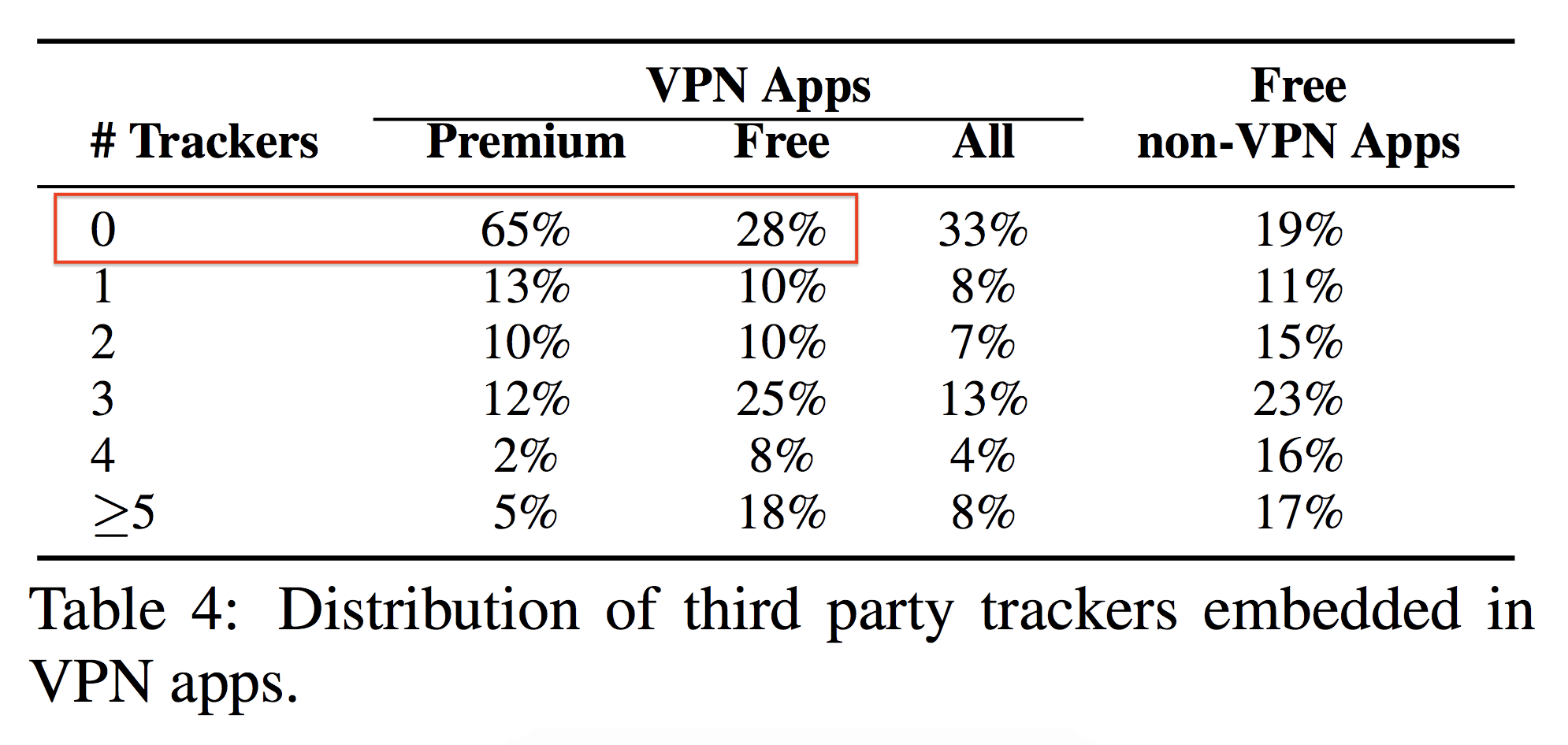 Image: Only 28% of free VPNs were found to have zero third-party trackers – which means 72% are recording your online activity.
These trackers are used to gather data on your online activity so advertisers are better able to target you with ads.
Instead of providing you privacy, the VPNs are doing the exact opposite, by collecting your information and selling it to the highest bidder.
While some VPNs hide the fact that they sell your data, others admit to it in their own privacy policies. Psiphon's privacy policy explicitly states that it tracks your activity and allows advertisers access:
"We sometimes use advertisements to support our service, which may use technology such as cookies and web beacons. Our advertising partners use of cookies enable them and their partners to serve ads based on your usage data."
And here is a quote from Hoxx's Privacy Policy:
"By using the Services, You acknowledge, consent and agree that we may collect, process, and use the information that you provide to us and that such information shall only be used by us or third parties…"
Notably, premium VPNs were found to have few trackers than all apps in general, not just free VPNs. This means that in most cases, when you buy a premium VPN, you actually do get the privacy that you're looking for.  
3. They Can't Unblock Netflix
Currently, there is no free VPN that will reliably unblock Netflix.
Netflix – along with all major streaming sites – use the toughest 'geoblocks' in the world. Even premium VPNs struggle to break though them. Only a few succeed.
Yes, technically, it's possible to occasionally succeed using Tunnelbear, but it's far from guaranteed to work. More often than not, you're going to get hit with an error message.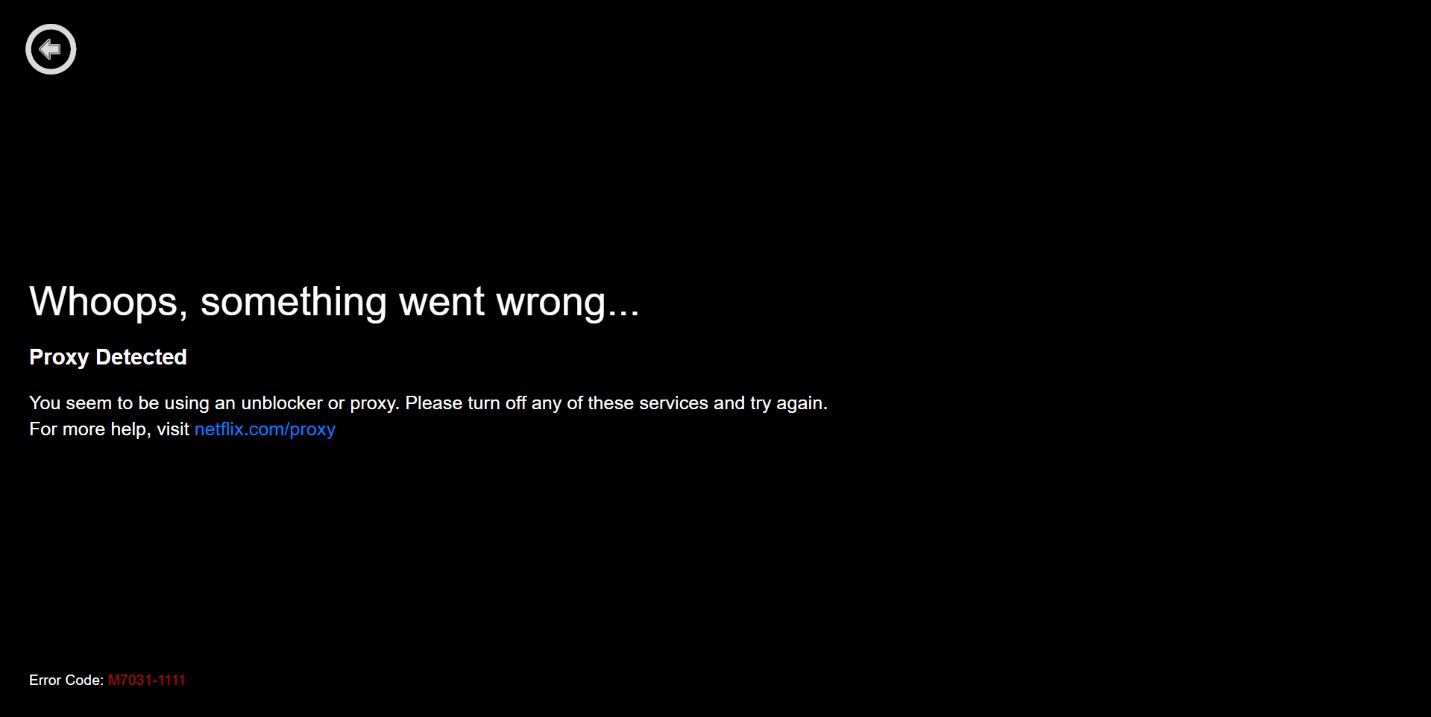 Image: Error message free VPN users usually get when they try to bypass the Netflix geo-block.
Plus, Tunnelbear's free package is limited to 500 MB a month, which isn't enough data to get through even one movie.
ProtonVPN can unblock Netflix using particular servers, but because they deliberately slow down your internet speed, you'll probably go crazy from the buffering before you make it through a single episode of Orange is the New Black.
Windscribe and Hotspot Shield offer Netflix access, but only to those with paid subscriptions.
The simple truth is:
Bypassing Netflix geoblocks requires a huge amount of resources and dedication, and VPN providers will not give that away for free.
4. Limiting the Amount of Data You Can Use
As mentioned above, some of the most popular free VPNs limit the amount of data you can use. They do this entice you, then push you into upgrading to a paid plan out of sheer frustration.
A good example of this practice is Tunnelbear, which limits monthly data to a measly 500mb.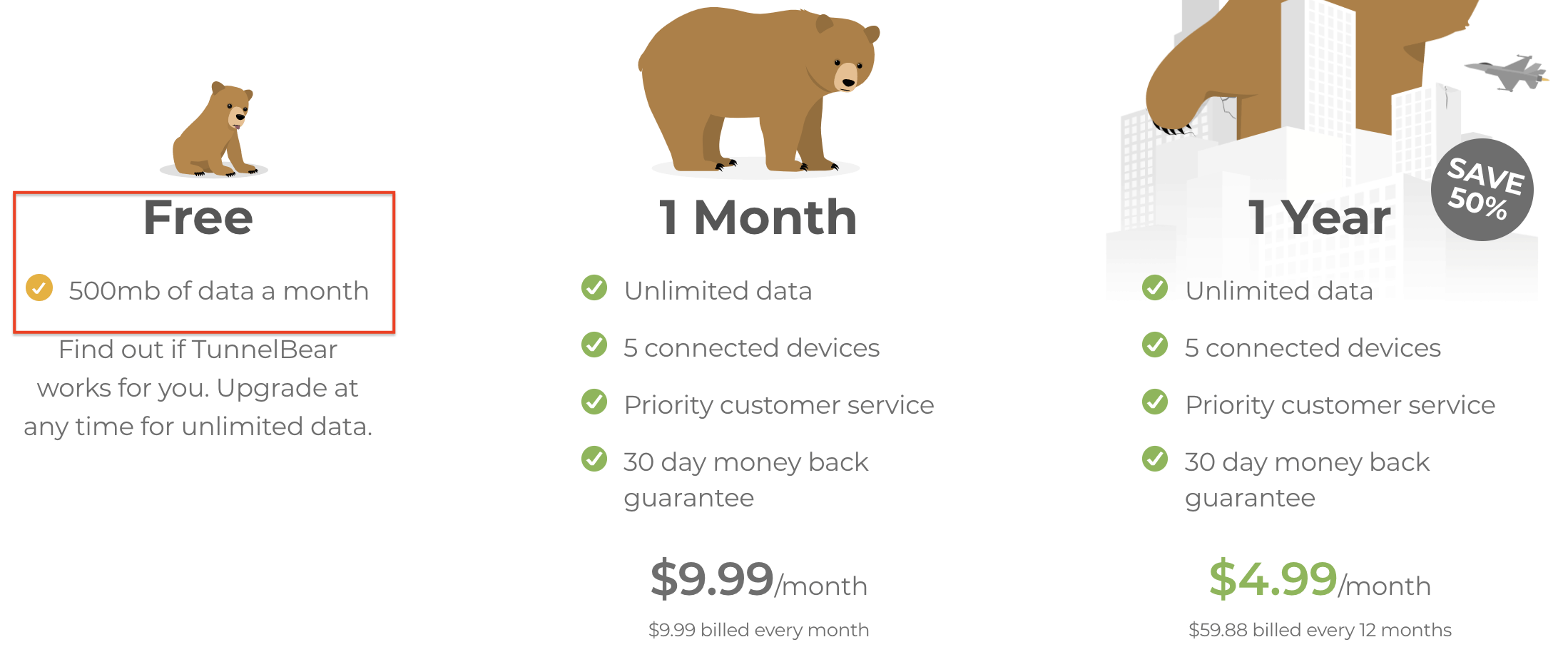 Image: Tunnelbear pushes you towards their paid packages from the moment you sign up
5. Slowing Down Your Internet
Your internet slowing down is an issue you'll face often with poor quality VPNs. However, your VPN deliberately slowing you down is particularly frustrating.
This is ProtonVPN's strategy. Although ProtonVPN provides excellent security, to encourage their free users to upgrade to the paid plan, they prioritize them less than their paid subscribers – meaning your internet speeds will often slow to a snail's pace.
Image: At least ProtonVPN is upfront about how they slow internet speeds for free users. 'Medium' is deliberately vague and misleading, however.
Free VPNs also slow down your internet speeds by displaying ads (see below) and by selling your bandwidth.
6. Bombarding You with Ads
The reason for this approach is simple. Since their users aren't paying them monthly subscriptions, free VPNs need another way to make money off them.
Betternet is one provider that uses this model. Although they state on their website that they don't show you annoying ads, in reality, ads pop up whenever you connect.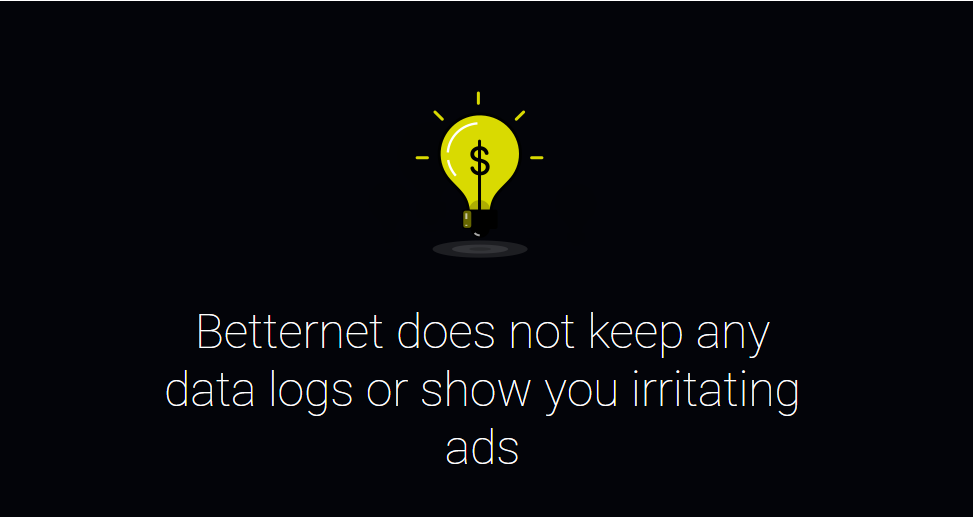 Image: Betternet claims not to show you ads.
However, the reality is users face ads every time they turn on the VPN.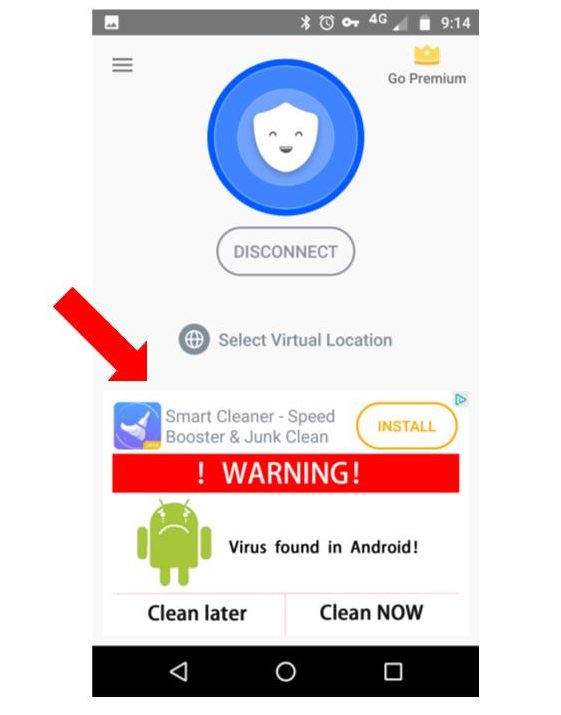 Image: Betternet log in window
Similarly, Hotspot Shield's free app is riddled with ads, an issue that has led to a lot of complaints among our readers.
Not only are ads annoying, they can also slow down your internet speeds or contain malware.
Finally, advertisers like to customers with specific ads. The appearance of ads on a VPN raises user privacy concerns. In other words, if your VPN is showing ads, they're probably also sharing your online activity with third parties.
7. Selling Your Bandwidth
In addition to allowing ads, the VPN Hola found another way to make money off their free users: they let paying customers use your device's processing power – essentially selling your bandwidth for profit.
They actually state this on their website, though they spin it in a much more positive way:
"Hola generates revenue by selling a commercial version of the Hola VPN service to businesses (through our Luminati brand). This is what allows us to keep Hola free for our PC and Mac users. Users who want to enjoy the Hola network without contributing their idle resources can do so by joining the Hola premium service for $5 per month (or $45 per year)."
They don't mention that Luminati has been used in at least one known botnet attack.
A botnet attack infects a large number of individual computers with malware and harnesses them together to carry out an attack. In other words, all the computers in Hola's network (i.e. all the ones belonging to their free users) were taken over by cyber-criminals.
This might not even be a one-time-incident. Hola doesn't currently monitor how Luminati users exploit the Hola network, making it a perfect tool for cyber-criminals.
In short, by using Hola's free VPN service, not only are you letting the company sell your device's processing power – you're potentially allowing it to be used for criminal purposes.
The Benefits of a Premium VPN
Luckily, you don't need to take the unnecessary risk of using a free VPN. The best premium providers all offer incredible value, with subscription plans for as little as $1.89 per month.
By investing a few dollars each month, you avoid the dangers we've listed above and enjoy the many benefits of a premium VPN:
Bypass Geoblocks: The best VPNs can break through geoblocks on most major streaming sites – including Netflix, Amazon Prime, and Hulu.
Unlimited Bandwidth: You won't experience any restrictions on internet usage.
Protecting Multiple Devices: Premium VPNs can simultaneously protect numerous devices. Some even offer to protect an unlimited amount.
Industry-leading Security: The best VPNs invest in state-of-the-art, military-grade security features to keep you safe.
Great Value: Aside from low prices, many premium VPNs offer discounts of up to 75%. Check out the best deals here. 
Faster Speeds: Because they hide your online activity, premium VPNs protect you from ISP throttling – deliberately slowing down your connection if you are torrenting or streaming often.
These are just a few of the advantages on offer. Check out the top 5 VPNs below and decide which one offers the best solutions for you.
Provider
Our Score

9.8

/10

9.8

/10

9.6

/10

9.4

/10

9.2

/10
Summary
If you really want better protection online, avoid free VPNs. While you might save a few dollars each month, the risks to your privacy and data are not worth it. In fact, using a free VPN could cost you a lot more than the subscription to a premium provider. 
Aside from the security concerns, free VPNs can turn using the internet into a massive headache, with slow speeds, constant pop-ups, and restricted streaming.
Instead, look at premium VPNs as an investment. You'll experience faster, more secure connections, completely open internet, greater privacy, and peace of mind.
Further Reading
If you'd like to learn more about the many benefits of VPNs, check out our complete beginners' guide.
One of the most popular uses for a VPN is accessing Netflix overseas. You will definitely need a premium, quality VPN for this. We have a list of the best 5.
When you're ready to invest in a VPN and upgrade your internet, check out our ranking of the absolute best VPNs in the world.
Privacy Alert!
You are exposing yourself to the websites you visit!
The information above can be used to track you, target you for ads, and monitor what you do online.
VPNs can help you hide this information from websites so that you are protected at all times. We recommend NordVPN — the #1 VPN out of over 350 providers we've tested. It has military-grade encryption and privacy features that will ensure your digital security, plus — it's currently offering  68% off.